About Rainbow Falls
---
Hiking Distance:
2.6 miles round trip
Suggested Time:
90 minutes
---
Date first visited:
2001-09-01
Date last visited:
2015-08-02
---
Waterfall Latitude:
37.60182
Waterfall Longitude:
-119.08454
---
Rainbow Falls is certainly one of our favorite waterfalls in California outside of Yosemite National Park. Yet it's hard to believe that this waterfall was once a part of the incomparable Yosemite National Park until mining interests successfully removed the falls and the neighboring Devils Postpile formation from protection.
It wasn't until 1910 when Walter L. Huber (an engineer with the US Forest Service in San Fransisco) received an application to blast the postpile formation and dam the San Joaquin River with the debris did this place start to get serious attention from outside the mining circles.
Disturbed by this finding, Huber got the Sierra Club involved and thus set forth the chain of events that would eventually make the area a national monument in 1911.
Photographing Rainbow Falls
We were certainly glad for the preservation of this waterfall and its neighboring attractions, because it was a beauty.
It possessed that classic rectangular shape dropping some 101ft on the San Joaquin River (so it had year-round flow).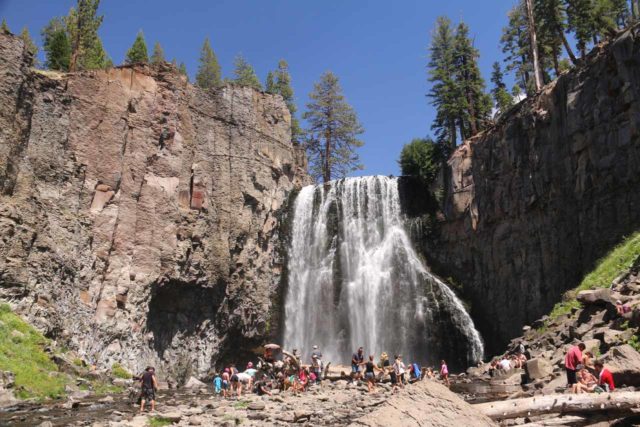 From the multiple visits that Julie and I have made here (from as early as July 4th weekend to as late as Labor Day weekend), we can definitely say that the best time of day to photograph the falls would be in the mid- to late afternoon when it receives the benefit of sun's soft light.
If it's long exposure photographs you're after, come either very early in the morning or very late in the afternoon when all of the falls and the surrounding area would be in shadow.
In the mid- to late morning, the falls would be mostly in its own shadow though it would be a pretty quiet time of the day to visit.
The Dusty Trail to Rainbow Falls
The trail to Rainbow Falls from either of its nearest car parks by Red's Meadow Pack Station (see directions below) was about 1.3 miles each way (or 2.6 miles round trip).
While the modest distance may not seem like much, the relatively high altitude (probably around 7000ft or so), the dustiness of the trail, the upside-down nature of the trail, and the exposure to the sun (thanks to damage from a pretty extensive fire) made the overall hike deceptively more strenuous than anticipated.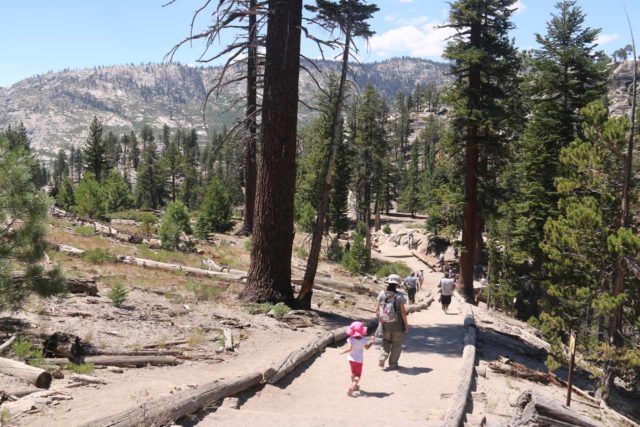 The best advice we can give regarding this hike would be to take your time, take frequent rest breaks, and drink lots of water.
If you can help it, try to get acclimated to the altitude by overnighting in Mammoth or exposing yourself to high altitudes immediately prior to doing this hike.
Regarding the fine dust, most of the hike was on a sandy trail pounded by pack horses and lots of human traffic. The terrain was such that it was very easy to get dust up in the air, especially on a hot and dry day.
Thus, it was very easy to breathe down the fine powdery dust and constrict our lungs of much-needed oxygen, which was already in limited supply thanks to the high altitude.
The dust was especially bad when pack horses would pass by or there were lots of people walking to and fro.
By the end of the excursion, our clothes and especially our hiking boots were caked in a pretty thick layer of dust. I can practically guarantee that just about everyone who does this hike will come back dirty.
Lack of Shade
About half-way down the trail, the path meandered into a ghostly burn area from a forest fire that happened back in 1992.
Near the start of this section was a connecting trail following the San Joaquin River to the Devil's Postpile Formation, which we didn't take. The area was still recovering as of 2010, which gives you an idea of how long it takes for a pine forest to recover from a wildfire.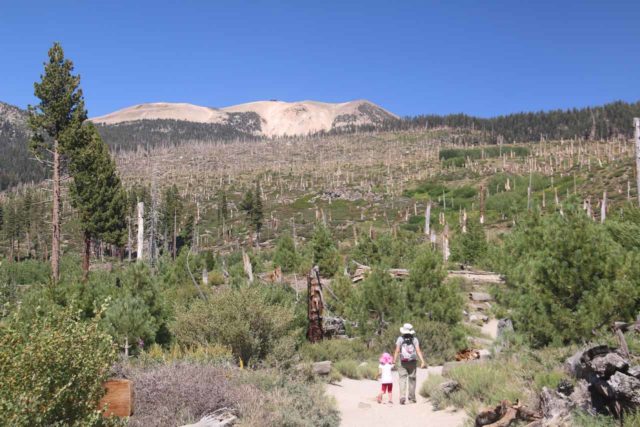 The end result was that the trail was open to exposure from the sun and caused it to be a surprisingly hot hike.
At least the flip side was that it seemed like wildlife (such as deer) was easier to spot without the camouflage of dense foliage.
Experiencing Rainbow Falls
Once at Rainbow Falls, we were able to see it from a couple of overlooks.
The first overlook provided a more angled look down at the falls. In my experience, it was easier to see rainbows (albeit faint) from here. The second overlook was more direct and maybe more photogenic.
In all the times that I've been here, I never recalled seeing a rainbow of any appreciable boldness or size, however. Maybe we just weren't in the right place at the right time, I guess.
Nearby that second overlook, there was a branching trail leading right to a series of steep steps leading right down to the banks of the San Joaquin River where we were able to get direct views of the falls while feeling its mist.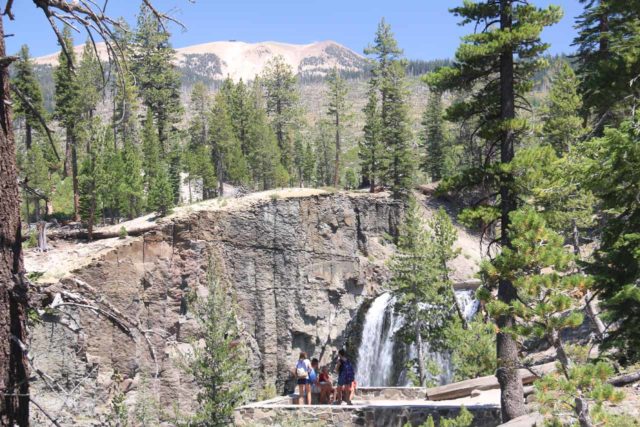 In low flow (like on our first visit here in September 2001), Julie and I were able to practically stand almost directly in front of the wall of water.
However, in high flow, it was difficult to get that direct look since the river was running significantly higher. So entering the water was not a viable option under such conditions.
Back at the top of the steps on the main trail, the trail continued going downhill past a little corral area for horses for another half-mile to Lower Falls.
Since the vast majority of visitors turn back at Rainbow Falls, we decided to describe the Lower Falls in a separate writeup.
Authorities
Rainbow Falls resides in the Devils Postpile National Monument. For information or inquiries about the reserve as well as current conditions, visit the website or Facebook page.

Rainbow Falls is near the resort community of Mammoth Lakes, which is roughly a 6-hour drive from Los Angeles.
It's roughly a 15- to 20-minute drive from Mammoth Village to the ski resort on Mammoth Mountain. The shuttle seems to take about 45 minutes to go from the ski resort area to the trailhead for Rainbow Falls.
As for driving directions from Los Angeles to Mammoth, we generally head north on the I-5 then continue north on the Hwy 14 until we reach Hwy 395. We then continue north on Hwy 395 to the State Hwy 203 turnoff.
State Hwy 203 leads into Mammoth Lakes, but continues onwards at Minaret Rd (there's a traffic light), which you take to the Mammoth Mountain Ski Resort area.
The mandatory shuttle is based here ($7 per adult, $4 per child as of 2015; National Parks Pass not accepted even though it's in a National Monument) so here's where you'd park the car.
Continuing on typically requires a shuttle, and it continues on Minaret Rd taking you into the Devil's Postpile National Monument, where you can get off at any number of stops (each with varying lengths of hiking to the waterfall or other attractions or logistical bases like the Red's Meadow Pack Station).
In my experience, if you show up before 7am or after 7:30pm, you can self-drive this section (though you still have to pay the fee at any time you cross the entrance/exit booth during operating hours).
In order to drive into the reserve in more reasonable hours, you have to book an excursion with the Red's Meadow Pack Station or overnight at the Red's Meadow Lodge.
One thing we found when taking the shuttle (at least in our 2015 experience) was that their arrival times tend to be pretty infrequent. The brochure says they show up no more than every 20 minutes between 10am and 4pm.
Outside those times, they can show up every 45 minutes! Needless to say, we weren't able to shuttle hop to visit places like Devil's Postpile or Sotcher Lake on the same day without getting an early start or making a really long day hike out of it.
However, if we were able to drive into the reserve, then that flexibility will make such trailhead switches possible without the delays of waiting for the shuttle (which can also get really crowded).
Related Top 10 Lists
Trip Planning Resources
Featured Images and Nearby Attractions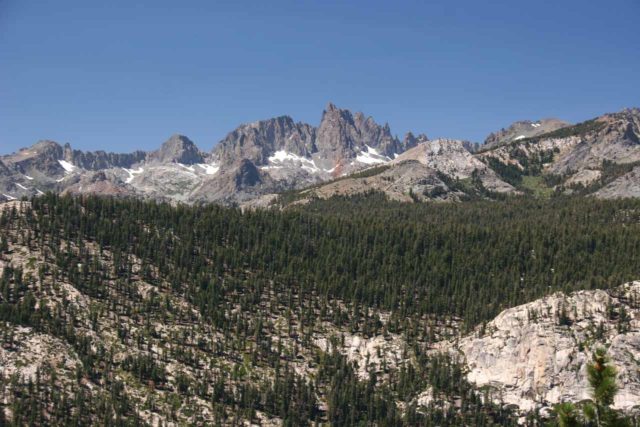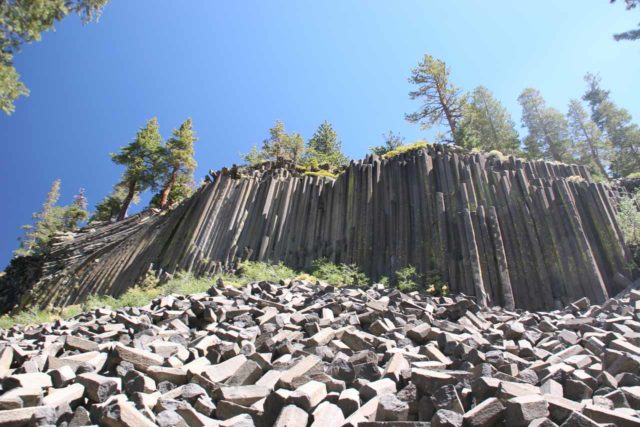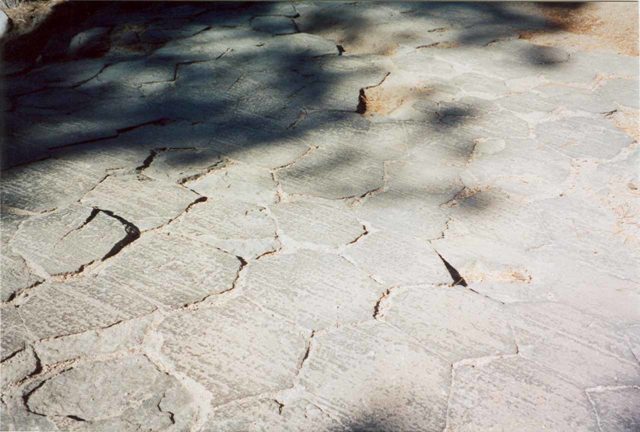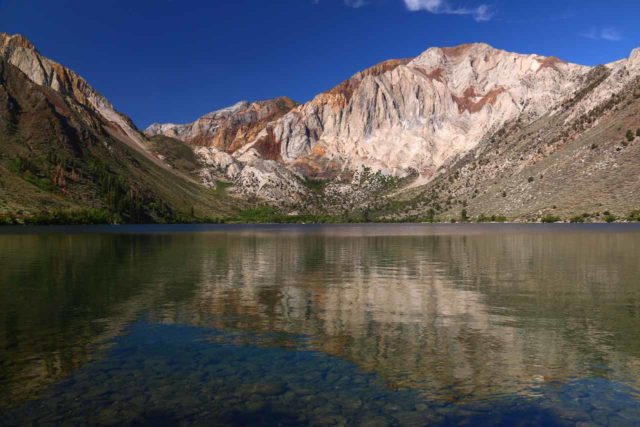 Tagged with:
devils postpile, mammoth, mono, fresno county, inyo, sierra, california, eastern sierra, waterfall, san joaquin, john muir, reds meadow
Visitor Reviews of this Waterfall:
No users have submitted a write-up/review of this waterfall