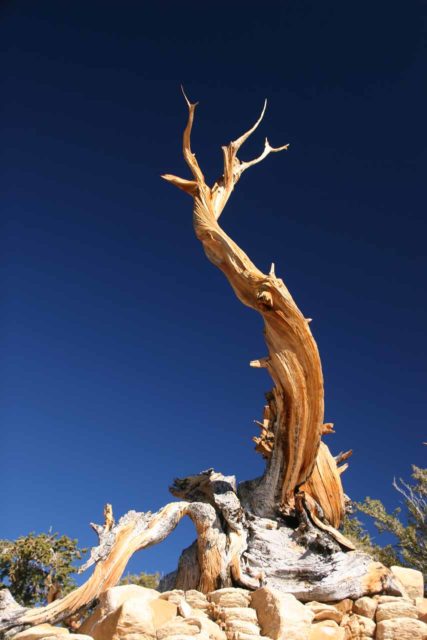 19-August 2010 to 21-August 2010:
Ed got his question answered about whether Minaret Lake was doable as a day hike, which we were considering doing tomorrow to at least witness what we were supposed to be doing as a backcountry excursion before plans changed.
The lady told him that it was 16 miles round trip, and that number alone made it seem like a day outing there was a bit ambitious, especially since we were at altitude. Her expression as she said it also kind of planted the seeds of doubt in us that maybe we should find alternatives…
Day 1: RACE AGAINST TIME
After picking up the rental car, getting all packed and ready to go, and leaving our respective wives (and children) behind, Ed and I finally left at 9:45am.
We were about to embark on a trip that was originally meant to be a weekend backcountry backpacking trip to Minaret Lake with Ed's former firm (similar to what we did last year), but the trip leader Larry was having back and leg problems and had to pull out.
With that development, the trip instantly transformed from a physically demanding backcountry backpack out of Red's Meadow near Mammoth Lakes into a series of day hikes. But which day hikes we were going to do was up in the air.
At least this afternoon, I was pushing for us to squeeze in some quick visits to Twin Falls, Rainbow Falls, and Lower Falls. All of these waterfalls were places that I hadn't been to in many years and was looking forward to collecting more recent memories and provide better write-ups about them. For two of those waterfalls, the only photos I had were from 2001 where only analog photos were taken and scanned in.
So in essence, I was slaying some of the demons that haunted me (as some of the holes in my memories from my early days of waterfalling needed to be corrected). More specifically, I needed to take better photos, take better notes, and even add some videos.
And how much of those demons that would be slayed depended largely on how Ed and I compromised on sights we'd be seeing this weekend.
So we did the long drive up to the Mammoth Lakes area. He provided great company by engaging in long thought-provoking conversations that made the six-hour drive go by relatively quickly.
Something we both noticed while going up the 395 was that there appeared to be some traces of snow still visible on the Eastern Sierras when we expected all the peaks to be free of snow this late into Summer. That further provided hope that we'd be seeing some of the waterfalls in a shape more like July flow instead of August flow thanks to the combination of 140% snowpack plus a surprisingly mild Summer moderating the rate of snowmelt.
Our family already witnessed this on a local outing to Big Falls a couple of weeks earlier.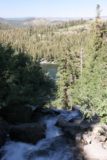 At about 3:30pm, Ed and I were in Mammoth Lakes. We made one last driver switch in town since I was more familiar with the area and had the agenda to slay demons from the past. So I drove out to Twin Lakes to get to Twin Falls. Since my memory was a bit fuzzy about this place, I tried to be careful about getting to the right areas to make photo stops.
But something Julie and I didn't do 9 years ago was go to the top of the falls. So that was the first thing we did. Eventually, after going through some pretty well-developed roads that I had never driven before, we arrived at a picnic area directly across from Lake Mamie at the very top of the waterfall at 3:45pm. The highway to get here was an unexpected surprise (I wonder where it went?) passing by Lake Mary on the way here. But other than that, finding the Twin Falls Picnic Area was pretty much a breeze.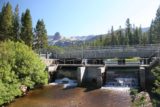 So Ed and I wasted no time getting out our cameras and skipping right over to the bridge at the top of the falls where we could look right down at the pretty Twin Lakes with the afternoon light right behind us. We also looked upstream towards Lake Mamie, which was bustling with people fishing and probably swimming.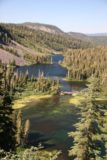 Though both Ed and I wondered what the gates were for.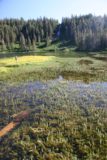 After having our fill of the vista from up here, we got back in the car and arrived at the Twin Lakes Campground and Store area at around 4:05pm. From there, we managed to find some parking in the bustling recreation area and walked over to a bridge separating the Twin Lakes. From there, we took photos against the afternoon sun at the lake and the falls.
But looking further downstream provided some surprisingly nice views of the other Twin Lake watched over by a rocky outcrop and fronted by reeds giving the lake some color further exacerbated by the warm afternoon glow of the sun behind us.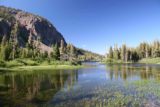 Ed was evaluating whether this would be a good place to take the family considering that it seemed like a family-friendly place to go. I'm sure he was thinking about shifting his outdooring focus from the rugged backcountry to some of the more frontcountry, which this trip seemed to have opened his eyes to.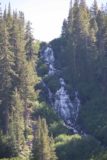 I was making similar evaluations as I knew the time would come soon when I'd have to pare back my outdooring ambitions to accommodate family.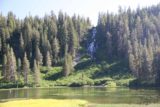 At 4:15pm, we had our fill of the Twin Falls and proceeded to head right over to the Reds Meadow Resort. It took a bit of a drive to get there, and we both had to fork over $7 per person for the Devil's Postpile National Monument (that didn't seemed to have changed over the years) for entry. We also had to use Ed's cell to give Reds Meadow a heads-up that we were about to arrive at the resort so they could give the gate a heads-up to let us drive in instead of using the mandatory shuttle.
While we were conversing with the lady at the booth, both Ed and I had some questions answered. My question was whether this National Monument accepted the National Parks Pass. It turned out that this was one of the exceptions where that pass was NOT accepted due to the maintenance required on Minaret Road entering the area. That was definitely something worth noting.
Ed got his question answered about whether Minaret Lake was doable as a day hike, which we were considering doing tomorrow to at least witness what we were supposed to be doing as a backcountry excursion before plans changed.
The lady told him that it was 16 miles round trip, and that number alone made it seem like a day outing there was a bit ambitious, especially since we were at altitude. Her expression as she said it also kind of planted the seeds of doubt in us that maybe we should find alternatives for tomorrow.
At 5pm, we finally made it to the Red's Meadow Resort. That was when we conversed with a worker at the General Store while waiting to check-in. He showed us his Topo Map and we could see straight away that there was indeed going to be three major areas of elevation gain on top of the 16-mile return hike. The clerk suggested that they do offer $125 horse rides to get out there and back as a full day trip.
But Ed didn't feel like bruising his bum for that long and was hoping to make the hike. I think he was encouraged by Larry to make the hike, but I began to wonder whether Larry's suggestion at doing this and Dead Horse Trail was even feasible as a day-hike especially given the shape we were in.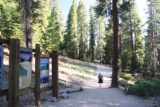 I think it took Ed a little bit of time for the doubt to finally kick in. But in any case, we were going to use this afternoon's Rainbow Falls and Lower Falls hike as a sort of barometer as to whether we could achieve such a hike tomorrow, anyways.
But the big caveat was whether we could even squeeze in the hike before it got dark. The delay in checking in didn't help matters.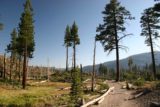 Finally at 5:25pm, we checked in. And at 5:45pm, we got back in the car and drove right out to the trailhead for the falls.
At 5:50pm, we were immediately on the trail and wasted no time hiking quickly along the familiar sandy path. We didn't have to contend with pack horses kicking up lots of dust, but even just walking the trail provided ample fine dust in the air, which further undermined our ability to breath freely as we were still getting acclimated to the high altitude.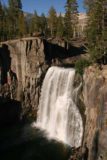 The path was mostly downhill, which was something I had taken for granted in the past. I had a feeling heading back might be slower than anticipated.
Anyways, after we left the shady confines of the pine forest, we entered a large area still recovering from a forest fire back in 1992. The trees here were still bare, but at least we noticed that there was a large moon starting to show itself above the ghostly remnants of the forest.
Fortunately for us, it wasn't hot so being exposed to the sun at this time wasn't a big deal.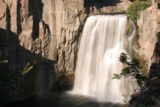 Finally at 6:15pm, we arrived at the first overlook of the falls. And as I had anticipated, the late afternoon light was almost perfect for pohtographing the waterfall. There was even a faint rainbow that we could see in its mist though it didn't really show up well in our photographs.
I could see that the shadows were creeping up quickly and we probably missed the best time to photograph the falls by about an hour since I knew once we started going to the bottom, parts of the waterfall would start to be in shadow.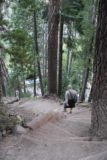 So we hastily took shots from this overlook as well as the next overlook, which provided a more direct viewing angle. Again, the late afternoon glow of the falls juxtaposed with pine trees above the rhyolite cliff contrasting with the deep blue skies beyond almost touched by peaks bathed in warm afternoon glow made for nicely-composed photos.
But just as we had our fill at this vantage point, I could see the shadows continuing to creep up the waterfall. And after hastily making our way down the steps to the bottom of the falls, the shadows had already covered half of the waterfall.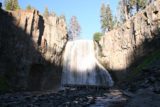 So that made for rather difficult photographing conditions, and I wasn't sure I'd come back down here when the falls was completely in shadow. So I really didn't make much use of the tripod that I brought down here.
So Ed and I went back up the stairs to the trail. I had held out hope that we'd return back here after visiting Lower Falls, but I did take what subpar photos I could in the event we wouldn't be back here later.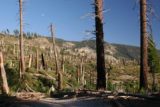 And after returning to the top, coming back here was seriously in doubt as both of us were out of breath thanks to the thin air.
At 6:35pm, we continued further downhill along the trail to the Lower Falls. This was another waterfall in which I only had bad analog photos from 9 years ago.
About 10 minutes later, both of us reached the very top of the waterfall. We took a few photos from up here, and having acquired nearly a decade of honing in my photography skills, I took photos that I would've never even considered taking way back then.
For the top of the falls provided a nice vista of the San Joaquin River meandering downstream through more pine forest and between more rocks as the sun was continuing to hide behind the hills in the distance.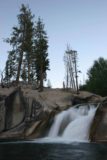 So the falls was completely in shadow at this point. But that gave me a chance to take more photos from the base of the falls in long exposure.
After the short scramble to the bottom, I was hastily taking what photos I could of the falls juxtaposed against tall pine trees towering over it. And as I was doing this, I had to fight off mosquitoes that were still here. I couldn't believe they were here this far into August, but it all just reinforced the notion that we were essentially witnessing July conditions.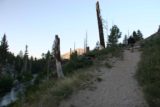 Finally at 7pm, I climbed back up to rejoin Ed at the top of the falls. We then hastily made our way back to the trailhead as the shadows almost completely engulfed the area only leaving alpenglow at the very tops of the mountains in the distance above us.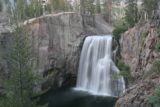 We made one quick stop at the Rainbow Falls overlooks taking a few more photos given the even lightning at this time of day. However, we didn't even consider returning to the bottom of the falls.
As we left Rainbow Falls, Ed noticed three deer (a mother and two young ones), which gave us a short photo break.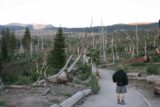 Eventually, we made it back to the car park at 8pm. The hike to get back here was deceptively tiring as it was pretty much all uphill to even get here. Even though we had only gone about 3.1 miles round trip, we were sure the altitude didn't help matters. And that might have further planted the seeds of doubt in Ed that perhaps Minaret Lake as a day hike might be too ambitious tomorrow.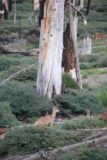 Plus, I could finally put a finger on why Julie and I were always a little winded whenever we did this hike even though practically everyone it seemed treated this hike like a walk in the park.
The only folks who were suffering a bit would be out-of-towners like us who weren't used to the altitude yet. Ed even commented to me that he was some families on the way out (as we were heading in) that didn't seem to be enjoying the hike probably for the same reason that we were complaining about now – that we were going uphill for a long stretch in the thin air of around 7000ft in elevation.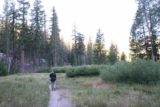 At 8:05pm, we were back at the lodge. Nothing was open at this time so we had to content ourselves eating self-made tuna bagels, which we were supposed to be eating on the trail tomorrow. So that held us over for tonight and perhaps built up our appetite for something more substantial either in Mammoth or Bishop tomorrow.
Day 2: SALVAGING A LAKE EXCURSION
It was about 6am when Ed and I awoke. It was quite chilly in our cabin and we hastily put on our jackets and hiking clothes as we were getting ready to check out and embark on the day's activities. We had ourselves a breakfast of bananas and some kind of muffin that was high in fiber.
By 7am, we dropped off the keys with the resort and drove off towards the Agnew Meadows Car Park. After a bit of discussion last night, Ed and I decided to spend the better part of this morning day-hiking to Shadow Lake.
Even though Ed had already been to Shadow Lake, he really wanted to salvage a lake excursion today. But it seemed all of the worthwhile lakes were too deep in the backcountry to reasonably do in a day. But that still didn't stop him from comparing our day hiking experiences to the physical demands of the backcountry hike to Minaret Lake that was still on his mind.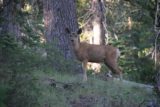 At 7:20am, we arrived at the Agnew Meadow car park. There were already lots of cars here, but we felt like we were still one of the early birds. It was clear that many of the cars parked here were from people who were already out in the backcountry (probably to the ever-popular Thousand Island Lakes or others like Garnett Lake, Ediza Lake, Iceberg Lake, etc.). Shadow Lake was probably merely a temporary stop for most of these folks, but it was to be the destination of our morning excursion.
After making one last trip to the pit toilet while securing our footstuffs in the crowded bear locker, we were on the trail by 7:35am. Most of the hike was in the morning shadow and we gradually warmed up within the 40-50F morning thanks to our physical activity.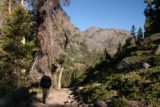 We were early enough to spot another pair of deer near the trail, which gave us another excuse to test of wildlife photography skills in the low light.
Anyways, the hike seemed mostly flat with a couple of areas of gentle declines (which we knew we'd be paying for on the return). Along the way, we stopped at a real serene "lake" called Olaine Lake. This one was real reflective and seemed to have decent lighting conditions for those classic Mirror-lake-like shots.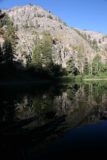 And we took full advantage of this photo ops as we were also taking a break and removing our jackets as we anticipated a real big warm up before long.
The trail skirted some valley wall before descending into the basin where we saw someone backcountry camping here near the bridge over a stream that was probably a tributary to the San Joaquin River.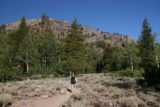 Right after the bridge, we were well beyond the morning shadows of the adjacent cliffs, and we had to make a steep ascent in the sun up the other side of the valley wall. It was this part of the trail that we knew would take a bit out of us, and it most certainly did.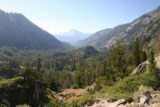 For we took frequent breaks in the pockets of shade to hydrate as well as catch our breath. Every so often, we took some photos (against the sun) of the vistas down the valley.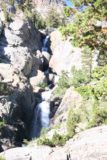 But probably about 2/3rds the way up this incline, we heard the rush of running water getting louder. Water making sounds this loud couldn't have been any dinky stream cascading towards the valley. Indeed, this must've been a legitimate waterfall.
And sure enough, we eventually laid eyes upon a twisting mountain cascade that was partially in shadow within its little gorge. The falls eventually twisted further downstream beyond our line of sight, and it was obvious that there was no way we could take an all-encompassing photo of it.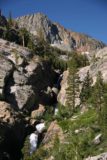 Still, that didn't stop us from taking what photos and movies we could of this surprise waterfall. But from what we could tell, it didn't seem like this waterfall had a name. All we knew was that it was probably draining Shadow Lake (so we couldn't be far away from it), and so we informally dubbed this waterfall "Shadow Falls."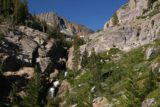 Ed suggested that I give Larry an email asking what the name of the falls really was since he was confident Larry knew all the ins and outs of the Eastern Sierras.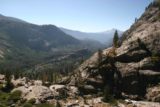 At 10am, Ed and I made it above the "Shadow Falls" and we finally laid eyes upon the pretty Shadow Lake. We met a couple of guys heading downhill mentioning to us that the money shot was around the corner.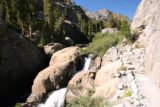 It didn't seem like there was a particular place along the shores of the lake for that money shot. We merely looked between the trees and onto the deep blue lake backed by Mt Ritter and any other neighboring mountains wherever we could.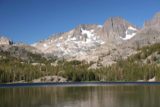 So we took a quick snack break here gazing at the lake as it seemed to have subtly changed colors with the continually rising sun. Passing by us were a handful of backpackers and even a pair of packhorses.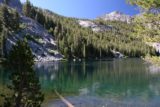 But just as a reminder that we were still under July conditions, mosquitoes were also swarming around us so we had to put on DEET.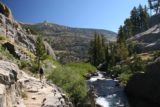 By 10:20am, we were done taking our break and headed back downhill towards the Agnew Meadows car park. It was already getting quite a bit warmer and brighter as we now faced the sun. And since we still wanted to make a quick detour to see the Devils Postpile before going back up to Mammoth for lunch at a reasonable hour, we made haste.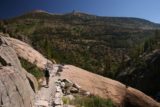 So the downhill stretch immediately besides the falls and below the lake was mostly uneventful. Going downhill never seemed to be a problem for us when on a fairly high-altitude hike. But we weren't looking forward to some of the uphill hiking we had to endure on the other side of the valley.
By the time we got past the bridge, across the meadow, and up the other side of the valley wall, we no longer had the luxury of shade to keep us cool. And as expected, the uphill made us breath hard and heavy while the water breaks were quite frequent.
Finally at 12pm, we were back at the Agnew Meadows Pack Station. After picking up our foodstuffs from the bear locker, we immediately drove to the Soda Springs car park where the lot was surprisingly empty. I guess the shuttle system was certainly doing its job by keeping the cars out of the area.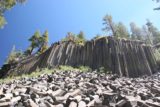 By 12:20pm, we were joining the many visitors to and from the formation. It was only 0.3 miles each way, but both Ed and I were still a bit winded from our morning excursion. It seemed like every slight uphill was felt.
This experience was far different from the relatively quiet hike to Shadow Lake. Here, we saw numerous families and kids out and about. And once we got to the postpile formation, it was interesting to see how people reacted to it seeing it for the first time.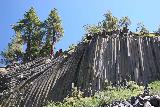 I guess I knew I was a jaded visitor after having seen things like this in other parts of the world like Iceland and Australia, but it was still interesting to photograph and ponder the geometric elegance on display.
Ed and I had no intention of going to the top of the postpile formations as we anticipated an afternoon hike that we wanted to save our energy for. Plus, we were quite hungry for something more substantial.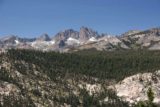 So by 12:50pm, we were back in the car and hastily drove up to the Mammoth Village. This marked the end of our time in the Reds Meadow area.
By 1:25pm, we had lunch at this place called Burgers, which was right across the street from this complex that Ed said was a project he worked on. Even though we were trying to watch our diet by minimizing greasy foods, we couldn't help ourselves. The place was quite busy, but we didn't have to wait for our seat, plus the friendly staff here even filled up our Nalgene bottles with ice cold water. That would prove to be a tremendous lift for us when we embarked on our afternoon hike.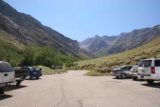 After leaving the Mammoth area at around 2:15pm, we were at the McGee Creek Trailhead at around 2:35pm. The drive here seemed to be more paved that I had remembered, but perhaps it just illustrated why memory (especially distant ones) wasn't such a great mechanism for bringing back the past without the aid of notes and photos.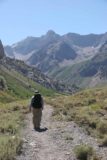 Indeed, we were now headed for Horsetail Falls, which was only four miles round trip, but we could immediately tell from the 85F temperature and the lack of shade against the afternoon sun that it wasn't going to be easy. Plus, the hike was mostly uphill on the way there.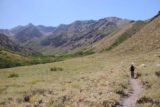 Even though there were lots of cars at the trailhead, it still seemed like it was only Ed and I on the trail. The only other people we saw on the way up was a trio of young guys going back on a higher trail. Ed wondered why there were three branches of the trail all going to the same place.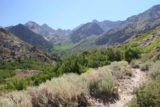 Anyways, with us looking right into the afternoon sun, we couldn't really tell why one mountain here was called Red Mountain and another was called White Mountain. They were pretty much in shadow as far as we were concerned.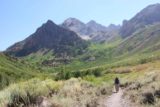 It wasn't until we had gotten further up the hike and closer to the mountains did we start to notice some detail in the shadows of the Red Mountain. It seemed like that mountain had a bit more oxidation in it and I'm sure in the morning sun, its name would be obvious.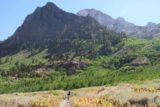 As for White Mountain, I thought that one was a bit more obvious. For its surface seemed to have that bare rocky sheen that would totally be bright and white in the morning light.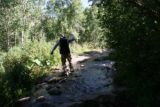 As Ed and I were gradually losing our energy under the wilting sun and long gradual uphill, we finally got to a pair of stream crossings right beneath Horsetail Creek. In fact, we were able to see part of the waterfall on the approach.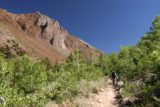 But the fact that this stream made us rock hop a little before getting fully into the stream on the second crossing was indicative that this waterfall had pretty healthy flow. Again, this healthy flow seemed more indicative of July flow than late Summer flow, when Julie and I saw nothing more than a wishbone rather than a horsetail 9 years ago.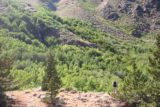 On the other side of the stream, we walked a short distance more before we saw some unsigned spur trails leading us to a scramble that took us to a better look at the falls. I knew to look for the scramble because Julie and I did it before. Otherwise, it could've easily been missed since there was no sign.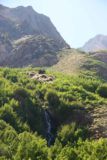 By 3:55pm, we finally made it to perhaps the best spot to see the Horesetail Falls.
It was too bad that the sun was practically on top of the waterfall for this would've made for some real nice photos. But we couldn't control the timing of the excursion (we would've been in Bishop by tonight and on the way home tomorrow) so we just took what photos we could and seized the moment.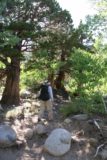 Anyways, when we had our fill of the falls while trying to shield the lens from the sun with our hands taking photos, we hastily headed back looking forward to the all-downhill trail back to the car park.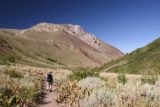 The afternoon sun at least provided nice colors on the mountains flanking us as we pushed eastwards. But they just weren't as dramatic as they would've been had we done this hike in the morning.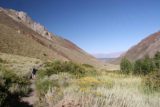 By 4:45pm, we were back at the car park. We were relieved that the hiking was done for the day as both of our legs were tired and sore. Even my shoulders were quite sore.
However, it was at this time that I realized that I had completely forgotten to take a movie of Horsetail Falls with Julie's camera. And there was no way that I was headed back up the trail to redo it. I was done with this trail.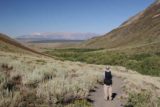 By 5:30pm we finally arrived in Bishop where we checked in at a very busy Motel 6. It was just 98F when we arrived, and it was a far cry from the relatively mild temperatures of the Mammoth Lakes area.
After unpacking our stuff, we made a quick trip to a local restaurant called Jack's. That was where Ed chowed down some meatloaf while I had their Prime Rib special. Again, it was heart-stopping food, but I thought we earned it after logging another 10.6 miles overall today.
And given our fatigued states, I think Ed finally realized that doing a day hike to Minaret Lake and back probably would've been suicide.
Day 3: THE ANCIENT COLONY
Once again, Ed woke me up at 6am. It didn't seem like either of us slept very well (the night at Reds Meadow was similarly unrestful). But in this particular case, it seemed like the noisy AC and the warm temperatures (we were perhaps a bit too frugal with the energy usage) made the night sweatier than other guests were having I'm sure.
Anyays, we packed up our belongings, loaded up the car, and had ourselves a quick breakfast of bananas and high-fiber muffins.
By 6:40am, we had left Bishop, which was surprisingly bustling at this time of day. Ed suspected most of them were probably preparing for backcountry excursions nearby.
Today, we were determined to make a side trip to the Ancient Bristlecone Pine Forest. We had an opportunity to come here last year, but we decided it was too late in the day to try. So we felt this was our opportunity this time around.
We were under the impression that this was going to be a real short roadside stop and detour before heading for home. However, it was already apparent as we drive east of Big Pine that this was going to be a bit of a nontrivial detour.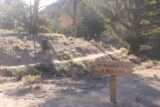 It wasn't until 7:40am that we finally arrived at the car park for Schulmann Grove. We had fully expected nothing more than a nature walk here, but after looking at a trail guide and some signs, we either had to do the mile-long Discovery Trail or the four-mile Methuselah Trail Loop.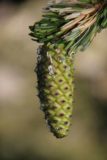 So we laced up our boots and brought whatever water we had left. Already, our plans for getting home early in the afternoon were blown out of the water as this trail would set us back at least another two hours or possibly more.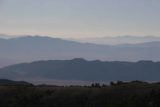 Plus, with the visitor center not open until 10am and not having the correct change, we actually had to ask someone (the only other person here at the time) if he had change for $20. It turned out that he didn't but he just straight up gave us his $3.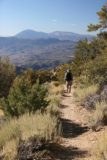 We felt bad about taking it as he didn't want $20 for the $3 he gave us. But in any case, we now put in the minimal payment for leaving our car here, and we'd hopefully pay back the guy and pay the rest of the fee once the Visitor Center opened when we returned from this hike.
So at 8am, we were off.
The trail was far from the flat and easy-going nature walk we had hoped for. Already sore from the 14.2 miles of cumulative hiking the last two days, we were sure we were going to be tested physically once again.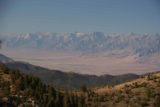 And sure enough, the hike did have some uphill stretches as well as a few downhill stretches that we were sure we would have to get back on the return to the car park.
Still, there were 25 interpretive displays which we did stop for a handful of them. But since we were making haste, we decided to just do the hike, take photos of whatever caught our eye (which turned out to be plenty), and then read all about what we saw on the drive home.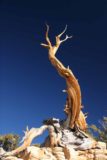 It turned out that the signs made us do this loop in a counterclockwise direction. There was a spur trail to some mine and cabin made out of the ancient bristlecone pine trees. That would probably explain how someone found this grove in the first place since it really did seem like it was in the middle of nowhere.
Eventually at around 9:25am, we finally descended down to the Methuselah Grove. It turned out that there was no singular attractive tree to photograph. For we were looking for that famed Methuselah Tree, but there was no signage pointing it out.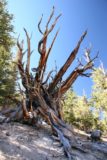 Looking across on the adjacent hillside, we saw lots more of them sprouting all over it with a fairly more spaced out distribution that what we were used to seeing with pine trees.
They were definitely more distinctive looking than the typical pine tree. But what set these guys apart was that apparently they were the oldest living being on earth. Some were said to be about 4000 years old based on empirical readings of tree bands.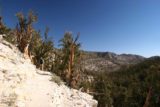 I wondered if they tested that method against carbon dating to see if they yielded similar results.
Anyways, according to the trail guide, these trees live in colonies, and when one tree or part of it died, it somehow contributed its living tissue to the overall colony. It was kind of a foreign concept to me, and it's something I'm sure I'll have to read more about how that worked, but I guess it might not be totally foreign since it can be said that the Great Barrier Reef could be thought of as one large organism with lots of constituent parts.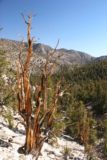 When we finally pried ourselves away from taking lots of photos of the Methuselah Grove at the 2.5-mile marker, we had to make the climb back up to the car park to complete the 4.5-mile loop.
And by 10:35am, we finally made it back to the suddenly busier car park.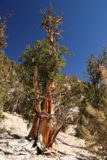 Sure enough the Visitor Center was open and we did the honest thing by paying the remaining $3 balance we owed them. But we couldn't find the guy who gave us the $3 to pay him back.
Anyways, we happened to show up on a day when one of the park employees was going back to school. So they were having a little bit of a celebration by the trailer (since the old visitor center had burned down in a fire a few years ago), and it was full of little snacks of crackers, cookies, wheat thins, and goldfish. There were also three coolers worth of drinks including lemonade which provided me with some much-needed electrolytes.
We were also conversing with the employees there who explained to us that they intentionally didn't identify the Methuselah Tree. And after thinking about it, it made total sense why they did that for I'm sure people would've vandalized it had it been identified and signposted. So that explained why we couldn't pick out the oldest tree in the grove though they said we probably did see it.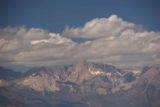 Finally at 10:50am, we bid farewell to the park staff and left for home. We did make one quick stop at the Sierra Vista some five minutes later, but by this time, the skies were hazy and the thunderclouds were definitely in effect above some of the familiar peaks we had seen last year (such as Mt Sill and the Palisade Glacier).
By 11am, we were well on our way out of the Ancient Bristlecone Pine Forest and went nonstop to Los Angeles.
I'm sure we could've made it home shortly after 3pm, but the traffic on the I-5 definitely made things excurciatingly slow this Saturday afternoon. So it wasn't until 4pm when Ed was back at his place and 4:15pm when I was back home.
Visitor Comments:
Got something you'd like to share or say to keep the conversation going? Feel free to leave a comment below...
No users have replied to the content on this page