This itinerary was of a return trip to the Eastern Sierras based in the Mammoth Lakes area during July 4th Weekend. It took place barely a month after our first serious waterfalling trip in Yosemite National Park.
And like that previous trip, Julie and I went with the parents. They were also joined by a large group of other family friends of their age group as well as one of my younger cousins from Taiwan, who actually handled our hikes surprisingly well for a first-timer.
As far as the trip goals were concerned here, we aimed to see some other waterfalls that we hadn't seen before in the Eastern Sierra region. We also returned to Rainbow Falls in higher flow.
Meanwhile, with this being a holiday weekend, we figured that while Yosemite Valley would be real crowded, we shouldn't have as much problems pursuing the Tioga Road attractions. For the most part we were right. However, the hike to the top of North Dome and the detour to Indian Rock Arch really took a lot out of us…
Here's a summary of what we accomplished in our limited time…
Trip Highlights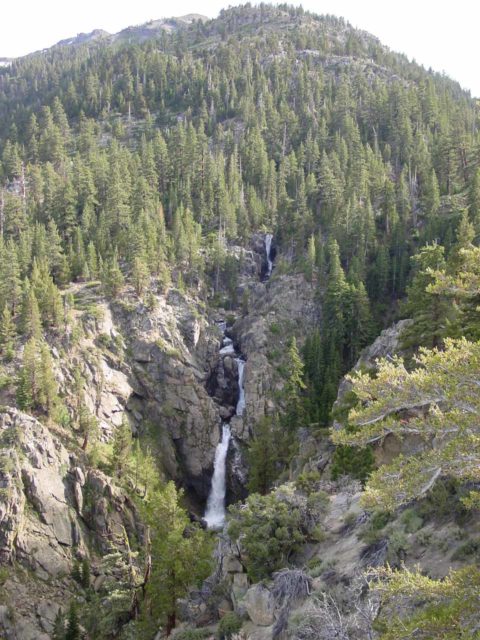 Leavitt Falls – This multi-tiered look-but-don't-touch waterfall was easy to see from a nearly roadside lookout and picnic area. This lookout also featured the attractive Leavitt Meadow as well as the opportunity to spot the less vegetated mountains further to the east as if we had just crossed a boundary between the Sierras and the rainshadow in its wake.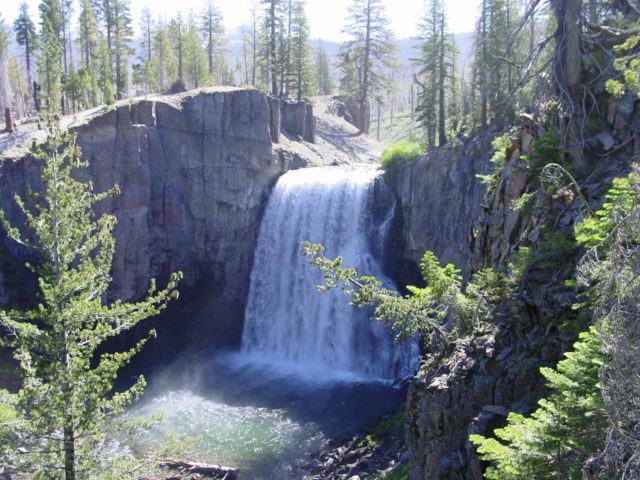 Devil's Postpile National Monument – This small reserve near Mammoth Lakes was once part of the Yosemite and Mariposa Grove of Giant Trees before it became re-gazetted as its own reserve when certain interests wanted to blast the Devil's Postpile formation and use the rubble to dam the San Joaquin River. It is now a Summer reason to visit the Mammoth Lakes as it featured the reliable and beautiful Rainbow Falls while allowing us to visit the attractive Minaret Falls. It also had the basalt columns of the namesake Devil's Postpile formation as well as the Lower Falls though we didn't do the latter two on this trip.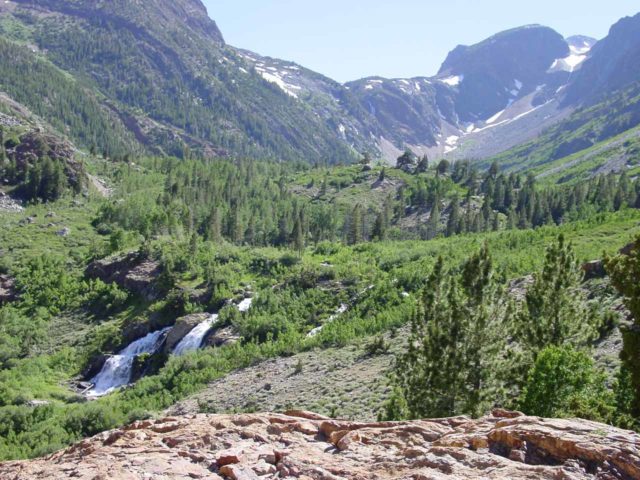 Lundy Canyon – This picturesque canyon was full of cascades and waterfalls as well as wildflowers. It was quite a joy to do the hike and spot one cascade after another. There were quite a few interesting unbridged crossings of Lundy Creek, which made this place feel more like an adventure, and though we didn't have the time to hike all the way to the head of the canyon, the scenery here was enough for us to consider this an unexpected highlight of this trip.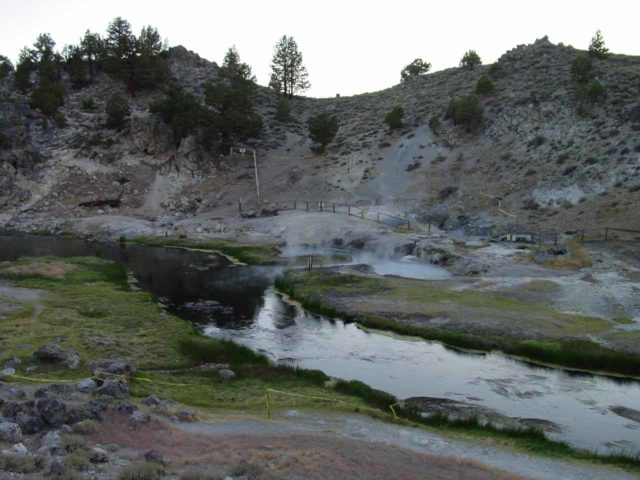 Hot Creek – This was a nice spot to bathe in the geothermally-heated waters at the end of a long day of sightseeing and hiking. It was quite the popular spot though the heat flowed in waves between hot and cold in the creek itself. There was also a small natural arch on the way as well as nice views back towards the mountains of the Eastern Sierras.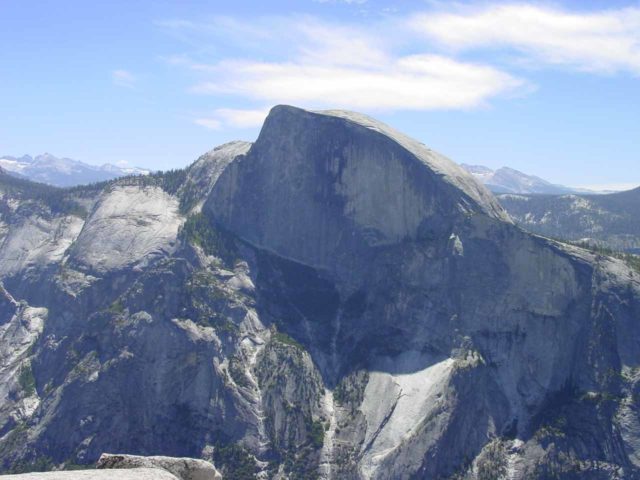 North Dome – It wasn't an easy hike to do as we were short of breath at the end of this hike, but we were rewarded with in-your-face views of Half Dome as well as a side detour to the Indian Rock Arch, which was the only place I'm aware of that you can even see Half Dome through the span of a natural arch! We even had a very unusual view of Illilouette Fall from a distance.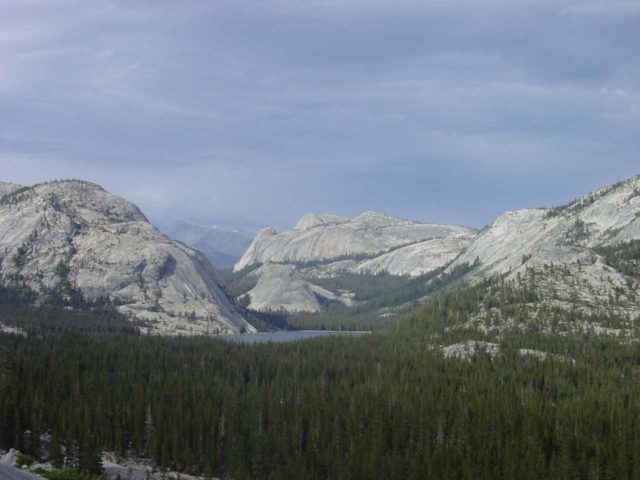 Tioga Road – With the majority of the crowds down in Yosemite Valley on this July 4th weekend, we actually enjoyed the drive on the Tioga Road stopping for places like Olmstead Point with its backside view of Half Dome, glacial erratics, and distant views of Tenaya Lake backed by granite mountains. We also stopped for the Tuolumne Meadows, which was a vast grassy meadow flanked by some of Yosemite's signature high country domes and peaks.
Travel Itinerary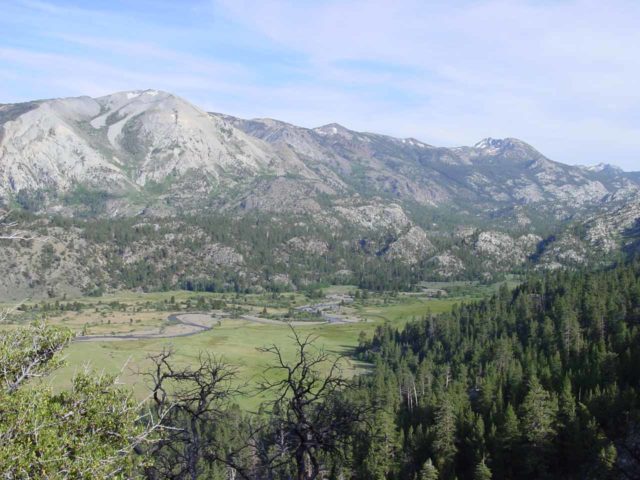 Day 1: Drive from Los Angeles to Mammoth Lakes
This was basically a long driving day where we had gotten an early start. Thus, after checking in, we had some time to make the drive all the way out to Leavitt Falls near Sonora Pass before stopping for views of Mono Lake on the way back to Mammoth.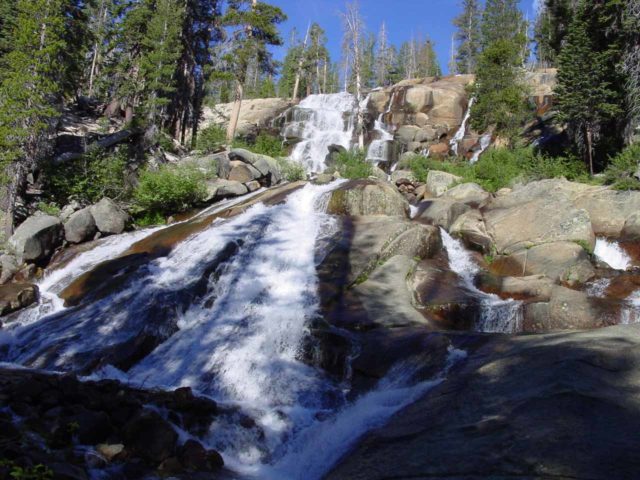 Day 2: Devil's Postpile and Lundy Canyon
We began this day with a visit to the Devil's Postpile area where we visited both Minaret Falls and Rainbow Falls. Then, after a lunch back at Mammoth, we then explored the scenic Lundy Canyon for the remainder of the afternoon. At the very end of the day, we soaked in Hot Creek.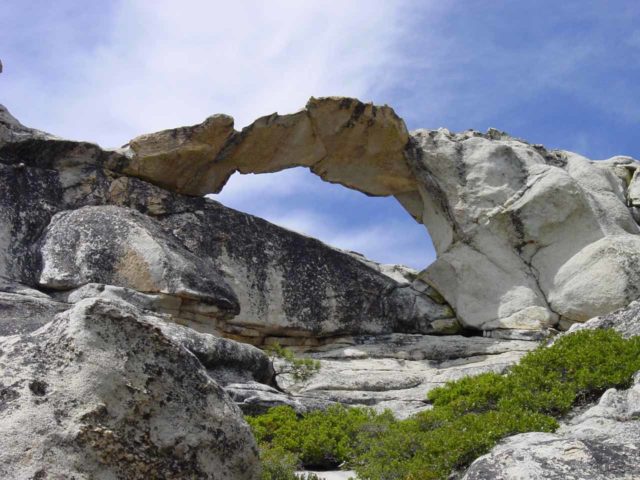 Day 3: Yosmite High Country
On this day, we did the North Dome hike with the Indian Rock Arch side trip. This hike took most of the day. For the remainder of the afternoon, we cruised the Tioga Road checking out Olmstead Point, Tuolumne Meadows, and chilling out by the shores of Tenaya Lake.
Day 4: Drive Home
This was a driving day to go home. No sightseeing on this day.
Trip Reports
Waterfalls included in this itinerary
Visitor Comments:
Got something you'd like to share or say to keep the conversation going? Feel free to leave a comment below...
No users have replied to the content on this page