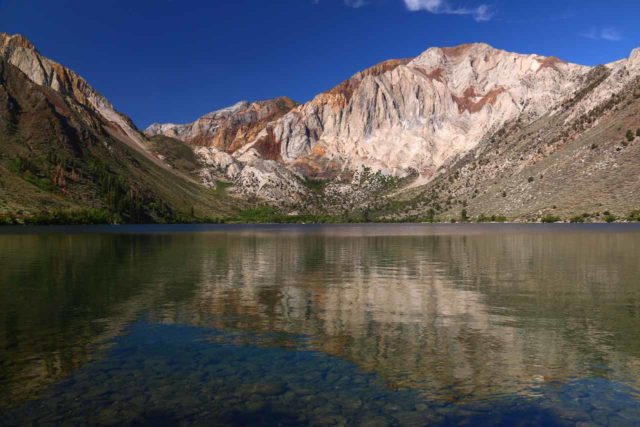 1-August 2015 to 4-August 2015:
When we finally returned to the Hwy 168, I was concerned that the undulating road had sections where water could easily come across it. I recalled there was a "single lane" road section (probably more on par with a typical bi-directional narrow road in Europe as opposed to it being "single lane") as well as other parts of the road where I saw puddles and tiny streams that could easily blow up into something impassable.
As we were just starting to head west on the road, we saw a cop going the other way. Just as we had passed each other, he had turned on his siren lights, which made me scared that perhaps I might have been caught speeding on the Hwy 168. So for the next few minutes, I kept inspecting my rear-view mirror thinking that I was gonna get pulled over for speeding (though I swore I was going pretty slow given the conditions)…
Day 1: LIGHTNING CRASHES
Julie's day began with a 6am wake-up because she wanted to prepare breakfast for Tahia before we were going to go out the door. On this day, we were going to make the long drive up to Mammoth via Bishop. The main reason for this last minute trip was so we could hang out with our good friends Cindy and Ed while our daughter could hang out with their kids. I didn't have any expectations for doing any new waterfalling experiences though I was hoping that perhaps we might have a chance to check out Sotcher Lake and the waterfall that was said to fall over there.
Other than that, this trip was promising to do some excursions that we never really considered doing before (or that Julie had never done before since it had been nearly 13-14 years since she was last here).
Anyways, it wouldn't be until about 8:55am when we were finally all packed and ready to go. Once again, it took a while for Tahia to finish her brekkie since she was so picky (and tended to drag her feet when it came to eating stuff she didn't like).
Bottom line was that we were expecting some degree of light traffic since we were essentially on our way out on a Saturday morning. We normally don't do drives like this on a Saturday, but I guess we had to fit our schedule to at least coincide with Cindy and Ed's schedule as much as possible without having me take too many days off (since it would look bad given that I had been gone for quite some time going to Morocco and Spain earlier in the Summer).
Anyways, it wouldn't be until Sunday afternoon at the earliest that we'd be hanging out with them. In the mean time, all of today and pretty much most of tomorrow, we were on our own.
As expected, it was light as we followed the I-5 all the way up through Burbank and into Santa Clarita. As we were heading north towards Lone Pine, Julie had high hopes of us having lunch at the Still Life Restaurant in Independence. We figured that would be a good gourmet start to the trip.
It was a little after 12pm when we passed into the town of Independence. Unfortunately, we saw that the Still Life Restaurant was closed. When Julie called, they said that they were only open for dinner. So I guess the Yelp or TripAdvisor hours were incorrect. That was too bad. So without any real sensible alternatives for lunch, we decided to just keep going towards Bishop. The original plan was to eat lunch first, then do Ancient Bristlecone Pines next, then check in, and maybe let Tahia play in the pool after that before dinner. But now, those plans have changed.
Eventually, at 1:30pm, we pulled up into the Motel 6 there and checked in. It was 101F here, but we figured that we could drop off our belongings, then have a late lunch at the Schatt's Bakery. Julie had looked up what kind of sandwiches they had there, and I guess their reviews were good enough that we ended up going there.
At 1:45pm, we pretty much found a shady parking spot (not that it made too much difference given the high heat of the day), then we promptly walked into the bakery that I know I hadn't gone into in at least a decade or so. Nevertheless, we queued up, eventually picked up a BBQ turkey sandwich, scored an indoor seat (good timing), then finally had our lunch.
I'm sure with the increasing awareness of gluten intolerance, this wasn't going to bode well for our guts. But at least it was holding us over, and it was fairly fast. But with the high altitudes that we were going to, the gassiness that our gluten intolerance was sure to cause was going to be exacerbated by the tendency for gas to expand at such altitudes. Either way, we just took it. Tahia, I don't think had this intolerance yet.
At 2:45pm, we were done with our sandwich along with some cinnamon roll as well as cheese bread samples, and we finally left Schatt's Bakery, which was a later start than I had envisioned for the Ancient Bristlecone Pine Trees. Back in 2010 when I went to the Ancient Bristlecone Pine Trees with Ed, we stopped the car at the Schulmann Grove, then hiked the long loop (about 5 miles I think) amongst the Methuselah Grove in the hopes of finding the oldest Bristlecone Pine Tree (though they don't label it so no one would vandalize it). When we came back from that trip, we wondered if we had made a mistake by not going all the way to the Patriarch Grove to see more trees, including the largest one in the Patriarch Tree. So on this trip, I was determined to explore that option.
It was still scorching hot outside in Bishop, but we could see that the thunderclouds that looked menacingly dark were now spread out across the Owens Valley to the north. Meanwhile, as we were driving south back to Big Pine, then headed east on the 168, we could clearly see that we were driving into some of those menacingly dark clouds looming over the Telescope Range that we were about to delve deeper into.
The drive was a mix of overcast skies, brief rains, and sunshine. But for the most part, the drive on the 168, then onto White Mountain Road was pretty uneventful. I did notice some puddles on the 168 road as well as tiny streams crossing the road, which made me keenly aware of the flash flood risk if the area were to have a sudden downpour. But we were committed to our visit, and we figured that our visit should be brief.
Eventually, we'd make it to the Schulmann Grove turnoff at the end of the paved part of the White Mountain Road at roughly 3:45pm. However, we still had another 12 miles to go on the now-unpaved road in order to get all the way to the Patriarch Grove. Since we were driving our own vehicle, I was aware of the kind of damage it might cause to our car in terms of messing up the alignment as well as possibly inducing a flat tire among other things that could go wrong. But I wasn't expecting this drive to be so bad that it might take a few years off the life of the car.
But the further on the road we drove, the more it became painfully apparent that the road was indeed a bit on the rough side. Even though passenger cars could do it, the road was narrow enough, rutted enough, washboarded enough, and rocky enough that we couldn't attack the road with the same kind of speeds that say some smoother unpaved roads could be. When I saw that it took what seemed like forever to only go 3 miles (since the signs told me we still had 9 miles to go), I knew that this excursion was a bit more involved than I had anticipated.
Complicating this drive was that we had gone through a few cloudbursts or squalls. I don't know if that would help wash Julie's car since I'm sure it was getting caked in wet dust from the unpaved road. We also started to notice some spots of lightning, which made us a little more apprehensive about us becoming lightning fodder while touring the Patriarch Grove.
In any case, we pushed on, and finally at 4:40pm, we made it to the Patriarch Grove and the pretty rough spur road leading to the car park. The good thing was that this grove was pretty much a drive-to grove with a little bit of a 1/4-mile loop to take in the alluring and colorful Ancient Bristlecone Pine Trees.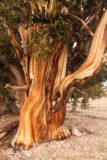 However, we didn't anticipate that it was going to be quite cold here (probably in the 50s or 60s; a far cry from the 100F in Bishop). In fact, I didn't even know that this grove was at 11,000ft! Indeed, with the overcast skies with dark clouds threatening to close in on us from two directions, we knew that we probably wouldn't have as much time as we had hoped touring this grove. On top of that, we also had to accept the fact that we were probably going to have a late dinner as well. Who knows how long of a wait we would have to stomach with today being a Saturday?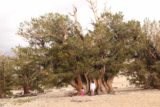 We weren't dressed for cold weather, but Tahia wasn't complaining about being cold. Plus, we knew we wouldn't be out too long, and we'd be pretty close to the car regardless. So we just grinned and beared it, and made our way to where the closest trees were.
A few minutes later, we finally got to see the Patriarch Tree, which was really a wide (but not-so-tall) tree with lots of leaves on it. It seemed like most of its orange bark was concealed. Even though there was a sign pointing out this tree, we felt that it was really the other trees that were more compelling photographically as they showed more of their bright orangish bark along with some of their ghostly fire-like twisted and pointy limbs.
As we were strolling around, we were a little bit short of breath given the high altitude. So I guess today was our day to get acclimated to high altitudes knowing that our excursions in Mammoth and the Devils Postpile area was going to be high altitude, too (though not quite 11,000ft).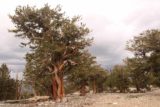 When we saw that the dark clouds were getting closer while the frequency of lightning strikes were increasing (and seemingly getting closer to us), we knew that our tour was pretty much done. At such high altitudes, we knew that the risk of lightning hitting us was higher than what we were comfortable with. And as we were headed back to the car, out of the corner of my eye, I saw another lightning strike not far from our mountain, which drew a "Whoa!" reaction from some dude sitting at a picnic table seemingly entertained by the show.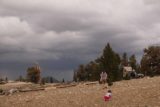 Anyways, by 5:20pm, we were back in the car. I was now concerned about flash floods possibly washing across the road we had to take to get back to Bishop as the dark clouds were looming over the direction that we were headed to get out of here.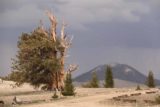 The bumpy drive was now under seemingly darker skies. As we looked west towards the Sierras, we could see that only silhouettes could be seen of them (or at least the parts that weren't covered in clouds). And as we progressed closer and closer to the paved part of White Mountain Road, we could see multiple lightning strikes not far from where we were driving. Indeed, Tahia noticed the sound and light show thanks to Nature, and I guess she was seeing firsthand the word and the meaning of "lightning".
When we were continuing on the paved part of White Mountain Road, Julie's iPhone was making a weird sound. It was something we had never heard before (certainly was neither a ring tone nor a text message ding), and when she picked up the phone, she saw that there was an emergency broadcast system alert for a flash flood warning in our immediate area. That pretty much confirmed my fears about possibly being stranded out here and having to wait out a wash out.
When we finally returned to the Hwy 168, I was concerned that the undulating road had sections where water could easily come across it. I recalled there was a "single lane" road section (probably more on par with a typical bi-directional narrow road in Europe as opposed to it being "single lane") as well as other parts of the road where I saw puddles and tiny streams that could easily blow up into something impassable.
As we were just starting to head west on the road, we saw a cop going the other way. Just as we had passed each other, he had turned on his siren lights, which made me scared that perhaps I might have been caught speeding on the Hwy 168. So for the next few minutes, I kept inspecting my rear-view mirror thinking that I was gonna get pulled over for speeding (though I swore I was going pretty slow given the conditions).
But after a few minutes had passed and he hadn't showed up on my rear-view, we then entered that "single lane" section. And pretty soon, we saw right away that there had been mud that had washed onto the road.
So that was what the cop was flashing his siren lights for! He was trying to warn me about the flash flood danger (or at least its effects)!
Fortunately, there wasn't enough mud on the road to get stuck, but we wondered what it must've been like had that flash flood event occurred in this section and we'd be there to witness it. In any case, based on this, we paid more attention to the engineering of the roads. Since the Hwy 168 was undulating a lot, we figured that the flash-flood-prone sections would probably be lacking a gutter or water channel. Whenever water would pass over the road, then you'd start having problems from potholes, to sinkholes, to ruts, and even mud.
So we saw a few more instances of water puddles covering parts of the road as well as a few more muddy sections. Again, we were fortunate that none of these obstacles stopped us from continuing towards Bishop. And lucky for us, most of the cloud bursts and rain squalls were back while we were on White Mountain Road. The rain seemed to have momentarily died down while we were driving the Hwy 168.
Eventually at 7:10pm, we stopped over at the Sage Restaurant in Bishop since Julie had already Yelped or TripAdvisored about them and saw some decent reviews. It was still cloudy all over Bishop, and when we went inside the restaurant and learned that we wouldn't be seated until about 45 minutes later, we decided to just stick it out. And while we were waiting, that was when it seemed like the rain started to fall again.
Eventually, we would have our dinner, and it turned out that the filet mignon was really good. However, the osso bucco was out, then the salmon with polenta and mango was out, and even the dessert plate she wanted was out. The pesto pasta was creamy and not to Julie's liking. I guess that's what happens when you have a late dinner at these places, but I'd much rather have a disappointing dinner than to miss out on a sightseeing excursion, especially one as impressive as the Ancient Bristlecone Pines that Julie was finally able to experience and appreciate, at last.
At 8:50pm, we left the restaurant. It was now raining pretty persistently, which was quite unusual as normally pop-up desert and mountain thunderstorms tended to die down by evening then start to clear up. But the rain persisted even as we drove for a few minutes out to the Vons for a little grocery shopping.
We were already getting a little wet as we went from car to supermarket, then back after we had done our little grocery run. Even when we returned to the Motel 6 at 9:20pm, the rain continued, and this really made us wonder whether it might be raining when we do Rainbow Falls tomorrow. Well, whatever the case, the weather (climate change induced or not) was beyond our control, and we could only respond when things happen tomorrow. So we'll just see what tomorrow brings.
Day 2: SHUTTLE STOPS
It was 6:30am when we awoke. The room was fairly comfortable, which I guess was indicative of them updating the place as I had recalled it being quite dated and dumpy the last time I was here many moons ago. When I snuck a peek outside, I could see there were still lots of very dark clouds around us. That pretty much had me expect that we might be hiking in thunderstorm weather, and when Julie told me that we didn't have rain ponchos for this trip, I was further concerned about our lack of preparedness for this last-minute trip.
Well, we pretty much ate some leftover food that we had brought with us from Friday night. That was our breakfast. By 7am, I had heard lots of people outside getting into their cars. That pretty much signaled to me that most people staying here were early starters like we should be. In fact, it seemed like no one slept in, which was quite a contrast to the schedules we had to deal with in Spain!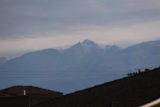 It wouldn't be until about 8:30am when we finally loaded up the car. In the distance, we could see snow on some of the peaks of the Telescope Range visible from our motel! To see snow this late in the year was quite unusual. I guess those persistent thunderstorms last night momentarily revived Winter though I'm sure that snow would be long gone by the end of today.
After checking out, we headed out. The drive out of Bishop was pretty uneventful though there were some impressive vistas towards the high peaks of the Eastern Sierra Mountains bathed in morning light. I wished I had the patience to pull over and take a landscape road shot here, but I figured on the way back, perhaps I could pull over and take a shot from the other side of the road a couple of days later.
In any case, the drive further north ultimately led us to the unfamiliar turnoff for Convict Lake. We decided to go over there as part of our morning excursion since we had never visited this spot in all the years we had been visiting the Eastern Sierras. Julie was convinced that there had to be a good reason why this lake topped the list of attractions on TripAdvisor.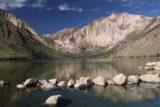 On the way between Bishop and Convict Lake, I had to have seen at least two or three cops pull motorists over on the south-bound side of the Hwy 395. So I made sure to stay within 5mph of the speed limit seeing that they were actively out and about issuing citations for speeding. It seemed like the Hwy 395 and Hwy 14 were huge revenue generators for traffic fines.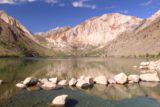 At 9:10am, we parked at Convict Lake. We immediately saw that the lake was very scenic. There were bare but colorful mountains backing the calm clear lake. It kind of reminded me of our Lake Louise experience where that scenic lake was backed by lovely mountains and even a glacier (which Convict Lake lacked)! And so we eagerly looked for ways to better experience this spot as it was quite clear that Julie's call to stop over here on the way to Mammoth was a good call.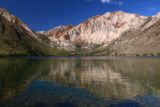 As we were busy walking around trying to find nice spots to take photos, I conversed with some guy fishing here as he helped us take family photos in front of the lake. He was from Hemet, but he seemed to know quite a bit about the Eastern Sierras. He also mentioned something about Rock Creek, which I had recalled a coworker talking about as well as another tourist on a previous backpacking trip making mention of that place as well. I guess that'll be something else to do on a future visit out here.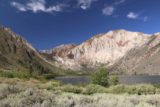 In any case, we spent the better part of the next hour taking reflection shots and scouting out where were the best spots to look at the lake. We went crazy taking photos, and I came to the realization that this lake provided the kind of lake scenery that Ed, Cindy, and I had worked so hard for on other backpacking trips to more remote lakes. The scenery was similar though the relative solitude and camraderie from a backpacking trip couldn't be re-produced in this drive-to spot.
At 10:05am, we were back in the car. The morning was starting to heat up, but it still wasn't unbearably hot quite yet.
As we continued our drive further north, we realized that the 203 turnoff for Mammoth Lakes was quite close. By 10:20am, we found ourselves inside Mammoth town, where we stopped at some place called Stellar Brew, where Julie went inside with the intention of picking up gluten-free sandwiches while Tahia and I waited in the car. However, by 10:35am, Julie returned to the car with a breakfast burrito that was highly touted but not gluten free. The gluten free sandwiches were deemed special orders, and they required a wait of another 20 minutes, which we didn't have.
So we continued on the Minaret Road, of which we were part of a long caravan of cars. So I knew that parking might be a problem by the time we would get up to the ski resort, where we'd have to catch the mandatory shuttle to get into the Devil's Postpile National Monument. For sure, this would be the very first time that we'd all have to take this shuttle service. In all my prior visits to the reserve, we were able to drive in because we showed up very early or because we were staying at Red's Meadow.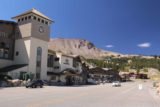 Eventually at 10:45am, we managed to find parking at Mammoth Mountain. We had to park a little further down Minaret Road, but at least it wasn't so ridiculously far that it would be like a hike just to get to the shuttle queue. We had to pay $7 per adult and Tahia was $4.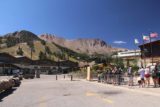 At 11:15am, we were queued up in line as apparently we had just missed the last cutoff for the previous bus by a few people. That sucked. Because it wouldn't be until 11:35am when we were finally boarding the next shuttle bus. Given the slow wait times for the shuttles, we decided not to make multiple stops in the reserve and just gun it for Rainbow Falls only. I had a feeling that both Devil's Postpile and Sotcher Lake would not be feasible under the shuttle system without getting an early start in the morning.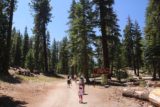 That was a bummer because I was hoping to do the waterfall at Sotcher Lake just so we could say we did a new waterfall on this excursion. But that infrequent shuttle schedule stopped us from doing that, especially since we knew that we'd be meeting up with Cindy and Ed later this afternoon for dinner, and we still had to do the Rainbow Falls and Lower Falls excursion. Time was running out and the shuttle schedule simply made fitting all this stuff in not feasible.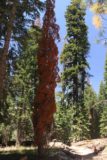 Eventually at 12:20pm, we were finally at the Rainbow Falls Trailhead. I guess the shuttle to even get from the ski resort into the reserve took a bit longer than I thought. Once we got dropped off, we walked the 100 yards to get onto the actual trailhead. There was a ranger here giving out surveys about the park experience, but since we only just started our visit, Julie told her that we weren't in a position to fill out that evaluation just yet.
The hike was on the famililar sandy and dusty trail, where Tahia kept feeling compelled to kick the trail and kick up that dust, which was very fine and could easily get into our lungs (making breathing harder in the already-thin air). We also noticed a few trees with noticeably brown leaves surrounded by other trees with green leaves. We figured that the brown-leafed trees were probably dead due to those pine beetles that managed to survive longer and kill more trees in times of warm Winters, especially brought about by Climate Change). Seeing those was disheartening, and very worrisome that the signs of Climate Change were very loud and clear.
Futher along in the hike, we could see there were sproutlings growing in between the old burnt trees from past fires. Yet surprisingly, this trail didn't feel too hot despite the lack of shade, and I attributed that to the high elevation. For I'm sure at Bishop, it must be like an oven.
With each minute spent on the trail, I was marveling at how Tahia was able to do the trail unaided (though we had to hold her hand to keep up the pace). I guess all that walking from our Morocco and Spain trip as well as some of the hikes we took her on even before that seemed to have built up her stamina both mentally and physically.
Anyways, at 1:10pm, we finally made it to the first lookout. It was crowded here, but we could see that there was a small rainbow at the base of the falls. Shadows were starting to creep in from the right side of the falls, but by and large, the falls was lit up with nice afternoon glow. Indeed, if there was a time to be here and experience Rainbow Falls, it would have to be early to mid afternoon.
A few minutes later, we were at the second lookout, where it was much quieter. Here, we were able to get that familiar view that was more directly angled than the first view, which was more severely angled. It was surprising how much fewer people were at this lookout because I thought this was the better of the two.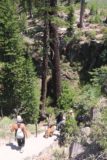 But we could see down below that there were even more people down by the base of the falls, where there was a log sprawled perpendicularly with the flow of the San Joaquin River. And there were many more people along the stream banks in the shade chilling out or letting their kids play.
After we had our fill of this second lookout, we descended down the stairs and joined the crowd at the base of Rainbow Falls at 1:25pm. Tahia was excited because now she could play in the water (at least the shallow parts). Even though the San Joaquin River was shallow enough for us to be able walk through much of the riverbed, the waterfall itself had pretty healthy flow even despite our exceptional drought and despite the fact that we were more than half-way through the Summer.
So we spent some time having a snack lunch of fruits and water as well as some chips with a kind of spicy guacamole-hummus dip.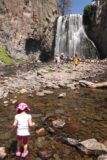 As it was 2:25pm when I had my fill of this spot, we took a few family shots, but then we decided that I'd quickly go out-and-back to the Lower Falls while Tahia would get to enjoy Rainbow Falls for a while longer while I was out and about. That way, she would quickly get over the fact that she was skipping her afternoon nap, and that she would be less likely to complain about being tired.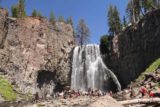 And so I was quickly off as I knew I hiked much faster than if we had brought Tahia with me to the Lower Falls. And as I headed out, I quickly saw on the trail to the other falls that I was one of only a few people on that trail! Indeed, there was one group that was going the other way, and then it was just me again. If one wanted peace and quiet, you'd certainly find it on this trail and I'm sure at the Lower Falls itself.
Sure enough at 2:45pm, I made it to the base of the Lower Falls. There was a couple (one dude with a shotgun) and a dog. I guess since we were outside of the Devil's Postpile National Monument, I guess the hunting season was sanctioned. In any case, they left just as soon as I had arrived. So I pretty much had the falls all to myself. It was incredible to think that Rainbow Falls could be so crowded yet only a half-mile down the river, this place was empty!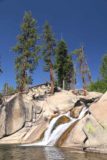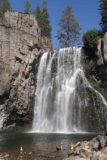 At 2:50pm, I got my fill of Lower Falls and took a movie (something I didn't think I had before). So I got what I needed to get, and now I quickly hiked back to the base of Rainbow Falls, where I'd arrive at around 3:10pm. There was just one group that was headed to the Lower Falls while I was going in the opposite direction. It was incredible how peaceful and sparse the human activity was on this trail.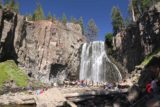 Anyways, back at Rainbow Falls, my arrival pretty much meant that it was time to go. Tahia wasn't eager to leave, but we knew that we still had to get back to Mammoth and check into our condo. Plus, we still wanted to have dinner together with Cindy, Ed, and co. when they'd finally get to Mammoth as well. I guess Sotcher Lake and Devil's Postpile would definitely be out of the question now. This was especially the case when I saw from our shuttle schedule that the 20-minute wait times were only guaranteed between 10am and 4pm. So we really had to move quickly or else be stuck waiting for 45 minutes for the next shuttle outside their peak hours!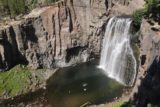 It seemed like they really made sure that if you were riding the shuttle, it would be as inefficient as possible. Because had we been able to drive down here, we certainly would've been able to visit all the other attractions without any problems. I'd bet that was by design so you'd be compelled to buy some shuttle pass to reduce the multi-visit price of the reserve or to make it more compelling to do one of the paid excursions in this valley itself. Maybe that's something to consider next time we visit – to give in and stay at Red's Meadow or book one of the horseback riding excursions (maybe to Thousand Island Lake?).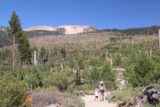 When we got to a junction where we could've kept left to go back to the same trailhead we were dropped off at, we opted to follow the signs and keep right to go all the way to Red's Meadow and the main shuttle stop there. The hike back in that direction seemed to be noticeably longer and more uphill than the one we went down on earlier. But regardless, we were back at Red's Meadow's bus stop at 3:50pm.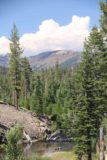 Unfortunately, we missed our ability to get on the bus by one person! So we were told that the next shuttle bus would be in ten minutes. So Julie and Tahia used that time to buy some drumstick ice cream desserts while we waited for the next shuttle bus. But apparently, the desserts were so big and we took too long to eat it that by the time the next shuttle bus showed up at 4:05pm, we weren't even close to finishing our desserts so we had to toss them. That really upset Tahia, but it was either that or risk waiting another 45 minutes for the next bus all over an ice cream dessert we probably shouldn't have bought in the first place!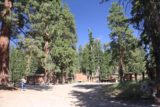 The ride back to Mammoth Ski Resort was crowded. But we were lucky that we were able to find seats although we had to sit separately. I ended up sitting in the back.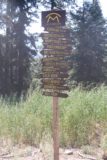 During the long bus ride back up, I was overhearing a couple of guys talking about traveling abroad. That perked up my ears and I was listening to their experiences. But at some point (especially when he was talking about rude Chinese visitors), I just had to interject telling him that it wasn't him. I had to deal with rude Chinese visitors as well in my past experience.
It was quite fun to hear their experiences from places like Vienna, Salzburg (Austria), and even Germany and Czech Republic, which were places that we haven't been to yet. It was also fun to hear their experiences in places we've been to like Bath, England and Roma, Italia, Thailand, etc.
If there's one topic that really piques my interest as well as possibly getting into long conversations with, it would have to revolve around the topic of travel and the different experiences you get when done with an open mind and with respect of the local customs and cultures.
When we finally got off the bus at 4:50pm, I made a suggestion to them to consider Southern Spain since I heard one of the guys was really into cathedrals. I appealed to their sense of new and unique experiences by telling them that you'd get a serious blend of Muslim and Catholic mashed together in the cathedrals, especially in Andalucia. And with that, we shook hands, and went about our separate ways.
By 4:55pm, we were back in the car. Surprisingly, the car wasn't baking like an oven. That was because the air temperature up here was actually quite mild. In fact, earlier this morning we had anticipated thunderstorms and mugginess, but it turned out that this day was anything but. It was clear for the most part, warm but not hot, and the thunderclouds were further to the east and quite clear of our immediate area. I guess the storm from yesterday helped to moderate the temperatures locally here, and perhaps that kept the thunder cells from growing in intensity from the daytime heat and difference in air pressure.
At 5:15pm, we finally arrived at the Sierra Manor, where we went into our room and eagerly dropped off our stuff. However, when Julie found out that the beds weren't made, the dishes weren't washed, and the bathrooms weren't clean, we eventually called the owner and the on-site managers to clean up the place. We weren't sure if they forgot about this unit or not, but whatever the case may be, Julie was already sour on the "unprofessionalism" of the Air Bnb experience. At least as far as first impressions are concerned, our first experience was already not good.
While we've heard generally good experiences from friends with Air Bnb or Vrbo (probably because of cheaper prices more than anything), we also were keenly aware of how hit-and-miss these kinds of arrangements could be. I guess with booking.com or other more professional services, we got much better results. In fact, throughout our entire trip to Spain (which included apartments), they were all up to a certain standard that far exceeded what we were hit with here in Mammoth.
Well, when the on-site manager finally showed up with his cleaning equipment, that was when we had our stuff back placed back in our car (so as to not confuse them with the stuff they're about to clean up or toss), and we finally headed out to buy some more groceries at the nearby Vons just up the street on Old Mammoth Road at 5:30pm.
The Vons over there was very busy. It was way busier than it was at Bishop. Then, Julie realized that people generally do their shopping on Sundays, so perhaps that along with the combination of tourists being here probably made it as crazy as it was. Regardless, we got our breakfast foods along with water, and we were back at the condo at 6:20pm; just in time when the clean-up job was wrapped up.
At 6:30pm, we drove to the Z-Pizza at the corner of Old Mammoth Road and Hwy 203. That was where we were expecting to meet Ed and Cindy and their kids. And sure enough, a few minutes later, they showed up, and we traded stories about our experiences so far over some gluten-free pizzas. Of course, Tahia was excited to see Hannah and Kai as now she got to play with someone a bit closer to her age.
We warned them about the Patriarch Grove road as well as the shuttle delays. I guess since they were planning on doing a horseback ride to Rainbow Falls, they could drive into the Red's Meadow area and drive to the other trailheads at will. I guess that's the least they could do given the good money you'd have to pay for those excursions. But maybe given our experience with the shuttles, perhaps we might consider doing something similar as well.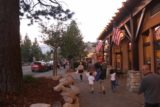 At 7:25pm, we left and followed Cindy and Ed to their condo, which was further out from the main part of town on Meridian Road. We saw that their condo was actually much nicer than what we had. So we chilled out there while they were getting settled. Then, a few minutes later, we drove out to Mammoth Village, where we were aiming to catch some movie that locals would watch over there called "Earth to Echo".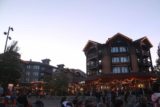 We got there at around 8:15pm, which was just in time for twilight at the village. The movie seemed like some kind of Blair-Witch-inspired first-person-with-a-camera perspective film, and I guess Julie wasn't too interested in watching the whole thing. So at 8:35pm, we eventually headed over to a dessert place called Side Door, where we had some dessert crepes. Later on, Cindy, Ed, and fammily joined us, where we chatted a bit more and plotted what we were going to do tomorrow.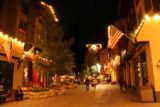 That said, we were intending to visit Bodie (another thing we hadn't done before), then catch lunch at the Tioga Gas Mart, before doing some final bit of touring at Mono Lake (maybe with Panum Crater in there) before perhaps fitting in a Hot Creek excursion. It was going to be a very busy day indeed, but with our lone full day to spend with them tomorrow, we had to make the most of it.
And so at 9:15pm, we were back in our respective cars. And at 9:25pm, we were back in the Sierra Manor to finally call it a day.
Day 3: BODIE PLOT
It was 6am when both Julie and I awoke. Knowing that we had pre-arranged with Ed to meet at their place by about 8:30am, we knew we had to get through our brekkie beforehand. So I helped Julie out in the hopes of expediting our breakfast knowing that Tahia would be difficult in terms of finishing her food in time. But at least the preparation of the brekkie wouldn't take as long with my help.
Well, eventually, we had our brekkie as a family. Tahia got up at 7am and eventually finished her milk and her brekkie in time for our 8:20am departure from the condo. We were at Cindy and Ed's in ten minutes, and by 8:50am, we were finally leaving for Bodie.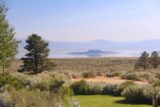 We agreed that I was going to be the lead driver while Cindy drove the other car and would follow. I was making sure that no one was going to get a speeding ticket so I pretty much cruised right at 65mph (with a few hills and valleys on the way so I'm sure the engines got a good workout). We made one quick stop at the Tioga Gas Mart since Ed texted us that they needed to fill up. But aside from that stop, we continued on our way towards Bodie by going north of Lee Vining, then east on the 270 Road (Bodie Rd).
I rebelled against what the GPS was trying to get us to do (which was to take the Ho Line Rd or Hwy 167 then head north to Bodie), but I stuck with my instincts by following the published directions to get to the ghost town. Even though there might be a "more direct" road to get there, who knows if the road would be beat up and mess with our cars some more. I knew that the suggested route only had a three-mile unpaved part at the end. I'd bet the GPS-suggested route might put us through more rough driving than that!
Anyways, at 10:20am, we finally made it to Bodie. We paid $15 for two adults plus a kid ($13 total) plus a $2 brochure. Right away, we could see there were quite a few structures here that seemed to be in reasonably good shape. Some looked new, while others looked like the elements were really taking over.
We learned that this place had some real brutal extremes in terms of cold and hot. Apparently, some girl lamented that she was leaving heaven because she was headed to Bodie. We also learned that this place was pretty much the wild west during the Gold Rush as murders seemed to be routine daily occurences.
Anyways, we took quite a few photos of this place, including photos of the kids. We also got to go inside some of these buildings, which had some furniture there still left behind. Julie loved these kinds of things because they tended to paint a more immersive picture of what it must've been like to be here at the time.
Some of the buildings looked restored because we saw there were some props that were set up in such a way that it helped us appreciate what a saloon here might be like, or a hotel, or even a church! In fact, we were quite surprised by how this town apparently only became a ghost town as late as 1974! I guess that would explain some of the slightly more modern things we saw here. But since the town started in the 1880s, we also saw relics of 19th century automobiles as well as stages.
At 11:45am, we were back in the car. This time, I let Cindy and Ed lead the way back to Lee Vining and the Tioga Gas Mart. At first, Ed considered going the GPS-suggested route, but when they couldn't figure out which road to take to do it, they then asked someone at the fee collection kiosk (which now had a long queue of cars waiting to get into Bodie), and I could tell from the body language he was giving that he told them to take the way we had come in. Anyways, regarding the long line of cars, I guess it was a good thing we did this excursion first as we had apparently beat the worst of the rush.
The drive back to the Tioga Gas Mart was uneventful. However, when we finally showed up at 12:40pm, this place was way busier than I had ever recalled in all the times that we had eaten here. Still, it had been probably 12 years since we were last here so I guess the word was out about the gourmet nature of the Whoa Nellie Deli here.
So we all had ourselves a pretty satisfying lunch (though truthfully, I wasn't sure what was the fuss about the lobster taquito since I didn't taste any lobster from it). Julie heard that the mango fish taco was fried so she passed on it. She got ahi tuna salad instead as well as a BBQ chicken sandwich so Tahia would be more inclined to eat it. But when we were all done with our lunches, we let the kids play a bit on the rock props here before we would finally head towards the South Tufa Reserve of Mono Lake.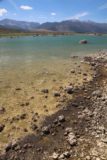 We got back into our cars and by 2:10pm, we were at the car park for the South Tufa Reserve. Mono Lake looked greenish from a distance, but it was a pleasing color as the water also looked clear. It was quite a bit warmer at this time of the day (and drier), but the kids didn't seem to mind. That was because Tahia, Hannah, and Kai got to get to the lakeshore, where they had fun with the black flies.
These alkali flies had this sense that if anyone approached, they'd fly just a short distance further from you in a kind of force-field-like effect. Meanwhile, the kids were also busy throwing rocks into the lake. As much as we tried to discourage the kids from doing this, it seemed like it was futile. Even Cindy tried to passively stop Tahia from doing it, but that didn't seem to work either.
It was also nice to take photos around the tufas with some color in the lake and some looming thunderstorms further to the east. In fact, we could see some sections of the thunderstorm out there that seemed like there were cloud bursts of rainy squalls. It was always interesting to see streaks of clouds touching the ground like that.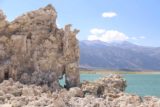 Eventually at 3:25pm, Julie, Tahia, and I went back to the car. Ed and co. were intent on doing Panum Crater (which was actually on the way to the South Tufa), but Julie wasn't interested in doing it given the heat. She wanted to go back to the Whoa Nellie Deli to finally try the mango fish taco (seeing that she skipped out on it during lunch), and then go to Hot Creek Geological Site afterwards.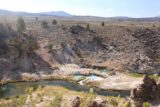 Anyways, at 3:45pm, we were back at the Tioga Gas Mart. It was still busy at this time, but it was nowhere near as busy as it was earlier when we lunched here. So we ended up having our mango fish taco fix and we washed it down with some sangria just for old times sake (bringing back memories of Spain). Tahia was busy jumping off the rock props then doing somersaults after she landed. We didn't see her do that before.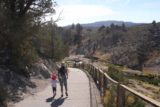 And once we were done with our second lunch at 4:20pm, we then headed south on the 395 to Hot Creek. Eventually at 4:55pm, we made it to the main car park for the geologic site after driving the graded dirt road to get there. There was a lookout that peered down at the Hot Creek itself as well as some colorful thermal pools next to it. With the sun still pretty high up at this time of the afternoon, the lighting still brought out the colors in the pools for decent photo ops.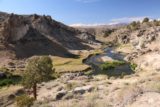 Then, we descended the sloping path to get closer to the banks of Hot Creek. However, we could see that it was pretty much barricaded almost the entire stretch of Hot Creek around the walking path. Those barricades weren't there before. In fact, we used to be able to wade and bathe in Hot Creek, but now that it was apparently more geothermally active, it was too dangerous for them to let the public into the creek at this time.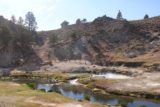 Still, we noticed that one part of the barricade was smashed low enough that it was easy to cross to access the creek. Julie first went in to at least touch the water and see for herself. And when she touched it, she immediately told me that she could see why they closed it off. The water was quite hot!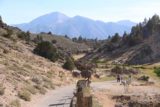 She then let Tahia join her so she could touch the water herself albeit VERY briefly. I worried about there being toxic stuff in the water (maybe arsenic or acids) and given Tahia's tendency to put her fingers in her mouth, we had to make ultra sure this time that she washed her hands. Unfortunately, there was no running water in the restrooms here (they were merely pit toilet outhouses) so we had to use our drinking water and wipes to try to cleanse the hands.
Eventually, they had their fill of this experience, and by 5:30pm, we were back at the car. With the texts exchanged between Julie and Ed, we ultimately agreed to meet up with them at their condo at around 7:30pm or so. This time, we were determined to let Tahia have a swim in their jacuzzi over there. After all, we had promised Tahia pool time, and it was gonna be now or never.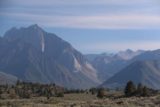 But before getting there, we decided to have a dinner back at Mammoth Village at Toomey's. Their service was really slow (more like non-existent) while we were seated outside so Julie had us sit inside, where we finally had a meal of duck breast and "New Zealand elk". It was a bit overpriced, but by now, we came to expect that everything in Mammoth was overpriced. Indeed, just for these two entrees, it costed us $70 with tax and tip. We didn't even get any desserts nor appetizers nor drinks.
After dinner, we then went to Mimi's at 7:30pm. Julie had seen Mimi's desserts being offered at Toomey's, but she figured we mind as well try the real deal at the dessert place itself. And while this place offered gluten free and vegan options, they had to be special-ordered for the most part and they were near closing at 8pm so it wasn't gonna happen during this visit.
Their mud pie in a jar was gimmicky. It tasted fine, but I didn't think it was anything special. Julie liked the macarons, however. And the ice cream was ok as well. However, the price for it all was on the order of $24, which was a total rip off.
Anyways, at 8pm, we were finally at the Conness Place, where Cindy and Ed and co. were staying. They were chilling out at the outdoor jacuzzi there, and we joined them. Tahia got her swimming gear and floatie on, and so she joined Hannah and Kai in the jacuzzi, which was pretty much acting like a pool for them. The adults stayed outside and just dipped our lower legs into the jacuzzi to somewhat offset the slight wind chill as it was getting cooler on this clear evening.
And so we happily watched the kids play with each other while we were conversing over our experiences and other random thoughts that came to mind. Unlike the backpacking experiences we'd have every other year over the last six years, this time felt different as now we got to share in our outdoor experiences with our respective families. I'm sure going forward that we might have more opportunities like this.
Well, by 9:05pm, play time was over, and we dried off as it was now bed time for the kids. We bid Cindy, Ed, Kai, and Hannah farewell knowing that tomorrow would be time for us to head for home, while they'd continue their weeklong holiday in the Mammoth area. And by 9:10pm, we were back at our condo to shower, brush, and finally call it an end to this very busy yet very fun and memorable day…
Day 4: HELLO TO MANZANAR
It was 6:30am when Julie and I finally awoke. It was a little later than yesterday's start, but we figured that with the long drive home, the only real sense of urgency on this day was to get to Manzanar and tour it as early as possible to avoid the heat as much as possible. Hannah lamented to us a couple days ago that their Manzanar experience was under 113F heat! The hope here was that by showing up closer to their opening time of 9am that the temperatures should be much more bearable so we should be able to visit more things there.
And like yesterday, I was helping Julie to help alleviate the preparation burden. Anyways, we got Tahia up at 7am so she could have her eggs and gluten-free toast brekkie with avocados and blueberries. Then, we'd pack up and load up the car so by about 8:15am, we were finally leaving the condo behind. And I'm sure in Julie's mind, it was good-riddance.
The drive south was pretty uneventful as we were smoothly driving on the 395 towards Bishop, then Big Pine, and then through Independence. What was striking about today was that the skies seemed to be significantly more hazy than it was two days ago when I saw beautifully-lit mountains near Bishop. Now, it didn't seem like it was worth making that stop I swore I would do since we were now on the correct side of the highway. I guess that was one of those moments where when you see something you like, you seize the moment and don't delay. You never know what happens later.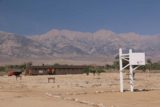 Well, it wouldn't be until 10am when we would finally arrive at Manzanar. This was Julie and Tahia's first time here, and we really made it a point to stop here on the way home since we were on this theme of doing new things in old places (especially since these things were excursions we ordinarily wouldn't even bother considering in the past).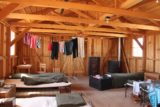 Anyways, not quite sure what we should be doing on this visit nor where to go, we noticed there were signs for an auto route and we promptly followed it onto an unpaved road leading away from the big car park and visitor center.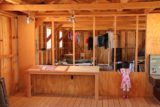 Just a minute later, we stopped near one of the re-created living quarters by a basketball court. I didn't recall these things being there the last time I was here with Cindy and Ed one hot afternoon, but then again, I wasn't really paying that much attention. But on this go, we went inside the living quarters and saw the basic army-like barracks where interned Japanese Americans of both first generation and second generation were essentially forced to get into.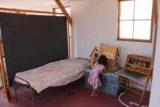 And right away when we got in there, we could see how f'ed up it must have been for them. Indeed, it was a reminder of how shameful parts of American history can be. But seeing the living conditions here as well as the injustice of people losing their hard-earned livings and properties to be interned as well as being treated like prisoners was really mind boggling. But as Japanese people do, they've learned to adapt and even turn a place as unforgiving as Manzanar into a more-or-less thriving community with Japanese gardens and dances, and other things to help them keep their minds off how f'ed up things were for them.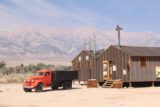 As we were done checking out the living area, we then went to an adjacent block where there seemed to be a more developed living quarters, which I'd imagine was a re-creation of what it must've been like later on during the internment years. Then, we walked to the other side where we saw the mess hall, which was also very interesting.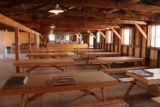 After that, we got back in the car, and drove around the route seeing that there were baseball diamonds, ponds, churches, etc. But perhaps the highlight of this autotour was the eerie yet elegant cemetery memorial, which was right in the back of the complex looking right at the Eastern Sierra mountains. It was too bad that mountains were hazy at the time so it kind of muted the dramatic landscape backing the white pillar with kanji written on it.
There were a handful of graves behind the pillars as I'd imagine some people had died for one reason or another. But as it was getting hotter while we were standing out here taking in the scene, it was now time to get back in the car and continue on the autotour to its conclusion back at the visitor center. And so we'd be back there at 10:55am.
Now that we were in the air-conditioned confines of the visitor center at around 11:05am, we learned that the 22-minute movie that Cindy recommended that we see had already started. We weren't going to wait around until 11:30am to start from the beginning so we just walked into the theater and watched it in mid-stream. But even as we watched the movie and saw how Japanese internment survivors were narrating the movie and recalling their experiences, it even further reinforced the notion of how f'ed up the whole ordeal was.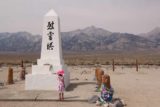 I could see some people were emotionally affected while watching the movie as there were some eye-rubbing going on. I guess it was definitely a powerful experience to see how injustices like this affected most of the people watching it regardless of race. It was also during the movie that we saw that there was one riot instance where guards opened fire into the crowd and killed soem people. And apparently, some of those graves that we saw near the cemetery memorial were probably victims of that riot.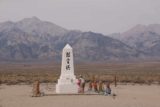 When the movie ended, we briefly checked out the interpretive models and displays of other aspects of the internment program that went on. I was surprised to see that Manzanar was but one of many Japanese internment camps. I also heard Tule Lake near the Oregon border was another such camp, but there were others apparently in other inhospitable climates throughout the country.
Anyways, at 11:30am, we were back in the car. Now, it was time for lunch, and we decided to have that meal in the nearby town of Lone Pine. Julie had read good things about a food truck (i.e. the kind of OG food trucks that hispanics ran before it became hip to have gourmet food trucks) called Tacos Los Hermanos across from the Mobil Station in town, but it wasn't open yet when we showed up. So we wound up having saucy pan pizzas at the Pizza Factory, which was another one of those places that Cindy and Ed used to enjoy during our backpacking excursions in the past.
I think Julie was pleasantly surprised by the quality of the pizza (at least the sauciness of it), and of course Tahia was happily eating the pizza without help since she loved pizza (what kid doesn't like Italian pizzas and pastas?). Anyways, they had TVs on inside the Pizza Factory, and Julie noted that there were news about fires going on around the area. That was when I realized that all that haziness we saw this morning was most likely due to smoke from these wildfires.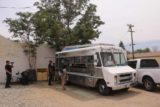 At 12:20pm, we were done eating at the Pizza Factory, and out of a whim, I decided to head north on the 395 to go back to that taco truck. Sure enough, they were open by the time we saw them. There were lots of fire fighters enjoying these tacos over there, and I'd imagine they were getting their lunch before they had to go to work. Anyhow, we tried a couple of carne asada tacos as well as a taco de camarones.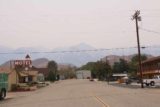 While we were waiting for the tacos to be prepared, Tahia was busy playing with Fanta bottle caps from the floor. She was also busy saying hi to the kid inside the truck, who I believe was the son of the taco truck owner or cook. Tahia was back in Spanish mode as she was trying to tell him "Hola!" and "Como estas?" since she at least learned how to say those things from our Spain trip.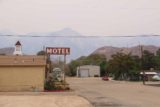 When the food came out, we devoured them despite our somewhat full stomachs from the pizza. It was yet another instance of a double-lunch (like the double-dose of Whoa Nellie Deli yesterday), but we had to give this place a try before going home. Still, I think Julie still preferred the way King Taco does it.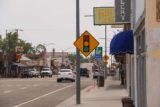 By 1:05pm, we were finally done eating the taco lunch, and we were finally driving uninterrupted for the rest of the journey. Eventually at 5:20pm, we were finally home, but that wasn't before we had to contend with rush hour traffic the moment we got onto the 405 freeway where it was slow all the way from the Sepulveda Pass all the way to home. Since I had to get to work tomorrow, we did what we could to unload the car, sort and clean our clothes, and overall just unwind from our last-minute trip.
I guess these things always seem like they're too short. But short or not, there were still priceless moments and memories in there, and I always say that for things as seemingly frivolous as vacations or road trips, it's still far more important to do these and not regret them than to bypass them for work under the guise of fear of being laid off or something. I guess time will tell how much longer we can keep our work-life balance going, but in the mean time, we'll just control what we can control and seize the opportunities where we can to keep creating moments and memoories that we'll treasure for the rest of our lives…
Visitor Comments:
Got something you'd like to share or say to keep the conversation going? Feel free to leave a comment below...
No users have replied to the content on this page