About Escondido Falls
---
Hiking Distance:
4.25 miles round trip; scramble
Suggested Time:
2-3 hours
---
Date first visited:
2009-02-08
Date last visited:
2012-04-14
---
Waterfall Latitude:
34.0432
Waterfall Longitude:
-118.77935
---
Escondido Falls is said to be the tallest waterfall in the Santa Monica Mountains. Well, this claim can be realized depending on how the waterfall is experienced.
Unfortunately, on our first visit to this waterfall, we managed to see only the last 40 or 50ft of it in its lowest drop through a mossy green wall. It wasn't until our second visit three years later did we finally get to experience the taller, more scenic upper tier, which is said to be 100ft or so (see photo at the top of this page). Cumulatively, all the drops together (including some hidden middle tiers) might make this waterfall have an overall 200ft or so drop.
The lower Escondido Falls seemed to be typical of coastal waterfalls in Southern and Central California in that it was a column of water surrounded by mossy walls. While this waterfall alone might be worthwhile as a destination for a hike, the upper Escondido Falls was definitely prettier and had more character as far as we were concerned. That was because its stream spilled over a series of grottos fronted by overhanging moss dripping with water. We think it was the drooping moss that really gave this waterfall character (as Julie likes to say).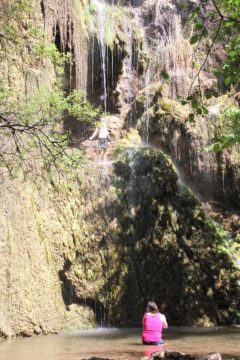 We noticed some people climb up towards one of the lower grottos for a bit of a shower as well as a photo op. However, given how close we were to the falls (as we were only able to get the best views from right in front of it) and the height of this upper tier, it was difficult to get that all-encompassing photo of the falls unless you happened to be using a very wide-angle lens.
Although this waterfall has plenty of moss and lush vegetation surrounding its stream, it seems to have surprisingly fickle flow. Perhaps the lower tier has more predictable flow than the upper one, but that upper tier seems to be at its best shortly after rain (at least as far as our experience was concerned). I'd guess that you would be out of luck seeing any water flowing appreciably by mid- to late Spring (and I'm sure it would be gone by the Summertime) though all that depends on how much precipitation has fallen in the Winter and how soon you visit the falls after a significant storm.
The word "escondido" is Spanish for "hidden," and it seemed to be quite an appropriate name for this waterfall. That was because hiking the first mile involved walking through a particularly well-off residential area with super big homes and gorgeous ocean views that typify the prime real estate of the Malibu area. Yet it belies the wilderness concealed behind these homes. Moreover, the upper waterfall is elusive to the uninitiated and will require a bit of an adventure to reach.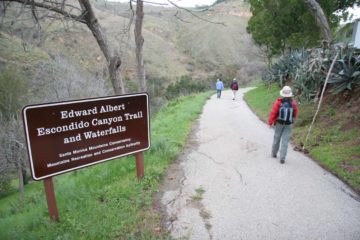 After reaching the apex of the Winding Way Road (that residential road we were walking on from the trailhead), Escondido Canyon reveals itself below as the paved road descends towards it. Back on our first trip in 2009, the walking path continued on the pavement towards a narrower paved path past the last residence as it eventually ended at the base of the ravine. However, that paved path into the ravine was no longer available to hikers (which we found out on our next visit three years later), and so we had to go right into the dirt path dropping right below the residences and into the ravine, which can be muddy and slippery after rain.
After a stream crossing at the bottom of the ravine, the dirt footpath turned left and followed (and crossed) the creek running through Escondido Canyon up to the falls. We counted five stream crossings, and most of them were doable without getting our feet wet though Gore-tex boots certainly helped.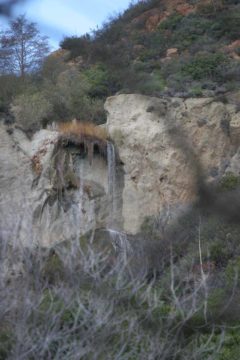 The trail within the canyon was pretty shady for most of its mile-long meandering. Although the trail was uphill, the elevation gain wasn't all that noticeable. What was noticeable was how muddy the path could be after rains. That might be something to consider if you're trying to time your visit after a rain.
Roughly 3/4-mile from the start of the official trail, we keenly noticed the upper waterfall almost hiding itself behind foliage blocking the field of view. However, when the trail officially ended, we were right at the base of the lower falls. On our first visit, the entire lower Escondido Falls was completely visible, but on our second visit three years later, there was a lot more overgrowth that made seeing the entire waterfall more of a challenge (especially its uppermost sections).
This is where most people would turn back and head back towards the trailhead. However, it's at this point that we have to caution you if you want to continue towards the prettier upper waterfall. While plenty of people have done it, it's not for everyone and it does have some hazards that could seriously hurt you if you don't respect them with preparation and plenty of caution. Know your limits and make sure you know what you are doing.
Anyways, Julie and I followed the "path" to the upper waterfall, which began up a steep gully to the right shortly before the base of the lower waterfall. Given the popularity of the trail, the start of this scramble seemed pretty obvious to us. Nonetheless, the trail got progressively steeper as we ascended the gully until we got to a point where we had to use all of our limbs to climb up rocks while trying not to lose our footing (which was real easy to do, especially when muddy).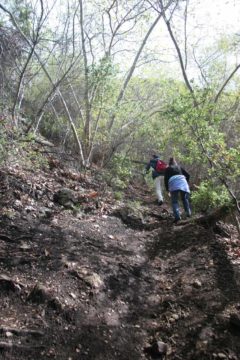 There were about three or four sections between here and the upper waterfall that Julie and I thought were potentially hairy. We'll leave it up to you to evaluate your abilities and your sense of safety (keep in mind that we did say this part of the adventure wasn't for everyone).
One of these hairy sections involved a rope (which may or may not be there on your visit), which helped us traverse a particularly slippery and steeply exposed gully. Immediately after this section was another steep (close to vertical) climb up another series of rocks. Once we were past these obstacles, the "path" went around a bend with a nice view of the canyon below us before hugging a narrow ledge towards another stream crossing with a small middle-tier cascade fronting it.
After the middle cascade, there was another steep climb with a particularly tricky section up some more rocks with particular large spaces between "footholds." Caution was definitely necessary here on this hairy spot given how easy it was to slide back down and possible take a nasty fall.
Once this nearly rock-wall obstacle was traversed, Julie and I were able to follow the path along the stream until we made it to the base of the upper waterfall, which some would say is the REAL Escondido Falls.
Given the adventure it took to get here, we definitely lingered here for as long as possible before facing the same obstacles on the way back down (again, we had to take our time and respect the hazards). To sum it all up, we probably hiked about 4.25 miles round trip including the walk on the residential Winding Way Road.
To get here from the end of the I-10 west in the city of Santa Monica, follow the Pacific Coast Highway (PCH) and look for Winding Way Road a few minutes north of Pepperdine University in Malibu. It's a small road and easy to miss considering the high speed of traffic on PCH (if you reach Kanan Dume Road, you went too far). This drive is about 18 miles requiring around 30 minutes to an hour or more depending on traffic.
The rather small and easily packed parking lot is right by the PCH-Winding Way turnoff. Only residents are supposed to go beyond the car park area, and there are plenty of signs and wary residents keeping a watchful eye on violators who choose to leave their cars beyond the car park.
We noticed other people parked in open shoulder spaces along PCH if the small car park was full.
For more geographical context, downtown Los Angeles was about 16 miles east of the end of the I-10 freeway (near the Santa Monica Pier). This drive would typically take at least 45 minutes or more due to traffic, but if there was no traffic, then this section of the drive would only take around 20 minutes.
Find A Place To Stay
Related Top 10 Lists
Trip Planning Resources
Nearby Accommodations
Tagged with:
malibu, santa monica mountains, los angeles, california, southern california, waterfall
Visitor Comments:
Got something you'd like to share or say to keep the conversation going? Feel free to leave a comment below...
No users have replied to the content on this page
Visitor Reviews of this Waterfall:
If you have a waterfall story or write-up that you'd like to share, feel free to click the button below and fill out the form...