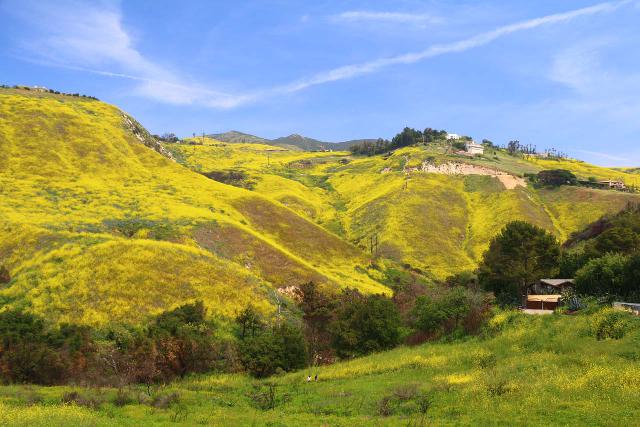 7-April 2019:
Indeed, the old path that I thought I knew was definitely way more eroded than I had remembered. It also seemed a bit sketchy to continue further up the gully where there was a similar eroded climb before getting onto an exposed ledge to continue upwards.
Not recalling that I had to go that far up to continue the ascent, I briefly descended to where there was a familiar steep climb though it definitely lacked the vegetation that I swore was there before.
As I was waiting for a trio of people to carefully make their way down, I saw Konnor and Wendy's younger brother attempt to go up. When I saw them, I told the brother that this trail was unsuitable for Konnor.
There was a real risk of a nasty slip and fall if they weren't careful…
With this being the fourth Sunday in a row that we were doing a waterfall, we kind of had the drill down.
At 6:30am, both Julie and I awoke. It was plenty of time for Julie to prepare a healthy breakfast while I was preparing my own kefir.
Meanwhile, Tahia got up, got dressed, and was ready to eat by the time she got prepped up for the day.
Today's goal was to do Escondido Falls for the first time in nearly seven years!
It was only a few days ago that they finally re-opened the trail after there had been extensive damage from the Woolsey Fire that ripped through the Santa Monica mountains last Autumn.
In a cruel bit of irony, even though we had gotten a lot of rain during the Winter months, it seemed that most of the waterfalls we wanted to go to in the Santa Monica Mountains (e.g. Sycamore Canyon Falls as well as those we hadn't been to like Circle X Ranch Grotto) were inaccessible as a result of fire damage.
So we figured that today was as good a day as any to visit this waterfall. At the very least, we should at least update our write-up and see how much this place had grown in popularity over the years.
Julie also said that our friend Wendy would meet us at the trailhead at 9am, which was early enough I thought to at least find parking. I knew that parking would be an issue the later in the morning we'd get started.
In any case, we wouldn't be leaving the house until about 7:55am. We knew the traffic would be relatively light on the way up to Malibu. However, the clock was ticking as I'm sure other people would have the same idea as we would.
Indeed, the drive was still predicted to take at least over an hour to get there. So we'll see how bad the parking situation gets once we're there.
I fully expected that we'd be parking along the high-speed Pacific Coast Highway this time around.
Sure enough the drive went along pretty smoothly. Under these conditions, we had to be wary of highway patrol since it was very easy to be overspeeding.
But as we headed north on the I-405, there were definitely a lot more cars there as opposed to most of the 105.
When we eventually got to the I-10 heading west, the drive was once again pretty smooth going until the freeway ended and we headed north along the coastal drive sandwiched between the Santa Monica Pier's beach and Pacific Palisades.
The drive was a bit on the busy side, especially with slower drivers shifting lanes without warning and causing congestion. Biker gangs were doing similar things with clogging up the lanes.
In any case, once we got past that bit of gridlock, we eventually made it to the familiar Winding Way Road, which was right where the Escondido Falls parking lot was.
Knowing from past experience that the main parking lot was going to be full, we already resigned ourselves to parking on the shoulder along PCH.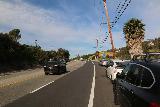 Sure enough, when we got near Winding Way at 8:50am, we pulled up at the road shoulder seeing that there were already many cars that have done the same thing.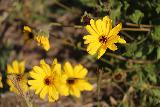 I wasn't about to waste time trying to wait for one of the limited parking spots in the main lot. So that marked the first time in all the times we've done this hike that we wouldn't be parked there.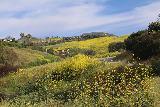 As we were getting ready for the hike, we also had to wait for our friend Wendy who texted Julie that they wouldn't be there until about 9:15am.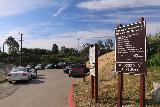 While we were waiting for them, we took advantage of the time.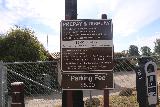 I walked over to the main lot in search for a restroom facility. All that was there was a yellow port-a-potty that was as disgusting as they come.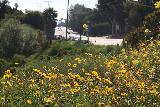 The building there was fenced off and apparently might have been some kind of substation for the expensive homes flanking Winding Way.
After doing the deed, I couldn't help but notice that there was a pay and display machine at the main parking lot. Apparently, they were charging $8 to park there. I don't think this fee applied to all the street parking along PCH, however.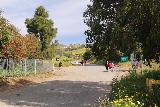 So I guess that was even more reason for us to park along the street for free. Forget competing for the limited spots and being out $8 as well! I didn't recall needing to pay this amount the last couple of times we were here.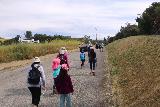 In any case, I also couldn't help but notice that there were large yellow mats of wildflowers. Most of them were yellow so the hillsides had this bit of yellow matting surrounding some of the multi-million-dollar homes.
All of us were finally done gearing up by around 9:05am, and by around 9:20am, Wendy and company (her kids as well as her brother and parents) finally showed up. Luckily for them, there was still space several car-lengths back from where we parked.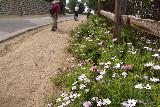 I knew it wouldn't take much longer before the parking situation would worsen to the point that people would have to park on the other side of the road and risk a dangerous road crossing by foot.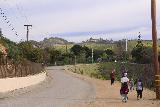 Eventually at around 9:30am, everyone was together and we were finally able to get started on the hike.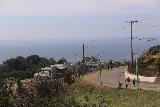 On this day, it seemed like it was already starting to heat up. However, the sun's rays seemed to be muted by remnants of some kind of marine layer. So that kind of toned down the vibrant colors of the wildflowers as well as the blue skies.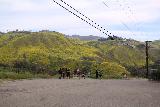 The initial walk up the Winding Way Road seemed a bit different that we remembered. I think a big part of that was the large array of solar panels along the hillside seemed to have gone away.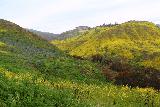 Julie and I weren't sure what happened but perhaps the owner who did that had moved out. Or, there might have been fire damage or something that destroyed them.
Who knows?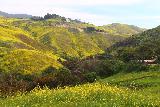 There also seemed to be grander homes along the Winding Way Road. Wendy, being a real-estate agent, said that the homes around here were on the order of $5-6 million.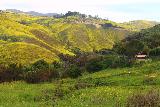 I always thought to myself, this was not-in-our-lifetime kind of wealth being flaunted out here.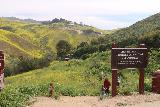 However, with such exclusivity in building in such dry canyons also meant the prospect of fires. And it appeared that the homes here weren't untouched.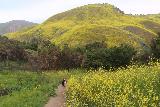 In fact, we saw one stretch along Winding Way Road where there were a bunch of blackened trees. One home looked like it was being re-built, and I suspected that it might have been damaged by the wildfires from last Autumn.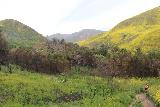 When we reached the apex of Winding Way Road, we suddenly saw an impressive display of a blooming yellow hillside. Indeed, I had never seen Albert Canyon so vibrant with colors.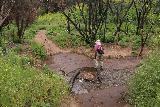 That said, I doubted that it had anything on the poppies superbloom that we had seen nearly three weeks ago.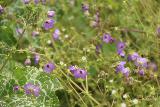 By this time, the kids were way ahead as they went back down the official trail (that was re-routed from one of the last homes towards a more eroded and steeper track right into Albert Canyon).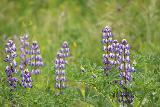 There was a stream crossing at the bottom of the descent, which was pretty straightforward to do for Julie, Tahia, and myself. However, Wendy and her family (except her brother who came in hiking boots) were ill-prepared to do these kinds of crossings without the risk of getting wet.
So I helped them out and was willingly straddling the back of our group while taking trail photos in the mean time.
Actually, Wendy's dad was having a field day taking pictures of the wildflowers flanking the Escondido Falls Trail as well.
After about the third or fourth stream crossing (where one pair of crossings didn't seem necessary), it seemed like Wendy's Dad was way behind as he was simply enjoying himself taking pictures of the yellows and purples along the way.
Heck, there were even a small scattering of orange California Poppies along the way.
But there came one moment where Wendy and I were waiting for quite a while. Meanwhile, Julie was catching up to the kids to ensure they didn't go too far or risk getting lost.
Wendy encouraged me to just keep going as she would wait up for her folks.
Indeed, I intended to go up to the Upper Escondido Falls after checking out the Lower Escondido Falls. After all, I had to see for myself how much more difficult it would be to get up there as opposed to the last time we were up there in 2012.
With the fires that had roared through here, it seemed like the amount of trees and other vegetation had been somewhat cleared.
There seemed to be new flowers blooming on some of the burnt trees, but perhaps the nutrients from the old trees were freed up for the new blooms and saplings to grow as a result.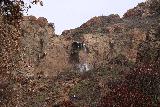 So all that meant that we could easily see up all the hillsides (some of which still had homes perched atop them). And when we got towards the end, I could clearly see the Upper Escondido Falls with some people scrambling their way up there.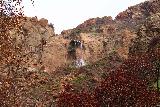 That said, something seemed a bit different from the last time as all the vegetation that once concealed a bit of the Upper Escondido Falls seemed to have disappeared after the latest fire.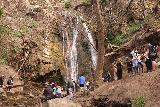 I knew that the lack of vegetation now meant unstable soil as there would be no more vegetation to cling to such soil and stabilize the hillsides.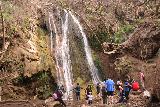 In fact, I wondered how much more eroded and difficult the scramble to get up there would be as a result of these changes to the terrain.
Nonetheless, we got to the Lower Escondido Falls at around 10:35am.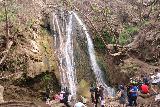 Not surprisingly, it was very busy at the base of the falls. Tahia and Farrah were busy playing in the water. Konnor was also enjoying the falls with Wendy's older brother.
And Julie was busy putting to practice some of the composition lessons that she had picked up from a photography class she was taking.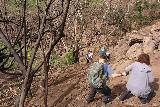 Wendy and her parents still hadn't shown up during the 10-15 minutes or so that I was chilling out at the Lower Falls. I guess that was how far back they were.
After having my fill of the busy bottom of the falls, I then decided it was time for me to go up solo to the Upper Escondido Falls.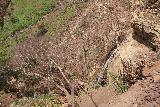 I had a feeling it would be a bit more difficult than I remembered because there didn't seem to be that rope to get up past a particularly eroded stretch.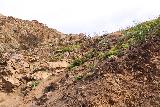 In fact, as I was climbing up the initial climb past a trampled fence (clearly the authorities tried in vain to discourage people from going to the Upper Falls), it was already steep and slippery.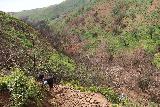 Quite a few people were going up with improper shoes. And one guy was scrambling irresponsibly while kicking down rocks thereby creating a hazard for those down below trying to go up or even go back down.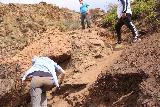 Indeed, the old path that I thought I knew was definitely way more eroded than I had remembered. It also seemed a bit sketchy to continue further up the gully where there was a similar eroded climb before getting onto an exposed ledge to continue upwards.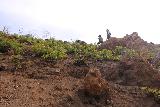 Not recalling that I had to go that far up to continue the ascent, I briefly descended to where there was a familiar steep climb though it definitely lacked the vegetation that I swore was there before.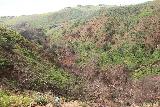 As I was waiting for a trio of people to carefully make their way down, I saw Konnor and Wendy's younger brother attempt to go up. When I saw them, I told the brother that this trail was unsuitable for Konnor.
There was a real risk of a nasty slip and fall if they weren't careful.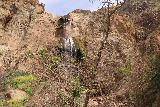 Hoping that they heeded my advice, I then made my move and climbed up much more slippery and precarious slopes.
I was definitely glad that I had my sturdy hiking boots to improve the grip a little more. However, I was definitely using all of my limbs and strategically placing my weight on only spots where there were deeply entrenched rocks for grip.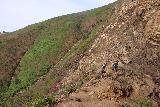 Clearly, there was no rope. But there also didn't seem to be any other familiar trails as I'm pretty sure a good chunk of this hillside had eroded away over the years (or perhaps just in the past few months after the fires).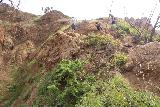 After a couple more hairy ascents where I had to wait for some people to carefully make their way down (I knew going down would be a bit less trivial than going up), I'd eventually ascend to a ridge where I could look down towards part of the Lower Escondido Falls while looking back at the other people way down below struggling to ascend to the Upper Falls.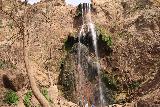 Meanwhile, I could finally see the Upper Falls up ahead but the path to get there didn't seem nearly as straightforward as I had recalled.
After hiking along the narrow ridge that I suddenly found myself standing on, I then followed a faint but undulating trail on the shadowy side of the ridge as I made my way closer to the Upper Escondido Falls.
None of this part of the scramble seemed familiar to me compared to the last time I was up here. And I had to attribute this to the erosion after the fire. Who knows how much more accessible this waterfall would be in the coming years?
All I know is that it takes time for such vegetation to grow back and re-stabilize the soil. But I'd bet that the soil would continue to erode and not have much of a chance to grow back as long as people continue to trailblaze this hillside.
Finally at about 10:50am, I finally was able to get a nice clean look at the Upper Escondido Falls.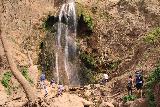 Even though it had only been about 15 minutes from the time I got started on this ascent, it felt way longer than that. I'm not even so sure that I'd recommend going up to the Upper Falls anymore given the deteriorated conditions that I encountered this time around.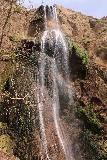 At least the flip side to all the hazards were that it was way quieter at the Upper Falls. In fact, I was probably one of perhaps a half-dozen people who managed to make it up here.
I was definitely glad that I didn't even consider taking Tahia up to this tier of the waterfall. It was simply way too dangerous.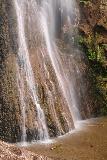 I spent a few minutes more checking out the falls and trying to savor the moment. However, such basking in the accomplishment of being up here was muted by the dangerous descent that was ahead of me.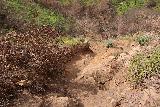 I knew the drama wasn't over just yet.
So I then proceeded to head back to the ridge and then start route finding my way back down.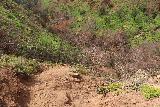 Indeed, the terrain was quite steep and I had to do some sitting and scooting while still always on the lookout for buried rocks that I could at least get somewhat of a grip with my hiking boots.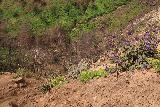 Unlike some of the more irresponsible people doing this scramble, I at least didn't kick down rocks and endanger the people below me.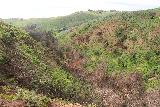 I guess some people just don't realize the danger they were causing others. And I guess that goes with the territory when you have people who come here on a whim based on socials.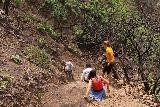 And they aren't even aware of wilderness etiquette (especially causing harm to others as well as blaring music, which was another pet peeve of mine).
I managed to catch up to a foursome of younger individuals a bit jittery about one of the steep sections.
A pair of ill-prepared girls up above managed to kick down a few more rocks and they were headed towards the people below me. So I warned them about a falling rock though I wasn't sure they knew what to do with that information since they just kept going down.
Luckily, the rock rolled right in between a couple of the people down below without hitting them.
So while I watched and waited on the girls making their way slowly up, I also waited for the foursome of people making their way down. Then, when it was all clear, I finally made my move.
Definitely the descent was slippery, but at least I knew that the worst part was behind me.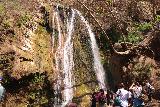 And finally at about 11:20am, I had returned to the bottom where Julie and Wendy were chilling out with Wendy's parents. Meanwhile, Farrah and Tahia were trying to build some kind of rock bridge in the middle of the stream.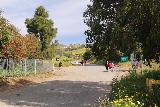 However, I was concerned about not seeing neither Konnor nor Wendy's brother Kevin.
When I asked Wendy where they were at, she said they tried to go up to the top.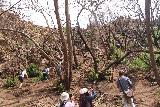 Uh oh, I thought. I told them not to go up, especially given the risk to Konnor since he was ill-equipped. And neither of them knew what they were getting themselves into.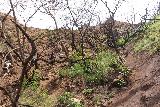 So with a bit of anxiety, I was concerned for their safety, but I wasn't intending to go up again. I was pretty much done with these hazardous conditions.
So we spent another half-hour or so chilling out at the lower waterfall.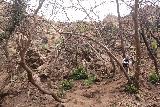 Julie wanted us to take some pictures in front of the lower waterfall. And as we were waiting with me holding Tahia in one hand, apparently, I managed to slip and fall.
I guess it figures that the most dangerous part of the hike went by without incident or injury. However, the most trivial part by the base of the lower falls caused me to fall on my bum while my right hand broke the fall somewhat.
And in the aftermath, I had a couple of scratches and blood blisters. I guess I must have fell a bit hard as well as the bruised ego of some stranger standing nearby asking me, "Are you OK, sir?"
No harm, no foul, I told her.
And after taking our obligatory photos while returning the favor for Wendy, we then spent a few more minutes letting Tahia and Farrah do their thing (apparently Farrah ruined her new shoes in the water).
As we were waiting for Konnor and Kevin to get back down, we noticed someone working for the Santa Monica Mountains Conservancy warning people against going up to the Upper Falls, especially given the shoes that they were wearing.
I couldn't agree more.
He also said that there was already one evac that took place a couple weeks ago. However, most people didn't hear that part of his warning so some assumed that the evac took place today.
In any case, it seemed like most of the people weren't really heeding his warnings, and even he had a bit of resignation saying, "I can't tell you guys what to do. It's your decision."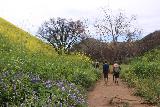 Finally at around 11:50am, Konnor and Kevin made it back down the steep scramble. When asked if they made it up to the Upper Falls, they said that they had gotten lost. Apparently, they said that I had disappeared when I was making my ascent.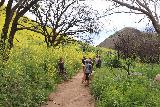 In any case, they looked a little worse for wear. And it all seemed like a futile effort. That said, Konnor seemed to take it in stride, and it was probably because he went on a bit of an adventure even though I wasn't so sure he knew the danger that he was in despite my warning them.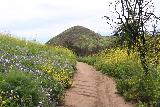 And with that, we headed back towards the trailhead.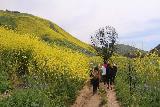 I was keeping Wendy company while her parents were behind taking more wildflower pictures. Meanwhile, Kevin, Konnor, Julie, Tahia, and Farrah were further up ahead as if they were in a race to see who'd get back first.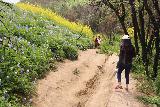 On the way back, we saw the same staff worker again. He pointed out to us that there were some fragrant sages (which had a bit of a bushy leaf), and he also pointed out the lupins, which were the purple wildflowers that looked like lavendar though they weren't.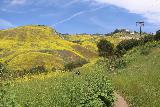 He also mentioned that almost all the yellow wildflowers that littered the hillsides were the invasive black mustard. I wondered if those had to do with people planting non-native species in their own gardens after buying from Home Depot or something like that, then their seeds blow into canyons like these.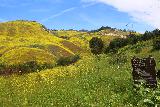 And thus we could clearly see that the invasive species were elbowing out the native wildflowers. And I wondered how much longer would it be before the native species might be just about eradicated as a result of some thoughtless acts of gardening.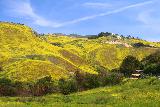 So indeed, those large mats of yellow that had us excited in the beginning were actually large mats of invasive plants blooming and spreading their seeds. The future definitely looked bleak for the native flowers.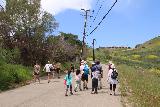 We'd eventually make it back to the Winding Way parking lot at around 12:50pm. We spent a bit more time dilly dallying as Julie had her mind set on going to Bulletproof Coffee for a late lunch that was mostly ketogenic.
Meanwhile, Wendy and company wanted to spend time in Point Dume and stay on the coast. But the food options nearby there were non-compliant. So that meant that Tahia and Farrah wouldn't get a chance to hang out together.
Sometimes things roll that way, I guess. But at least, everyone seemed to have a good time.
Finally at 1:10pm, we were back in our car. We could clearly see that the parking situation had worsened somewhat from when we had gotten started as there were lots of cars parked on the other side of PCH. So crossing the road was a bit dangerous given how fast people were driving.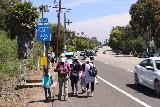 Still, we managed to get out and make the drive south along PCH towards Santa Monica. There were quite a bit of congestion on PCH as there seemed to be inconsiderate slow drivers making sudden lane changes and clogging the flow of traffic.
There were also people needing to stop to let others parallel park or trying to get out and into the flow of traffic.
Eventually, we'd leave onto Ocean Ave., and then we'd eventually be driving onto Pacific.
Although this Bulletproof Coffee place was said to be in Santa Monica, it seemed like this place was more like in Venice Beach.
Indeed, we were driving in parts of the city that I hadn't seen since my days at UCLA. And I was certain that this place probably had changed dramatically over the years. But one thing was for certain, the parking situation seemed to be just as bad or even worse than it was over 20 years ago.
We'd eventually get lucky and score a street parking spot on Main St just a block or so down from Bulletproof Coffee. There was one guy waiting to pull out, and all we had to do was to back into his spot.
By the time we got out of the car, it was 2pm, which actually wasn't all that late for lunch compared to some of our other lunners over the past few weeks.
After paying about $1.50 to park for 90 minutes, which bought us until almost 4pm, we then strolled along Main Street back towards Bulletproof Coffee.
Along the way, Tahia noticed some ice cream place called Kippy's, which seemed to be sugar free, dairy free, a whole bunch of other "frees", and guilt-free. So Tahia and I made a self-note to ourselves to check this place out on the way back to the car.
Finally at around 2:15pm, we made it to the Bulletproof Coffee. Next door, there was a Bulletproof Labs, but that wasn't an eatery. That was more like a clinic of some sort. Whatever the case was with these establishments, they seemed to cater to the anti-grain all-keto diet, which was the main reason why Julie was so excited to try this place.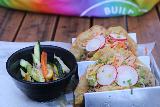 After paying over $60 in food and her coffee, we finally found seating and managed to munch on a couple of custom bowls that included ground grass-fed beef with avocado, radish, and some roasted veggies of squash and zucchini that we removed (due to lectin content).
Tahia also got some compliant tacos, which she refused to share.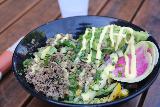 So we actually bought a second helping of more tacos (this time with steak) as well as a slider using a compliant sweet-potato bun or something like that though they also included zucchini in it.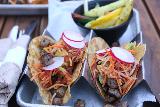 And we left the place pretty satisfied. Tahia was up for dessert and they happened to give her a free berry bread. I dunno what it is with Tahia, but she always seems to be the recipient of freebies (though in this case, we did give this place good business).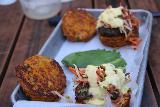 By about 3:05pm, we were done and decided to head towards the beach since there was still over 50 minutes left in our parking.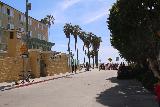 So we spent time walking downhill towards the familiar beach, which was bustling with bicyclists, skateboarders, and many many pedestrians. There were many street art vendors as well as some bustling bars and cafes along the way.
The bike lanes were very clear about not allowing pedestrians for safety and flow reasons. Meanwhile, the pedestrianized walkway passed right through the vendors and cafes though one guy on a bike didn't get the memo and tried to be a jerk about making noise and letting people know he was coming through.
Still, for the first time in over 20 years, Julie and I were in Venice Beach together. I told her that I once got a piercing at this beach while I was at UCLA though Mom was smart about not telling my brother and I how to take care of it. So our ears eventually got infected and that was the end of our piercing attempts.
Tahia was more into playing in the water and the sand, but we didn't have time for it. We pointed out some of the street art to her, which depicted David Bowie, which was one of the artists that she was familiar with.
Eventually after about 3:40pm, we headed back up towards Main Street as we pretty much had enough of strolling through memory lane along the boardwalks of Venice Beach. Of course, it was probably nothing like we remembered it back in our heyday.
By about 3:50pm, we returned to our parked car. During the walk, there was severe gridlock from people trying to find parking at the beach. That pretty much underscored how much of a score we made when we got the street parking when we did.
I definitely didn't miss the traffic and parking situation in West LA.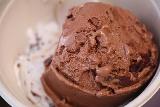 Before getting into the car, we went over to Kippy's Ice Cream, where Tahia got some kind of kid-sized scoop of some berry flavor. Meanwhile, I got a chocolate chip and dark chocolate mix. They had run out of their most popular flavor of coconut honey, which was a bummer.
And with that, we finally got back in the car at 4pm and proceeded to drive locally towards Marina Del Rey before taking the 90 to the 405 to the 105 to the 110 and finally the 91 to get home.
By about 4:55pm, we finally made it home and could finally call it a day.
Indeed, we had yet another fruitful Sunday as a family centered around a waterfalling excursion.
I wasn't into seeing any more of the poppy fields in Lancaster even though Julie had brought it up. I think our Lake Elsinore experience was enough.
And so we unwound the night and I had to get ready for the rat race once again tomorrow.
With the Spring Break trip coming up in less than two weeks, we weren't sure if we could squeeze in yet another outing next Sunday with packing to do for that trip.
I didn't really do much planning for that trip at the time. But I guess I'll have to make time for that to ensure that trip goes successfully.
Story of my life these days, it seems…
Visitor Comments:
Got something you'd like to share or say to keep the conversation going? Feel free to leave a comment below...
No users have replied to the content on this page