About Iguazu Falls / Iguassu Falls
---
Hiking Distance:
up to 8km total (for all the catwalks and trails by the falls)
Suggested Time:
at least a day
---
Date first visited:
2007-08-31
Date last visited:
2007-09-02
---
Waterfall Latitude:
-25.69349
Waterfall Longitude:
-54.43623
---
Iguazu Falls (or more accurately Iguazú Falls) is the Spanish name for this mammoth waterfall. You might also see it referred to as Iguassu Falls or Iguaçu Falls if you favor the portugese name. Moreover, you might also see it referred to as Yguazú Falls, which I believe is native Guaraní. In fact, the meaning of the name (originally Guaraní) is said to roughly translate to "big water." The photo you see at the top of this page certainly attests to its grand nature.
But no matter how you spell or say its name, we have to say that it is indeed a crazy waterfall.
How crazy, you might ask?
Consider a network of 275 different waterfalls spanning an area 3km wide (2km of which is the upper rim of the waterfall) during its normal flow of around 1000 cubic meters per second. It is such a natural wonder that UNESCO designated the falls as a World Heritage Area in 1986.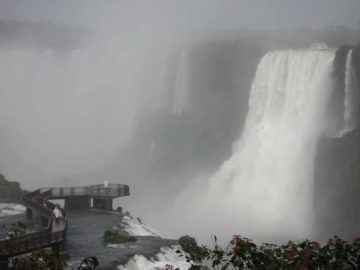 Yet as a result of its grandeur, Julie and I were so overwhelmed with the raw human emotion of excitement and wonder during our visit that even the implications of these gaudy numbers seem to be dwarfed. Indeed, it's one of those waterfalls that you just have to experience for yourself!
Sitting on the Iguazú River, it is shared by Argentina and Brazil as both countries are separated by the river. Catwalks are built on both sides providing closer (often times mistier and wetter) views of the great waterfall. Paraguay is also near the falls so this region is often referred to as the Triple Frontier.
From what we could tell, during normal flow, the Iguazu River consists of two main parts. These components are the Devil's Throat section and what I'm calling the Argentina section.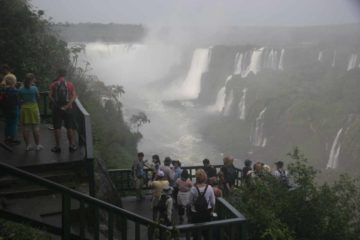 The part of Iguazu Falls with the largest volume of water is the narrow horseshoe of the Devil's Throat (La Garganta del Diablo). This is the portion of the falls that is split between Argentina and Brazil. It is also the most recognizable and powerful section of this world attraction.
The Argentina section is the part containing numerous segmented waterfalls as a result of islands (the largest of which is the San Martin Island, or La Isla San Martín) splitting up the river. And as suggested by the name I made up for this part, all of these islands are on the Argentina side.
Most of these segmented waterfalls and cascades have names. Just to give you an idea of how many named waterfalls make up this Argentina section, we've identified signs pointing out Salto San Martín, Salto Eva, Salto Adán, Salto Bossetti (very impressive), Salto Dos Hermanas, Salto Alvar Nuñez, Salto Guardaparque Bernabé Mendez, Salto Mbigua, Salto Chico, Salto Rivadavía, Salto Escondido, and Salto Lanusse. I'm sure there are others we didn't even mention.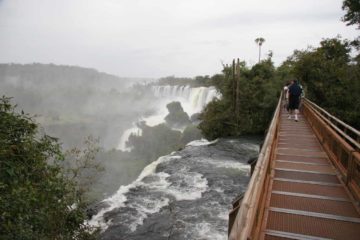 As far as we were concerned, what made this mega waterfall so special was that it felt like it was in Nature where it belonged. Sure the catwalks and jet boat tours (along with Brazilian helicopters) could take away from the Nature. However, it was certainly more natural than one of the rival waterfalls like say
Niagara Falls
, where it could be argued that it resulted in a Frankenstein-like mix of Las Vegas and natural world wonder.
Still with that being said, there was certainly no shortage of activities to do here besides walking the catwalks and soaking in the overlooks. Julie and I have engaged in a couple of of these excursions (including a thrilling boat ride). We've discussed our accounts of such excursions in a separate write-up, which you can read about here.
Speaking of catwalks, they afforded us various ways to view and experience Iguazu Falls. Argentina had most of the catwalks while Brazil's walks mostly focused on panoramas of the Argentinean side as well as closeups of the thunderous Devil's Throat. We spent a good deal of time walking the main catwalk trails, which were called Paseo Superior (the upper catwalks) and Paseo Inferior (the lower catwalks). We even caught a short train ride that took us to a catwalk to the brink of Devil's Throat (known as El Paseo de La Garganta del Diablo). On the last day of our visit, we had some limited time exploring the catwalks and trails on San Martin Island after taking a short boat ride.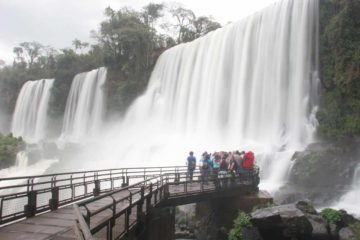 Since we were based on the Argentina side during our three day visit, we gave ourselves enough time to spend at least a half-day visiting the Brazil side. It was here that we got to look across the Iguazu River while also getting a closer and more frontal look at the turbulent and impressive Devil's Throat.
Perhaps, you may have a preference on which side to spend most of your visit or to stay. Since Julie and I have been to both sides, we've documented our experiences and made an evaluation of the two sides. Your can read more about our in-depth comparison of the Argentina side versus the Brazil side here.
And with all this going on, we even saw some wildlife such as the banded-tailed coaties (they seemed to have become accustomed to being fed or digging for trash), birds like various species of parrot and toucans, and butterflies of many different colors. I understand that there are even predatory cats like the Jaguar as well as the Puma and Ocelot though I'd imagine sightings of these majestic lords of the jungle would be pretty rare.
Throughout the year, Iguazu Falls can be seen in various states depending on its waterflow as well as how the seasons can affect its surroundings. We made an attempt to summarize our findings in this writeup, which you can get to by clicking here.
Indeed there is much to say about Iguazu Falls, and what we've managed to do here merely scratched the surface of the many ways to experience the place. Heck, if the timing's right, you could even do special tours of the falls by moonlight (something I wish we could've done)! Check out the photos and videos below as well as the links to our other write-ups and get ready to experience our favorite waterfall in the world!
There are many ways of getting to Iguazu Falls. We've composed a write-up of our accounts of how we managed to get to the falls, which you can access by clicking here.
And at least for foreign visitors like us, we also wrote up a guide detailing the logistics of how we managed to handle some of the less glamorous aspects of enabling a visit to the falls such as Visas, money changing, etc., which you can read about here.
Finally, for a bit of geographical context, the closest town on the Argentina side is Puerto Iguazú (within walking distance or a short shuttle to the falls). It's roughly a 6.5-hour flight from Buenos Aires. On the Brazil side, the nearest town is Foz do Iguaçu, which is about a two-hour flight from Rio de Janeiro or 90-minute flight from São Paulo.
Find A Place To Stay
Related Top 10 Lists
Trip Planning Resources
Nearby Accommodations
Tagged with:
puerto iguazu, foz do iguassu, foz do iguacu, misiones, parana, argentina, brazil, paraguay, triple frontier, waterfall, top 10
Visitor Comments:
Got something you'd like to share or say to keep the conversation going? Feel free to leave a comment below...
Visitor Reviews of this Waterfall:
If you have a waterfall story or write-up that you'd like to share, feel free to click the button below and fill out the form...