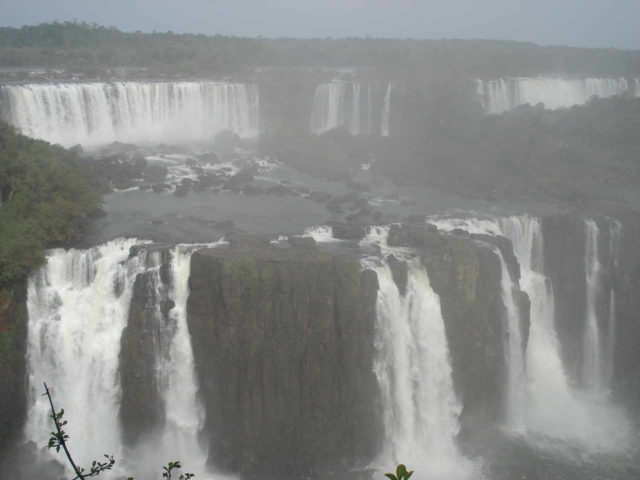 30-August 2007 to 3-September 2007:
The boat raced upstream through the turbulent rapids – certainly waters you wouldn't want to be swimming in. Though the driver was fully in control, there was always that fear of capsizing because there was something maniacal about the way he drove. Screams were heard all around us as if we were in some rollercoaster ride. The Kiwi guy sitting behind me kept yelling to no one in particular, "To the extreme!"
Days 1-2: BIG TIME TRAVEL
It was Thursday morning at 5am when Julie and I awoke in Los Angeles. Having been all packed and ready to go, we freshened up and drove directly to LAX. It felt like a work day, but we knew we were about to embark on one of the craziest weekends we've ever done.
Since my vacation days at work were quite limited (from our recent New York and Iceland trip), we decided to seize the moment and take advantage of our 3-day Labor Day weekend (plus a couple of days off to make it a 5-day weekend). Why was this crazy you might ask?
Well, we were basically doing a weekend trip to Iguazú Falls. Basically, it was 2 nights at the falls surrounded by heavy days of traveling. My coworkers and friends think we're nuts, but we figured if we're going to start a family some time next year, we mind as well get all the adventurous traveling out of the way before kids tie you down, right?
Anyways at around 6:30am, we were at LAX and went through check-in and security without a hitch. As we were walking through the terminal area to our assigned gate, we noticed a Citibank ad that got our attention.
It was basically a couple standing near a cliff next to a big waterfall.
We couldn't tell which one it was, but it was only fitting that such an ad for a credit card pop up on an Iguazú Falls whirlwind weekend tour…
We still had plenty of time for our 9:30am flight to Miami so I spent the time reading Lonely Planet Argentina. Unlike other trips, I didn't very much planning for this one. So I figured I mind as well occupy myself reading about the country for a future visit. Julie went to read up on some tabloids.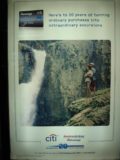 Our flight took off on time and arrived in Miami at around 5pm (about 6 hours of flying). Not much happened during the flight. We seemed to have walked around a maze of construction work before finding our connecting terminal in Miami though. In any case, we would board our American Airlines flight to Buenos Aires and took off on time at 8:30pm.
Not much went on during this leg of the trip. We finally got to see Spider Man 3 and we also managed to get a little bit of sleep in on this 8.5-hour flight. It was 6am when we touched down in Buenos Aires. Upon claiming our bags, we changed some money to the Argentinean peso. The exchange rate there was noticeably low at 2.78 peso for every US dollar. I could've sworn that if you had paid by cash or something, they'll assume a rate of $3 peso to $1 USD. Anyways, we tried to console ourselves that we'd be showing money in an enclosed area as opposed to the outside where some seedy onlooker might target us for theft or a mugging. Not sure if that bit of mental exercise was justified or not though.
Next, we had to catch a taxi (which Julie pre-booked with Manuel Tienda Leon) to connect from the Ezeiza International Airport to the Buenos Aires Domestic Airport and our next flight out to Puerto Iguazú.
It was a very chilly morning and we could see low-lying fog hovering over the lawns surrounding the freeway we were on as the taxi driver zoomed towards the city.
I thought this was a good opportunity to brush up on my spanish so after a few minutes of awkward silence, I finally engaged in a conversation with him talking about the drivers clientelle, the weather in Argentina, Buenos Aires, the safety of Venezuela (since we wanted to do Angel Falls real bad on a future trip), and even the tango.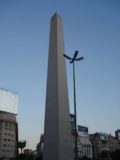 The driver took us through the center of the city, where we drove by this tall pillar very reminiscent of the Washington Monument. I don't know the name of it though Julie keeps insisting it's called the Recoleta.
As we zoomed through el centro de Buenos Aires (downtown), the sun started coming up. Before we knew it, we were on a street right before the domestic airport next to El Río de la Plata (i.e. the River of Silver; probably carried over from the silver rush days of the Conquistadors). The driver kept mentioning to us that the river is on our right, but I couldn't figure out what he meant because that body of water looked like a big bay.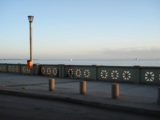 But then it dawned on me. That "bay" was indeed the river.
"¡No es océano! ¡Es un río!" I confirmed with the driver.
"Sí," said the driver.
Both Julie and I were amazed that a river could be so huge. Though in my mind it was probably more of an estuary or inlet than a river. Still, it was impressive.
Julie budgeted plenty of time for all these transfers to take place during the course of her trip planning and booking. So we ended up at the airport in plenty of time for our 10am flight with Aerolineas Argentinas to Puerto Iguazú.
After fidgeting and killing time while sneaking in a quick nap, we managed to board our flight without any problems. However, the number of cancellations and delays on the monitor was a little disconcerting. Fortunately, that wasn't us on this flight.
The 1.5-hour flight was smooth. Somehow, both of us were lulled to sleep. I guess it was all the long flying. It had been over 24 hours since the last time we brushed our teeth or showered, but we wouldn't address that until the end of the day. Time is precious and we wanted to spend as much time as possible at the waterfall.
We arrived at the airport a little after 12pm. Our one checked baggage arrived (always anxious about this) and we met up with someone who was waiting for us with our name scribbled on a sign. It felt strange to actually be one of those people who got to be picked up. Normally, we pass right by those people for the car rental area and do our self touring. Not so on this trip though.
So we ended up with a guy name Felipe. He was apparently our representative from Aquas Grandes who Interhabit hooked us up with. Julie booked this as a taxi for getting between the airport and our hotel as well as our taxi to the Brazil side of Iguazú Falls. But it seemed like Felipe conducted himself in a way that seemed more like a private tour guide. Certainly above and beyond what we were expecting.
While conversing with Felipe during the 15 minutes or so of driving, we naturally talked about the weather. It was gray and overcast today. But Felipe told us that now was the best time to see the falls because the temperature is around 28-30 degrees Celsius and the humidity is around 75%. Come during the peak season (starting October and going through March), and the temperatures can get up to 40 degrees Celsius with 100% humidity. So now was the best time to be here we figured. But being in a subtropical climate, clouds are part of it all I guess so we doubted we'd get blue-sky shots you see on post cards on this day.
It was 12:30pm when we arrived at the Sheraton Iguazú, which sat right inside the National Park (Guardaparque Nacional). Felipe said we'd meet tomorrow morning at 8am for our Brazil tour at the hotel lobby. In the mean time, Julie and I got settled, basked in the nice 3rd story room with a view of the falls, and sprayed on some sunscreen and deet (always conscious of mosquito-born illnesses we had read about here).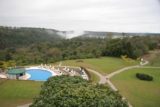 The scale of the falls was immediately apparent upon gazing out from our balcony to the falls. Most of the falls was covered in foliage from here, but we could easily see the top parts of the falls, and we couldn't wait to start walking closer.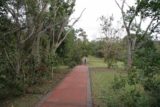 We heard lots of kids singing and that was when we noticed there were huge groups of kids here as well as other tour bus groups. We figured this might lead to some crowd problems.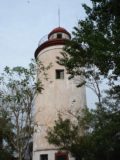 Anyways at the tower, we tried to give a shot to going up the tower, but after the first flight of steps, we met up with a locked door. So we headed back down. A few other tourists saw what we were doing and tried to go up the stairs with us, but they too saw the disappointing result.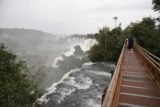 We first decided to walk el paseo superior (the upper trail). That was when the walk left the concrete and onto metal catwalks. I swear some of these catwalks looked like they were in places they don't belong because they ran right over the river near the brinks of the waterfalls. I could totally envision floodwaters racing right over these catwalks. Yet there they were. Apparently whatever the Argentineans were doing, it worked.
So we made a beeline to the end of the walkway passing by numerous signs identifying individual waterfalls along the way. It wasn't like we could tell the difference from one or the other however though I was keeping mental notes to myself.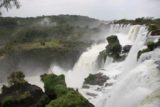 At the end of the catwalk of paseo superior, there was already a crowd of people here. The view of the waterfall (which turned out to be the gushing Salto San Martín) was incredible. Plus the wall of water immediately to the right of it really hit home that this was one big waterfall!
"Crazy!" Julie said to me.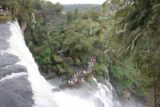 Julie and I tried to get what photos we could, but the crowd seemed rather incessant. It was hard to get any people shots without people walking right in front of you and just staying there. I don't know if it's just people don't have manners or they're unaware of the activities of those around them. Some even were pushy. I guess that comes with the territory when you're going to a world famous attraction.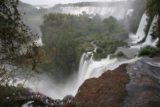 Next, we headed towards other overlooks as we headed back to the start of paseo superior. We checked out the top of Salto Bossetti, which seemed to have the most impressive view from up here, as well as Salto Dos Hermanas. We could see below us that there were more catwalks but they too were full of people. If this was the off-season, I can't imagine how nuts it would be during the peak season.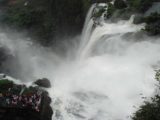 Meanwhile, a mob of kids engulfed us at the top of Salto Bossetti. Poor Julie was trying to pose for me, but she was pretty much pressed against the rail as she tried to take movies with her Cybershot camera. I was standing away from the crowd looking across a gap in the catwalk.
Julie and I next raced to Paseo Inferior trying to get by some of the slower walkers along the way. We knew we had to beat the rush of the big kiddie groups, who were tailing behind us.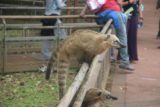 But that was when we noticed these mammals called coaties (or banded tail coaties). They reminded me of a cross between an anteater and a racoon. They were quite cute, but some clown was feeding the coaties at this break area with a public toilet and snack bar area.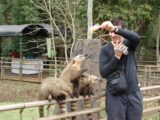 Sure enough, the coaties came in a big group sitting on the railing waiting to be fed. I wished a park authority would fine this guy, but the rest of the tourists in the area crowded around to try to photograph the spectacle. It was certainly entertaining, but I know this couldn't be good for the coaties.
Then, Julie and I continued walking to other overlooks of the falls. At first, we were distracted by a fork in the catwalk that went both in front of and above a waterfall in a narrow gorge called Salto Alvar Nuñez. It was an attractive waterfall but we knew there were bigger fish to fry.
As soon as I was done photographing this waterfall, the mob of kids caught up to us. As I was trying to squeeze through to catch up to Julie, one of the girls boldly came up to me and said in a strangely Italian manner while sticking out her hand, "¡Hoooollllaaaa!"
I naturally shook her hand and said, "¡Hola!" back to her.
I was caught off guard by the manner in which she said "Hi" to me. It was as if she was saying "Buongiorno," which was Italian for Good Day. I certainly wasn't used to hearing the spanish rendition of "Hi" being spoken in that manner. I briefly speculated that there must've been some kind of European mix of cultures between Italian and Spanish out here in Argentina. I was more used to what the European Spanish speakers might call "dirty Spanish" which was more commonly used in Mexico and other parts of Central America. After all, that was certainly what was frequently heard back at home in LA and even in our brief stint in Miami. Heck, I even overheard people using "¿Que tal?" (meaning "what's up?") which was something I hadn't heard since learning spanish in high school. "¿Cómo estás?" was what I was more familiar with.
But before I would engage in a longer conversation, I kept going and caught up to Julie where we were at the next overlook. This one was of the Devil's Throat (La Garganta del Diablo). It was a rather distant view and the area was like a white mess. Not real photogenic but it was hard to imagine being in that torrent without drowning (I didn't think the boat trip we have booked for tomorrow would even get close to that area).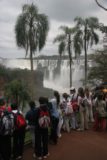 Not long thereafter, the kids caught up again. But they then went to the next adjacent overlook, which showed the Argentinean side of the falls frame by palm trees. This was a pretty familiar post card shooting location. I thought about waiting out the mob of kids, but they were taking their time here and Julie had already kept going.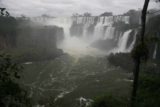 As I was trying to catch up to her, I kept getting distracted by more gorgeous views of Salto San Martín and the rest of the waterfalls we had walked above on el paseo superior. The scene was really impressive and that Salto San Martín was gushing madly.
Eventually, the kids caught up to me. While I was letting them pass me on the narrow catwalk, that girl that said "hi" to me tried to mockingly scare me. I just smiled back and let them go. But apparently this girl liked to pick on me. I guess my tripod and big body of the Canon EOS 20D really made me look like a tourist. It was exactly the opposite of what I wanted to accomplish.
Oh well…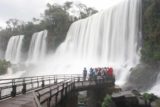 Ultimately, I caught up to Julie at the middle Salto Bossetti overlook of the catwalk. We had passed by a booth that said the boat ride to La Isla San Martín (San Martín Island) was closed. I guess the river was running too high.
The Salto Bossetti waterfall was quite impressive. We were now in the middle of its multi-tiered (though 2 conspicous ones) drop. I was doing my best to get scale shots of the falls. But it wasn't long after that the kids mobbed the catwalk's dead-end. So I seized this opportunity to make them subjects of my scale photographs as they were backed by the impressive wall of water of Salto Bossetti.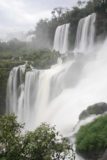 After continuing to take a few more photos of the falls from the other side of the catwalk, the kids started leaving again. I was content to let them leave and move ahead of us. But in doing so, that same girl asked me," ¿Toma fotos para revistas?
At first I didn't quite get what she was saying so I told her, "Uhh, no comprendo."
Then she said back to me in a louder but slower voice while gesturing,"¿TOMA FOTOS PARA REVISTAS?"
I guess when she gestured the act of opening something to read, that's when I suddenly realized that she was asking if I was photographing for a magazine. Knowing this conversation was going to be short-lived to begin with, I just told her, "No, es solo para mi."
"¿Para usted?" she reiterated.
"Si," I said back.
Afterwards, she joined the rest of her group as they appeared to head down the stairs towards the lowest parts of Paseo Inferior. Julie and I opted to walk back up to the top where we next decided to head for the little trolley train leading to the Devil's Throat catwalk.
On the way back to the upper concrete walk, we checked out a tiny waterfall called Salto Chico. Not a real special waterfall, but could've easily been a standout by itself in a place where decent waterfalls are rare like say Southern California.
Not long thereafter, we checked out Salto Dos Hermanas, which was a pair of waterfalls that obviously reminded people of two sisters. There were wildflowers growing in a rock in front of the falls basking in the mist. It added a bit of color to the scene of an otherwise gloomy gray day.
As we were walking towards the train stop, I told Julie sarcastically, "I think that little girl likes me."
"Hehe! Why was that?" she said.
"Because she wouldn't leave me alone. She actually asked if I was a photographer for a magazine."
"What did you tell her?"
"I was just doing it for myself."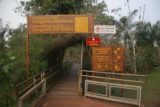 It was about 4pm when we got to the train stop. It was a good thing we got there when we did because the last train was at 4:10pm. So when the train arrived, we got on and caught a little bit of a break for the 2km ride to the start of El Paseo de Garganta del Diablo. Though I suppose if we missed the train, there was still a 2km walk along the dirt road paralleling the train tracks.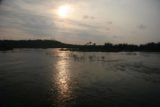 Finally at the train stop, we got off and headed straight for the signposted catwalk for Paseo de Garganta del Diablo. The weather seemed to start to clear up somewhat as the afternoon sun was starting to peek through the clouds casting a deep orangish glow.
This catwalk was quite long though (I think 1km one way). We had about an hour or so to walk all the way to the end, snap photos, and walk back in time to catch the very last train back to the main train stop. I was amazed at the length of the boardwalk and how it went right above the very long river. Again, I couldn't help but think how a catwalk like this could survive high water year after year.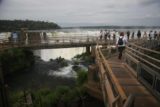 Well just as we were approaching the end of the catwalk, we did pass by a conspicuous catwalk that was detached from the rest of the catwalk we were on. A sign on it indicated that it was destroyed in a major flood in 1992. So I guess that kind of gave me a sense of what it would take to break these catwalks since the ones still standing still seemed to work and it's 17 years since that flood.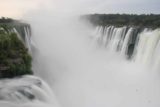 Nonetheless, we got to the end of the catwalk where the roar of the thundering Devil's Throat was deafening. The scene was immense as heaps of water came rushing down in a three-sided horseshoe into a white misty mess. There was certainly no way to see the river nor the bottom of the falls from here as the mist acted like fog shrouding everything below the middle of the falls.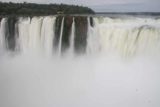 On the other side of the falls, we could see tiny buildings as well as a tower and a catwalk. Obviously that was on the Brazilian side and it whetted our appetite to check it out tomorrow morning.
Anyhow, we tried to soak in this incredible scene while still keeping an eye out for the last departure time of the train at 5:30pm. It was still difficult to get a decent photo of each other due to the crowds so we were content to snap what we could before it was time to go. The employees lowering the Argentinean flag kind of signaled to us that they were about to close the park.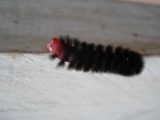 And so we got back to the train and caught the last one back to the main part of the park. Before leaving, Julie snapped a few photos of an interesting-looking fuzzy worm with a tomato-like eye or head. Pretty weird. But I guess it goes to show you the degree of bio-diversity the rainforests down here have. That was reassuring to see though we knew that the forces of industrialism and development continue to threaten these sanctuaries of nature.
We returned to the Sheraton Iguazú just after 6pm. That was when we finally got to shower for the first time in almost 48 hours!
We discussed whether we should eat at the hotel (which was never an attractive option for us) or go through the trouble of going into the town of Puerto Iguazú to try something a little more authentic. Well it turned out that it would be a bit of a hassle to eat outside this hotel and we didn't feel like paying 45 peso (or 90 peso round trip) just for a meal. So we just stayed in the hotel and ate.
Well the food was surprisingly good and Julie managed to get a three-course meal out of it. When we added up the cost, it only costed us 154 peso (or just about $50USD) for something we normally think about shelling out $100USD or more for in any upscale restaurant. Julie particularly liked her fish dish of the local Surubí and Pacu. I had lamb chops, which was my safe choice.
And so ended a rather hectic couple of days of both travel and finally getting to see the great waterfall. It was time to brush our teeth and get some rest for another eventful day tomorrow…
Day 3: TO THE EXTREME!
Julie and I awoke at 6am since our included breakfast was at 7am. And when we first looked out the window, it was still dark, but as it started to get brighter, we were discouraged by the foggy view. It took a while to sink in but we had to struggle with the reality that the view of the falls might be completely fogged over on the day we were to see Iguazú Falls from the Brazilian side.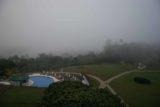 So we sighed as we looked back on all the trouble it took to get that Brazilian Visa from the $110 application fees to the $90 expediting fees to booking a tour in advance so the Visa application wouldn't be rejected, etc.
That kind of cast a bit of a somber mood when we went to the buffet breakfast. But at least the food was reasonably good. It was the standard fare of eggs, sausages, toast, etc. There were also lots of guilty pleasures of pastries as well as healthier alternatives of fruits and yogurts.
In any case, when we were done with brekkie, Julie and I got ready, sprayed on sunscreen and deet, and then got back down to the lobby in time to meet up with Felipe. And with that, our Brazilian half-day tour was about to begin.
Julie and I were a bit surprised how long it took just to get to Puerto Iguazu let alone the National Park Visitor Center on the Brazilian side (I swore the drive to the border took nearly half an hour). The whole time, Felipe was telling us what we were seeing along the way. He also didn't seem to be the least bit concerned about the fog. I guess after seeing the falls for over 25 years, he certainly has a feel for how the weather behaves down here.
Along the way across the border, there were border patrol areas for both the Argentina side and the Brazil side. It wasn't unlike that of the USA and Canada for Niagara Falls over the Rainbow Bridge. The Argentina Visa went without a hitch as Felipe showed them our passports and another guy searched the vehicle.
On the Brazilian side, we had to get out of the car and show the passport to the worker at the Brazilian office. After stamping our passports, we were on our way. Unfortunately, the guy haphazardly stamped our passport pages and we were running out of blank pages which would pose problems for future trips, especially since there was such a big passport backlog back at home. Argh!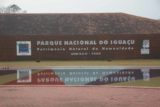 It was around 8:45am when we made it to the visitor center on the Brazilian side. The window was supposed to open by 9am but they actually opened at around 9:15am. So there was a pretty big queue but we'd eventually have our entrance tickets paying in peso but getting change in Brazilian Reals. The security guards surrounding the area I guess was reassuring, but it made Julie and I wonder about crime in the area (especially at the nearby Foz do Iguaçu). Now that I think about it, there were security guards at the airport and sheraton on the Argentina side as well…
Anyhow, Felipe, Julie, and I rode this double-decker bus as it headed to a place where the Brazilian walk began. The sun was definitely coming out at this time and this was encouraging. I certainly hoped it wasn't one of those things where fog only obscured the falls but everything else was blue skies…
By around 9:30am, we were right in front of this sleek but charming-looking Brazilian Hotel. That was where the walk began and we all went right to it (as well as the rest of the bus).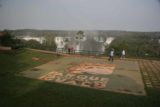 The first overlook that greeted us was already impressive. There was a big sign on the grass before the view of the Argentinean side of the falls. It was a bit distant, but it provided a great context of the scene we had seen yesterday.
What dawned on both us was that the fog did indeed burn off and our fears this morning were unfounded. Whew! It looked like the Brazilian Visa trouble was worth it after all.
Julie and I took a few photos here, but I could tell that Felipe wanted us to keep going because there were better views up ahead. Still, he was quite patient with us and even helped us snap a few couple shots. I had forgotten to bring my tripod anyways so I assistance was needed for both couple shots and long exposure shots anyways.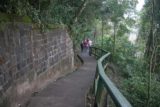 And as Felipe had indicated, the views did indeed become more expansive as we went along. It was hard to quantify what's the best view of the lot so Julie and I just kept snapping away knowing some of these overlooks wouldn't be available later on (as we wouldn't be coming back). Adding to the scene were faint rainbows starting to appear thanks to the morning sun.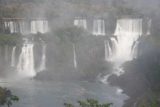 The next major lookout was crowds of mandarin-speaking Chinese tourists. They took up most of the overlook for quite a while taking their group photos. Once again, Felipe was being patient as we patiently awaited our turn to get our views and photos from here.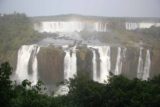 Continuing on, the views started to shift towards focusing on waterfalls going through La Isla San Martín. Now these were waterfalls we didn't see yesterday. But these were just as impressive as some of the other Argentinean-sided waterfalls. One section in particular I had heard was called the Three Musketeer Falls was particularly striking.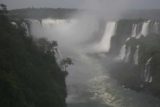 The next overlook already had a crowd of people in a very small overhanging dead-end. Down here, we could see further upstream the turbulent misty mess of the Devil's Throat. Even though we were well downstream from La Garganta del Diablo, there was still enough mist to put waterspots on the camera.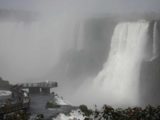 Then, we continued the walk and went towards a junction where the walk provided access to a metal catwalk edging out closer to the lower part of the Devil's Throat. Certainly the closer we got, the more mist was spraying around us and I knew taking photos would be more difficult.
"¡La catarata es loca!" I told Felipe. He nodded and smiled.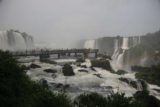 Felipe next told us that he'd wait for us at the junction while letting us check out the catwalk leading us tantalizing close to the turbulent misty mess of La Garganta del Diablo. Once again, I thought about how this catwalk was built where it shouldn't be as it was right on the rushing waters of the waterfall.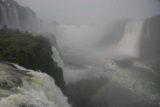 As we walked onto the catwalk, the upper falls to our left was already blowing wind and mist keeping things wet and cool as well as a bit foggy. I did my best trying to take photos with Julie while keeping the lens cloth handy to try to wipe off waterspots.
Poor Julie was preoccupied with this guy who kept getting her to take photos of him from every possible pose. In any case, we eventually got all the shots we wanted and then went back to the junction with the patiently awaiting Felipe.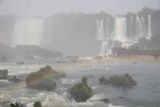 The walk then progressed towards the tower which sat noticeably next to the wall of water of Iguassu Falls. It was pretty much a spot to take profile views of the wall of water as well as foggy views back towards the catwalk we were just on.
Next, we went up an elevator to a pretty scary platform on the top floor with a grated floor that you can see through to the bottom. The elevator ride up also had quite a view as it was surrounded by glass and you could see the angle change as we ascended.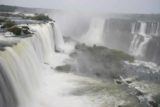 While up here, we took more photos and I tried to capitalize on the presence of the railings for long exposure photographs. It was times like these that I wish I hadn't forgotten the tripod at the hotel. Anyways, after snapping photos up here, that was pretty much the end of the 1.2km one-way walk and our Brazilian-side tour.
After an uneventful drive back to Argentina (with another round of border patrol and yet another stamping of our passports – boy we really fretted about running out of blank pages and even blank spots), we returned to the Sheraton Iguazú at around 12:30pm. That left us about a half hour to get ready and to catch our 1pm boat tour.
When 1pm rolled around, we were directed to walk back into the park and towards a meeting area right next to the visitor parking lot. That was when we had time to have some empanadas for lunch while checking out a sign comparing Las Cataratas de Iguazú with other big waterfalls around the world. The kicker was that we knew just about all the other waterfalls were either gone due to damming (such as Sete Quedas) or didn't count (like that 2m waterfall on the bottom of the list). However, the first waterfall on that list was interesting. It was called Kaieteur and it was certainly one we should check out if given the opportunity in the future.
The boat tour actually included a little bit of a jungle drive in addition to the boat tour. In fact, the whole tour was actually the Gran Adventura Safari as opposed to the Macuco Safari (on the Brazil side). Felipe convinced us that the Argentina tour was better because it took us both to the main river as well as the Salto San Martín side while the Brazilian tour couldn't get to the Salto San Martín side since they can't cross into Argentina. In any case, the drive went through the dense subtropical forest with trees growing as tall as 30m. In a way, it was actually pretty relaxing as we listened to the presenter talk about the ecosystem and some of the flora and fauna present here.
When this part of the tour ended, we walked down some steps right down to the bank of the Río de Iguazú at Point Macuco. There were heaps of butterflies chilling out by the boat dock, which got quite a bit of attention from tourists on this tour. But we didn't tarry much longer and got right into the boat complete with life jackets and a dry bag.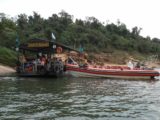 And with that, we headed off. The boat raced upstream through the turbulent rapids – certainly waters you wouldn't want to be swimming in. Though the driver was fully in control, there was always that fear of capsizing because there was something maniacal about the way he drove. Screams were heard all around us as if we were in some rollercoaster ride. The Kiwi guy sitting behind me kept yelling to no one in particular, "To the extreme!"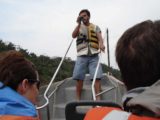 The water continued to get choppier as we went around small waterfalls and shooting some serious whitewater. We were glad the boat was quite powerful as we were zooming upstream.
It wasn't long before we hit the confluence at the base of Isla San Martín. At that point, the boat turned to the right where we were greeted by an impressive wall of water facing us with Salto Bossetti on the right and the gushing and menacing Salto San Martín to our left.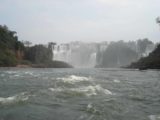 By the time the boat stopped so we could snap a few photos, the Kiwi guy sitting behind me had already said, "To the extreme!" at least three times by now.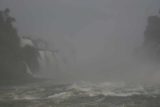 The boat then proceeded to zip back towards the main part of Río de Iguazú where we managed to get a few more blurry photos looking towards the misty mess of Devil's Throat further upstream. Certainly there was no way we were going to go that much further upstream into the torrent as the water was already choppy down here.
We were then instructed to put our cameras and other things we didn't want to get wet into the dry bags. I obviously wasn't going to risk it with my camera. Everyone else also obliged.
Once we were all braced for what was to come, the boat proceeded to zoom a short distance upstream before turning right and going right under one of those Three Musketeers waterfalls off San Martín Island. It didn't take long before we were engulfed in mist and then it felt as if we were right underneath the brunt of the waterfall.
Water was spilling right into the boat and we could even feel the cold water pouring onto our thighs as we sat.
"Yeah! Woo! To the extreme!" yelled the Kiwi guy behind once again.
I think the boat driver went in and out of the Three Musketeers Waterfalls at least three times before zooming back downstream and then heading right into the turbulent waters at the base of Salto San Martín.
"To the extreme!" yelled the Kiwi guy behind me yet again.
The boat driver took us under this turbulent waterfall another three times each time seemingly deeper than the last.
"To the extreme!" we heard once again. This time he struggled to keep up the volume of his voice as he, too, must've felt the shivering effects of the cold water.
By now, the boat went back towards the nearby dock as if it was about to be the end of our tour. But then the guy sitting at the front of the boat (undoubtedly one of the employees) asked all of us, "¿Uno mas?"
The whole tour yelled out, "¡Uno mas!"
This got the Kiwi guy behind us to change his scream from "To the extreme!" to "¡Uno mas!" in his Kiwi accent.
And so the boat zoomed back towards the main part of the Río de Iguazú right back to the Three Musketeers waterfall. And once again, we went under and got even more drenched. I started to shiver with this shower of cold water as we zoomed back over to Salto San Martín.
"¡Uno mas, Uno mas, Uno mas!" yelled the Kiwi guy.
After the triple drenching beneath Salto San Martín, there was no doubt all of us were drenched. Julie was wishing she hadn't forgotten her waterproof pants. Meanwhile I got to test out how quick-drying our hiking pants and shirt were.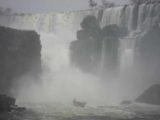 Mercifully, the boat tour ended and we got to the dock where we disembarked and walked towards the lowest overlook of Salto Bossetti. In the mean time, we got to see other boat tours get the drenching that we had just received except from the relatively safety of land.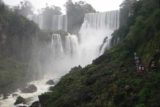 Back at the lower Salto Bossetti lookout, I was wishing I had brought my tripod. But I had to make use of the railing for stability for long exposure shots.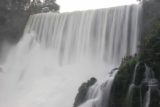 After these photos, Julie and I walked up several tiers of stairs eventually getting back to the kiosk near the middle Salto Bossetti overlook. We took a few more photos given the slightly improved weather from yesterday. We also noticed that the big kid groups were gone as well so the park felt considerably quieter. Perhaps it was because today was Saturday. Who knew?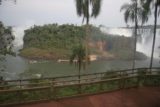 From there, we didn't tarry much longer and walked back up to our room at the Sheraton Iguazú to recover from our severe drenching. We seized this opportunity to recover a bit by changing into drier clothes before walking back down to the driveway of the Sheraton where there was a bus stop.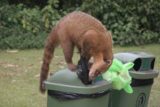 On the way down to the bus stop, Julie and I were a little disturbed at how easy it was for coaties to dig through rubbish and get their human food. No wonder why we saw so many of them fearless of people at the catwalks. Certainly this can't be good for them…
We were determined to take a bus into town and take Felipe's recommendation on this restaurant called La Rueda ("The Wheel").
At around 6pm, we caught the last bus going into town. At first, the bus was pretty sparsely populated, but then the bus stopped at the visitor center and that was when the bus was packed like sardines.
Lots of Americans were on this bus as I had the feeling there must've been cheap accommodations at Puerto Iguazú, the town we were headed to.
It was about 6:30pm when we got off the bus. Dinner didn't start until 7pm so we walked around town for a bit. There wasn't a whole lot going on in town and before we knew it, we were back at La Rueda for dinner.
Dinner was pretty good. Julie once again enjoyed her dish of Surubí with some Palmitos. I had some standard fare of bif de lomo. It was a good thing we hadn't forgotten our spanish because it came in handy here as our waiter didn't speak english.
After dinner was over (which costed around 100 peso total), they called us a remise to take us back to the hotel at 5 peso less than that place next door who offered to take us back. Bus service ended already so we had to take the 40 peso expense on the way back. Actually, when we add up all the expenses of this dinner trip, it costed about the same as our pretty nice dinner last night so I guess there wasn't any real advantage to eating in tour or in the hotel.
And so ended Day 2 of our Iguazu Falls stay. It would be our last night here and we were already lamenting the fact that our Labor Day weekend was already coming to an end tomorrow…
Days 4-5: LA ISLA SAN MARTÍN
Once again Julie and I awoke at 6am. We weren't fully packed since we got back to our room a bit late after dinner at La Rueda. So we freshened up and headed back down to our 7am brekkie.
The brekkie was pretty much the same as yesterday morning, but the pastries were not as good. The morning view of the waterfall was the same as it was yesterday – foggy. But after seeing how the weather turned yesterday, we were pretty sure it would clear up at some point. In either case, we didn't worry about it since we got our views yesterday from the Brazilian side.
We knew we still had until 2pm before we had to get back to the airport. So that left us quite a bit of time to finally do the Sendero Macuco Trail to Salto Arrechea, which was a bit off the tourist path.
However, as we were busy packing, the weather became sunny and the fog rapidly burned off. I was hoping to be out on the trail by 8am, but it actually wasn't until 9:30am that we were finally headed out to the Sendero Macuco. It didn't help matters that we didn't have water so we had to buy a couple of bottles prior to going.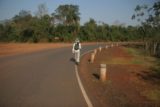 By now it was sunny and warming up rapidly. It took around 15 minutes to walk to the actual Sendero Macuco trailhead because the trail is off the road connecting the visitor center to the Sheraton.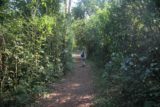 It seemed like we were the first ones on the trail as it was quite empty. Julie feared jaguars and her fears weren't exactly unfounded because a kid was eaten here back in 1991. But given the rather wide trail and the presence of trash cans spread throughout, I knew this was still a relatively frequently used trail so I doubted we'd have any such encounters. Still, you could never keep your guard down so I did have my tripod with me (not that that would do much to deter a hungry jaguar, but at least we'd have a fighting chance I reckon).
After about an hour of walking, we reached the top of Salto Arrechea, which ended at the end of some boardwalk. The falls itself wasn't exactly gushing. Julie looked down and saw there was someone down there going for a swim already. So I guess we weren't the first ones here after all.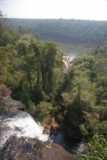 It was about almost 11am and with the good weather, Julie was lamenting that we didn't go back to the touristy catwalks to take advantage of the blue skies. I kept wishing we had started an hour earlier, but we couldn't cry over spilled milk. We were here so we mind as well make the most of it and hope we get back in time to take advantage of the blue skies later.
So we followed a steep path down to the base of the waterfall. We then took some long exposure photographs of the disappointingly thin waterfall. I could easily see this thing dry up after a few dry days.
Unlike the other waterfalls, Salto Arrechea appeared to not be part of the network of 275 waterfalls of the greater Cataratas de Iguazú. We could hear Brazilian helicopters overhead giving aerial tours of the falls so that probably helped scare most of the animals I had hoped to see on the trail (including jaguars).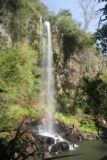 In any case, as we were taking what photos we could of Salto Arrechea, some heavy-set guy was actually baring it all. He proceeded to swim to the base of the waterfall and then pose underneath the waterfall for his red-shirted wife.
"Why is it that we always have these things happen to us?" Julie asked. She was referencing an earlier time back in May 2004 when we went to Alamere Falls and saw several nude hikers on the trail. Clearly this wasn't a very appetizing situation since every nude person we encountered were elderly males. But we patiently waited for them to depart to take a few more shots of the falls to make it worth our while.
I secretly wished if it was some hot woman in the nude that that would've REALLY made this hike worth while…
In any case, we headed back out shortly after 11am. On the way out, we passed by numerous small groups and couples going the other way. Apparently, this trail wasn't as unpopular as I had thought.
By noon, we were back at the National Park near the car park for visitors a short distance beyond the Sheraton. We then proceeded to head right back to Paseo Superior and one of the Salto Bossetti overlooks.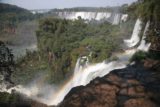 As expected, the views were magical under the cloudless blue skies. There was even a rainbow showing at the bottom. We were finally able to see for ourselves why blue skies make such a big difference when photographing this waterfall.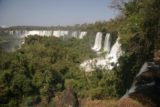 Of course, as is seemingly always the case on our trips, it had to be good weather on the day we're leaving. The forecast for the next three days also called for sunny skies. Too bad we'd be back in Los Angeles by then.
In any case, I noticed from our vantage point that San Martín Island actually had human traffic.
"Honey! The island's open!" I exclaimed to her knowing how it was closed for the past couple of days.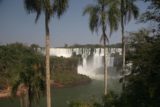 Julie quickly acknowledged that and we wasted no time getting down to the Paseo Inferior. Julie then made a quick stop at the bathroom and in my haste, I took this time running down to the familiar overlooks to get photographs taken the last couple of days in the blue skies.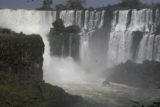 Eventually, Julie and I met up at the dock where the boat shuttle goes across the river to the San Martín Island. It was a little after 1pm when we were dropped off on the other side. So that left us with about an hour left to see the main overlook on the island before getting back to Felipe who'd be waiting at the hotel lobby.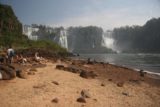 So we passed by the sun bathing beach-goers and headed right up the stairs. There was quite a bit of a climb here, but time was of the essence so we relentless continued onto a four-way intersection before hanging a right. That was the shady trail that went right to the main overlook over Salto San Martín. And in no time, we were right on the misty overlook. We could see a circular rainbow right in front of us when we looked to our left.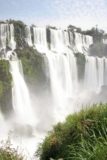 But anyways, we took advantage of our time here by taking what photos we could of the scene.
"Crazy!" Julie said again.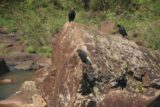 When it was about 1:30pm, Julie headed back down to the boat dock. Meanwhile, I ran to one of the other paths on the right. It led to an overlook of a fivesome of big black birds sunbathing on some rocks with some segmented wall of water off in the distance. I think it was the Salto Escondido as the name might suit it well considering these falls were indeed somewhat hidden.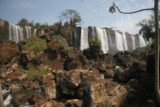 In any case, it was about 1:30pm and I had to run back to catch up to Julie. So back down the stairs I went and took the boat to the waiting Julie on the other side. From there, we made haste and jammed back up the several flights of stairs to get back to the concrete path up top. It was about 2pm when we finally made it back to the Sheraton in one big sweaty mess.
Felipe noted our state and wondered where we were at. I had told him we came from Isla San Martín and he shook his head in amazement.
"You guys went a long ways," he said.
Anyways, we re-collected our stored luggage and followed Felipe back to the waiting van. We didn't have time to change clothes or even wash off the deet and sweat. But the air conditioning of the van sure felt good.
By about 2:30pm, we were back at the airport. Our flight was supposed to be for 3:50pm but when we checked in, we saw that our flight was delayed once again to 4:40pm. Julie's original booking was for a 3:10pm flight.
This would really cut things really close for our 9pm flight to Miami considering we still had to fly for 90 minutes, catch an hour taxi to the Ezeiza International Airport and still get through all the check-in and security hassles along the way.
Given Julie's deep concern for the matter, she expressed her concern to Felipe. And it was a good thing he was there because he proceeded to negotiate with the ticketing agent and other authorities here. Apparently, he's well known in these parts and it was cool to see him working the matter.
Keep in mind that he was originally hired as part of a taxi service to get us to and from the airport and the Sheraton. Clearly he went above and beyond to accompany us through the Brazilian part of the Iguassu Falls experience and now he's helping to get us onto an earlier flight slated for 3pm takeoff.
Time was ticking and we anxiously awaited for the status of what was to come. As both of us looked at the monitor, it looked like two flights were cancelled. Guess which ones were the cancelled ones.
Yep, both our 3:10pm flight and the rescheduled 3:50pm flight were both cancelled. So that worst-case scenario I had feared a couple of days ago came true today. We speculated that Aerolineas Argentinas probably books the flight but then cancels them if there aren't enough people on the plane.
By 2:50pm, Felipe once again asked the ticketing agent what the status was. That got her to scramble around and talk to other agents. It turned out that we would be able to board the earlier flight. Our luggage got re-tagged and we were good to go with new boarding passes.
Cool!
It turned out that Felipe was way more than what we had expected. This was the latest example of someone who really looked after us. Julie gave him a hefty tip and we exchanged firm handshakes for putting up with us these past couple of days.
We wasted no further time getting upstairs and in line for the passport control and security line.
Julie had budgeted lots of time for this transfer and travel day, but sometimes even the best laid plans can be derailed. Thank goodness for Felipe. I guess in the future, we'll have to somehow perhaps allow ourselves to spend the night in Buenos Aires and not try to catch an international flight on the same day as an Aerolineas Argentinas regional flight.
Eventually, we'd board the plane. We wouldn't be sitting together, but that didn't matter. We got our flight and by about 5pm, we were at the airport (much busier than a couple of days ago), grabbed our luggage, and rode with a Manuel Tienda Leon driver who zoomed his way back through Buenos Aires to the Ezeiza International Airport.
During the drive, which was a mix of traffic and fast driving, we couldn't help but notice how the freeways here didn't have sound walls. In fact, there was little parks with lawns adjacent to the freeways. We saw numerous people park their cars on these lawns and have picnics next to their cars. Now that's something you don't see back at home.
By 6pm, we were at the Ezeiza International Airport. The lines were very long, but at least we had at least 3 hours before our 9pm flight back to our connecting flight in Dallas. Clearly the airport was very bustling and crowded. We were certainly glad Felipe helped us get the earlier Aerolineas Argentinas flight from Puerto Iguazu because we couldn't imagine how hectic things would be at least 2 hours later (leaving less than an hour to get through this mess to our international flight)!
After paying our departure tax, going through security, and changing our currency, we were back at the gates waiting for our flight. Lots of crying kids all over the place on this evening so we dreaded having to put up with this on the plane to catch some sleep.
We also managed to get ourselves a subpar sandwich to hold ourselves over. It was interesting to see how the food area was hidden but the expensive duty free items were where they seemed to be directing the traffic. The attractive and young models pushing some kind of products were also lining up the security line exits I guess to use a little seduction to purchase something.
Anyways, we got on our flight and boarded on time more or less. The grueling 10.5-hour flight was brutal since neither Julie nor I brushed our teeth nor showered. Sleep didn't come easier neither as Julie had to contend with a talkative passenger next to her while my right shoulder blade was giving me problems with the terribly erect seats backed up against the walls next to the smelly toilets.
Mercifully, we touched down in Dallas at around 7am, went through another round of collecting our bags, rechecking them in, and then going through customs and security. We managed to get to our gate in plenty of time for our 9am flight back to Los Angeles.
While we were at the Dallas-Fort Worth Airport, we were struck by how big and clean the airport was. They even had a tram that linked passengers from terminal to terminal. I sarcastically commented to Julie what oil money can buy you. I was even more amazed that they have an efficient tram system here, which was something they couldn't get right at LAX.
Our flight took off on time and by 10:30am, we were finally back in LA. The suffering didn't quite end, however, as the temperature in LA on this way was well over 100 degrees Fahrenheit. Since neither my car nor our house had air conditioning, it was a brutal way to end off this Labor Day Monday.
But at least we collected the mighty Iguazú Falls, which makes 2 out of the big 3. Only Victoria Falls is left. So we felt quite proud that we managed to make use of this Labor Day Weekend knocking off one of our waterfalling bucket list items…
Visitor Comments:
Got something you'd like to share or say to keep the conversation going? Feel free to leave a comment below...
No users have replied to the content on this page