This itinerary covers our second trip to Australia six months after our first trip. This time, however, we focused on the Southeastern part of the country spanning the states of New South Wales, Victoria, the Australian Capital Territory (or ACT), South Australia, and Tasmania.
It was an ambitious trip where we covered a lot of real-estate with self-driving. Indeed, we certainly flew a bit less than we did on that first trip where we went to the Northern Territory and Western Australia.
This trip was further complicated by the fact that this part of the country had been hit particularly hard with a crippling multi-year drought that lasted most of this decade. As a result, there were parts of the country where we'd like to have a do-over. But until then, here's some of the highlights and trip logistics of what we were able to accomplish under such conditions…
Trip Highlights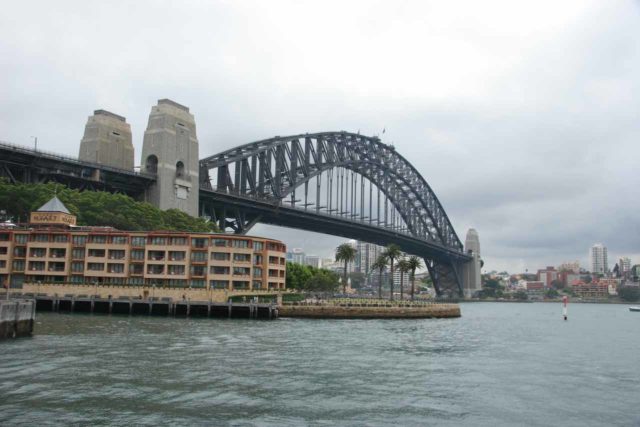 Sydney Harbour – This attractive harbour features the Sydney Harbour Bridge as well as the iconic Sydney Opera House. In addition, there was also the historic Rocks area. Indeed, it's easy to see why this place is as iconic and synonymous with one of Australia's world class cities, and so it was practically obligatory for us to visit when we were staying here.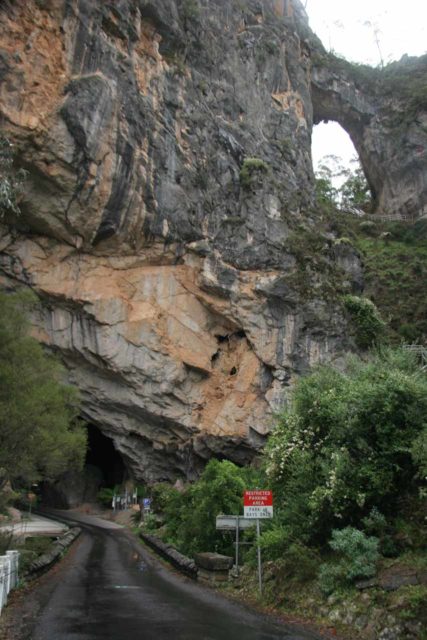 Jenolan Caves and the Kanangra Walls – This remote part of the Western Blue Mountains featured intriguing caves and natural arches (as pictured here) as well as more cliff formations looking like a big crescent wall. Given its remote nature, it was definitely uncrowded and quiet out here, and our waterfalling excuse to come all the way this way was to visit the Kalang Falls. Maybe next time, we'll spend more time here to see what the cave systems have to offer.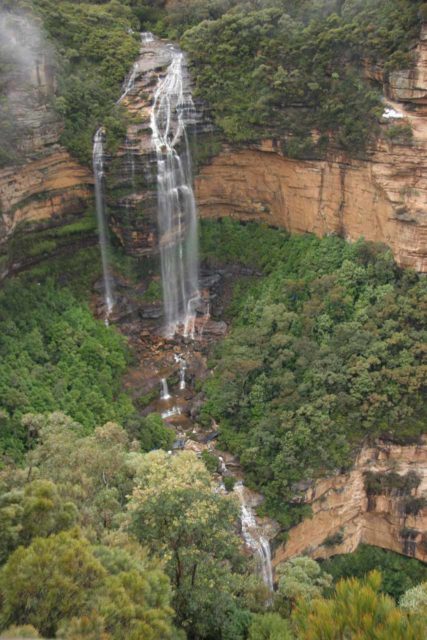 Wentworth Falls and the Blue Mountains – This was our waterfalling highlight of the Blue Mountains area with its precipitous drop amongst the yellowish cliffs that are a signature of this region. Nearby was also the Katoomba Falls, the Three Sisters at Echo Point, plus more attractive cliffside scenery and waterfalls at Govett's Leap…

Kiama's Blowholes – Although we were visiting the southern New South Wales coastline as an incidental stop on the way to the Minnamurra Falls, we were pleasantly surprised by the beauty of the rugged coastline here, especially its pair of blowholes. The larger one you see here let us watch it perform with a lighthouse behind it. The smaller more intimate one was in a residential area where we could get close to it while watching the churning seas push water up its narrow opening like a geyser.
[expand title="MORE" swaptitle="LESS" trigpos="below"]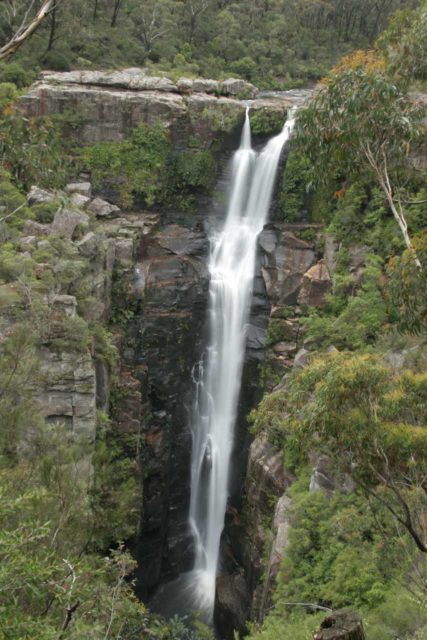 Carrington Falls – This waterfall in the Illawarra Region surprised us with its vigorous flow when we were expecting not-so-stellar conditions given the drought. In fact, it was our experience here that raised our hopes that the waterfalling on this trip wouldn't be as bad as expected.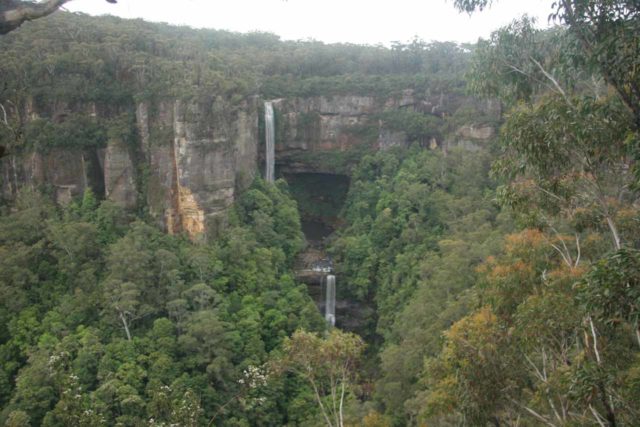 Belmore Falls – This was another one of the waterfalls in the Illawarra Region that gave us more hope that the waterfalling on this drought-stricken trip wouldn't be as dire as we had expected. And even with the lowered expectations, as you can see from this photo, the sheer beauty of its double-plunge in a thick forest further amped up or desire and hope for more to come.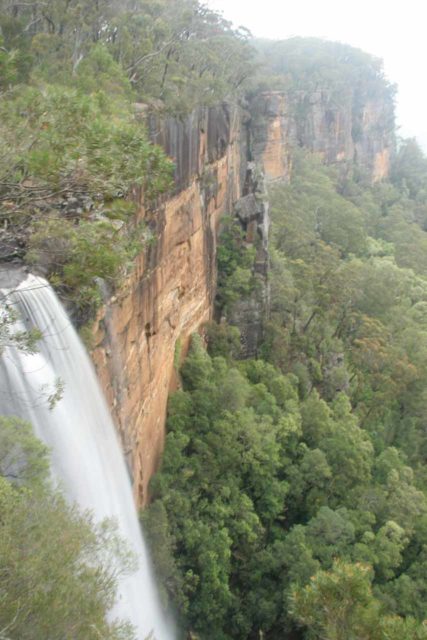 Fitzroy Falls – This was our favorite waterfall of the Illawarra Region, and it even earned a spot on our Top 10 Australia Waterfall List. In addition to its impressive plunge off a vertical escarpment, we also got to check it out from various vantage points as well as adding another waterfall to the mix in the Twin Falls.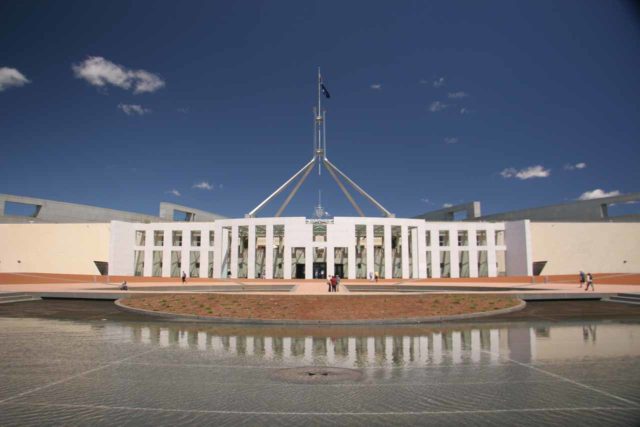 Canberra – This was the centre of government in Australia, and it featured huge buildings with a mix of green spaces, Aboriginal art, a Lake Geneva-like fountain, and an impressive Anzac Parade commemorating war veterans who made the ultimate sacrifice. And on top of all this, there was even a waterfall within the boundaries of the ACT at Gibraltar Falls.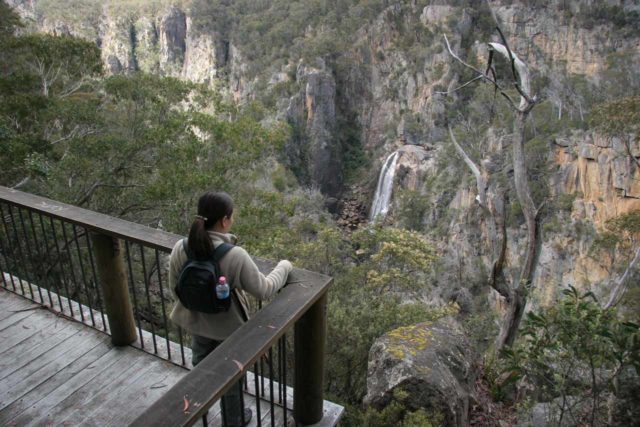 Tuross Falls – This waterfall was deep in the wilderness of the Wadbilliga National Park near the Snowy Mountains. Of course, the terrain was dry and not looking promising when we made our visit, but imagine our surprise when we saw this nearly 40m waterfall make its presence known as we witnessed it from an overlook perched high up in the gorge. It affirmed to us that all the effort (including the not-so-certain unsealed road to get here) was worth it, and we saw quite a bit of wildlife to boot (not surprising given how remote it was here).
Paddy's River Falls – Situated in Kosciuszko National Park, this was the last of the waterfalls we saw in New South Wales (near Tumbarumba) before crossing the border into the parched state of Victoria. And exceeding our expectations was this pretty healthy waterfall where it looked to be possible to even go behind it!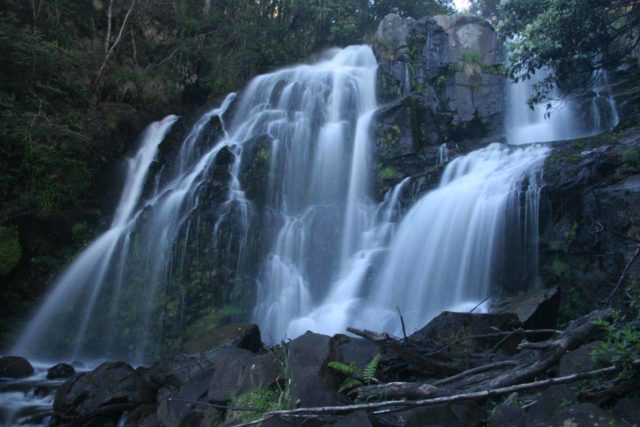 Snobs Creek Falls – This waterfall near Eildon had a healthy flow, which made for a satisfying experience, especially when you consider that we had already started to see the adverse effects of drought that diminished the waterfalls by Beechworth before we made it down to here in Eildon.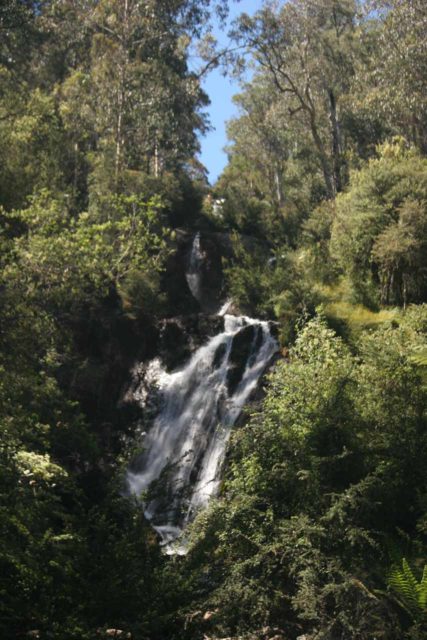 Steavenson Falls – This was said to be one of Victoria's tallest waterfalls at 84m, and indeed this waterfall seemed to be the main draw of Marysville, which was quite popular as evidenced by how many people were there during our visit. We were able to experience it from a variety of lookouts along a short trail, and we even had a chance to check out a small hydroelectric turbine that powered things like the floodlighting so the falls could be seen at night.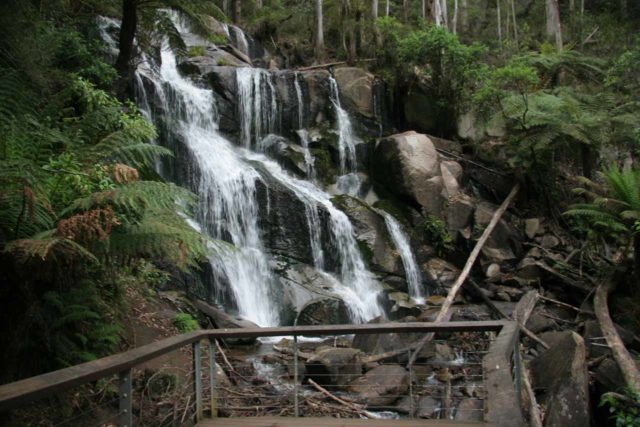 Toorongo Falls – This waterfall in Gippsland could have been another casualty of the drought, but it seemed to thrive in a fern-filled forest providing evidence that this area typically would get a lot of rainfall. We did a longer loop that also took in Amphitheatre Falls to round out this back-to-nature excursion.
Grampians National Park – Expansive vistas, strange rock formations, wildlife, and waterfalls… Seems like the recipe for an enjoyable excursion in the bush, and it was on display in this reserve in Western Victoria. Even though this area had been hit particularly hard by drought and wildfires, the presence of kangaroo tails (bushy plants that bloom after fires) demonstrated that even fire is a necessary part of life here.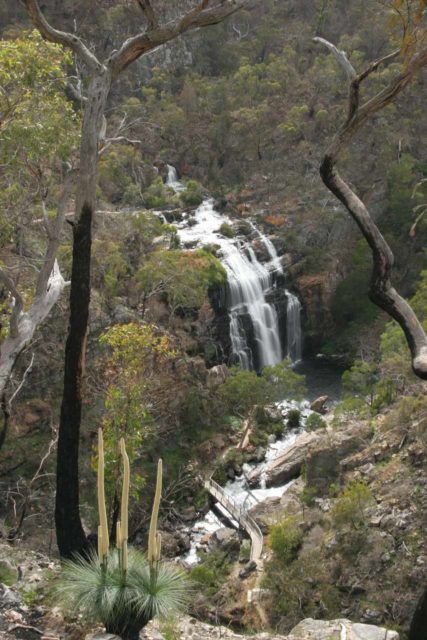 MacKenzie Falls – Imagine our surprise when we saw this giant 40m waterfall still with vigorous flow despite all the blackened remains of past bush fires with kangaroo tails sprouting in their wake. Indeed, it was such an unlikely sight amidst so much dryness that this waterfall's resilience compelled us to place it on our Top 10 Australia Waterfalls List. We managed to see it from the top and its bottom, each yielding different experiences and revealing different aspects of the Australian bushlands of the Grampians.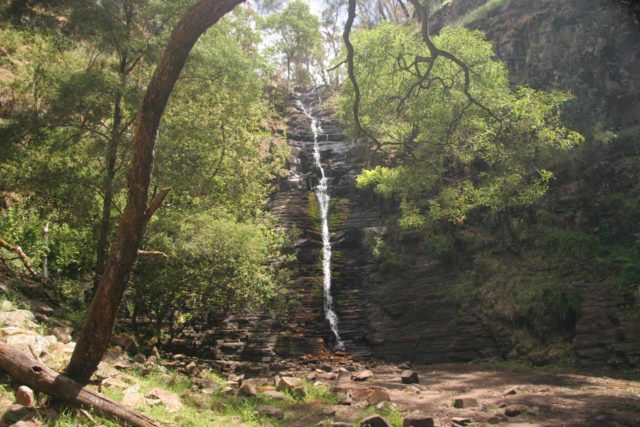 Silverband Falls – While on the topic of resilient waterfalls, this was another one of those rare waterfalls in the Grampians that still flowed despite the drought. The distinguishing feature of this falls was that the waterfall disappeared underground as there was no visible plunge pool at its base. Plus, during our hike, we saw what appeared to be deer grazing about near the trail further affirming to us that Nature still thrives despite Climate Change induced anomalies.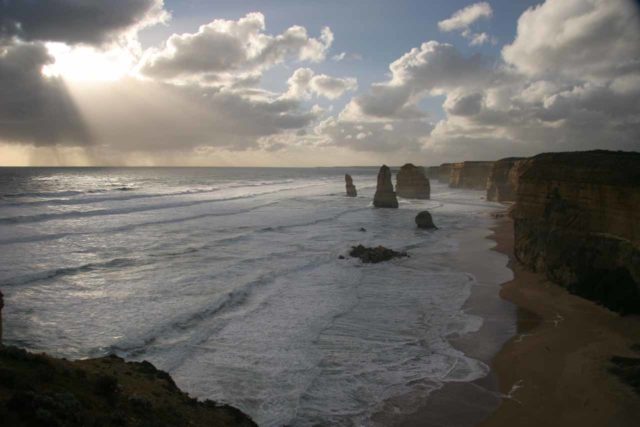 The Great Ocean Road – This was Victoria's signature natural attraction, and the stretch of south-facing coastlines against the Southern Ocean produced some impressive sea stacks (like the Twelve Apostles pictured here), natural arches, coves, and beaches. Even the towns along the way provided nice places to break up the drive and sample some of the foods on offer.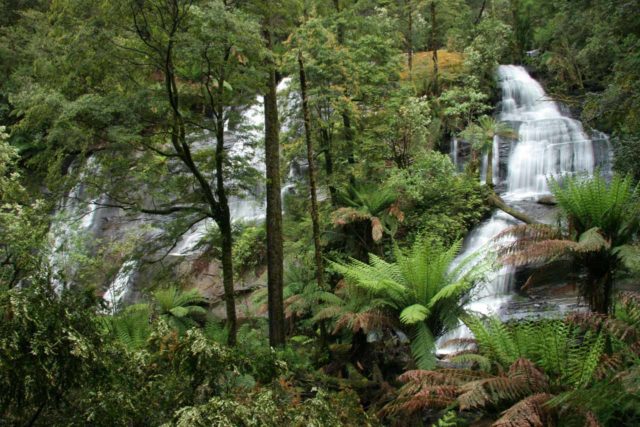 Triplet Falls – This waterfall was a pleasant surprise as we had been conditioned to expect bad waterfalling experiences throughout the state. Indeed, this segmented falls amidst the lush rainforest of the Otways was a refreshing change as the greenery and fresh air (and even the rain) were all welcome against the parched brown lands of the Grampians District that we had seen prior to coming here.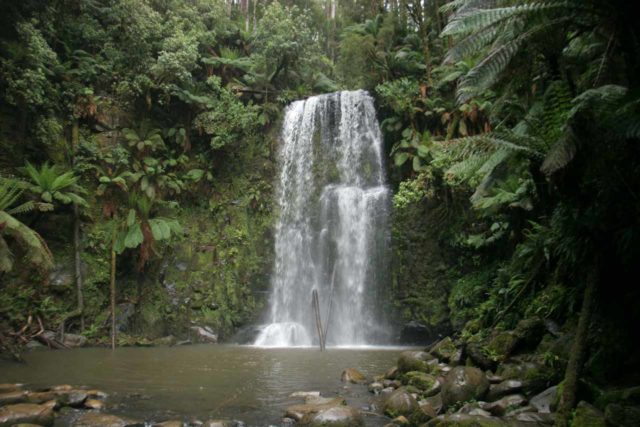 Beauchamp Falls – This was another waterfall flowing nicely during our visit through the Otways, and we even had to come with a rain poncho because it was definitely muddy and rainy during our visit. Plus, we had the falls all to ourselves, which really made this the serene and satisfying waterfalling experience that was all too rare on this trip.
Hopetoun Falls – With some waterfalls, it's all about the surroundings in addition to the waterfall itself. And in this instance, this principle certainly applies as the deep greens of the ferns framing this gorgeous waterfall really made this place very photo friendly let alone peaceful, calming, and beautiful.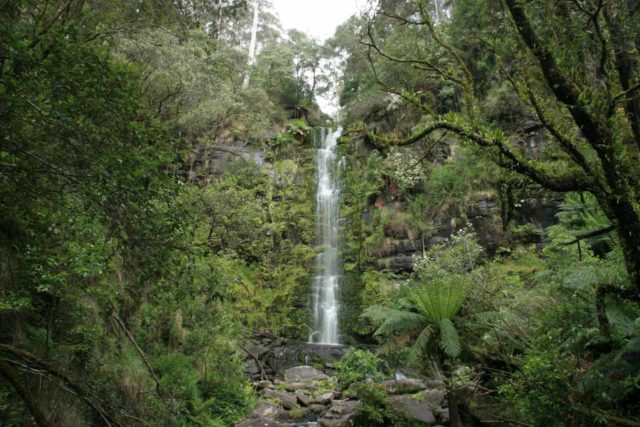 Erskine Falls – This tall waterfall in the woods backing the beachside town of Lorne also featured a lot of green ferns flanking its full drop. It was certainly an easy waterfall to visit, which also fueled its popularity. There was also another waterfall nearby in Straw Falls to add a little more variety to a visit here.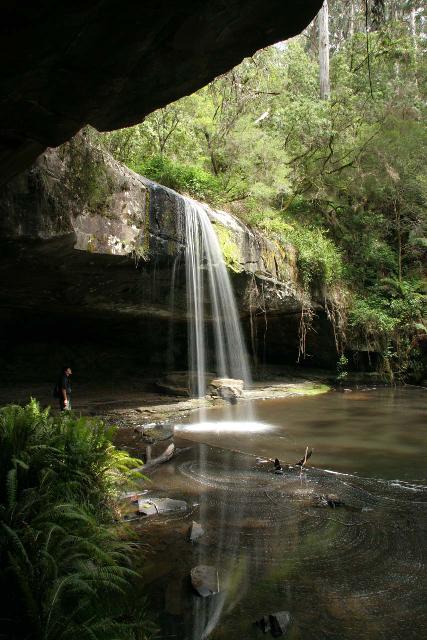 Kalimna Falls – This was actually a pair of waterfalls on the same long 8.4km out-and-back hike deep in the Angahook-Lorne Forest. The benefit of such a long hike was not only time to soak in the sights and sounds of the bushlands, but also a bit of seclusion around quaint waterfalls as you can see in this photo.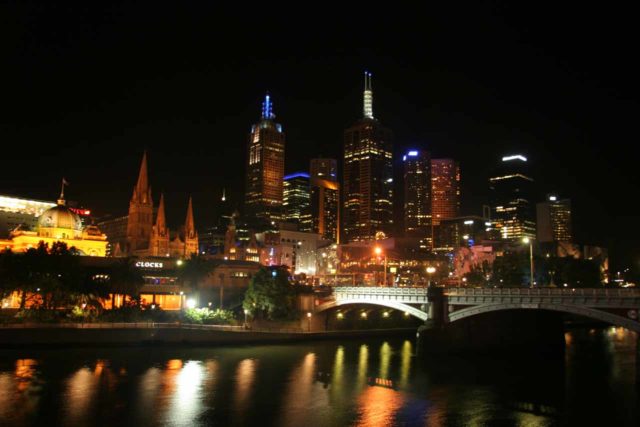 Melbourne – This cosmopolitan city often rivals Sydney as the premiere city of Australia. And after experiencing some of the festivals as well as the city's sights, it's easy to imagine why. We checked out the Shrine of Remembrance, Federation Square, and St Kilda Beach. Plus, we also hung out with my Taiwanese cousins who live and study here.
Morialta Conservation Park – Even though the waterfalls weren't flowing in this slice of the Adelaide Hills, one thing we did see that was a highlight was the presence of koalas on the gum trees here. That was such a treat, and I'm still kicking myself for forgetting my DSLR camera in the rental car back at the airport in Melbourne so I didn't have it with me throughout the South Australia leg of this trip.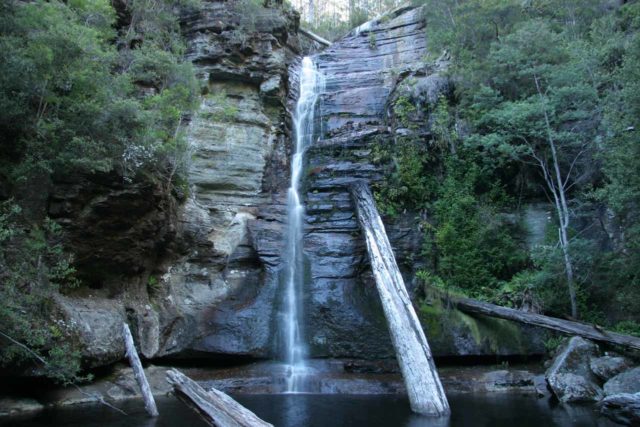 Snug Falls – This was the first waterfall we saw in Tassie, and it was a pleasant little introduction so close to the town of Hobart. It was also a pretty short hike to reach so it warmed us up to the scenery that was on offer in this back-to-nature state.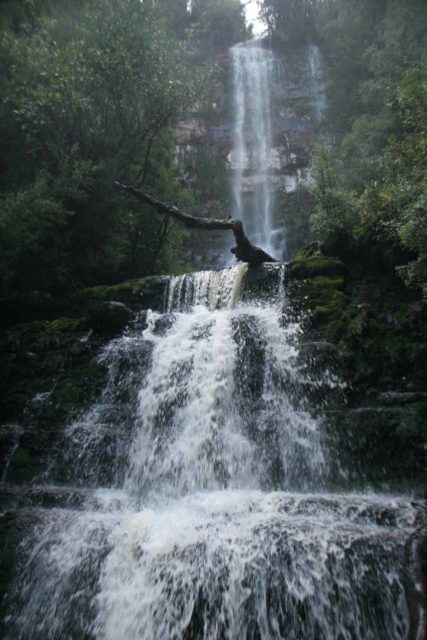 Adamsons Falls – Of the waterfalls we visited on this trip, this had to have been the most remote and most difficult to reach because we went really deep into the bush in the far south of Tassie. Not only did we have to contend with leeches, uncertainty of direction, and some dicey scrambling to get a good view of the falls, but there was even a fallen tree that split a sign at the trailhead! How's that for an adventure where the outcome was uncertain!?!? Still, we were richly rewarded for having witnessed this falls though we do wonder how much longer before Nature reclaims this seemingly forgotten part of Australia.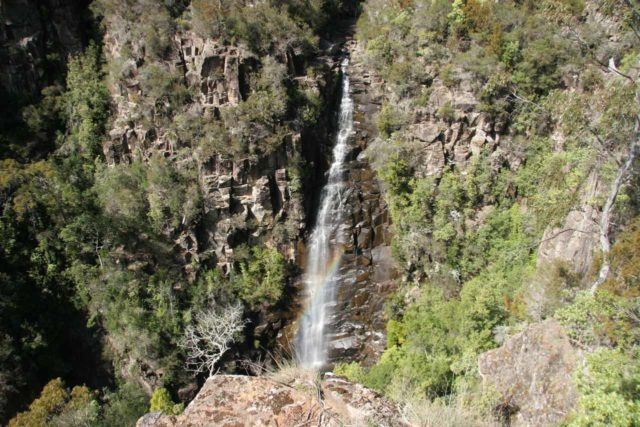 Meetus Falls – This was another one of the remote waterfalls in Eastern Tassie, and while the disappointment of our visit to Lost Falls earlier on kind of made us wonder if this one would perform, we were pleasantly surprised by not only its flow (which was enough to produce a slight rainbow) but also its wild scenery as we really felt like we were in the middle of nowhere to get here. Heck, we even saw huge wedge-tailed eagles en route, which further demonstrated to us just how far off the beaten path we went to get here.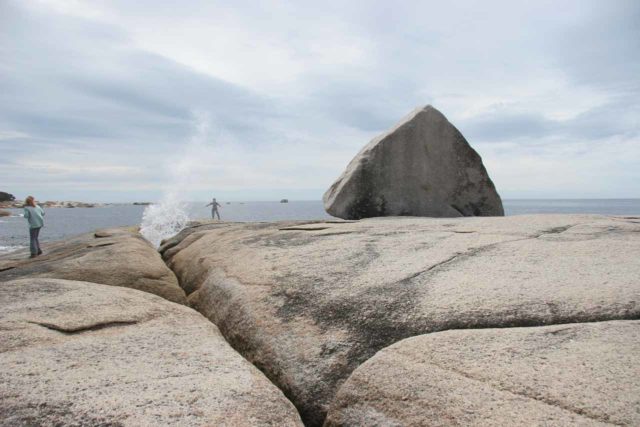 Bicheno – This coastal town was a stop for us to help break up the long drive from Hobart to St Helens, and in addition to the seafood and coastal scenery, we also checked out the blowhole as well as some of the reddish algae or lichen staining the rocks here.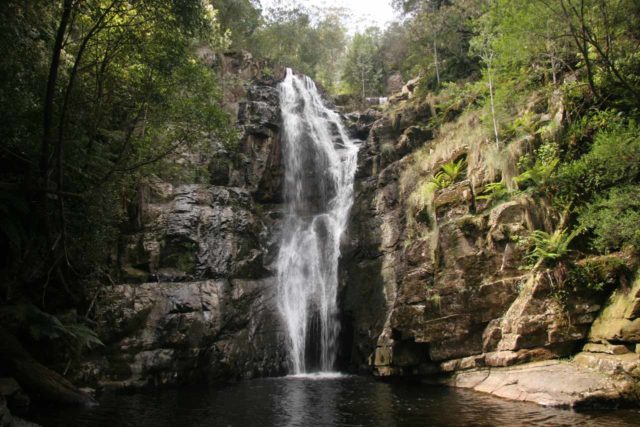 Mathinna Falls – This was yet another remote waterfall in East Tasmania where a lot of driving on unsealed roads plus a hike amidst some seemingly pristine bush lands made for this one-with-nature kind of experience. While it was enough for us to just experience this waterfall, we noticed there were other waterfalls even higher up the cliff though I wonder how accessible those are.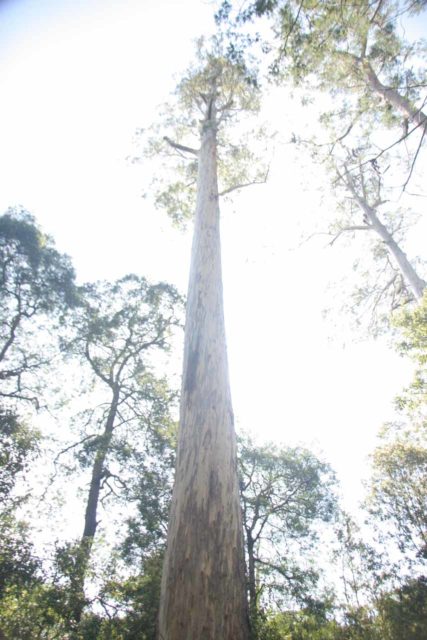 Evercreech Falls and the White Knights Gum Trees – This waterfall was really our excuse for checking out the towering gum trees at its trailhead, which were quite an impressive sight. The waterfall loop hike that we did was more like icing on the cake though the excursion also was quiet so we got to listen to the birds chirping and the rustling of leaves whilst engaged in the environment here.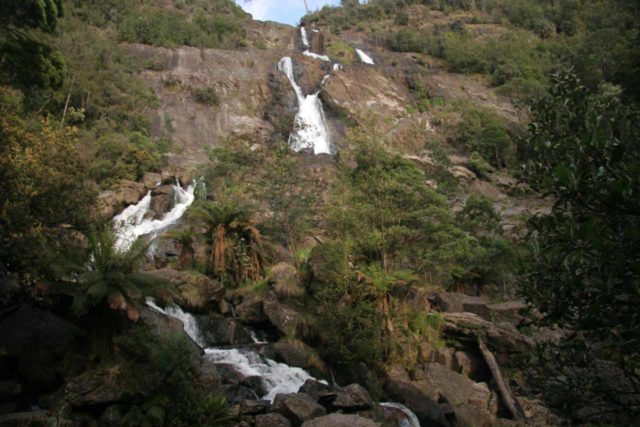 St Columba Falls – This was said to be a rare year-round waterfall in the Northeast of Tasmania, and even with all the dry conditions (as Tassie wasn't unscathed from the drought), this waterfall was still flowing even though it wasn't inundating its overlook with mist (as was reported in the signs there). Still, it was a sight to behold and the short walk under tall umbrella-like ferns made us feel like we were in some place Jurassic.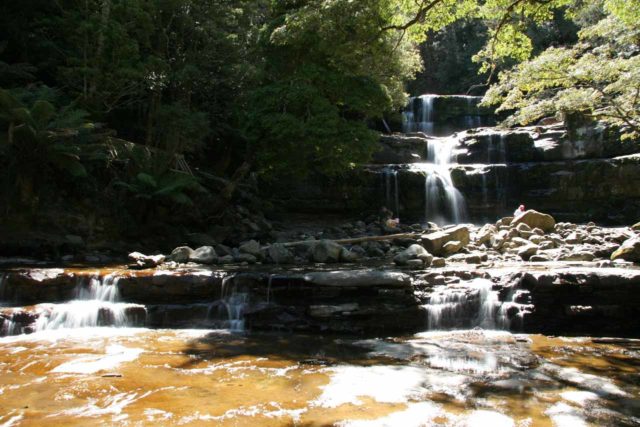 Liffey Falls – This was one of Tasmania's most popular waterfalls, which was also within a UNESCO World Heritage Area due to the ancient nature of the forest that it was in. It really consisted of at least three or four main drops, but it was the last drop that was the most attractive as it fell in a terrace-like pattern that would be real photo friendly under overcast skies (we were looking against the sun though we could totally see its potential).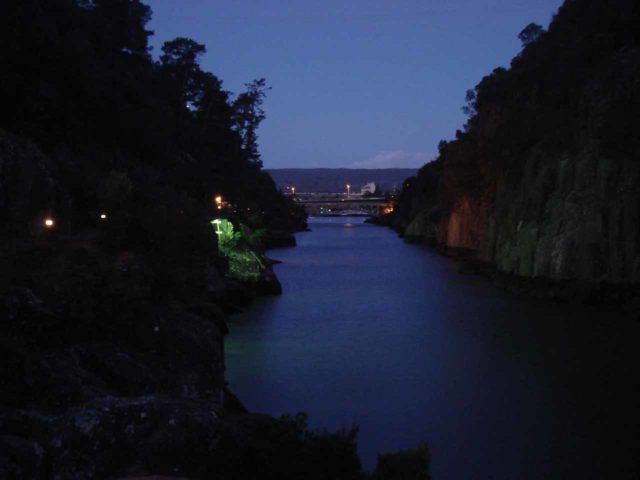 Launceston – There was something magical about the twilight when we dined near the Cataract Gorge then were drawn closer to music echoing in the distance. Unbeknownst to us, we were getting seeing the skies turn into a deep purple all the while the music was still beckoning us closer. I was kicking myself for not bringing my camera to the dinner and afterwards, and by the time I got the camera, the music ended and the fleeting ambiance was over. Still, scenes like this so close to the city was just one of its aspects that really made this place stand out to us.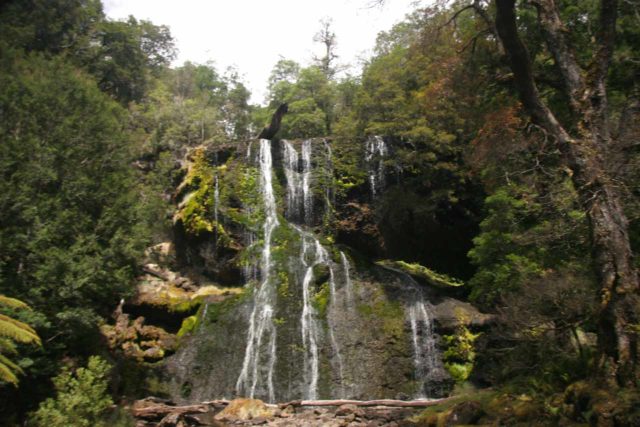 Champagne Falls and Bridal Veil Falls – Although the Lemonthyme Lodge was a bit out of the way to reach, its remoteness also meant that a hike to these waterfalls was practically guaranteed a back-to-nature relaxing and rejuvenating experience. And indeed, despite the drought, these waterfalls were still performing, which made the exercise and effort to complete this moderate hike all the more worth it.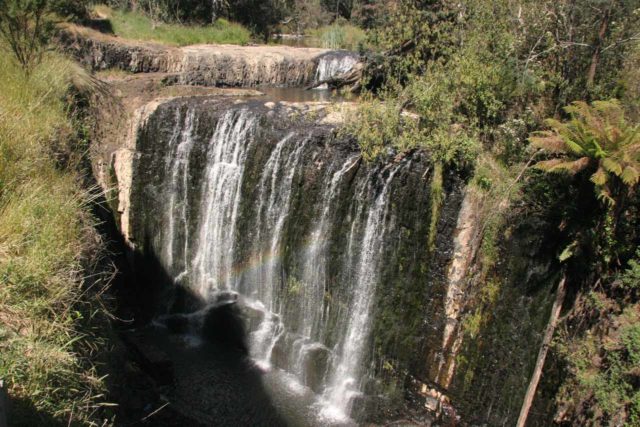 Guide Falls – This wide waterfall was Ridgley's prime attraction, and it certainly drew us out to the Northwestern part of Tassie. For such an easy waterfall to visit, we were surprised by how uncrowded it was. And even with its less-than-average flow, it was still enough to produce satisfying segments yielding a rainbow across its span.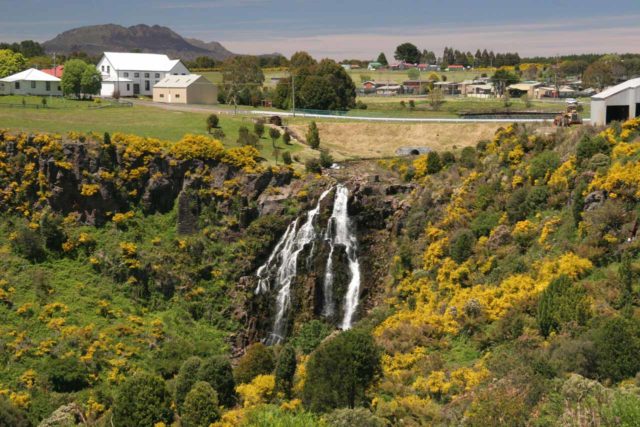 Waratah Falls – Of the waterfalls we visited in Tassie, none seemed to have exhibited the combination of a healthy flow and color in its vegetation flanking it quite like this one. It made this surprising waterfall that much more of a highlight of our Tassie visit and it further proved to us just how Nature can surprise you when you least expect it.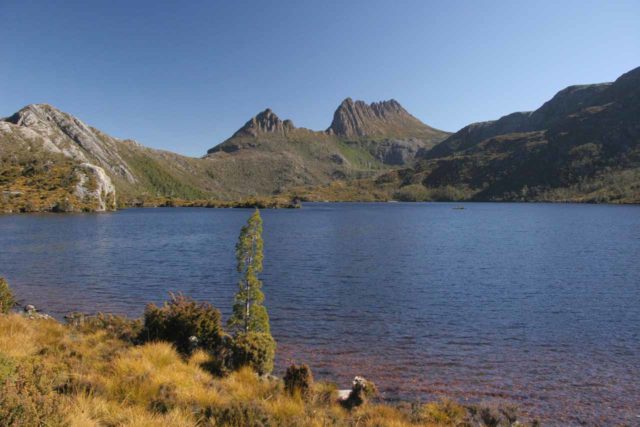 Cradle Mountain – This was Tasmania's most iconic natural attraction as its distinct mountain shape fronted by the deep blue Dove Lake made for camera fodder, especially on the beautiful clear-weather day that we visited. But what was also further unexpected was the abundance of wildlife to be found here, including wombats, wallabies, and even Tasmanian Devils (though we managed to see them in a sanctuary due to the spreading facial cancer they were faced with).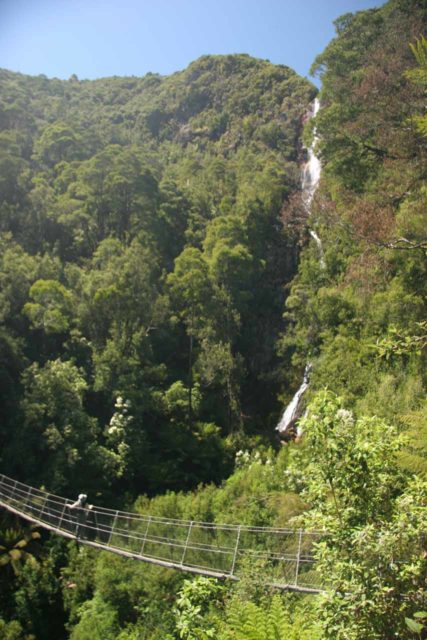 Montezuma Falls – This was said to be Tasmania's tallest permanent waterfall, and even though we had to earn our visit with a bit of a long hike, this healthy-flowing falls (even in the face of drought) was every bit satisfying as it featured a recovering bush scenery (from mining operations that once took place here) as well as a sense of adventure as shown in this photo with that swinging bridge across its gorge.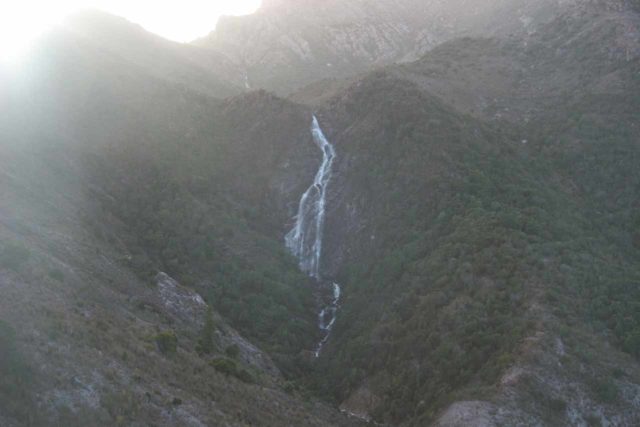 Horsetail Falls – During our visit, we didn't even know this waterfall existed (let alone its name). But after a rain storm hit us overnight while we were staying in nearby Queenstown, this waterfall was on full display, which was quite the surprise highlight of this part of Tasmania.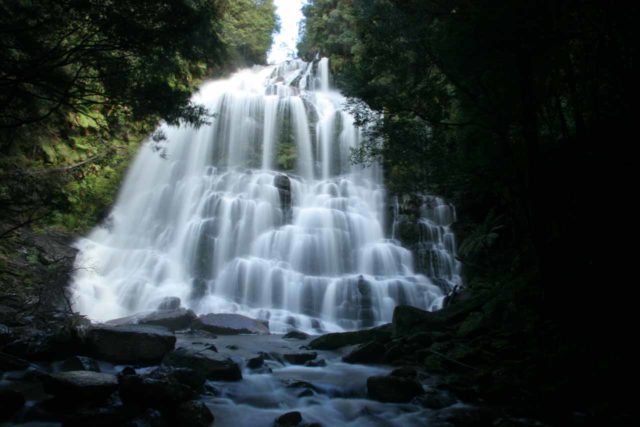 Nelson Falls – This gorgeous wall of water was flowing vigorously with a nice photo-friendly ripple to its flow amidst nearly pristine rainforest as we were right on the edge of the vast Tasmanian Wilderness World Heritage Area. Plus, it was pretty easy to visit, and it helped to break up the long drive to get from Queenstown to Hobart.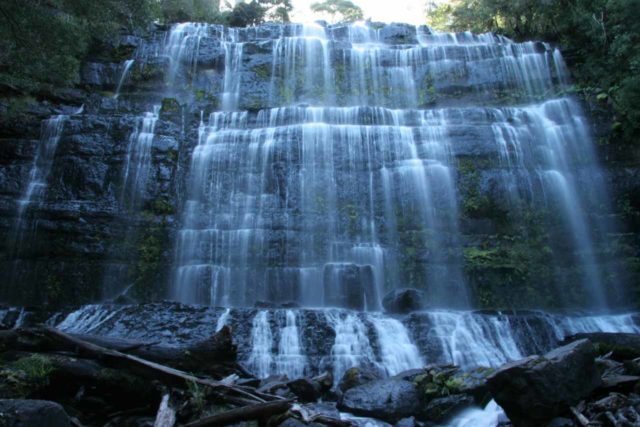 Russell Falls – This was the centerpiece of the Mt Field National Park, which was said to be Tassie's first such reserve. And upon checking out this impressive two-tiered falls, it's hard not to see why this is the case. But in addition to its size and graceful flow, there were also a grove of huge gum trees as well as other waterfalls such as Lady Barron Falls as well as Horseshoe Falls.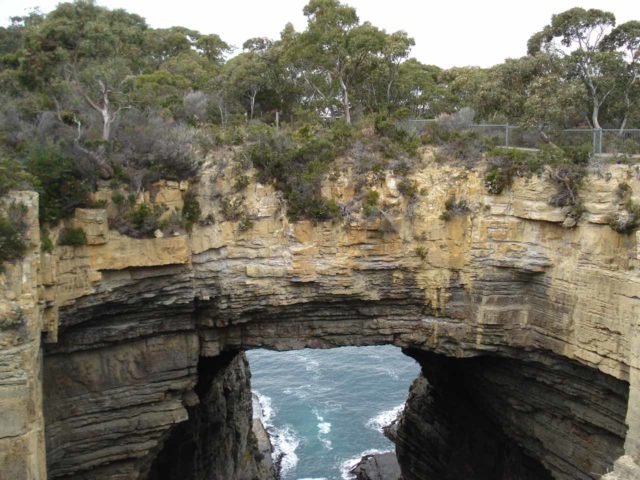 Tasman Arch – This massive natural arch was just one feature of the impressive Tasman Peninsula in the southeast of Tasmania, where giant vertical sea cliffs and natural sea arches were the main draw. I recalled there was a little hamlet there called "Dootown" where there was signage encouraging you to "do" a bunch of things. You gotta love that.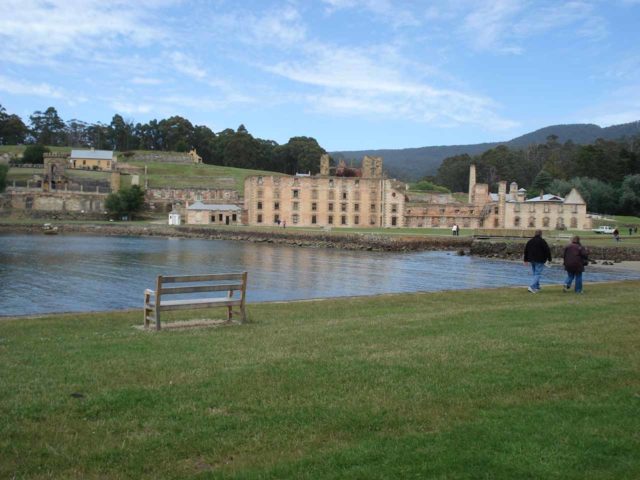 Port Arthur Historical Site – This slice of Australian history seemed to have a deep importance to the people that call this country home, and you get the sense that by strolling these hallowed grounds where the first convicts were here to do hard time and labor that the seeds were being sown for the start of what would become the modern day Australia.
[/expand]
Travel Itinerary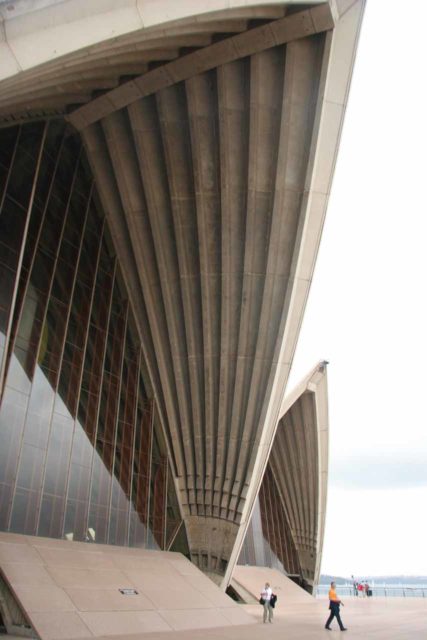 Days 1-3: International flight from Los Angeles to Sydney
Overnight: Park Regis City Centre (Sydney, New South Wales, Australia)
This was basically a travel day where we took a red-eye flight over the international date line (losing a day in the process) and then arriving in Sydney. We promptly picked up the rental car and settled into our accommodation so we could explore the Sydney CBD as well as our first taste of Sydney Harbour, especially the Opera House and Harbour Bridge.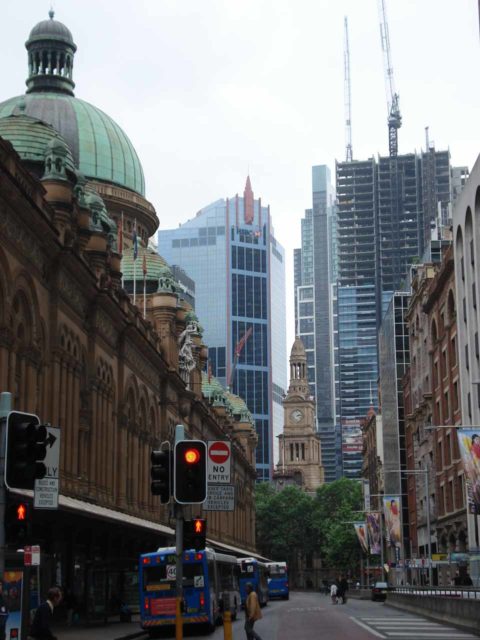 Day 4: Sydney Harbour
Overnight: Park Regis City Centre (Sydney, New South Wales, Australia)
This day was dominated by spending time at Sydney Harbour checking out the Opera House as well as The Rocks.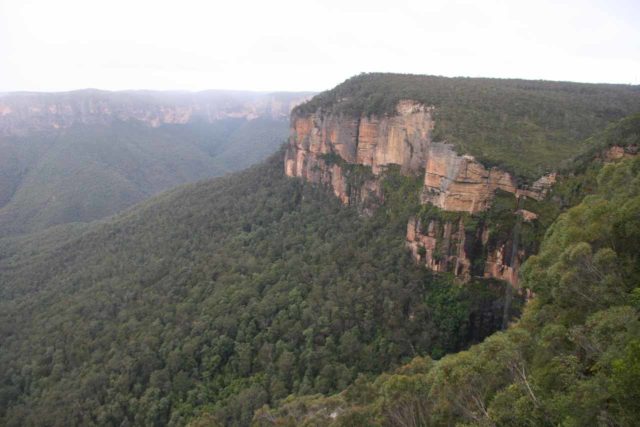 Day 5: Drive from Sydney to Katoomba
We left Sydney and went into the Blue Mountains, where we drove all the way out to the Jenolan Caves (visiting Carlotta Arch in the process), and we even went as far as the Kanangra Walls where we visited the Kalang Falls. Finally on the way back to the developed part of the Blue Mountains, we checked out the scenery at the Govett's Leap.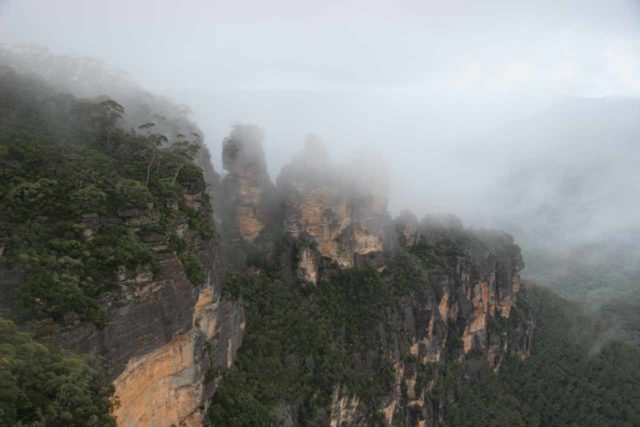 Day 6: Drive from Katoomba to Wollongong
Overnight: Downtown Motel (Wollongong, New South Wales, Australia)
With the rainy weather, we started off this morning by visiting the waterfalls of the Blue Mountains, including Katoomba Falls, Wentworth Falls, and Gordon Falls. Once we left the Blue Mountains and back to the coast at Wollongong, we then continued further south to scout out the Kiama Blowhole.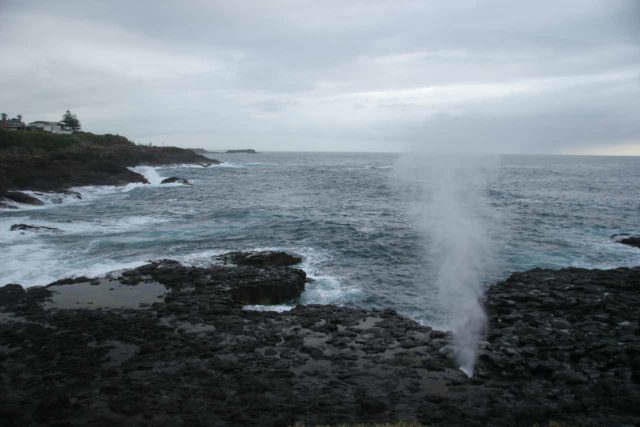 Day 7: Drive from Wollongong to Canberra
After leaving Wollongong, we headed straight south to Kiama to visit both of the blowholes – Kiama Blowhole and Little Kiama Blowhole. Then, we headed inland to visit the Minnamurra Falls before continuing across the Illawarra to visit Carrington Falls, Belmore Falls, Fitzroy Falls, and Twin Falls.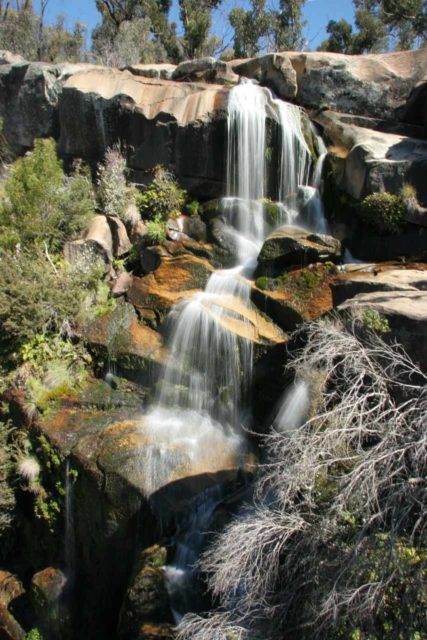 [expand title="MORE" swaptitle="LESS" trigpos="below"]
Day 8: Wadbilliga National Park
We spent the better part of this day visiting Tuross Falls, then we headed back to Canberra where we visited Gibraltar Falls along the way.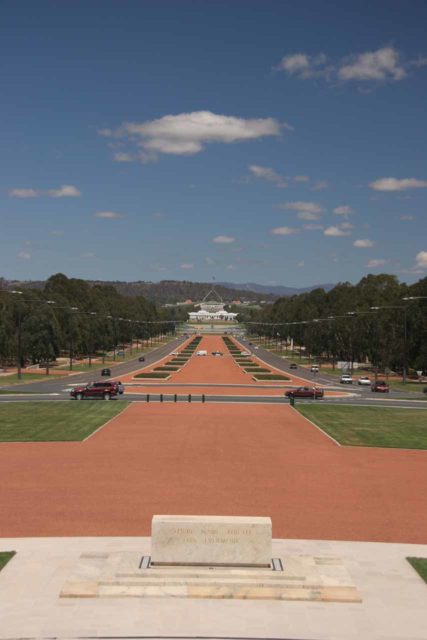 Day 9: Drive from Canberra to Tumut
Overnight: Ashton Townhouse Motel (Tumut, New South Wales, Australia)
We spent most of the day visiting the Parliament House and ANZAC Parade in the heart of the Canberra CBD. We then decided to forsake Buddong Falls as the visitor center worker told us it had been too dry for far too long for that one to be flowing. So we ended up the day in Tumut.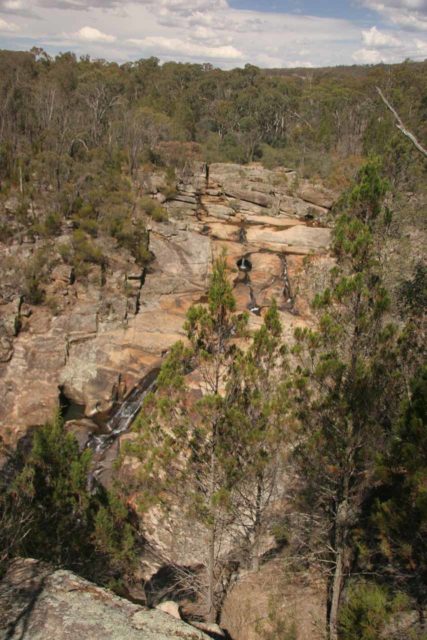 Day 10: Drive from Tumut to Wangaratta
On our way out of New South Wales, we visited Paddy's River Falls. Then, we crossed into Victoria and visited the waterfalls by Beechworth – Woolshed Falls and Newtown Falls.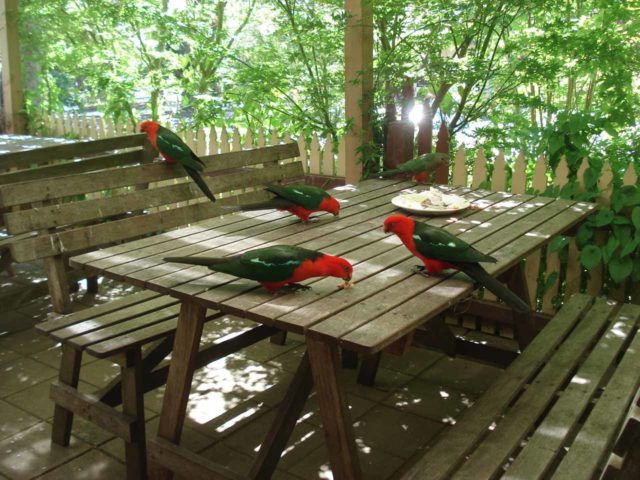 Day 11: Drive from Wangaratta to Melbourne
After leaving Wangaratta, we continued making our way towards Melbourne. Along the way, we visited Snobs Creek Falls, , and Cora Lynn Falls. Once we made it into the Melbourne CBD, we had ourselves a little bit of an anniversary dinner.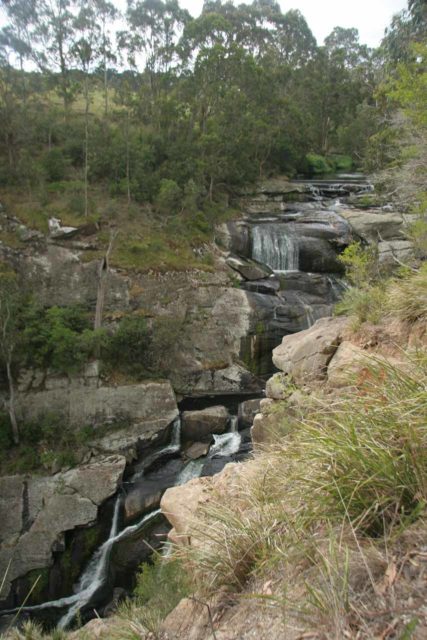 Day 12: Day Trip of Gippsland
With a long day of touring, we got an early start and visited Toorongo Falls, Cyathea Falls, and Agnes Falls before returning to Melbourne in the evening.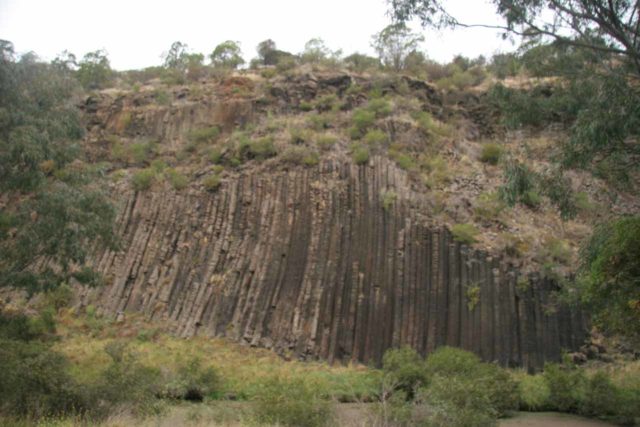 Day 13: Drive from Melbourne to Stawell
Overnight: Town Hall Hotel (Stawell, Victoria, Australia)
On this day, we left Melbourne and continued west towards the Grampians whilst passing through the Macedon Ranges. Along the way, we visited the Organ Pipes, Trentham Falls, and Sailors Falls.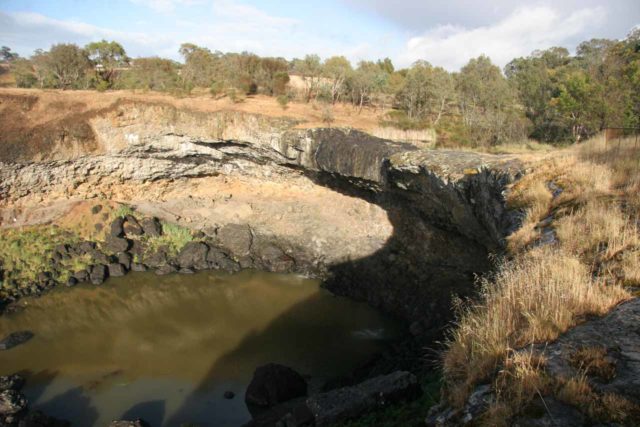 Day 14: Drive from Stawell to Hamilton
We spent most of this day in the Grampians National Park. Among the excursions we did were the Balconies, Reid's Lookout, MacKenzie Falls, and Silverband Falls. Then, after checking into Hamilton, we visited Wannon Falls and Nigretta Falls.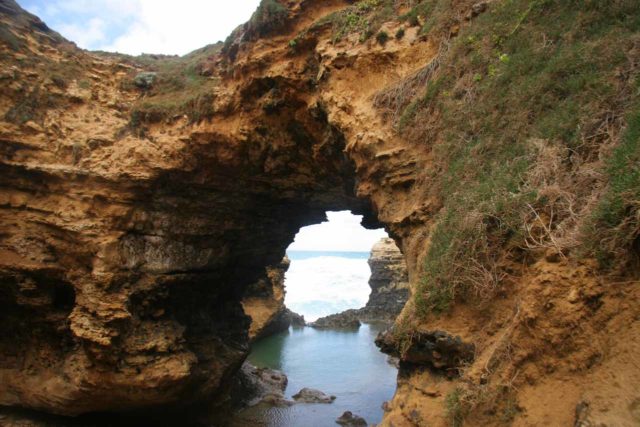 Day 15: Drive from Hamilton to Port Campbell
With some rain that fell overnight, we thought it might revive Wannon Falls and Nigretta Falls, but it didn't. Next, we continued south towards the Great Ocean Road near Warnambool, where we visited Hopkins Falls. Then, we continued driving east along the Great Ocean Road stopping for the Bay of Islands Lookout, the Grotto Lookout, London Bridge, The Arch, Loch Ard Gorge (with the Blowhole and Thunder Cave), and of course, the Twelve Apostles.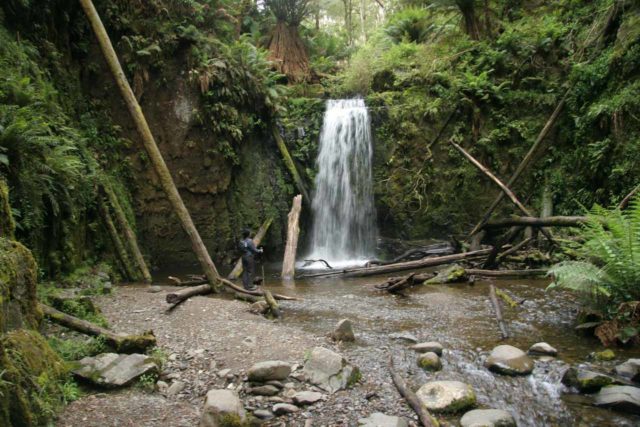 Day 16: Drive from Port Campbell to Apollo Bay
This was a busy day of waterfalling though we started off with an early visit to the Twelve Apostles. Then, we went into the Otways to visit Triplet Falls, Beauchamp Falls, Hopetoun Falls, Carisbrook Falls, Stevenson Falls, and Marriners Falls.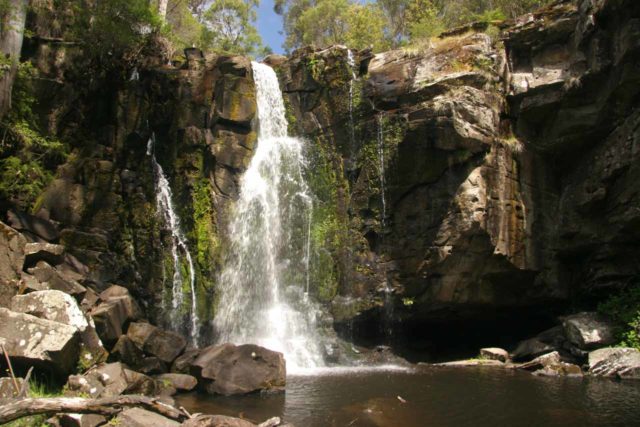 Day 17: Drive from Apollo Bay to Melbourne
After leaving Apollo Bay, we entered the Angahook-Lorne Reserve, where we visited Sheoak Falls, Erskine Falls, both the Upper and Lower Kalimna Falls, and Phantom Falls. Finally at the end of the day, we returned to Melbourne.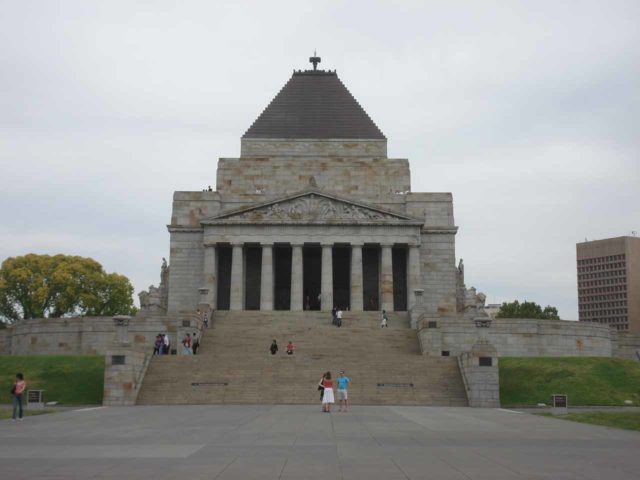 Day 18: Day trip to Mt Disappointment and Melbourne CBD
We started the day with a fruitless visit to Strath Creek Falls before returning to the Melbourne CBD to enjoy the city sights for the remainder of the day.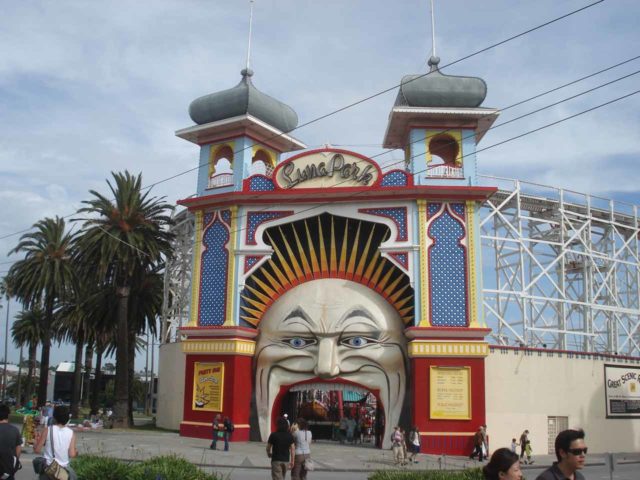 Day 19: Hanging out with the cousins in Melbourne
This was a day at leisure hanging out with my Taiwanese cousins. They took us to Mt Dandenong as well as the St Kilda Waterfront.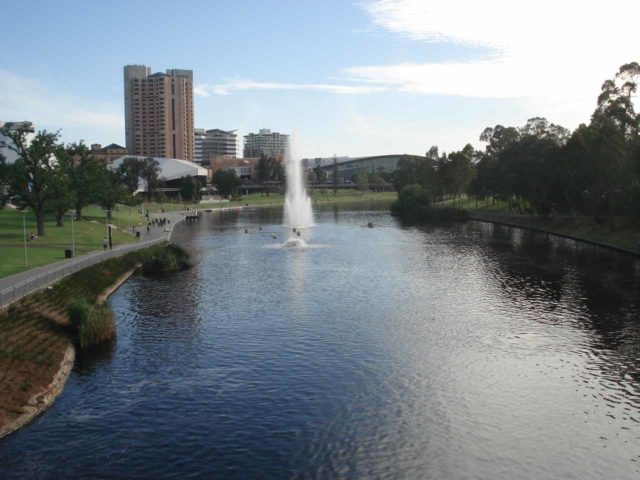 Day 20: Fly from Melbourne to Adelaide
Overnight: Mercure Grosvenor Hotel (Adelaide, South Australia, Australia)
We left Melbourne to return the rental car at the airport, then we flew to Adelaide. Once there, we picked up another rental car and proceeded to drive to the Barossa Valley for a little bit of wine tasting at the Penfolds Winery (though we really didn't know what we were doing). Then, we returned to the Adelaide CBD.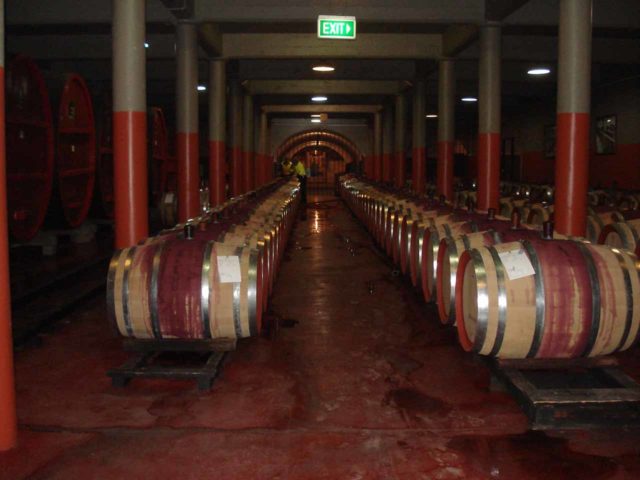 Day 21: Waterfalling Day Trip
Overnight: Mercure Grosvenor Hotel (Adelaide, South Australia, Australia)
This was a busy day of waterfalling as we visited Waterfall Gully, Ingalalla Falls, Hindmarsh Falls, and the Morialta Waterfalls. We also visited the Magill Estate later in the day.
Day 22: Fly from Adelaide to Melbourne, then fly to Hobart
Overnight: Leisure Inn (Hobart, Tasmania, Australia)
On this day, we returned the rental car at the airport, then flew back to Melbourne (where I recovered my forgotten DSLR camera). Finally, we flew to Hobart, where we picked up a rental car and settled in our accommodation in Hobart.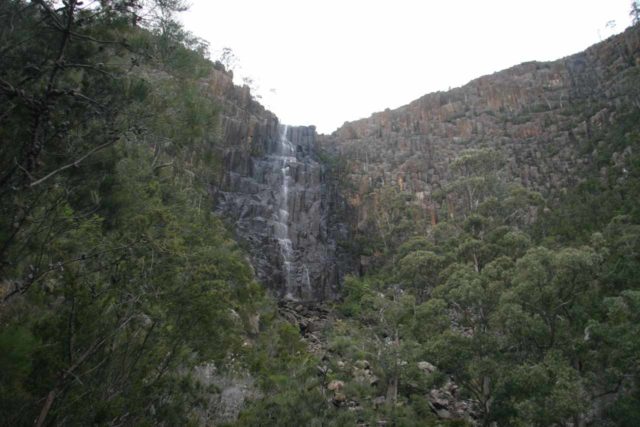 Day 23: Day Trip to the south of Tassie
Overnight: Leisure Inn (Hobart, Tasmania, Australia)
We started the morning going to Snug Falls. Then, I did a solo hike to Pelverata Falls. Finally, we did an afternoon adventure to the hard-to-reach Adamsons Falls. We eventually got back to Hobart in the evening.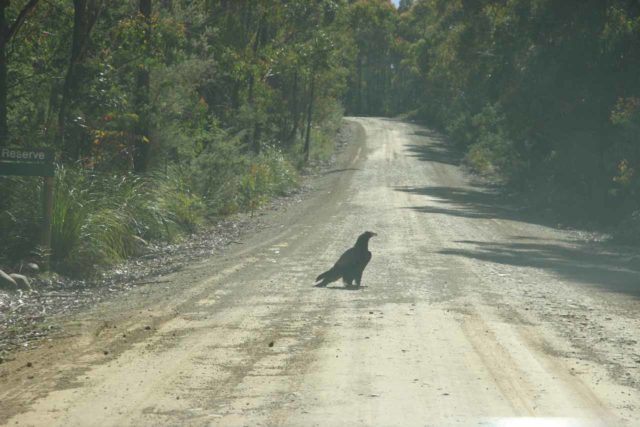 Day 24: Drive from Hobart to St Helens
Overnight: The Bayside Inn (St Helens, Tasmania, Australia)
This was a long driving day up the east coast of Tassie. Along the way, we visited Lost Falls, Meetus Falls, the Bicheno Blowhole, Mathinna Falls, and Evercreech Falls with the White Knights Gum Trees. Eventually, we made it to St Helens just as it started to get dark.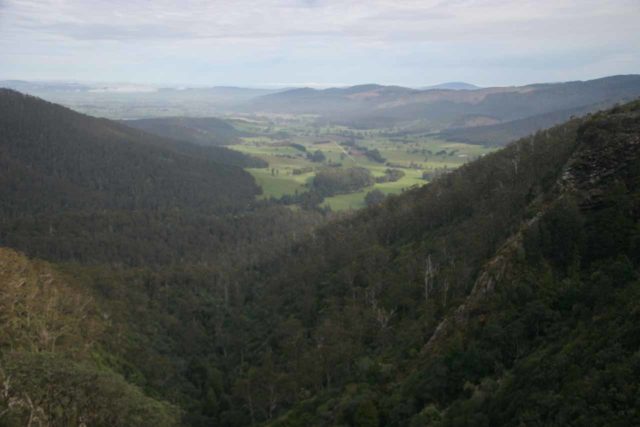 Day 25: Drive from St Helens to Launceston
Heading west, we started the day visiting St Columba Falls then Ralphs Falls. On the way to Launceston, we also visited the Lilydale Falls. Then, after a brief time in the Launceston CBD, we then drove out to Liffey Falls before returning to Launceston for a dinner and an atmospheric twilight stroll in the Cataract Gorge with the Tas Dance performance echoing and reverberating within.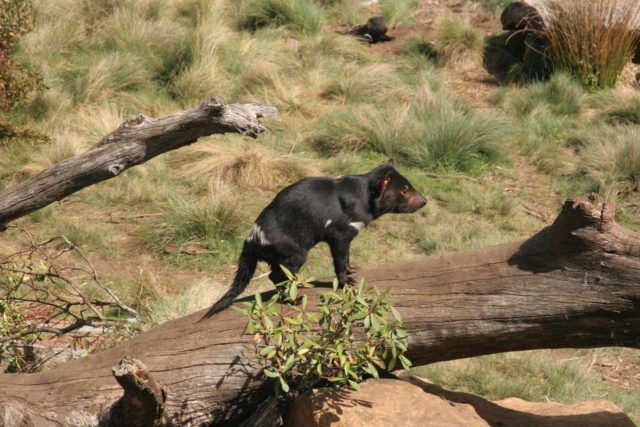 Day 26: Drive from Launceston to Devonport
Overnight: Comfort Inn Sunrise (Devonport, Tasmania, Australia)
On this day, we scouted out the Cradle Mountain area as we visited Champagne Falls and Bridal Veil Falls by the Lemonthyme Lodge, then we spent the rest of the day at Cradle Valley checking out Dove Lake and the Tasmanian Devil Sanctuary. Finally, we returned to Devonport CBD.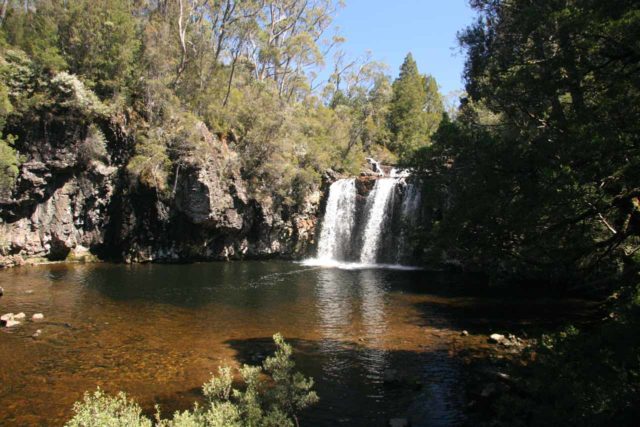 Day 27: Drive from Devonport to Cradle Valley
Overnight: Cradle Mountain Lodge (Cradle Mountain National Park, Tasmania, Australia)
We returned to Cradle Mountain National Park as we visited Preston Falls, Oldaker Falls, Guide Falls, and Waratah Falls along the way. Inside Cradle Mountain National Park, we visited Pencil Pine Falls and Knyvet Falls, Crater Falls, and Dove Lake.
Day 28: Drive from Cradle Valley to Queenstown
Overnight: Chancellor Inn (Queenstown, Tasmania, Australia)
Leaving Cradle Mountain, we then continued south towards Queenstown. Along the way, we hiked to Montezuma Falls. After checking into Queenstown, we then headed west to Strahan to visit Hogarth Falls while having dinner in town. We then returned to Queenstown to crash for the night.
Day 29: Drive from Queenstown to Hobart
Overnight: Leisure Inn (Hobart, Tasmania, Australia)
This was a long driving day across the Tasmanian Wilderness WHA, where we started the day stopping for Horsetail Falls as well as Nelson Falls. We then made a detour to visit Victoria Valley Falls before spending the better part of the afternoon at Russell Falls. Whilst in Mt Field National Park, we also visited Lady Barron Falls before exploring the Hobart CBD for our last night in Tassie.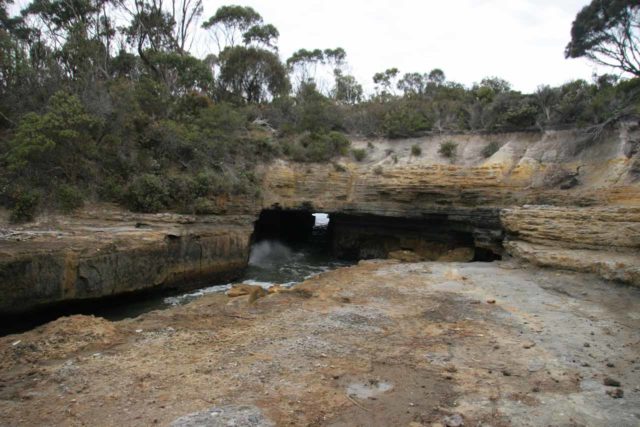 Days 30: Fly from Hobart to Brisbane, then fly home
On this day, we had the better part of the day to explore the Tasman Peninsula. Among the things we checked out were the Tasman Arch and Blowhole as well as Dootown. Then, we drove over to the Port Arthur Convict Site before returning to Hobart to return the rental car and catch our flight to Brissie before a long layover preceding our flight home.
[/expand]
Related Trip Reports
Waterfalls included in this itinerary
Visitor Comments:
Got something you'd like to share or say to keep the conversation going? Feel free to leave a comment below...
No users have replied to the content on this page