This trip was the first major leg of our epic around-the-world tour that consisted of Eastern Australia as well as selected countries of East Africa. The Australia portion of the trip was a self-drive self-tour while the Africa portion of the trip consisted of a series of tours run by tour operators who each specialized in a given country or region.
The itinerary covered here only focuses on that first (Australian) leg since it could easily stand on its own instead of integrated into the around-the-world trip that we wound up doing. Hopefully, that makes this itinerary more manageable for your own trip planning purposes.
Here are some highlights and logistics of how we managed to pull this trip off…
Trip Highlights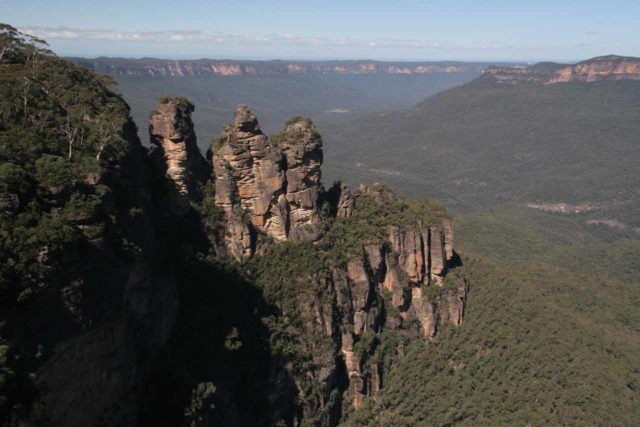 The Blue Mountains – This impressive series of gorges and cliffs west of Sydney was a geological wonder as well as harboring its own series of waterfalls. The main waterfall we saw on this trip in this part of the Blue Mountains was Katoomba Falls.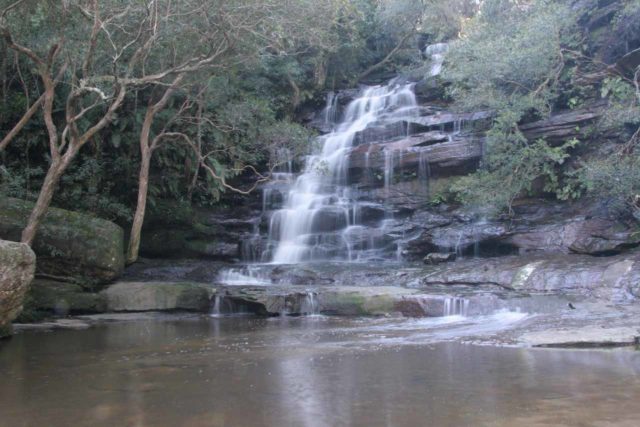 Somersby Falls – This graceful series of waterfalls was easy to visit as well as being quite camera-friendly as you can see in this photograph. We also ventured a little further downstream towards other waterfalls to complete the experience…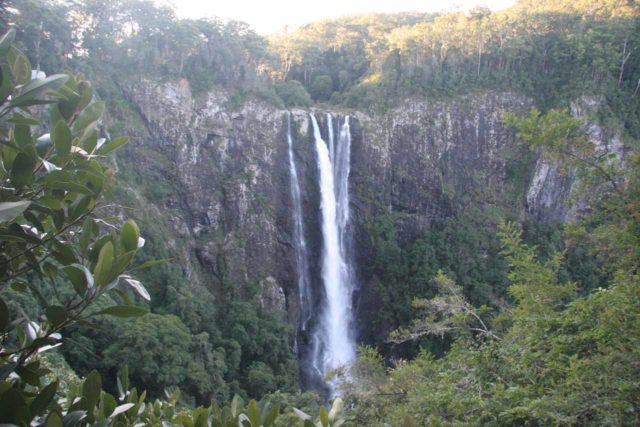 Ellenborough Falls – This was one of the tallest waterfalls in New South Wales, and its pretty remote location meant that we had to earn our visit. But that also meant that it was a quiet and peaceful experience, which is all that we can ask for when it comes to the waterfalling experience overall.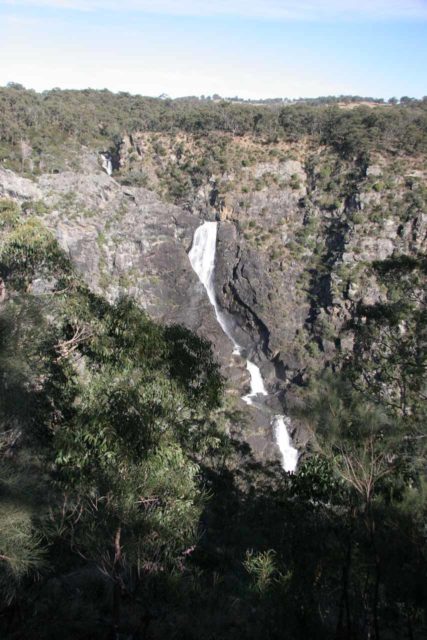 Tia Falls – This was one of the more impressive waterfalls of the so-called Waterfalls Way in New South Wales, and it was easy to view from the official lookout. We could have easily extended our visit by hiking closer to its rim, but it was already a highlight seeing as much of the falls as we did while also taking in the gorge overlook further downstream.
[expand title="MORE" swaptitle="LESS" trigpos="below"]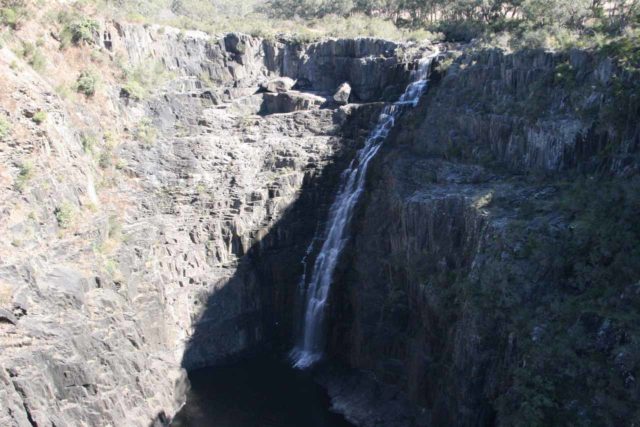 Apsley Falls – With this waterfall, it's all about the verticality – in the gorge it sits in, in the overhanging lookouts perched precariously over sheer drops, and in the second waterfall further downstream deeper in the vertical gorges. Even though it didn't have as vigorous a flow as we had hoped, it was still good enough to put on a show and be a highlight on this trip.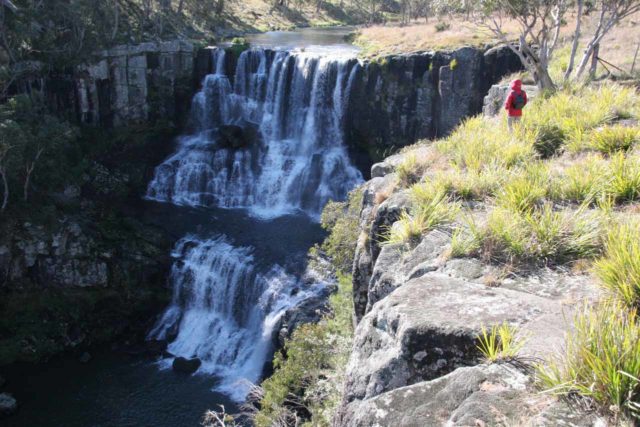 Ebor Falls – This was actually a pair of waterfall tiers, but regardless, it had a healthy flow where others on this side of the Waterfalls Way in New South Wales seemed to have struggled; thereby becoming a waterfalling highlight.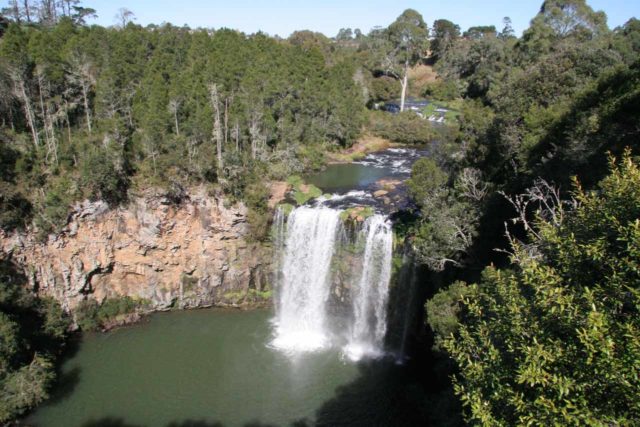 Dangar Falls – This waterfall just north of the town of Dorrigo along the Waterfalls Way had a nice block shape and healthy flow. We were able to get a direct look at it from above as well as from its shady base.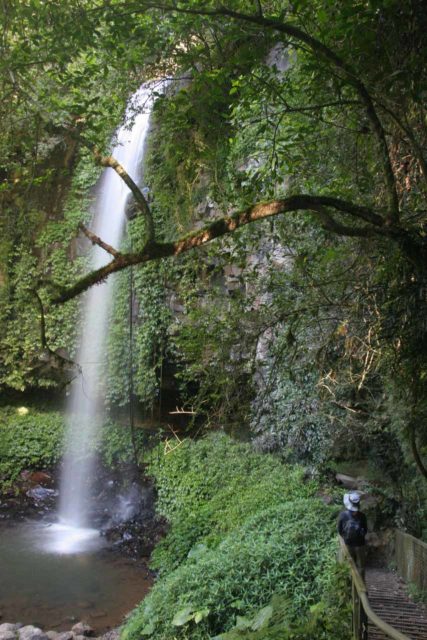 Crystal Shower Falls – This waterfall allowed us to get behind it, but we also had to earn our visit, which meant that the excursion itself allowed us to get more intimate with the environment around us, which added that much more to the overall experience.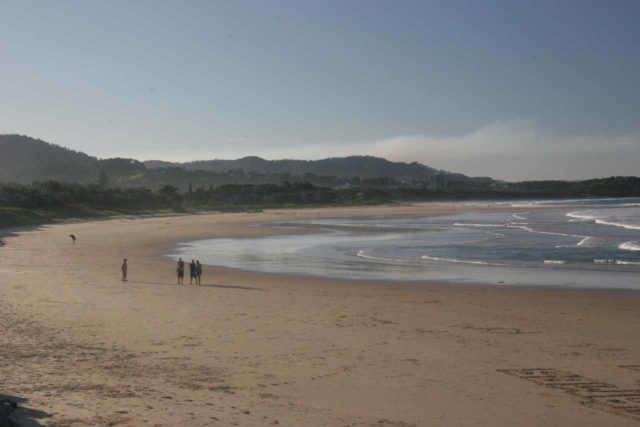 Coffs Harbour – Having been waterfall-saturated from the Waterfalls Way, we settled in on Coffs at the end of the day, where there was a nice relaxing and uncrowded beach full of "sand balls" probably created by crabs emerging from the sand below. The fact that a beach like this was so empty was such a blessing as I'd imagine other beaches like this would be inundated with people.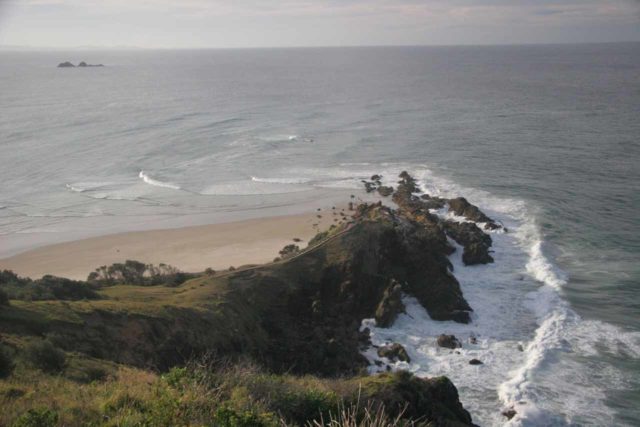 Byron Bay – While I normally tend to think of Byron as the venue for the Triple J Splendour In The Grass Festival, this seemingly hippie beach town also featured a happening beach as well as an attractive lighthouse where we could witness the Pacific Ocean crashing and curling around the easternmost point along Australia's east coast.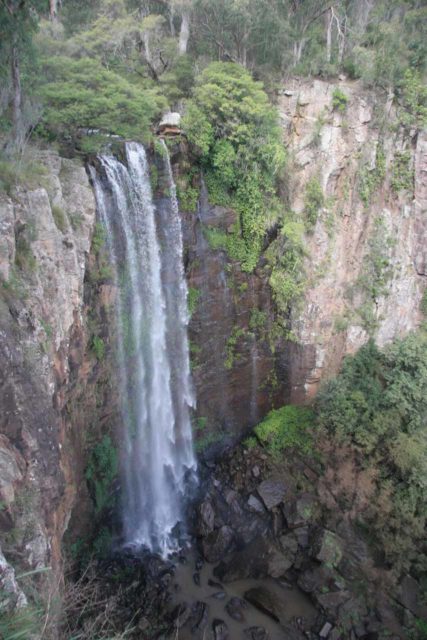 Killarney Waterfalls – It was a bit out of the way from Byron Bay to get all the way to this border town, but the main reason why we went to such lengths was to visit the three main waterfalls in the area – Queen Mary Falls, Daggs Falls, and Browns Falls.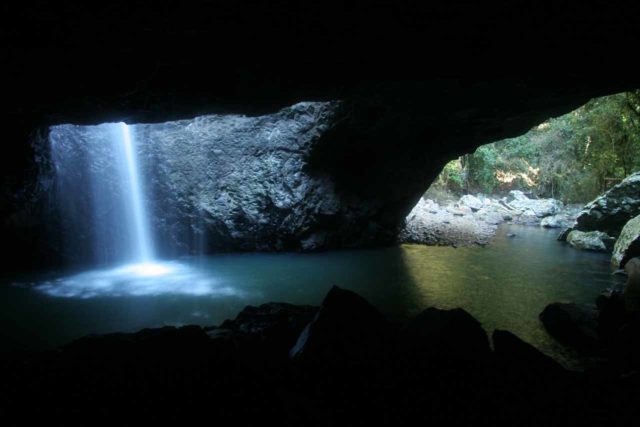 Natural Bridge – It's not often that you get a combination of a legitimate waterfall with a natural bridge, but it was certainly true in this instance. While the natural bridge was an attraction itself, the trail to take in the waterflow from its top as well as its base allowed us to take in this pretty unique feature.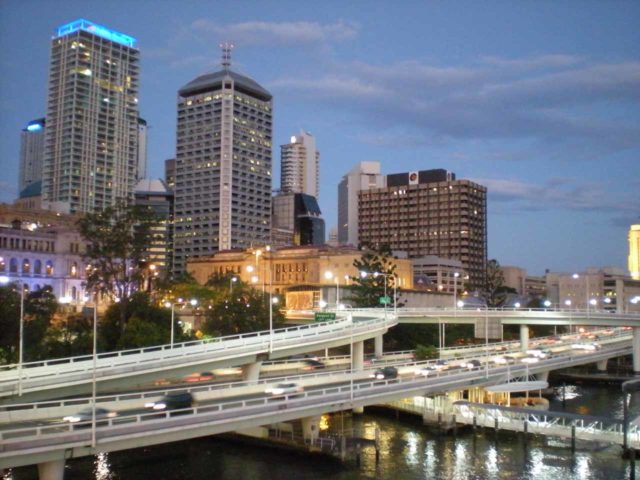 Brisbane – This vibrant city was the largest in Queensland, and it featured a happening riverside walk with views across it of the Brissie Skyline. There was definitely a bit of an international flavor to this walk in the park, so to speak, and it was a nice, pleasant way to spend an evening.
Also within the city limits was the Mt Coot-tha Reserve where JC Slaughter Falls had the potential to be an urban waterfall attraction except it wasn't flowing during our visit.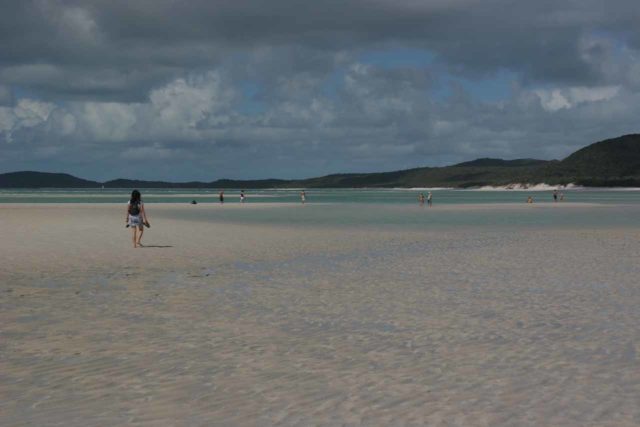 Whitsunday Island – This was one of the signature offshore islands off the Queensland coast, and once we finally got to experience the soft sand and shallow warm waters, we could now see why it was as popular as it was.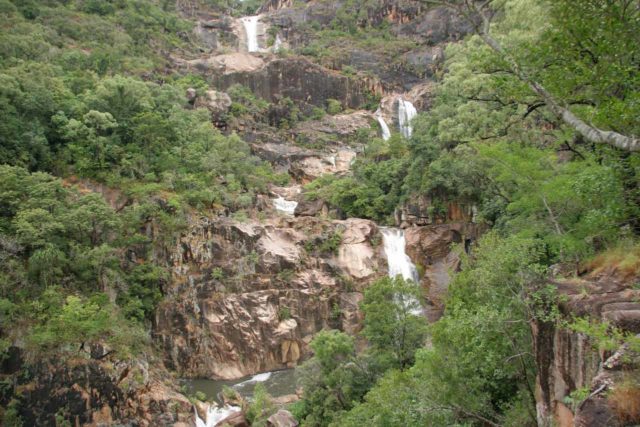 Jourama Falls – This was actually a disjoint series of waterfalls that we were able to view from a single lookout. And even though it appeared to have been swollen by a recent rain storm (making the concrete fords a little trickier), this was one of the more pleasant surprises in a country that was full of them.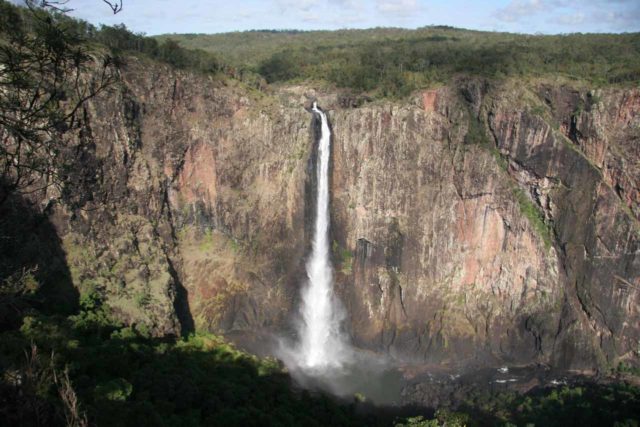 Wallaman Falls – This was one of Australia's tallest single-drop waterfalls, and we were able to experience it in a variety of ways – whether it was seeing it from across the canyon at one of the overlooks, or hiking amongst some ancient rainforests that were around since this place was part of Gondwanaland. This waterfall was such a highlight that we even included it in our list of Top 10 Australia Waterfalls list.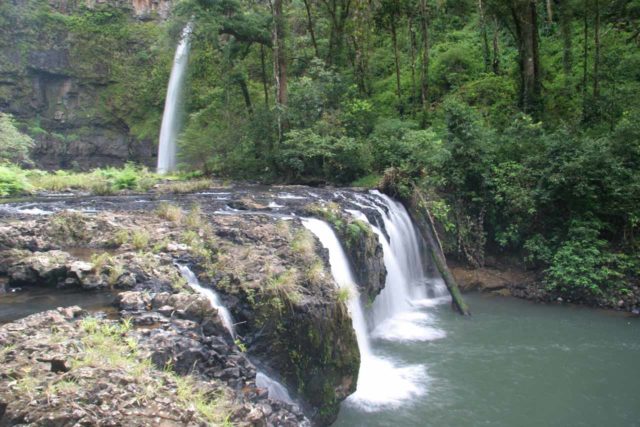 Nandroya Falls – This was one of the lesser known waterfalls in the Atherton Tablelands, but I also found its twisting two-tiered semi-segmented characteristic to be one of the more attractive waterfalls in this area as well. We had to earn our visit with a bit of a hike to reach, but it was rewarding to experience the bush with this goal in mind.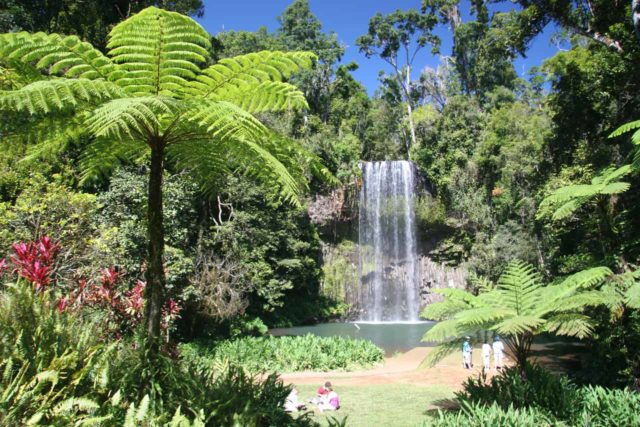 Millaa Millaa Falls – This was arguably the most beautiful or photographed waterfall in the Atherton Tablelands region largely due to it setting within a tropical environment as well as its satisfyingly block plunging shape. It was a fine place for a picnic, especially since this was a roadside waterfall.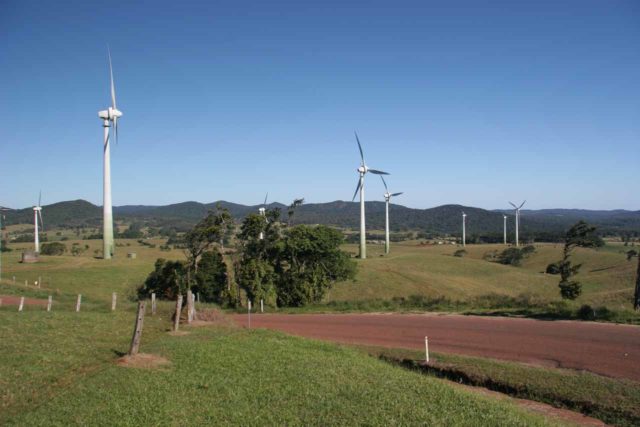 Windy Hill – This was a large field of swooshing wind farms, which gave us some hope that some places are trying to do something about Global Warming while also benefitting (we hope) in the process. Just standing near one of these tall windmields was humbling when we consider how big each of these things are.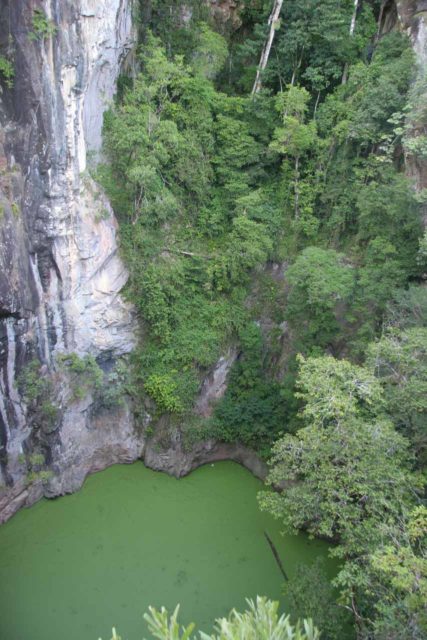 Mt Hypipamee Crater and Dinner Falls – This place featured a deep crater flanked by vertical walls with trees clinging to the cliff they're on. That said, we were also able to experience the waterfall, which actually consisted of multiple tiers or segments.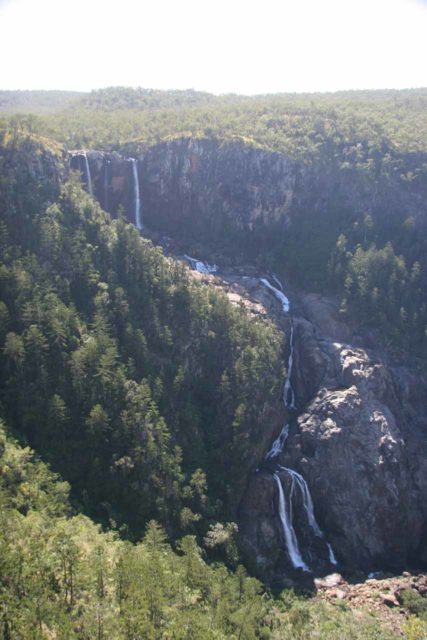 Blencoe Falls – This very remote waterfall in the hinterlands of Queensland was impressively tall. Yet getting here was a bit of a test on the mind for anything could go wrong on such backcountry roads. In our case, we managed to scrape loose the undercarriage of the car, which was supposed to keep leaking oil from getting into the environment. That kind of shows you just how rugged the road was.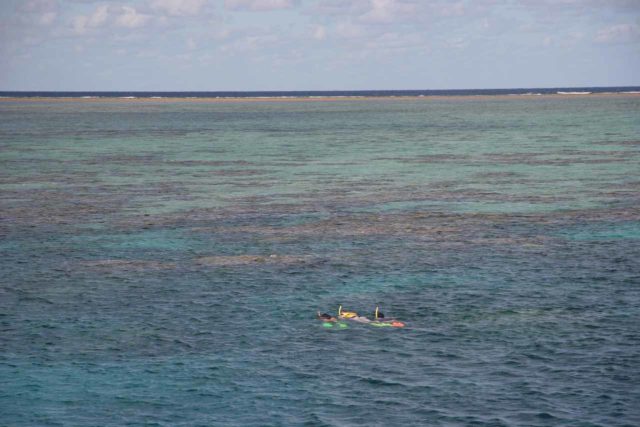 Great Barrier Reef – This critically endangered series of coral reefs can actually be thought of as one giant collective superorganism. In my case, as long as I controlled how seasick I get snorkeling, it really was a surreal experience to literally "find Nemo" in real life! While it may be depressing to think that this could all be bleached out before the year 2030 from Global Warming and government inaction, we hope to be able to see it again before it's gone.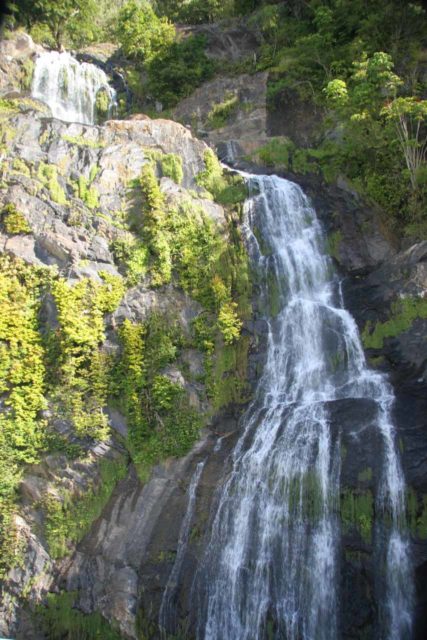 Kuranda Scenic Railway – We actually had a waterfalling excuse to visit the town of Kuranda and go on a bit of a train ride to take in the Venom Zoo as well as checking out the Barron Falls and the Stoney Creek Falls. It was nice to not have to drive to do this as this trip was dominated by self-driving everywhere, but if we were to do this again, it might be a bit faster and more efficient to do so.
[/expand]
Travel Itinerary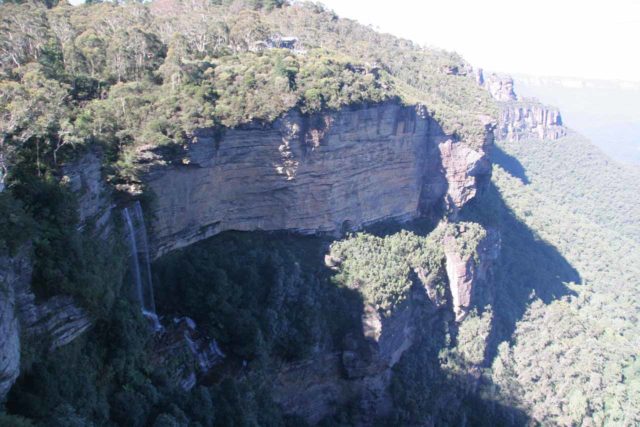 Days 1-3: International flight from Los Angeles to Sydney
Overnight: Park Regis Hotel (Sydney, New South Wales, Australia)
This was basically a travel day where we took a red-eye flight over the international date line (losing a day in the process) and then arriving in Sydney. We promptly picked up the rental car and drove into the Blue Mountains to visit Katoomba Falls.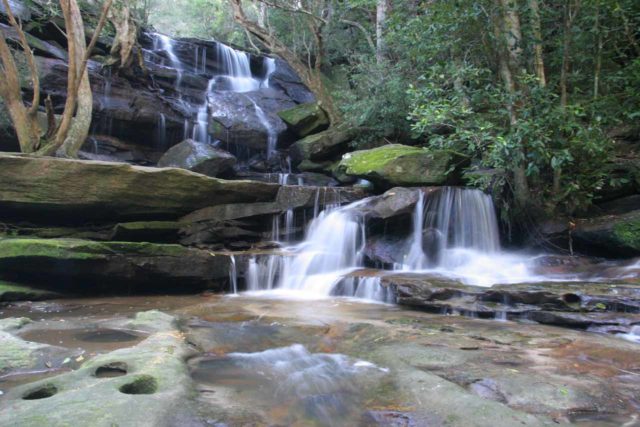 Overnight: Quality Inn and Suites (Port Macquarie, New South Wales, Australia)
On the long drive north to the Central Coast of New South Wales, we visited a couple of waterfalls on the way – Somersby Falls and Ellenborough Falls.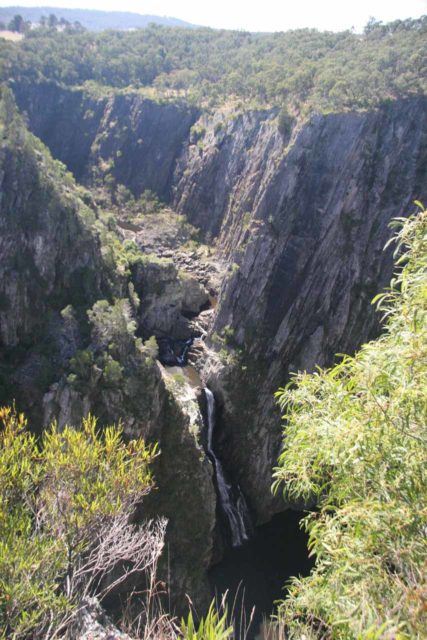 Day 5: Drive from Port Macquarie to Armidale
On this day, we took the lower end of the Waterfalls Way to get to Armidale. Along the way, we visited Tia Falls, Apsley Falls, and the dry Dangarsleigh Falls.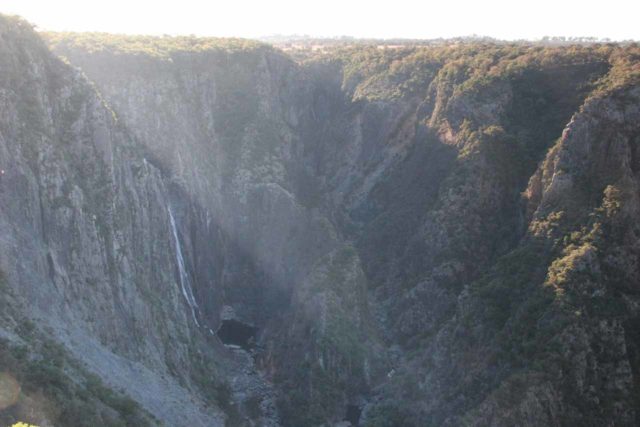 Day 6: Drive from Armidale to Coffs Harbour
Overnight: Comfort Inn Big Windmill (Coffs Harbour, New South Wales, Australia)
We continued the semi-loop drive going east along the Waterfalls Way en route to Coffs. Along the way, we visited Bakers Creek Falls, Wollomombi Falls, Dangar Falls, Ebor Falls, Newell Falls, Sherrard Falls, and Crystal Shower Falls. We spent the late afternoon at the beach in Coffs Harbour.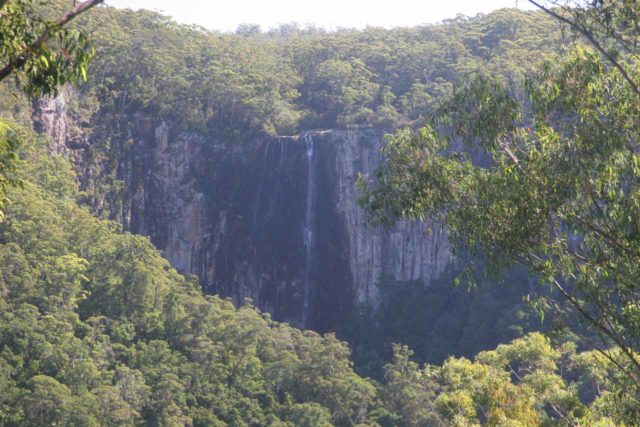 Day 7: Drive from Coffs Harbour to Byron Bay
Overnight: Bamboo Cottage (Byron Bay, New South Wales, Australia)
On this day, we continued north and a little inland to visit the Minyon Falls as well as Protestors Falls. Finally, we spent the late afternoon and evening enjoying the beach at Byron Bay.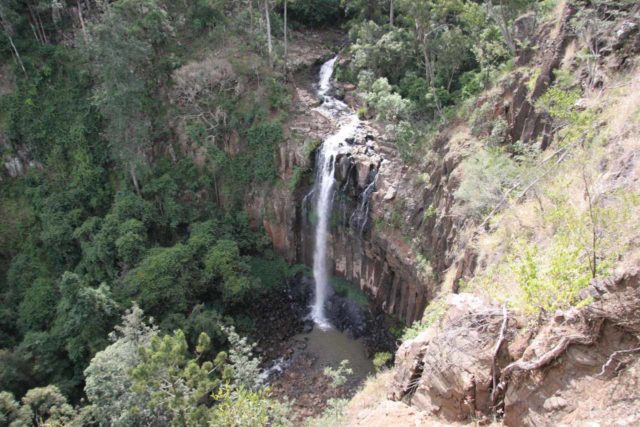 [expand title="MORE" swaptitle="LESS" trigpos="below"]
Day 8: Waterfalls around Killarney
Overnight: Bamboo Cottage (Byron Bay, New South Wales, Australia)
On this day, we went even deeper inland and a little across the state border towards Killarney. Whilst in the area, we visited Browns Falls, Daggs Falls, and Queen Mary Falls. We spent the late afternoon visiting the Cape Byron Lighthouse (the easternmost point of mainland Australia).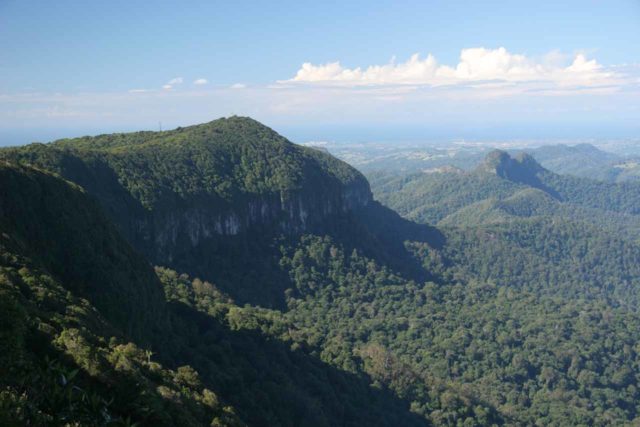 Overnight: Vibe Hotel (Surfer's Paradise, Queensland, Australia)
We spent the better part of the day in Springbrook National Park, where we visited the Natural Bridge, Purling Brook Falls, Goomoolahra Falls, and M-fest. At the end of the day, we checked out Surfer's Paradise (both the beach and the city).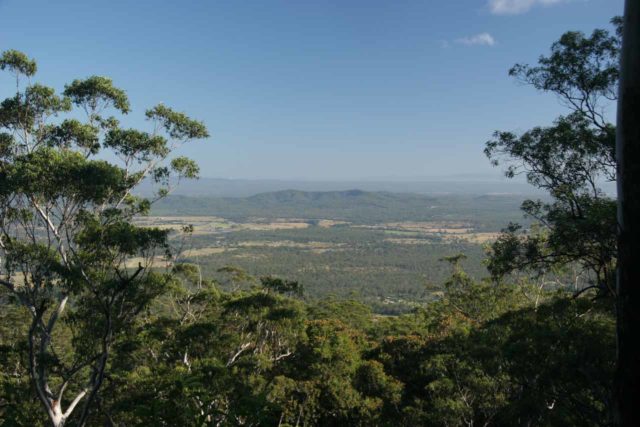 Day 10: Drive from Surfer's Paradise to Brisbane
Overnight: Hotel Ibis (Brisbane, Queensland, Australia)
On the way up to Brisbane, we veered inland towards the Mt Tamborine area, where we visited Cameron Falls and Cedar Creek Falls. Then, we went to the Mt Coot-tha Park to visit the dry JC Slaughter Falls before we finally walked about in the Brisbane CBD.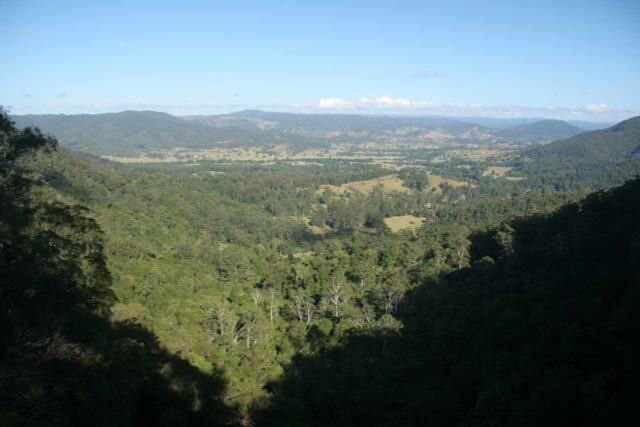 Day 11: Drive from Brisbane to Rockhampton
Overnight: Travelodge (Rockhampton, Queensland, Australia)
This was a long driving day where we made a detour to Mapleton Falls before arriving in Rockhampton late in the afternoon.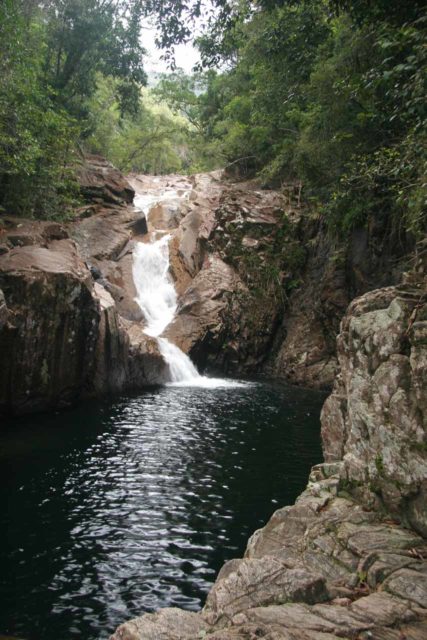 Day 12: Drive from Rockhampton to Airlie Beach
Overnight: Airlie Beach Motor Lodge (Airlie Beach, Queensland, Australia)
This was another long driving day, where we detoured into the Finch-Hatton Gorge where we visited Araluen Falls (but not Wheel of Fire Falls since it was closed). Afterwards, we continued making our way towards Airline Beach. We ended the day with a visit to Cedar Creek Falls (dry) before returning to Airline Beach.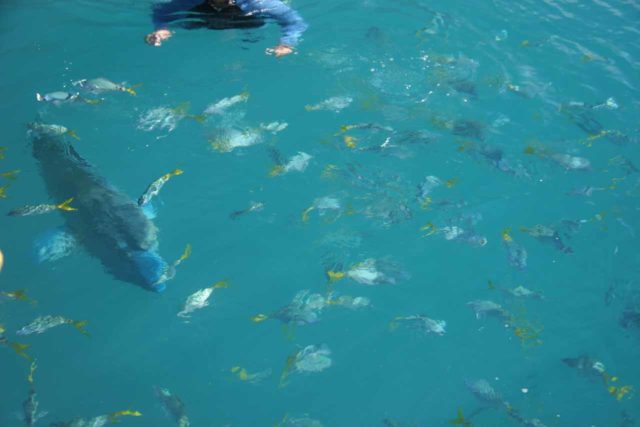 Day 13: Day Trip to the Whitsundays
Overnight: Airlie Beach Motor Lodge (Airlie Beach, Queensland, Australia)
This was a full day doing the Whitsunday Tour.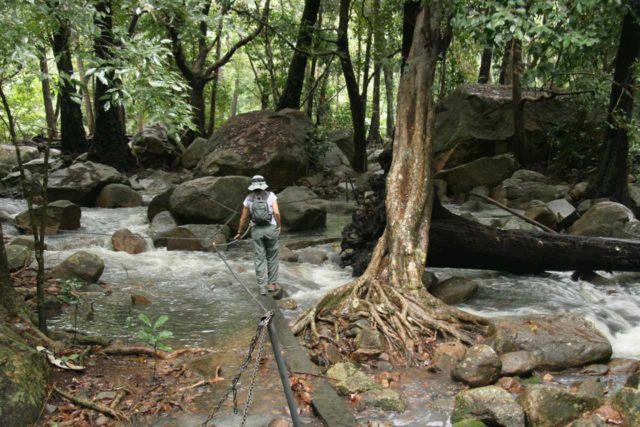 Day 14: Drive from Airlie Beach to Cardwell
Overnight: Mudbrick Manor (Cardwell, Queensland, Australia)
On the way up to Cardwell, we visited Jourama Falls.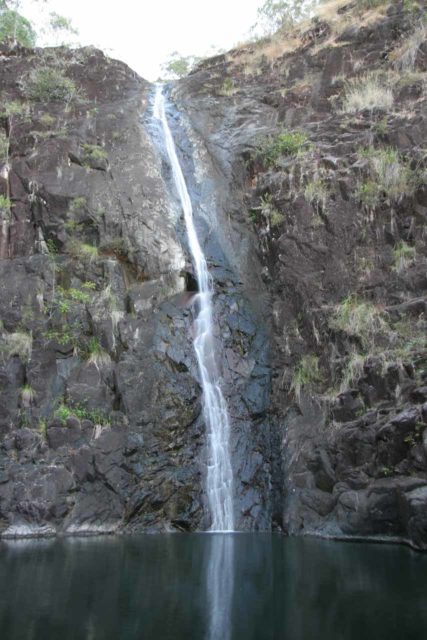 Day 15: Day Trips to Waterfalls
Overnight: Mudbrick Manor (Cardwell, Queensland, Australia)
On this day, we first visited Wallaman Falls doing both the overlooks and the hike to its base. Next, we drove up beyond Cardwell to Murray Falls. Right before it got dark, we also fit in a visit to Attie Creek Falls (just behind Cardwell).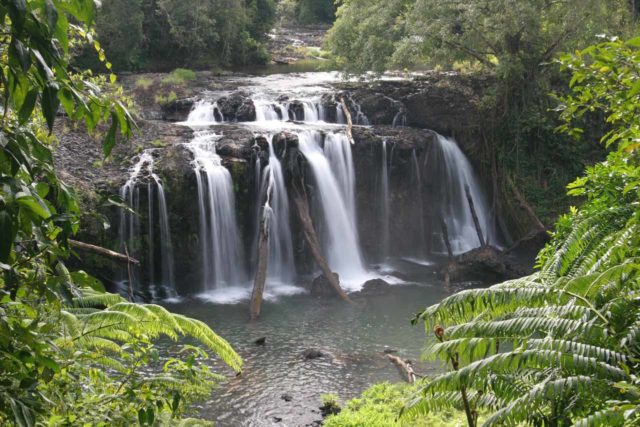 Day 16: Drive from Cardwell to Innisfail
Overnight: Barrier Reef Motel (Innisfail, Queensland, Australia)
On the way up to Innisfail, we veered inland to the Atherton Tablelands, we visited Josephine Falls, Nandroya Falls, Wallicher Falls, and Tchupala Falls.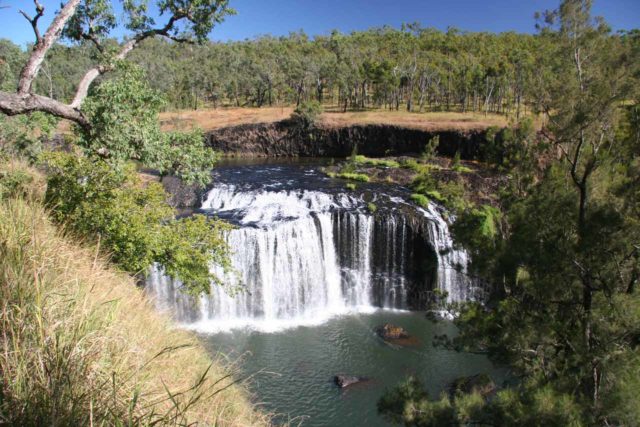 Day 17: Drive from Innisfail to Millaa Millaa
This was another busy waterfalling day in the Atherton Tablelands. Among the waterfalls we visited were Mungalli Falls, Ellinjaa Falls, Zillie Falls, Millaa Millaa Falls, Pepina Falls, Little Millstream Falls, Millstream Falls, Dinner Falls, and Malanda Falls.
Some of the non-waterfalling things we did included Windy Hill and the Mt Hypipamee Crater.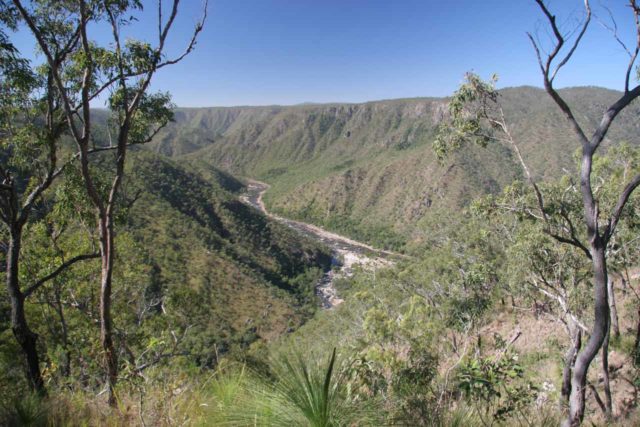 Day 18: Drive from Millaa Millaa to Cairns
This day was dominated by an adventure to Blencoe Falls, where our success on the excursion was really uncertain. Afterwards, we made it to Cairns.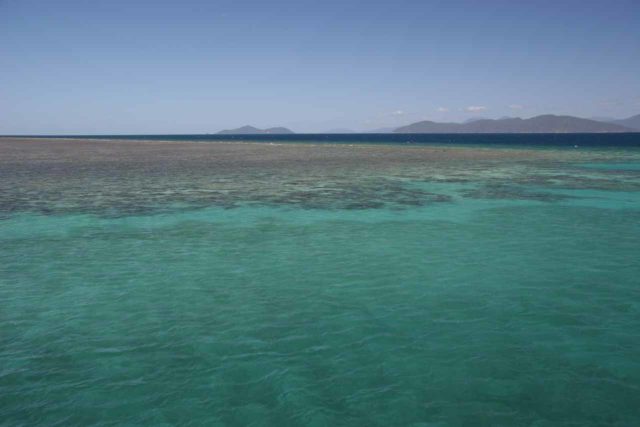 Day 19: Great Barrier Reef
This was a guided tour to the Green Island as well as the Great Barrier Reef.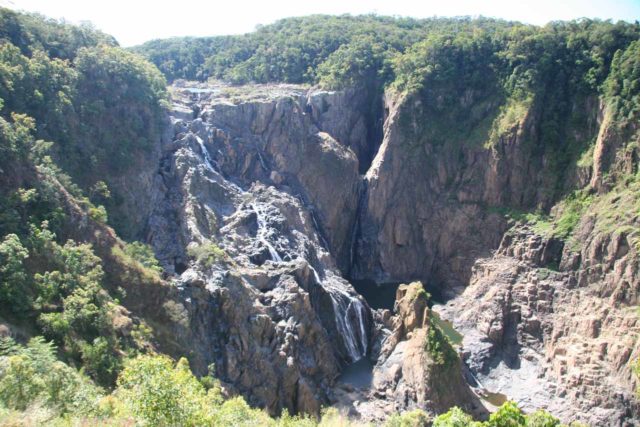 Day 20: Kuranda Railway
On this day, we were transported to Kuranda Village. Whilst in the village, we checked out the Venom Zoo. Then, we took the Kuranda Scenic Railway to Barron Falls as well as Stoney Creek Falls before returning to Cairns.
Day 21: Fly to Sydney
To wrap up our Australian leg of this trip, we returned the hire car. Then, we caught a flight back to Sydney.
Day 22: Fly from Sydney to Johannesburg
On this day, we caught a long flight from Sydney to Johannesburg to begin our African safaris portion of this around-the-world trip.
[/expand]
Related Trip Reports
Waterfalls included in this itinerary
Visitor Comments:
Got something you'd like to share or say to keep the conversation going? Feel free to leave a comment below...
No users have replied to the content on this page