About Millennium Cave Waterfalls
---
Hiking Distance:
tour; 5-6km hiking; also canyoning and river floating
---
Date first visited:
2014-11-23
Date last visited:
2014-11-23
---
Waterfall Latitude:
-15.43581
Waterfall Longitude:
167.07321
---
The Millennium Cave Waterfalls were pretty much our waterfalling excuse to do what was arguably the best land excursion on the beautiful Espiritu Santo Island. In addition to going through a very large (and very dark cave), we also did a rough canyon scramble both in the river as well as on boulders and cliffs above it, and then we floated on the river for a bit. Throughout this full day excursion, we visited several small cascades as well as a few taller ones, including the so-called "Hidden World Waterfall" pictured above. At least one of the waterfalls also doubled as a swimming hole to cool off and have a little fun. As you can see from the photo, the waterfall was worth the effort, but there was so much more to our tour that weren't related to waterfalls.
Our tour began with us being picked up from the resort then headed towards the end of Luganville, where we stopped at the "office" for the locally-run Millennium Cave Tours, which was located near a bridge. Inside that office, we had to register, pay for the tour (about 8600 vatu per person when we did it in November 2014), and get a briefing from Samuel, who was apparently the manager. The briefing went over the logistics of our tour from where we were going and what the tour entailed. Once that was done, we hopped back into the 4wd vehicle, and then proceeded to be driven through an old WWII airstrip, before continuing on some really rough and bumpy roads until arriving at Nambel Village.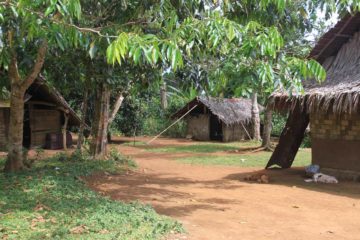 From Nambel Village, we had to walk about 20 minutes through a lightly cleared jungle while crossing over a bridge layered with thick stems of bamboo loosely lying adjacent and on top of each other. After this short walk, we then arrived in Vunaspef Village (I've also seen it spelled Funaspef) where we got fitted for life jackets, got another briefing from one of the local guides from the village, and have an opportunity to buy some local crafts. This shelter seemed to be the main congregation area for the village (or at least for the tour).
Beyond the Vunaspef Village we then went on a 3.3km walk that took roughly 90 minutes. The walk was fairly gentle as the elevation changes weren't severe and we were mostly in the shade of the jungle so sun exposure wasn't too much of a problem. Of course, being in a tropical climate, we were still hot and sweaty from the heat and humidity despite the shade. Breaking up the walk, we made a few stops so the guides could point out things like stinging leaves, bananas, and even the vines that were used in Pentecost Island for the land diving ceremony called Nagol. At the apex of this walk (about 40 minutes from Vunaspef Village), we reached a set of bamboo trees where there was an overlook of the jungle.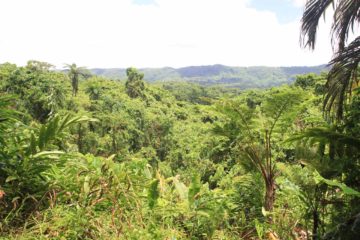 Then, the hike descended towards the next stop roughly 25 minutes later where we each put on life jackets while we had our faces painted with some kind of red clay, where each marking represented an aspect of the next leg of our journey (i.e. the cave, the river, the canyoning, etc.). Each guide was responsible for a pair of tourists so Julie and I were accompanied by a personal guide at this point. It would turn out that this guide was absolutely necessary to help keep us out of trouble as the adventure was about to get real interesting.
The next part of the walk involved descending switchbacks where we were able to look down upon the upper entrance of the impressive Millennium Cave itself. Some parts of the descent were so steep that we had to descend ladders backwards. Then, as we were entering the Bamboo River (the one entering the cave), we had to really pay attention to our guide who helped to make sure we used the footholds carved into rocks or that we took advantage of the dry bag to keep our cameras or other things from getting drenched. It was very important that we either wore river shoes or reef shoes at this point as we'd frequently be in the water at this point.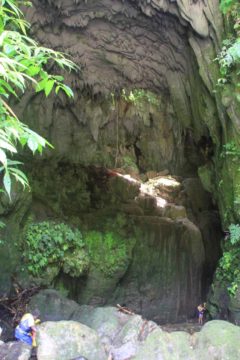 After passing by a tiny cascade, we then found ourselves within the very tall cave entrance, where lots of flying things (either bats or swallows or both) were literally circling around the cave ceiling near a pothole opening letting some daylight illuminating some of the darkness. As we went deeper into the cave, we would need to hang onto our flashlights or don headlamps as that would be the only source of light piercing through the pitch darkness. And for nearly the next half-hour, we went through one of the more intense experiences as we would literally feel our way through the cave passing under some bats and cave insects while wading amongst freshwater prawns and even passing by a waterfall coming out of the cave wall.
When we finally made it to the mouth of the cave, we then paused for a lunch break near a pair of small cascades on the Sarakata River spilling between and under giant boulders. This spot also doubled as a swimming hole as we had a chance to cool off and play for a bit over our self-brought sack lunches. The break was welcome, but it would turn out that the next part of the tour would be even more intense than spending a half-hour hiking in darkness through the Millennium Cave. Before continuing, our guides encouraged me to leave the DSLR in a dry bag to go with one of the guides directly back to the village, which turned out to be a pretty wise move even though I wanted to take photos and movies in this next part of the tour.
Next, we then walked downstream along the Sarakata River before it quickly became "canyoning". At least the excursion wasn't technical canyoning (or canyoneering) where fancy equipment would be needed. Instead, it was mostly wading (and even swimming in some spots) in the river as well as hanging onto ledges and footholds with exposure to dropoffs. Some sections had a strong current as the river was near some small waterfalls so indeed there was no shortage of hazards here. In fact, I would say this section of the tour was perhaps the most treacherous part, and we really had to pay attention to our guides as well as concentrate on where we were placing our hands and feet. I could totally see why the minimum age for this tour was 12 years, and there was no way we could've even brought our three-year-old daughter along.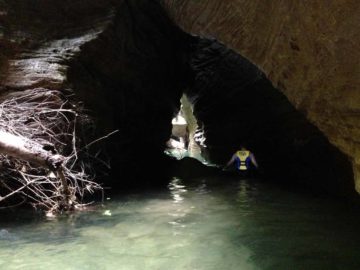 After another 20-30 minutes of this canyoning part, we then got to a calm part of the Sarakata River, where we could rely on our life jackets and simply let the slow current take us further downstream while we were surrounded by tall slot-canyon-like gorge walls. This was the part of the tour that was informally referred to as the "Hidden World", and it seemed to be an appropriate name given that it would otherwise be inaccessible. And as we were floating through the "Hidden World", we then saw a couple of waterfalls. One was only a trickle as we had showed up at the very start of the Wet Season in late November. However, shortly thereafter, we saw a very impressive "Hidden World Waterfall" (see photo at the top of this page), which was by far the best waterfall we would witness on this tour.
When the river floating part was over, we then spent the last 20-30 minutes hiking up a very steep (nearly vertical) "trail" where we literally climbed up small cascades, climbed up nearly vertical walls with footholds and rope as aids, and a tall ladder near the uppermost part of the ascent. Then, we walked through some plantations of taro, kava roots, coconuts, and pineapples among others, before returning to the Vunaspef Village (nearly 2.5 hours since our lunch break) to recover the items that didn't accompany us in the canyoning and floating of the Sarakata River. There were also really sweet fruit refreshments of pineapple, papaya (or paw paw as they call it here), and bananas with some lemonade.
After the last 20 minutes of walking back to Nambel Village, we then returned to our transport vehicle and spent the remaining 45 minutes getting through the bumpy roads, then smooth roads back to our resorts near Luganville. Overall, the tour took roughly 8 hours (starting from 8am and ending around 4:15pm), and I know Julie as well as some of the ladies that were on the tour with us were in the mood for a massage when the adventure was over.
Now given this description, hopefully it becomes much clearer why I'd say this was more of a good weather excursion where the lower the river levels and the lesser the rainfall, the more enjoyable this experience would be. If it had been raining pretty signifantly, this would be a very dangerous excursion as the precarious footholds would certainly be more slippery (not good if there's dropoff exposure) and the risk of fatal flash floods as well as higher water levels would be too great. We've been told that they tend to cancel the tour under such circumstances.
Since we didn't self drive Espiritu Santo Island, and I wouldn't recommend trying to drive off the paved roads (given how rough and rugged they were), I'd say the best way to do the Millennium Cave would be by tour. We were made aware that there were two types of Millennium Cave tours, and apparently you can tell them apart by the color of the transport vehicles being used.
The one we ended up taking was the Millennium Cave Tours run by Samuel Andikar, which was in a grey or white "bus" (more like a van). We saw a different competing tour that other tourists have used involving a yellow van or "bus". We can't say anything about the latter option since we didn't do it. I recalled it took about 45-60 minutes of bumpy roads to get from Luganville to Nambel Village. It took a similar amount of time to return from the village to our accommodation in or around Luganville.
Again, I recalled we paid about 8600 VT per person (roughly $86 USD per person as of November 2014; 2000 VT is the kastom fee going to the village owning the local area), and the entire tour (including transport) took roughly 8 hours.
To give you some additional context, Luganville was the main town of Espiritu Santo Island. It took a one-hour flight from Port Vila (on the main island of Efate) to get here.
Find A Place To Stay
Related Top 10 Lists
No Posts Found
Trip Planning Resources
Nearby Accommodations
Featured Images and Nearby Attractions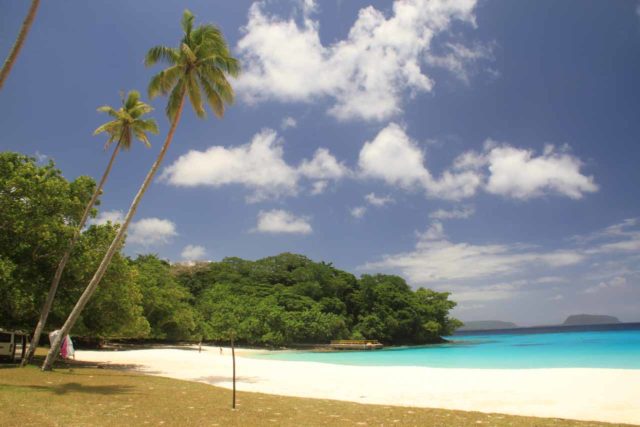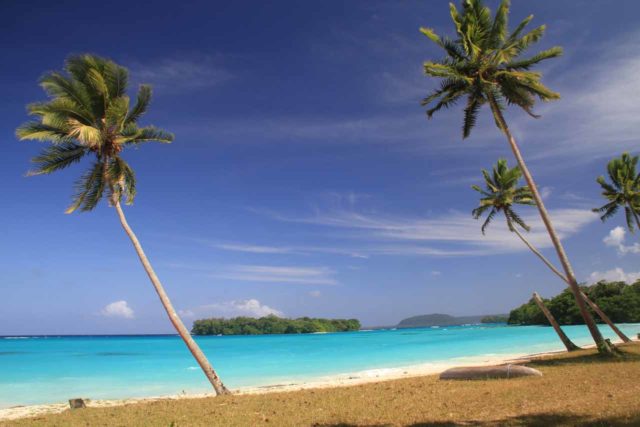 Tagged with:
vunaspef, luganville, espiritu santo, sanma, vanuatu, millenium cave, hidden world, waterfall, nambel
Visitor Comments:
Got something you'd like to share or say to keep the conversation going? Feel free to leave a comment below...
No users have replied to the content on this page
Visitor Reviews of this Waterfall:
If you have a waterfall story or write-up that you'd like to share, feel free to click the button below and fill out the form...
No users have submitted a write-up/review of this waterfall