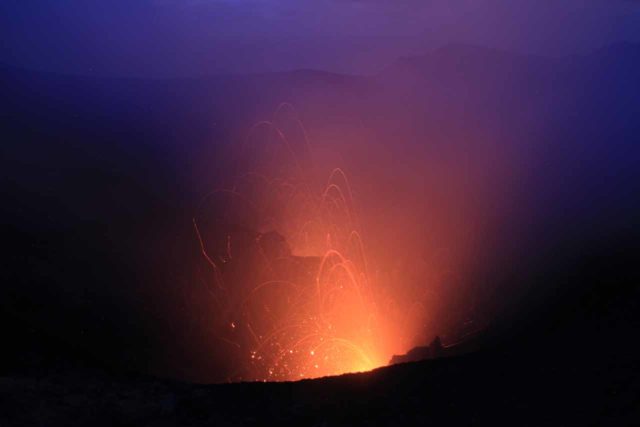 20-November 2014 to 30-November 2014:
At first, when we arrived at the top of the initial climb, we then stopped at one of the popular stops which got us somewhat close to the turbulent crater of Mt Yasur. That was where we couldn't really see much except for the odd red rocks tossed up into the air before crashing down, but a lot of that had to do with the fact that there was still too much daylight to effectively view the volcano.
After about 15 minutes, Frederick got us to go to the opposite side of the crater, which meant going up the steep ridge to get right up to the top of Mt Yasur. We did this just as the sun was setting behind the mountains to the west of us. And on the ridge we traversed to get up to the final climb, Frederick pointed out the fresh new rocks that had landed on the very ridge we were walking just this past Monday. That undermined any sense of security we might have been having thinking we ought to be watching from a safe distance. Yet it was this fact alone that could very well result in the primal feeling of fear and adrenaline rush that made this place as unforgettable as it was…
Days 0-2: LONG HAUL ANXIETIES
The day began with me showing up to work at about 5:30am. This followed me staying at work until about midnight the night before. It was unusual for me to go to work on the same day that we were to have an international flight, but I did have a deadline to meet, and I didn't want the failure of the program riding on my inability to deliver despite the sudden increase in work scope that led up to this crazy push for the last three to four weeks.
I certainly needed this upcoming trip as much as anyone. So for this trip, we were going to Vanuatu, which was totally last minute. We had originally planned on doing a longer trip in December to Vietnam, but there was way too much uncertainty concerning work as well as home-related stuff (let alone leaving Tahia behind for that long). But we had to do something in the near term as we knew it would be a shame to let our 10-year wedding anniversary as well as Julie's birthday pass without even any worthy celebration to show for it.
Vanuatu seemed like the right compromise. Julie wanted something less focused on waterfalling, and so while all my waking hours were consumed by work, she took the initiative to plan for this trip. And this would culminate on us leaving the rat race behind if only for Thanksgiving week in a place no one at work had even heard of.
Anyways, I managed to get my stuff done at work (at least in a good place to leave it), and I made it home by lunch. That left me ample time to pay bills and make sure we were ready for the trip. When all was said and done, it was about 8:30pm when we arrived at LAX, which was surprisingly not as busy as we had anticipated considering Thanksgiving was usually the busiest travel period of the year.
We got our boarding passes, were told our luggage was to be checked through (to Luganville? or Port Vila?), but we had to get our Air Vanuatu boarding pass somewhere in Auckland. The Air New Zealand flight took off on time at 10pm (something Julie was quick to point out that Virgin Atlantic failed to do during our UK trip), and while I was working on three-hour's sleep, I was finally able to unwind and allow myself to sleep (albeit uncomfortably) on the long haul flight to Auckland.
So after half staying awake to watch The Hangover III, then sleeping nearly 8 hours before watching a couple more comedies (Horrible Bosses, etc., but no Flight of the Concords?), we would land at the Auckland Airport at around 7:30am, and it was about 8am when we made it through security at the international transfer lounge and had to wait the next 5 hours before our next flight to Port Vila in Vanuatu.
Security made us drink up the bottled water that Julie had bought at LAX, and then we learned that we'd still be without a boarding pass for Air Vanuatu until about an hour before our departure to Port Vila at 13:05. Seemed kind of hokie, but it was what it was, and we'd have to find a way to kill the next 3-4 hours before we could resume the next leg of our trip.
Given this disconnect in our ticketing situation, Julie and I were a bit nervous about our luggage getting to Vanuatu with us. We'll have to see how it would all play out…
In the mean time, we continued to kill time spending our limited 30 minutes free of internet, then having a long early lunch over ramen noodles and a lamb and kumara meat pie (for old times sake). Speaking of old times, while we were looking at postcards of New Zealand, I started getting nostalgic about our first visit to Aotearoa ten years ago to this day. And here we were, a captive audience at the Auckland airport.
Back then, it seemed like we had made our visit before NZ became a really popular destination. I recalled the small town feel for most of our trip (bad weather and all). When we came back five years later, we were pretty surprised at how much places like Whitianga got further developed. And now, it seemed like NZ had become the chic destination. Even the "epic" safety video on Air New Zealand was a bit of an opportunity to keep that Lord of the Rings and Hobbit theme going (clearly they knew why most foreigners come here).
At about 12:05pm, we went downstairs in search of another International Transfer Desk aftering noticing a sign that we didn't notice before. Once down there, we finally talked to a lady who was able to print out our boarding passes for Air Vanuatu as we just so happened to stumble upon the correct gate. So with that squared away, we were patiently awaiting our flight to continue our very long travel day as we still had two more flights to go before we could finally call it a day and overnight in Vanuatu.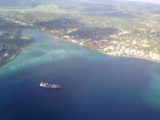 Eventually, the three-hour flight took off on time at 1:05pm, and by about 2:10pm, we arrived at Port Vila as scheduled (two hours behind Auckland). While there, we went through immigrations and customs, then we were greeted by a welcoming band just as we had left customs. And then from there, we had another 2 hours or so before our next flight, which was a domestic flight to Luganville on the island of Santo.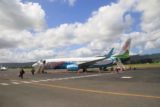 Once we checked in our bags and paid our domestic airport departure tax at the domestic terminal, we then went back to the international terminal (only 100m apart), where it seemed to have more of a festive feel to it. Perhaps it was the band helping with the ambience. But there were also a lot more foreigners (mostly Aussies and Kiwis with a handful of French, Russian, and Chinese) there as they were being received and picked up for staying there on Efate Island (mostly in Port Vila town, I'd imagine).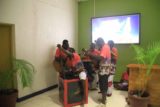 When we had our fill of the international side, we then went back to the domestic side just to sit and chill out. The terminal had been crowded when we first arrived without any room to sit, but now it was pretty empty as I'd imagine most of those people were being flown to a different island.
At this point, it was pretty much locals and a handful of others that were probably on the same domestic flight as us. By about 3:20pm as Julie and I were talking about stuff concerning the bislama language (seeing how it was kind of the ni-Van way of managing multiple languages [mostly English pidgin with a French flair]), the ground started to rumble.
Suddenly, the rumbling got more intense as we started to see the signs on the walls rattling, the ground starting to feel soft, and even locals started running to the outside of the building!
EARTHQUAKE!
Apparently, even locals weren't that used to this given their fight or flight reaction!
Just as Julie frantically tried to get me to move with the rest of the folks to the outside of the terminal, the shaking stopped just as suddenly as it had appeared. And after that brief interlude, we were back to just chilling out as if nothing had happened.
At about 3:45pm, a pair of Chinese ladies asked us if we spoke Chinese. When we affirmed, it turned out that they seemed to be in a bit of a bind. Apparently, they were trying to catch a flight to Santo (a chartered one), but somehow they missed it. Now, they wanted to catch the next flight to Santo (the one we were on), but it was sold out. With their language barrier, Julie was helping them translate and talk with the airport sales agent at the domestic terminal.
I guess to make a long story short, they had to taxi to the airport hotel nearby, then they'd have to catch a very early 8am flight (probably a 5am pick-up) the next morning. Julie learned that they actually live in Santo, which seemed amazing to me if they did that while still having a bit of a language barrier.
Anyways, by about 4:20pm, we finally boarded the twin propeller plane (always scary from a safety standpoint). And once we got into the cramped fuselage with room for maybe a dozen people, we patiently waited for the pilot to take off for Santo. Everyone was sweating bullets inside the fuselage and it reminded me of similar flights that took place in these kinds of planes in Venezuela, Fiji, Guyana, and others.
Mercifully by about 4:40pm, the plane took off on time, and finally by about 6pm, we finally arrived in Santo. I sat on the side of the plane against the sun so it wasn't very photogenic, but Julie managed to get some decent photos from her camera phone. The hotel proprietor Shane picked us up and we learned a bit about him and the island during the short drive to the Barrier Reef Beach Resort, where we were staying for the night.
Shane was an Aussie ex-pat who hailed from a coastal town south of Melbourne somewhere past Geelong. He seemed impressed by our knowledge of Australia, which was largely helped by us being there three times to this date as well as keeping up with Aussie culture through the Triple J Radio station that I stream from overseas. Turned out that he would listen to it as well whenever he was on the computer.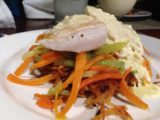 Anyways, they had a vacation home here, but eventually decided on a lifestyle change and moved here to turn this into a business. His description of the Millenium Cave and the Champagne Beach along with the Blue Holes on the island really amped up our anticipation of our upcoming tours for the next three days. But doing the bigger waterfalls on Gaua and other islands seemed to be an impossibility on this trip given our limited time and high cost (resulting from the last minute nature of this trip as well as lots of stuff going on back at home).
Finally by 6:40pm, we got settled into our garden bungalow or fare. And at last, we could finally stay still for a bit and look forward to a dinner (some kind of creamy fish with hash brown like bedding over complementary cocktails), island style relaxing, and catching winks before doing the Millenium Cave tomorrow…
Day 3: LOST SOLES
We awoke to our 6am alarm, which was probably more like 11am considering we were still operating on LA time. So we took our time freshening up then getting dressed. By about 7am, we had ourselves a decent breakfast, but we were also distracted by the nice morning weather, which induced us to take photos through the trees and out onto the blue water.
After breakfast, we waited patiently for our Millenium Cave tour to pick us up, which was scheduled for 7:30am, but we wouldn't leave until some time after 8am. I guess we were on island time.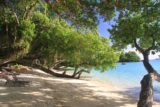 We got acquainted with an Aussie couple who were already in the van hailing from Sydney. It was funny how we were bonding over Triple J talk as I'm sure it must have been amusing to see someone hailing from the States knowing all about things like the Matt and Alex show, Aus Music Month, the Hottest 100, and a bunch of other things related to Triple J.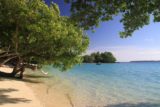 At about 8:35am, we arrived at the Millenium Cave office in Luganville. That was where we met with the ni-Van manager named Sam, who told us a bit about the tour we were going on as well as how proceeds from this tour went right back to the local community. We could clearly see the Australian government (and even the New Zealand government) were on board with what these folks were doing as we had seen signs affirming this as well as a photo of Australian foreign minister Julie Bishop shaking hands with Sam.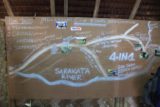 We also met up with another couple who were staying in the main part of Luganville, who also happened to be one of the couples that were on the flight with us from Port Vila to Luganville yesterday. This couple also hailed from Australia but they were from Brisbane.
Next, we got into the van and proceeded to be whisked along the paved road before leaving it as we headed into the foothills. The road was very bumpy, but the driver Serge was very confident in his handling of the vehicle on such roads. There was one part where the drive was surprisingly smooth as we were on a widened and paved part of the road that turned out to be an old WWII airstrip built by Americans.
Anyways, inside the van, we were all being shaken about, and it was almost as if we were having a ni-Van massage (as opposed to African massage) courtesy of the rough road. The car went pretty silent as it wasn't easy to keep a conversation going with all the shaking accompanied by rattling noises, and it wouldn't be until about 9:10am when we would finally make it to a village with a wide open space that looked like it was some congregating area or at least something that could accommodate many vehicles.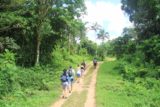 Once we got out of the van, we left most of the towels and dry clothes behind upon the suggestion by the guides that we wouldn't be needing them. We only took with us the dry bag that Shane provided at the resort (knowing we would be toting a DSLR on this excursion) as well as Julie's little backpack.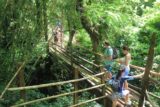 From there, we proceeded to go on a little bit of a walk that left this immediate village (I believe it's called Nambel), then along some combination of more four-wheel drive roads and some jungle walking, including some steps up and over tiny ridges as well as a bamboo bridge crossing. And by 9:40am, we would show up at another village, which was called Vunaspef (some maps also spelled it Funaspef).
At this village, the guides fitted us with some life jackets (though we wouldn't have to wear them until later), and we met quite a few more guides. Inside one of the thatched-roof houses we were at, there was a long table as well as lots of locally-made crafts hanging from the beams above us as well as along the walls. The purchase price of these things were on the order of 1000VT (vatu).
One of the other guides once again went over a map talking about what was going to happen next on the tour, which pretty much started with a 3.3km trek, then the Millenium Cave itself, then a lunch break at a hidden swimming hole, followed by some canyoning and floating. Finally, there was one bit of hiking back to the village. In total, the tour would take about 3-4 hours, they said.
It sounded like an intense trip. I knew this was going to be one of those excursions where you have to be comfortable being uncomfortable considering we were going to be sweaty and smelly given the humidity. And, I was very anxious about dunking any of our electronics or other things in water…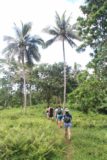 And so we were once again off as we now hiked out of the village and into more of the bush. The going was a bit rougher, but was still pretty much a benign bush walk with lots of shade from the surrounding trees. The guide made sure to show us some of the more interesting things about the bush like a particular poisonous plant (that looked very much like any other plant we saw out here) that apparently was very painful and even putting the wound in water would make it worse.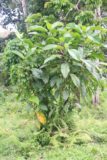 Other things the guide pointed out were some vines that turned out to be the same kind of vines that the land divers at Pentecost would use during their Nagol ceremony. They told us that the ceremony only occurred in April through June because that was when the vines would be at their most elastic. Of course, it was well documented that this ceremony was the very thing that AJ Hackett witnessed and was inspired by to come up with the sport of bungy jumping.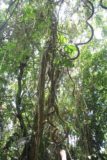 Julie and I tended to stay in the back of the pack (because I took a lot of trail photos), and so one of the guides stayed behind me. He showed me a particular leaf that actually was velcro-like to clothing, which was kind of a trip. Meanwhile, other things of note that the guides pointed out included bamboo stalks (some where huge), bananas (or plantains? I never could tell), taro, and other things the locals cultivated.
Eventually at 10:20am, we made a stop next to a trio of big bamboo stalks. Up here, there was a view of the jungle below us as well as a bush toilet between the bamboos. Up to this point, the hike was surprisingly comfortable (relatively speaking) and not as muggy as we had anticipated. Were we in the Wet Season, yet? It really felt more like the Dry Season, and it started to open up our minds and our eyes to going to the South Pacific in November given the good weather we had been having so far.
Next, we continued the hike, which was now mostly downhill. The terrain was a little more dramatic as we were descending ledges, but we could see that there was a lot of work put into the trails from ladders to footholds carved into rocks, and railings to help the unsure and unfamiliar foreigners with balance.
At about 10:45am, we descended down to stop 2, which was pretty much within the thick bush. At this point, we left our lunch and some of the heavier stuff with the guides. Meanwhile, we carried a dry bag to keep Julie's backpack in as well as my DSLR as needed. One of the guides painted everyone's faces to signify the various aspects of the next phase of our trip with each stroke of red clay.
And with that, we were continuing our descent. This time, there would be one guide per couple. We were guided by the eldest of the guides named Serge, who happened to be the father of the other guides who came along with us (all four of them).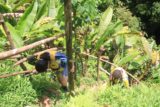 It didn't take long before we found ourselves at the top of a very steep descent where we could look right down at the impressive Millenium Cave itself. Earlier on at the office, I recalled Sam saying something to the effect that the cave was so named because it was open to foreigners in the year 2000. Serge told us that it was he that discovered the cave in 1987, and it was crazy to think that he could very well have been the very reason that visitors would go to Espiritu Santo Island because of this cave excursion (one that Shane the resort proprietor said was the best land activity to do on this island).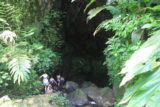 The descent was slow as there were ladders that we had to go down backwards (facing the ladder with our backs facing the dropoffs). I was also probably slowing us down because I had to take pictures to at least communicate the adventure we were embarking on at this point.
Once we made it to the bottom of the descent, we now found ourselves hiking pretty much within the Bamboo River. It was only a few awkward steps more before we then were right at the head of the Millenium Cave, where right above us were swarms of bats and swallows flying back and forth before another opening in the cave high up above us. I guess technically that would make this like a natural bridge or arch, but whatever the case was, this massive high-ceiling cave was impressive and like a lost world.
After going crazy taking lots of photos and movies of this cave entrance, we could see straight ahead that it was pretty much pitch black as we saw other tour mates ahead of us donning torches (flashlights) and headlamps. That was going to be us soon.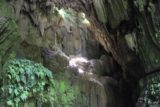 Again, we could see there was a lot of work put into this path as there were footholds carved into rocks to help with the slipperiness. It was amazing that while it was a struggle for outsiders with this, the locals were barefoot as they did the hiking. Clearly, they knew this cave inside out, including where to plant their next steps despite us about to descend into pitch darkness.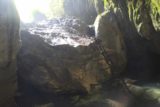 Now, we had to make liberal use of Shane's dry bag as we wouldn't want our camera to get killed by water. But that also meant if there were photos to take, it would be a bit of a hassle. But in any case, this next phase of the tour started to get intense as the only light available to us came from our torches. Meanwhile, we were clamboring over submerged rocks and footholds in the darkness while our eyes were adjusting to the darkness and low lighting, which was enough to resolve the high ceilings of the cave and even some of the interesting insects that seemed to call this cave home.
I don't think Julie and I had ever done something like this before, and it was good that we didn't bring Tahia along for this trip because we would have a serious problem bringing her along or figuring out where she could be baby-sat while doing this adventure.
Somewhere deep in this cave, we saw a waterfall that was coming out of a cave wall. The lighting was low so it wasn't easy to photograph. Since I could do long exposure shots with my DSLR, I was able to at least make it out, but it was most likely blurry as I would have to hold still for at least a half-second or more without a tripod.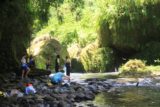 After this waterfall, there wouldn't be much more photo ops as it was pretty much all about the adventure. It wouldn't be until we were at the other side of the cave did it make sense once again to take the cameras out of the dry bag and try to take a few more photos. Eventually at 12:15pm, we would have a lunch break a short distance outside the mouth of the Millenium Cave at what appeared to be a rather hidden swimming hole on the Sarakata River, which was the very river that would actually make its way to Luganville and out to sea.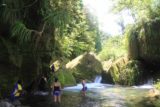 This swimming hole was a pretty neat spot as both guides and some of our Aussie tourmates jumped off the rocks and into the deep waters at the base of the two 5-ft waterfalls that were here. One of the guys also did a waterslide action with one of the waterfalls. Bottom line was that it was a welcome break, and we all knew that we were in a place that was unique and unforgettable to this point.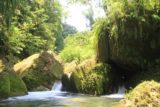 Tempering the elation of being in this special place was the fact that Julie's river shoes with spider rubber soles was missing the sole on her left shoe. So I'm sure that would make the footing going forward a bit tricky. I guess that's what happens when you haven't used that shoe for nearly 12 years as it died on only its second use.
However, when the lunch was over (this was around 12:45pm or so), the guides told us to put most of the stuff in dry bags that would go back to the village. I worried about not being able to take the DSLR with me for more photos on the next phase of the trip, and I guess there was a little bit of a misunderstanding in that I wanted to still have the DSLR with me (along with the GPS to track the action).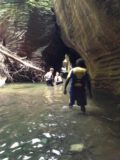 So in the end, we'd have to rely on Julie's camera phone as she had a waterproof "dry case" of her own that was a last-minute purchase at the Auckland Airport. And perhaps it was a good thing I didn't have all 7-pounds of camera with me because it would turn out that the next phase of the trip was even more intense than going 30 minutes through the pitch darkness of the Millenium Cave.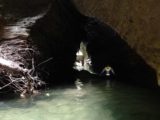 The trek at this point started off as river walking. But it quickly went into slot canyons that involved some bit of wading and even small sections of floating, which would've made things tricky with my DSLR even in a dry bag. Then, we got to some really hairy sections where there were rope and bolt-assisted scrambles with severe drop-off exposure. A misstep and fall in this section would most certainly be fatal, but the guides made sure that for each individual, we knew exactly where we should be planting our feet with each precarious step.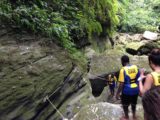 After this really intense section of canyoning, we then were on a wider part of the Sarakata River where it was more of a long float using the buoyancy of our life jackets. We passed by a trickling tall waterfall that we thought was the one shown at the office earlier on, but then not much further was the real deal waterfall.
Boy I wished that I had my DSLR with me at the time, but Julie's camera phone would have to do. We were looking for shallower spots to take photos of the falls without worrying about keeping the camera above water while floating. Once we did find them, we documented this "Hidden World Waterfall", which was definitely the most impressive of all the waterfalls that we saw on this excursion.
And when we were done, we continued to float downstream, where I was floating backwards to keep my eyes on the waterfall framed by the tall cliffs slowing drifting away. Indeed, this was one of those moments that would stay in my mind, but it wouldn't be documented (wondering if buying and using a Go Pro camera for this section would've been best).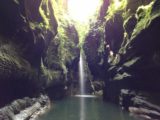 The floating would continue for quite a while longer, and it wouldn't be until some time near 2pm or so would we finally get to the end of the floating section. It was during this part of the tour that I realized that one side of my Keens was also missing the toe kick part of the sole. So that pretty much meant that this shoe was probably dead after this excursion and definitely for this trip in general.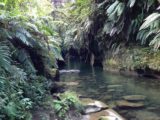 The sole on my right shoe was still there, but the foot bed was prone to coming out.
Anyways, the next part of the trek was now a very steep uphill jungle trek again on rocks carved out by the guides. Some of this steep hiking included walking directly in the courses of small cascades and waterfalls, and there were plenty of rope and chains to assist with the nearly vertical ascent. Clearly, going up this path was the way to go as going down it wouldn't be a wise thing to do.
After this intense bit of uphill scrambling (again with Serge making sure we were fine on the ascent), the path then flattened out at the top of the climb and we then found ourselves walking beneath coconut trees and alongside some subsistence farming plantations growing stuff like kava, taro, pineapples, mangos, papaya, bananas, and more.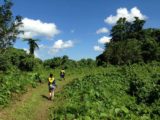 Finally at 2:35pm, we were back at the Vunaspef village where our tour mates were waiting. We probably kept them waiting about half-hour or so, but with excursions like these, who's counting time? Anyways, we were exchanging stories of our experiences while also enjoying very sweet island pineapples and papaya. There was also coffee there. And man the fruits never tasted sweeter as we knew everything tastes sweeter after long excursions like this.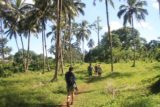 I was indulging one of the guides (one of Serge's sons) with some French practice as I had recalled Serge saying that half of his sons were schooled in English schools while the other half were schooled in French schools. No wonder why bislama was needed to enable all the different ni-Van dialects and foreign languages to be bridged so people could communicate with each other.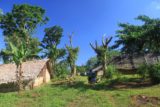 So we recovered our stuff, and then proceeded to walk back to the van at the other village. And at that point, we were back doing the ni-Van massage on the rough road as we were being whisked back to our respective accommodations in Luganville and beyond.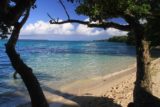 Eventually at 4:20pm, Julie and I were back at the Barrier Beach Resort. We would end up having dinner at the Moyyan House, which seemed to have a bit more variety on their menu, while we also took advantage of their happy hour.
Then, we saw the Aussies from Brisbane who were on the tour with us earlier in the day as they were coming to dinner at the Moyyan as well. I guess that would make sense since they were staying there. And so we relived our Millenium Cave experiences since it was still fresh on our minds.
The dinner of pork belly and filet mignon was satisfying but perhaps not all that impressive compared to the reputation that preceded them (and the price that was commanded). The nice breeze once again made it feel like it was Dry Season as opposed to Wet Season. In any case, the jet lag was catching up to us as it was getting later in the evening, and by about 8:30pm, we were back in our room to get cleaned up and ready for bed. It was past 1am at home, and so it would be the end to this unforgettable day…
Day 4: ALL ABOUT THE COLOR BLUE
It was 5:30am when we awoke. But throughout last night, I thought we were hearing rain. So much for the good weather sticking with us on this entire trip. I instantly started thinking about our Tahiti trip a couple of years ago where it started off sunny, but quickly went south for the remainder of the trip.
I also wondered how our excursions for the rest of the trip would be affected, especially those involving jungle treks to waterfalls like the Mt Hope one we were to do tomorrow…
Plus, how would Tanna and Mt Yasur be affected? As well as the Mele Cascades towards the end of the trip? Well, at least we got the Millenium Cave out of our system yesterday just before this rain showed up. But now, how would the Champagne Beach experience be given this turn in the weather?
The rest of the morning was pretty chill as we had the familiar breakfast though Julie decided on paying the 1000VT for eggs and toast. The wind was blowing and the water seemed a bit choppy. Plus, the skies were a bit more overcast with a few breaks here and there revealing the deep blues in the water just offshore.
We were finally able to Skype Tahia back at home, and we managed to show her the beach and the water. She expressed a desire to come to Vanuatu so she could play in the sand and on the tire swing that she also noticed when we pointed the laptop towards those things. And then she was really sad when we had to say good-bye.
It wasn't an easy decision to leave our little girl behind for this 10-year anniversary trip, but we knew that doing things like the Millenium Cave wouldn't be possible otherwise.
Anyways, it wasn't until about 9:05am when we met up with Ivanna's brother named Tono (sp?), and he was the one who would drive us around for most of the day.
First up was the Nanda Blue Hole, which we got to at 9:35am. It was also called Jacki's Blue Hole on some maps. But the locals refer to it as Nanda. Anyways, we paid the 1500VT per person to get right up to this freshwater lagoon with an impossibly blue color. And now we could see why it was such a coveted spot on Espiritu Santo island.
We probably spent a good 20 minutes just taking photos trying to somehow capture the majestic clear blue pool against the green of the surrounding bush. There were quite a bit of fish swimming below us as we were standing on the wooden deck safely trying to compose our shots. One of the villagers also brought out some freshly cut papaya.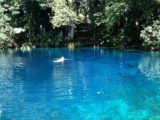 I spent some time swimming in the really cold water, but it didn't take long for me to warm up once I was in. With the snorkeling gear, the clarity and visibility of the pool was quite impressive. I could see there were indeed some reefs down below, and perhaps this was what helped to give this hole its deep blue color.
It was pretty much just Julie and I enjoying the Nanda Blue Hole. We knew cruise ships sometimes would come here, and we could just imagine how much busier the place would be under such circumstances. So we were counting our blessings that we were able to enjoy this place in peace.
At 10:05am, we left the Nanda Blue Hole then continued the ride further north towards Champagne Beach. This was the anticipated highlight of the day, and if the Nanda Blue Hole was any indication, this beach promised to be really good.
At 10:40am, we would finally arrive at the Champagne Beach after paying the 2000VT to get in. Indeed, the color of the water gently lapping towards the fine white sandy beach was a beautiful hue of blue, and once again, we knew we were in a place that was very special. There was no crowd from a cruise ship on this day as it was just one family of three and us when we showed up. This further added to the magic of the moment.
The beach was blindingly bright thanks to the fine white sand. But the water's blue hue contrasted the sand to such a degree that the water was also very bold in color. Surrounding the beach were some palm trees as well as some huts that Tono said were for markets that would be set up here when the cruise ships would arrive. So on this day, those huts were mostly empty, and they provided some much needed shade (along with the trees) since the sun was so intense.
After spending quite a bit of time taking photos of this impossibly scenic place (possibly the most scenic beach we've seen to date – even surpassing the beaches we saw in Phuket which were way busier), Julie and I then went into the water to do a brief round of snorkeling though the sea life here wasn't nearly as impressive as the Nanda Blue Hole (which wasn't really saying much). Nonetheless, this was the place to chillax and we pretty much did just that for the next hour or so.
It wasn't until about 12:15pm when we finally left the Champagne Beach as we were hungry for lunch at Port Olry. Ivanna at the Barrier Reef House told us that there was a good place for Spiny Lobster or Crayfish. And her brother confirmed that as he was headed right over there.
When we showed up to Port Olry at 12:45pm, we walked up to the beautifully-situated thatched-roof shack that was indeed the restaurant. Fronting the restaurant, however, was another beautiful white-sand beach fringed wih palm trees. And again, we saw beautiful colors in the water contrasting with the blindingly white sands as well as some offshore islands under some threatening thunderclouds serving as the backdrop to this scene.
I started to wonder whether this was every bit as scenic as Champagne Beach. But perhaps the one knock on this beach was that the water was quite a bit rougher than Champagne. Still, it was very picturesque, and once again, we spent quite a bit of time taking photos while also waiting for our lunch (after making our order).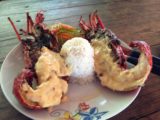 And like with the Champagne Beach, this place was relatively quiet with only a handful of tourists or backpackers out here. I'd say even just for the location alone, this lunch spot was well worth the detour to get to.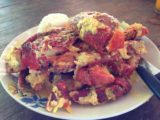 So Julie and I spent the next hour or so having our lunch. We were talking with Tono about a bunch of things mostly concerning island life and the like. Eating the shellfish was a bit on the messy side so there was quite an army of ants who were trying to pick up some scraps that I was leaving behind.
It took quite a bit of time to get through our food given how much work we had to exert. But by about 2:55pm, we finally left our lunch spot at Port Olry, but not before a pair of folks were also hitching a ride with us. It turned out that they were headed back to Luganville, but we were headed in that direction anyways.
The couple that went with us was an American guy from Florida and Georgia who was working in the Peace Corp., while he was joined with a French lady from Paris who was teaching French in Luganville. Both of them were on a bit of a world tour that took them to places like Southeast Asia and ultimately to Vanuatu, where they felt Port Olry was the most beautiful beach in the world.
We learned quite a bit about their journey as well as some of the ni-Van customs since they had already spent over a year here. It was probably through this journey that they found love in each other (or at least that was what we gathered from our conversing).
Indeed, it was moments like this that reminded Julie and I why we enjoy traveling so much as we would meet people from different walks of life that we would ordinarily never have met or conversed with. Such moments further expanded our minds to embrace the diversity of the world and the types of people who possessed that adventurous spirit that we both could admire and respect.
Of course, these folks made our adventurous spirit look very tame in comparison where they were more like the type of folks who go places without a real plan and let them go wherever life takes them. It wasn't the first time we met people like that (we did meet a Canadian couple while on our Angel Falls trip back in 2007), but it was always refreshing to try to learn or at least experience the world through their stories firsthand.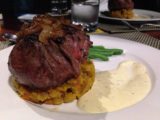 Anyways, it was about 3:50pm when we finally made it back to the room at the Barrier Beach House. The volunteer couple also got off at this spot. Anyways Julie and I would spend the rest of the day unwinding (and unsuccessfully trying to Skype Tahia) as this was pretty much a chill day for us. We dined at the Barrier Beach House since they had beef this evening.
And tomorrow, we were hoping the adventure would continue at the Mt Hope Waterfall, but that would be weather dependent. And we weren't sure whether the weather would cooperate.
So we'll just have to wait and see what comes next…
Day 5: LOCAL FLAVORS
It was 6am when we awoke. As our body clocks were still getting adjusted to local time, we didn't have much difficulty obeying the alarm. And so the next couple of hours were spent taking our time getting prepared for the day's excursion, which was the Mt Hope Waterfall.
After having our fruits and cereal for brekkie, we were then waiting for our tour at 8:05am. Knowing that things operated on "island time", we didn't fret about the tardiness. And at 8:25am, we were then whisked away by the pick-up truck and three guides (John, Richard, and Sabrina) that was to take us to the Mt Hope Waterfall. The tour was operated by Oyster Island, so we were also looking forward to having a lunch there just to try something different since it was said to be on the way.
But just before we were headed for real to the Mt Hope Waterfall, we had to pick up another couple who happened to be staying next door to us at Moyyan. I was joking with Julie that it might be the same couple that went with us to the Millenium Cave a couple of days ago as well as on the plane ride with us to Santo from Port Vila the day before that…
And by 8:40am, sure enough, it was the same couple that I joked with Julie about!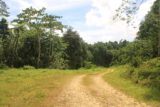 We finally learned their names were Joel and Melia. So with that bit of a festive atmosphere from this deja vu feeling, we were learning even more about this couple who hailed from Brisbane though Melia was originally from Tonga. Even with the rough ride (and ni-Van massage) on the 4wd road that left inland towards Mt Hope, we were still conversing.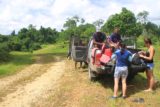 Eventually at 9:35am, the truck stopped past the gate signposted for Mt Hope, and we got out of the truck to get fitted for life jackets while leaving most of the stuff in the truck. Once again, I left the SLR camera behind as the guides encouraged us not to bring it even though we had a dry bag. Part of me was relieved that I didn't have to bring the DSLR and risk getting it dunked in water, but at the same time, we were once again relying on Julie's camera phone and her last-minute purchase dry bag specific for the camera phone.
And so we were off walking downhill towards the Sarakata River (the same river that comprised part of the Millenium Cave tour), and we would eventually be standing on the bridge over the river. Once we got through the safety briefing, everyone but Joel went down a bush trail leading to an easier place to put into the river. Joel followed one of the guides towards a part when you'd have to jump in from pretty high up.
Then, once we were in the water, there was a bit of a current to fight so Julie and I managed to cling to the wall a little further downstream from the others who were waiting for everyone to put in.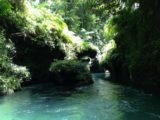 And at this point, it was pretty much all floating downstream on the Sarakata River. And since we were pretty much floating the whole way, it wasn't really feasible to take photos (or at least hold the tour up for it), especially with the risk of dunking Julie's iPhone in the river.
The floating was mostly relaxing as we let the current take us downstream while we were looking forwards, backwards, and up from within the gorge. There were mozzies whizzing by my head as I'm sure the DEET washed off by the river. There were also lots of dragonflies and other moth-like flies hovering about above the river as well.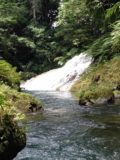 Then, there were probably about four or so "rapids" where we had to keep our legs up while being pulled feet first downstream. Failure to keep the legs up meant the likelihood of kicking or scraping a submerged rock. But doing the rapids successfully meant it felt more like a waterslide, which was pretty thrilling.
The very last series of rapids were right at the base of the Mt Hope Waterfall. There was a part where the whole tour stood on a rock to get a look at it while the guides made one last bit of instruction concerning how to float towards the waterfall (on the left) then to the right to climb up alongside the falls where the guides awaited. But overshooting the waterfall wouldn't be a good thing as there was a dropoff about 30 minutes further downstream…
Of course I was the last to make my move as I was taking a photo and a movie of the action taking place. Eventually, I did as the guides were instructing me (with their watchful eye as well in case I screwed up), and then I'd finally make my way up the Mt Hope Waterfall where the Mt Hope River was hugging the sloping limestone-like formation before joining the Sarakata River.
This was one of those waterfalling excursions where pictures and movies didn't do it justice. It was really more about the experience. Nonetheless, I did my best to capture the moment while making sure we had some memento to bring home essentially documenting this fairly lesser-known excursion.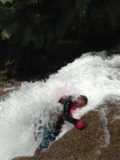 There was even a part of the cave where a guide got Joel to go behind one small drop of the falls where it was said that you could have had a smoke from back there if you wanted to. From looking at the hesitation on Joel's face, I wasn't sure if he was buying it, but he did go in there and back out.
Then, we continued to climb up the waterfall, which got progressively less steeper the higher up we went. And when we would finally make it up to the very top of the falls (which were now more like rapids at this point), we then re-applied bug spray while others were busy trying to wash off some worms that managed to cling onto those who chilled in the water (especially since Julie and Melia were sitting within the falls to get a "massage").
The remaining bush walk was pretty straightforward and lasted another 10 minutes. And by 11:15am, we finally made it back to the truck where there were cut up grapefruits as the refreshments.
We chillaxed a bit for another 15 minutes until it was decided that we'd drive directly towards Luganville instead of the Oyster Island Resort. Apparently, Joel wanted to try some local food for lunch. And so that was what we did.
During the drive on more bumpy roads, John was driving and we were learning a bit more about him since he hailed from one of the Banks Islands of Northern Vanuatu. The rest of the party were sitting outside on the back of the truck (probably more so Joel could have a smoke) but they all had to hang on given the bumpiness of the ride.
John showed us some of the interesting things about the drive like he pointed out a series of American WWII bunkers that looked more like hobbit holes. We also learned that the Mt Hope Property was owned by some Australian actress though we didn't know who at the time. He also pointed out to us who owned what as apparently there was a Kiwi landowner who owned quite a significant chunk of cleared land that was clearly used for cattle grazing. There was even a part that was Japanese owned who also exported cattle beef as well.
It wasn't until about 12:30pm when we finally made it Luganville, and that was when we stopped at a local food stand selling very local stuff like taro, toloch (sounds like "two look"), and lap lap. They were all starchy staple foods that were really local to Vanuatu. The toloch had meat in it, and it really reminded Julie and I of a Chinese version of sticky rice with meat wrapped in banana leaves (zongzi). Even though we were headed to Oyster Island for a lunch, we just had to try the local fare as it was a mere 100VT for each thing we got.
Compared to the resort prices at 2500VT to 4000VT or so, you couldn't be any more reasonable than that!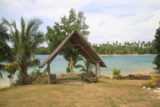 Anyways, on the way back to Moyyan then to Oyster Island, we learned from John that most of the place names in Vanuatu were foreign named. He cited one example, where he said Melakula Island was actually named from a Portugese explorer who needed to do a #2 in the bush. It turned out that he wiped his butt using stinging leaves, and when he was feeling pain, he kept saying, "Melakula, melakula!" which he said meant "pain in the butt". So it turned out that the name stuck and Melakula Island (just south of Espiritu Santo) was literally "Pain in the Butt" Island. He said to make sure that I talk to Ivanna about it since she was from Melakula Island.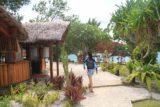 Meanwhile, Espiritu Santo was Spanish named.
Other names were named by Captain Cook like Ambrym and Pentecost.
John said the only native name was the nation of Vanuatu itself, which came from the time when Vanuatu became independent. It was formerly called the New Herbrides, but once independence was attained, that was when the name became changed to Vanuatu, which meant "our land".
Eventually at 1:10pm, we made it to the dock at Oyster Island (after dropping off Joel and Melia at Moyyan). The dock was interesting in that Julie went up to a bell and rang the gong to summon the boat ferry to pick us up and take us across the small (and colorful) strait to Oyster Island itself.
At 1:25pm, we finally had lunch at Oyster Island, where we treated ourselves to a couple of fruit juice cocktails as well as a couple of fish salads and a burger. The fish salads were the thing that I was looking for all along on this trip as it was the ni-Van version of the Tahitian poisson cru. The difference here was that it was prepared more as a salad dish but it was still swimming in coconut juice just like the Tahitian version.
The burger was something we probably could have done without though the meat patty was really good, but the bun was kind of weird.
When we were done with our lunch at 2:30pm, we spent some time taking photos while also conversing with the manager, who was Aussie, but had spent some time living in San Diego. He said it was only his third day on Oyster Island though he used to run dive tours for cruises near Santo Island. Anyways, we learned from him that the owner of Oyster Island was indeed Kiwi, and that the Mt Hope land was actually recently purchased by actress Cate Blanchett.
He was saying that she was trying to make the beef of Vanuatu more well known, while also helping to put Vanuatu more on the map than it currently was. I guess that's kind of the trade off though for the very thing that we loved about Vanuatu (the chilled atmosphere, the lack of commercialism, and the pristine sights), were the very thing that those with vested interests were working to bring more attention to (thereby compromising those very things we loved).
We're not sure whether Vanuatu would be a very different place the next time we're so fortunate to come here. But in the mean time, Julie and I were focused on just enjoying the place for what it was at the moment.
At 2:50pm, we were back at the Barrier Beach House after being hailed a taxi which was driven by Louis, who beared a pretty strong resemblance to Sammy Sosa. We paid the 1000VT for this short taxi ride, and then we went next door to the Moyyan for a massage.
Unfortunately, we learned that they were fully booked for massages on this day so we would have to book for first thing tomorrow morning at 8am, which was actually two hours before their 10am normal opening hours. In any case, Julie wouldn't be denied the massage, and we'd finally have our couples massage, which we hadn't had for at least 6 years or so. I really can't remember when was the last time we did it.
In the mean time, we spent the remainder of the afternoon on a Skype call with Tahia but this time my parents were there with her along with Julie's mum. It was nice to show everyone what it was like at the resort, especially the fare we were staying in as well as the beach right in front of the property. We even met Shendell and her daughter Madeleine, who happened to walk in while we were on our Skype call (Shane was away at the time).
And so when the family affair ended, we finished eating our local fare that we had bought a few hours earlier even though we were pretty full. Julie wasn't too fond of the taro or the laplap, but she did like the toloch.
The rest of the afternoon was spent just chilling out. Julie napped, while I was busy blogging. And by 7pm, it turned out that Julie and I were the only ones eating dinner at the Barrier Beach House. Flavia (one of the workers) thought it was too windy to dine at the resort, but I suspected that it had more to do with the menu, which was a fixed menu of pasta carbonara with garlic bread and salad. I'm sure others thought this was the day to give Moyyan a try.
Julie wasn't too keen on going back to Moyyan since it was pricier and it didn't seem to live up to the hype. But in any case, upon a quick inspection, Julie spied that Moyyan was very busy as I had anticipated. I'm sure most of the folks dining over there will be there for a very long time because it took so long to get our food when we were there, and I'd imagine those folks would have to wait even longer since there was now greater demand against a seemingly understaffed kitchen.
And so we pretty much had ourselves a very peaceful and relaxing dinner as well as a rather quick one even though we were quite stuffed already after having eaten the lcoal food earlier in the day. I know I could feel my tummy bulge at the end of this meal despite the healthy salad though the pasta was on the creamy side.
When Flavia was helping with the cleaning of our dinner, I took the opportunity to ask her about the anecdote that John told me concerning Melakula Island. She laughed real hard upon hearing it from me, and she knew that John had me fooled all along, especially since John and Ivanna once worked in the same resort in years past. So it turned out that Melakula didn't mean "pain in the butt" and I guess I'll have to Google the origins of its name later on…
But all in all, we concluded yet another eventful day of adventure. Tomorrow, it was time to fly to Port Vila (and exchange some money) before flying over to Tanna Island. Of course, we'd have to get packed first, and we still have the morning massage, but that would essentially conclude the first half of our brief weeklong stay in Vanuatu…
Day 6: TOK TOK MOA
It was 6:15am when we awoke. Actually, it was Julie that woke me up as I had apparently slept through my watch alarm. We didn't really have a whole lot planned on this day as it was pretty much a travel day, but we did have a pre-booked massage at the Moyyan that Julie was looking forward to, especially since we hadn't done a couples massage in several years.
After our breakfast (which included eggs and toast along with the usual fruits and cereal), we then went to Moyyan where we participated in our pre-arranged massage. The next hour or so was a bit of a blur as we each were in our neighboring rooms and let the masseuse do the rest. I know mine was a bit on the intense side since I didn't know what was too hard and what was too soft, but I reckoned it was fine regardless.
The thing that struck me about our massage experience wasn't so much the massage itself, but it was the AC-chilled room we were in. It made me realize that all this time, we never needed AC for our entire stay in Santo, and now that we were in an AC room, it was actually quite cold. But once the massage was underway, I quickly realized that the AC was really more for the masseuse than it was for the guests as I saw how much hard physical work it was. I'm sure with all the physical work involved, the AC must have made things a bit more tolerable for them.
When our massage was done, we went back to the front desk to pay, and that was when we once again saw Joel and Melia. They were headed for their morning brekkie, but we learned that they were headed up to Port Olry and Champagne Beach before their late afternoon flight to Port Vila. When we headed back to our room at 9:25am, Julie was a bit bummed about not having a hot shower (as apparently the hot water tank or natural gas line wasn't getting to the water). But other than that, while she was washing off the massage oils, I just went ahead and explored more of the property on either side of the Barrier Beach House property.
On the one side, I went as far as what appeared to be Shendel and Shane's home past Moyyan, and on the other side, I went towards some property that appeared to be for sale. With the nearly cloudless skies and bright sun, the blue in the water was really pronounced. It's funny how weather like this tends to occur on travel days when it doesn't really matter so much, but in any case, I took the opportunity to try to capitalize on this good weather with some photos to take home with us to have reveries about.
Eventually at 10:05am, I returned to the room where we did some more last minute packing to prepare for our journey to Tanna Island. We lounged around some more at the general lobby area where we took a few more photos of each other at the beach as the water became even more blue with the sun rising higher in the sky. Then, we chatted a bit with Nick and Luanne (sp?) who hailed from Sydney who we had seen quite a bit at meals at the resort.
Eventually at around 11am, we all left together with Shane to go back to the airport. Once there, we chatted some more complimenting Shane on the wonderful stay that we had there, and we also conversed with Nick and Luanne some more while waiting in line to have our bags checked. Considering there really wasn't much going on in this travel day, we pretty much just chilled out for a bit before boarding the pretty full flight back to Port Vila on a plane that seemed significantly larger than the one we took to Luganville from Vila four days ago. We would leave Luganville at 12:50pm.
At 1:50pm, we would arrive at the Bauerfield Airport in Port Vila, and so we took this opportunity to exchange some more money while also having a meat pie at the international terminal. We then went back to the domestic side where we just patiently chilled out until our next flight to Tanna Island.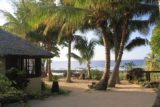 It wouldn't be until about 3:20pm when we would finally board the plane to Tanna, which itself was a surprisingly full flight on a plane that was similarly as large as the one back to Port Vila. And the 35-minute flight to Tanna Island had pretty much lulled me to nap just like the 45-minute one from Luganville to Port Vila earlier on.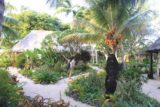 Once we landed, we had to negotiate the crowded baggage claim window before we would get picked up by the truck that would take us to the Whitegrass Resort. It was funny how our truck driver pretty much blocked the airport traffic to load us up, but I guess in this island, no one was in a hurry.
Eventually at 5:15pm, we got all settled at the Whitegrass Resort, which wasn't far from the airport (it might have even been walking distance). It turned out that our room might have been meant for Phil and Alex, who were staying in the next bungalow over, as there was champagne and a letter that was addressed to them (did they swap our rooms?).
Anyways, the rest of the day was spent chilling out at the general restaurant and bar area as we watched the sun set at 6pm over happy hour cocktail (that may have been reasonably priced, but it was kind of watered down). Still, the relaxing scene of watching the sun sink towards the cloud-banded horizon with the calm seas lapping towards the volcanic rocks below us was sublime.
Other guests were also capitalizing on the sunset scene, and even the manager Wayne was chatting it up with the guests.
After the sunset, we chillaxed some more at the restaurant, then had a dinner of poulet fish and rock lobster (crayfish). The lobster was messy eating, but overall the dinner was good and made up for the cocktail. All the work we had put into getting as much meat out of the lobster reminded us of how much we wasted at Port Olry where we had rock lobster there but left quite a bit of stuff where the legs and head were.
At 8:15pm, we were back at our room, knowing that we were going to be in for a very long day tomorrow…
Day 7: THE LEGEND OF YASUR
It was 6am when we awoke. We were actually somewhat awake even earlier than that (like around 5am) because we kept hearing birds or bats flying about. We couldn't tell if they somehow made their way into our room, but when there was enough daylight to see what was going on upon or awakening, we could see that our bungalow (or fare) was pretty much open air except for screens above our front door. So we must have heard them flying past.
While Julie was freshening up, I spent some time exploring a bit of the property seeing that this would be our only full day on Tanna Island. I saw a local out by the reefs fishing or something already at this time of the day.
At 6:35am, I had walked all the way to the end of the jetty. Along the way, I was able to see lots of life such as sea cucumbers as well as small fish in the tide pools flanking the walkway leading to the jetty. Some of the coral even looked like they were healthy (like pulsating brain coral and others). There was even a school of dark catfish-like species gathered in a ball.
When I got to the end of the jetty, I could see the somewhat rough seas concealing a 20m drop right into the deeper ocean. I'd also imagine there was a current there as well since I'd imagine boats might access the jetty through this opening in the coral reef. I could only imagine how cool the snorkeling or diving would be way out here, but I'd also imagine that you would really have to know what you're doing as well so as to not be swept out to sea by a rip tide or sea current.
When I returned to the room, I told Julie about my findings, and so we spent a few moments going back out to the jetty so she could see for herself what I had seen. While she didn't quite see the same fish species that I had seen earlier, she did spot other interesting life in the tide pools like an eel looking for a meal as well as some brightly colored fish scampering from rock to rock.
At 7:20am, we finally had ourselves a brekkie. And the brekkie turned out to be easily the best one we've had on this trip so far. We started off with multiple glasses of coconut juice (something we hadn't had so far), then we each had a fruit platter that consisted of very sweet soursop (reminding us of mangostine), lychee, mango (all of which were not-so-common southeast Asian fruits), as well as bananas and watermelon. Then, the cooked breakfast was coconut pancakes (really just pancakes with coconut shavings) or eggs over toast with basil thrown in there for a bit of an unusual but effective flavor mix. And that was accompanied by sausages and beans.
Since we anticipated being out all day with the morning waterfall and beach excursion followed by the Yasur Volcano in the evening, we figured that we mind as well stock up on the food even though we also had a picnic lunch provided for our waterfall and beach part of the tour.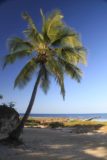 At 8:10am, Julie and I got into the awaiting 4wd vehicle, and we headed off on our waterfall tour. It was only going to be us on this tour so it was intimate. Nick and Luanne thought about doing it, but they wanted to mix things up a bit (having done the Millenium Cave in Santo) and opted to visit a native village.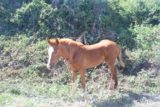 About ten minutes into our drive, we noticed a horse off the side of the road. Our driver noticed that it was tied up at one point given the rope around its neck, but then he noticed that the horse had one bad leg as it was bloodied and it looked like it wasn't even putting any weight on that bad leg. We weren't sure how it happened, but there wasn't much we could do for the horse so we continued on.
The bumpy drive would persist for the next hour or so as we would wave towards smiling villagers walking alongside the road tending about their daily lives and chores. It seemed like there were no paved roads on Tanna Island, which attested to its rather remote and undeveloped nature.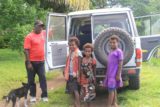 Eventually, we left the "main" road and then veered onto a bush road that I'd argue marginally counted as a road. This road was even bumpier and more uneven than the roads we had taken to this point. And at 8:50am, we then got to a part of a remote village where the driver stopped the car, then picked up three kids from that village. They gave us flowers as they greeted us, then they hopped into the 4wd as we resumed the drive.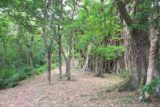 The road degenerated further into something that was more like a foot trail as it weaved around trees and traversed sloping ridges, but at 9:05am, we eventually stopped the car deep in the jungle where we all got off and proceeded to continue walking further into a gorge. The hike was pretty steep on the descent, so I knew that it would be pretty hot and sweaty on the way back up.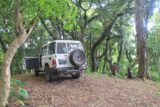 Both Julie and I were wearing reef shoes, but the kids were in flip flops or bare-foot despite the steep terrain. I could imagine just how much muddier and more difficult it would be had it been the Wet Season or had it rained recently. But anyways, we'd eventually get to the base of the descent at 9:15am, and that was when we were right in front of the impressive Louniel Falls.
The waterfall was vertical and more like a normal waterfall in the classical sense. Up to this point, all the falls we had visited were play waterfalls or were so remote that it required a bit of an adventure to get to. However, in this case, it was the conventional hike. The kids didn't waste time getting into the chilly water, and after a few minutes of taking photos and movies, I decided to join them.
One of the kids caught a freshwater prawn and showed it to us. Meanwhile, Julie was catching me swimming them wading towards the base of the 20-30m falls. Now that we had our waterfalling excuse to talk about the Yasur Volcano tour that was coming up later in the day, we were pretty content with this waterfall sighting.
At 9:50am, we finally left and made the steep and sweaty uphill climb back to the awaiting 4wd vehicle. We'd eventually get back there by 10:05am, and while we were there, one of the kids shared a small fruit that was reminiscent of guava.
Anyways, the driver then took us back up the rough "road" and then veered onto another rough road leading us further past this waterfall trailhead and eventually towards a more open spot where we would have to make a hike down to a black sand beach called Louniel Beach. We would start the walk at 10:30am, where there were plenty of cows grazing about.
Again, it was a pretty long downhill hike beneath palm trees and flanked by lots of jungle bush, but by 10:45am, we would finally arrive at Louniel Beach. Being that it was a black sand beach, it didn't turn out too well in our photos, plus the seas looked a bit on the rough side (probably ideal for surfers). But it was a relaxing spot to have our picnic lunch while just watching and listening to the waves crash against the lava rocks as well as the fine black sand.
Since there was a lot of food in the picnic lunch, Julie offered to share a bit of the food with the kids who gladly took it. They seemed pretty hungry. We also shared some water with them as well as some of the other packed stuff like banana bread, banana, and a mango.
Then, while Julie and I were having what was left of the picnic lunch, the kids went down to the black sand beach where there seemed to be a pool draining to the ocean. The kids were swimming there, and we saw that one of them even caught a fish down there. She tried to build a fish pond for the fish that was caught.
Julie and I couldn't eat the remaining mango since we didn't have a knife. So we thought we mind as well take that back to the resort where we could have the equipment to properly enjoy it. Meanwhile, the banana bread was very moist and delicious. It was a good thing Julie shared the food because there was way too much for Julie and I to finish alone. But Julie also wanted the driver to have some of our lunch (we left him a sandwich and a banana) so we put those things back in the cooler as we were ready to leave at 11:40am.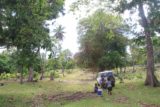 The kids didn't seem very eager to leave so we had to hail them a couple of times before they realized that we were ready to go. Given that it wasn't even 12pm, I guess we were ahead of schedule. Julie wasn't interested in lingering around until 2:30pm, which was when we were to go to the Yasur Volcano, so it was decided that we should go back to the resort to chill out for a bit before moving onto the next major tour of the day.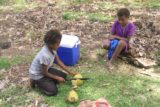 So we made our hike back up to the 4wd vehicle, and we'd eventually get there at 12pm. While the hike up seemed long and hot, at least there were some tropical breezes to help keep things relatively cool. It wouldn't be until 12:15pm when we finally left for the resort.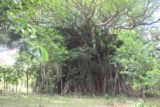 As we were making the drive back to the White Grass Ocean Resort, we noticed there was some kind of celebration going on at the French Primary School we saw on the way to and fro. There was a quite a crowd as the driver pointed out to us that the teacher was receiving a bunch of gifts from different people's kids of that school or something like that. There was a bit of a festive atmosphere as we witnessed all this going on from the road, what with the music being played and a lot of folks looking on with smiles and cheers.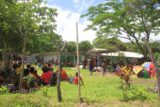 Apparently, the kids were on holiday, and we were told that tomorrow was also a public holiday. Those were the main reasons for the celebrations going on.
At 1:25pm, we eventually made it back to the White Grass Ocean Resort. We chatted with Phil and Alex briefly about their Serbian background even though they're living in Australia now. We also commented to them how Phil reminded us of Freddie Prince Jr., and apparently they acknowledged that he gets that comment hundreds of times.
When Phil and Alex retreated to their room, not long thereafter Nick and Luanne showed up, and we chatted with them some more. It was really feeling like we were really getting to know them given the amount of each other we were seeing and interacting.
We also chatted with a guy working on developing the agriculture in Tanna Island as well as other provinces of Vanuatu. He was part of an effort to bring up Vanuatu's farming practices for world export though I sensed something was a bit off about that approach as subsistence farming (i.e. farming within the island's means) was the current way of doing things, which had gone on for centuries. However, it didn't really fit (or seemed primitive to) the plunderous world economic view that he was trying to get them to go with. If this succeeds, I get the feeling the islands of Vanuatu would be even more stripped of their natural resources than before.
Meanwhile, we were sharing a spaghetti bolognese as well as a small fruit "salad", which was more like cut up fruits in a juice-filled bowl.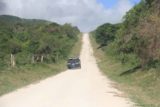 It was a relaxing way to whittle away another hour or so before we would finally head out for Mt Yasur at 3pm (originally 2:30pm). We had to drop off a trio of folks at the airport, but then we took off in earnest.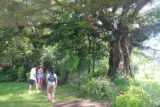 While we were quite familiar with the bumpy roads, at 3:30pm, we'd eventually get to a spot where we stopped the vehicle along with the rest of our group in front of us. And we were walked towards a small gathering where a childrens choir from one of the local villages was serenading us. It was beautiful, and it also brought smiles to all six of us. We also took plenty of photos when the singing ended.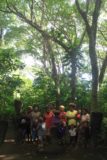 Something that Julie and I noticed was that the cicadas were ringing and chirping louder as the volume of the singing increased. When the songs ended, the cicadas were doing their thing much quieter than before. Were they trying to sing along with the choir?
Next, we resumed the bumpy drive, which one again drove past some remote villages while we were waving at people when we'd pass through. In one steep section of switchbacking road, we made a brief stop to take photos of Mt Yasur in the distance. However, since there were quite a few clouds, the colors of the mountain didn't really show up. That said, we did see some ash clouds rising from the vent in the distance.
It wouldn't be until about 4:30pm when we then arrived at the desolate ash plain surrounding the Mt Yasur Volcano. This large black sand plain with some reddish lava remnants sprinkled throughout was otherworldly. We also noticed quite a few other 4wd vehicles passing by and continuing on while Julie and I were taking photos where the driver stopped and let us experience this spot for a bit.
Unfortunately, I noticed that my DSLR camera was starting to act up a bit as it couldn't read my battery or it take some of the photos in error.
That problem would rear its ugly head again when we drove right in front of some impressive treetop bungalows, which looked like they could house guests wanting to say they actually stayed atop a tree. At that point, I even had trouble turning off the camera or getting it to a state where I could take pictures again. I had thought that Murphy's Law would strike again, and screw me out of capturing Mt Yasur due to a dead camera, but a few minutes later, the camera would eventually right itself for some unknown reason…
Next, we picked up Frederick, who was our guide on the volcano itself. Then, at 5:15pm, we'd finally make it to the car park for Mt Yasur. From here, it was another 10 minutes or so steep walk up to the rim of the Yasur Volcano. Apparently on Monday (earlier in the week), there was a bunch of magma or hot rocks that flew up and over the heads of onlookers. I guess that was kind of the precursor to the unpredictability of Mt Yasur.
At first, when we arrived at the top of the initial climb, we then stopped at one of the popular stops which got us somewhat close to the turbulent crater of Mt Yasur. That was where we couldn't really see much except for the odd red rocks tossed up into the air before crashing down, but a lot of that had to do with the fact that there was still too much daylight to effectively view the volcano.
After about 15 minutes, Frederick got us to go to the opposite side of the crater, which meant going up the steep ridge to get right up to the top of Mt Yasur.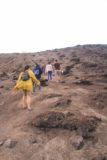 We did this just as the sun was setting behind the mountains to the west of us. And on the ridge we traversed to get up to the final climb, Frederick pointed out the fresh new rocks that had landed on the very ridge we were walking just this past Monday. That undermined any sense of security we might have been having thinking we ought to be watching from a safe distance. Yet it was this fact alone that could very well result in the primal feeling of fear and adrenaline rush that made this place as unforgettable as it was.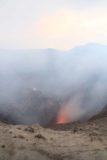 Once we got up to this second overlook, we would sit there as that skies became darker and darker with each progressing minute. Every so often, we would see a large ejection of lava and hot rocks accompanied soon thereafter by a large boom. Clearly the unpredictability of where the next ejection of lava was going to land as well as the rumbling beneath the earth lent some element of danger to this excursion. Indeed, on the one hand we didn't feel safe, but on the other hand, we wanted to capture the moment when Mt Yasur had itself an eruption.
And as the skies continued to darken, the glow of the crater beneath as well as the ejection of hot rocks up into the air became even more pronounced. We could even see that there were multiple crater holes where the lava was being ejected from. And for nearly the next hour, we'd be admiring yet wincing when Yasur would have one of its mood swings.
In fact, the seething sounds and discharges of fire were very much like how I'd imagine an encounter with a fire breathing dragon would be like.
Then, just as we thought we had had enough and were ready to go back down, a French guy happily told us that we should go all the way to the other side of the crater, where there was the highest ridge allowing us to look right into the pair of holes where the lava was being ejected from.
At first, we weren't going to do it, but when we saw Nick and Luanne going on to that spot the French guy talked about, we decided to follow them. Frederick stayed behind with Phil and Alex.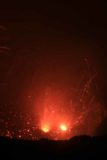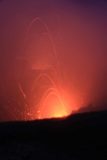 I guess the thinking here was that we mind as well seize the moment because we might never have another opportunity to see this again. So we got our torches (flashlights) and carefully made our way following Nick and Luanne. I had a real terrible urge to pee so I had to do so in the dark with Yasur belching lava behind me.
And then when we got up to the top of the ridge with a handful of other people, we now could see exactly what the French guy was talking about. There they were, the reddish holes spewing out lava while making two or three huge ejections. All of us were vacillating between capturing a photo or capturing a movie of the whole scene. It was just all too surreal, and we easily couldn't lingered here for another hour or so.
But Frederick shined his laser pointer towards us, and that was our indication that it was time to go. So we carefully made our way back to the second overlook, then follow Frederick past the stretch of ridge where some rocks were deposited just this past Monday, before making the final steep descent back down to the awaiting 4×4 vehicles.
We got back into the 4×4 at 7:30pm, and that was when we realized that our faces were caked in a thin layer of ash that we didn't even realize we were accumulating. Who knows how much of that fine ash made its way into our lungs and mess with our respiratory system?
Then, the driver skillfully made his way on the rough and tumble 4wd road to get back to the White Grass Ocean Resort. It was interesting how our driver was slow and deliberate on the morning drive to the waterfall and beach, but on the way back to the resort in the darkness, he was gunning it.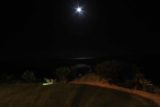 And after a very bumpy 75 minutes on the road, we'd eventually be back at the resort by 8:45pm where we then finally had our pre-arranged dinner which consisted of seared tuna with sweet potatoes, some eggplant, and conventional potatoes. This ended up being our Thanksgiving dinner, and we were doing this while looking right at a crescent moon hovering above the seas while casting a glow on it. It was an all too surreal scene on a day full of surreal moments culminating in the Yasur Volcano putting on a show.
When dinner ended, we bid Nick and Luanne a fond farewell after having bonded with them for the past few days ever since the Barrier Beach House in Santo. Since Nick was going to go fishing before 6am, we probably weren't going to see them again. We also said our goodbyes to Phil and Alex as well. It had been fun hanging out with these Aussie honeymooners, but alas, all good things must come to an end, and so that was the feeling we were getting as it was time to settle our bill and get back to our room so we could pack and get ready for the early flight tomorrow morning.
Eventually, Julie and I would return to our room at 9:30pm where we could finally call it a day and get a much needed shower. At around 11pm, I noticed that it was raining outside, which was surprising considering it hadn't really rained for most of this trip. I guess the timing couldn't have been better because at least it didn't happen while we were at Mt Yasur or while we were doing the jungle hikes to the falls where it couldn't been muddier and more dangerous.
And so ended this epic day, where Mt Yasur certainly lived up to the lofty expectations, and clearly was a legend.
Day 8: CULTURE CLASH
It was 5:55am when we awoke. Since we had slept some time at around midnight last night following the adrenaline pumping action of the Mt Yasur volcano, this was probably the first night of this trip where we didn't really get sufficient sleep. Plus, Julie woke up with a bit of a cough, which worried us as we had completely overlooked the fact that volcanic ash clouds tended to have very fine glass in it, and it could very well have been the case that we were breathing in the nasty (and deadly) stuff for 90 minutes last night.
With hindsight being 20/20, I guess we should've brought those 3M masks to at least provide another layer of preventing the volcanic glass from getting into our respiratory system.
As we were finalizing our packing, we decided to leave behind the shoes with the missing or broken soles. So away went Julie's 12-year-old spider rubber river shoes, and away weny my Keens. We left the rest of the luggage outside as we went over for breakfast at around 6:40am.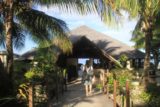 We had looked forward to the coconut juice and the fruit platter, but on this day, the fruit platter was missing the young coconut flesh. Oh well, at least they still had soursop and mangos.
The brekkie was also missing sausage and beans. Instead, they had bacon on this morning.
In any case, the breakfast was satisfying. And by 7:15am, we were done and ready to head out to the airport. But while we were chatting it up with some of the staffers, we learned that the Blue Cave excursion on the north side of Tanna was closed due to a dispute over landowner ("kastom") rights to that area. We were curious to see what it was about though we really didn't have the time to go ahead and do it.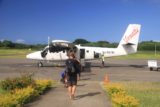 By about 7:40am, we arrived at the nearby White Grass Airport, and it would appear that we would be on a tiny plane to get back to Port Vila. With the tiny twin prop plane, it would take 60 minutes to return to Port Vila instead of 30 minutes, which was the case when we first got here on one of the larger jet engine planes with a pair of propellers.
So after boarding the plane at 8:15am, we would end up arriving at the Bauerfield Airport (for the third time on this trip) at about 9:20a, which was 10 minutes early. So we waited a few minutes for the pick-up to show up, and once that happened, we then got to the Breakas Resort at about 9:50am. During the drive there, we paid attention to the Port Vila Waterfront, the happening local market, and even the Iririki Resort off shore from the waterfront.
Since we had showed up early, we decided to just seize the moment and head out via taxi to the happening Port Vila Waterfront area that we had seen earlier on the drive to Breakas.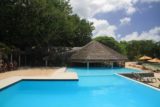 So we took a 300VT "bus" ride (really more like vans that were flexible enough to drop you off wherever you needed to go around town (or even outside of town if you were willing to pay more), and we would arrive at the local market on the Port Vila waterfront (some 5km from Breakas) at 10:25am.
Julie and I immediately walked about in the local market, which was a large assortment of fruits and other local foods on offer here. It was pretty hot in town, which was interesting considering that our time spent in Santo and Tanna were quite cool and comfortable. It didn't feel like it was Wet Season yet out there, but here in Vila, it certainly did.
Anyways, we ended up buying a pair of red-looking mangos thinking they ought to be sweet, and that we should be ready to eat them with a knife provided at the resort. We also noticed lots of pineapples, which we knew would be sweet but we worried more about getting through the thick skin on that one to get at the delicious fruit beneath. Unfortunately, we didn't see any soursop or other fruits that we had seen at the White Grass Ocean Resort on Tanna Island.
Julie wasn't interested in having the local food like laplap or toloch (thinking she might get sick from eating street food) so we didn't linger at the market after our fruit purchase, and we walked further into town looking for a lunch spot or a takeaway. After trying the croissant (crispy but quite oily) at a French pastry place (Peche something… forgot exactly where), we then went across the street and went to a Chinese restaurant at 10:50am. The prevailing thought was that we couldn't go wrong with Chinese-prepared local seafood dishes.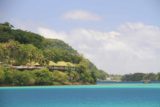 During the wait for pretty delicious seafood lunch (consisting of the Tahitian Fish Salad, garlic prawns, and lobster all cut up), I looked out the other side of the restaurant and noticed some really blue water out in the distance. This prompted me to take the camera and go outside to take photos out there.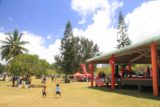 While I was there, I passed by a playground on the waterfront, but there was also a stage with some live local act playing to anyone listening. Meanwhile, there was a somewhat bustling walkway that went up and down along the calm blue green water with the Iririki Resort on an island just off shore from the bustling Port Vila Waterfront. I took my photos then returned to the restaurant so Julie could take her turn to do the same.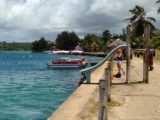 We would eventually leave the restaurant fully stuffed at 12pm. The food was delicious as anticipated, and it turned out to be quite reasonably priced for what we were getting. Plus, they also took credit card, which helped out our cash situation since we weren't going to exchange any more (though the Goodies Exchange in town easily had the best rates I had seen so far).
Next, we hailed a "bus" again, but this time, we were charged 200VT per person (400VT total) to get back to Breakas as opposed to 300VT for the two of us as the resort was saying. Oh well, we weren't going to haggle over what amounted to 100VT or a buck, so we just took it.
By 12:15pm, we were finally back at the Breakas Resort, and we were checked into our fare, which turned out to be quite spacious. Even the "outdoor" restroom seemed like an interesting little touch to the room, but the thought did cross my mind that it would be prone to mosquitos or other creepy crawlies that might surprise us in the night.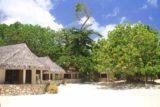 So we changed our clothes into something that might be better suited to getting wet as we were about to get onto our planned waterfalling excursion. And at 1pm, we were at the lobby awaiting our ride.
While we were waiting there, we were still trying to figure out how to spend the rest of our day tomorrow after the Mele Cascades, and we had contemplated checking out Eton Beach and Eton Blue Hole, but we were told that Eton Beach was closed due to landowner dispute (something that closed the Blue Cave in Tanna Island). Plus, we were told that the Blue Hole on Efate Island wasn't as good as what we had seen on Santo Island so it probably wasn't worth the 8000-10000VT bus fare to get all the way out there just for that attraction.
At 1:05pm, we were picked up by Pascal and his son Dimitri, and we were pretty much off and ready to go onto the Vanuatu Ecotours truck, which had a shelter on the trunk of the pick-up. After picking up Bosco, who was a local guide from the island of Ambrym, we were about to be joined by a trio of Aussies from Sydney as well as a couple of French ladies.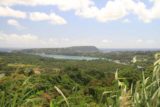 Since Pascal had that French accent, I figured the two French ladies that were about to join us could be good French practice for me since I didn't have that many opportunities back at home to speak French on a consistent basis.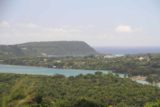 Once all the pick-up formalities were done, we were then driven out to the backside of Port Vila where we climbed up to a vista overlooking much of Port Vila, then we took a bumpy ride onto a cattle plantation belonging to a Catholic Church. I think the bumpy ride alone would limit that amount of visitation as the more publicized Mele Cascades seemed to be very popular given its ease of accessibility (even to cruise ships, one of which was showing up tomorrow when we would be visiting it! Doh!).
Eventually at 2:25pm, the truck stopped and we then proceeded to make the short 200m walk to the Lololima Waterfall. When we got to the descent leading down steps to the multi-tiered cascade, we could see that it was an impressive multi-tiered falls with character thanks to the underlying limestone over which the water was running.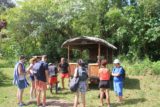 The widest and largest drop was the upper main drop. Then there was somewhat of a waterslide cascade on the lower drop before dropping into a very clear plunge pool where a rope swing awaited anyone willing to take a plunge.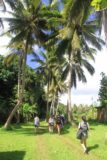 The Aussie guys and their mother were already taking advantage of the rope swing. Meanwhile, Julie and I joined Pascal and the French ladies in doing a bit of a river walk going up the Lololima Falls and then doing a bit of a combo of wading, swimming, and hiking. I'd have to leave my DSLR camera behind because it wouldn't survive any dunking, but Julie's iPhone would help out thanks to the last-minute waterproof bag purchase we made at the Auckland Airport at the start of this trip.
The river walk was refreshing as it helped to keep everyone cool. One of the hidden upper cascades allowed us to go into one grotto with a waterfall going into its chamber while allowing us to go out the other end of the companion waterfall. It was kind of reminiscent of what Reach Falls in Jamaica was like.
After that little waterfall, we'd continue the wade and hike through more of the peaceful gorge before getting up to a jungle walk leading back up to a road. We then followed that road back down to the Lololima Falls where a couple of us (the French lady visiting from Lyon and myself) did the rope swing, then I swam towards the backside of the lowermost of the main falls.
There was a large contingent of young teens chilling out at the falls. Apparently, school was just out, and this was their time to enjoy themselves at the falls, which created a pretty festive atmosphere.
Next, Julie and the French lady from French Embassy in Vanuatu joined Pascal for some fresh fruits at the shelter between the main waterfalls. Apparently, this shelter was a stand-in for a more permanent structure that was washed away in a very unusual flash flood three months ago (in Dry Season mind you) where a torrential downpour did the area in.
Meanwhile, Bosco showed the French lady from Lyon and myself the way to a limestone cave behind the large uppermost tier of Lololima Falls. Inside the 200-year-old cave, we noticed swallows closer to the entrance, but then we noticed fruit bats further in. We went deep enough to see that there was crawling space further on, but Bosco said we would need scuba gear because there was insufficient oxygen that deep into the cave.
When we had our fill of the cave, we then joined the rest of the party having fresh fruits of pineapple, mango, coconut flesh from browned coconuts (not as good as young coconut flesh), bananas, and grapefruit. We then took our last photos of the falls now that clouds were overhead and it produced even lighting for long exposure photos.
By 4:50pm, we headed back towards Port Vila in the truck. And by 5:45pm, we were back at the Breakas Resort again. We freshened up with a change out of wet clothes then headed back towards Port Vila to have a dinner at the L'Houstalet restaurant. This French place seemed to be a Port Vila institution. So we just had to give this place a go as we thought about dining at the resort tomorrow night.
When we got to the restaurant at 7pm, the place wasn't quite busy just yet. So we had a coconut crab cream soup, a delicious dozen of escargot, steak (French almost never disappoint when it comes to steak), and flying fox (the specialty of the House). With the ebola scare in West Africa originating from fruit bats, the thought did cross our minds that we were taking chances eating fruit bat at this restaurant. But the waiter didn't hesitate to recommend this considering it was local fare that also seemed to be one of the signature dishes of the restaurant.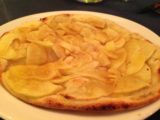 While Julie and I were waiting for our Apple Marsala dessert, we couldn't help but notice the culture clash that was on display. On one side of the outdoor dining area, we saw a large group of folks speaking French while on the other side of the room were folks speaking English. We were in the middle watching all this unfold. I guess this was a microcosm of the multi-ethnicity of Port Vila, though it almost seemed as if though there was a bit of a cultural competition between English and French.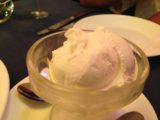 It took about 30 minutes for our dessert to show up, but Julie thought it was worth the wait as the apple "pizza" was good while the vanilla ice cream was divine.
We were done with our dinner at about 8:35pm, and we hailed a "bus" going back to Breakas at a rate of 300VT for the two of us. I guess today, we had a 50% strike rate of catching the bus at the recommended 300VT while the other times we had to pay 400VT. Like I said before, 100VT wasn't a whole lot to get worked up about, and at least it was pretty convenient for us to go to town and back in this manner.
At 8:55pm, we were finally back at the room at Breakas. As we were unwinding for the day, I noticed that at late night, it was actually raining! And this rain seemed to be more substantial than all the rain we had seen or heard from this trip so far. Perhaps the Wet Season finally showed up…
Day 9: MELE MELEE
It was 6:25am when I awoke, which was past my alarm. Either I didn't hear it or it didn't go off. Anyways, Julie was already up and freshening up. I didn't need much time to get ready before the 7am brekkie. It looked like it had rained quite a bit last night, and this morning felt a bit on the steamy side.
The brekkie was pretty much fruits, some cereal, and some hot breads or pastries. Perhaps the most interesting cooked item was the pancakes, but it was pretty much a protein-free carb fest so we just loaded up on the sweet pineapples, mangos, and a smattering of papaya, watermelon, and bananas. No coconut though, which kind of made us determined to pick a couple young coconuts up from the waterfront market in downtown Port Vila.
Since we had learned that our pick-up for our Mele Cascades tour wouldn't occur until about 9am, we thought we might use the extra time to Skye home and talk to Tahia before our long journey home tomorrow. Unfortunately, the Breakas resort didn't have complementary Wi-Fi so we would have to go through TelSat, but when we saw the steep 30 AUD price tag for just 1GB of data (knowing the streaming video would be taxing on the broadband), we just decided not to get ripped off.
At 8:35am, we were then tending to some business on the provided computer in the lobby (though we wouldn't be able to Skype), and then by 9:10am, we were picked up by the Evergreen Tours, and we were off. It turned out that it would just be Julie and I as we anticipated a chaotic scene at the Mele Cascades due to the arrival of a cruise ship that was scheduled for today.
But when Ronald, our guide, and Kenny, the driver, told us that the ship's arrival was cancelled due to someone falling overboard, that would mean the scene at the cascades would be relatively quiet. I wasn't sure whether to be happy about it for our own peaceful experience at the Mele Cascades or to be bummed that it took a tragic event for that to occur. Part of me still couldn't believe that something that full on had happened that directly had an impact on our trip. Ronald said the cruise ship was now headed back to Sydney while the search and rescue was going on.
During the drive through the back roads of Port Vila on the way to the village of Mele, there was some tropical rain from the time we got into the van to the time we were driving through town. This time I had brought a GPS along though I was kicking myself for not bringing one to the Lololima Waterfall excursion yesterday since that one was a bit more remote and obscure.
We would arrive at the car park for the Mele Cascades some time around 9:45am or so. We then walked through some well-manicured premises (kind of reminding me of some of the Jamaican waterfalling excursions we had) with some outdoor cafes with one bar that was playing some local radio station. And all this was flanking some really clear blue-green waters of the Mele Stream itself.
The walk wasn't long but it did have steps with a couple of calm creek crossings. It was enough to induce some sweat given the rather muggy tropical conditions with the sporadic intense sun coming and going behind the thick clouds above us.
We had passed by several smaller scenic cascades where photos wouldn't do it justice, and we even passed by an impressive bamboo stalk.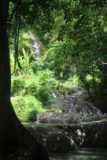 At 10:10am, we finally made it to a shelter where Ronald would wait for us while we were enjoying the waterfall. We left most of our stuff behind under Ronald's watchful eye, but we did bring Julie's iPhone, my tripod, and my DSLR while wading through the mostly ankle to knee deep stream leading up to the grand finale of the Mele Cascades, which was a tall plunge that kind of had a Thi Lo Su Waterfall (on Thailand) quality about it.
There were a handful of more people showing up to enjoy the falls while Julie and I were taking pictures and movies, and we could totally see why this waterfall was as popular as it was.
Ronald did say earlier that Mele Cascades was owned by a family in the local Mele Village (the largest one in all of Vanuatu of some 7000 people and counting), and that the 3600VT that Julie and I paid each was all going back to the Mele Village.
After doing our bit of work documenting the waterfall, I then put the DSLR and tripod back under the watchful eye of Ronald at the shelter, and then that was when I finally got to swim and enjoy the waterfalls myself. While doing this, I noticed there was a small cave adjacent to one of the more hidden tiers of the falls, but I didn't go in too deep given how many flies were hovering there and how dark it was. It didn't look deep anyways, and I felt like I saw just about as much of it as was safely possible.
At 11:10am, Julie and I had our fill of the Mele Cascades, and we were totally satisfied with the experience. I guess the relative calm and peacefulness of it all (there were only about a couple dozen folks here as opposed to nearly 1000 or so from cruise ships) kind of made this experience as pleasant as it was. Plus, the scenic allure of this falls wasn't bad either.
By about 11:30am, we were back at the car park though we took a different path on the other side of the stream. Ronald brought out a platter full of local fruits including passion fruit, brown coconut, sweet pineapple, bananas, and papayas. Ronald also gave us a 600VT discount for our tour (I wasn't sure why, but we gladly took it).
We genuinely liked our experience with Ronald and learned a bit from him during our brief time on this tour.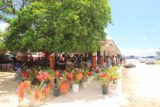 At 11:45am, we were back at the van, and then we had them drop us off at Port Vila's downtown area so we could pick up some flip flops since my feet were wrinkly from the constantly wet cheap-go reef shoes that I was wearing.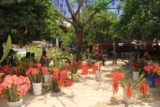 At 12pm, we were back at the market, which was less happening than yesterday, but at least we did pick up a couple of young coconut for 100VT total. While we were pulling up to the market, we saw Nick and Luanne walking in the opposite direction but we didn't have an opportunity to catch up with them again. Anyways, we then picked up my flip flops before we walked towards the northern part of the downtown waterfront where we then had a Vietnamese lunch at 12:35pm.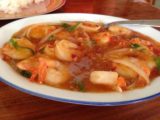 It had all the makings of a random stop, but Julie knew that their poulet fish in curry or prawns in sweet chili would be satisfying. By the time we were done, we then walked next door to pick up some sturdier reef shoes that seemed better than the cheap-go Walmart kind we had gotten from home before the trip at the last minute. Then, we hailed a "bus" for 300VT to go back to Breakas, and that was when we could finally call it a day.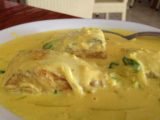 We were so ready to just chillax and enjoy the resort doing nothing for once. And when our fruits were sufficiently chilled, we were also looking forward to a refreshing fruit snack treat in the middle afternoon…
The next four five hours were spent just doing nothing at the resort. We had the staff cut open the coconut we had bought at the market as well as the mangos. The mangos were very sweet. The coconut juice wasn't as sweet nor as chilled as we would have liked. But the coconut flesh was either too hard or didn't taste very sweet (almost bitter). That was too bad. Perhaps, we'll go for one of the young coconuts from Breakas for dinner.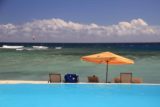 Then, we just chillaxed on the provided hammocks, looking for those that were in the shade. At first, we tried chilling out by the cocktail lounge where there was a bit more atmosphere, but the spots remaining were a bit too sunny. So we settled for an hour nap in one of the hammocks closer to our fare (bungalow). That was relaxing, letting myself drift to sleep to the sound of lapping water against the beach property.
Dinner was a barefoot affair as we got to have our very last dinner in Vanuatu on this trip on the sand next to the pool, where we were also within view of the fire dancing performance as well. The seafood platter was rather pricey (amounting to over $120 USD per person) and we never had much luck with seafood buckets or platters anyways. So we opted to go with the conventional dinner next to tiki torches (still within sight of the fire dancing performance).
And so ended our last full day in Vanuatu. Tomorrow would be a travel day for the long journey home, where we would rejoin the rat race once again. At least the flip side of it would be to hug and kiss Tahia as we also missed her even though traveling without her was nice. But we'll have to think of something that would be both productive (from a waterfalling standpoint) as well as reasonable with our little girl…
Day 10: SEPARATION ANXIETY
It was 6:25am when we awoke. The whole night, the room smelled like smoke as apparently someone was burning something all night long. It was still smelling like smoke when we awoke. Clearly our lungs were taking a beating on this trip, especially with the Yasur Volcano experience. Who knows how much of that fine volcanic glass was planted in our lungs during the 90 minutes we were there watching the spectacle of Yasur.
There was an air of finality about this day as we were about to end our last-minute Vanuatu trip. It was also time to count our blessings since lots of things either broke or malfunctioned or was lost by this time. It started with Julie's spider rubber reef shoes losing the rubbery soles on both shoes, then the same thing happened to me Keens (which I had left at Tanna), then Julie lost her sunglasses (again!, must be at least the fourth time) as well as her hat, and my DSLR camera finally gave out yesterday afternoon (causing me to miss the "sunset").
At least I got to capture everything that happened, especially the Yasur Volcano (when the camera was really acting up), and the Mele Cascades, which was the last of our sightseeing on this trip. So all things considered, this was a successful trip despite all the bad things that happened.
So Julie and I were taking our time getting packed, getting breakfast (including a cooked omelette at the resort), and then lounging around at the cocktail bar with the view of the beach. We were told that the Adventures in Paradise bus would pick us up at 9:25am and it was about 8:45am when we were at the lobby. So we figured we mind as well enjoy the last of this trip to the very end.
But when 9:25am rolled around, we learned that our luggages were taken onto the Adventures in Paradise bus without us. And so the front desk lady was frantically making calls trying to see what can be done in the mean time. So this got both Julie and I worried that might not be seeing our luggage again, especially if the bus made it to the airport without us and turned it into unattended baggage.
So we ended up going into the conventional "bus" (which we were familiar with the last two days), and the van eventually took us to the international terminal at Bauerfield Airport. When we arrived just before 10am, we couldn't find our bags. And now, we were really worried.
The bus driver was helpful in trying to make calls back to the Breakas Resort to see whether our bags were still in front of our fare. And after another tense 5-10 minutes, we finally saw the larger Adventures in Paradise bus with the same familiar faces we had seen at the resort earlier this morning. When the driver waved at Julie when we approached, I sensed straight away that our luggage was in the space in the back. And sure enough, we saw our luggage, and all was right with the world once again.
By 10:55am, we were in the departure lounge awaiting our flight from Port Vila to Auckland. We didn't see our plane yet, but it didn't take long before we saw that an Air New Zealand plane had landed, and that would be the plane we would be taking out of Vanuatu. Meanwhile, it was pouring rain outside, and I got the sense that the Wet Season had finally arrived in Vanuatu, just in time for our departure. I guess the timing couldn't have been better that we managed to benefit from near Dry Season conditions for most of our trip.
At 5:25pm, we were back in the International Lounge area at the Auckland Airport. We saw straight away how much busier it was here, and we knew that we probably wouldn't be able to rectify our split seating situation. After a futile attempt with the international transfer desk, the clerk confirmed that, and so we were pretty much stuck on the 13-hour flight sitting separately (at least we were in the same row). So I guess we were going to be in for a very long flight. Apparently, other passengers were in the same situation, but it didn't stop them from trying as we saw a pretty large queue for the gate desk. I guess the only hope at this point would be to work with other passengers on the spot, but we're not holding our breaths for it…
But as fortune would have it when we got onto the fully-booked and crowded flight, Julie happened to be sitting next to a Pakistani-looking guy who was willing to trade his aisle seat for my window seat. Feeling very grateful to him, I shook his hand as we passed by each other, and he acknowledged and understood that it was a long flight to be away from family. I definitely owe him one, though admittedly I wasn't sure how to pay him back in a meaningful way on the spot.
And so our overnight flight back to LAX might have been 30 minutes delayed (we had a 7:15pm departure), but we ended up arriving at the terminal at LAX 30 minutes before the scheduled arrival time of 10:30am on Sunday.
But as we were walking from the plane and towards immigration, the cheap 500 vatu flip flops that we bought at the last minute in Port Vila broke on me so I was half walking bare-foot and half trying to fix it on the fly. When Julie and I finally recovered our luggage (though it was strange that Julie's luggage was by the bathroom for some reason), we managed to get out my reef shoes that were also newly bought from Port Vila at 1600 vatu while I chucked my dodgy flip flops. It was yet another casualty on the list of things that died on us (or got lost) on this trip.
Then at 10:55am, we had to await our shuttle bus out of LAX, which showed up at around 11am or so, but to get around the terminal area, it took another 30 minutes as it was bumper-to-bumper traffic on this the busiest travel day of the year in the US. Eventually by 1pm, we would finally return home, and we'd finally get to hug and kiss our little girl, which we totally looked forward to doing.
But not all was totally right as my stomach wasn't feeling too hot as I was having toxic burp and diarrhea at home. I guess the calamities wouldn't end that easily. Yet even given all these things, the memories were such that I still wouldn't trade it for the world…
Visitor Comments:
Got something you'd like to share or say to keep the conversation going? Feel free to leave a comment below...
No users have replied to the content on this page