This itinerary covered about a week-and-a-half in the island nation of Vanuatu. Julie and I were celebrating our ten year anniversary, but it also doubled as a birthday celebration for Julie.
One thing that was quite unusual about this trip was that we seemed to be one of the few Americans visiting the country. Indeed, most foreign visitors were either from Australia or New Zealand (with a few from France since New Caledonia was nearby).
This entire trip was done with accommodation escorts, organized excursions, taxis, or "buses". We opted not to have our own set of wheels on this trip.
Despite the tension and drama at work, we managed to plan out enough of this trip to make it happen with success. Here's a brief summary of what we managed to accomplish…
Trip Highlights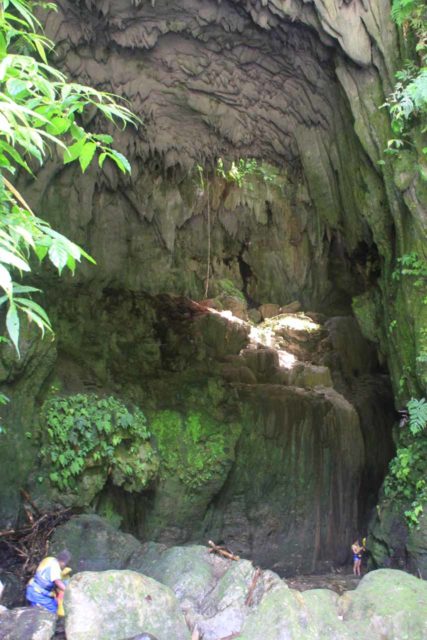 Millenium Cave – this was certainly a highlight of our time spent on Espiritu Santo Island as this all-day tour featured a village visit, a hike through the jungle, a pass through a giant dark cave, floating on the river through a gorge, and finally a local fruit refreshments at the end. We certainly came away with unforgettable memories as well as a lot that we learned about how the locals lived with the environment that we interacted with.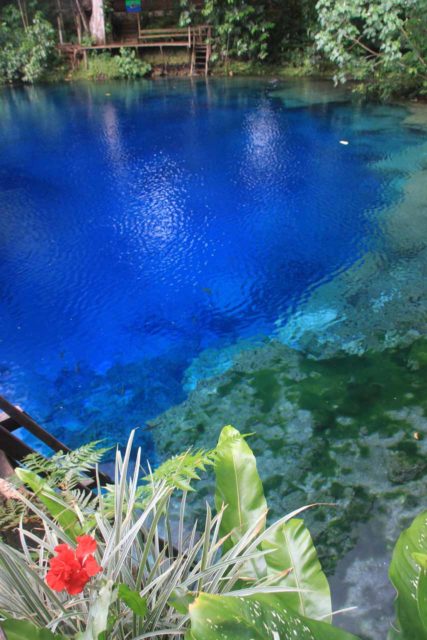 The Nanda Blue Hole ("Jacki's Blue Hole") – this was one of those places where it really seemed like it was too good to be true. The deep blue hues of this pool seemed so pristine that we couldn't believe that we had it to ourselves (except for onlooking locals taking care of this place). Maybe we just got lucky that cruise ship patrons just so happened to not be here during our visit, but whatever the case, this was one of those genuine memories that we can never forget!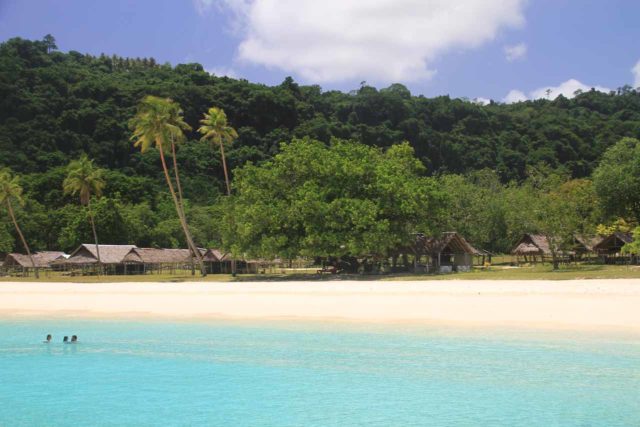 Champagne Beach – this place was billed as Vanuatu's most beautiful beach, and we expected a crowd of people (mostly from cruise ships) as a result. So imagine our surprise when there were only a handful of people here when we showed up! Indeed, it was sublime, relaxing, and certainly easy on the eyes (and camera) as you can see from the photo…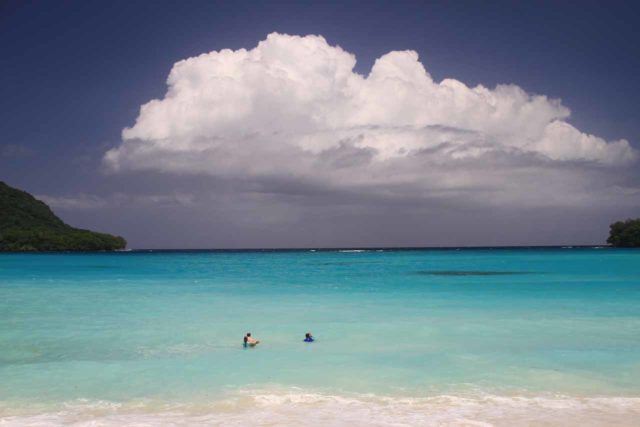 Port Olry – This was another one of the beautiful beaches and shores on Espiritu Santo Island, whose off-the-beaten-path feel was surprising despite it being Vanuatu's biggest island. Aside from the colorful water and observing budding thunderclouds in the distance, we also chillaxed while having a lunch of spiny lobster and coconut crab.
[expand title="MORE" swaptitle="LESS" trigpos="below"]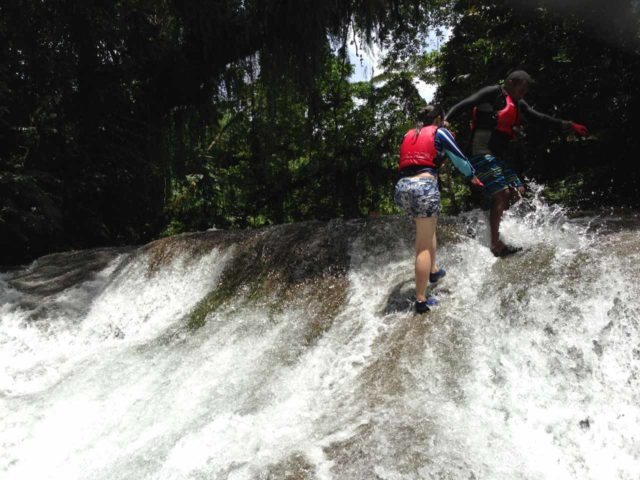 Mt Hope Waterfall – While certainly not as intense nor as long as the Millenium Cave excursion, this particular excursion involved floating down a river then walking up the waterfall itself before hiking back to the awaiting truck.
We found it quite fun though we had to keep an eye out for our camera phone (in terms of it getting wet).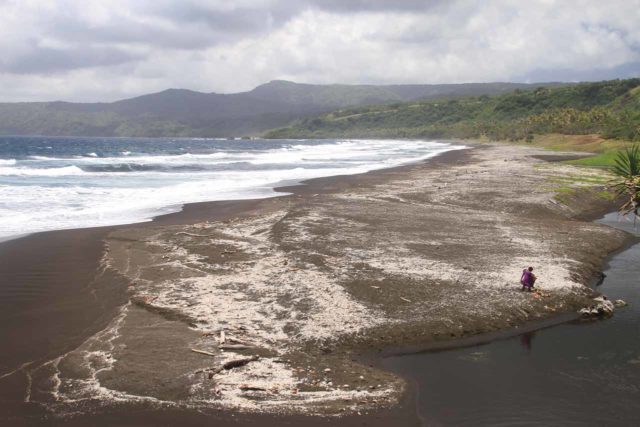 Louniel Waterfall and Louniel Beach – to kill some time before doing the Mt Yasur Volcano Tour in the evening, we spent the better part of the morning and early afternoon visiting this impressive waterfall on Tanna Island. This tour also included some time to hang out at the black-sand Louniel Beach where we had brought along a picnic lunch to share with our young tour guides.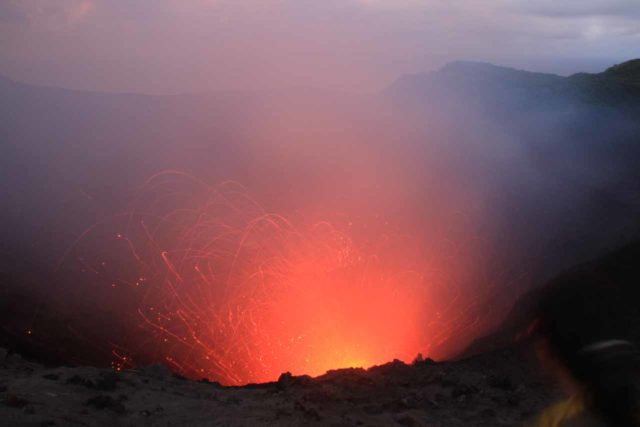 Mt Yasur – No doubt about it. This was hands down the most surreal and memorable experience of the entire trip. You just don't get to peer right into the mouth of an active volcano where at any moment the roar and hissing and infrequent explosions toss up molten rocks almost as high as the rim where we were standing! We still have fond memories of this excursion well after we returned home, and if you think the Hawaiian Volcanoes experience was the creme de la creme of such experiences, we beg to differ (and we've seen them both!).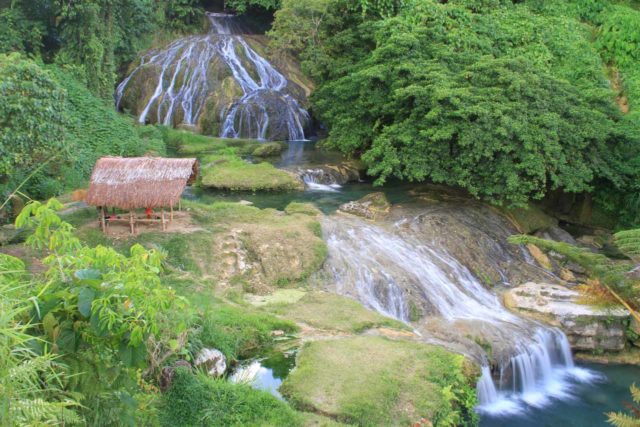 Lololima Waterfall – This was one of two waterfall excursions that we did while on Efate Island (the main island of Vanuatu), and we'd have to say that as far as waterfalls were concerned, this was probably the most scenic one that we experienced on this trip. In addition to climbing the waterfall to explore some of the scenery further upstream, we also enjoyed fresh fruits and getting to know other tour participants as well as the French guide who ran the show.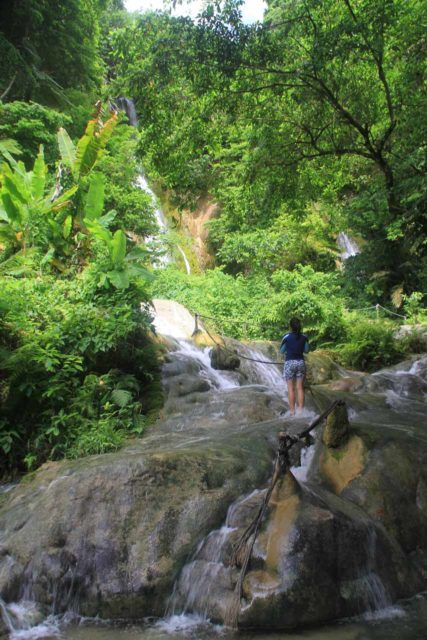 Mele Cascades – This was the last waterfall of our Vanuatu trip, and we were fortunate that the scheduled cruise that was supposed to inundate the island did not show up. So we wound up with a pretty relaxing experience that was reminiscent of a more laid back version of Dunn's River Falls in Jamaica.
[/expand]
Trip Advice
I'm usually keen on visiting the South Pacific at the start of the Dry Season (which coincides with around the month of May). However, since our personal milestone dates happen to fall in November, I opened my mind to a visit at the end of the Dry Season (and start of the Wet). Indeed, this trip certainly made us keenly aware of the benefits of doing our trip at this time of year!
Here's some travel advice that we can impart…
November in the South Pacific is not bad!: Indeed, even though the historical averages would suggest that late November was the start of the Wet Season, this trip showed us that we were still getting sunny skies and enough trade winds to keep the humidity levels manageable. Of course, the sunny skies brought out the colors of the lagoons and pools. While we did get some passing rain on just one night of this trip, we couldn't have asked for better weather even by Dry Season (May through September) standards!
An added benefit of a November visit was that we were also getting off-peak season rates. Apparently, this month was also in the shoulder season between the Summer (or Winter for them) Dry Season and the end-of-the-year holidays. So while a visit to Vanuatu is not cheap, it also wasn't breaking the bank either. In fact, this place seemed to be enough off the beaten path that the room rates seemed reasonable when you compare it to say Tahiti, Fiji, Cook Islands, or other luxurious South Pacific destinations.
Vanuatu is remote: This can be both a blessing and a curse. The distances involved to even get to Vanuatu as well as to fly to other islands made the transportation logistics and costs higher and more difficult to coordinate if you come from North America like us. Yet at the same time, the overcrowding factor was practically non-existent during our magical visit. Thus, we saw far more Australians and Kiwis as well as a few French, but we hardly saw other Americans.
I'm not sure we just got real lucky in that we avoided the crowds, but I'm sure this island nation's remoteness certainly helped to keep this place from being overrun with the tourist crush. But keep in mind here that I'm really being nit-picky because Julie and I honestly couldn't say anything bad came out of our trip!
Travel Itinerary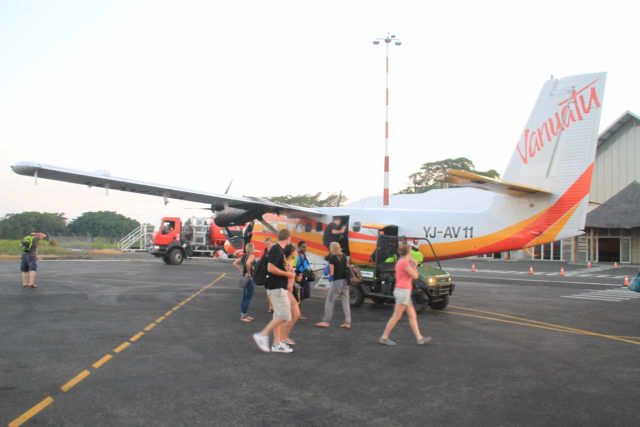 Overnight: Barrier Beach House (Luganville, Espiritu Santo Island, Vanuatu)
Vanuatu was definitely off-the-beaten-path as far as Americans were concerned, and this series of transit day(s) certainly proved it. We flew from LAX to Auckland, then caught a connecting flight to the main airport in Efate Island before catching a third flight to Espiritu Santo Island. That was where we were then transported to our accommodation to unwind for the evening.
Overnight: Barrier Beach House (Luganville, Espiritu Santo Island, Vanuatu)
The Millenium Cave excursion pretty much took the entire day, but it had to because we did lots of hiking as well as wading and floating in the water. It was certainly one of the most rewarding excursions we've done given all the effort and time commitment.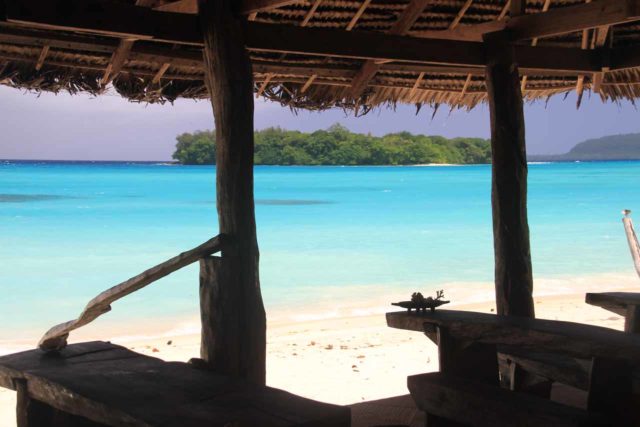 Day 5: Short Tours on Espiritu Santo Island
Overnight: Barrier Beach House (Luganville, Espiritu Santo Island, Vanuatu)
On this day, we hired a driver who took us to the key spots on Espiritu Santo Island. This included the Nando Blue Hole (also called Jacki's Blue Hole), Champagne Beach, and Port Olry. The stress level certainly melted away on this day!
[expand title="MORE" swaptitle="LESS" trigpos="below"]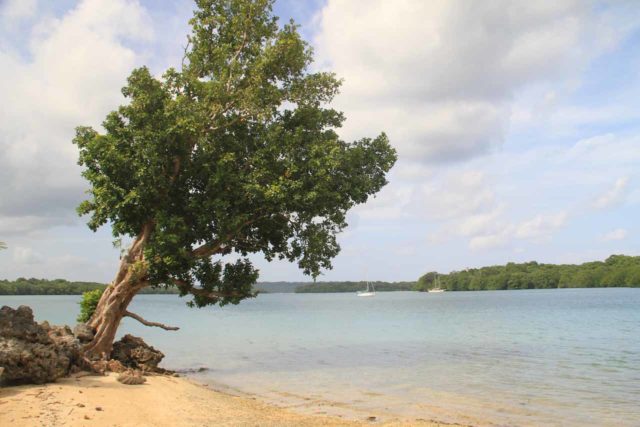 Days 6: Day at leisure on Espiritu Santo Island
Overnight: Barrier Beach House (Luganville, Espiritu Santo Island, Vanuatu)
We had another full day to spend on Espiritu Santo Island so we started off the day with a tour of the Mt Hope Waterfall, which involved a float in the river before climbing up the falls. Then, we lunched at Oyster Island before returning to our accommodation to unwind and enjoy our last evening on this island.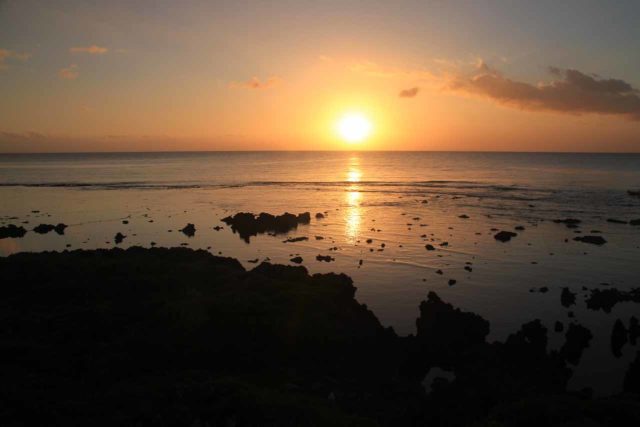 This was basically a travel day where we had most of the morning to enjoy the Barrier Reef Resort on Espiritu Santo Island before finally catching one of the infrequent flights to Tanna Island. So it wouldn't be until late afternoon when we finally got there with not much else to do other than to shoot the breeze with some of the Aussies we met while also making advanced bookings for excursions we planned to do tomorrow.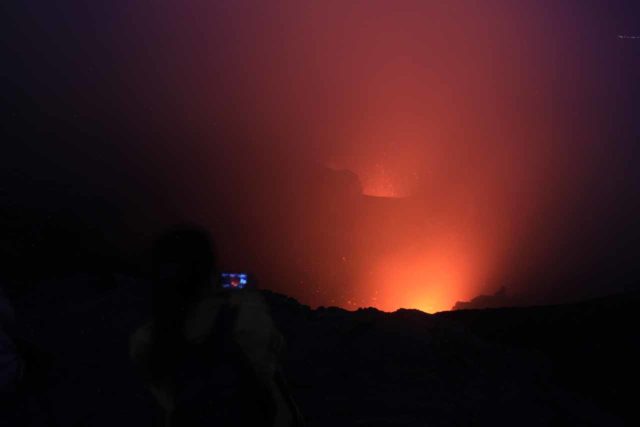 Day 8: Full Day on Tanna
This was a full day of activity on Tanna Island (our lone full day here). After a brief time exploring the White Grass Resort's premises in the early morning, we then met up with our local tour guides for the next excursion. That was when we spent the remainder of the morning to see the Louniel Waterfall before enjoying a picnic lunch at Louniel Beach. Then, we were taken back to the White Grass Resort for a late lunch and a brief siesta before setting out again on the Mt Yasur Volcanic Tour. It wouldn't be until well after 9pm that we finally returned to the resort for a late dinner.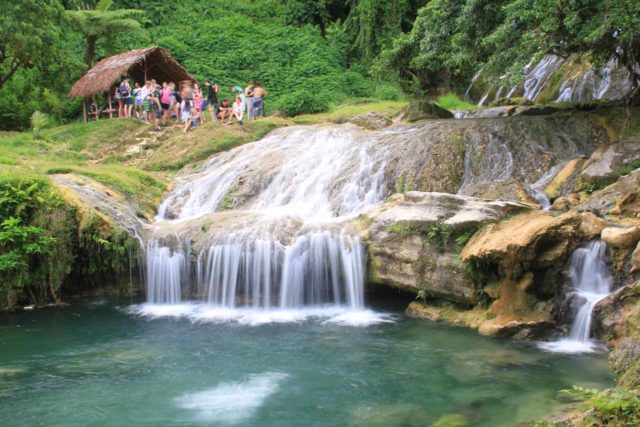 Overnight: Breakas Beach Resort (Port Vila, Efate Island, Vanuatu)
We started off the day checking out of White Grass, then catching a morning flight to Efate Island. Once there, we caught local transport to check into our resort, book an excursion later in the afternoon, visit the Port Vila Waterfront Market, and then finally go on the tour to the Lololima Waterfalls.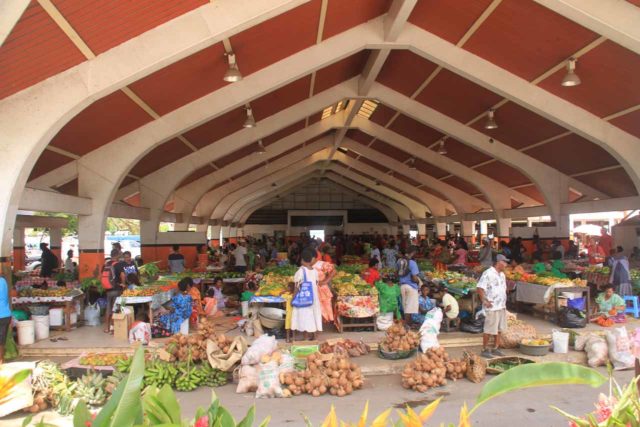 Day 10: Day at leisure at Port Vila
Overnight: Breakas Beach Resort (Port Vila, Efate Island, Vanuatu)
On this day, we started off with a visit of the popular Mele Cascades before we returned to Port Vila to spend the rest of the day checking out the Port Vila Waterfront Market (limited hours) and enjoying the Breakas Resort itself.
Day 11: Return Home
This was a long travel day back to home. At least it involved one less flight on the return since we were leaving from Efate Island (instead of going to Espiritu Santo Island on the way there).
[/expand]
Best Places We've Stayed At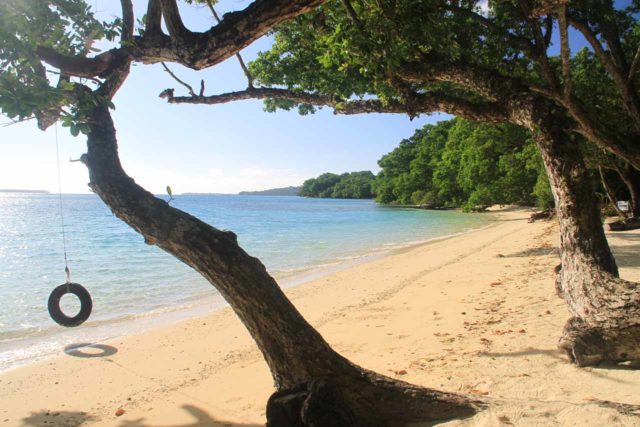 Barrier Beach Resort (Espiritu Santo Island) – Of the places we stayed at, we found this to be the best one of the bunch.
In addition to a pretty secluded bungalow, we had easy access to the calm beach, good home-cooked food, and a pretty laid back and friendly time with both guests we got to know as well as the owners. They also helped us book excursions that turned out to be some of the best things we did on our trip.
So for such a great time with everything we could have asked for (except for hot water on one of the nights), we were glad to have spent four nights here.
What To Bring
In addition to the equipment that we bring on all of our trips, we've also found the following items were especially useful for this particular trip.
Water Shoes: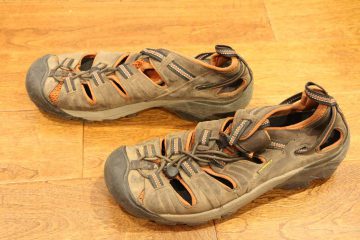 Generally in tropical environments, I tend to bring these because they're light, they have toe protection, and they're flexible in that I can use them on hikes (especially if there's water so I don't have to ruin hiking boots). However, lighter reef shoes probably work better for some of the more floating excursions where the weight of the Keens could make it harder to maneuver.
In fact, the Keens that I used on this trip broke as the soles came off on the Millenium Cave Excursion. In any case, don't bring hiking boots because they'll get ruined.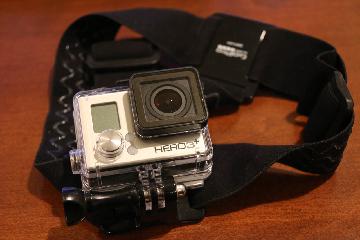 I didn't have one of these for this trip, but I certainly wished that I did. It could have been more effective at capturing the places where I relied on Julie's iPhone in the pouch (which wasn't totally waterproof).
While the Go Pro we have doesn't do that great a job at capturing photos above water, it does pretty well underwater.
And if you're wondering why would I be taking pictures or videos with this camera above water? Well, there are times when you still have to swim or float or otherwise put a lot of water damage risk to a more expensive camera in order to get to a spot where you'd be taking an above water picture (like a waterfall that you had to swim or float to, for instance).
I actually didn't bring one of these (we relied on the tour guides to keep my equipment dry), but in hindsight, I really wished I had brought my own. That way, I could have taken pictures with the bigger DSLR camera where I otherwise couldn't have. Instead, we had to use Julie's iPhone wrapped in her own little dry pouch, but that one didn't seem to keep all the water out. Luckily, her phone didn't malfunction when that happened.
Trip Reports
Waterfalls included in this itinerary
Visitor Comments:
Got something you'd like to share or say to keep the conversation going? Feel free to leave a comment below...
No users have replied to the content on this page