About Holy Jim Falls
---
Hiking Distance:
2.5-3 miles round trip
Suggested Time:
90-120 minutes
---
Date first visited:
2010-02-14
Date last visited:
2016-04-10
---
Waterfall Latitude:
33.69427
Waterfall Longitude:
-117.51582
---
Holy Jim Falls has such a memorable name that every time I think about it, I have this impulse to shout out "Holy Jim!" before the word "Falls." Apparently the name was in honor of a foul-mouthed beekeeper who used to live in the area nicknamed "Cussin' Jim." And I guess conservative governmental types eventually renamed it to "Holy Jim." I also read somewhere that apparently Jim's short temper was said to have resulted in the last known California Grizzly Bear to be shot dead here (for going after his honey). Whether this story was true or not, it did seem like there were plenty of legends and a bit of a colorful past concerning this waterfall and the surrounding area, and with the adventure it took to access the falls, I'm sure we'd be adding our own little twist of personal experiences to all that had been said about this place.
Speaking of which, this was indeed one of the more adventurous local waterfalls we've done, and a big reason why was the condition of the last five miles of driving on the rough unpaved Trabuco Creek Road to the trailhead of the falls (see directions below). I'd have to say that the road conditions might be what's going to make you do a "Cussin' Jim" and swear (especially if you've managed to scrape the underside of your car like we did a few times). So we recommend taking a high clearance vehicle to get to the trailhead though we did see a handful of passenger cars make the attempt. In any case, you'll definitely want to go slow, and going anywhere near like 20mph is probably considered gunning it. Of course, there will be some well-prepared off-roaders who would appreciate the slower drivers pulling over to let them pass where possible.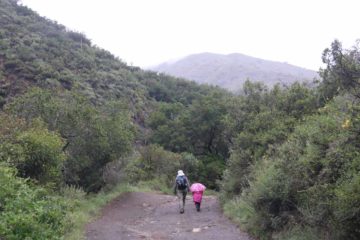 When we finally made it to the trailhead, we then embarked on the roughly 3.6-mile round trip hike (though I've seen it reported to be 2.5-3 miles round trip, which certainly seemed to shortchange it). The longer distance was something we estimated based on our latest experience where it took us nearly an hour to get to the falls then around 50 minutes to get back. If the hike was merely 2.5 miles, it certainly should've taken much less than almost 2 hours of trail time. Anyways, it took us a little bit longer to get to the falls because the trail was mostly uphill (though not very steep). The trail also involved a dozen or so stream crossings. Some of these crossings were over concrete fords while others were the more conventional crossings by foot only on dirt trail. During our first visit here in 2010, there was a lot of water in the creek so each of the crossings were slow and involved the potential of getting our feet wet if we didn't pick our steps carefully when rock hopping and maintaining balance while doing so. Six years later, we came back here with our daughter, and there was much less water so these stream crossings were more trivial by comparison.
Anyways, after all that trouble, when we finally found ourselves right in front of the tiny 20ft waterfall, the thought did cross our minds whether this waterfall was worth the effort or not (especially given its diminutive stature). That said, we noticed that Holy Jim Falls happened to be one of the more popular hikes in Orange County. In fact, we saw numerous families with large troops of children making the hike as well as plenty of others walking their dogs. Moreover, there were plenty of log cabins along the trail near the trailhead that kind of reminded us of the cabins along the trail to Sturtevant Falls.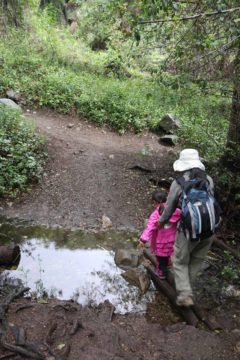 In addition to all the foot traffic, we shared this trail with lots of mountain bikers. Although sometimes mountain biking and hiking on the same trail do not make a good mix, we did notice some signage at the trailhead indicating that the rehabilitation of the Holy Jim Trail was largely due to the efforts of a mountain biking club. So if it weren't for their efforts, it could be argued that this trail and waterfall wouldn't even be available!
From the car park, we followed a slightly uphill road adjacent and above where most of the cars would be parked (there was a sign saying "Holy Jim Trail" confirming we were going the right way). After the initial hill, the road then went through a community of cabins and a few concrete fords. We weren't sure if the people occupying or owning these cabins were permanent residents or if they were renting them out for visitors. In any case, it really felt like we stumbled upon a village that wasn't easy to get to given the conditions of the roads to get here.
After nearly 10 minutes of walking through this cabin community, we then went past a signposted gate marking the official Holy Jim Trail. From here on out, we left the cabins behind and the road narrowed into a foot trail, where we were quickly greeted by the first of several stream crossings. As we continued along the trail, we'd encounter stretches of somewhat gentle uphill sections followed by flat areas. We could tell that we were getting a net elevation gain the further along the trail we went, which made going to the falls surprisingly longer than we thought going into the hike. The width of the trail vacillated between open spaces and narrower spots flanked by the ubiquitous poison oak. Towards the last half-mile or so, there was an incline that junctioned with a different trail going to the Main Divide Road. We kept right at this junction to continue to the falls, and then we encountered our last stream crossing, which was probably the trickiest one mainly due to the amount of slippery rock scrambling as well as stream walking that needed to be done in there.
Shortly thereafter, we reached the falls, where the trail abruptly ended as the canyon closed in at the falls. We believe that this was one of those few waterfalls where less is more as the lower volume made the clear plunge pool attractive as well as allowing us to better appreciate its character and the tranquility it induced. There really wasn't a whole lot of ways to photograph or view this waterfall given the confined space so we didn't feel the need to spend too much time here. Thus, we returned the way we came (having to face the stream crossings again), but at least the hike back was mostly downhill).
Finally, I do have to mention that of all the well-known waterfalls in this part of Orange County (others that we're aware of are Blackstar Canyon Falls and Falls Canyon Falls or "Hidden Falls"), it seemed like it was Holy Jim Falls that appeared to have the most reliable flow of them all. That said, we suspect that the springs and streams feeding Holy Jim Creek may have limits to its watersheds as the mountains comprising this part of the Cleveland National Forest don't typically get that much snow. Therefore, rainfall-reliant waterfalls like this one would have an even more limited flow life, and given the temperamental nature of rainfall in Southern California, it would appear that Holy Jim Creek may have a few weeks of healthy flow following the last moderate to heavy rain event. Of course, this waterfall could easily go dry (even in the Winter and Spring months) if we happen to have one of our now-infamous and more frequent dry California Winters.
We've made it to the Holy Jim Falls vicinity in a couple of different ways, but we'll describe here what we think is the most direct route without incurring fees from toll roads (on the Hwy 133 and Hwy 241) and without too much surface street driving. By the way, if you blindly follow the GPS
, they will insist that you take the toll roads, but we ignored it. In any case, the key is to access Trabuco Canyon via Trabuco Creek Road.
So from the Greater Los Angeles area, we took the I-5 south towards Mission Viejo, where we took the Alicia Parkway exit. We then turned left to get onto Alicia Parkway, and we followed this busy surface road for a little over 5 miles through Lake Forest towards Santa Margarita Parkway (going past several traffic lights as well as a stretch where we saw some scenic homes around Lake Mission Viejo). We then turned right onto Santa Margarita Parkway, then followed this busy road for about 3.5 miles (going past the toll road Hwy 241 en route) before turning left onto Plano Trabuco Rd.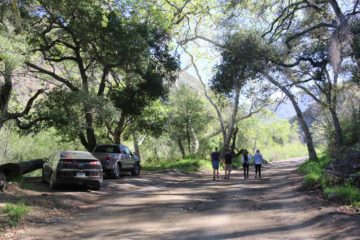 Plano Trabuco Rd eventually veered left onto Trabuco Canyon Rd in about 0.5 miles, then Trabuco Canyon Rd wound its way down to Trabuco Arroyo in 0.8 miles. Before crossing the bridge over the arroyo (creek), we turned right onto the unpaved Trabuco Creek Road. Right at the turnoff, there appeared to be an unpaved parking lot, but the unpaved road continued on the far end of the "parking lot". At this point, we were on the Trabuco Creek Road, which was initially rough gravel flanked by some ranches and lots of private property signs.
As we continued driving on Trabuco Creek Road, the gravel slowly gave way to a narrower and a bit rougher terrain full of ruts and deep potholes. It was in this stretch of the road that the clearance of our vehicle was tested.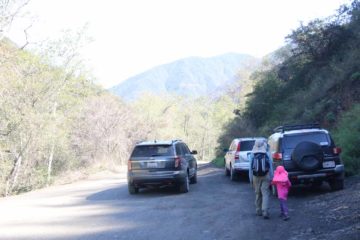 At roughly 2.8 miles from Trabuco Canyon Road, we reached a concrete ford over Trabuco Creek. Beyond this concrete ford, there was a reassuring sign saying that the Holy Jim Trailhead was another 2 miles away. The road became even rougher and narrower beyond this sign, but there were still pullouts and makeshift shoulders to let oncoming vehicles pass by. Eventually, we'd arrive at the surprisingly busy Holy Jim Trailhead, where we were fortunate to find a parking spot and start the hike. Overall, this drive took us around 90 minutes, where over 30 minutes of it was on Trabuco Creek Road alone.
By the way, since the Holy Jim Falls trailhead was in Cleveland National Forest, every parked vehicle must display an adventure pass. Day and annual passes can be purchased from specific ranger stations as well as from outdoors outfitters like REI.
Find A Place To Stay
Related Top 10 Lists
No Posts Found
Trip Planning Resources
Nearby Accommodations
Featured Images and Nearby Attractions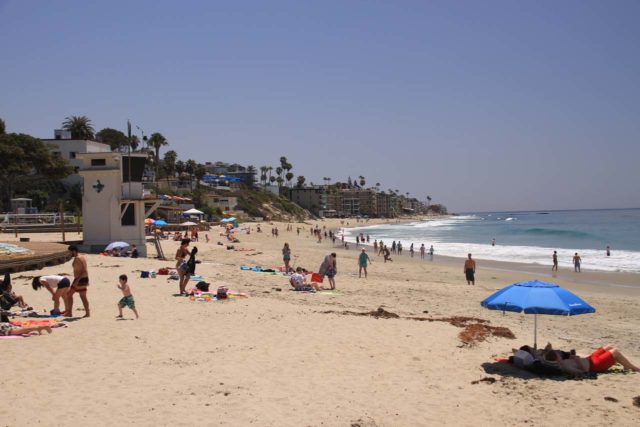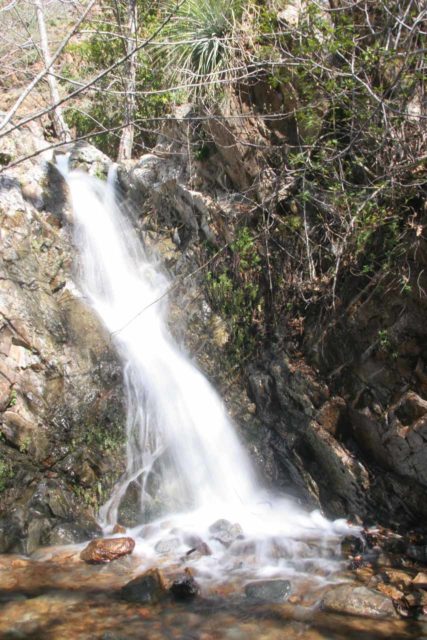 Tagged with:
orange county, cleveland national forest, rancho santa margarita, lake forest, trabuco canyon, california, southern california, waterfall
Visitor Comments:
Got something you'd like to share or say to keep the conversation going? Feel free to leave a comment below... Holy Jim Falls – Solid Hike
December 11, 2010 8:54 am
-
Went up yesterday 12/10/2010...the drive in is 5 miles...actually the hike is 40 minutes to falls and very pleasant.. ...Read More
Visitor Reviews of this Waterfall:
If you have a waterfall story or write-up that you'd like to share, feel free to click the button below and fill out the form...
No users have submitted a write-up/review of this waterfall