While Julie and I were able to experience Victoria Falls by self touring the lookouts on both the Zambia and Zimbabwe side, we also took part in some paid excursions to further immerse ourselves.
In this post, we'll highlight the excursions or activities that we did to give you an idea of how we supplemented our time here.
It is by no means an exhaustive list so I've also listed some things we could have done if we had to do it all over again (or the circumstances were different).
Aerial Tours
Ordinarily, we wouldn't consider taking to the air to experience waterfalls unless we had, but when we made our visit back in late May 2008, the Zambezi River was in peak flow.
The result was that the overlooks were inundated with mist and visibility was poor, which really impacted the experience.
That was when we figured that we mind as well seize the moment and take one of the quick helicopter overflights to see the waterfall without the hindrance of all that mist.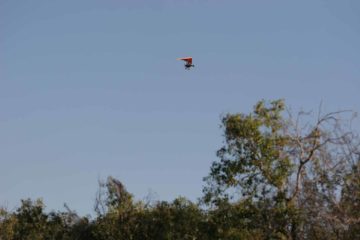 We also had the option of taking one of those microlight/ultralight motorized gliders that we'd noticed many other people were doing, which I'm sure would have been real thrilling. But that might have been a bit too intense for what we were trying to accomplish.
Our helicopter ride lasted for about 15 minutes, but during that time, it made several circuits above Victoria Falls.
Julie and I were fortunate enough to not have to sit in the middle back seat so we each got window seats further enhancing the visual experience.
Since I came equipped with a DSLR camera
, I had set the camera in high ISO mode (so it can "freeze" objects in motion without being blurry at the price of a noisier photograph) and set the camera in "Servo" mode so I can take multiple shots in a short period of time.
Julie also brought along a point-and-shoot camera
, and she was able to take some shots as well (just not as frequently since it's much slower than a DSLR camera).
In any case, below is a sampling of the kind of photographs we've managed to take from our brief helicopter flight. As you can see, the mist down below actually enhanced the experience instead of hindered the experience like on the ground.
Sunset Cruise
While this excursion was not about experience the Victoria Falls, it was still quite the popular tour. I suspect the reason why was because the cruise itself that we were on had an open bar so it was extremely popular with the loud and boisterous backpacker crowd.
In fact, we would appreciate after the fact, that the sunset cruise would often be referred to as the "booze cruise".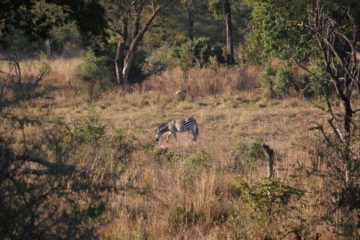 Aside from the nuisance of dealing with people who became increasingly more obnoxious and immature with each drink, Julie and I did manage to have a worthwhile look at the flora and fauna in the immediate vicinity before seeing the amazing colors of the sunset at the very end of the cruise.
That picture you see at the very top of this post was our attempt at capturing the sunset in a photo with another boat doing their sunset cruise viewing at the same time.
As for the wildlife sightings, we were able to spot zebras, impalas, giraffes, and even a crocodile.
We didn't see any hippos nor elephants though they're supposed to be common in this section of the Zambezi River.
The excursion picked us up from our accommodation (as well as other accommodations, especially the Fawlty Towers Hostel, where most of the booze cruise patrons came from) so we didn't need to handle additional logistics.
Other Victoria Falls Excursions (that we didn't do)
Bungee Jumping – Even though we never entertained the thought of doing this, we literally witnessed people doing the big dive from the Livingstone Memorial Bridge. We even heard the screams of bungee jumpers piercing through the background noise of Victoria Falls thundering in the background whilst strolling along the Zimbabwe-side walkways. I have to believe this is perhaps one of the crazier ways of seeing Victoria Falls (maybe upside down) since we could see jumpers were getting sprayed by the falls as well as being suspended seemingly within arms reach of the turbulent Zambezi River. This isn't our type of excursion, but I'm sure there are adrenaline junkies out there who live for this stuff.
Devil's Swimming Pool – You may have seen social media pics or videos showing people literally swimming right on the edge of Victoria Falls! Attempting such a thing may seem like a death wish, but they're actually in a natural swimming hole blocked in by a submerged wall right on the brink of the falls. It's a good thing that wall is there to prevent the current from carrying you over the falls. Anyways, it's my understanding that you need a guide to show you the way to get here. Also, the Zambezi River must not be in flood (as it was for us) for it to even be feasible to be in the river without being swept over.
The Boiling Pots – While this short list is about excursions we didn't do or we didn't pay for, in this instance, we actually did do it and it was free. Since it didn't take long to experience the short walks on the Zambia side, Julie and I decided to check out this trail, which descended right down to the Zambezi River a short distance downstream of Victoria Falls. While the water was turbulent, it was hard to make out the whirlpool amidst all the rapids and aerated water from the sheer volume of the raging Zambezi River. So it was an underwhelming experience to us. That said, I could envision this being more worthwhile later in the year when the whirlpool might be more visible than when we saw it.
Visitor Comments:
Got something you'd like to share or say to keep the conversation going? Feel free to leave a comment below...
No users have replied to the content on this page