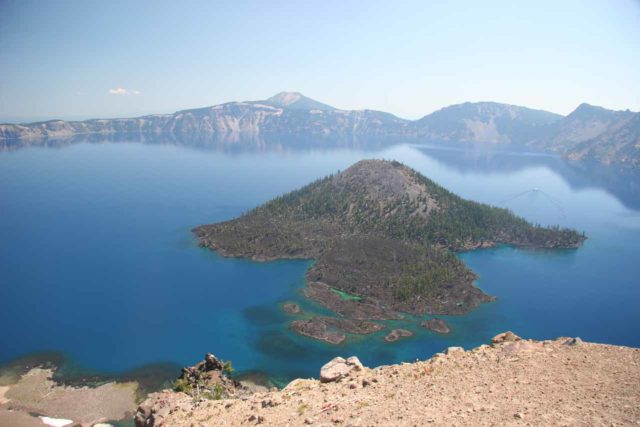 19-August 2009 to 22-August 2009:
"Is that a Manfrotto?" he asked. I nodded yes.
So I helped him mate his camera to my Giotto tripod and he was happily snapping away with bracketed exposures and very slow shutter speeds in Shutter Priority mode.
"You saved our marriage," he said. I chuckled.
But when his wife came over, she said, "You should've seen him. He was pouting all trip long because his tripod was too big to fit in a carry-on and I wouldn't let him bring it."
"See? I wasn't kidding about you saving our marriage," said the husband…
Day 1: THE PROXY OF THIS TRIP
There was no rest for the weary after having worked last weekend and haven't had a decent night's sleep in about ten days. But this morning, we had to get up at 3:30am so we could catch our 6am flight to Portland.
So as groggy as we were, we proceeded to get our small luggages and day packs and promptly drove to the airport at around 4:30am. Everything went pretty smoothly and our flight left on time. By 8am, we had landed in Portland International Airport.
The view from the plane was quite a contrast from our trip to Oregon 5 months ago. Back then, it was consistently cloudy, rainy, cold, yet green. But this time around, it was pretty clear and there was a lot more brown all over the place. It might've had something to do with the record-breaking heat the Pacific Northwest had been getting the past few weeks, and apparently, our short half-week trip here would be no different.
By 8:40am, we picked up our rental car (this time we got some kind of Subaru hatchback from Dollar, which was conveniently located at the airport), and proceeded to head straight south to Eugene.
At 10:50am, we arrived at the Comfort Suites just off the I-5 near Eugene. It was the same place we stayed at last time though the circumstances were way different this time. So far, it was still around 86 degrees Fahrenheit so we were wondering if the heat wave we had read about was taking hold yet. Our pre-trip weather forecast called for 99 degrees today in Medford and around 96 degrees in Portland.
The friendly staff at the motel let us check in early and they even gave us some food recommendations in downtown Eugene. They mentioned some place called Cafe Zenon so we made sure to check this place out later tonight.
Meanwhile, we discussed our last trip where we had to improvise midtrip due to the heavy winter storms that lasted well into Spring. Upon hearing our story, the receptionist told us about Indian Beach by Ecola State Park, which was his favorite surfing spot. It was the same beach I remembered seeing a waterfall spilling right onto the sands. Kind of a small world if you ask me.
At about 11:15am, we headed into the outskirts of Eugene to do some grocery shopping for water and some small snacks. By this time, it was already about 96 degrees Fahrenheit and it was quite sweltering. The supermarket we went to was actually an Oregonian version of Wholefoods called Market of Choice. Julie loved this place as it had a much wider variety and selection of organic and natural goods she said were hard to find back at home.
Anyways, we left at 12:05pm and headed directly east towards the Three Sisters Wilderness to visit some of the waterfalls we missed the last time around.
The sweltering heat was quite a contrast from our first trip, and we started to speculate whether this was yet another instance (like in 2005) where we were getting Pacific Northwest weather while they were getting ours. Except back in '05, we got their rain while they experienced some drought. And now, they're burning up while we're getting June gloom in August.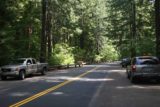 The entire drive from Portland to Eugene and then from Eugene to Proxy Falls trailhead was all under sunny blue skies. There were hardly any clouds above us and the thermometer on the car was reading consistently in the low to mid 90s.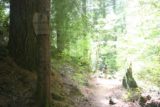 By 1:30pm, we were at the roadside pullouts flanking the narrow highway 242 in the Three Sisters Wilderness. The trailhead itself actually wasn't very far from the gate (now open) that stopped us five months ago. Anyhow, it was quite busy here as there were at least ten cars on both sides of the road. It was a very popular spot indeed.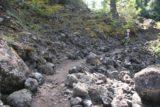 After strapping on our boots, we followed the signs and went directly onto the trail. But as soon as we left the shade from the tree cover, we could really feel the heat. It was already a bit hot even in the shade, but once we reached a little lava field with some shrubs already showing some autumn colors, the heat was draining.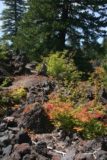 Eventually, we made it to a fork where there was a somewhat confusing trail sign indicating the both ways was the Proxy Falls Trail. We just decided to take the left fork thinking it was a loop that might take us right back to this fork.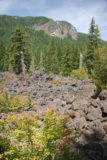 But after a few minutes of walking and the sound of falling water was fading, we were beginning to wonder if we missed Proxy Falls.
towards the trailhead in a different path we had taken. The fork on the right wasn't mentioned at all, but we could hear some more falling water. Could this be the Proxy Falls?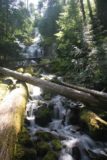 We would end up getting to another signed fork but the trail sign pointed us back A few minutes more of walking led us towards a gully and a pool where it seemed like the stream wasn't draining anywhere. The cascade was partly in shadow and it wasn't easy to photograph. We weren't sure if this was the Proxy Falls, but this one looked rather disappointing.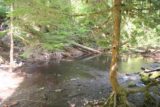 Anyways, we took what photos we could (we had to get our boots wet in a stream a bit to get better views of this cascade) before we had our fill and started to head back.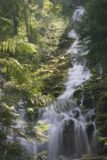 There were other people walking towards the falls we had just seen, and they asked us, "Is this the way to the other waterfall?"
"The other waterfall? That must imply there's another one around here?" I asked.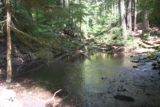 "Oh yeah, you just go back to the fork and go left. That one's real big," he said.
"Thanks!" said both of us.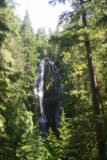 So we hastily backtracked to that confusing fork we made a left on and continued on further to the real Proxy Falls. Now this was more like it! It was a pretty tall waterfall that segmented in a way reminiscent of Shine Falls in New Zealand. Except this one had some more character to it as moss kind of made parts of the falls form rivulets of water weaving its way through the moss.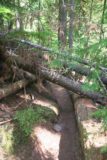 After taking photos from the main viewpoint, it looked like there was a trail that kept going towards the base of the falls. But a few steps further revealed that there had been fallen trees that forced you to scramble a bit to proceed. This didn't deter me as I was able to get by and follow what looked to be a former trail that switchbacked its way down to the creek.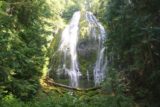 From there, it was pretty much an all out scramble as this former trail was probably closed for awhile allowing Nature to reclaim the area with the diminished human traffic. Finally, I was able to take photos of the falls from closer up, but not before walking by a few bees (or wasps?) as well as getting a few insect bites (I didn't recall seeing skeeters, but perhaps they were midges or something).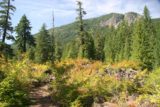 At 3:10pm, Julie and I completed the loop trail as we returned to the trailhead pullouts. It turned out that we walked in a counterclockwise direction, and our exit path was unsigned so I guess the folks here wanted us to do this loop counterclockwise.
The car thermometer said it was 92 degrees, and that's saying something for a place that's around 4000 or 5000 feet up.
Unfortunately, we saw some people on motorcycles smoking at the trailhead. Given the weather conditions, I'm sure this was a major fire hazard!
So onwards we went as we sought to check out another pair of falls we missed the first time around as well – Sahalie and Koosah Falls.
At 3:50pm, we made it to the Sahalie Falls car park, which was quite crowded. It was also 95 degrees F. It also turned out that the spot we turned around 5 months ago due to falling snow and the presence of snow plows was probably less than 5 minutes from this trailhead…
Sahalie Falls was flowing pretty heavily despite this being late August. But we could see from park photos here that on more normal flows, you could see additional segments of the falls.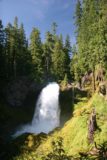 The partial shadows around the falls made photography difficult, but it was still cool to see this one finally.
We left Sahalie Falls car park at 4:10pm and five minutes later, we arrived at Koosah Falls. This one wasn't quite as busy as the previous one, but there were still a half-dozen cars and motorcycles here.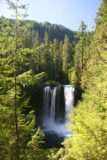 And the short walk to the viewpoints were partially blocked by flanking foliage. From my trip research, I had expected this to be a block waterfall (rectangular in shape), but this one seemed to be segmenting a bit due to the lower water volume (against since it's late Summer). Nonetheless, it wasn't as impressive as expected, but for sure it'd kill just about any Southern California Waterfall.
At 4:40pm, we were back in the car and finally called it a day of sightseeing.
At 6pm, we were back in Eugene to fill up some gas. The car thermometer at this point said it was now 100 degrees Fahrenheit!
About 15 minutes later, we finally returned to the Comfort Suites so Julie could do a little more research about the recommended Cafe Zenon.
And by 7:30pm, we were in downtown Eugene eating at the cafe. The place a bit of an international fusion flair to it. I liked my Indian lamb while Julie liked her salmon special. The bill was quite reasonable as we realized (and forgotten) that there's no state tax in Oregon. So this was a pretty pleasant surprise.
After finishing our food and doing some last minute shopping back at the Market of Choice, we were finally back at the Comfort Suites at 8:40pm. At that point, both of us needed a shower as well as some much needed rest. After all, our day started at 3:30am, and it wasn't until after 11pm did we finally go to sleep…
Day 2: SAPPHIRE BLUE
We intended to wake up at 5:30am this morning to give ourselves plenty of time to do some waterfall hikes and also see Crater Lake later today. But given how tired we were, it turned out that this morning was the day we got a little bit more caught up on sleep. So we ended up getting up at 7am, and after a quick breakfast that was included, we checked out and left the Comfort Suites at 8:15am.
The drive went pretty uneventfully as we followed the Highway 58 towards Oakridge. The intent was to visit Salt Creek Falls and hike to Diamond Creek Falls. And by 9:20am, we made it to the car park for Salt Creek Falls. The drive took longer than I thought, but we were still the first ones here.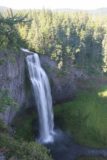 The falls was essentially a very easy drive-up waterfall. Upon setting our eyes on this very tall 286ft waterfall, Julie ooohed and aaahed and said, "This is the best waterfall in Oregon we've seen since Multnomah Falls."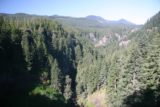 There was a sign here saying it was Oregon's 2nd tallest waterfall, but this was a very disputable claim. Anyhow, the sun was just starting to encroach on the falls, but it was still primarily in shadow at the moment so we could still take pretty decent photos.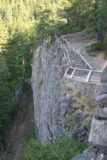 After getting our fill of the upper cliff-hanging overlooks of the Salt Creek Falls, we proceeded to walk to the bottom viewpoint. By then, some people started to trickle in and the place started to become a bit busier.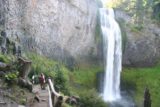 The short walk to the bottom viewpoint was mostly under shade and provided a view between trees of the falls on one of the switchbacks. But at the very bottom, we got more frontal views of the falls with some of its mist lightly coming towards us. It was a bit steeper at this overlook and care needed to be taken to avoid a nasty fall past the railings and towards the plunge pool below, but it wasn't all that bad and even the kids that were here had no such problems.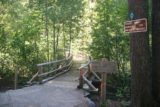 When we had our fill of the falls from down here, we headed back up to the upper viewpoints, and then continued towards the Diamond Creek Falls Trailhead. But at 10:25am, we reached the bridge crossing Salt Creek where we were greeted with several signs. Besides the obligatory directional signs, there was one triangular sign posted on a blockade preventing further access to the bridge. Clearly, the trail was closed.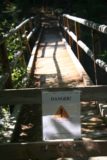 The sign read that this bridge sustained snow damage, and we could easily see that it was tilted to the left with an apparent gap in many of the planks detached from the support beams on the right hand side. It looked so rickety that there was no way we'd make it across, and thus our hopes of seeing the Diamond Creek Falls were dashed. I guess closures were nothing new to us as it seemed we always got the short end of the stick when it came to bad timing or being overcome by events these days.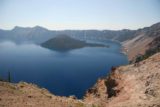 At 10:30am, we returned to the car and proceeded to continue the drive towards Crater Lake. It wasn't until 12:15pm did we get past the Crater Lake north entrance and stopped the car at the Junction Overlook. It was our first exposure to the sapphire blue Crater Lake, and boy did it feel pretty hot out here at high noon.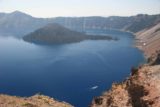 Crater Lake was the third famous volcanic lake we had seen this year. We were supposed to see it some 5 months ago, but snow kept that from happening (plus we could've done a little better job researching the area and realizing that it wouldn't have been open until at least June). We had already seen Heaven Lake (Tianchi) on Changbai Shan on the China/North Korea border as well as Mashuko (Lake Mashu) in Hokkaido, Japan. But of all the volcanic lakes we had seen so far, this one seemed to be the best one.
Perhaps it was a combination of blue skies here and poor conditions elsewhere. But this lake also had Wizard Island providing a nice subject within the lake itself. The sapphire blue color of the lake really contrasted its surroundings further adding to the allure of the place.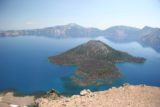 After getting our fill of this overlook, we then went through a procession of other overlooks on the west rim. The next one was the Watchman Overlook, which got us even closer to Wizard Island as well as some of the additional colors in the water on the lakeshores of both Wizard Island and the outer perimeter of the lake itself.
I expressed a desire to climb up to the Watchman Peak Observation Deck, but this would've required an hour long climb in the hot, unrelenting sun. And given how hungry we were, we decided to pass on that and continue closer to the Rim Village.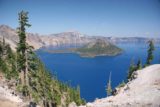 Beyond this overlook, we next went to the Discovery Point. There, we looked back towards Wizard Island between some trees framing the scene below us. Lots of tourists here were thoughtlessly feeding the chipmunks, which was disturbing. But it did result in some photo ops of the obliging rodents. But I'm sure this would cause starvation in the long term if they get trained to high carb human food and can't survive on their own especially when the tourists aren't here outside the Summer.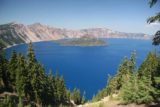 At 1:25pm, we arrived at the busy Rim Village. From there, we had ourselves a small lunch of Greek salad and a chili soup. It wasn't anything special, but at least we addressed our hunger and we were energized to continue our touring.
So after our meal, we spent some more time checking out the view of the lake. We were well into Crater Lake rim-view-fatigue at this point so we didn't partake in this exercise for too long.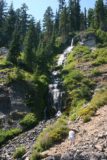 Next, we left the Rim Village and continued over to Vidae Falls. This was a drive-up waterfall and very easy to see. However, it didn't seem to have very good flow (still pretty decent flow nonetheless) as it would've had in June or July as evidenced by the cascade disappearing beneath the screen near the bottom of the slope (the falls would've continued being visible above the scree at more optimal times).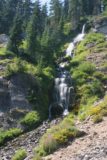 There were some colorful bush near the falls providing some additional color to the scene.
Many other tourists also showed up and enjoyed the falls. Some even tried foolishly to scramble amongst the steep scree from closer looks at the falls.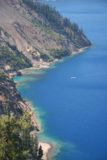 At 2:45pm, we left the falls and five minutes later, we parked at a lot next to a sign that mentioned a 1/4-mile walk towards the Phantom Ship. We wasted no time getting our cameras and walked to the edge of the rim where we could see far below us the rock protrusion surrounded by the sapphire blue lake.
A rock protruding from the slope below us looked like it was producing a shadow that might suggest a natural arch there. We couldn't tell for sure, but I'm sure it's hard to see unless you somehow scramble for a better view of have a real good eye if you were on one of those boat cruises in the lake itself (I wonder how much pollution it puts into the lake).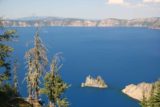 After getting our fill of this view of the Phantom Ship, we continued onwards to an easier drive-up lookout of the Phantom Ship. But this one wasn't as impressive as the one we walked to. So we quickly got back into the car and finally headed to the Diamond Lake Resort where we were to spend this night.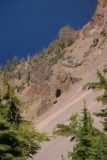 And at 4:20pm, we finally made it. Our room was kind of a dingy motel, which we didn't expect much from anyways. But when we had dinner a little after 6pm at the local restaurant, we were pleasantly surprised by the quality of the food. We had trout, halibut, prawns, and scallops, and the soup was some kind of spicy Thai shrimp soup with lemongrass and other veggies within.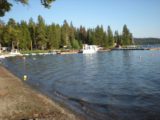 It was great stuff, and turned out to be a great way to end off this day.
Clearly, we're going to be seeing sapphire blue when we close our eyes and sleep the night away…
Day 3: THE MARRIAGE SAVER
At 7:15am, we left the Diamond Lake Resort. It was a very chilly 44 degree Fahrenheit morning, which dramatically contrasted the 90+ degree weather from the last two days. It was a good thing I brought a light jacket because this really caught us off guard. But I guess it just goes to show you that you always have to prepare from a variety of conditions especially when you're in the mountains.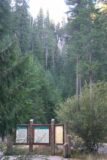 As it was gradually getting warmer under the clear blue skies, we made it to the Watson Falls Picnic Area and Car Park at 7:40am. We could already see the falls from the car park up amongst the trees. So we knew this one was as tall as advertised (some 272ft according to Gregory Plumb's book
).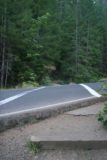 We wasted no time going across the street and then up into the uphill trail. As both Julie and I made our way up the trail, we noticed that there was nothing but silence besides the moving water of the creek and falls along with our breathing and footsteps.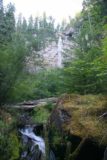 The views of the falls got gradually better as we continued climbing up the falls. The first real decent view started from the bridge over Watson Creek. But the trail continued going up some more as we paused near a bench where another pretty good view of the falls was available.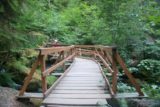 At first we thought this was the end of the trail, but I noticed more trail and railings were further above us. So we continued on. And eventually at a little after 8am, we got to the end of the trail where we could see an angled view of the falls. There was also another fork in the trail with a sign saying that it looped back (something we didn't realize when we started the hike).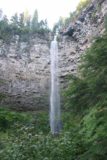 The view from up here was nice, but it was hard to photograph because we were too close to the falls to get it all in one shot. Still, we enjoyed being near this wispy waterfall, and we wondered how much more impressive it would've been a month or two ago.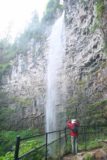 When we got our fill of this falls, we completed the loop quickly as we only had to go downhill. And by 8:35am, we were back at the car park where another couple had just arrived. There was also another pair of guys in a pick-up truck that had just showed up as well. So we left the falls and headed to Toketee Falls, which was one that I really looked forward to doing.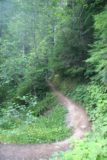 That was because I had seen calendar photos of this waterfall as well as photos on the web. So I knew it was known for basalt formations, but it had two tiers and had a little more character and color than Svartifoss in Iceland, which was a waterfall I was already familiar with. Thus, I really looked forward seeing how this falls stacked up to the Svartifoss as well as the other Icelandic waterfalls with basalt formations like Hengifoss, Litlanesfoss, and Aldeyjarfoss.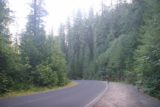 But at 8:45am we showed up at the Toketee Falls turnoff, but as soon as I saw the police tape blocking further access right at the sign, I knew something was wrong.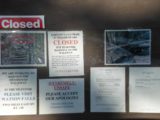 Sure enough, the trail was closed. Just like the closure of Diamond Creek Falls yesterday, this one was also overcome by events. According to the signs, it was a snowstorm back in January 2008 that did these trails in. I guess we never stood a chance of seeing either of the falls, and this one stung. But, that's Nature for you. She doesn't care what our intentions and agendas are.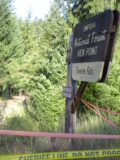 So with that, we just headed straight back to Portland. It was going to be a long haul drive as we were going from Southern Oregon to Northern Oregon.
The scenic drive west along Hwy 138 was actually quite scenic. Although we were moving at a pretty consistent 45-55mph, the highway followed a gorge and river surrounded by trees with some of them looking a bit dry and brown way up at the top of the hill. If not for the disappointment of missing out on Toketee Falls, this would've been one of the more enjoyable drives further affirming the scenery missing from Southern California and why we go to such great lengths to immerse ourselves in the best of Nature.
As we were approaching Roseburg, we noticed that the blue skies were giving way to overcast skies up ahead. By the time we got to Roseburg, the skies were pretty much overcast and even drizzling! This was totally unexpected as we thought it was going to be another scorcher of a day. Boy were we wrong!
We then reconnected with the I-5 North and headed straight north all the way to Portland. There were a lot of cars on the freeway, but we were still going pretty consistently between 60-70 mph. The skies remained overcast with pockets of drizzle so we knew that this was a legitimate weather pattern and not just morning fog that was supposed to burn off by midday (something we're all too familiar with in Southern California).
Eventually by 12:55pm, we made it to the Clarion Portland Airport where it was a comfortable 72 degrees F. We were alowed to check in to our room (they started charging more for their tempurpedic beds so we passed, which bummed Julie out since she really looked forward to it). Shortly thereafter, we went to a Vietnamese Restaurant (Pho Oregon) that we went to on our previous trip.
So we were re-energized after getting our fill of banh xeo and pho tai, and promptly drove east to the Columbia River Gorge once again.
Julie was really looking forward to revisiting Multnomah Falls since our previous experience was a bit more stressful as it was under pouring rain, lots of spray from the high volume of water, and freezing cold weather. But this time, we were expecting better weather and less waterfall. Perhaps less was more in the case of this waterfall?
As we were anticipating our visit, Julie and I were recalling the vampire baseball scene in the movie Twilight
– a movie and book she was obsessed with. The baseball scene had Multnomah Falls in the background as they were playing in an open field surrounded by trees.
Anyways, we were actively looking for a field that very well could've been where they had that game. But as we looked to and fro along the Columbia River Hwy, it was pretty obvious (at least in my mind) that there was no possible way there was a field when you have a wide river and lots of trees covering a narrow stretch of land between the river and the cliffs. I figured it was all CGI, but Julie still felt it took place somewhere around here.
When we got to Multnomah Falls at around 2:45pm, we could see that the car park was extremely crowded and there was no parking space at all. So we decided to defer stopping here for a little while and continue heading east to the Oneonta Gorge. There, I was going to chase a waterfall that we missed the last time around – the Lower Oneonta Falls.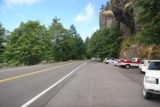 At 2:50pm, we parked the car at an area close to the Triple Falls trailhead. But this time there were many cars here so we knew we wouldn't be alone with broken glass strewn all over the ground (suggesting a break-in).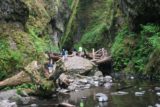 We wasted no time descending from the bridge looking into the gorge and walking along the creek towards the logjam obstacle where we could already see over a dozen people or so carefully trying to traverse it. It didn't look easy, but it certainly looked doable, and there were lots of kids doing it probably because they lacked the fear that adults tended to have when faced with these things. But make no mistake, a fall in one of the holes between the trees and rocks could be real nasty and something you might not be able to survive depending on where you fall.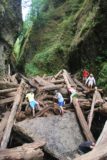 When I saw how wet some of the people were as I made it up to the top of the logjam, I realized that perhaps I better get Julie to hold on to some things I couldn't get wet – like my wallet and keys. So I called her over to me (she pre-determined that she wasn't doing this hike so she'll wait here) and I handed her my wallet and keys. Now, all I had was my camera and tripod, which I'll try to keep dry. As for my clothes, they were supposed to be quick-dry clothes so I should be OK.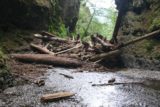 Eventually, I made it to the other side of the logjam. It didn't seem too difficult, but then again, my Chacos
were dry so they gripped the logs and rocks fairly well.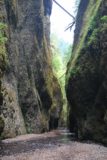 Up ahead of me was a narrow gorge that really reminded me of the Narrows hike in Zion National Park. Except this time, it was a bit darker and the water was colder. Further up ahead of me were some spots where the creek stretched from wall to wall and I was sure they were the spots where keeping dry wasn't an option.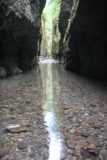 So onwards I went. And the first pool I had to wade through was only knee deep. So it was pretty straightforward keeping my camera and tripod dry as long as I didn't take a fall.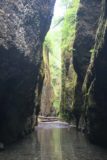 But as I continued further on, I could see further up ahead a couple where the wife was waist deep and gingerly making her way forward. So that must be the obstacle I really had to watch out for to protect my camera gear. But just beyond them was the Lower Oneonta Falls. That further motivated me to continue (not that I wasn't going to be denied on this trip).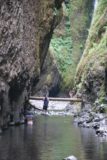 Eventually, I made it through the deep pool myself as my orange shirt was getting water and it was pretty much up to my waist. I held both the camera and tripod high above my head as well as the unzipped lower leg part of my pants. Ultimately, I made it through OK, and proceeded to continue wading upstream right before the falls. But I couldn't help but wonder how impossible this would've been five months ago when the creek was higher, everything was wetter, and the weather was colder. Clearly, this was a low-flow and in good weather only type excursion if you wanted to take decent photos.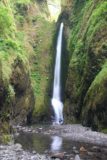 As I was setting up my tripod, the couple that was there before me was done posing right before the falls. The husband then approached me and said that he lamented not bringing his tripod here since his wife wouldn't let him. Upon hearing that, I offered him to use my tripod since he seemed to have a DSLR camera himself.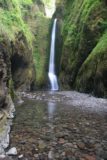 "Is that a Manfrotto?" he asked. I nodded yes.
So I helped him mate his camera to my Giotto tripod and he was happily snapping away with bracketed exposures and very slow shutter speeds in Shutter Priority mode.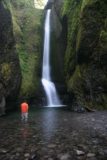 "You saved our marriage," he said. I chuckled.
But when his wife came over, she said, "You should've seen him. He was pouting all trip long because his tripod was too big to fit in a carry-on and I wouldn't let him bring it."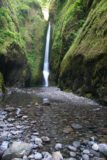 "See? I wasn't kidding about you saving our marriage," said the husband.
Anyways, they were both very happy to have this experience of seeing the Lower Oneonta Falls and the husband was quite happy to have his tripod photo so I'm sure he had his postcard quality photo to take home now. This was certainly one of those you-had-to-be-there experiences.
So now I was all alone taking photos of the falls on my tripod. As I was busy snapping away trying to get postcard photos of my own, I heard a loud crack behind me. At first I thought someone shot a firecracker or something, but when I realized that I was totally alone, I knew a rock must've fallen into the gorge and cracked.
It was kind of spooky knowing that one of those rocks could easily knock me out. So the rest of the time, I always kept looking up hoping I might move out of the way in time if one happened to be coming my way.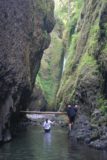 After getting my fill of this falls, I headed back. A trio of young 20 somethings were headed to the falls as I was leaving. They hesitated in going forward into the deep pool, but I told them, "You guys have no choice. You gotta get wet to go further."
"Yeah, that's what I figured," said the guy.
In any case, the two girls went first and they got themselves quite a jolt of the cold as they were also waist deep in the water.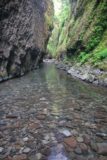 Then, a family of four came by as well. The two smaller girls compared themselves to how wet I was and saw that the water was probably going to be chest high for them. The parents were psyching themselves to continue going forward themselves.
Eventually I made it back to the logjam, but my Chacos were wet at this point and my traction was not as good as before. So there were a couple of hairy spots where I quickly balanced my way across a log (hoping not to fall on either side which gave way to a 15ft drop) and then slowly scooted my way back to the awaiting Julie on the other side.
By 4:10pm, we were back at the car. My butt was all wet, but it didn't matter. Julie still had my keys and wallet.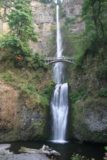 Ten minutes later, we were back at Multnomah Falls. It wasn't as crowded as earlier in the afternoon, but it was still quite busy. So we parked the car and proceeded straight back to the familiar viewpoint right at the base of the falls.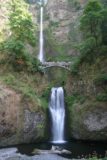 Although the falls looked a bit thinner than 5 months ago, the experience now was far less stressful than before. We took our time (and our turn) taking couple shots with my tripod (much to the amusement of some onlookers). We also were able to take long exposures without worrying about wiping water off the lens or having our hands turn white from numbness. After all, it was not misty at all and there were lots more people on the bridge above the lower part of Multnomah Falls.
We returned to the car at 4:50pm where Julie and I were still debating about where that vampire baseball scene took place in Twilight
. But after seeing the surrounding scenery in a more relaxed pace, I think Julie started giving in to the fact that my guess about the scene being aided by CGI was probably correct.
Afterwards, we headed to Troutdale for some Tad's Chicken 'n Dumplings. Unfortunately, the signature dish was mostly bread and not so much chicken; all of it drenched in gravy. The soup and starters were pretty good, but the mains were nothing like the food quality from the Diamond Lake Resort yesterday.
At 6:30pm, we returned to the Clarion where we called it a day. The skies were mostly clear at this point, and I hoped it might be this way one last time for tomorrow where we're hoping to see Mt St Helens in decent weather…
Day 4: BLAST ZONE
Today was supposed to be the free day where we could've done any number of things for the whole day before settling back to the motel for the last night. Originally, we were going to do a pair of long hikes to waterfalls on the slopes of Mt Hood in Ramona Falls and Tamanawas Falls. Unfortunately, the waterflows from some of the other falls we had seen earlier in the trip made us reconsider hiking over 11 miles total for them. Plus, when we were faced with 100 degree heat earlier on, we decided to abandon any long hikes on this trip (though today seemed to start off partly cloudy and quite comfortably cool).
Another option was to return to Cannon Beach or even head further south to Tillamook so we could see Munson Creek Falls, which was one we missed on the coastal trip five months ago. It was a total oversight. Well, we decided against this one too since we had just done the coast last time.
The last option was to head up north from Cascade Locks, cross the Bridge of the Gods over the Columbia River, and then head up the Wind River Road towards Curly Creek Falls and Big Creek Falls before swinging west towards Mt St Helens. We weren't sure how viable the Mt St Helens option was considering it was somewhat overcast this morning. But in any case, this was the plan for today.
We had gotten a late start as we slept in a little bit. But eventually, we would have our breakfast and then leave at 8:25am, which was a little later than I would've liked.
Nonetheless, we headed immediately east on the I-84 through the Columbia River Gorge and promptly made it to the familiar Cascade Locks. From there, we paid our dollar and went right across the Bridge of the Gods into the state of Washington before proceeding further east to the town of Carson.
From there, we headed north on the Wind River Road and we were well on our way to begin our waterfalling in earnest this side of the Gorge.
Since today wasn't totally planned out prior to the trip, we had to get by with the good old paper maps, books, and pretty poor resolution on our Topo!
. I completely overlooked putting in Washington on our Topo!
and it was a bad oversight.
As a result, our first waterfall target was Panther Creek Falls, but we ended up not being able to find it thanks to our lack of preparation. Plus we didn't feel like pursuing unsigned waterfalls in the middle of the forest. So this ended up being a fruitless half-hour detour though the drive through the forest really did feel like we were in a legitimate forest (unlike the ones we're used to seeing in California).
So the next waterfall target was Falls Creek Falls.
Eventually at 10:10am, we managed to find the signposted turnoff and 2-mile gravel road leading us to the Lower Falls Creek Falls trailhead. We didn't bother with the Upper Falls Creek turnoffs since the Plumb book didn't discuss it.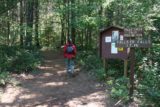 As we laced up our boots and carried our daypacks, we wasted no time leaving the nearly full unpaved car park and walked brisquely through a canopy of tall pine trees providing some shelter from the sun's rays. It was a cool, crisp morning so the hiking on the 3.4-mile return hike started off comfortably.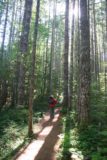 We couldn't help but notice a pair of tents pitched right besides the trail. I don't know if these folks expected privacy or something, but it was an unusual sight to say the least.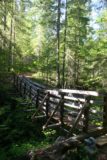 Not far beyond them, we crossed a swing bridge over a small gorge and then began the mostly gradual uphill hike in earnest. There wasn't a whole lot to see in terms of dramatic scenery, but being within the forest like this kind of set the mood. The subtle sounds of the forest were broken only by our footsteps on the trail and our voices.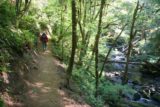 After passing a few hikers headed to the falls as well as a few hikers returning to the trailhead, we ultimately made it to the impressive falls some time after 11am.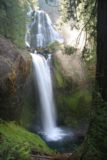 The falls itself must've been at least 150-200ft tall. It started off somewhat wide in its upper tiers before channeling into a lower tier that dropped in a column. The sun wasn't quite against us, but the wafting mist kind of played some tricks with the lighting. It wasn't long before others joined us at the site and some of them continued on further towards a steep lower overlook area (informal) where they ended up being subjects of my photographs to show how tall this falls is.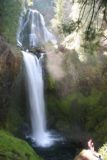 This wasn't a bad way to start off an unplanned waterfalling and volcanoes day. And this was one of those falls where we thought it would've gotten a 3.5 out of 5 rating if we were more serious about rating waterfalls.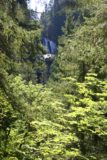 As more and more people started showing up, we quickly headed back to the trailhead. With the mostly downhill hike, we ended up back at the car at around 11:50am.
We next followed the Wind River Road towards a connecting road with the Lewis River Road (90). As we drove along the connecting road, we got hints of gorgeous views of the backside of Mt St Helens in good light. Unfortunately, we had trouble finding legitimate pullouts with views and didn't end up capitalizing on this, which was a shame.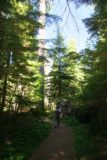 Eventually, we connected with the Road 90 and headed east in search of both Curly Creek Falls and Big Creek Falls. We went all the way east to Big Creek Falls first. Eventually, we got there at 12:35pm just as a trio of big trucks and RVs were leaving.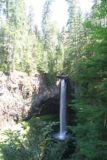 I had expected a somewhat more substantial walk to the overlook platform of the falls, but it ended up being barely 0.3 miles each way. There was even a sign with a poem talking about water.
The wooden overlook platform provided the only spot to satisfactorily view Big Creek Falls. It was a pretty tall columnar plunging waterfall. Some overgrowth and trees prevented other views of the falls so we had to live with what was presented here. Still, not bad in any case though the intensifying sun kind of made photography difficult as it created shadows.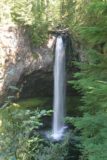 At 1pm, we were back at the car. Next up was the Curly Creek Falls, which was something I really looked forward to because it was one of those unique waterfalls that had a natural bridge or two over it. I know Ofaerufoss in Iceland used to have such a bridge before it eventually collapsed a couple decades ago from other earthquake or erosion or both.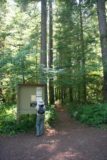 At 1:15pm, we made it to the Curly Creek Falls Trailhead parking area. It involved a bit of a short drive on gravel road past a very busy fishing bridge area. Once we got out of the car, we wasted no time getting onto the trail eagerly looking for the long-awaited waterfall attraction.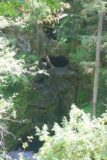 The first wooden platform lookout area presented a view across the gorge with the Lewis River below us. But as we gazed across the gorge, we could see some holes that appeared to be natural bridges, but there was no waterfall. It was dry!
This was a royal disappointment, and I could only wonder why this was the case. After all, we made an attempt five months ago only to be sent back by snow. Now, we're probably a month or two too late to see the attraction with water flowing through the natural bridges.
Plus, the harsh sunlight made it difficult to photograph even what's there. I guess it just wasn't meant to be, and perhaps the harsh winters from last year and this year might also have something to do with why there's no more creek going into the natural bridges. Was it another case of a waterfall overcome by events somehow? By debris diverting or blocking what was once a creek that went this way?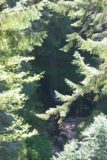 Anyways, we continued onwards on the trail towards its end. There was another wooden railing area with a disappointing view of a light-flowing waterfall in the shadows under some trees in the distance. The harsh sun here really made it hard to photograph as well. Some partial words against the railing might suggest that this was the Curly Creek Falls (instead of the dry waterfall at the natural bridges). But whatever the case, this eagerly anticipated waterfall sighting turned out to be another dud. So no Diamond Creek Falls, no Toketee Falls, and now no Curly Creek Falls.
At 1:40pm, we left the Curly Creek Falls area and made our way to Mt St Helens. We made a rather lengthy back-and-forth detour heading to Cougar (since the signposts at the 25 and 90 junction suggested going west). But our maps suggested that we should be able to see the east face of Mt St Helens if we took the 25. So after initially going towards Cougar, we headed back the other way and stopped briefly at the Pine Creek Visitor Center.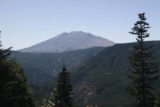 There, we picked up some newspapers and maps. Still, we weren't sure whether to head to the western entrance and get right at the Lava Dome Observatory or continue north on the 25 towards the Windy Ridge.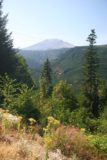 We eventually decided on the latter and drove the twisty 40 miles towards the Windy Ridge turnoff. We did make one brief stop at the Clearwater viewpoint, but it wasn't quite as good as the views we had seen earlier this morning.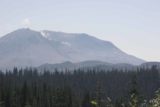 At 3:15pm, we made a stop at Bear Meadow. It was here that we got closer views (somewhat against the sun) of Mt St Helens and its blast zone. Signs here suggested that a photographer was at this spot that fateful May day in 1980 when the volcano erupted. His photos turned out to be one of the documentation of the world's greatest landslide captured on film so far as it was the moment the mountain blew off a large chunk of its north face.
So we took our obligatory photos from here before continuing onwards.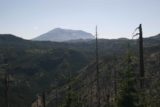 About 20 minutes later, we ended up at Monument Point, which was right at the blast edge according to the maps. Here, we could easily see the fallen and barren trees as evidence of the mass destruction that Mt St Helens inflicted nearly three decades ago. We could only imagine what an awesome sight it must've been from this vantage point when the eruption did occur. But we also wondered whether the event would've been survivable from here if the trees were barren from heat and perhaps the blast force as well.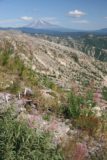 Continuing onwards, we ultimately reached the Windy Ridge Car Park at 3:55pm. We got our cameras and immediately started walking up the wooden gravel stairs up to the top of Windy Ridge. Once we were up there, we could see impressive views towards Mt Adams as well as views behind us of Mt St Helens and the mysterious Spirit Lake below.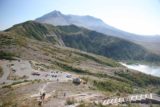 The magnitude of the devastation was quite evident from this vantage point as everything downslope from the blast crater was pretty much barren with a few shrubs and tree stumps.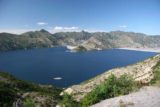 It was hard to imagine that the hills that lay before us were once higher in elevation as part of Mt St Helens itself. Now they're just reshaping Spirit Lake and the massive log mat bordering its edges to the north.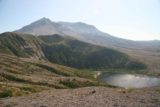 After taking what photos we could trying to make the best of looking against the afternoon sun, we headed back down the stairs and back into the car. It was 4:30pm at this point and now we had to make the long drive back to Portland.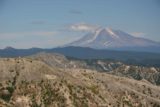 On the returning side of the Windy Ridge Road, it was pretty beat up as we suspected erosion beneath the road surfaces were accelerated due to the absence of healthy trees to stabilize the ground. Thus, parts of the road seemed to be sinking, and I'm sure it's only a matter of time before the road becomes single lane or closed altogether.
Eventually, we arrived at this Lebanese restaurant called Nicholas near downtown Portland at 7:15pm. It was a filling but pretty affordable way to satisfy a long day without eating anything decent and ending off this summer trip. Although it was cash only, we enjoyed our Middle Eastern food (they made great pita bread here) and left the place fully stuffed.
At 8:35pm, we made it back to our motel at last. It was an incredibly long day of mountain driving, but all in all, the experiences attained today would surely remain in our memories for a long time to come…
Visitor Comments:
Got something you'd like to share or say to keep the conversation going? Feel free to leave a comment below...
No users have replied to the content on this page