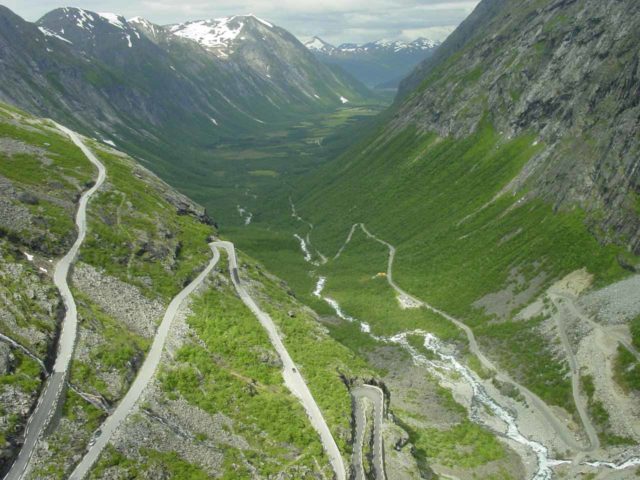 2-July 2005 to 5-July 2005:
As I was taking the best photos that I could of Muldalsfossen (foliage in the way and all), I made sure not to get too close to the edge. It certainly wasn't worth risking my life for a better shot – and there wasn't even a guarantee that there was a better view. Just then, I realized that something kept touching my behind – and it was breathing…
Day 1: THE TROLL LADDER
At 7am, Julie and I awoke. We didn't unpack too much of our stuff the night before considering we arrived quite late. So packing up and loading the car was a breeze. Then, we had another koldtbord breakfast.
We eventually checked out from the Trolltune Hotel at 9am, but not before the proprietor was asking us for money for last night's stay. Julie and I thought that was strange so we told him that we have vouchers for this particular date (even though it was the wrong one due to a mix-up by our travel agent) and that the Nordic Company should already have the money sent to him. We gave him the phone numbers to contact them so he could get his money. And with that, we left.
We headed up the E136 through the Romsdal Valley (or Romsdalen in Norwegian) and ultimately to the town of Åndalsnes. I knew Romsdalen had lots of waterfalls and had drawn comparisons to Yosemite Valley, at least according to Erik Welle-Strand in his book "Adventure Roads in Norway."
With clouds threatening rain but never delivering, we saw countless waterfalls. Among them were Døntefossen, Gravdefossen, and Vermafossen. I was disappointed that we didn't see Mongefossen, which would've been one of the tallest in the world. Apparently, in place of this towering waterfall were power lines and bare cliffs where the falls was supposed to be. What a bummer!
The first one we stopped for was actually some obscure one near the Rauma boundary at 10:05am. I believe it was called Kleivafossen according to Norgesglasset, but I wasn't totally sure. In any case, it was a gushing waterfall where there were actually two waterfalls converging in one. It could definitely be heard when we got out of the car.
At around 10:40am, we stopped at the well-signed picnic area for Slettafossen. Unfortunately, there really wasn't much to this waterfall even though it was quite loud.
The reason was that we were close to some very turbulent rapids, but we couldn't really tell where the actual drop of the waterfall was other than the foaming whitewater beneath a bridge.
At 11:05am, we stopped at a vista of an upside-down pitchfork-shaped Vermafossen. This one was really impressive.
At about 11:15am, we stopped by a pair of waterfalls that were across the road from each other. According to Norgesglasset, the one on the west side of the road was Dontefossen while the one on the east side of the road by the railroad tracks was Gravdefossen.
Indeed, there were so many waterfalls seen along the road that there were times when we would even stop for some of the unnamed waterfalls, thinking they were significant. After all, it was hard to tell which ones we should ignore and which ones we should brake for.
In one particular instance, I heard screeching brakes then a collision. When I turned around, I saw a car hit a guard rail. At the same time, Julie was behind the car taking photos of a waterfall by a bridge. Fortunately, that car was nowhere near Julie, but it was a little scary to say the least. That was proof right there that rubbernecking and speeding could be hazardous to your health…
An especially memorable stretch of the valley was when we passed beneath some towering vertical cliffs. I believe amongst these cliffs was what was called Trollveggen, which was supposed to be one of the tallest overhanging cliffs in Europe and quite a rock climbing challenge.
We finally arrived at the Rauma Hotel in Åndalsnes at 2pm. As we went up the stairs and left our luggage in our room, the hotel clerk told us we had to pay.
Once again, we had to tell her that we had these vouchers and that Nordic Company had the money if they didn't pay her already. We thought it was strange that this request was made, but this eventually passed without incident, and we were ultimately on our way to Trollstigen.
While in Andalsnes, we went to a visitor center there to pick up some more maps (some for purchase) as well as some free literature about the immediate area we were about to tour. I recalled there was one tourist who came in smelling really bad, and it made us wonder if we were having the same effect on other people since our $300 laundry job back in Loen didn't exactly fully dry when we left.
Anyways at 3pm, Julie and I left Andalsnes, drove south back towards Romsdalen, and then turned right to go across a bridge crossing the Raumda River before entering the Isterdalen Valley.
We made our way to the famous Trollstigen (aka the Troll Ladder), which was a serpentine road at the headwall of the Ister Valley. Kind of like Stalheimskleiva in Hordaland, this road featured several hairpin turns, single lanes, and an over 10% grade.
Two waterfalls (Stigfossen and Tverrdalsfossen (or "Trollfossen")) would tumble besides the road, making it one of the must-do attractions of Norway (as the tourist literature would suggest).
The road was quite fun to drive though they were re-routing some of the road that was prone to landslides. Eventually, we'd make it to the top and spent some time checking out the mindblowing views. Soon thereafter, Julie was looking for cheap souvenirs to bring home and give away to friends and family.
By 3:40pm, we left the busy Trollstigen and continued along the snowy moors before getting towards Tafjorden. We made one brief stop for a waterfall blending in the snow ten minutes later amongst this snowy plateau.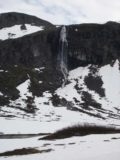 Anyhow, the goal of this next excursion in Tafjorden was to do the Muldalsfossen hike.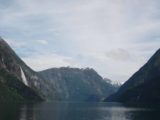 Now the Ta Fjord was the site of another tsunami-like disaster induced by tons of rock tumbling down the vertical cliffs in a landslide displacing the same amount of volume of water in the fjord. Similar to the disasters at Lovatnet, it was a reminder that even beautiful places have their moments when Mother Nature can be unforgiving.
As we drove along the Ta Fjord, we could see a huge waterfall up ahead in the gorgeous panorama. However, we eventually realized that waterfall was not Muldalsfossen. In fact, the road tunnel would go underneath it (unbeknownst to us until after the trip when we could process what we saw).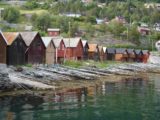 Eventually, we exited the long tunnel and parked the car in a dirt car park. Having just heard "In the Shadows" by the Rasmus on Norwegian radio, I was psyched and ready to do the strenuous climb to see the falls. Julie was tired and decided to stay in the car to nap.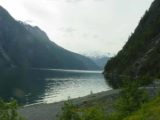 It was 4:55pm when I started hiking. I noticed signs around the car park saying in Norwegian that a sudden rush of water could come without warning. I got the impression that Muldalsfossen was regulated based on this sign, which probably curbed my enthusiasm about it.
Nonetheless, I followed the road and saw the signed trail leading away from it. The trail steeply made an unrelenting climb up some 11 switchbacks towards the top of the waterfall.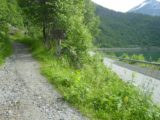 The climb was tiring, but there were moments of shade to cool off and good views of a nice waterfall across the fjord when the shade gave way to a clearing.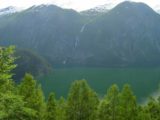 But the whole time my mind was on getting a good view of Muldalsfossen. I even had a brochure that had a great direct view of the falls and that picture was always on my mind when I thought of doing this hike. Anyways, I didn't get a glimpse of the falls until about the 9th or 10th switchback (I started losing count because I was tiring and there were too many of them).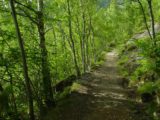 It was a rather unsatisfying view of the falls, to say the least, because foliage was blocking my view. So as I was taking the best photos that I could of Muldalsfossen (foliage in the way and all), I made sure not to get too close to the edge. It certainly wasn't worth risking my life for a better shot – and there wasn't even a guarantee that there was a better view. Just then, I realized that something kept touching my behind – and it was breathing…
…when I turned around and looked down, I saw a pair of eyes and I immediately jumped and swatted my hiking stick at it. Then, I heard a yelp and I saw that it was nothing more than a little black dog running away.
I was obviously startled, but now I was embarrassed. I love dogs, but I was probably too worried about falling off the cliff and wasn't really in the mood for surprises.
Shortly thereafter, a Norwegian hiker (obviously the owner of the dog) waved at me and said hi. I waved back, but couldn't say anything in my startled state.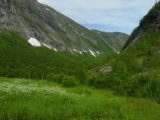 And so I went back to taking more unsatisfactory photos before I continued to hike up the trail. Eventually, I'd make it to the top in a couple more switchbacks, and there was another one of those houses in the middle of nowhere perched atop the waterfall.
I crossed over the bridge above the falls and looked across the fjord, but I couldn't see Muldalsfossen.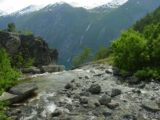 I was a bit disappointed and gave up trying to risk my life for a better shot. Though in hindsight, I could've done a little more exploring safely for other angles of the waterfall.
But the prevailing thought was somehow along the hike up the switchbacks, there was a better view and so I made my way back down.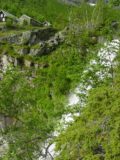 And as I descended each switchback, I couldn't find a faint trail nor any clue of where that view from the brochure was. Eventually, I'd get so far down the trail that I abandoned all hope of getting a better look at the falls. It was definitely an unfulfilled hike in my book and I'm thinking of redoing this hike if I get a chance to come back.
Near the bottom, I caught up to the hikers with the dog that startled me. I engaged in some conversation with them. He first spoke to me in Norwegian, but then he realized that I didn't understand what he was saying.
But in our small talk, I threw in some Norwegian words I knew just to see if I understood and said those words correctly.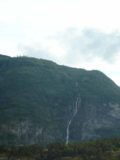 Anyhow, I got the sense that Norwegians aren't used to seeing Americans from Los Angeles.
"That's a long ways away from here," he would say.
In any case, I commented to him about how beautiful it was in this country. But the Norwegian folks seemed to express a desire to come to the States. I guess the grass is always greener on the other side, as they say.
And after exchanging "Ha det!"'s I continued down the trail.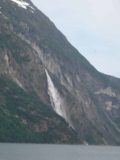 It wasn't long before I met a Norwegian family trio – a father, mother, and son. The father broke the ice by smiling and saying, "Hei! Hei!"
Then he said something in Norsk, which I didn't understand. So I got to use an expression I learned in my CDs…
"Um… Jeg forstår ikke," said I.
A quizzical look then overtook the father and the family because I told them "I don't understand." So I followed up with, "Jeg er Amerikansk."
And with that, we engaged in small talk in english with a few opportunities to throw in a Norwegian word or two. It was fun to test my knowledge of the language (which wasn't much and quite humbling I must say), but I also told them about how beautiful Norway was. Even despite my recently disappointing hike.
Eventually, the conversation ended and we said "Ha det!" to each other as we left.
I made it back down to the car at 6:30pm. Julie asked me how the hike was, and I told her that I got crappy views of the falls. I also told her that I didn't know how that brochure got that nice shot of the waterfall. Obviously she could tell how I thought this hike was unfulfilled. I would have to do it again on the next trip to Norway.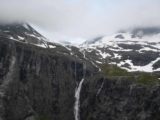 So we headed back to Åndalsnes after driving back down Trollstigen in the dwindling daylight (though it was still reasonably bright).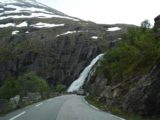 Even though we were now going down through the familiar troll ladder, we were still getting a kick out of the mind-blowing precipitous views as we were descending switchback after switchback. I made sure to keep the car in 1st or 2nd gear and now wear out the breaks given how steep the road was.
We got back to town at 8pm and walked from the Rauma Hotel to have some pizza as the sit-down places were closed (seemed like a common theme throughout our trip to Norway – that everywhere closes quite early!).
And so ended another scenic day in Norway. We wondered what surprises tomorrow had in store for us…
Day 2: ANOTHER BIG WATERFALL BONANZA DAY
It was about 6:30am when Julie and I awoke. To help with the short sleep from a couple days ago, last night was restful (i.e. we at least got 7 hours of sleep).
After having a 7am breakfast (another basic koltbord breakfast), we eventually checked out of the Rauma Hotel at 8:30am and left Andalsnes.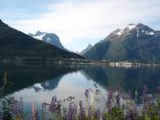 So we drove along the northern shores of Isfjorden before heading north then following the southern shores of Langfjorden.
Eventually, the road 660 veered south on some mountain roads before descending into Eikesdal Valley just at the very head of Eresfjorden. We saw a waterfall in the distance called Sandalsfossen at 9:45am, but we figured we could come back for it after we were done with the main goal of coming here, which was Mardalsfossen.
At that point, we headed south on the road 191, which we had read wasn't even available until about a decade ago when the prior access across the main lake here, Eikesdalsvatnet, was only possible by boat. Now, we at least had the option of driving the narrow 1.5-lane road around the eastern banks of the lake.
We drove all the way south to the end of the lake, where we then swung across its feeding river towards the last 2.5km of unsealed road for the Mardalsfossen trailhead.
As we were driving the narrow road along the eastern shores of the lake, we could see Mardalsfossen towering high above the lake. It was too bad we couldn't find a suitable place to stop the car and just take more relaxed photos from this contextual vantage point. Instead, we had to basically block the traffic (fortunately, we were the only ones on the road at the time) and take the photos from the car.
Anyhow, we would eventually walk the well-established trail to Mardalsfossen and get there at 11:30am. The falls looked a bit different from this close up (not as tall as we had seen it from across the lake), but at the same time, we got to crank our necks up at the impressive top part of the falls (partially seen) as well as the big lower drop which had a little bit of a Y-shape.
We didn't make it all the way to the misty base as the trail got rougher and less defined after the trail's official end. That was where we were content to turn around.
At 12:15pm, we were back at the car. Given the gentle uphill nature of the hike, it was mostly downhill and fairly straightforward.
Next, we continued driving further up the Eikesdal Valley where we continued to see more impressive waterfalls on both sides of the valley. At 12:40pm, we made a stop at a pair of waterfalls falling side-by-side at what was informally called Tverrgrovafossen and Hovlafossen
At about 12:45pm, we saw a couple of more large waterfalls to our left on the opposite side of the valley.
At 12:50pm, we saw yet another pair of big waterfalls on the right.
We weren't sure where we were supposed to stop and turn around as we got deeper into the valley, but then a sign caught my eye at a junction. It said something to the effect of Aursjovegen, and I never came across this in my pre-trip research, but for some reason, I decided to just go for it.
So we went up the very narrow unsealed and mountainous road up a few tunnels while also yielding some pretty mind-blowing views of the U-shaped Eikesdalen Valley.
The U-shaped profile of the valley was absolute evidence that a glacier once scoured through this area. Indeed, it was quite Yosemite-like.
As the road flattened out, we continued driving into the moors above Eikesdalen. However, as we were looking into the head of the valley, we could see more giant waterfalls draping both sides of the valley!
It was quite a breathtaking sight, and we weren't even sure if these waterfalls had names. We really felt they ought to!
Julie and I made a brief stop at this magnificent sight at 1:20pm. Then, when we had our fill, we continued driving along the Aursjovegen until we decided that the scenery wasn't improving past the climax we had just witnessed. And so we turned around at 1:30pm, headed back down the Aursjovegen, and got to relive the experiences we had just been treated to on the way up.
At 2:25pm, we were back inside the Eikesdalen where the pair of waterfalls tumbling side-by-side (Tverrgrovafossen and Hovlafossen) could be seen.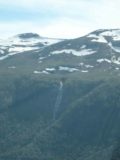 Julie and I then continued driving towards the town of Sunndalsora where we briefly had a late lunch at 4:10pm. At this point, we figured out that there were places where we could buy lunch cafeteria-style that were fresh, weren't fast food, and were quite the bargain compared to any true sit-down place with service.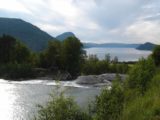 After leaving town, we then arrived at the Rykkjem ferry across the Todalsfjorden at 4:40pm as we were trying to head towards a waterfall called Naustafossen in the Trollheimen region. I knew this would be a bit of an out-and-back detour since it didn't seem like there was a whole lot of literature devoted to this area during our pre-trip research.
We did see some signage and literature proclaiming that area to have some of the cleanest air and water in Norway. I guess that suggested that we were going into some pretty remote place.
Anyhow, after landing at the other end of the ferry, we then drove east along the north side of the Todalsfjorden and into Todal Valley. We drove this pretty narrow rural road for quite a ways (missing a turn along the way and having to backtrack at one point) before we finally started to get to the end of the road near someone's farm (in the hamlet of Karvatn) with Naustafossen in the distance at 5:45pm.
Julie was getting a little waterfall-fatigued at this point (despite this waterfall looking very impressive) so she stayed in the car. I went out and did some trail running to get all the way to a bridge where I could see there was a natural waterwheel throwing up mist before the taller plunge of the falls.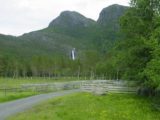 It looked like there was more I could have done in terms of walking as the trail seemed to keep going beyond the bridge, but I couldn't keep Julie waiting.
So after having my fill of the falls, I ran back the 700m or so to return to the car. And with that, we headed out at 6:15pm.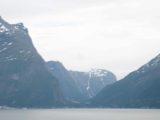 At least now that we knew where we were going, it was a little more straightforward to return to the Rykkjem ferry across Todalsfjorden. And then, we were back in Sunndalsora before we then headed east into the valley of Sunndalen on Road 70.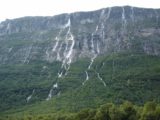 As we were driving this road, Julie and I were all of the sudden bombarded with waterfall sightings left and right. Some of these had some makeshift pullouts or road shoulders that we could stop the car and have a look outside of the car. Others kind of crept up on us and we had to U-turn in order to see them better before continuing east.
We started to stop for some of these waterfalls at around 7:55pm. And at 8:05pm, there were even more that we saw in Sunndalen though by this point in time, if we didn't stop at a pullout (because they weren't there or we somehow missed them), then we kept going east. We could've been in this valley forever to hunt waterfalls, it seemed.
We would eventually reach a turnoff near Gjora where there was yet another waterfall in the distance. Man, large waterfalls seemed to really be a dime-a-dozen in Sunndalen. I remembered before making the turnoff to leave Road 70, we did pullover for a young local guy who was tailing me. However, as I pulled over, we must've hit a pothole or something which really freaked Julie out.
I guess we were going to have to be a little less liberal about finding shoulders or pullouts to let locals pass given this near tire-popping incident (fortunately, the car was still in good shape as well as the all-important tires).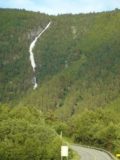 Anyways, we would eventually get past a turnoff on the left that went across a bridge towards the Jenstad farm. We instead decided to continue straight and go up some narrow switchbacks until we were at the top of what appeared to be Svoufossen at 8:40pm. However, the view from up here wasn't that great so we got our shots from here, then headed back down the switchbacks towards the turnoff we missed to head to the Jenstad farm in Amotan.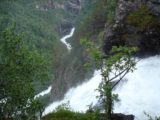 Eventually at 9pm, we would arrive at some signposted car parks with a view of what appeared to be Reppdalsfossen ahead of us. Once again, Julie was waterfall-fatigued so she stayed in the car, while I went waterfall-hunting solo.
There were signs that pointed me where I should be walking to get to the Svoufossen, which was the real reason why I went on this hike even though I could see the impressive Reppdalsfossen already. Eventually, I'd get around someone's farm and then walk downhill into a forest until I started to get a decent view of the plunging and twisting Svoufossen.
I wouldn't walk all the way down to the base (as the terrain also got a little steeper) though I probably could have if I wasn't keeping Julie waiting and it wasn't so late in the day. Still, the photos I did get of Svoufossen were nice, and I eventually trail ran my way back up to Julie at the car by 9:20pm.
At this point, we then drove to a separate car park as I had recalled we passed by one earlier on the way to the one we ended up stopping at. That other car park turned out to be the trailhead for Linddalsfossen. Each car park was charging 20kr for parking.
The sign here said it was going to be a long two-hour round trip hike! With it being pretty late and Julie suffering from waterfall-fatigue at this point, she let me go ahead and do this hike solo knowing that I could probably do this trail very fast and not having to keep her waiting for long.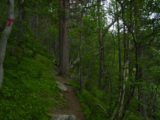 And so I followed the trail and the trail markings as I quickly made my way uphill along the narrow trail. The trail itself looked like it hugged some slopes as it would weave in and out of some forested terrain while also having a few minor stream crossings and the odd rocky landslip area. The trail was a little overgrown in some sections as well.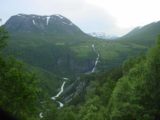 By the time I finally saw Linndalsfossen, I was quite surprised at how quickly I was able to get there when I had been anticipating a much longer hike. Still, I wasn't complaining, and the view of the falls was awesome!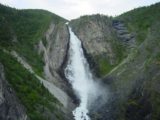 Before me was a giant waterfall that was fanning out as it was gushing into a deep gorge below me. I was content to get my views from the outcrop I was standing at even though it looked like the trail could keep going (possibly towards its top).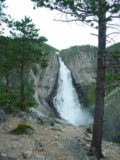 But with Julie waiting in the car, I decided that I was going to get my photos, momentarily bask in the glorious scene before me, and then quickly trail run my way back to the car park.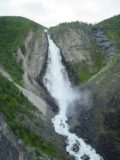 As I was headed back, I started to notice more waterfalls in the distance in the Jenstad farm vicinity. Indeed, it really seemed like the Amotan hamlet was where multiple waterfalls were converging, and it was quite unusual as far as I was concerned. It was too bad that it was getting late in the day because we very easily could have spent an entire half-day here in just this one spot alone!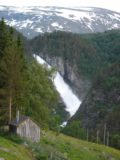 At about 10:25pm, I rejoined Julie at the car park. Surprising even her, this hike took half the time that the signs led us to believe. Either I was trail running very effectively or that sign was a bit on the conservative side in terms of time commitment. Well, whatever the case, we drove off.
By about 10:40pm, we were back at the Road 70 junction at Amotan and then we continued east towards the town of Oppdal, where we were staying next. At least the waterfall bonanza within the Sunndal Valley wasn't nearly as pronounced as further west between Sunndalsora and Gjora.
So we were able to zoom through the eastern end of Sunndalen and finally arrive at the Oppdal Quality Hotel at 11:15pm. And so we were finally able to call it a day as it seemed like it was only starting to become twilight at this time…
Day 3: CHILLIN' IN TRONDHEIM
Once again, Julie and I awoke at 6:30am. We had yet another basic koltbord breakfast at 7am, and then we checked out and left Oppdal at 8:30am.
As we were driving north from Oppdal towards Trondheim, I recalled that there was a little bit of a police blockade. It turned out that they were giving breathalyzer tests to motorists and so I had to blow into one when it came my turn.
This passed without incident, but I wondered how much of a problem drunk driving was in Norway for them to do this. As we got closer to the city of Trondheim, we had to pay about 25kr for this stretch of road.
Eventually at about 10:30am, we arrived in Trondheim, which was the first true city (at least by Norwegian standards) that we had been to since Bergen. But unlike Bergen, we would at least be seeing this city on a day other than Sunday so we were really looking forward to mixing up the experience on this day.
Fortunately, they let us check into the Hotel Britannia at this time. That was cool! So now, we were able to just drop off our stuff in the room, and then walk around the city center of Trondheim for the rest of the morning.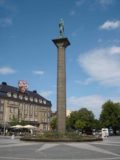 It was a sunny day and Julie and I were basically just randomly walking about the city. Along the way, we picked up some takeaway lunch while also enjoyed ourselves some softis (soft serve ice cream) in delicious waffle cones. The day was actually a bit warm so it was a great way to cool off for a bit.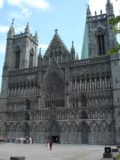 Meanwhile, Julie and I checked out a very impressive medieval cathedral called the Nidaros Cathedral. It was a grand structure that was easily bigger than anything I had seen so far. Of course, Julie (having been to Paris before) told me that if I thought this was something, I should go check out the rest of the European cathedrals. If indeed that was the case, they must be very impressive given how big the Nidaros Cathedral already was.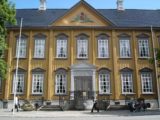 It was very cool inside the cathedral which really helped to offset the somewhat warm weather we were getting. There was even a hint of humidity in the weather, which I thought was rather odd considering how far north in lattitude we were. I guess the Gulf Stream was really keeping Northern Europe temperate and quite comfortable instead of as unforgiving as say Siberia or Alaska or something.
By about 2:30pm, Julie and I were having our fill of Trondheim, which was a compact enough city that we felt we saw most of its structural highlights in the few hours we were there. And so we returned to the hotel, got into the car (which had limited parking beneath the hotel), and then we headed out towards Henfallet.
That would be the lone waterfall of the day. However, we'd have to earn it with a bit of a drive from Trondheim to the falls. I even entertained the thought of making a larger loop to encompass the UNESCO World Heritage mining town of Roros, but we'd have to play it by ear on that one.
And so we drove off that started with a lot of toll roads. I believe we paid about 25kr to leave Trondheim plus another 10kr to get to the Road 705. The 705 road was the inland route that would ultimately take us to the town of As. Near the junction of the E6 and 705 was the town of Hell, which got a kick out of us, but I knew that Hell had a completely different meaning than the religious one.
It wouldn't be until about 4:20pm when we got to a waterfall seen from a bridge on a logging road that would ultimately lead us to Henfallet. I believe this waterfall was called Kvernfossen. We took photos of it, then continued on the logging road, which was actually a little non-trivial for the 2wd passenger vehicle we were in given that there was some grass in the middle of the road that was brushing up against the underside of the car.
After a fair bit of extensive driving on this unpaved logging road, we finally arrived at the signposted pullout for Henfallet at 4:45pm. There was a sign in Norwegian claiming that at 90m tall, it was the highest waterfall in the South Trondelag county.
And indeed, after a short jaunt across a small grove of forest, we were looking right into the ravine that contained the gushingly wide waterfall. Julie and I were content to take photos right from where we were standing, but it looked like there were some more informal trails leading further down into the ravine.
We were pretty content with our views of Henfallet and we opted not to extend this visit any longer knowing that we still had to drive back to Trondheim. So we were back at the car at around 5:05pm knowing that we still had a 113km drive to Trondheim. It turned out that it was 95km just to even get to Roros, and that wouldn't even include the drive to get from there to Roros. And so we opted not to do Roros on this day. Maybe on a return visit, we might go for it.
At 7:10pm, we finally arrived back at the town of Trondheim. So after quickly parking the car beneath the Hotel Britannia, we then quickly walked around town looking for a place to eat. I believe we ultimately went to a place called Egon.
It was a pretty satisfying dinner (though I didn't recall what exactly we had), and for a change, we had a relatively laid back day compared to all the hectic waterfalling we had been doing throughout the trip day after day. And so Julie and I had a nice night and we looked forward to getting cleaned up and well-rested on this night…
Day 4: E6-ING INTO NORDLAND
It was 6am when Julie and I awoke. For once we were very well-rested. And as much as I wanted to get an early start today knowing that we had to go far north, we were first going to have our included breakfast.
We had gotten used to the basic koltbord breakfasts every morning throughout this trip, but when we got into the breakfast area for the Hotel Britannia, Julie and I were floored when we saw the variety of both hot foods as well as the standard Norwegian koltbord choices as well.
Needless to say, we took advantage of this really good breakfast (and we probably stuffed ourselves silly in doing so), and so we wouldn't check out and leave Trondheim until about 8:20am.
And so we continued north on the E6 as we were leaving Sor-Trondelag county and heading into Nord-Trondelag county. I was fighting a little bit of road fatigue, which was strange considering we were pretty well-rested from last night. But perhaps it was the cumulative effects of not having enough sleep throughout this trip. So I needed help from Julie to keep me propped up.
Thankfully, we arrived at the signposted car park for Formofossen at 11:35am. It wasn't far from the E6 and it had enough signage for us to find it without trouble (after crossing a bridge, then turning right after the bridge).
As we left the car, we first briefly meandered through a small picnic area before reaching the brink of the falls where there was an overlook. We looked down at the short but gushing river-type waterfall that was apparently important for salmon fishing. However, a sign here mentioned that there was a mysterious parasite that was wiping out the salmon population.
As we continued walking further downstream, we'd reach what appeared to be some steps leading into a rocky outcrop what looked quite dangerously close to the rushing water. Even getting onto the rock itself seemed a bit dicey so we decided to just get our downstream views of the falls from the relative safety of the stairs. And so we had to be content to get our side views of the falls before we returned to the parked car.
Next, we drove back onto the E6 and continued into the Nord-Trondelag county where we then saw signs for Grongstadfossen. We took a side road 775 that connected us to the small hamlet of Hoylandet, but there were a lot of sheep on this road, and we really had to be careful not to get into an accident with them.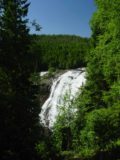 So after a half-hour spur of this driving, then turning left onto the Rv17 before turning right at a sign leading us into an unpaved rural road, we would eventually arrive at a car park around Grongstadfossen at 12:55pm.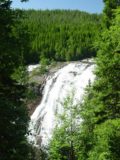 It was a short walk down a dirt road that was a bit overgrown with grass to a picnic table where I stood on it in order to get a somewhat clean view over the foliage towards the impressive waterfall. However, there seemed to be a bit of a cloud of wasps in the area, and that kept Julie in the car. Perhaps I wasn't totally cognizant of the danger of this swarm, but it did make me uncomfortable enough to not want to linger outside the car for much longer.
Perhaps in hindsight, I should have continued down the trail towards the river and get a totally different perspective of Grongstadfossen from below, but given the circumstances, we did what we did, and it was time to keep moving at around 1:15pm.
So we backtracked onto the E6, and then continued the very long drive north as we were leaving Nord-Trondelag county and entering Nordland county. Again, I was fighting road fatigue as the drive was very long and seemingly too familiar in scenery to shift my attention.
Eventually at 3:45pm, we arrived at a large car park and visitor center for the Laksforsen waterfall. Apparently, they called waterfals "forsen" instead of "fossen" in these parts because there was a bit of Swedish heritage here.
After a brief lunch inside the visitor center where we could look out at the wide waterfall from inside, we then scrambled down a steep friction pitch towards the banks of the river where we could feel some of the mist of Laksforsen. We had to be careful not to get too close to the river because the rocks we were standing on were quite smooth and slippery.
The direct views of the falls weren't that great (or at least it made the falls look smaller than from above), but we had our fill of the impressive falls while others seemed to be trying their luck at fishing here. I guess that was fitting since "laks" was the Norwegian word for salmon.
When we returned to the car some time after 4pm, I couldn't help but notice a sign about the E6 saying something to the effect that it was one of the most dangerous roads in all of Norway due to the hazards of road fatigue. They didn't have to tell me twice about that one!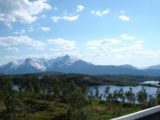 And so we continued driving north on the E6 even further north. It was crazy to think how much driving we had done to this point, and we still had a ways to go before even reaching our accommodation in the town of Mo I Rana.
Eventually at 6:15pm, we made it to the turistkontor (visitor center) in the town of Mo i Rana, and to our surprise, they were open and we managed to pick up some maps. And in the literature, we saw there was something about the Gronligrotta cave, which was something a bit different from what we had been doing so far on this trip.
So after getting the info we needed, we decided that perhaps we should do some more touring before checking into the accommodation in town. Julie wasn't keen on punting the check-in until later so that would be a point of contention for the rest of the afternoon.
When we left Mo i Rana, we quickly continued driving on the E6 further north. We'd eventually get to a signposted turnoff leading to both the Gronligrotta as well as the Svartisen Glacier (Black Ice Glacier). We didn't have any intentions of doing the glacier, but we figured we mind as well go right to the Gronligrotta cave.
We'd arrive there at around 6:55pm, and we happened to show up just in time for a cave tour with another family of Norwegians. There was a young, blonde lady (probably in her 20s) dressed in spelunking gear and a headlamp while wielding a flashlight who was leading the tour. It seemed like a family operation. I recalled she spoke mostly Norwegian, and it seemed like they didn't get many Americans in these parts.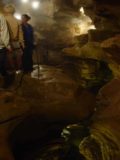 Nonetheless, Julie and I did the tour, which was quite wet and damp inside the cave. The low light made it harder for us to take photos without flash (which would ruin the photo), but we were relishing the fact that there were underground streams and mini-cascades that really made the cave pretty loud.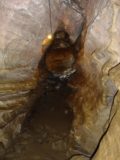 It was a thoroughly enjoyable tour even though the cave was modestly sized. But the more important thing was that it was yet another way to add variety to a trip that was dominated by waterfalling. I knew Julie was getting sick of waterfalls at this point.
We were eventually done with the cave tour at around 8pm and then continued driving north on the E6 as I was determined to go look for Bredekfossen before returning to our accommodation in Mo i Rana.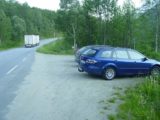 Ultimately, after a little bit of driving around the Stormdalsaga area, we found one car park that seemed to be a bit farther from an earlier car park we chanced upon earlier near a swinging bridge.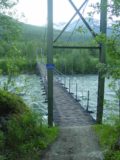 We eventually decided that we should start the hike from the swinging bridge and so we got back in the car and eventually got to the limited parking space by the trailhead by the swinging bridge for Bredekfossen at 9:20pm.
Once again, Julie decided to stay in the car listening to some Norwegian radio while also getting some rest. I recalled we were listening to Briskeby's "Miss You Like Crazy" right about the time I was getting started on the hike.
Anyways, after crossing over the swinging bridge traversing the wide Ranaelva River, I then passed through what seemed to be private lands where signs urged hikers to respect the private property and quickly get through the area to continue onto the trail.
Then, the trail went uphill through some forested bushlands before I found a short scramble leading to the edge of a cliff with a partial top down look at the Bredekfossen. I wasn't sure how I was supposed to get down there for a closer look, and perhaps my hiking wasn't finished. It was about 10:15pm.
But with it getting late in the day and the sun had already disappeared behind the mountainous horizon, I couldn't extend the hike anymore to get a closer look at Bredekfossen. And so I was content with what partial views I was able to get before I returned to the car park where Julie waited for me.
By the time I got back, it was about 10:50pm. We drove back south on the E6 into the town of Mo i Rana, and we'd eventually return to the accommodation some time around 11:30pm.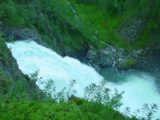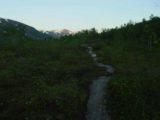 We were lucky to have the late check-in. But without any real dinner, Julie was pretty grumpy. In any case, we got cleaned up and went to bed knowing that there wouldn't be much of sightseeing in this town as we'd be continuing our drive further north tomorrow morning…
Visitor Comments:
Got something you'd like to share or say to keep the conversation going? Feel free to leave a comment below...
No users have replied to the content on this page