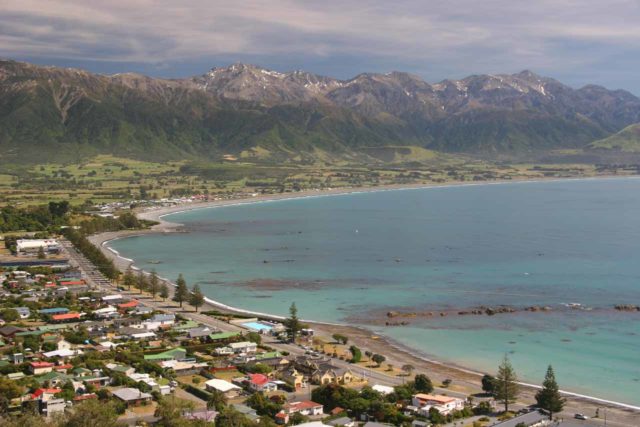 30-December 2009 to 3-January 2010:
While the dolphins were still putting on a show, the tour time was running out. So that prompted our Maori MC to call out over the loud speaker for everyone to return to their seats.
Of course, no one was exactly rushing to do it, so that prompted our MC to say, "I know it's difficult to leave the dolphins and return to your seats, but one thing I do know is that all of you can hear me…"
Day 11: FEELS LIKE OREGON
With yesterday's torrential rains and flooding, I was relieved to wake up at 6:15am to pockets of sunshine. Of course dark clouds were still surrounding these pockets so every once in a while, we heard the roof clatter loudly as a squall or two bombarded the roof of our motel.
We spent the next couple of hours having our breakfast and taking our time getting ready for today. But by 8:20am, we finally left our motel and headed north towards Hector. Now, it was time to make up for the failed visit yesterday. All signs were pointing to a better day as blue skies and bright sun were the rule of this morning when we left.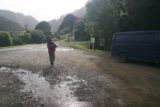 At 8:50am, we returned to the Charming Creek Walkway. We could still see some puddles left over from yesterday's floods. And once again, it was us plus some other car that was parked here. We were a little concerned that the van that was here belonged to someone dodgy given its condition, and that someone could easily hide in there waiting to break into an unsuspecting tourist car. So we got our stuff together and took them with us (there wasn't much to bring besides our usual dayhiking gear besides our Nuvi
).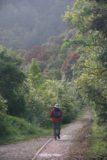 With the sun shining brightly, we could now see that there were blooming trees decorating itself with red flowers (dunno if they're rimu or rata or something else). But even despite the sunny weather, there were still plenty of muddy spots on the trail leftover from the drenching yesterday.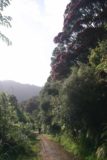 The hour-long walk each way pretty much followed some old railroad tracks for the purposes of hauling coal. In fact, these tracks still lead directly to the Solid Energy facility nearby with its mountains of coal in its yard.
There's no question that coal is a major part of Westport and this section of the West Coast of New Zealand. We even saw some coal mining relics along the trail at the start with a couple of abandoned rail carts as well as a couple of facilities with interpretive signs near a very muddy grassy area.
After around 30 minutes, we went through a pretty long tunnel. Julie insisted on using a flashlight (or torch as the locals here would say) to light the way, but the tunnel wasn't so terribly long that eyes adjusted to darkness couldn't compensate before getting light from the other end.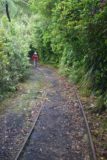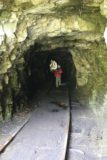 Of course the railroad tracks continued through here, but on the other side, some of the tracks dropped off over cliffs while the walkway still stayed on the ledge. Eventually, that bypass would rejoin the railroad tracks further on, and we often found ourselves using the wooden planks or the rails themselves to try to avoid getting our boots stuck in the muddiest sections of track.
There were also several areas that were rockfall hazards, and signs insisted that we proceeded without stopping in those sections. That just kind of shows you that these cliffs naturally erode into the raging Charming Creek, which flowed consistently next to the trail.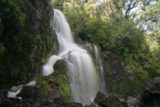 After a little over an hour, we saw a fair-sized cascade next to a footbridge. The falls seemed awfully small from what I recalled the Mangatini Falls (the goal of this hike) were supposed to be, but Julie thought this was the turnaround point for the hike.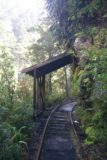 So based on this hypothesis, we took many photos here, including some taken after a short scramble to a somewhat better viewpoint a few feet above the bridge. But as I was snapping photos here, I knew something was wrong for the diminutive size of this falls just somehow didn't add up. Besides, its shape wasn't the rectangular shape that I was expecting from all the i-SITE photos of this falls.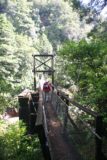 Thus, I kept on walking and went against Julie's hypothesis. And a few minutes later, we saw a sign and long swinging bridge over the Charming Creek. Towards the end of the bridge, Julie was excited as she saw the Mangatini Falls at last! Unfortunately, I noticed that the sun was against us, and with the decent weather this morning, the sun was now more of a curse than a blessing as it wreaked havoc on our photos.
So we spent the next 15 or 20 minutes or so waiting for some of the quickly passing clouds to block the sun and even out the lighting for us to take photos. We had to wait for quite a while as a couple of different parties of hikers joined us then left.
The main lookout for the Mangatini Falls was right next to another dark tunnel. At least the cliffs here prevented the mist from reaching all the way to our viewing spot, but it didn't do a whole lot for the lighting on the waterfall and the creek raging in front of it.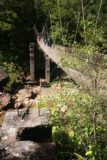 Eventually at around 10:30am, I left the falls convinced that I couldn't wait another 15 minutes or so for more clouds to show up. It was an excercise in frustration because most of the time, the clouds seemed to have a trajectory towards the sun only to veer off and avoid it! Why is it that the clouds aren't there when you need them? In any case, I was successful getting a few moments of decent light for photographing the falls, but they were few and far between.
As Julie and I were walking back to the car park, we passed by numerous different parties of hikers. Apparently, this trail was very popular. And when we finally arrived at the car park at 11:30am, we saw numerous other cars joining our car at the car park; further evidence that this was a popular trail.
At this point, we drove off and continued to head north from Hector towards Karamea. The road followed the coastline for a long stretch before going inland in a series of winding roads. I spent most of my time following some dairy truck with a long trailer that looked like a typical truck hauling oil or gas, because this driver seemed to know this road quite well anticipating many difficult parts and even aggressively tackling turns despite the narrowness of the two-laned road.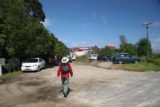 At 12:30pm, we arrived at the Last Resort in Karamea, which served up some decent sandwiches for lunch.
After our delicious yet simple and reasonably-priced meal, we drove off further north towards the Oparara Basin. The road eventually veered into an unsealed, mostly single-lane road with many potholes en route. Since this area seemed like a popular spot, there were lots of cars going the other way sharing this road so that created a lot of tight spots where we'd have to pass each other.
We helped our situation out by folding in the side mirrors (though it seemed like we were the only ones doing this). There was even a section where a recent landslide forced us to drive into some grassy and muddy section to bypass it.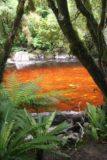 By 2pm, we reached the car park for the Oparara Basin, and there were easily more than a dozen vehicles here so that pretty much confirmed our hunch that this place was popular despite its remoteness. And since we were now within Kahurangi National Park, we were well within native bush areas so unsurprisingly there were sandflies around as well.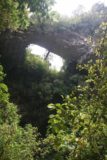 After putting on DEET and loading by pack with rain gear, we proceeded to take the shorter walk to the Oparara Arch. This track was a little narrow and up-and-down as well as slippery and muddy in spots. However, it seemed to follow some stream whose waters were colored a blood red. It was very reminiscent of something we saw en route to Angel Falls where the Rio Churun also appeared very red.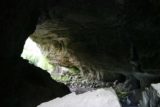 Eventually we got to the base of one of the openings of the Oparara Arch. But it was too bad that this was really more of a tunnel than a natural bridge that could be photographed. For there was no way we could take that shot proving this was a natural span for the stream was too fast flowing and deep.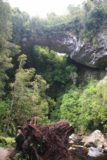 Plus, the trail ended abruptly not far through the first opening. The second opening was visible, but signs discouraged us from going further, which we obliged.
There was a little bit of a crack and sinkhole creating another natural bridge right in front of the opening of the main Oparara Arch. But with the sheer scale of this formation, it was all difficult to photograph. So we didn't linger for too long before we headed back to the car park.
During this stretch, a few squalls dumped on us so we were glad the rain gear came in handy here. I'm not sure we could say the same thing for some other groups that didn't seem to come prepared for four seasons in a day (and today just seemed like it would end up being one of those days).
About 45 minutes after starting off, we were back at the car park. Now, we proceeded to head to the opposite side of the car park to start the walk towards the Moria Gate Arch. This track was supposed to be a little longer, but the track was very wide and in very good shape.
It turned out this track was improved and the Oparara Valley Track was completed in 2006. I guess that would explain why the hiking here was so much easier than for the Oparara Arch.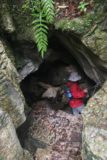 When we got to a fork leading to some hole in the ground, we saw and conversed with a French couple saying that we've found the arch. This certainly wasn't what I had in mind since I had seen postcards of some arch with a clear calm stream running through it, but here we had to precariously go down some slippery opening into the dark.
The French lady who first went down shouted out, "It's beautiful down here!" So that really encouraged both Julie and I to follow them down. And when we got to the base, we could see that this hole was merely one of three openings where the other two were from the natural bridge formation as another blood red stream passed through.
So we took several shots from here and trying to cope with the dark conditions without a tripod. And after another foursome of walkers joined us, we figured it was now time to go and see this arch from the Moria Gate Arch Viewpoint, which was another few minutes further down the main track.
After a few minutes of returning to the main track then walking along some concrete steps with large bird prints etched into them, we eventually got to the Moria Gate Arch Viewpoint. Now this was the more conventional arch view I had been expecting. However, the stream was still flowing fast and deep so there was absolutely no way I could attempt to reproduce some of the postcard shots seen around town.
By the time we started walking away from this viewpoint back to the car park, another squall unloaded on us and we had to don our rain ponchos again. By 4pm, we were back in the car along with an army of sandflies swarming around us. Fortunately, none of them bit us, but with that said, we hastily got into the car and headed back to Westport.
During the walk and subsequent drive back, I kept telling Julie that the name Moria Gate Arch was a The Lord of the Rings
reference for I didn't believe Moria was a Maori word. Plus, the trail was relatively new so it would make sense that someone decided to do this during the whole The Lord of the Rings
euphoria that Kiwis embraced back then.
I kept thinking to myself that Gimli the dwarf would pronounce this arch like the way he did in the movies by rolling the "r" in Moria. Or that Gandalf would speak the word "Mellock" to gain access to the hole we climbed into. Or even that Frodo caught his first glimpse of Gollum in the darkness.
Anyways, enough of that. That was over 6 years ago.
We'd eventually be back at Westport before 6pm, but Julie had this idea that we should try this place called the Bay House Cafe at Tauranga Bay. Supposedly they made killer seafood.
So when we arrived at 6:15pm, we ran from our car into the restaurant under a heavy squall. We weren't too drenched fortunately.
And so we dined on turbot, beef, and seafood chowder. They didn't have groper nor Akaroa salmon nor scallops. So it wasn't like we got the seafood experience we were hoping for, but at least this place was pretty reasonably priced by NZ dinner standards and was quite delicious.
After eating, we drove out to the other side of the bay and arrived at the Cape Foulwind Fur Seal Colony at 7:25pm. A rainbow could be seen during the drive as we looked eastwards, and we could see some threatening squalls in the distant looking to head our way. The winds were intense and very cold; so much so that our noses were running.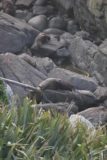 We took some photos against the setting sun here before quickly making our way to the viewpoint of the seal colony. There, I switched out my wide angle lens for a telephoto lens (however inconvenient that was) and took photos of the fur seals flopping around the rocks far below. I guess given the inaccessibility of this spot, it's hardly surprising that it was easy to see these fur seals here. It was certainly easier than Sandfly Bay on the Otago Peninsula where the sand dune walk on the way back up was certainly a brutal calf burner.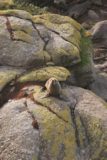 At 8pm, we were back in the car and at 8:20pm, we returned to the motel after passing through yet more squalls on the way. All this wild and unstable weather was very reminiscent of our March visit to Oregon, and perhaps that shouldn't be too surprising since they're near the 45N lattitude while Fiordland was at the 45S lattitude.
And so ended the day, which we were glad that it ended up being rather successful after yesterday's frustrating failure due to the weather and some bad luck. Tomorrow, we're looking forward to a lighter sightseeing day as we head towards Hanmer Springs, which was something Julie wanted to do five years ago but we were real short on time.
Day 12: SOAKING IN NEW YEAR'S EVE AND THE END OF THE DECADE
The alarm went off at 6am, but both of us didn't really feel like heeding its call. So we ended up waking up at around 7:15am. We took our time packing and getting our stuff together. And it wasn't until 9:05am that we finally left Westport.
The drive was mostly uneventful though we had to pass several slow vehicles that refused to use pullouts. It's not easy to pass when you've got twisting mountain roads with lots of blind corners. I could see why Kiwi drivers get fed up with these blokes who expect that everyone else stay behind them or expect them to pass under otherwise dangerous conditions.
Given the rate at which we were driving, we didn't really expect to pull over or stop for anything while traversing the Lower and Upper Buller Gorge (though we did see a crowd near the Lyell Walkway and again at some Swinging Bridge). I'm sure there's more to the Buller Gorge than our zoom through the area, but we just didn't prepare ourselves for anything here.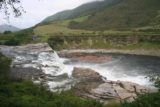 Unfortunately, we got delayed by an additional half-hour by taking a 40km or so round trip detour that had us going towards Reefton instead of towards Maruia Falls, which was our waterfalling goal for today. This was another waterfall in this part of the South Island that we had yet to see.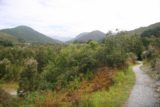 So we eventually got to Maruia Falls at 10:50am. There were a handful of people picnicking here when we arrived. We took photos above the falls from the lookout right in front of them. Then, we quickly walked downhill towards the banks of the Maruia River where we snapped more photos of the falls from near its base.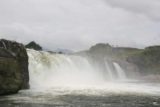 As we were taking photos, we noticed more tourists trickling in. Apparently, this was a real popular stop, but perhaps it shouldn't be surprising considering how well-signed it was on the SH65.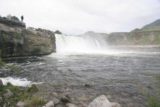 Apparently, this roughly 10m tall but much wider waterfall resulted from some recent earthquake fault upthrust. I guess before this, the falls didn't exist. But then again, I don't recall where I read this from, but there were no signs or anything talking about this falls.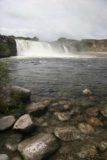 I also noticed some people did some off-trail scrambling to get right up to the brink of the falls. I don't think they're supposed to do that, but they served as photo subjects to communicate the scale of this gushing waterfall.
And even though it was cloudy with the sun breaking through every now and then, the scene was still quite bright and I had to do some tweaks to the camera settings to trick it into taking brighter shots (otherwise they'd all turn out dark).
Anyways, there was only so much I could do with this wide waterfall from such limited viewing angles. It didn't seem like there was an immediate way of seeing this waterfall from the other side, so I had to make do with the views we did get, and then head back to the car.
At 11:25am, we left and continued the long drive towards Hanmer Springs. But instead of going there in one shot, Julie suggested that we stop at the Maruia Springs. Apparently, there was some kind of resort there, but five years ago, our LP guide
said it was free. I guess those days were numbered.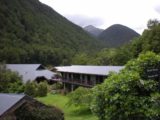 At 12:20pm, we arrived at the car park for the Maruia Springs after passing through the Springs Junction and the handful of cars by the Waterfall Walk, which was featured in our book
as Five Mile Creek Falls (since it was on the Five Mile Creek according to our Topo map).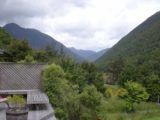 The hot spring experience here brought us back to the onsens of Japan. So it didn't come as a surprise that it was run by Japanese people. At least in this place, the pools weren't segregated by sexes and you weren't required to go in completely naked.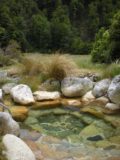 The pools had a pretty natural setting (even more than I could remember from our onsen experiences in Japan) and the surrounding mountains near the Lewis Pass vicinity really gave a nice natural atmosphere and peace to this place. The only real nuissance were the handful of sandflies out and about looking for someone to draw blood from and leave behind nasty itchy welts.
During our time bathing, we could see that the weather seemed to be oscillating between sunny skies and cloudy conditions. At least it was an improvement over the rainy (sometimes stormy) and persistently overcast (sometimes foggy) conditions while on the West Coast.
At 1:20pm, we had our fill of the pools after conversing with a pair of middle aged Japanese women and a pair of Kiwi bikers who shared the pool with us.
The drive continued onwards as we were passing (and being passed by) other vehicles. The Lewis Pass Highway was quite scenic, but we were almost consistently going upwards of 70 or 80km/h and usually going 100km/h to keep up with some of the locals who were gunning it past this. In fact, the Lewis Pass Highway seemed much busier than we remembered it five years ago.
The further east we went, we could see that clouds were separating more and that sun was even more persistent.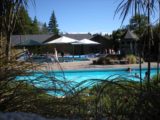 It wasn't until 2:25pm that we finally checked into the Harrogate Garden Motel in Hanmer Springs. There, we spent the rest of the afternoon having a late lunch then a visit to the i-SITE before soaking in the large hot springs complex in town. Our hot springs experience really felt more like we were in a water park instead of the relatively peaceful and relaxing experience at Maruia Springs. But at least we tried it and got to see for ourselves what it was like for both places.
At around 6:45pm, we had a pretty subpar dinner at the Alpine Village Inn Bar. For the most part, our dining experiences were really good, but this was probably the worst of the lot. I guess when it comes to food, you can't really trust bars unless you're here for some drinks.
And there were plenty of tourists and Kiwis alike having drinks anticipating some serious partying tonight being the last evening of this decade. With us anticipating a very early morning departure for Kaikoura to try to catch a whale watching tour at 7:15am, there was no way we were going to stay up for any of the festivities if we had to wake up at 4am and leave no later than 5am to do the full two-hour drive.
It was too bad since the afternoon was beautiful. Even though we returned to our motel room at almost 9pm, we did feel like we could've been out there being a part of something or some party with Kiwis to celebrate the New Year. Julie has been keeping count of the number of completely fair weather days on this trip and she counted today as the fourth one out of 12 (33%).
Nonetheless, in any case, it was time for us to say so long to 2009 and hello to 2010…
Day 13: A WHALE OF A TIME
Well we missed out on yesterday's New Year's countdown to both the end of the year as well as the end of the decade. All of this was so we could fulfill our 4am alarm call and drive through the pre-dawn darkness to Kaikoura's Whale Station. We decided last night that rather than take chances with a 10am tour when everyone's awake with no guarantee of a tour since we're being waitlisted, we mind as well try for the 7:15am departure.
So all that meant we had to be out of Hanmer Springs by 5am to get there comfortably without too much life endangerment by speeding in the dark on winding roads.
So anyways we did indeed get up at 4am. As we got our belongings together and loaded up the car, we tried to minimize the amount of noise at this motel (which felt more like a B&B). And by 4:40am, we left Hanmer Springs for Kaikoura.
The drive was mostly uneventful except for the fact that there was a really bright full moon hovering over the mountains in the direction of Lewis Pass. When we finally got around to getting in the mindset of taking a photo of this rather rare scene, the mountains eventually got in the way and never revealed itself again. Funny how these things happen.
The sun eventually came up over the hills we were passing through (on route 70) some time before 6am. It wasn't until 6:35am when we finally arrived at the car park for the Kaikoura Whale Station. As Julie rushed her way inside, she quickly learned that we would still be waitlisted anyways since reservations have made all of this mornings' tours fully booked.
So now we were faced with the prospect of having done the early wake-up for no reason and figuring out what to do for the next three hours.
After ordering a pretty basic and artery-clogging breakfast, the lady at the reception called out a handful of waitlisted parties before she finally got to us. And lucky for us, we were the last two she called! So we were going on the 7:15am tour after all, and all that trouble to even get here wasn't for naught.
So we joined the briefing, hopped onto the brief 10-minute bus ride to the South Bay, then boarded the boat named Aoraki. There were lots of people on this boat, and they weren't kidding when they said this tour was full despite the required early morning wake-up on New Year's Day.
Anyways, the tour started off with a promising start as a sperm whale was spotted just as the Maori MC was giving his spiel about introductions, safety, and what to expect on this tour in both Maori and English. One thing I did notice that kind of gave me a bit of a flashback to our visits to Hawaii was how similar the Maori language seemed to be to Hawaiian.
Case in point, the bathrooms had doors for female and male labeling Vahine, for female in Maori, which was also Wahine in Hawaiian, while Tane, for male in Maori, which was also Kane in Hawaiian. Now of course there were other differences that aren't so similar like the Kia Ora greeting in Maori was probably nothing like the Aloha greeting in Hawaiian.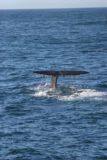 Anyways, as the boat started to make a break for that sperm whale, it descended, and we had to leave it until it decided to resurface again for air. Since the Maori guides knew the whaling behavior, they predicted it'd come up around an hour later.
So off we went further into the deep waters away from the continental shelf. It wasn't much longer when we spotted another sperm whale. This time, we were around to see it breathing, then making its classic dive while leaving its tail up in the air for all of us to try to photograph.
Back in the sitting area of the boat, we could see a few folks were already using the seasickness bag. This was worrying to me since I tend to be prone to seasickness, but I always kept trying to focus on the horizon or the mountains so my equilibrium didn't get all screwed up.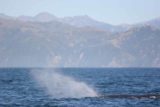 Several minutes later, another sperm whale was spotted. This time, we saw it from its side and back towards Kaikoura in the distance. It wasn't easy to try to photograph the whale with the lightly snowy mountains above Kaikoura as a backdrop, but at least it would be proof that this sperm whale was off the coast of New Zealand and not just anywhere else in the world.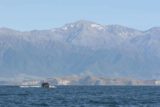 Another boat arrived to join us in the photo-taking tour. This was reminiscent of some of the safari excursions we had been on in Africa and India. For in those excursions, you'd have groups of jeeps and sometimes canters gathered around a rare sighting like a big cat.
When this sperm whale dove, we only saw its tail from the side, which wasn't quite as attractive as the first one, which we saw from its back. We stuck around for a little bit to photograph a few albatross before heading back towards the site of that first sperm whale we had just missed.
Sure enough, the third whale of this trip was spotted and we took more photos of it. But once again, we only got to see it from its side and not from its back where we could try to capture that classic tail shot. This particular one managed to do a tail slap before doing its usual dive into the deep waters.
With still another 50 minutes to go on our tour, it was decided that we'd go looking for other species. And it wasn't much longer before we found a massive school of dusky dolphins swimming fast alongside our boat as well as doing jumps, flips, and backflips. It was easy to tell why they're called the acrobats of the sea. And this was easily better than any of the dolphin sightings we had in both the Doubtful Sound and the Milford Sound.
While the dolphins were still putting on a show, the tour time was running out. So that prompted our Maori MC to call out over the loud speaker for everyone to return to their seats.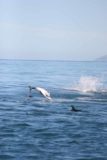 Of course, no one was exactly rushing to do it, so that prompted our MC to say, "I know it's difficult to leave the dolphins and return to your seats, but one thing I do know is that all of you can hear me…"
That got a laugh out of Julie and I, and anyways, the boat started moving and that was motivation enough to get back into our seats as the boat continued to bob up and down vigorously with the added dimension of forward momentum. Plus, even more people have already barfed into their barf bags. I could see the young lady in charge of health was busy handing out tissues and bags while collecting soiled bags.
By 10:05am, we were back at Kaikoura. Just about everyone except for those too overcome with seasickness left smiling.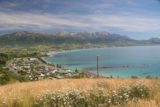 We next made a brief stop at the town i-SITE before heading up to a lookout of Kaikoura, the adjacent bay, and mountains backing the whole scene. In my usual clutzy manner, I somehow dropped my camera and cracked the zoom on my zoom lens. Fortunately, I had a replacement one (based on spontaneous zoom lens failures from past trips). That killed enough time for us to return to a roadside stall called the Kaikoura Seafood BBQ, which opened at 11am.
That was our first try at having crayfish without breaking the bank at a sit down place. We also had some scallops and seafood chowder. And we were done eating at 11:35am so we could head out to our waterfall for today – Ohau Falls.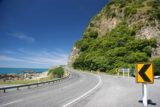 After a bit of motoring amidst some pretty fast yet heavy traffic north of town, we eventually got to the signed pullout for the Ohau Stream Walkway, which was just around the bend north of the Ohau Point Seal Colony Lookout. We started walking a little after 12:10pm, where a short ten minute walk got us right to the base and plunge pool of the roughly 20m or so waterfall.
Unfortunately, the base of the falls was rather crowded and full of young folks who didn't care too much about peace or rules. Some of them were smoking at the falls, and I'm sure they dropped their cigarette butts without packing it out. Plus, the light was wreaking havoc on our photos as the falls were either blown out or the shadows were too dark.
So we didn't linger for too long as we promptly returned to the car park, then spent a little more time on the other side of the road after spotting a few fur seals looking pretty close.
After a few more photos of these fur seals were taken (some of the folks here seemed rather dangerous close to some pups and the mother seal there didn't look terribly happy), we backtracked to Nin's Bin for another round of crayfish.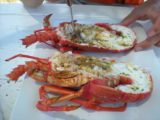 At 1:50pm we left for Nelson. The weather was still hot and sunny, which was something we weren't real used to in this country for fine days were quite rare. But maybe it shouldn't be all that surprising considering that much of the vegetation on this side of the island was brown instead of green suggesting it's usually dry here. I guess using the Hawaiian analogy again, this area was the leeward side while the West Coast was the windward side.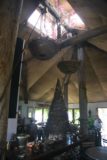 Just when we thought we were making a beeline for Nelson, Julie spotted this place called the Store in Kekerengu. So we made another stop here at 2:15pm for a brief ice cream break while having another drink of Lemon and Paeroa (otherwise known as L&P), which was apparently a very Kiwi drink and was really like a sweeter version of Sprite or 7-up or Ginger Ale.
Finally at 2:40pm, we left and eventually arrived in Nelson at 5:05pm. It was a long drive through a lot of wine country in the Marlborough District, but it looked like a lot of those wineries were closed for New Year's Day (not that we're that into wines).
After settling in, we had dinner, but Julie got a bit of food poisoning, which she suspected came from a bad oyster. She regurgitated it back out and she seemed to be fine immediately afterwards. Too bad scallops were out of season because we learned that Nelson was known for scallops. Bummer.
Anyways, Julie eventually got some cheap chicken kebab takeaway to fill her empty stomach. And we were back in our room by 9pm.
Now after seeing how long it took to drive from place to place today, I've come to realize that getting to Wainui Falls and Totaranui Beach tomorrow might be an all day affair.
Hey, no one said waterfalling was easy, but at least we've had ourselves a whale of a time this New Year's Day!
Day 14: THE RAIN FOLLOWS US
We awoke at 6:20am and the first thing noticed when we looked out the window was that it was raining pretty hard. So much for this part of NZ being sunny. It just seems like the rain follows us no matter where we go, and yesterday's gorgeous weather was merely an anomaly. So Julie's sunny-and-no-rain-day count still stood at 5 days.
After taking some time to get ready and eating our own humble breakfast of oatmeal and cereal, we headed out at 8:20am. I was a little worried that our car couldn't start initially, but it did grudgingly start on the second attempt.
The drive northwards was through a mix of rain and sunny skies. When we passed through Motueka and continued northwards up the Takaka Hill, the road got really twisty. Some parts of the road received some pretty heavy rains and the clouds created fog beyond the summit of the hill.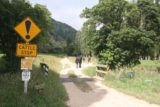 We weren't sure whether we were going to see any of the classical Abel Tasman views of blue-green waters surrounded by bush-clad mountains and golden sand beaches. That was because the cloudy weather would merely mute those bright colors.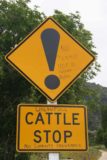 Still, the goal was to visit the Wainui Falls. Everything else was icing on the cake.
It wasn't until 10:25am when we arrived at the Wainui Falls car park. I was surprised at how relatively easy it was to get to this car park. The map suggested the road east of Takaka was unsealed, but the map must've been old because the whole way was sealed. Only the last 350m on the spur road to the car park was on a tame unsealed road.
This attraction must've been very popular because there were already many cars parked here. We weren't sure if this was merely a local Kiwi attraction or if other foreigners were aware of this falls. It surely wasn't in LP
, but it was in DK
.
The hike began in parallel with some agricultural road past a pair of cattle guards. Some signs at the trailhead got our attention because someone scribbled on the cattle guard text indicating something about it not being lawful and that there's no liability insurance. I had no idea what this was all about nor who was upset about what to whom. I'm sure the handful of sandflies here could care less as all they cared about were the availability of blood from humans or other birds and mammals in the area.
In any case, the track went into the bush where a sign indicated that we were about to enter the Abel Tasman National Park. So I guess the falls technically sat in this very popular park known for having the Abel Tasman Great Walk which skirted the blue-green waters of the Nelson Bay vicinity while offering a multitude of options regarding a combination of hiking, kayaking, boat shuttles, etc. However, we weren't going to do any one of them, and the highly variable weather kind of took out any motivation we may have had to give it a try.
A little over a half-hour into the hike, we queued up at a swinging bridge that could only support one person at a time. It was actually one of the scarier swinging bridges we've done because the entire walkway on the narrow bridge was all fence (i.e. no wooden floorboards). It was also very bouncy, and there was even one metal plank supporting the fence-like floor that was broken loose (not exactly instilling confidence that it could support a human's weight).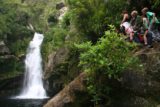 Nonetheless, a few more minutes later, we were right at the Wainui Falls. It wasn't easy to get decent views without a little bit of scrambling on some wet rocks. So I went ahead and gingerly did the scrambles (though the rain ponchos tended to get in the way) and took plenty of photos of the roughly 20m falls.
Another group eventually caught up to us where a pair of daredevil males jumped into the pool and managed to scramble behind the waterfall. With all those people's attention on the two blokes, that was our cue to head back to the car park before we'd have to wait in a very long queue across that swinging bridge.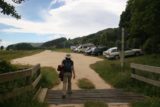 This hike began under some fairly rainy conditions, but when we returned to the car at 12pm, it was sunny again. There were numerous people walking in the other direction suggesting that this was a very popular waterfall even though it required a nearly two-hour drive from Nelson. I guess this was more of a weekend getaway for locals who live in the greater Nelson area, which was a sprawling city area engulfing suburbs of Richmond, Stoke, and others.
Once back at the car park, we decided to drive towards Totaranui Beach. This was suggested to us by a Blenheim-local we met in Egypt last year. I figured perhaps there was a gem of a beach over there since this was coming from someone who lives a few hours from here.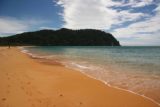 Anyways after driving on some narrow unsealed and somewhat washboardy roads with some pretty heavy bi-directional traffic for an unsealed road, we arrived at Totaranui Beach at 12:30pm. It turned out that this was more of a campground as it was full of campervans and hippie-type dreadlocked folks chilling out. There were also swarms of big black flies (not sandflies thankfully) that looked like wasps but we couldn't be sure and none of them stung us.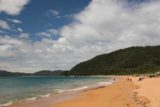 Apparently, Totaranui Beach was merely one of the stops of the great Abel Tasman Track. That would explain why we noticed some boat shuttles though we didn't notice many trampers carrying heavy packs doing the multi-day trek. The sands here were quite golden brown, but we're not sure if that was due to the rains or if this was the true color of the sand here. It certainly wasn't on the same level as the fine-grained white sand beaches you might find in some tropical destinations.
But after taking photos and getting a flavor of what this place had to offer, we promptly left and returned to Takaka for a lunch.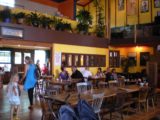 We eventually got to Takaka at 1:30pm, but it wasn't in time for the Market that only went until 1pm. In town, we walked around town looking for a suitable place for lunch, but settled on the Wholemeal Cafe where it was busy and our food didn't come for about an hour. But our order of smoked salmon salad and lamb curry were pretty satisfying. However, the ice cream shop here was a waste of money. The fruits weren't fresh as stated and the frozen yogurt was pretty much a mix of all the ice cream flavors ordered before us.
We eventually left town at 3:20pm. I was very sleepy on the drive back, but fortunately despite the heavy traffic (by NZ standards), we safely returned to the motel at 5pm. Julie tried to guilt me into going to some freshwater spring 4km northwest of Takaka, but without any sun, lots of rain, and a failure to do this when there was some sun earlier this morning, I wasn't going to bother.
And after getting some overpriced Thai food for dinner, we called it a day. Tomorrow, we're expecting a free day. Perhaps we might get to finally meet up with the locals who invited us to join them after parting ways over a year ago in Egypt. That would certainly be something new in our travels, and we look forward to it.
If anything, I look forward to getting caught up on sleep tonight.
Day 15: WINE AND DINING
For the first time on this trip, we allowed ourselves a free day. So we took advantage of that by sleeping in. For once, Julie got up before I did, and I didn't get up until about 8:30am.
We spent a bit more time in the room getting our stuff together while Julie was enjoying reasonably-priced internet.
We eventually left the comfy Chelsea Court Motel at 10:10am and proceeded to head over to the Nelson Lakes National Park per Linda's recommendation (the ones we met in Egypt and have been emailing us some itinerary suggestions in the South Island).
On the way southwards, we passed through several denuded tracts of forest land as well as places where we could tell there had been re-plantings though we doubted whether they were the original native plant life prior to deforestation. We wondered if this was a consequence of the sprawling nature of the greater Nelson area, which was very reminiscent of Los Angeles in that there was a large collection of suburbs, but quite unlike the other New Zealand towns we had visited.
We also happened to chance upon a bike race, which we carefully passed despite the blind turns on the road. This brought us back to another bike rice we stumbled into from Marokopa Falls to Waitomo Caves, and eventually to Hamilton on our trip five years ago.
We arrived at St Arnaud at around 11:25am where we spent some time checking out the Visitor Centre there. Inside the facility, we checked out some of the interpretive signs and displays, and we were especially intrigued by the pests of New Zealand; especially that most of them were introduced as hunting targets such as the hare, which eventually led to the introduction of the dreaded stoats and ferrets (weasel-like animals) who are eating away at the endangered birdlife.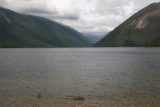 Other pests include the cat (which we did see one kill a bird the other day in Nelson), possums (major outbreak of these), wasps, and even pigs. Needless to say, the Mainland Island project that involves the Nelson Lakes to preserve some rare species like the spotted Kiwi is a very tall order. We saw another Mainland Island project on the North Island at the Boundary Stream Scenic Reserve en route to Shine Falls on our prior trip in 2004.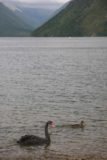 After a few photos at the shore of Lake Rotoiti (including a flock of ducks, white birds, and a big black swan with red beak [some of them were getting fed by people on a boat dock; not good]), we left the area at 12:20pm.
At 1:30pm, we arrived in the Blenheim area. Specifically, we stopped over at the Alan Scott Vineyard for lunch. Unfortunately, it was fully booked so we couldn't eat here. However, we did stop over at the Wairau Valley Winery fifteen minutes later for a delicious lunch of a steak sandwich and a tasty sticky pork salad.
We then got to do a little wine tasting there. After all, the Marlborough Region is known for growing some of the country's finest wines (not that we're wine connoisseurs).
At 2:40pm, we were done wine tasting and headed to the Commodore Court Motel on the outskirts of Blenheim. We arrived at 3pm and learned that Jason (the son who was living abroad in England) had tried to contact us earlier. So once we got settled, we gave Jason a call. And so we've spent the rest of the afternoon getting caught up on what has been going on in the past year and a half while awaiting the arrival of his parents, who had been out boating.
It was funny that even Jason noticed that we must've brought the weather for us because he said they were getting fine weather until we arrived.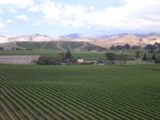 At around 4pm, Jason picked us up and took us for a brief tour of Blenheim and then some of the vineyard country before taking us to his parents' place. There, we saw both Linda and Roger, and got into chatting about a number of things regarding what has happened since Egypt.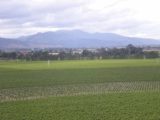 Roger and Jason even took us to a lookout on some private lookout knob that apparently the Prime Minister once stood at. That yielded some pretty nice panoramas of vineyards and even some of the local mountains in the distance. But since the weather was cloudy and threatening rain, they said we should be able to see all the way to the North Island from here, but today wasn't clear enough.
Eventually, we returned back to the residence where we had a very nice entree and dinner that involved some fresh scallops (something we hadn't had all trip long since they weren't sold commercially at this season) as well as fresh blue cod as well as some supplementary veggies.
But the whole time was spent chatting and getting to know each other in ways that we really weren't able to do during the cruise on the Nile Valley. It was fun to see, and it was an honor to actually be invited and partake in a dinner at someone's home in a foreign land. This was definitely something that was new to both Julie and I. And it was quite interesting to see how life was like through a Kiwi perspective.
We could see that the family definitely knew their wines since they're surrounded by it. Though I did find it was kind of interesting that Jason doesn't drink wine.
Other things discussed were the sights that we had seen. Apparently, Linda had seen little fur seal pups actually get all the way up to the Ohau Falls. Jason speculated it might be during storms when the tides are higher. They were also quite sympathetic about the very variable weather we had been having this trip.
Anyways, it was about 10:30pm when we were back at the motel. Time to get some rest before the ferry ride tomorrow; thus ending our stay in the South Island.
Visitor Comments:
Got something you'd like to share or say to keep the conversation going? Feel free to leave a comment below...
No users have replied to the content on this page