This itinerary was the first part of our month-long end-of-the-year (and end-of-the-decade for that matter) trip to both New Zealand and the Cook Islands. This first part focuses only on the New Zealand leg of the trip. The Cook Islands leg can be done separately of this itinerary even though we combined them to spread out the pain of inconvenient flight connections and flight durations.
Overall, this was our second visit to New Zealand so we basically spent more time doing things we missed out or didn't do well the first time around. This includes spending more time in the South Island and visiting regions on both islands that we had completely missed before.
In order to mix things up a bit, this trip was less waterfall centric than the first time around. Finally, we returned to the site of our wedding and met up with the friendly Italian hosts who really helped to make it such a special and unforgettable experience.
Here are some highlights and the trip logistics behind pulling this trip off…
Trip Highlights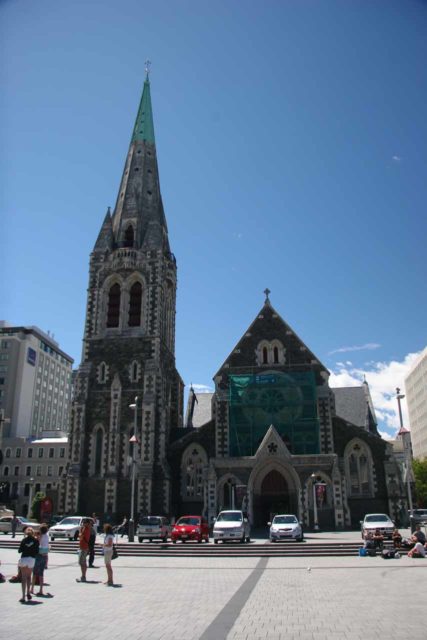 Christchurch – This city may be the capital of the South Island, but it didn't really feel like a big city. In fact, when we visited its CBD, it was a more relaxing affair than a hectic one with crowds. That said, there were street performers still attracting people to watch in front of the namesake church to still add to the ambiance and atmosphere.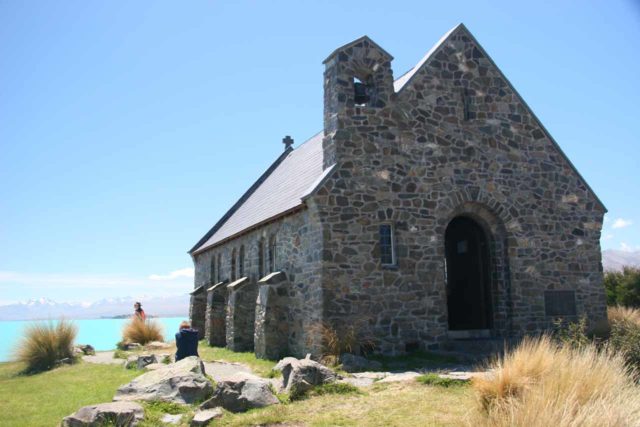 Church of the Good Shepherd and Lake Tekapo – With this, it was all about the powder blue color of Lake Tekapo. And the stone church was like our excuse to stop and check it out. With Mt Cook in the background, it was also the perfect backdrop to see New Zealand's highest point fronted by such surreal scenery. We managed to miss this spot on our first visit to New Zealand, but we definitely made sure not to miss it the second time around!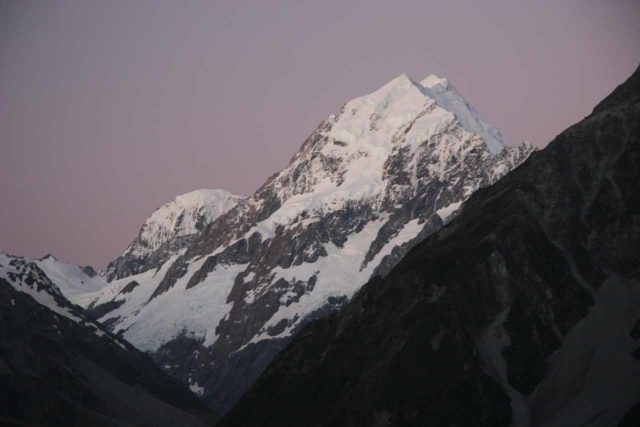 Mt Cook – This mountain was New Zealand's highest, and while it might be a bit much to try to summit it, there were plenty of excursions and hikes around it to seek out lakes, glaciers (such as the Tasman Glacier), and even waterfalls (such as Wakefield Falls. Plus, since we stayed in Mt Cook Village, we got to view this mountain with the skies changing colour as it went from blue to purple. It was also nice to see it with an early morning glow.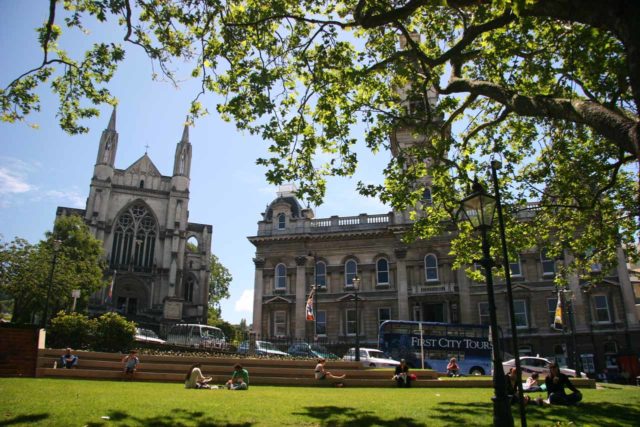 Dunedin – This city seemed to have a bit of a Scottish feel to it (even though we hadn't actually been to Scotland when we did this trip). Still, it featured interesting European architecture as well as a bit of a youthful university vibe to it, while having a bit of quirkiness about it like the world's steepest street in Baldwin Street.
[expand title="MORE" swaptitle="LESS" trigpos="below"]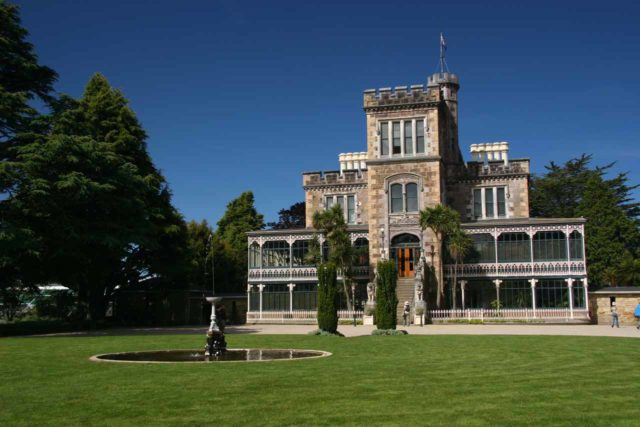 Larnach Castle – This attractive property featured an extensive garden, views towards the ocean, and some elegant architecture. It's also close enough to Sandfly Bay to check out New Zealand fur seals to couple this visit with that attraction as well.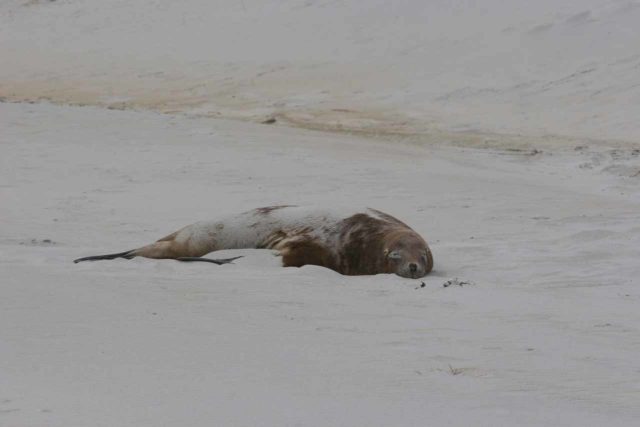 Sandfly Bay – This was one place to see New Zealand Fur Seals in their native habitat. But with this freedom to be on the same beach as them, it also comes with responsibility of keeping a safe distance because they do get aggressive. Nonetheless, this is about as raw as it gets in terms of a wildlife sighting, and it was definitely very memorable.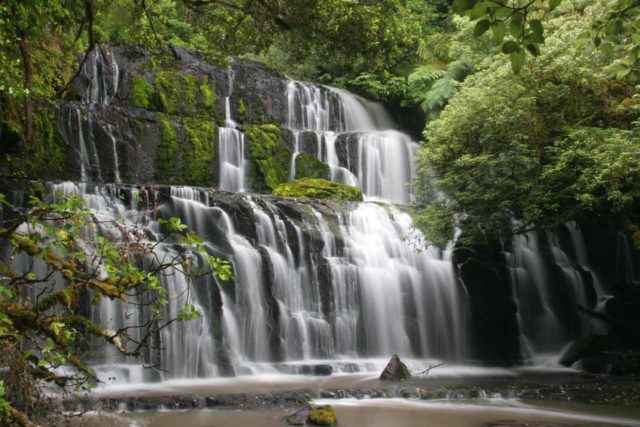 Purakaunui Falls – This graceful waterfall was one of the highlights of our first trip to New Zealand, and it still was a highlight on our second visit here. It was definitely worth driving through the Catlins Forest Park for.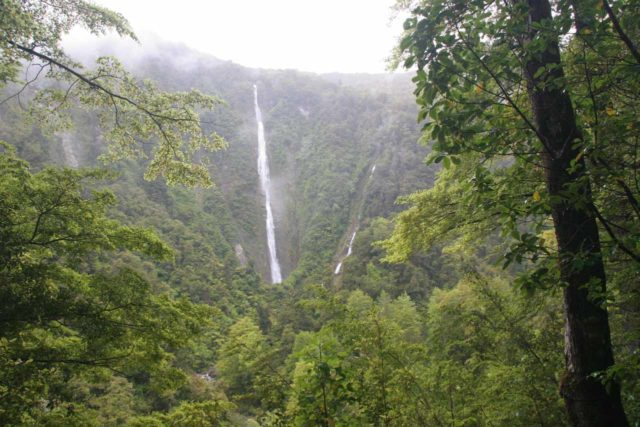 Humboldt Falls – This tall waterfall (actually two waterfalls) was also a highlight on our first visit to New Zealand as well as this second visit. It was also a reasonably short and easy hike to this overlook. The only catch was the presence of sandflies looking to bite when you're not moving.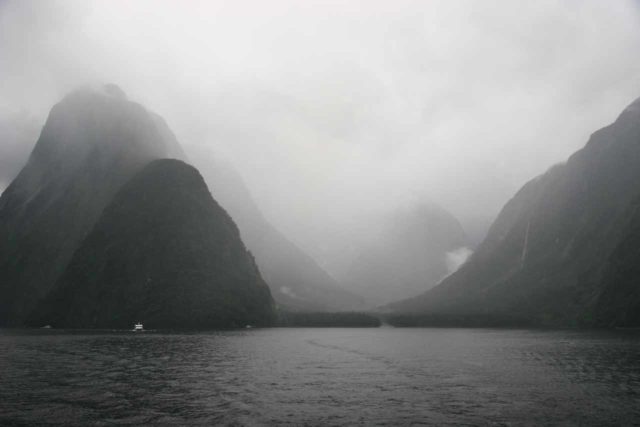 Milford Sound – This majestic fjord is usually under clouds and drenched with rain, but that gives this world wonder a whole different character. And of course, that also bring out the waterfalls like Stirling Falls and Bowen Falls. Then there's the wildlife as each time we've done this cruise, we've seen dolphins and fur seals. On our first visit, we saw penguins.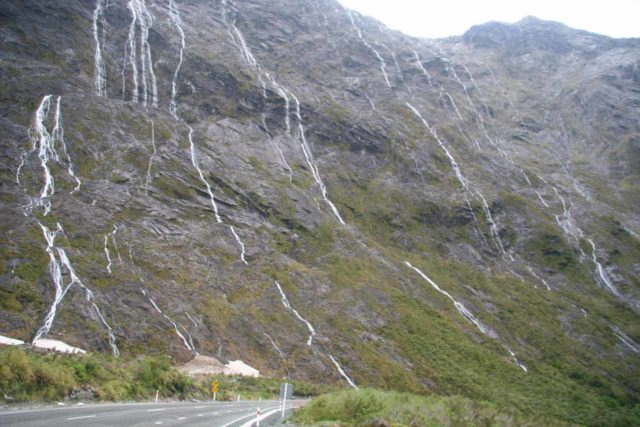 Milford Sound Highway – While the Milford Sound gets a lot of publicity, we find that sometimes the journey to get there can be just as impressive. Case in point, we witnessed veins of waterfalls tumbling down the mountainsides around the Homer Tunnel just as a rain storm was finally starting to clear!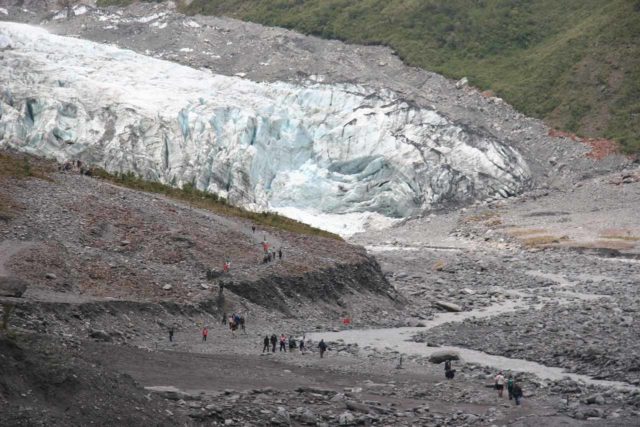 Fox Glacier – This was one of two accessible glaciers on the wild West Coast of the South Island of New Zealand. It was attractive, and we also saw a bit of glacier calving going on during our visit.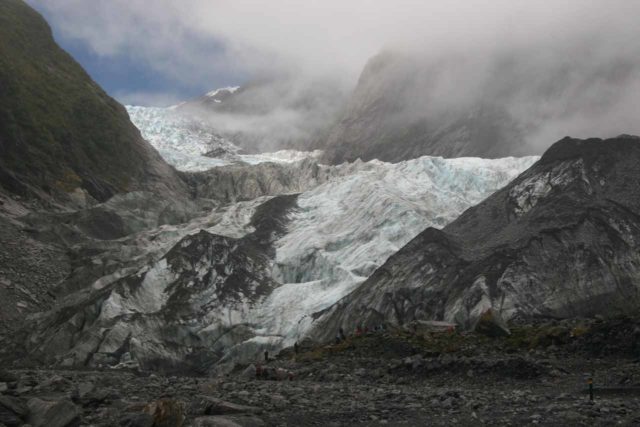 Franz Josef Glacier – This was the other main glacier arm on the West Coast of the South Island. And like the first time we came here, we enjoyed the walk through the glacier valley to reach its terminal while seeing waterfalls along the way.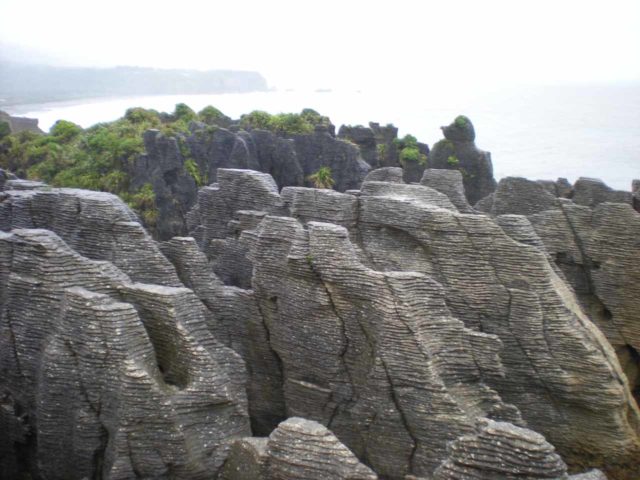 Pancake Rocks – Although it was a bit on the rainy side when we made our visit this time around, it was still a place to marvel at the amazing formations carved out by the turbulent forces of the sea. In fact, we also noticed quite a bit more sea arches this time around as well!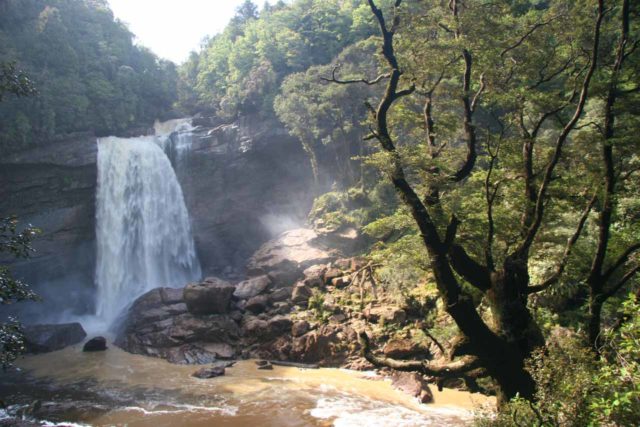 Mangatini Falls – This waterfall along the Charming Creek Walkway was another one of those waterfalls that we didn't get to see the first time around in New Zealand. And it was a scenic walk that included another intermediate waterfall as well as plenty of greenery en route to this attractive waterfall that was gushing from the heavy rains the day before.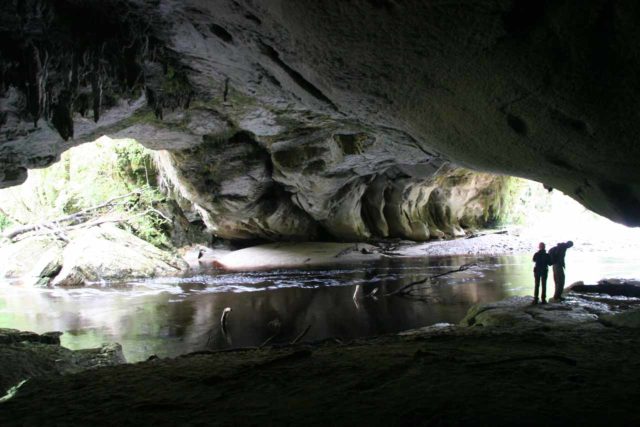 Oparara Basin – This remote area on the far northern end of the West Coast beyond the road's end featured numerous natural arches and bridges as well as some reddish creek. Some of the caves in this area were even said to have bones of the extinct moa.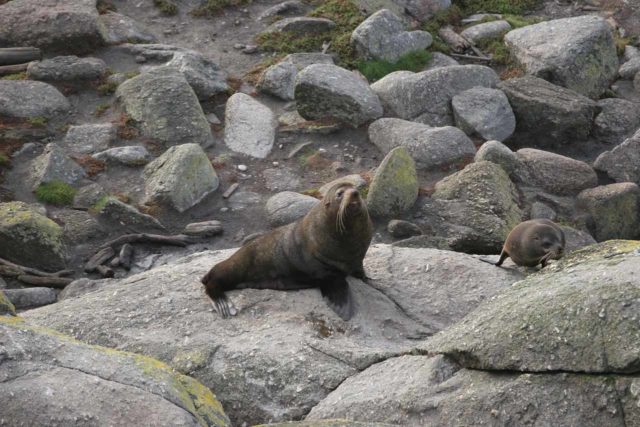 Tauranga Bay – This was another place to see fur seals, but this was at a very windy and turbulent coastline. So indeed, we got to see these animals in their native habitat while also getting good coastal views towards rock formations jutting up out of the churning Tasman Sea.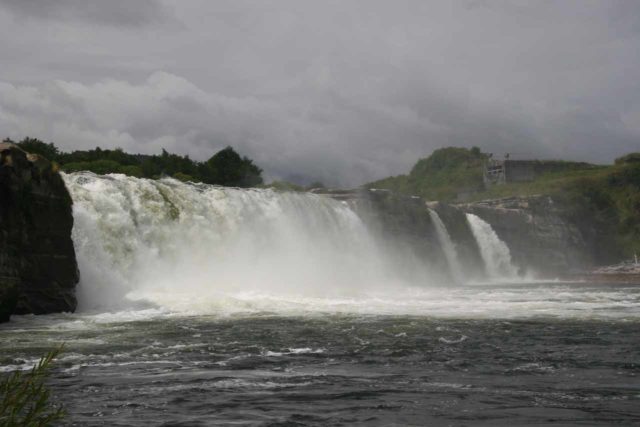 Maruia Falls – This waterfall was actually said to be the result of an upthrust in an earthquake fault. The result was a wide and scenic waterfall on the Maruia River near the Buller Gorge. We made sure not to miss this one on our second visit to New Zealand.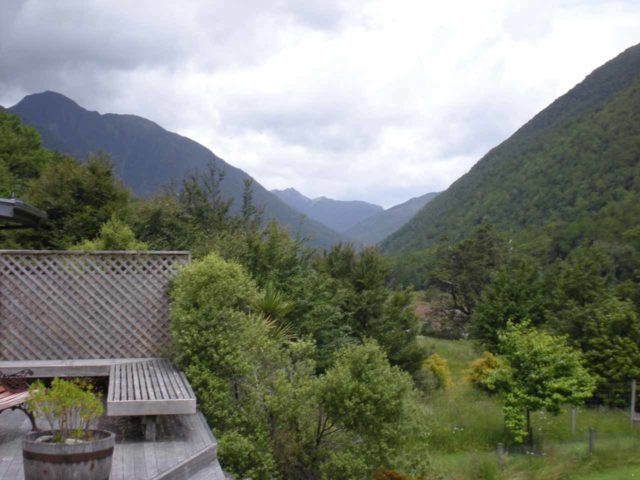 Maruia Springs – Who knew that you can have a Japanese onsen experience near the Lewis Pass in New Zealand? This was a nice and relaxing way to enjoy the scenery around us while also warming up when the weather was otherwise cold and dreary.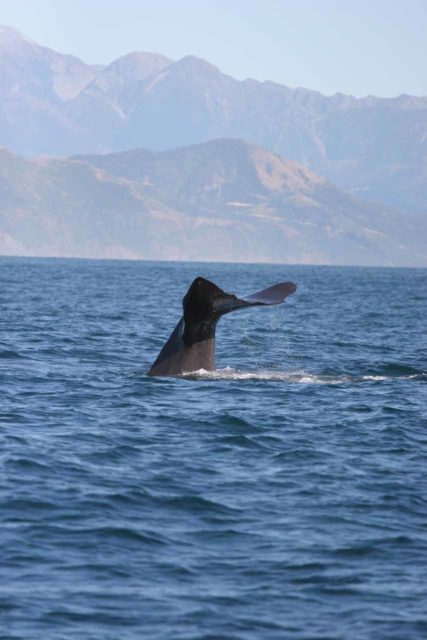 Whale Watching at Kaikoura – While the primary draw of this boat tour off the coast of Kaikoura was the sperm whales, we also got more than we bargained for by watching playful bottlenose dolphins doing backflips out of the water. Indeed, this tour made for one of the most unforgettable New Years Days we've ever had!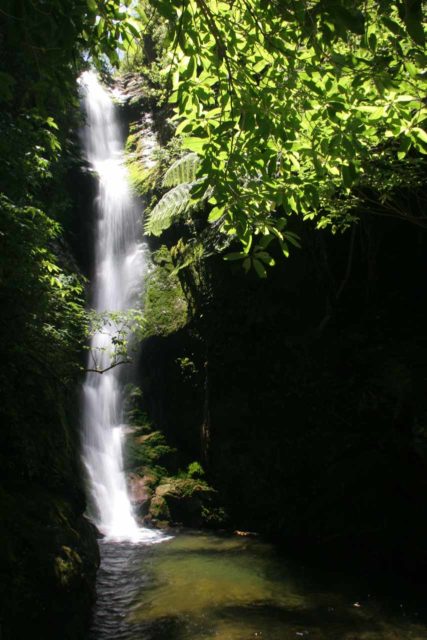 Ohau Falls – This was one of the easier waterfalls to visit, but what made this one special was the chance to see New Zealand fur seal pups making their way up to the waterfall itself! It didn't happen on our trip, but the fur seals were definitely around at the coast by the trailhead.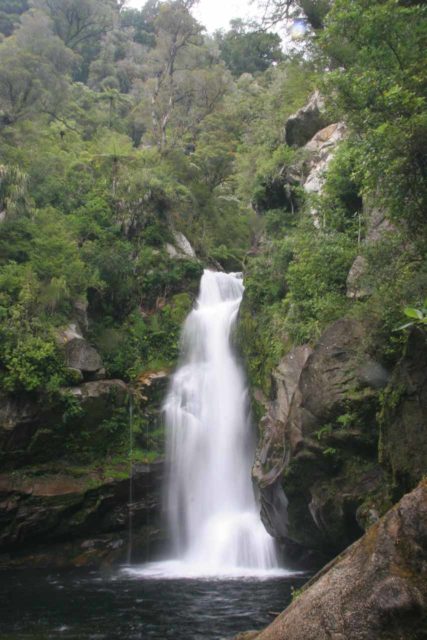 Wainui Falls – This was the main waterfall that we visited in the Abel Tasman National Park (a scenic stretch of coastal scenery and bushlands on the northern end of the South Island that we didn't get to do on our first visit). It involved an adventurous moderate hike over swinging bridges and classic Kiwi bushlands.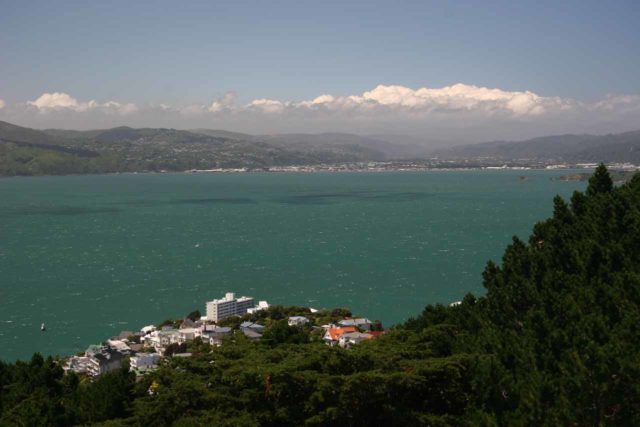 Wellington – The capital of New Zealand, it featured interesting buildings, walking streets, an interesting hanging ball, and panoramas from the top of Mt Victoria. While it was out of the way on our first trip to the country, we found it a worthwhile place to hang around on our second visit!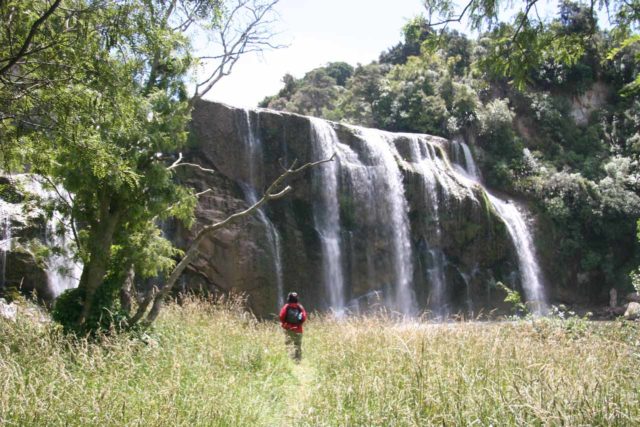 Waihi Falls – This waterfall was quite a bit off the beaten path mostly because it's deep in the southern part of the North Island between Wellington and Palmerston North. Still, given its peace-and-quiet while also giving us an opportunity to drive through idyllic rolling hills and farmlands, it was yet another waterfalling experience that rejuvenated us.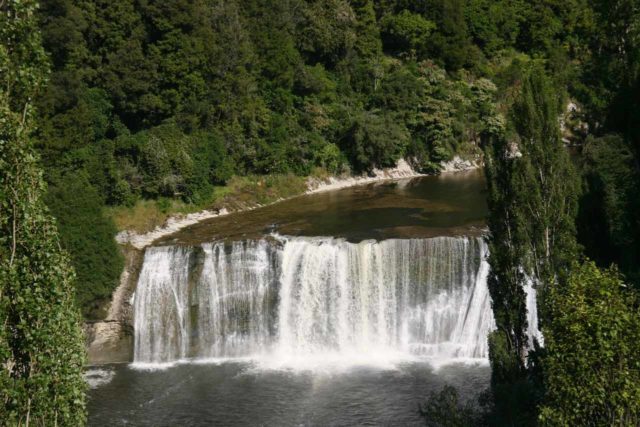 Raukawa Falls – This easy-to-see roadside lookout to this wide waterfall was every bit as scenic as our first encounter. Definitely worth a stop between Whanganui and Tongariro.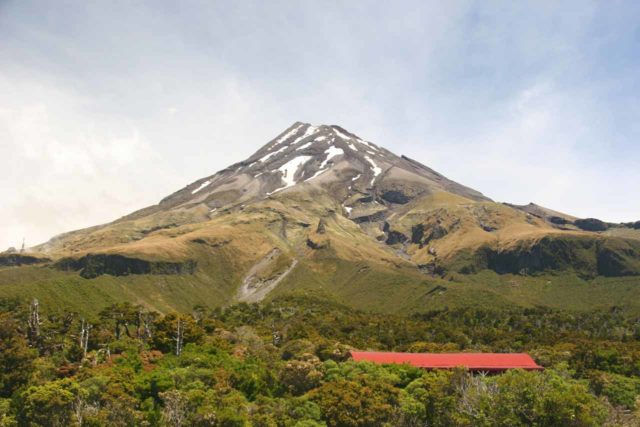 Mt Taranaki – This mountain actually doubled as Mt Fuji in the movie "The Last Samurai". That said, this mountain was attractive in its own right as it always drew gazes from the Surf Highway as well as the towns of Stratford and New Plymouth. It also harbored a couple of waterfalls in Dawson Falls and Curtis Falls.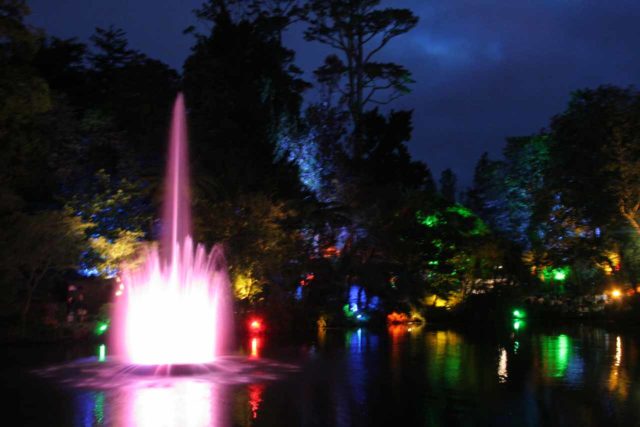 Festival of Lights at Pukekura Park – The night time ambiance and atmosphere that took place at this Festival of Lights made for a memorable evening in New Plymouth. Lots of families took part in the festivities further adding to the good vibes that we were feeling here.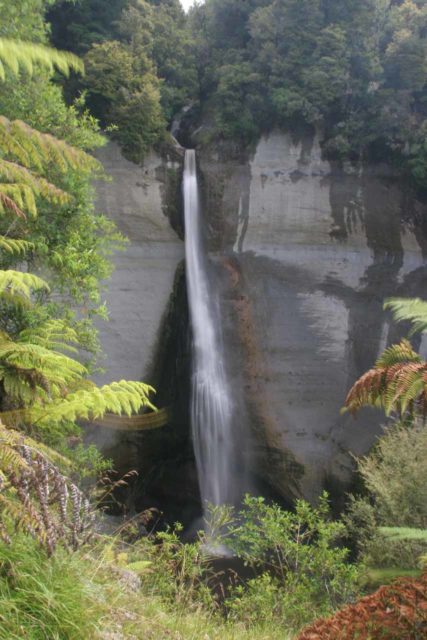 Mt Damper Falls – While it seemed like the trail changed from the first time we did this waterfall off the Forgotten World Highway, the one thing that didn't change was its beauty as one of the North Island's taller waterfalls supported by a white cliff.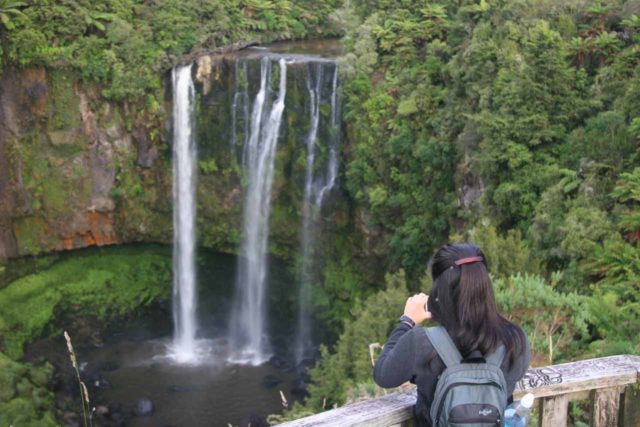 Omaru Falls – This beautiful waterfall eluded us on our first visit to New Zealand, but on our second go, we were treated to a slice of Kiwi wilderness after going through a paddock and into the reserve. As one of the taller and blockier waterfalls, it kind of reminded us of a lower-flowing version of Marokopa Falls.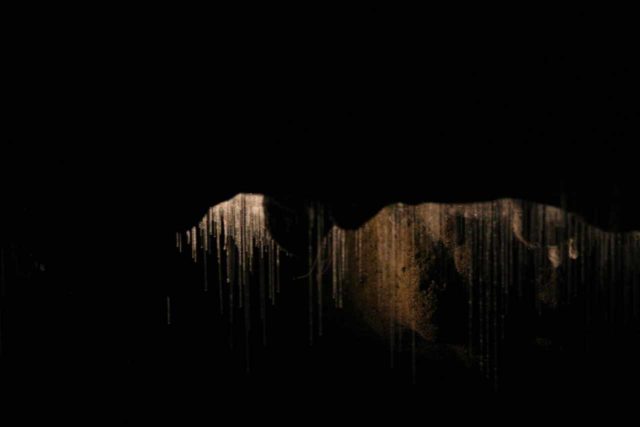 Waitomo Glow Worm Caves – As touristy as this place is, there's no denying the Milky Way effect factor when we floating through a pitch black cave illuminated only by these sinister glow worms who use the light to attract flies into their sticky silk only to be consumed when caught.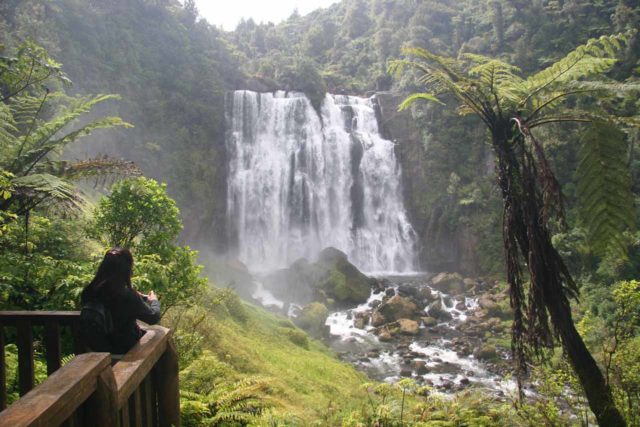 Marokopa Falls – This classic block waterfall should not be missed after a visit to the Waitomo Caves. Just like the first time we saw it, it had a reliable flow and never seems to disappoint. Plus, the walk is only around 10 minutes to get there.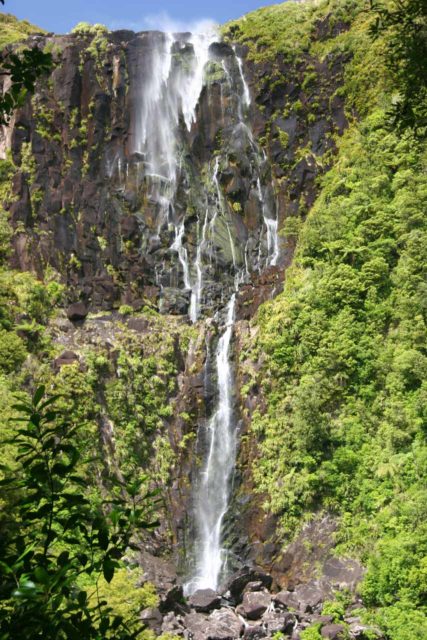 Wairere Falls – As one of the tallest waterfalls on the North Island, this popular place required a little work to get to the lookout that you see here. And it would take even longer to get up to its top to get regal views over the Waikato Plains. In both of our visits here, we've never gone to the top. And if we're fortunate to come back, we'll make sure to carve out time for it to complete the experience.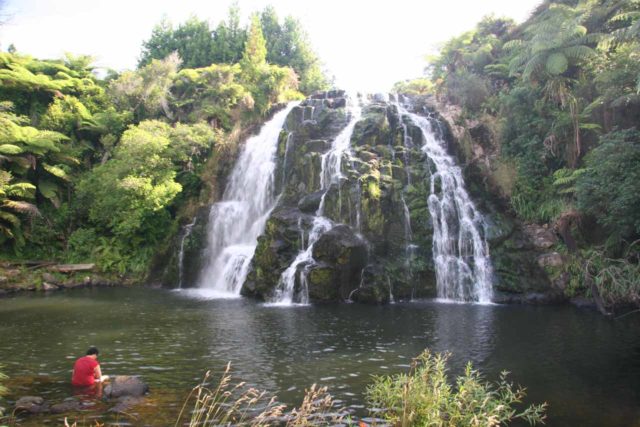 Owharoa Falls – This attractive and photo-friendly waterfall seemed to be a popular hangout spot for Maori locals who were doing cliff dives off part of the falls. It was very easy to visit as it was right off a side road as we were on our way to Whangamata on the Coromandel Peninsula.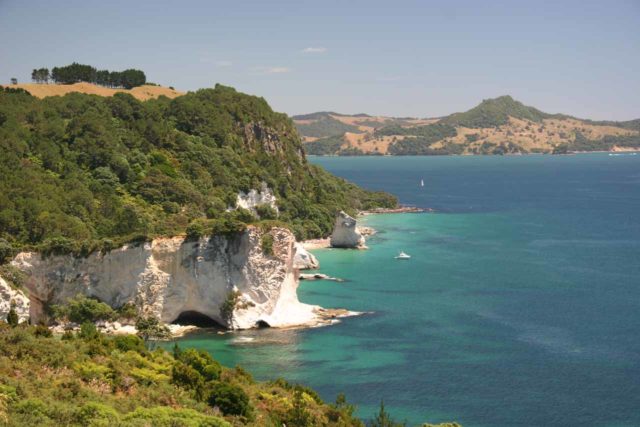 Cathedral Cove – From the scenic views of the blue-green waters off the coast of the Coromandel (contrasting with the white cliffs) to the beautiful beach and arch before Hoho Rock, this hike became quite the popular place as it was nowhere near as busy on our first visit five years prior. I guess it just goes to show you that beautiful spots like these can only stay relative obscure for so long before social media makes it viral.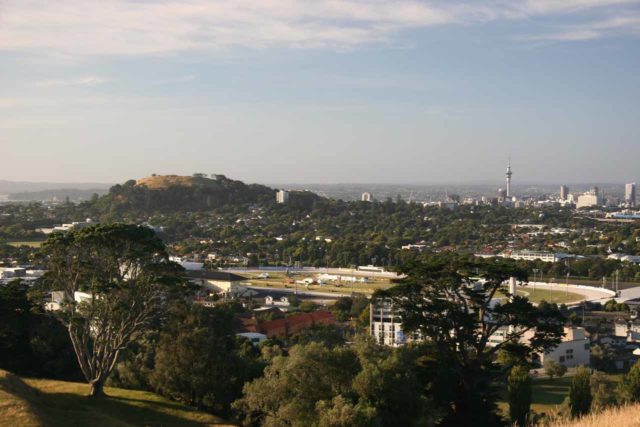 One Tree Hill – On our way into the Auckland CBD, we stopped by this spot for a nice panorama over the city of Auckland. It was probably the one place where we got such panoramic views of the city.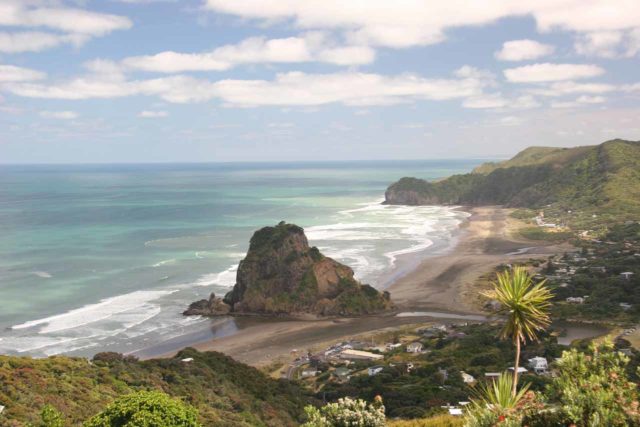 Piha Beach – This beautiful and seemingly secluded beach seemed to be the venue of some kind of festival that was going on during our second visit to New Zealand. But aside from the scenery of the beach, it also allowed us to access the Kitekite Falls a short distance further inland.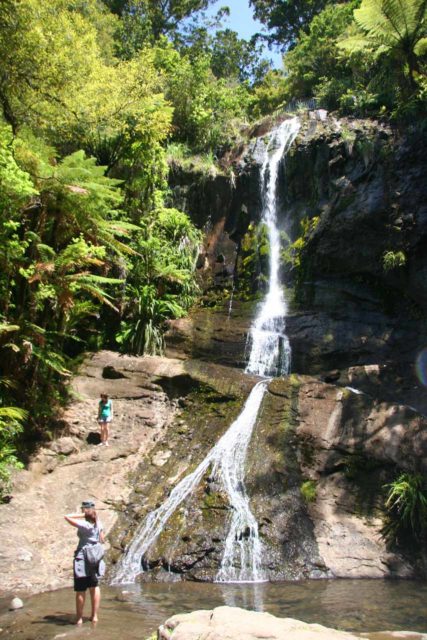 Fairy Falls – This waterfall in the Waitakere Ranges required a little bit of work to visit in an upside-down hike. But along the way were some kauri trees, which made the hike even more attractive. Oh yeah, the waterfall itself consisted of several drops culminating in the largest tier at the base, which was a nice little hangout spot.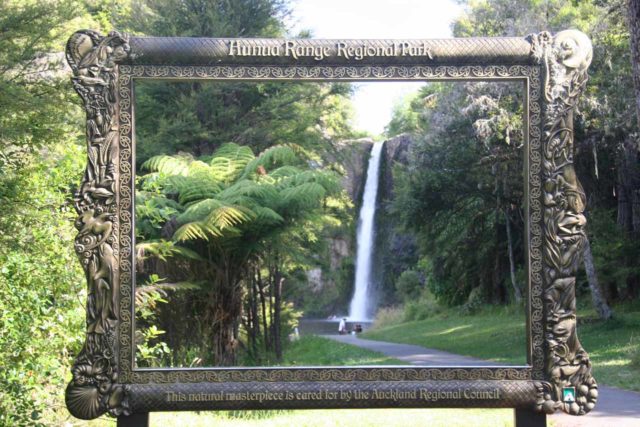 Hunua Falls – In each of our trips to New Zealand, this was the last waterfall of each of those trips. And it's nice to end off each trip on such a high note. As you can see from this photo, it's impressively tall and quite popular as a result.
[/expand]
Travel Itinerary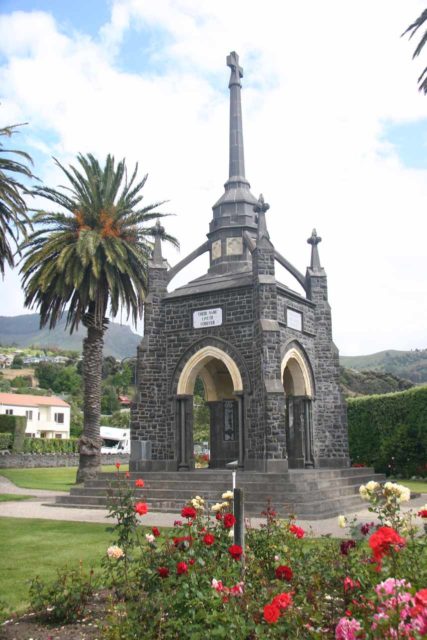 Days 1-3: International flight from Los Angeles to Christchurch
Overnight: Bella Vista Motel (Christchurch, South Island, New Zealand)
This was a long series of travel days (mostly because we took a red-eye flight combined with crossing the international date line). Once we landed in Auckland, we then took a connecting flight to Christchurch. Afterwards, we picked up the rental car, spent some time in the Christchurch CBD, then visited Akaroa before returning to our accommodation.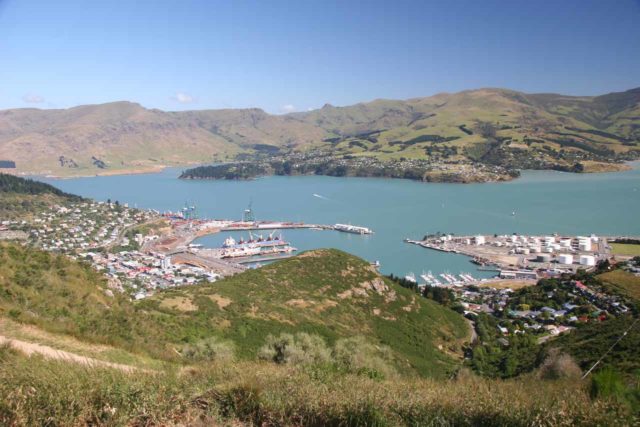 Day 4: Mt Oxford and Lyttleton
Overnight: Bella Vista Motel (Christchurch, South Island, New Zealand)
We started off the morning by driving out to the Mt Oxford area and hiked to Ryde Falls. For the rest of the afternoon, we spent some more time in the Christchurch CBD before driving out to Lyttleton for a visit.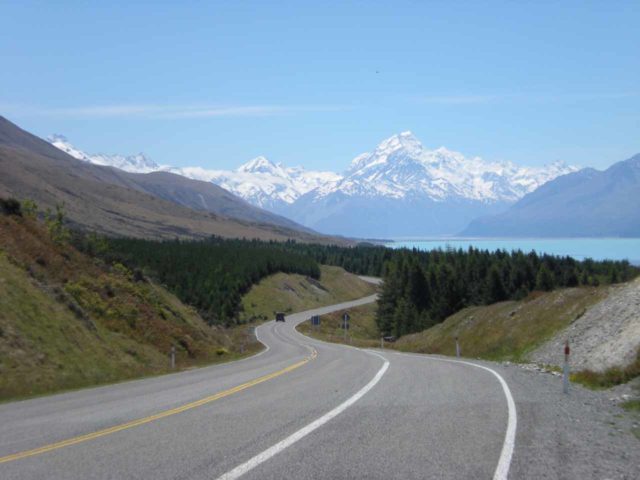 Day 5: Drive from Christchurch to Mt Cook Village
Overnight: The Hermitage Hotel (Mt Cook Village, South Island, New Zealand)
On this day, we drove out to the Peel Forest to visit Acland Falls and Emily Falls. We then continued driving towards Tekapo to see the Church of the Good Shepherd (a great excuse to see the powder blue lake nearby) before going up to Mt Cook. Once at the village, we visited the Tasman Glacier, Wakefield Falls, and the Hooker Valley.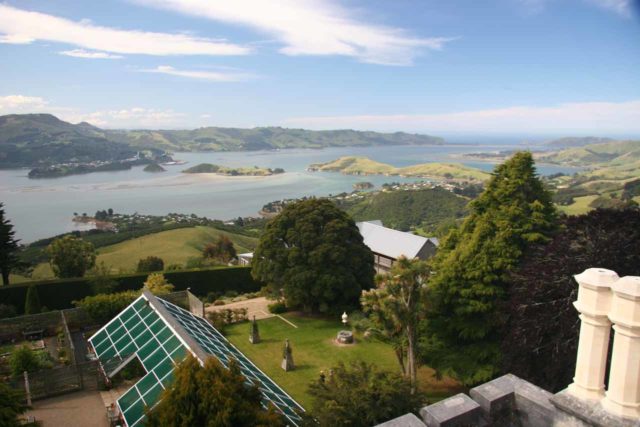 Day 6: Drive from Mt Cook Village to Dunedin
Overnight: Bella Vista Motel (Dunedin, South Island, New Zealand)
Taking advantage of the morning light, we returned to Wakefield Falls for a look before continuing our drive towards Dunedin. Once there, we visited the Octagon (in the CBD) before driving out to Larnach Castle, then seeing fur seals at Sandfly Bay.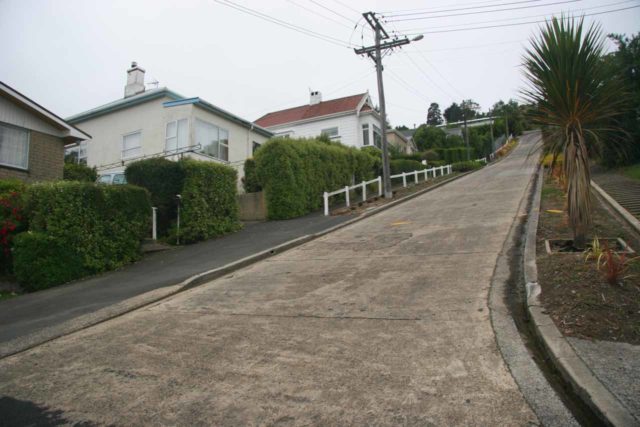 Day 7: Drive from Dunedin to Te Anau
Overnight: Lakeside Motel (Te Anau, South Island, New Zealand)
On this day, we spent some time checking out Baldwin Street (the "world's steepest street") before continuing into the Catlins Forest to visit Purakaunui Falls as well as seeing improvements made to the Southern Scenic Route. Then, we headed north into Fiordland to visit Humboldt Falls, Christie Falls, and many other unnamed waterfalls on the Milford Highway.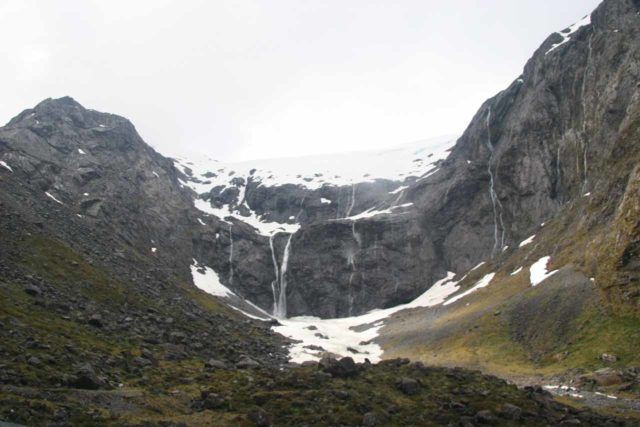 [expand title="MORE" swaptitle="LESS" trigpos="below"]
Day 8: Drive from Dunedin to Te Anau
Overnight: Lakeside Motel (Te Anau, South Island, New Zealand)
This was a day we returned to Fiordland to do the Milford Sound Cruise (allowing us to see Bowen Falls, Stirling Falls, and other waterfalls), hike part of the Hollyford Track to Hidden Falls, and seeing new waterfalls that sprouted up after the rain storm finally started clearing.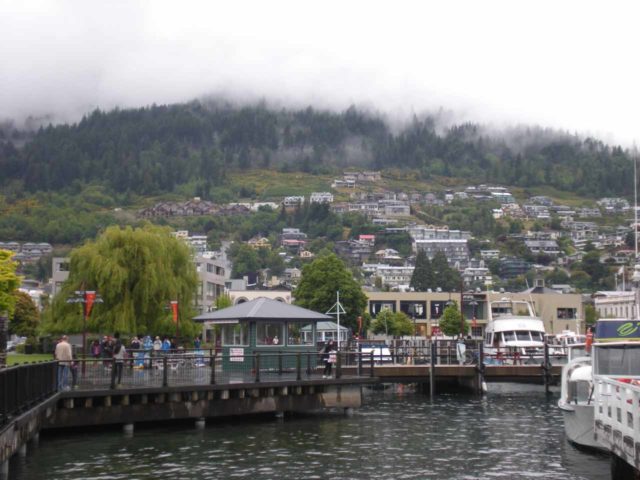 Day 9: Drive from Te Anau to Queenstown
Overnight: Coronation Lodge (Queenstown, South Island, New Zealand)
On this day, we drove to Queenstown and spent the rest of the day exploring the CBD in the rain.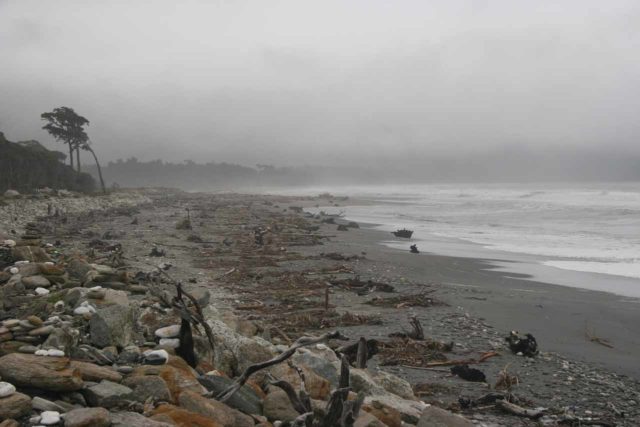 Day 10: Drive from Queenstown to Fox Glacier
Overnight: Mt Cook View Motel (Fox Glacier, South Island, New Zealand)
As we made the long drive through Mt Aspiring National Park en route to Fox Glacier, we visited Fantail Falls and Thunder Creek Falls. When we got to Fox Glacier, we then did the hike to the terminus while seeing waterfalls along the way.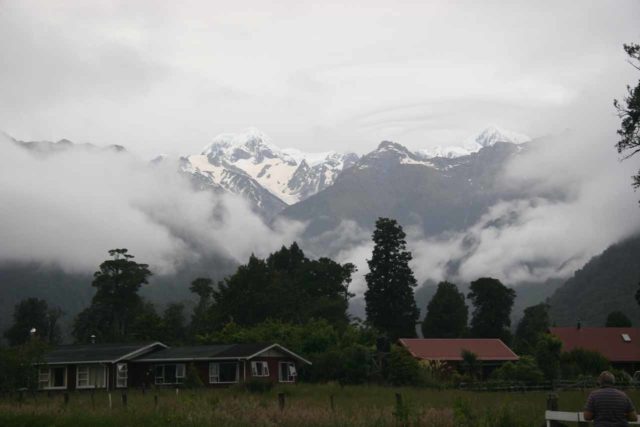 Day 11: Franz Josef Glacier
Overnight: Mt Cook View Motel (Fox Glacier, South Island, New Zealand)
We spent the better part of the morning visiting the Franz Josef Glacier as well as the waterfalls. In the afternoon, we did the Lake Matheson Walk.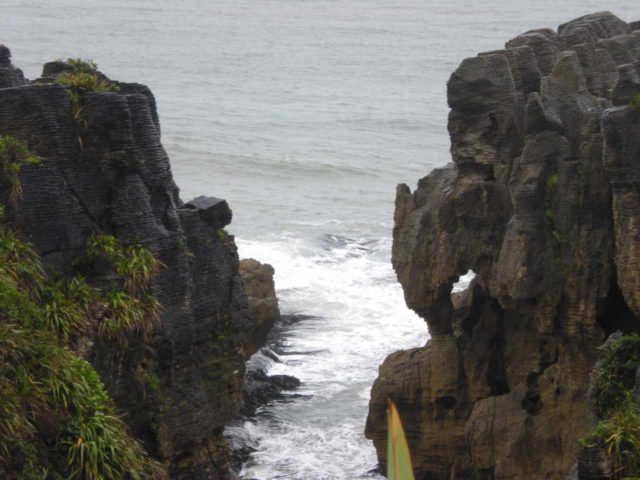 Day 12: Drive from Fox Glacier to Westport
Overnight: Westport Motel (Westport, South Island, New Zealand)
This turned out to be a very rainy day (think flooding and downpours) so we only managed to visit the Pancake Rocks at Punakaiki before checking into Westport. We had to abort an attempt at visiting Mangatini Falls and hope to try again the next day.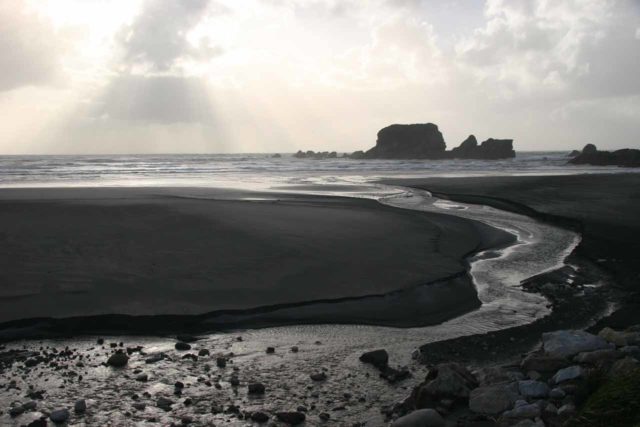 Day 13: Oparara Basin
Overnight: Westport Motel (Westport, South Island, New Zealand)
With the improvement in the weather, we spent the morning visiting Mangatini Falls. Then, we continued driving north into the Oparara Basin to visit the Oparara Arch and Moria Gate Arch. Afterwards, we checked out the Cape Foulwind Fur Seal Colony before returning to Westport.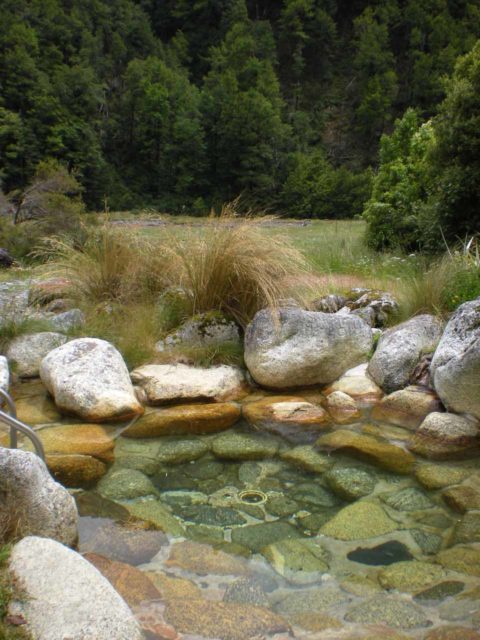 Day 14: Drive from Westport to Hanmer Springs
Overnight: Harrogate Gardens Motel (Hanmer Springs, South Island, New Zealand)
On this day, we headed inland to the Buller Gorge visiting Maruia Falls. Then, we went south towards Lewis Pass where we visited the onsen-inspired Maruia Springs. Finally, we settled into busier Hanmer Springs.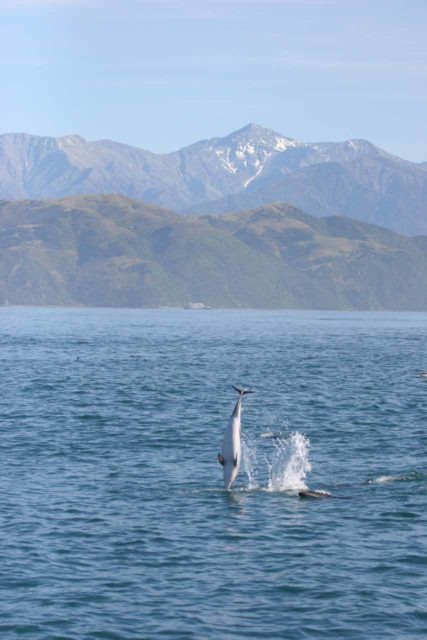 Day 15: Drive from Hanmer Springs to Nelson
Overnight: Chelsea Park Motel (Nelson, South Island, New Zealand)
On this day, we headed to the Kaikoura Whale Station the moment they opened so we could do the earliest whale watching tour. Then, we checked out the Kaikoura Lookout, had a crayfish lunch, then visited Ohau Falls. Then, on the way to Nelson, we stopped by Kekerengu.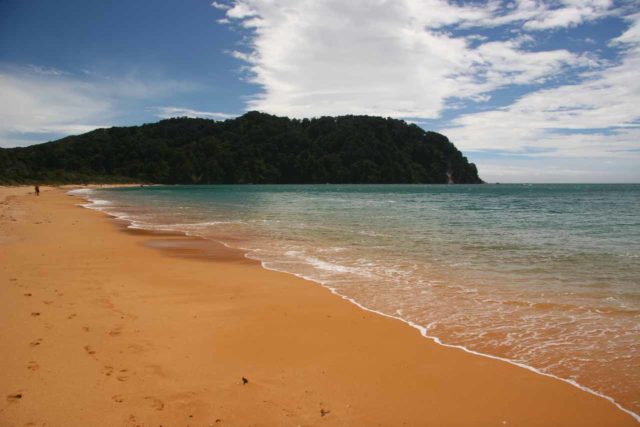 Day 16: Abel Tasman National Park
Overnight: Chelsea Park Motel (Nelson, South Island, New Zealand)
This day was dominated by some sights in the Abel Tasman National Park without needing to do the Abel Tasman Coast Track. This included Wainui Falls, Totaranui Beach, and Takaka for lunch. Then, we spent the rest of the evening having a final dinner in Nelson.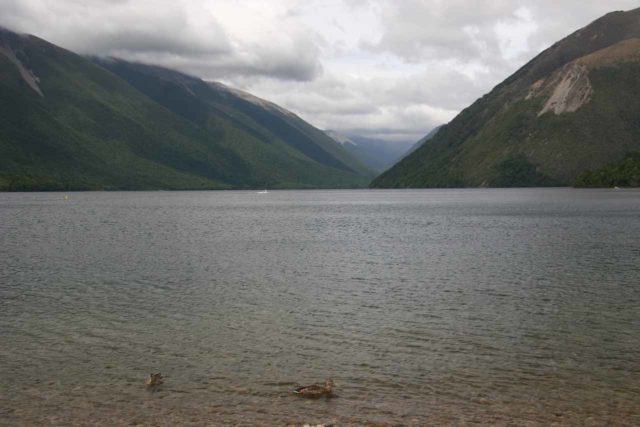 Day 17: Drive from Nelson to Blenheim
Overnight: Commodore Court Motel (Blenheim, South Island, New Zealand)
On this day, we went to Lake Rotoiti (but didn't do the long hike to the waterfall there) before checking into Blenheim for a dinner with Kiwi friends whom we had met a couple years prior on a Nile Cruise in Egypt.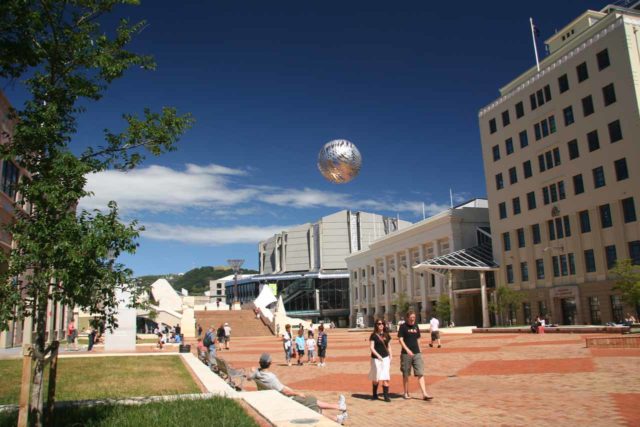 Day 18: Drive from Blenheim to Wellington
On this day, we left the South Island and took the Inter-Islander Ferry into Wellington. Once there, we spent the better part of the day visiting the city's sights like the Mt Victoria Lookout, Queens Wharf, Wellington CBD, the Beehive, and the Parliament House.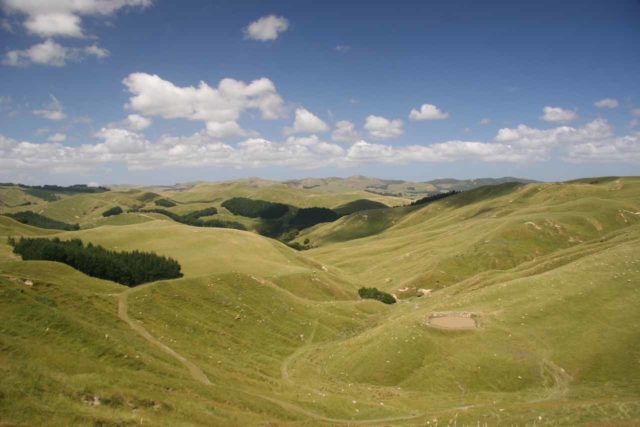 Day 19: Drive from Wellington to Palmerston North
Overnight: Chancellor Motor Lodge (Palmerston North, North Island, New Zealand)
On the drive further north to Palmerston North, we did a detour to visit Waihi Falls. Once in town, we did a brief stroll around the city's CBD.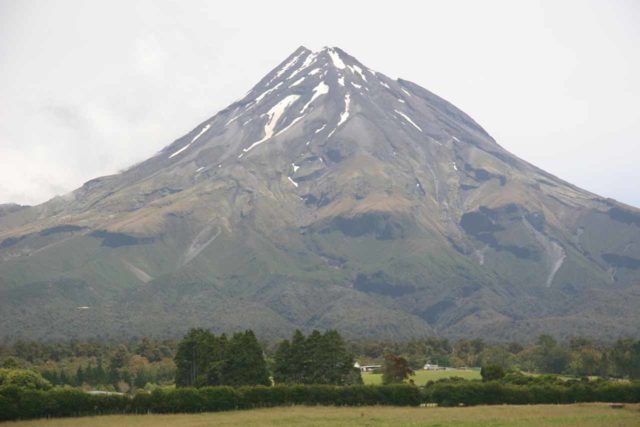 Day 20: Drive from Palmerston North to New Plymouth
Overnight: Coronation Court Motel (New Plymouth, North Island, New Zealand)
On this day, we did a brief detour to visit Raukawa Falls before briefly checking out the Stratford CBD. Then, we drove up to Mt Egmont, where we visited Dawson Falls. Finally, we drove around the Surf Highway before spending a magical evening checking out the Festival of Lights at Pukekura Park.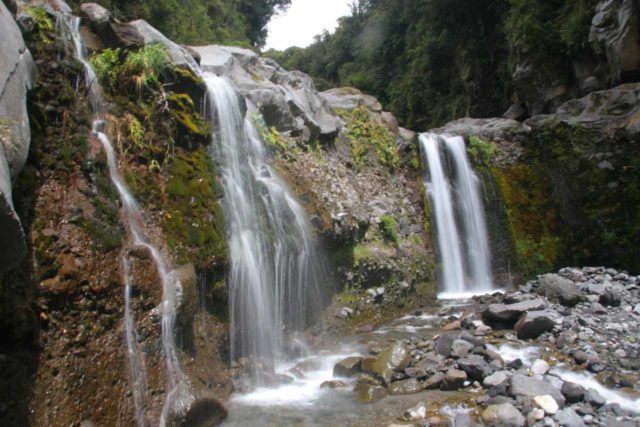 Day 21: Day Trip in the Taranaki Region
Overnight: Coronation Court Motel (New Plymouth, North Island, New Zealand)
We started the day doing the hike to Curtis Falls. Then, we drove onto the Forgotten World Highway to visit the Mt Damper Falls before returning to New Plymouth.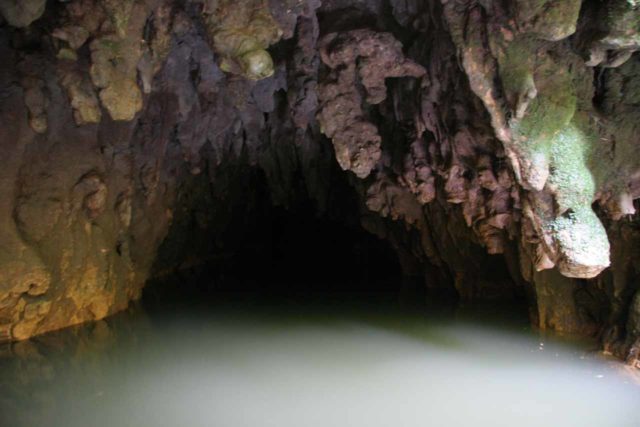 Day 22: Drive from New Plymouth to Whangamata
Overnight: La Dolce Vita (Whangamata, North Island, New Zealand)
This was a long driving day, where on the way north, we stopped by Omaru Falls, the Waitomo Glowworm Caves, and the Marokopa Falls. Next, we headed northeast and visited Wairere Falls before continuing on towards the Coromandel Peninsula. We visited Owharoa Falls just before checking into Whangamata.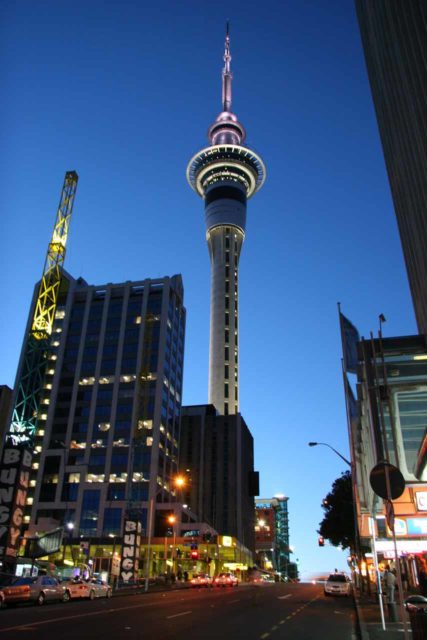 Day 23: Drive from Whangamata to Auckland
Overnight: City Centre Hotel (Auckland, North Island, New Zealand)
On this day, we drove up to the Villa Toscana Lodge to catch up with the Italian hosts who helped with our wedding some six years prior. We then visited the Cathedral Cove before cutting across the Coromandel with a stop at Waiau Falls. On the way to Auckland CBD, we stopped by One Tree Hill for nice panoramas before settling in.
Finally, we checked out Market Square as well as the general CBD area in the evening.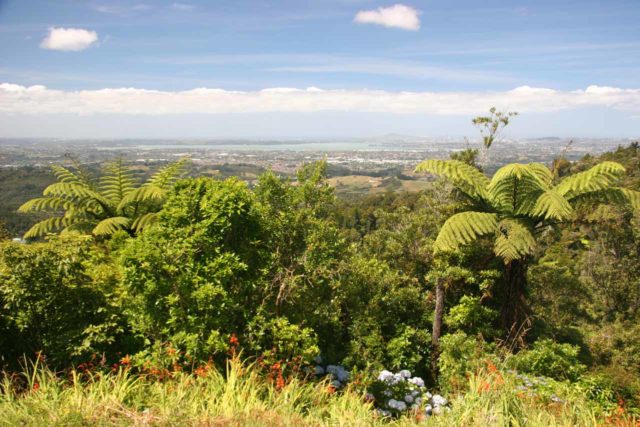 Day 24: Day Trip To the Waitakere and Hunua Ranges
Overnight: City Centre Hotel (Auckland, North Island, New Zealand)
On our final full day in New Zealand, we headed west to visit Kitekite Falls as well as Fairy Falls. Then, we left the Waitakeres and headed east to Hunua Falls. In the evening, we hung out at the Princes Wharf for our last night.
Day 25: Fly from Auckland to Rarotonga
This was a travel day. After returning the rental car, we then flew out to Rarotonga, Cook Islands to begin the final week of this trip.
[/expand]
Related Trip Reports
Waterfalls included in this itinerary
Visitor Comments:
Got something you'd like to share or say to keep the conversation going? Feel free to leave a comment below...
No users have replied to the content on this page