This itinerary was designed to maximize our time during the peak of the Autumn colors in the northeastern part of the United States (otherwise known as New England) as well as the Canadian provinces of Quebec and Ontario.
We also arranged our route such that it was an "open JAW" trip where our arrival and departure points were not the same. In this case, we flew into Boston and few out of New York.
This was a fairly low-maintenance trip in that aside from flying cross-country, we pretty much self-drove and self-toured for the entire 3.5 weeks of this trip. We brought along our daughter, which was a test to see how she'd respond to such a trip.
Here are the highlights and logistics from this trip…
Trip Highlights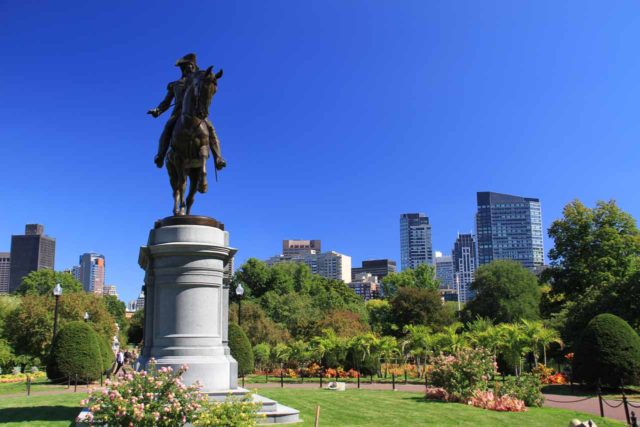 Boston – We probably didn't do this city justice since we only had a full day, and that was after an uncomfortable red-eye flight in which we didn't get a whole lot of sleep along with a little jet lag. But what we did get to see and experience made us wish we spent more time here, and that alone suggested that we experienced enough to consider this city a highlight.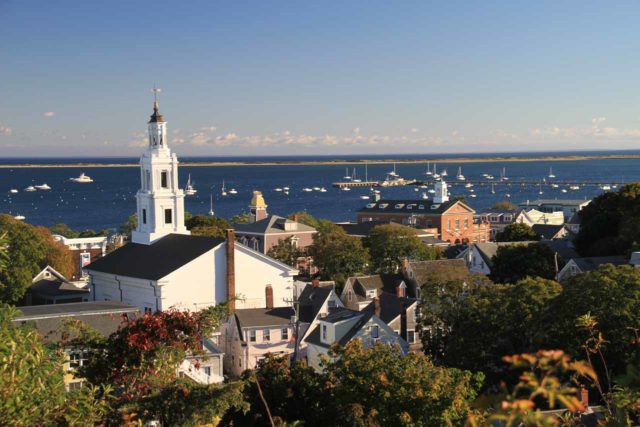 Cape Cod – For something a little more relaxing, we spent a couple days in this stretch of Massachusetts coastline. While there were highlights within this span of beaches, quaint seaside towns, and lighthouses, we especially liked Provincetown. This town possessed a happening vibe all its own, especially that sense of colonial history and charm that really made it seem like we were in some place special. Of course, there were also more sandy beaches that our daughter really enjoyed.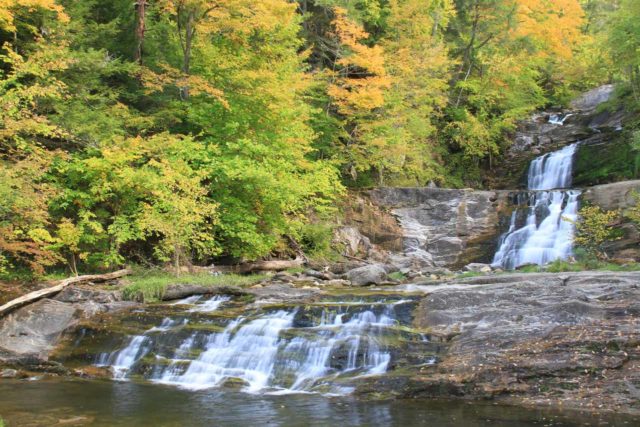 Kent Falls – The park that contained this easy-to-visit waterfall also featured an extensive picnic ground (which Julie and Tahia enjoyed), a covered bridge, and a trail that went up alongside the multi-tiered Kent Falls. Indeed, it was fun for the whole family and helped to break up the long day of driving from Cape Cod to Norfolk, Connecticut.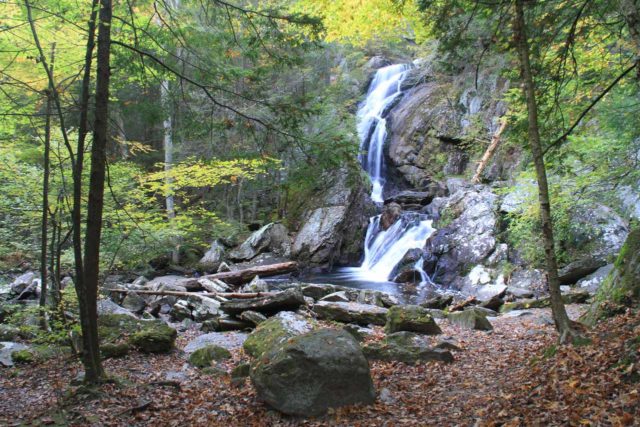 Campbell Falls – While this waterfall was attractive in its own right, I found it interesting to be crossing over the state border between Connecticut and Massachusetts to reach the falls. Of course, on the morning that I did this hike, I felt as relaxed as I could be for the woods that it was in was as peaceful and naturesque.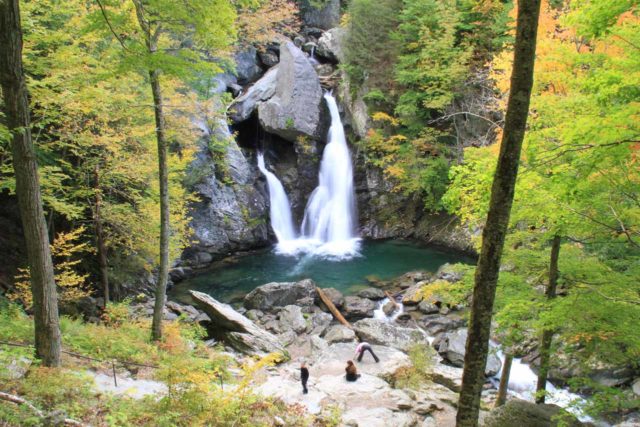 Bash Bish Falls – As much as I kept mispronouncing its name as "Bish Bash Falls", this gushing waterfall was quite scenic as it had an emerald plunge pool and was surrounded by foliage that was just on the verge of its Autumn color explosion. We did a somewhat steep hike from the Massachusetts side to get here, but there was a much easier and flatter (albeit maybe a little longer) hike from the New York side.
[expand title="MORE" swaptitle="LESS" trigpos="below"]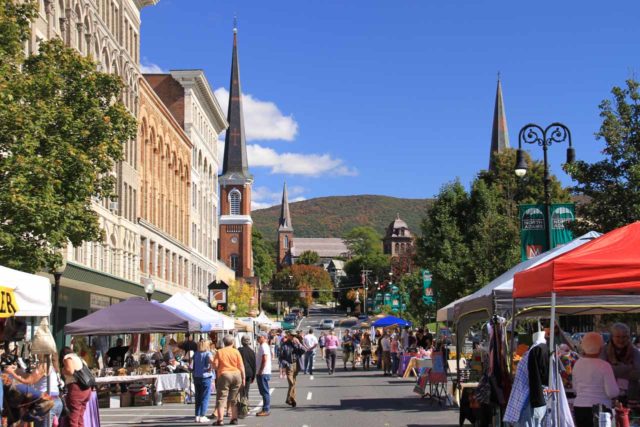 North Adams – We wound up picking this town to stay for a couple of nights, but little did we realize that it possessed a certain sense of colonial charm as evidenced by the collection of old-looking spired-buildings. Plus, there were festivals that went on, which made a stroll through its main throughfare a delight.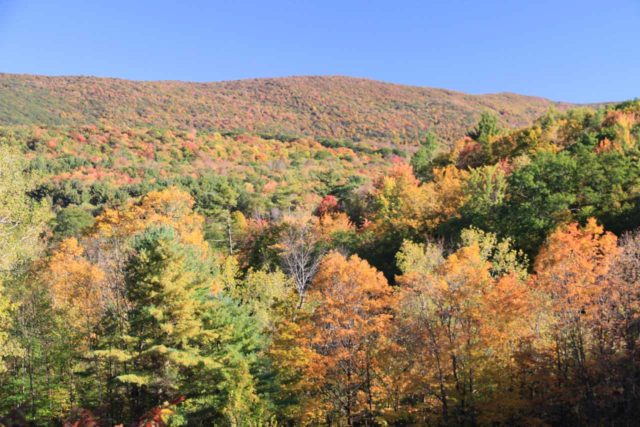 Natural Bridge of New England – While it was the eccentric natural bridge that drew us to this attraction near North Adams (and the marble waterfall was technically man-made), it was the surprising display of Autumn colors that really stole the show.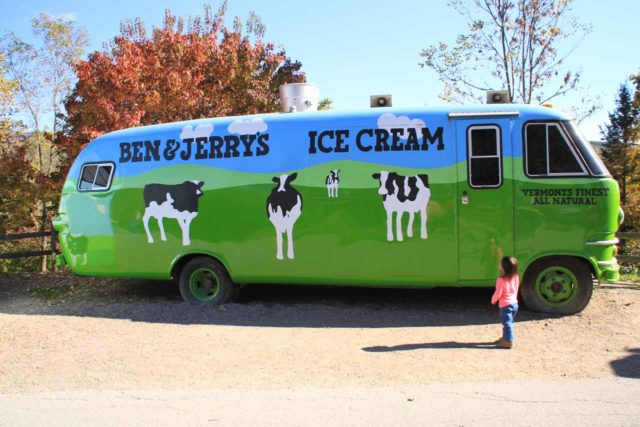 Ben and Jerry's Factory Tour – Julie and Tahia on a whim decided that we should check out this tour (I think Tahia cared more about the ice cream samples) and so we wound up forsaking a waterfall for this. It was quite an impressionable visit, but I think the explosion of Fall colors at this facility also made for nice scenery in addition to a little knowledge about ice cream quality and how it gets made.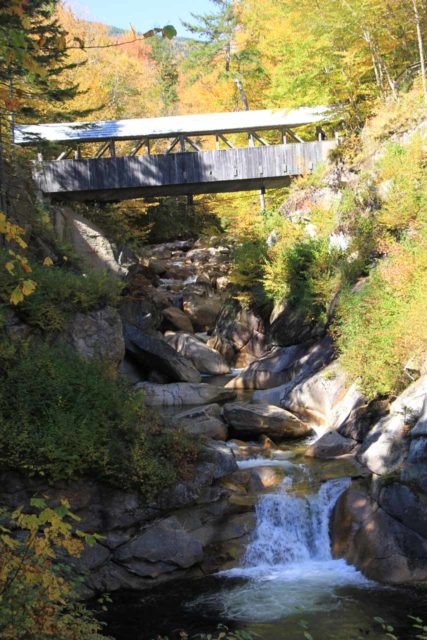 The Flume – This very popular loop hike featured it all – Fall colors, covered bridges, narrow gorges, waterfalls, and panoramas. Perhaps the only hard part about this hike was that I was giving Tahia a ride the whole time so my thighs and knees were definitely feeling it. Still, the chance to experience it all in this setting as a family was priceless.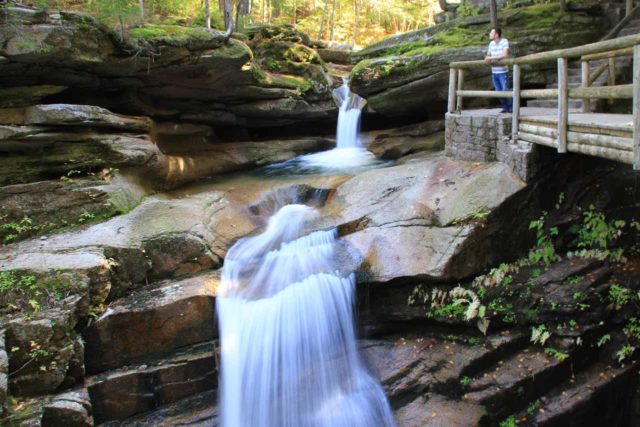 Sabbaday Falls – This waterfall cut its way through a narrow gorge leaving a clear "Emerald Pool" downstream from its base as well as an easy walk to take it all in.
Crystal Cascade – This was one of the more photo-friendly waterfalls that we encountered in New England, and with it being flanked by yellows and a hint of reds as the leaves were turning colors, it made for a very satisfying experience.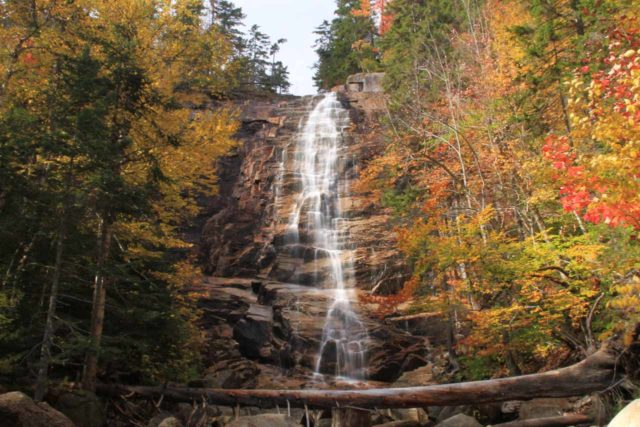 Arethusa Falls – This was one of the most impressive waterfalls that we had seen in all of New England, but it was also the adventure to even get here that made it memorable. You see, we opted to take the Bemis Brook Trail, which took in a couple more waterfalls, but it also involved a steep ascent (made even more difficult with Tahia on my back), where we had to use all of our limbs. Nonetheless, we still savored the experience and still think of this waterfall as either the top or second-best of the ones we encountered on this trip.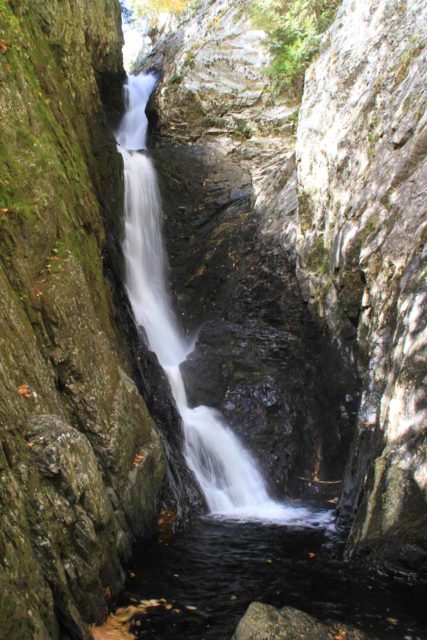 Dunn Falls – this waterfalling experience was really more about the serenity and somewhat remote scenery along a stretch of the Appalachian Trail. Not only was the hike relaxing and quiet, but I also managed to see a couple other waterfalls throughout the loop hike. Also, the bright oranges of the Autumn foliage were in full effect, which made any panoramas along the trail that much more alluring.
Portland, Maine – It actually took a government shut down, which closed Acacia National Park, that forced us to change plans on the fly. So instead of driving all the way to the reserve, we stopped in Portland instead. And boy were we surprised at how charming the town was. Indeed, we not only saw the iconic Portland Head Light, but we also felt the vibe of the downtown scene where there was a live band playing and we were just being in the moment. Indeed, sometimes unplanned events yield the most memorable moments.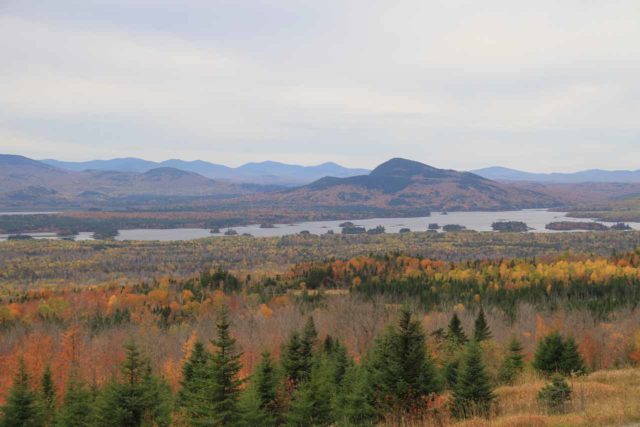 Moxie Falls and the Old Canada Road – Driving the Old Canada Road seemed like driving through the backwoods of Maine as the place appeared to be surprisingly devoid of development. And while the drive was pretty long, we did make a stop at Moxie Falls, which we thought was New England's most impressive waterfall. We also stopped by other roadside overlooks like the Attean View somewhere near the Canadian border.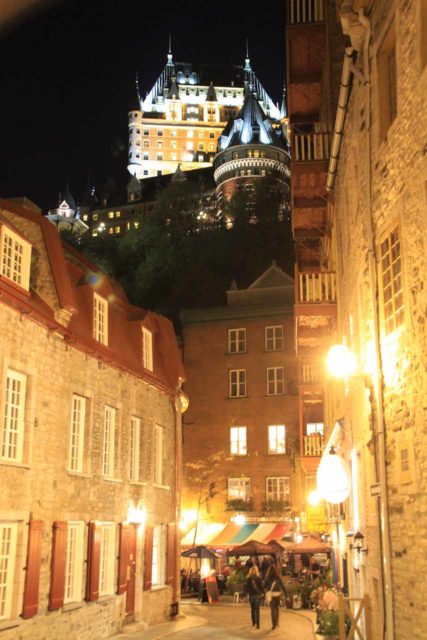 Quebec City – It's not often that you can find a slice of Europe in North America, but we had to believe that this French-Canadian city probably came the closest. After all, it featured city walls, scenic views along the St Lawrence River, narrow alleyways buzzing with people, and the Chateau Frontenac dominating the skyline regardless of where you were walking about. We added an additional night after needing to rearrange our itinerary from the US Government shutdown, and boy did it work out in our favor!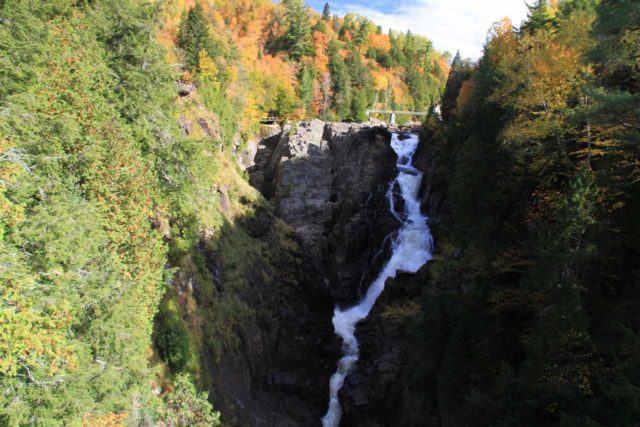 Canyon Sainte-Anne – While the main draw of this park was the deep gorge (where a loop trail allowed us to take it all in), we saw plenty of people actually canyoneering within its depths for more pulse-pumping action. That said, I found the impressive Chute Sainte-Anne waterfall to be the real draw here, and they even had a thoughtful playground to keep the children happy (which our daughter took full advantage of).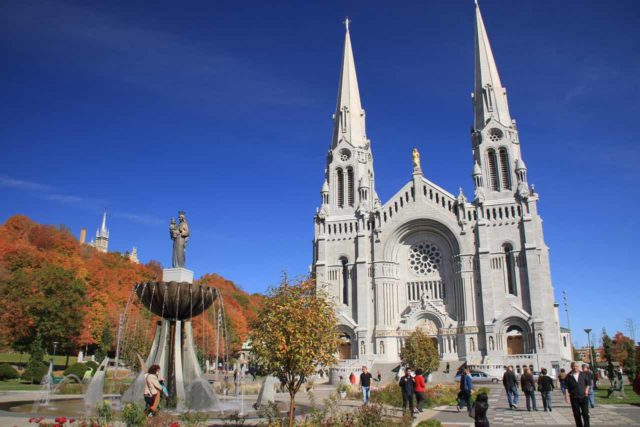 Sainte-Anne-de-Beaupre – This was another one of those experiences where it felt like we a slice of Europe was somehow transplanted into North America. Indeed, the cathedral here was impressive, and we couldn't believe that such places actually exist in North America!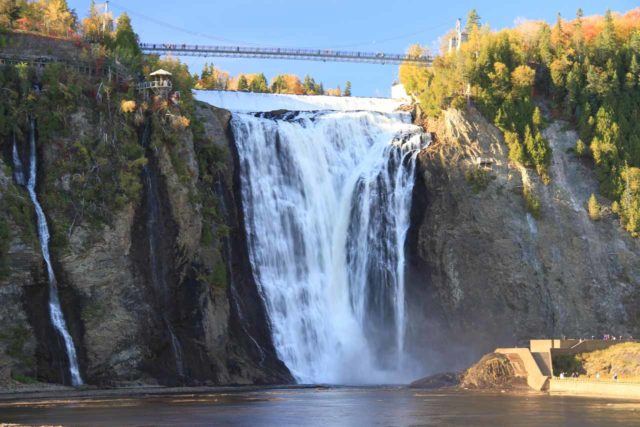 Chute Montmorency – This was probably Quebec's largest waterfall, but its trail allowed us to experience from all the different vantage points imaginable. We also got panoramas towards the St Lawrence River as well as a closer look at a side waterfall called the Bridal Veil Falls. In a way, the main waterfall was kind of like a smaller but less remote version of Kaieteur Falls.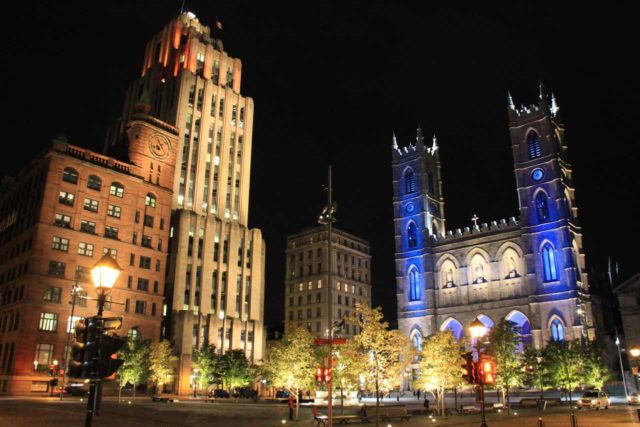 Montreal – This charming city also featured a bit of Old World charm with a bit of a French flair (much like Quebec City). In our time spent here, we caught panoramas from Mt Royal, Fall colors along the St Lawrence River, explored as much of the city center as we could, and becamed wow'd by the lit up Chinese Garden Exhibition at night.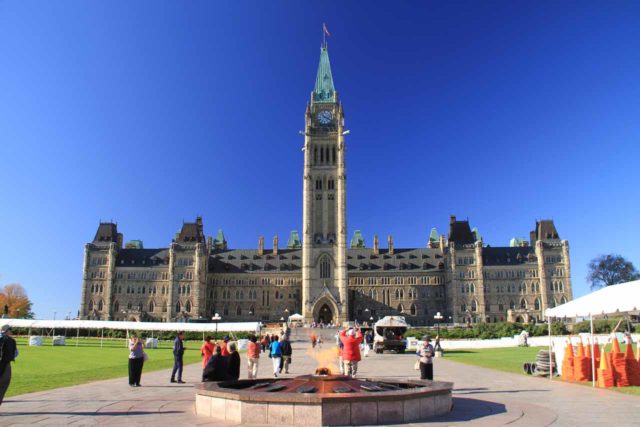 Ottawa – Canada's capital city was a blend of historic-looking buildings, canals, and a happening Byward Market (somehow reminding us of Pike's Place in Seattle). Even though we only had an evening here, we did get to visit a pair of waterfalls in addition to the city's attractions.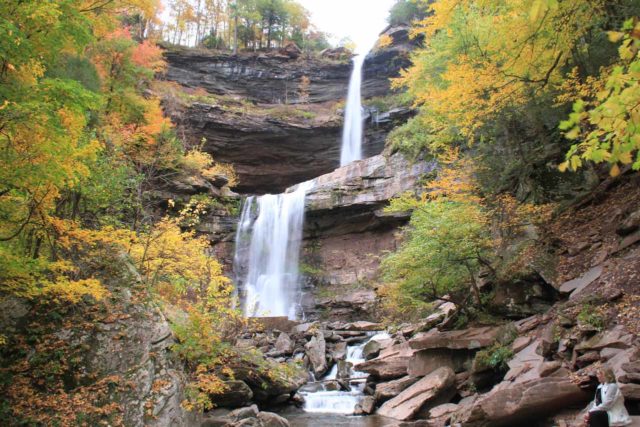 Kaaterskill Falls – One of the tallest (if not the tallest) waterfalls in the Catskill Mountains of upstate New York, we also got to see it juxtaposed with some yellows and reds from the Autumn foliage. It was definitely worth the detour to drive south of Albany to get here.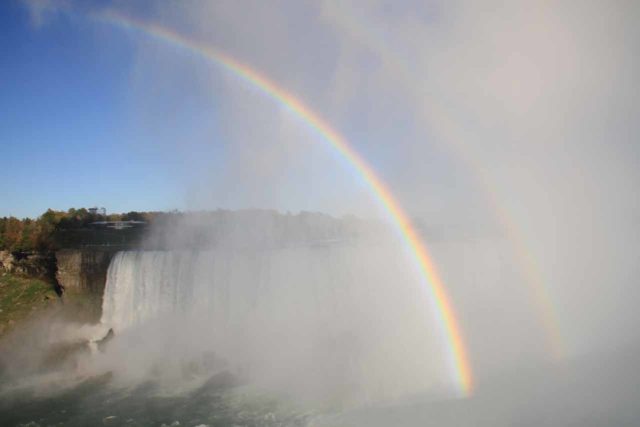 Niagara Falls – Although we only spent one expensive night here, we savored the chance at letting our daughter experience the grandeur of this Granddaddy of waterfalls in North America. It also seemed like the falls had a bit more mist and more volume than the first time we were here six years prior, indicating to us that this waterfall never ceases to surprise us.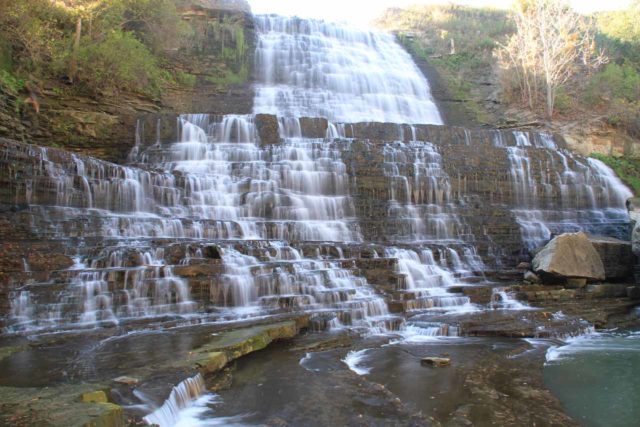 Albion Falls – This was one of the most photogenic waterfalls encountered on this trip, but in order to get the satisfying rippled waters view you see here, we had to go down into the gorge (which the signs had indicated that it was technically closed but just about everyone was ignoring it). Indeed, this one tends to grow on you.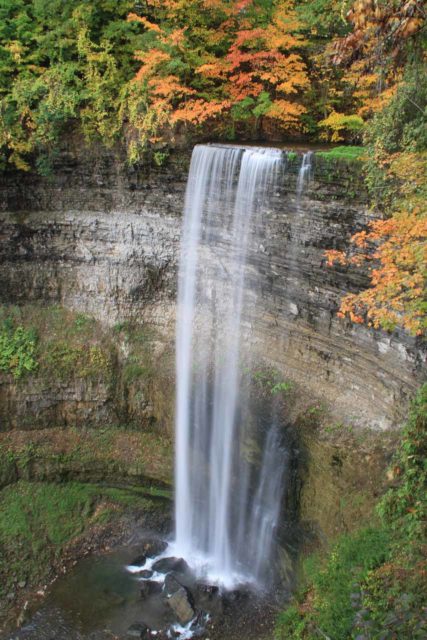 Tews Falls – This tall plunging waterfall with some Fall foliage to go with it was a treat. Plus, it was another one of the easy waterfalls to visit in the Hamilton area.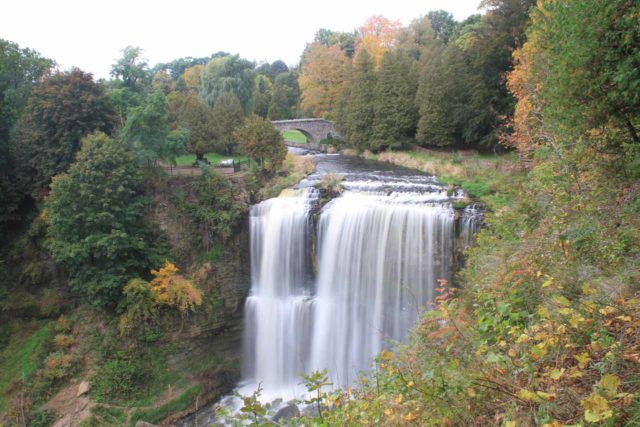 Webster's Falls – This was one of the Hamilton area's biggest waterfalls. There were trails allowing us to view it (albeit partially) from different angles though apparently the best and more direct viewpoints were closed during our visit. Nonetheless, for me to place this falls as a highlight is a testament to how impressive it was.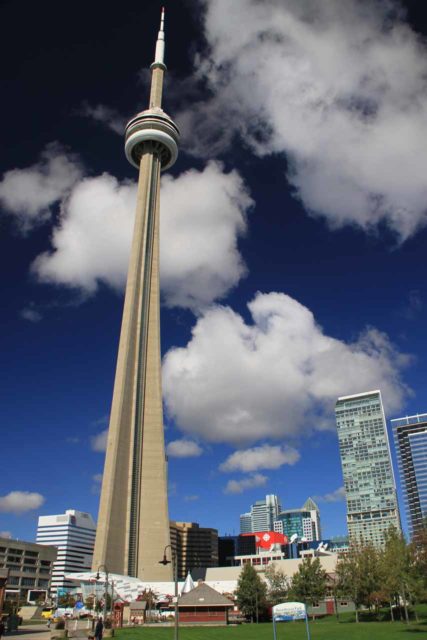 Toronto – This was Canada's largest city, and we just so happened to have showed up on the Canadian Thanksgiving Day (celebrated about a month earlier than us in the States). So that made this vibrant city take on a bit of a festive atmosphere, which seemed just right for the family to enjoy. We also toured Toronto Island and went up the CN Tower to round out the city experience.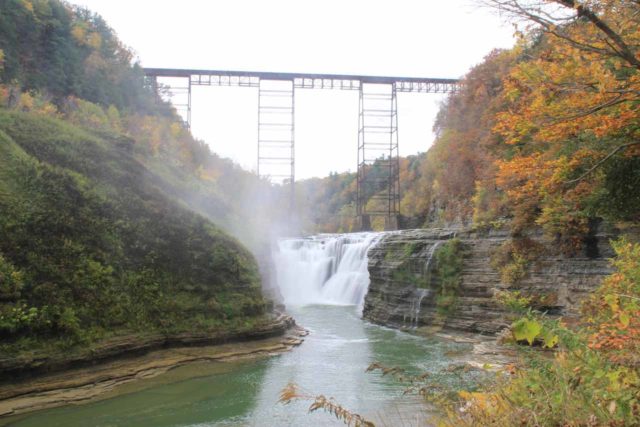 Letchworth State Park – It wasn't the first time Julie and I visited this park, but with Autumn colors and the chance to let our daughter experience this place, we got a different (perhaps more fulfilling) experience this time around. Indeed, we saw not only the Upper Falls, but we also saw the other two – Middle Falls, and Lower Falls.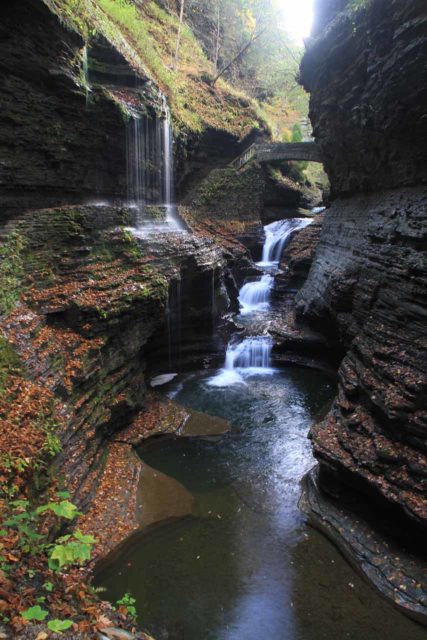 Watkins Glen – While we've seen other glens in the Finger Lakes area, we felt that this particular glen was the prettiest. It was action-packed with waterfalls (some of which we could go behind), and it featured the one pictured here, which seemed to epitomize the grace and beauty of this place. If we weren't racing the onset of darkness, we easily could have spent even more time here.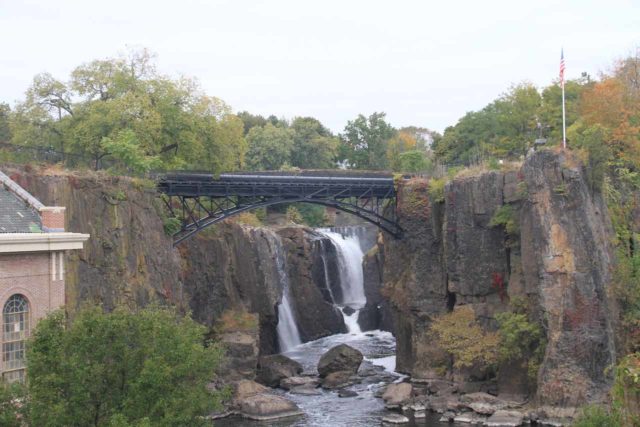 Passaic Falls – Who knew that there was a waterfall in the concrete jungle within the state of New Jersey? Indeed, not only did this exist, but it also seemed to have a bit of history attached to it regarding the early days of the Industrial Revolution in America.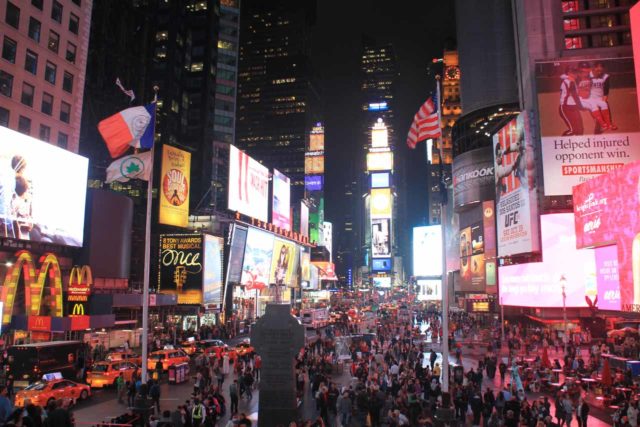 New York City – There's nothing quite like the Big Apple, but this time with our daughter in tow, we got to show her places like Times Square, the Statue of Liberty, trying New York Pizza, and much more! It was the perfect way to end off this trip that yielded priceless moments and memories.
[/expand]
Trip Advice

The main reason for the timing of our trip was to aim for the Fall Colors. On that front, it was a bit hit and miss as we apparently showed up maybe a couple of weeks too early for the big explosion of Fall Colors. That said, here are some of the things we learned on this trip that might be of use to you.
Fall Colors: It seemed like our visit was fairly well-timed in some parts and perhaps a little early in others. It seemed that the further north you are in latitude, the earlier the Fall colors showed up. So while our trip took place between late September and mid-October, it seemed like the Fall Colors were at their best in parts of Vermont, New Hampshire, and upstate New York. For the rest of the trip, it was spotty (possibly a week or two too early).
Regardless, a visit to New England in the Autumn also yielded other benefits like the temperatures being on the cool and crisp side (which further aids in the leaves changing colors). It also made the hikes more comfortable while also keeping the biting insects at bay.
Uncrowded: Since the majority of our trip was in Nature, we found it to be uncrowded almost everywhere we went except for the big cities and well-touristed spots like Niagara Falls. That said, even Cape Cod didn't feel too overrun, and it felt right. So I'd highly recommend going out in the bush to truly feel New England at its best.
Government Shutdown: This happened on our trip, where the Federal government couldn't get their act together and thus shut down. This resulted in the National Parks being closed and so that affected our planned visit to Acacia National Park. Even though we were unable to cancel our accommodation, we just swallowed the cost of those nights we didn't stay and booked an additional night in Quebec City, Montreal, and a night in Portland, Maine. And we didn't regret that decision one bit. So the moral of the story is to be flexible and willing to make changes for the current circumstances or conditions because you never know when you'll be back again.
Travel Itinerary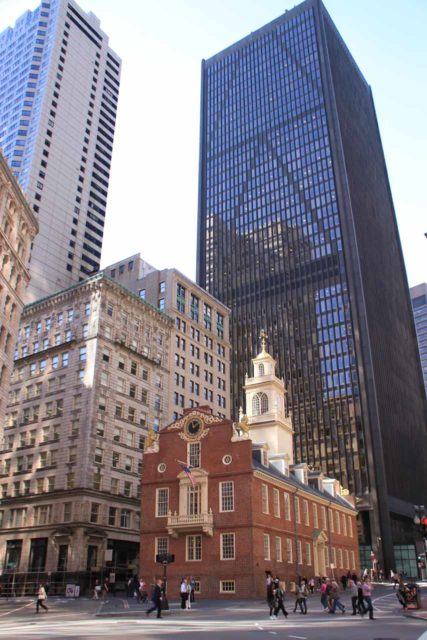 Days 1-2: Fly from LAX to Boston
We started by taking a red-eye flight to Boston. When we landed, we actually got caught up on sleep and didn't really start touring the city until around noon. That started a whirlwind tour along the so-called Freedom Trail where we visited the Boston Public Garden, Boston Common, the Old State House, Faneuil Hall, Old North Church, Cheers, and Beacon Hill, among others.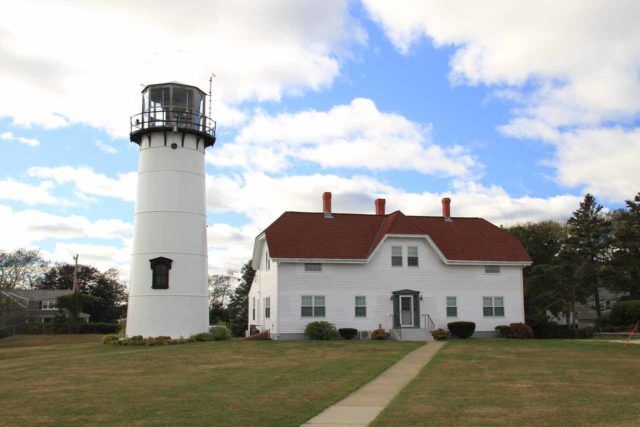 Overnight: The Hawthorne (Cape Cod, Massachusetts, USA)
We started the morning by picking up the rental car. From there, we drove out to Cape Cod to check out the Chatham Lighthouse as well as Nauset Beach, where we let Tahia play in the sand for a bit.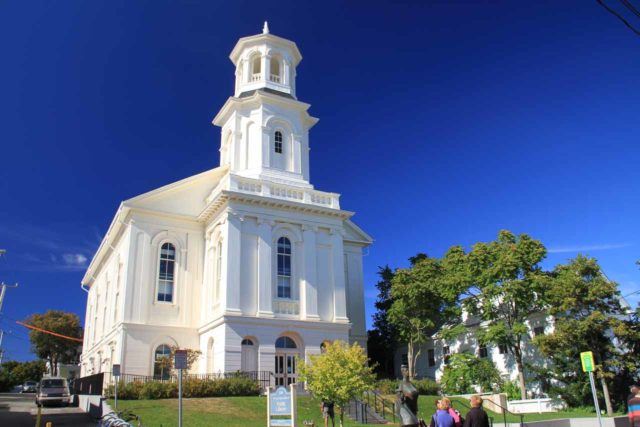 Day 4: Cape Cod to Provincetown and back
Overnight: The Hawthorne (Cape Cod, Massachusetts, USA)
We spent the entire day driving up and down the Cape Cod coast going as far as Provincetown at the very northern tip. Among the highlights include Nauset Lighthouse, Highland Lighthouse, Race Point, and especially Provincetown.
[expand title="MORE" swaptitle="LESS" trigpos="below"]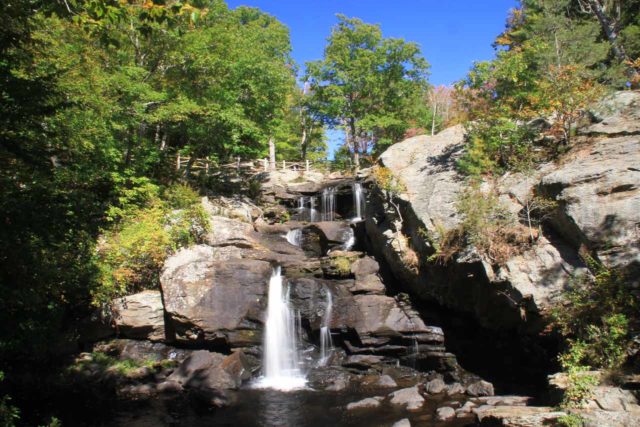 Day 5: Drive from Cape Cod to Norfolk
Overnight: Blackberry River Inn (Norfolk, Connecticut, USA)
This was a long driving day where we managed to break it up by visiting Chapman Falls in the Devil's Hopyard State Park as well as the family-friendly Kent Falls. We ended off the day near the Connecticut-Massachusetts border at Norfolk.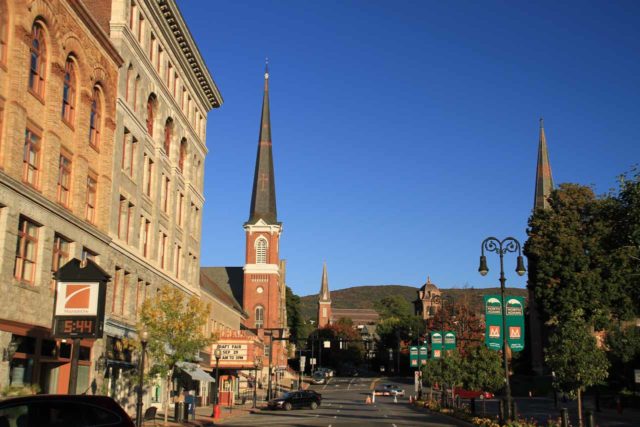 Day 6: Drive from Norfolk to North Adams
This day started with an early morning solo hike to Campbell Falls before checking out of our accommodation and driving to the trailheads for Bash Bish Falls. After visiting that waterfall, we checked into North Adams where there happened to be some kind of street market going on. Then, we spent a good part of the afternoon visiting the Natural Bridge of New England. We spent the rest of the evening checking out North Adams when it was quieter.
Day 7: Drive from North Adams to Stowe
I started the day doing a solo adventure to Tannery Falls. Due to a road closure (and subsequent detour), this excursion took a bit longer than expected. In any case, when I got back to our accommodation, we packed up, checked out, then drove further north into Vermont, where we saw both the Moss Glen Falls in Granville as well as the Moss Glen Falls in Stowe. We also stopped by the Ben & Jerry's Waterbury Factory for a tour and some treats.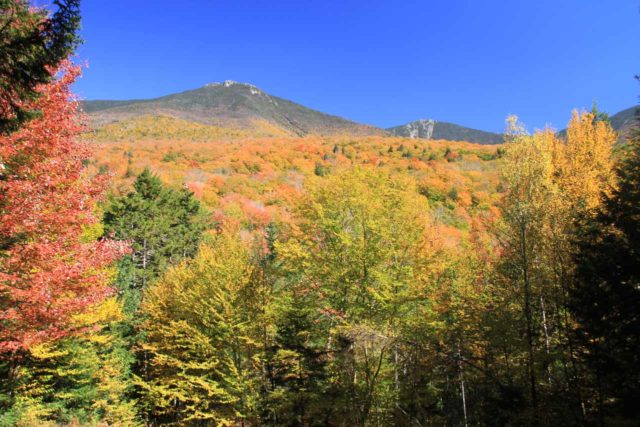 Day 8: Drive from Stowe to Conway
Overnight: Saco River Motor Lodge (Center Conway, New Hampshire, USA)
On this day, we drove east into New Hampshire, where we made a stop and subsequent hike on the Flume Trail. Then, we continued east and made a stop to see Sabbaday Falls. After checking into our accommodation, we then went into the White Mountain National Forest to see Glen Ellis Falls and Crystal Cascade.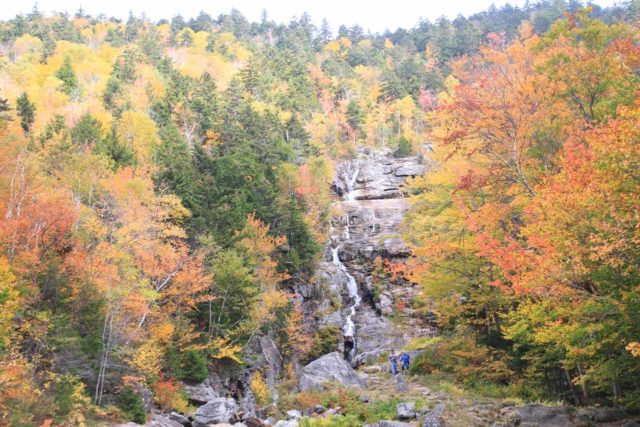 Day 9: Day Trip in the White Mountains
Overnight: Holiday Inn Express (North Conway, New Hampshire, USA)
On this day, we delved deeper into the White Mountain area as we visited the impressive Arethusa Falls as well as Ripley Falls, and the Silver Cascade.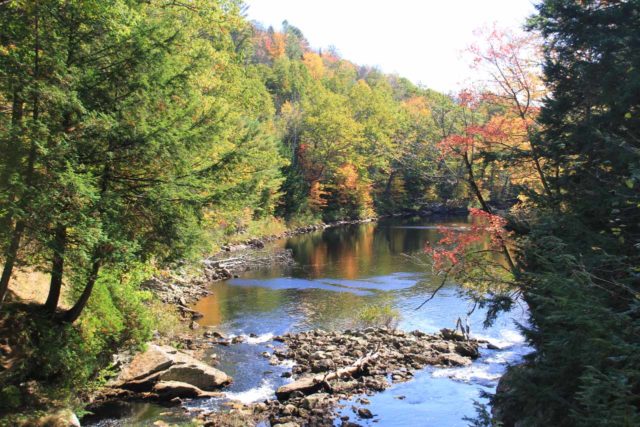 Day 10: Drive from North Conway to Portland
This was a day where our plans had really changed as a result of the government shut down that also closed the National Parks. In our case, we made plans to visit Acacia National Park, but it wasn't meant to be on this day. So instead of staying by there, we shifted gears and went to Portland, Maine instead.
Indeed, we drove out to the Dunn Falls, where I solo'ed the rather big and fairly strenuous loop trail. Next, we then drove south to check out Snow Falls, and then we checked out the famous Portland Head Light before finally getting settled in the town. Portland had a bit of a harbor by its downtown area, where we stopped for some live entertainment and some lobsters.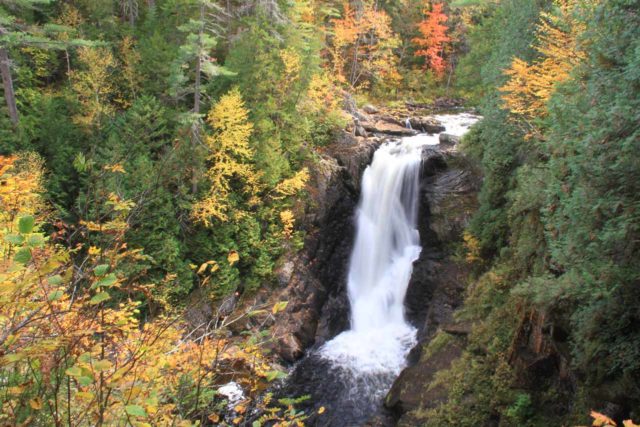 Day 11: Drive from Portland to Quebec City
Overnight: Auberge du Tresor (Quebec City, Quebec, Canada)
On this day, we were leaving New England and headed north to Quebec. We took the Old Canada Road so we were able to stop at Moxie Falls. Next, we continued our drive past the border and ultimately got settled in the charming Quebec City.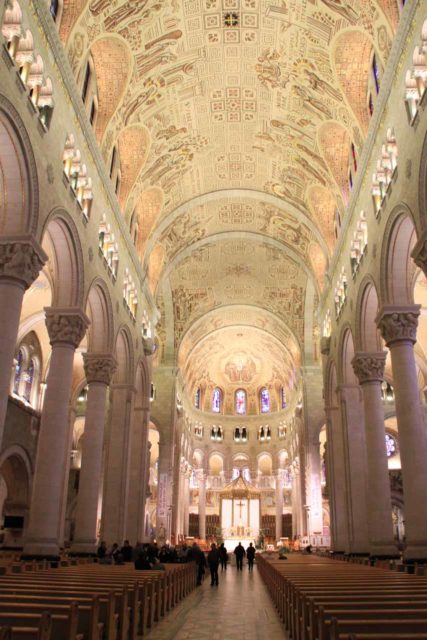 Day 12: Day Trip east of Quebec City
Overnight: Auberge du Tresor (Quebec City, Quebec, Canada)
On this day, we explored east of Quebec City, which included a very pleasant time spent at the Chute Sainte-Anne, the Basilica de Sainte-Anne-de-Beaupre, and then the rest of the afternoon at the huge Chute Montmorency. The evening was spent strolling about the Lower Quebec City.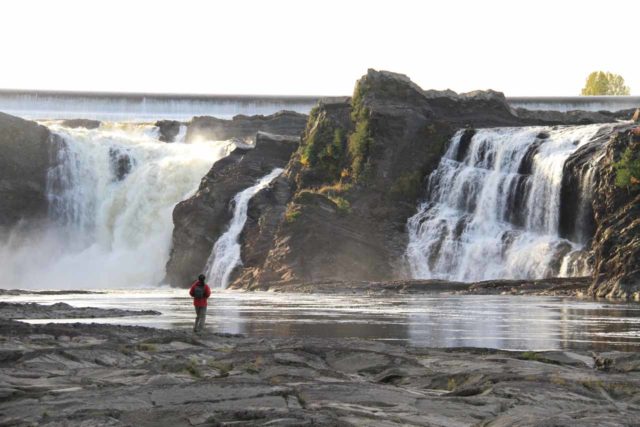 Day 13: Quebec City
Overnight: Auberge du Tresor (Quebec City, Quebec, Canada)
We spent the better part of the morning exploring almost all the walkways within close proximity to the Chutes de la Chaudiere, which was just west of the main downtown area. The rest of the afternoon was spent exploring more of Quebec City.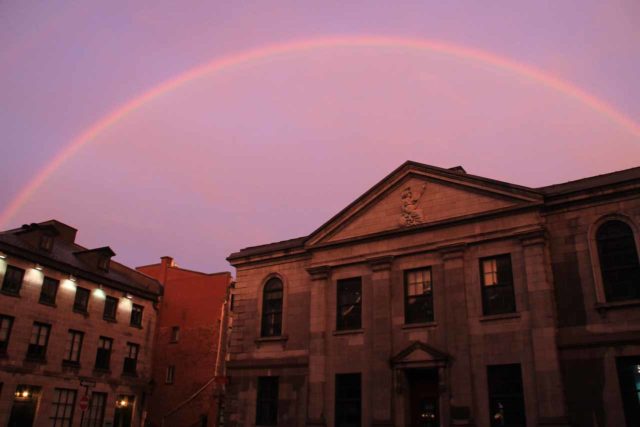 Day 14: Drive from Quebec City to Montreal
We were back on the road on this day as we drove west towards Montreal. Along the way, we hiked to see the Chutes de Sainte Ursule as well as Chutes Dorwin. We then had just enough time to explore a little bit of Montreal as it got dark, but it started raining fairly heavy. This was the first day on this trip where we had experienced rain!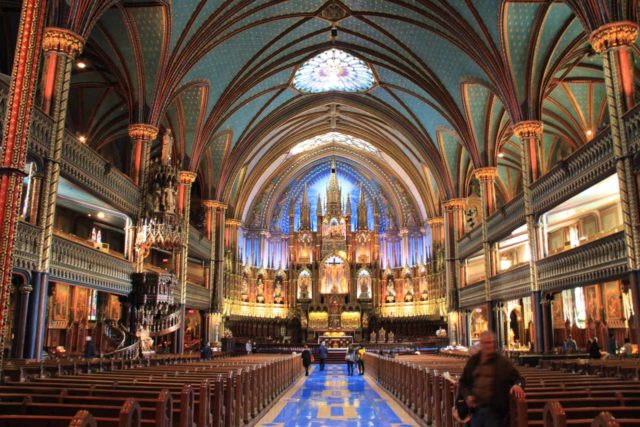 Day 15: Montreal
The weather got better just in time for us to enjoy a day at leisure in Montreal. Among the things we experienced on this day were Ville Marie, Mont Royal, Basilica de Notre Dame de Montreal, and the impressive Chinese Garden (lighting up the night).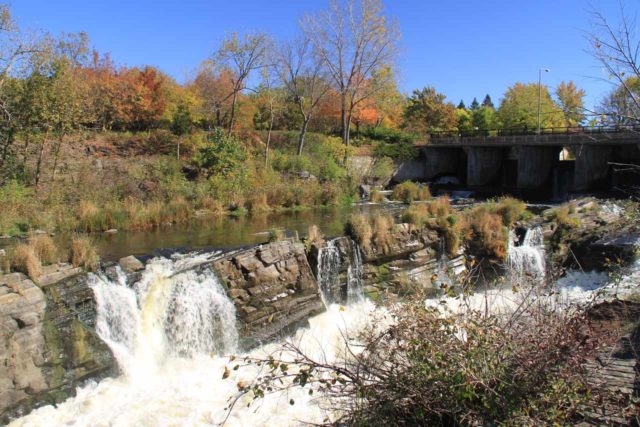 Day 16: Drive from Montreal to Ottawa
On this day, we left Montreal and drove towards Ottawa. Along the way, we visited the Chutes de Plaisance, then continued to Ottawa where we got settled and did some more exploring. We started off by visiting the Hog's Back Falls before heading back towards the downtown area to check out the Rideau Falls. Finally, we spent the rest of the late afternoon and evening checking out Ottawa's Parliament Hill as well as the Byward Market.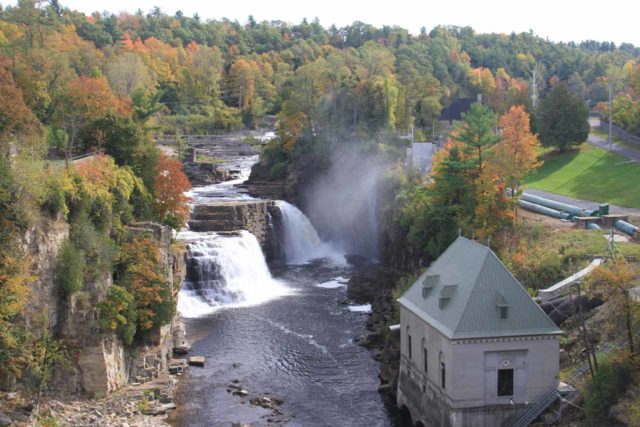 Day 17: Drive from Ottawa to Albany
This was a travel day as we left Ottawa and crossed the Cornwall Station into the Adirondacks, where we visited the High Falls in Chateaugay, and then we visited the Rainbow Falls in Ausable Chasm. Next, we drove further south to do the hike to the impressive Kaaterskill Falls. And then, we made it back to Albany for a late dinner.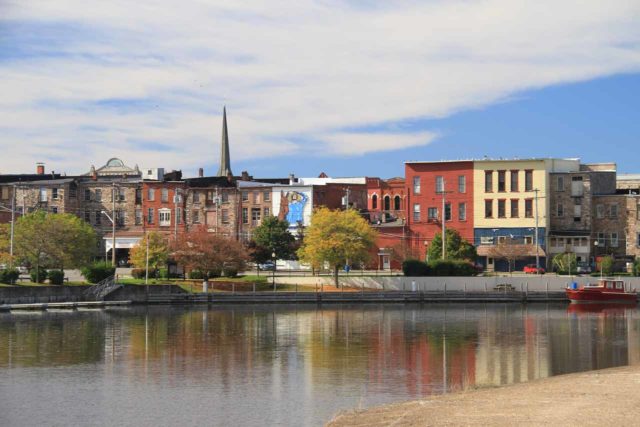 Day 18: Drive from Albany to Niagara Falls
Overnight: Fallsview Casino Resort (Niagara Falls, Ontario, Canada)
This was a long driving day where we pretty much west across upstate New York to the west towards Niagara Falls. Along the way there, we made a short detour to visit Medina Falls on the Erie Canal.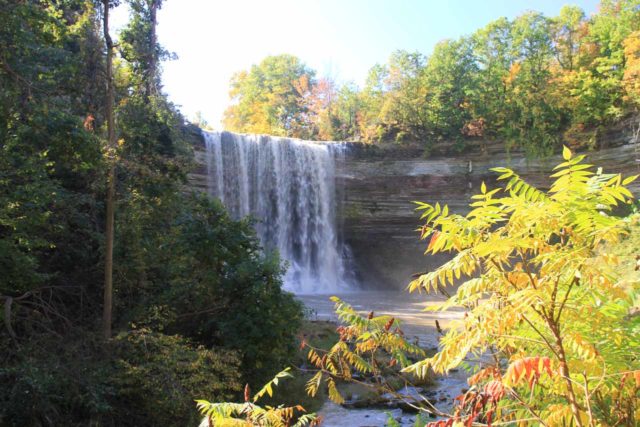 Day 19: Drive from Niagara Falls to Hamilton
After leaving Niagara Falls, we headed to Hamilton. Since the Niagara Escarpment was known for having many waterfalls, we set out to visit as many of them as we could. We started off with DeCew Falls (though we couldn't figure out how to see this waterfall properly), then we visited Balls Falls, which was surprisingly difficult to visit because of Thanksgiving Day festivities that obscured what otherwise would have been easy trails to follow.
Once we got into the city of Hamilton, we then visited the impressive Albion Falls as well as the Devil's Punchbowl Falls.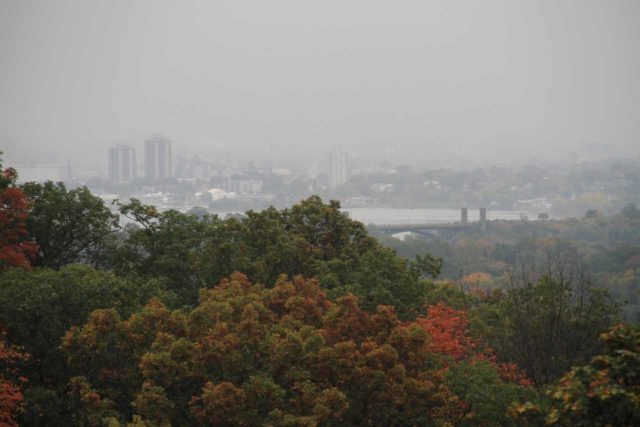 Day 20: Drive from Hamilton to Toronto
Continuing with the waterfalling binge in Hamilton, we started off by visiting Felker's Falls before visiting Tews Falls and Webster's Falls. Finally, we visited Borer's Falls before driving into Toronto as the rain was coming down pretty hard.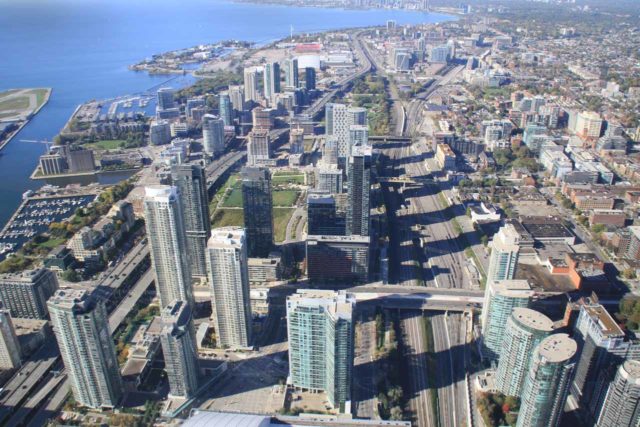 Day 21: Day Tour in Toronto
This was a day of touring Toronto though public transportation services via subway were closed in observance of Thanksgiving Day. Despite that, we still managed to visit the CN Tower, Chinatown, and Toronto Island.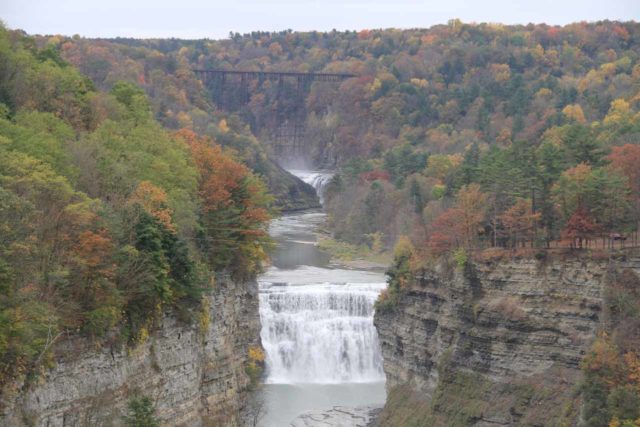 Day 22: Drive from Toronto to Watkins Glen
Overnight: Gorgeous View Motel (Watkins Glen, New York, USA)
This was another driving day where we swung back around "The Horseshoe" and returned to New York. Along the way, we visited all three major waterfalls in Letchworth State Park (Upper Falls, Middle Falls, and Lower Falls. Then we visited the magical Watkins Glen before settling for the night.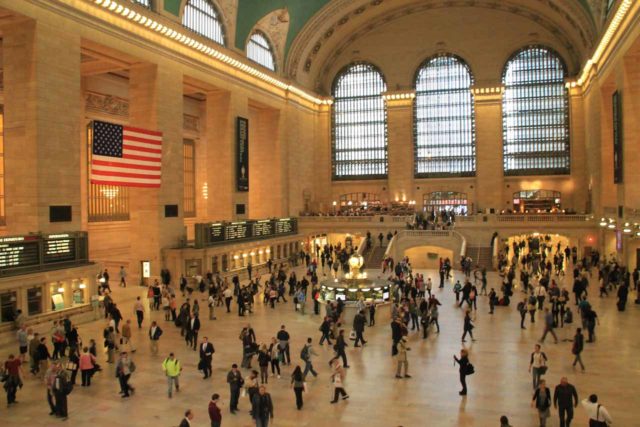 Day 23: Drive from Watkins Glen to New York City
This was another long day of driving, but at least it was our last day of using a rental car. After checking out of Watkins Glen, we then drove through Pennsylvania (lots of dead deer roadkill on the interstates here), then visited the Passaic Falls in Paterson, New Jersey, before returning the rental car in White Plains, New York.
From there, we took the train into New York City and had a bit of an adventurous time on the subways with luggage and a toddler. We ultimately made it, and I guess the inconvenience was worth saving hundreds of dollars on rental car expenses. In the evening, we checked out a really buzzing Times Square, where it seemed like the traffic pattern changed so more people can enjoy whatever festivities were going on here.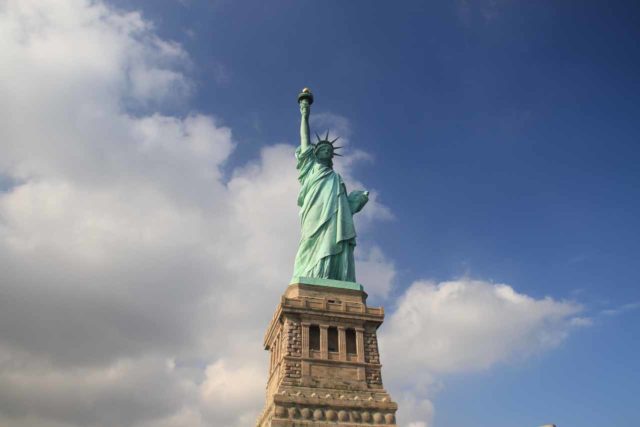 Day 24: Day Tour of New York City
This was a full day of touring New York City and getting re-acquainted with its sights while also finding things for our daughter to do. Among the things we did were Brooklyn (for the New York-style pizzas and a kid-friendly playground), the Statue of Liberty, and Times Square once again.
Day 25: Fly home to Los Angeles
On this day, we took an early taxi to the airport in time for our morning flight home.
[/expand]
Best Places We've Stayed At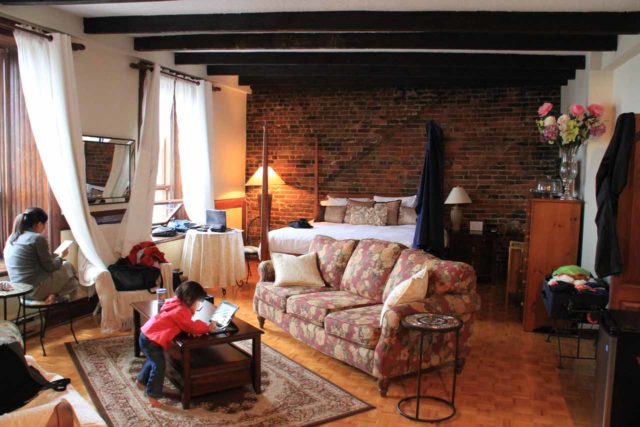 Auberge de la Place Royale, Montreal – This very spacious place in the heart of downtown Montreal was both spacious and beautiful. It clearly stood out as the clear winner amongst all the accommodations we stayed at on this trip. Indeed, a lot of attention to detail was paid in the furnishings of this place, which made it feel very warm and welcoming. And on the first night we were here when it was raining, it was even harder to leave such creature comforts.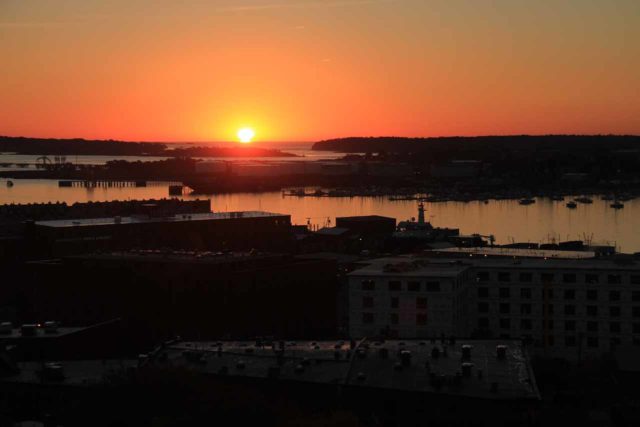 Holiday Inn Portland-By the Bay – Normally, we're kind of blase about hotel chains, but in this particular case, we had to acknowledge that as IHG Ambassador Members, we took advantage of our free upgrade. And we wound up with a beautiful and spacious room with a view towards the Atlantic, which allowed us to see the sunrise. That alone made the experience memorable.
What to Bring

In addition to the equipment that we bring on all of our trips, we found the following additional items to be useful.
Child Carrier: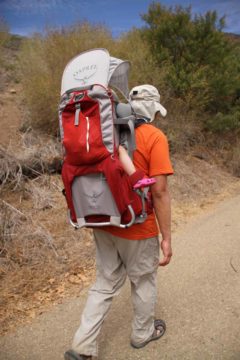 Because we brought our daughter along on this trip when she was almost three years old, this framed carrier was very handy because it freed up my hands to take pictures, lug a pair of rolling luggages, and it ensured that our daughter stayed with us the whole time. It was certainly way more flexible than using a stroller. Plus, when our daughter wanted to sleep, she could while Julie and I could still tour.
The only downside was that I had to carry her weight the whole time, which was harder on my knees. Plus, I had to be careful of things sticking out onto the trail or walkways as well as low ceilings.
Car Seat: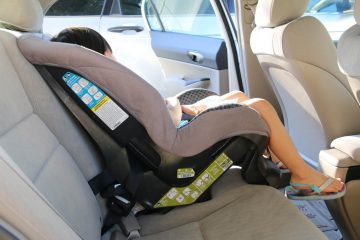 Even though we could have rented a child car seat for something on the order of about $15 per day, when the trip lasts for three weeks, this can add up to a lot of money! So we wound up buying a cheap car seat with a five-point harness. That at least allowed us to just use our own car seat (which also didn't count against our checked luggage quota) in the rental car. Plus, it gave us the peace-of-mind that it would at least keep our child in place as well as being sanitary.
Car Seat Bag: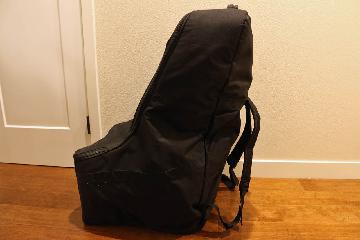 Since we brought our own child seat, we also needed a car seat bag. The key feature of the car seat bag (besides protecting the child seat) was that it had backpack-like straps. Therefore, we could sling the car seat on our back, which freed up our hands to do other things. This was especially handy when we were at the airport as well as in the mass transit systems (trying to get to our accommodation).
Related Trip Reports
Waterfalls included in this itinerary
Visitor Comments:
Got something you'd like to share or say to keep the conversation going? Feel free to leave a comment below...
No users have replied to the content on this page