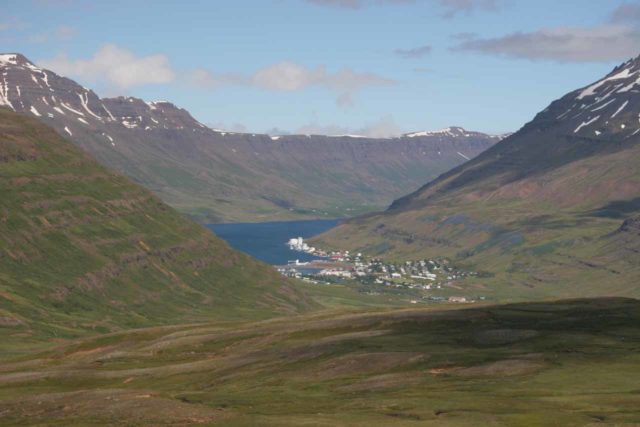 30-June 2007 to 1-July 2007:
Before we left town, Julie wanted to take photos of this museum near the end of town called Tækniminjasafn Austurlands. Without knowing we had to pay to see the inside, we went inside and checked out the displays. A guy eventually came out to us and guilted us into paying for museum admission, which we weren't aware of until I noticed a sign just outside the door indicating as such…
Day 1: ICELAND'S SACRIFICIAL LAMB?
When we awoke at the Guesthouse Elda in Reykjalið this morning, the skies were bright blue once again. It's funny how Akureyri was supposed to have the good weather, but that only came when we left town…
After packing up and loading up the car, we went into the busy dining room area where the included breakfast was served. It consisted of the usual assortment of bread, ham, cheese, eggs, cucumber, tomatoes, butter, jam, etc. with orange juice, apple juice, milk, coffee, and water.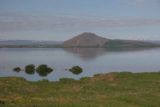 But this breakfast also included syld and kverabrauð as well as smoked trout. The syld was something I hadn't seen since the koldtbord breakfasts in Norway. I was hesitant to try the kverabrauð after our smoky-tasting experience last night at Gamle Bærinn. However, one taste today and it seemed to actually taste pretty good. This breakfast had to rank up there with the one we had at Hotel Ólafsvík.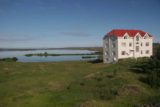 We next briefly took photos of the Mývatn area given the nice weather. Now, we could see that in the distance, there were more volcanic peaks that had some red in their bare exteriors. The lake was also calm enough to be somewhat reflective.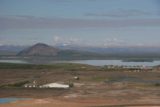 After taking our photos, we left town at 8am. The midges weren't quite out yet, but we could tell as the day would heat up later on, they'd be swarming around here once again.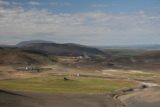 On the way out of town, we decided to make a quick detour to the Krafla area before we bid this area farewell. On the way over there, we caught a nice panoramic top down view of the Myvatn Lake before continuing on.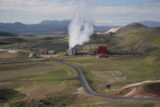 Then, we drove into the Krafla area where we drove through an interesting geothermal plant complex. There were some pipes that were bent to form an archway above and around the road so no one would run over them (or at least collide with them).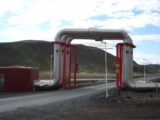 Then, we climbed up out of the little valley and then further onto a car park next to Stóra-Víti, which was a colorful lake filling in a crater over several cycles of snow, then thawing, then snowmelt, and finally evaporation.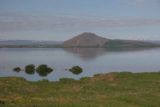 The crater lake looked very deep and probably might contain some trapped gases beneath if the crater it was on happened to be active.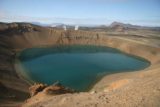 We spent a few minutes walking up the surprisingly slippery (due to the loose sand and gravel on the narrow crater slopes) path towards the opposite side of the rim.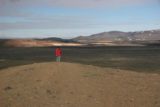 The whole time we were skirting the rim of the crater, we made sure to keep our footing despite the loose gravel conspiring to make the steep hills a bit slippery.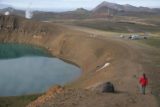 The colorful mineral-laced lake juxtaposing the colorful rim of the crater always kept drawing our attention. Under the mostly sunny conditions of the day, it was quite a photogenic sight, and it kind of reminded us of what a smaller version of Crater Lake in Oregon might look like (even though we hadn't been there yet).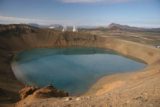 We only walked a fraction of the crater before we felt we had our fill of this attractive crater lake. Then, we turned back and had to face the slippery hills once again as we had to be careful not to fall into that lake.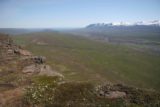 By 9:15am, we finally left the Krafla area and then did some extensive driving first towards some waterfalls that were a little bit of a detour from Egilsstaðir before heading to Egilsstaðir itself.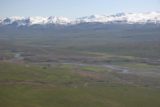 The lengthy detour to a pair of waterfalls were from our GPS pre-trip waypoints. It turned out to be near the Vopnafjörður area, and the waterfalls were known as Selárfoss and Draugafoss.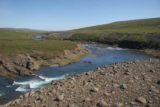 When we finally made it all the way out to Selárfoss, it was about 11:30am. The falls was really nothing more than rapids with a fish-ladder as opposed to a waterfall. We didn't think it was really worth the trouble to see this one, but the area was busy with anglers and local families swimming in a nearby facility.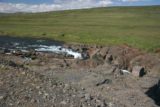 Fortunately, the lady working at the swimming facility let me use their restroom when I asked her in Icelandic about it. Given the long driving involved, I really needed to use the facilities.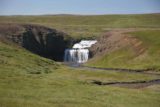 About a half-hour later, we stopped the car at a makeshift roadside pullout near where the GPS told us where Draugafoss was supposed to be. It turned out that the waterfall was quite a ways away from the main road we were on. But I did manage to see the waterfall in the distance and so I approached it.
After a few minutes of walking on the grass to get closer to the falls, I realized that I had forgotten to bring my camera so I went back to the car to get the camera before I finally went back to where I was originally.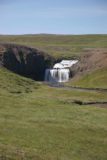 As I was getting closer to the waterfall (but still seemingly a ways away), I could see that Draugafoss was indeed an impressive waterfall that kind of reminded me of something we would've seen in Forsæludalur had we not have so much trouble figuring out the "trail."
But then I found out that the issue with this waterfall was that it was not signposted nor was there a formal pullout nor trail, which I was finding out right now. I was only able to scramble as far as a direct view of the waterfall, but that was when I realized that it was futile to go further as I would have to cross the creek downstream of the falls to get a closer look.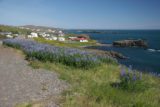 With Julie waiting in the car, I decided to just take my photos and return to the parked car. Thus, the rather distant view of Draugafoss would have to do as far as my experience with the falls was concerned.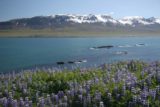 So we drove back towards the Vopnafjörður, which when we spent more time here, we came to realize that it was a very beautiful fjord and town.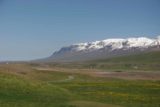 Across the fjord's deep blue waters were snow-capped peaks watching over the area. Wildflowers were also in bloom to futher decorate the scenery.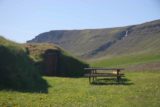 We then continued exploring a bit more of the Vopna Fjord area as we went further inland beyond the headwaters of the fjord and made a brief stop at Bustafell's turf farm.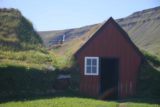 What attracted us to go in this direction was that there was what appeared to be a big waterfall further up the valley. However, we didn't get much of a view beyond the farm as we didn't venture any further though we really did want to.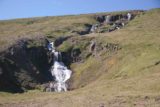 It was now around 2:30pm when we were back near where the Ring Road went from unpaved to paved again. However, we saw an unexpected series of waterfalls from the fast-moving road.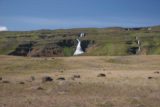 Two of them had paved pullouts. The ones with the pullouts looked very significant, but there wasn't any other infrastructure to indicate otherwise so I reckon most people miss these.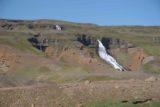 I guess with the amount of driving through mostly featureless terrain (aside from the raw and rugged beauty of the lack of developments mixed in with mountains and plains), these waterfalls definitely stood out and caught our eyes.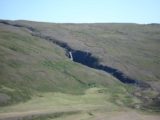 Before making the final push to Egilsstaðir, we took another detour to Lagarfoss. What compelled us to do this detour were some signs that indicated such.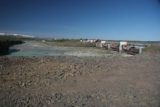 But once we got to where the falls was supposed to be at around 3:45pm, that was when we realized that this waterfall was dammed up to generate hydroelectric power.
So that explained why there were some large and attractively blue lakes in the area. And given the mostly blue skies, it really was quite scenic, but we'd imagine it would've been even better had the falls been allowed to flow.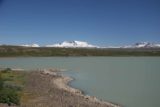 Given the fact that the controversial Káhranjúkar Dam was also near Egilsstaðir (where we were headed immediately after this), it made me wonder whether East Iceland was the country's sacrificial lamb to try to harness hydroelectric power and somehow jump start the economy since their fishing industry seemed to be in trouble.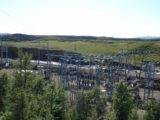 Anyways, we finally made it to Egilsstaðir at around 4:30pm. And after checking into another nice Hotel Edda under rather warm weather (22 degrees Celsius), we headed back into town to look for something affordable to eat.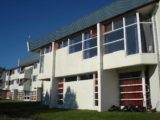 Having gorged ourselves on the BBQ buffet last night, we tried some crepe at this local place near the Bónus Supermarket. We weren't too pleased with our crepe, and I guess it just shows that we should've stuck with what Icelanders do best – seafood, lamb, and American fast food. Oh yeah, we had another softís (soft serve ice cream) in waffle cone. You can't go wrong with that!
Day 2: A STRANGELY NORWEGIAN FEEL
The Hotel Edda had some kind of promotion going on where we got a free breakfast on the third day's stay at their chain while getting the fifth night's stay for free. Since we didn't get the card stamped at Ísafjörður, we were technically on our third and fourth nights (the first two being at Akureyri).
Anyways, that meant we got free brekkie for one person. And the food didn't disappoint. This breakfast had everything the Guesthouse Elda in Reykjalið had (except the hverabrauð which was local to Mývatn) and more… It actually seemed strangely Norwegian as it had all the fruits, syld (herring), breads, spreads, juices, etc.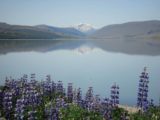 With our stomachs stuffed, we left the Edda and started driving out to the Hengifoss trailhead at 8am. Along the way, we got beautiful views of reflections in the glacial lake dominating the scene between Egilsstaðir and Hengifoss.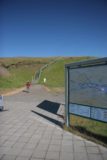 We even started to notice some forests even though the trees weren't exactly tall. It reminded me of what I had read earlier on the trip about how the Vikings essentially deforested what little forest Iceland had. And it looked like this little forest here was all that was left.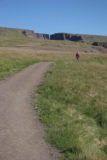 We got to the trailhead a little after 9am. And even from the car park, we could see Hengifoss way up the hill in the distance. So we knew that this wasn't going to be an easy hike given all the uphill walking that was required.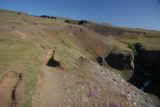 With the cloudless skies and the sun relentlessly beating down on us as we hiked the shadeless trail, we noticed there were numerous opportunities to take the cliff-side trails.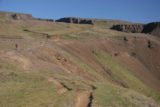 Some of those short detours to the cliffside trails yielded some surprise waterfalls and cascades. But we really had no reason to find a way into the shadowy recesses of the gorge for a closer look. Most of those cascades and waterfalls we a bit on the small and insignificant side.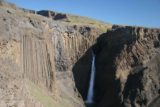 Even despite the lure of hidden waterfalls in the gorge, we felt there wasn't any real reason to stick to the cliffside trails, which were dangerously slippery and close to the dropoffs.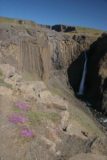 We basically just stayed on the main trail, then cut over to the cliffside trails when we thought there might be something interesting to check out. Then, we'd return to the main trail just so we don't increase the chances of slipping and falling into the gorge.
Eventually, the main trail got us a view of Litlanesfoss a little over half way up. The falls were in shadow but we made the most of it anyways.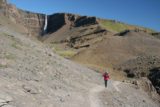 Finally after over an hour of climbing, we made it to the 1.5km point of the hike which earned us a nice but distant view of Hengifoss.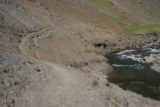 There was actually an additional 1km of rough hiking left to get closer to the falls, but we saw there was a hill that would've gotten in the way had you gotten close to the falls. We knew you had to scramble up a very steep scree slope to get better closeup views of the falls, but we figured it wasn't worth it. The first part of the rough last kilometer of trail also looked a bit slippery and scary.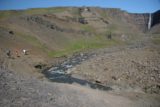 Even with that said, an Italian couple showed up and the guy went all the way to the falls. And as we had suspected, we saw him scrambling up the dangerous scree slope to get a better look.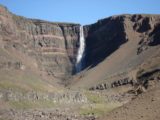 Not long thereafter, an entourage of hikers from a tour company showed up a few minutes after we took our photos. They proceeded to continue hiking to the bottom of the falls as well so I reckon it wasn't all that bad to continue.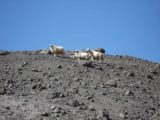 Still, Julie already started her descent back down to the car park. Torn between going the last kilometer and not leaving Julie behind, I opted to follow her back down.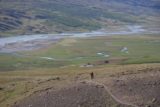 The descent was scenic as we could now see the large lake in the distance. We also had a chance to re-experience the falls we saw on the way up such as Litlanesfoss as well as other waterfalls further downstream.
We returned to the car park at a little after 11am. This was actually one of the rare instances where we were hot enough and sweaty enough on the hike to even require air conditioning when we got back into the car!
As we drove further west towards the headwaters of Lagarfljot, we noticed a sign talking about another impressive 100m waterfall called Strutsfoss. It didn't look too far from where we were so we decided to try to find it.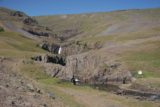 So we continued heading west in the valley past the turnoff for the infamous Kárahnjúkar Dam and into an unsealed road following a glacial river called Jökulsá.
Our approach west eventually ended at a private farm and we recalled from the map that the falls were further than the farm. So much for getting another waterfall bonus trip…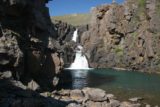 Next, we decided to head towards Seyðisfjörður. Along the way back to Hengifoss, I decided to stop and check out some falls on the same drainage as that of Kárahnjúkar. It wasn't signposted, but there was one of those steps letting you go over a barbed wire fence designed to keep sheep behind it.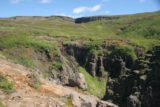 Eventually, we'd start up on Route 93 past Egilsstaðir and climb up into the moors. But before we would continue over the pass, we made another 45-minute pause to check out Fardagafoss, which was actually two waterfalls on the same stream (with the lower one being more impressive than the upper one, I reckon).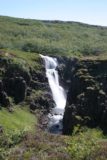 The path was signposted so we didn't have trouble identifying and finding it. And after a few minutes of starting the walk alongside the small gorge carved out by the stream responsible for the waterfalls, we came to a view of the first one, which was quite bright and perhaps about 20-30m tall or so.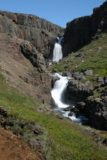 The trail continued to be pretty easy to follow even beyond the first waterfall. However, there were a couple of eroded spots, and in one of them, I tripped and fell.
Good thing I fell straight down and not into the adjacent gorge. It was a little embarassing as there was someone heading up the other way ahead of me might have noticed. In any case, I kept on going, pretending that nothing happened.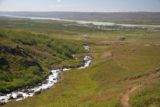 Finally after having my fill of Fardagafoss, I headed back to the parked car where Julie was waiting for me (she was getting pretty waterfall saturated at this point). And during the downhill walk, I was treated to some impressive views of Egilsstaðir in the distance.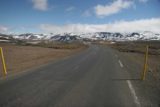 At 2pm, we continued driving up into the moors beyond Fardagafoss. Once we made it up to the pass, we were treated to a distance view of the town of Seydisfjörður and its fjord down below as well as some impressive mountains with snow and cascades containing their snowmelt.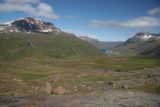 Julie and I took some photos from this spot before continuing the descent down the road to the fjord below.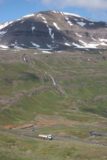 The steep road wound its way towards the town Seydisfjörður as well as the similarly-named fjord. With each hairpin turn, the views were dramatic as steep mountain walls surrounded the picturesque town.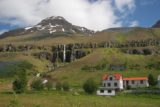 In fact, the scene seemed strangely Norwegian. After all, it had the dramatic fjord-like scenery (complete with cascading waterfalls and several on the main river near the road), the red timber buildings, and heck even the power lines and hydroelectric structures were all reminiscent of our memories of our Norway Trip.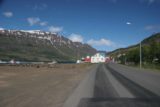 Of all the numerous waterfalls, which started with Gljúfurfoss and ended with an obscure one just downstream from Gufufoss, it was Gufufoss which was the only one with a reasonable car park to check out.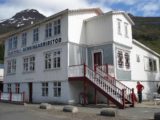 The rest could only be seen without haste by foot along the highway or scrambling near the river I guess. There was also a lot of construction going on along this road. We weren't sure if they were for avalanche mitigation or for more hydroelectricity. Anyhow, we decided to get into town first and check out Gufufoss later in the day.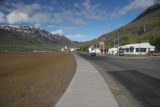 Down in the charming town, there was a pretty waterfall backed by a distinct peak. It motivated us to walk around town for a bit just to soak in the charming atmosphere here. Surrounded by steep peaks with snow still at the highest elevations, we could easily how avalanches can occur here.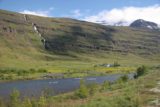 A few minutes later, we had our Lunch/Dinner at a bistro at the Skaftafell Cultural Center. We spoke to the head chef there who apparently used to be one of three chefs at the local hotel nearby. They ultimately left and started this bistro we ate at. Needless to say, we got seafood there and it was good. Sure we splurged on the price, but we were already feeling good about being in Seyðisfjörður.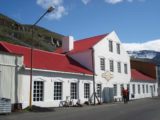 Before we left town, Julie wanted to take photos of this museum near the end of town called Tækniminjasafn Austurlands. Without knowing we had to pay to see the inside, we went inside and checked out the displays. A guy eventually came out to us and guilted us into paying for museum admission, which we weren't aware of until I noticed a sign just outside the door indicating as such.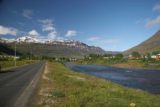 Anyhow, we actually got a very informative tour about how hydroelectricity was harnessed as well as how machinery was built and then about telecommunication in the early days of the late 1800s. At least this tour gave us a feel for what all the things on display actually were since the signs were in Icelandic. I think any scientifically-minded person or engineer would really appreciate this tour. I certainly did.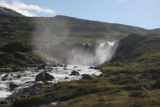 Finally, we started our drive back to Egilsstaðir. It was only 26km but we made numerous stops to try to photograph some of the major waterfalls.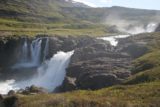 We had a hard time trying to figure out where to stop (especially with all the construction going on), but at least we got to stop for Gufufoss. Unfortunately, the sun was shining right against my line of sight so I got terrible photos of it.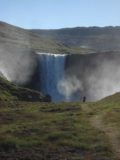 I regretted my decision not to stop for this waterfall on the way into town. But at least Julie got a good shot of me unsuccessfully getting a shot of the falls.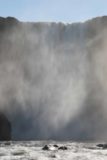 As for the rest of the falls, like I said earlier, it'd have to be done by foot and there really didn't seem to be any infrastructure supporting such an option unless you walked along Route 93 and risk being roadkill by rubberneckers trying to pay attention to both the road and the incredible views.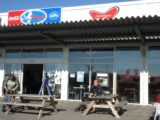 We ended the day spoiling ourselves with some Kjörís soft serve ice cream, but unfortunately they ran out of the yummy waffle cones. Oh well, better luck next time. Tomorrow, we have a very long day of driving as we're getting an early start and will eventually end up at Skaftafell…
Visitor Comments:
Got something you'd like to share or say to keep the conversation going? Feel free to leave a comment below...
No users have replied to the content on this page