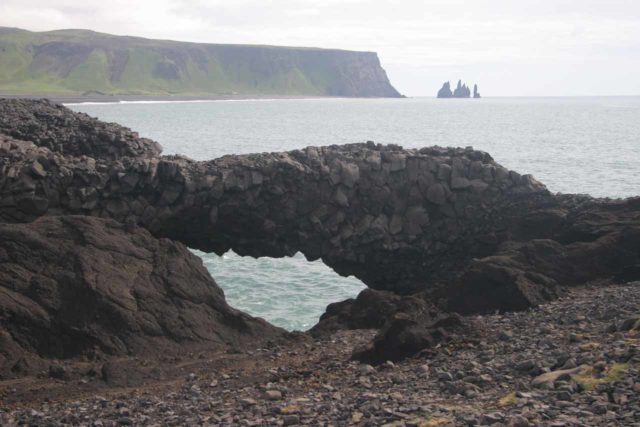 5-July 2007 to 7-July 2007:
I got pretty good shots of the falls disappearing into the narrow slot alcove when viewed from afar. I was determined to try to see the falls past the short narrow slot canyon with boulders wedged above. So I took off my socks, wore my chacos, and started wading. And, well, the water was ice cold…
Day 1: A BUSY EXTRA DAY
With many of the things we wanted to accomplish while being in Klaustur being done already, we had this extra day to try to remain ahead of schedule for the remainder of the trip. For today, that meant going to see Skógafoss, Seljalandsfoss, Dyrhólaey, and that waterfall we missed on the Landmannalaugur trip yesterday.
As usual, the day started off mostly cloudy but the clouds were light enough to let some of the sun break through for very brief moments.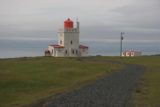 After another one of our subpar brekkies at the Hotel Geirland, we headed off at 8:30am directly for Dyrhólaey, which was a big sea arch off the southern tip of Iceland.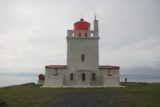 It wasn't long before we reached its signposted turnoff and took the rather bumpy road towards a car park on top of a hill with a lighthouse. I couldn't believe they let 2wd vehicles on this road, but indeed they were – flat tire or not.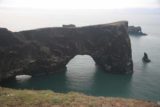 And so Julie and I took photos of both the lighthouse and top-down views of the impressive double sea arch known as Dyrhólaey. We couldn't see there was a way down and I had the feeling that you have to book a tour or something to see it from the bottom like in the post cards.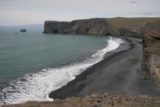 There was also a path that led to the top of the arches, but we weren't interested in doing that. It kind of reminded me of a thicker version of the London Bridge on the Great Ocean Road in Australia. Except this big arch doesn't look like it will collapse anytime soon like the one in Oz.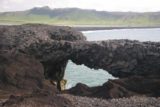 After leaving the lighthouse area, we descended the narrow unpaved road (often having to wait for buses and other cars going uphill the other way) and then decided to park and linger at a separate car park.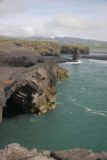 Here, we could see some nice coastal views as well as a smaller natural arch composed of what appeared to be basalt. Behind the arch was an interesting set of sea stacks called Reynisdrangar. There were also marginal views looking back towards Dyrhólaey.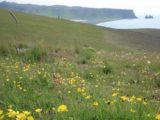 Julie and I wondered where we could get postcard views of Dyrhólaey, but it seemed abundantly clear that there was no way we could get them from these official lookouts. Maybe you had to take a guided amphibious tour or something.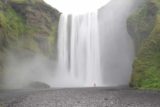 We continued heading west at 11am and it wasn't long before we finally arrived at the long anticipated Skógafoss.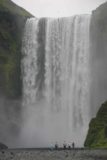 This 62m classic rectangular waterfall didn't disappoint as it was easy to get postcard shots of the falls. However, getting shots closer to the falls proved a challenge since it was very misty.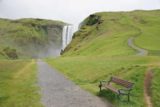 Also, the sun refused to show itself enough to create rainbows in the mist. We noted that we'll be staying at the Hotel Edda in Skógar for the next two nights so perhaps we might get lucky in the coming days…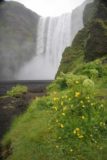 Since there wasn't a whole lot to do around the falls once we got our myriad of photos of views from as many vantage points as we could imagine in the wide open space fronting the falls, we returned to the car at a little after 12pm.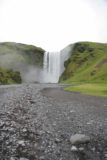 Indeed, this waterfall was very busy and we could totally see why given how easily accessible it was. No wonder why it was so famous, and oh by the way, the falls itself was photogenic too. That always helps!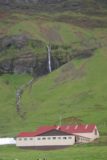 Next, we continued west and noticed several noteworthy waterfalls seen alongside the Ring Road. Once again, it was hard to tell which ones were worth stopping for and which ones we should ignore.
I recalled stopping for one particular tall plunging waterfall (albeit light-flowing) near the Varmahlið farm (at least that was what a neighboring sign indicated the place name was here). Otherwise, we'd have no clue what to call this place.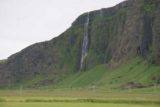 There was also a particularly striking one we saw wispily diving off a cliff near signposts for Paradishellir. There also appeared to be a school as well as some office that seemed to yield direct views of this waterfall.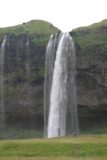 In general, it seemed this big black plateau was very moist because all the waterfalls around here seemed to come down from it.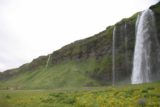 Perhaps most striking of all were the Seljalandsfoss and Gljúfurárfoss which were west-facing waterfalls coming down that same plateau. We arrived at Seljalandsfoss and its bustling car park at 12:55pm.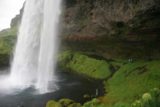 We spent lots of time photographing at Seljalandsfoss but only scouted Gljúfurárfoss, which was the one I knew I would have to wade to in order to get whole views of the falls.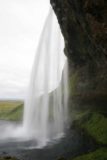 Like Skógafoss, Seljalandsfoss was also quite busy with tour buses and crowds of self drivers. Wildflowers were blooming where foliage was growing due to the falls' mist.
Several other folks opted to walk behind the waterfall. We followed suit knowing that this was one of the few waterfalls in Iceland that allowed us to do that.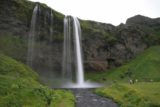 We noticed there were a handful of more waterfalls looking further north in the direction of Gljúfurárfoss. We figured we'd come back there later in the trip. I still wanted to head back to that waterfall we saw yesterday on the way to Landmannalaugur. So I had it in my mind to do that excursion towards the end of the day.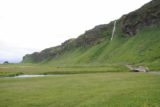 As we headed back towards Klaustur, Julie was still interested in checking out some sea stacks near Vík í Myrdal so we made a detour in that direction.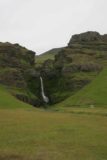 On the way over there, we noticed another waterfall coming off the neighboring plateau to our north. It just seemed like there would constantly be waterfalls along this southern section of the Ring Road, and all these sights coming one after another was really making us waterfall-saturated.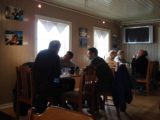 It turned out that we were also hungry so while we were in town taking the few photos we could of the sea stacks, we had a hearty meal at Halldórskaffi. The Halldór's burger was delicious (if expensive at $20USD). Julie's $20 pizza of shrimp and cheese was weird. Oh well, so much for her experiment…
By the time we left Vík í Myrdal, it was well after 5pm.
I was still itching to do that waterfall on the way to Eldgjá near the guesthouse at Hólaskol. And so we took our hired Suzuki Grand Vitara into the mostly tame F208 all the way to the guesthouse, which was about an hour detour from the Ring Road.
Along the way, we saw the same bus driver who took us on our Landmannalaugur tour yesterday. We waved at him as we pulled over to let him pass, but I don't think he recognized us.
By the time we finally made it to the rather obscure waterfall at 6:30pm, the rain really started to come down so it seemed to wash off some of the heavy dust on the car finally without generating new grime on the car.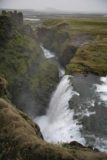 We immediately started making our way up the trail as the rain started to come down harder and harder. After some 15-20 minutes of uphill walking, we finally got to see the falls, but it was hard to get a good view of it.
No wonder why the Landmannalaugur tours don't spend time here.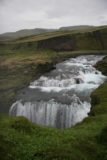 Given the rather wet and messy conditions, we wanted to spend a little more time here, but we knew that given the unprotected dropoffs and views of the falls, it was just a matter of a slip and fall into the gorge to die and really put a damper on this trip.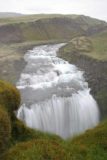 Anyways, I got the photos that I could without getting the lens wet from both the mist and the rain. It was a pity that such a powerful waterfall (albeit only 20m tall perhaps) should be so difficult to see, but that's Mother Nature for you…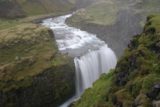 So we didn't tempt fate any further, and we then proceeded to get back to our parked car down below. The whole time, I was still wondering whether this seemingly major waterfall had a name or some kind of notoriety other than for those who happened to be running the guesthouse here. I never would get my answer so that was the end of that thought exercise.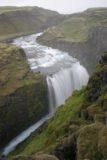 Julie beat me down to the car where some of the locals pointed out an Arctic Fox to her. When I finally came down, Julie pointed it out to me. It turned out to be this tiny brown little fox, which took me by surprise since I thought Arctic Foxes were snow white. Anyways, the local there told Julie that they're normally wild, but this one was kept as a pet.
With the rain coming down full on, both of us put our wet bodies into the car and drove back to Klaustur. The rain continued to fall and I was hoping it would revive Systrafoss back in town. But when we got back at around 7:45pm, Systrafoss was still mostly dry. Oh well.
However, as I compose this blog, the rain is continuing to fall. Perhaps this might revive the falls by tomorrow morning…
Either way, this seems to put a damper on our prospects for seeing rainbows at both Skógafoss and Seljalandsfoss tomorrow or the next day…
Day 2: FOUL WEATHER
So far the weather in the south of Iceland has been gloomy with periods of drizzling rain. There was hardly any sun nor any hope of those nice postcard pictures of the famous waterfalls Skógafoss nor Seljalandsfoss with rainbows or blow skies.
Neither of them really showed themselves during our time here so far.
But the weather really turned foul last night when the winds were howling while rattling the windows. The rain was coming down hard making loud sounds as they'd crash against the corrugated tin of our guest house unit. I had trouble sleeping last night because of it.
The only bright side to all of this is the hope that Systrafoss might be revived. But I also intended to wade in cold water to see Gljúfurárfoss today. I just had my doubts with the cold winds and threatening rain…
So after yet another subpar brekkie at the Hotel Geirland, we checked out just after 8am and headed off to see if Systrafoss was indeed revived by last night's rain. It turned out that it started to trickle but the water didn't make it down the cliff as the strong winds blew its piddly stream back up into the sky. Another guy must've had the same thought because he too left right before us and headed back the other way just as we were approaching Systrafoss.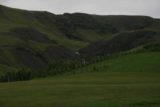 Next, we made a detour towards Dolufoss, which appeared on our GPS map and was on our pre-trip research. However, after some driving on the spur road, we noticed there was a waterfall way in the distance that was blocked by some trees lining what seemed to be a watercourse before it. However, we didn't feel like walking the rest of the distance to get close to it to see it up close.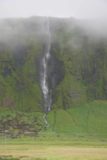 After our feeble attempt at Dolufoss, we continued heading west on the Ring Road again. And once again, we noticed some of those waterfalls we saw yesterday doing their cliff dives. We made one quick stop at Paradishellir to see its thin waterfall, but low clouds were still around and kind of obscured its uppermost sections.
Anyways, we continued onwards towards Skógar arriving at 9:45am. There, we found out that we could use the Wi-Fi internet and check out emails and credit card statements.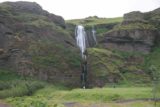 Not long after that, we headed back to Seljalandsfoss to see the so-called spooky waterfall Gljúfurárfoss and arrived just before 11am.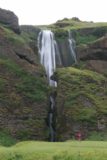 I got pretty good shots of the falls disappearing into the narrow slot alcove when viewed from afar. Julie was way ahead of me as I was composing photographs using her as a subject to communicate scale.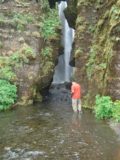 In any case, I was determined to try to see the falls past the short narrow slot canyon with boulders wedged above. So I took off my socks, wore my chacos, and started wading.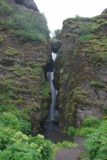 Well, the water was ice cold. I didn't even make it half way through the slot before the cold river hurt my feet. In no time, I beat a hasty retreat back to the open grassy area. Julie was busy taunting me that a real man would've stayed there for five minutes. Ha!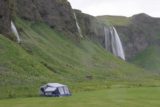 It was just past 11:30am and the day was still young. So we next did some miscellaneous waterfall touring with the extra time we had before we could check in to the Hotel Edda Skógar.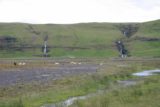 First off, we headed north towards the waterfall Gluggafoss. The drive to get up there from the Seljalandsfoss/Gljúfurárfoss area was fascinating as we were going across a flat plain grazed by sheep but also revealing some intriguing waterfalls tumbling side by side. I'd imagine that at least one of them was Gluggafoss.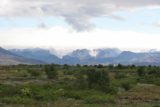 Looking eastwards, we knew that the snowy mountains there were in the direction of Þórsmörk, which I had read was a dramatic gorge carved out by glaciers. Apparently some of the glacier tongues could be accessed pretty closely from there. But we opted not to go there given that I had read a 4wd road was necessary to traverse to get there and we really didn't allocate much time for it on this trip.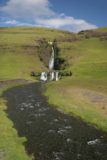 When we finally arrived at Gluggafoss at around 12:15pm, we noted its rather interesting inverted fork-like shape. There were also another neighboring waterfall to its left though I doubted it was part of Gluggafoss.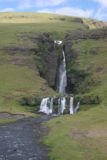 When we were at Gluggafoss, we were soon joined by a handful of photographers. I was quite surprised that there were this many people at the falls. I had always thought this was an obscure waterfall. I guess I was wrong.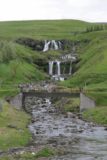 As we left Gluggafoss, we headed down the road towards Hvolsvöllur. Along the way, we noticed another interesting waterfall. It was near a turnoff signposted for some place called Hliðarendi. There was also another sign indicating Njál's Saga. I guess we somehow stumbled upon part of the Saga Trail. In any case, we photographed the waterfall and continued onwards to Hvolsvöllur.
We paid a visit to the visitor center at Hvolsvöllur where I picked up some literature and some maps.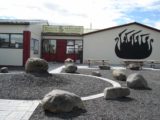 Apparently the visitor center here was all about Sagas. These stories that portrayed morals and lessons while depicting the hard life of early Iceland seemed quite prevalent in this part of Southern Iceland. We have read bits and pieces of some translations and summaries of some of these sagas during our travels, but we haven't taken the time to actually read through one of these sagas in earnest on this trip.
So after 1pm, we left town and headed over to the township of Hella just up the Ring Road.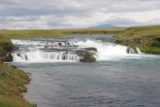 After a quick stop of hot dogs, we checked out Ægissufoss. With the partly cloudy skies and strong winds, I was able to photograph this interesting waterfall with Mt Hekla visible in the background. The skies looked threatening with some patches of dark clouds, but they did little else.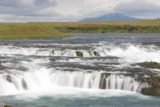 This waterfall appeared to be more of those run-of-the-mill river-type rapids waterfalls. However, the tiny tiered drops and width of the falls along with Hekla looming in the background was what really made this waterfall more noteworthy than the run-of-the-mill types. So we were glad we didn't take this place for granted.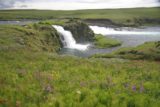 Next, we drove up a paved but rural road leading towards Arbæjarfoss. However, we didn't have the benefit of signage to help us along with this waterfall so we pretty much relied on our GPS to tell us which road to turn off.
Unfortunately, this waterfall turned out to be more difficult to see since we ended up taking a rather bumpy road where it appeared to require some degree of trespassing in order to get a decent view of the falls. I just settled for a rather unsatisfactory view of the falls. There was one part of the road that looked awfully worrisome as it was littered with jagged rocks, and it was clear I wasn't going to traverse that!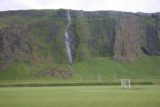 By now, it was 3pm and the afternoon was nearly over. So we headed back along the Ring Road in the direction of Skógar.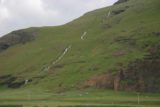 Along the way, we noticed once again the familiar waterfall at Paradishellir, but this time the low clouds had cleared and the falls looked attractive once again.
We even noticed there was another sloping cascade nearby looming above a flock of grazing sheep looking like white dots in the landscape as some power lines were running in between them and the road we were on.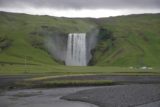 We ultimately returned to Skogafoss at around 3:15pm. At first, we followed a different road yielding more direct views of the boxy waterfall from the western side of the river.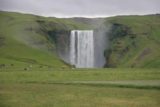 It looked like this road was headed to someone's farm as we saw fences and cows around us. So perhaps this wasn't exactly a road where tourists would be encouraged to stop by and take photos like we were doing.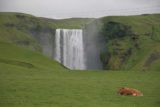 Nonetheless, we thought getting that different perspective of the impressive Skogafoss definitely gave us a little bit of that variety we were looking for as the usual spots to see the falls were starting to get old.
At 3:45pm, we finally made it to the Edda Hotel and were able to check in. The weather remained mostly cloudy which seemed typical of Southern Iceland it seems. After taking care of business back at the hotel, we tried looking around the small hamlet for dinner.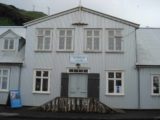 Unfortunately, we either had to settle for pizza and hamburgers at a Skógar Cafe or ultra expensive food at the Hotel Skógar. The overpriced dinner buffet at the Hotel Edda was already out of the question.
So we decided to drive for about half an hour east into the rain and towards Vík í Myrdal, and return to Halldórskaffi. I had a craving for the juicy Halldór's Burger again and Julie was determined to have fish no matter what the price was. And so I got my $20USD burger and Julie got her $50USD fish. We figured it beat anything we would've had in Skógar.
Finally, we returned to the Hotel Edda where Julie continued to take advantage of internetting at the hotel.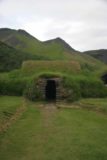 Meanwhile, I wanted to do a quick hike to a waterfall in the next drainage east of Skógafoss, which we noticed from the road on the way to our dinner run in Vík í Myrdal.
It seemed like a foss that was easy to get to. So I had it in my mind to lace on the boots, bring the tripod and DSLR, and get moving.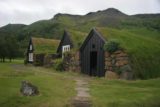 As I walked east of the Edda Hotel, I passed through an area that looked like it was another series of turf farms. Signs indicated that this place was called Skogasafn. I'm sure it would've been cool for Julie to come here and check it out, but she was missing out.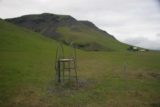 After passing through the turf farms, I then climbed over a pair of stiles, and shortly thereafter, I was able to see the sought after waterfall up ahead as I looked to go northwards into the small gorge.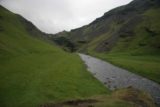 I had originally thought that this hike would be a piece of cake, but upon doing the hike, it actually turned out to be around 45-60 minutes return with a pair of tricky scree sections.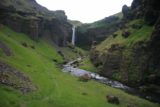 Still, the falls were nice and I probably would've lingered longer were it not for the annoying midges that were still around. That waterfall, by the way, was called Kvernufoss. I learned this only after the hike when I looked at the map.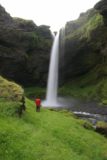 And with that, I rejoined Julie at our substandard accommodation (by Edda standards). So far it seems that everything about South Iceland was either more expensive, the people more distant, the food more expensive, the accommodations and brekkies more substandard, and the weather more foul than in North Iceland.
Oh well, three more days in Iceland to go. Julie was already homesick. I was already getting tired of spending oodles of money on this trip and figured it's about time to go home.
Still, we've got to finish our waterfalling, and tomorrow, I anticipate hiking the latter part of the Þórsmörk-Skógar trail to see the waterfalls along the Skógá River. We'll see how that turns out as literature about doing that excursion as a day hike is minimal at best…
Day 3: THE SKÓGÁ RIVER
Today was the day I was going to hike along the Skógá River. For me, it was an anticipated hike because I knew there were heaps of waterfalls on the river. Given the long distance of the hike (which I wasn't sure of at the time but I knew it was at least 8km), Julie opted to stay in and check her emails while touring the area around the hotel.
So at 6:45am, I headed out, but before I could gather momentum, I realized that I still had the car keys, which Julie wanted me to leave behind. So back to the Hotel Edda I went and gave her the keys.
At 7am, I finally started off. With harðfiskur (dried fish jerkys), canned tuna spread and crackers, and 2 1L Nalgene bottles full of Icelandic tap water, I headed off initially wearing a jacket, but it didn't take me long before I started to sweat and had to take it off.
The day was still overcast (it's been this way for the last 4 or 5 days in South Iceland) and I also had to walk nearly an additional mile to go around the farm and ultimately to the base of Skógafoss.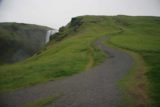 It took a little over 20 minutes for this bit of road walking. Then came the arduous climb up to the top of Skógafoss.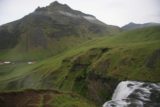 There were already a handful of photographers with tripods up and about taking photos of the beautiful rectangular-shaped waterfall. Still, I was huffing and puffing my way up to the top not concerned about getting repeat photos of the waterfall under the same cloudy conditions as before.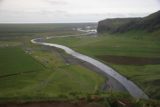 Once at the top, I turned around and briefly looked at the expanse of pastures and glimpses of the ocean in the distance.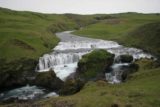 Then, I climbed over the sheep paddock ladder (or stile) and headed onto the trail, which skirted the Skógá River. It didn't take long before I saw the first waterfall on the river.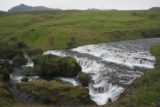 This first waterfall was attractively wide and seemed to lend itself to long exposure photographs. I thought if waterfalls came this fast and this good this often, I might be in for one major deluge of waterfalls on this hike.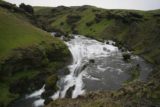 Sure enough, shortly thereafter, I saw another one. The going was getting good already. With this development I started marking on my GPS the location of each waterfall sighting. So these first two waterfalls were referred to as Foss1 and Foss2.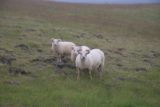 Along the way up, I also noticed some sheep sharing the trail. Clearly, these sheep had free reign to munch on what little grass was growing naturally in Iceland.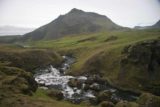 I wondered how much this affected the native vegetation of the lands yet at the same time, they were providing the Icelandic people with sustenance. It was one of those trade offs that people have to make when trying to carve out a living in a harsh environment.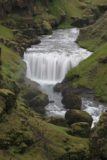 Probably about five minutes after seeing the second falls, I encountered the third waterfall. This one had more of a wider somewhat rectangular shape and was quite satisfying.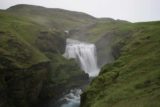 About 20 minutes after the third waterfall, I encountered the fourth waterfall, which was an impressively large blocky waterfall that seemed to have a smaller second tier above it.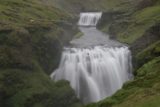 At the rate I was going, this was turning out to be quite a slow hike thanks to the quantity of waterfalls already seen.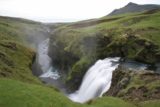 In any case, this fourth waterfall also offered me a pretty attractive downstream view. I learned from this hike that there would be many ways to photograph waterfalls, but one angle that should not be overlooked was the one over the top or by the profile of the falls while revealing the landscape beyond.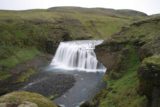 Less than ten minutes after the fourth waterfall, I encountered the fifth waterfall. This one also had a wide blocky appearance though it was more sloping so it almost had a slightly trapezoidal shape.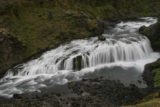 With so many blocky type waterfalls in succession up to this point, I was pleased to yet the sixth waterfall have more of a wide strandy appearance. Even though it wasn't tall, it had a satisfying shape that was very friendly to my camera.
Boy was I glad I brought the tripod along because all of the waterfalls seen so far today seemed to be the types that were best captured with long exposures.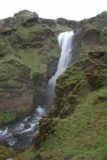 Indeed, as I continued hiking along the river while the trail gradually went uphill, I saw more and more big waterfalls. They varied from the wide river types to the taller thunderous plunging types.
Case in point with the taller thundering plunging type waterfall?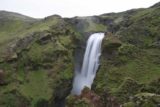 The seventh waterfall, which I called Foss #7. I got to this one at 9:15am, and this one got me saying, "Whoa!" out loud!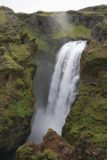 I followed a spur that eventually dead-ended at some impassable dropoffs. Some of the footing was precarious, but the view of the falls was impressive. It was loud and it was misting. I couldn't believe how huge it was. I don't even think this one was named!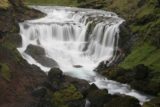 When I got past Foss #7 (not counting Skógafoss), it took me just about fifteen minutes to reach the next waterfall.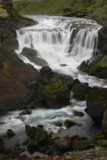 I was finally caught by another day hiker who intended to go all the way to the mountain pass near the hut shelter at Fimmvörðuháls. I wasn't sure I'd make it that far. In any case, we both photographed Foss #8 together.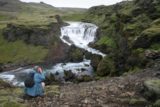 Foss #8 was also a pleasing (though not overwhelmingly-sized) waterfall that definitely made me glad that I brought my tripod with me (just like most of the other falls seen so far). The texture of the falls along with the somewhat converging drops of its overall width made it attractive.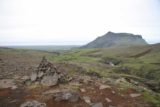 As I looked downstream from the eighth waterfall, I was once again treated to impressive views of the rugged terrain that I had just passed through to get here with the mountain near Skogafoss looking more distant than before.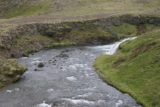 Less than five minutes later, I got to see the edge of what appeared to be the ninth waterfall. However, given that it was facing away from the trail, this was the first unimpressive waterfall that I encountered on this hike.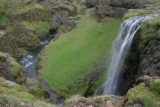 Roughly ten minutes later, I encountered a tributary waterfall that was not on the main river. Yet despite this, I considered it to be the tenth waterfall. Not surprisingly, this one had much lighter flow, but it was tall and it had a satisfying shape in its own right. So I briefly took a spur to get a better look at it before I continued on the main trail.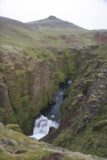 Nearly 20 minutes later, the trail continued climbing as the gorge containing the river got deeper. Even though I could hear the echoed rushing of water from down below, I couldn't tell if they were caused by waterfalls or rapids.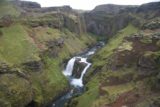 Whatever the case, the 11th waterfall that I encountered was deep down in the gorge, and it was only because I was counting and paying attention that I noticed it. However, I'd imagine that most people who happened to be doing this hike probably would've gone past it and not even have noticed it.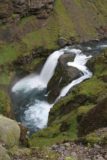 Barely ten minutes after Foss #11, I encountered Foss #12, which was segmented but also found deep within the gorge. At least this one was more photogenic so I lingered a little to try to take a few photos both zoomed in and out, with tripod and without.
The trail skirted not far from the brink of this waterfall as the depth of the gorge was being caught up by the rise of the trail. So that yielded a slightly different view of this small but interesting waterfall.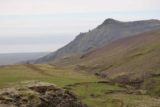 As I was looking back at the terrain of this area, I noticed there were other hikers in the distance also coming up. Apparently, I was going quite slow as this was the second group of hikers that would have caught up to me despite my early start.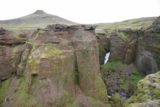 Nonetheless, I wasn't in any hurry and the green-matted terrain of the Icelandic wilderness here was certainly something I don't normally see and I knowingly enjoyed just being in these raw naturesque surroundings. It further strengthened my resolve to see as many waterfalls as possible on this river, knowing that this was going to be a pretty unique experience regardless of whether we'd be waterfalling in Iceland or not.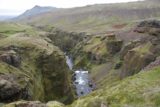 Just under another 10 minutes of hiking, I encountered a distant waterfall deep in the gorge. It didn't look like the trail would take me closer for a better look. In any case, my notes say this was the 14th falls, but it appeared that I might have skipped a waterfall in the count as I didn't see where the 13th one was.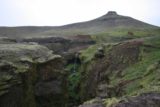 After another 15 minutes, I encountered yet another light-flowing tributary waterfall. This one looked to be very temporary even though I identified it as Foss #16 in my notes.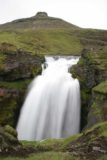 I noticed there was an interestingly-shaped mountain beyond the light-flowing waterfall. I believed it was called Hornefellsnippa.
And as I continued a little further on the hike, I encountered yet another big waterfalll on the main river. My notes called this one Foss #17.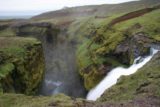 This particular waterfall wasn't easy to photograph because its tall plunge disappeared right into a narrow gorge. There was no way I'd tempt fate and edge out closer to the cliff's edge to try to see the bottom of this waterfall.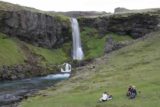 By Foss 18, I was already surpassed by a group of Icelandic teenagers. However, it was when I got to this tributary waterfall, that was when I saw them again. This time, they were sitting down and having a picnic lunch in front of the attractive waterfall.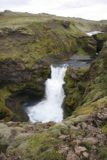 They were oblivious to my presence so I was able to take photos with a tripod while using them as photo subjects to communicate scale.
Barely a few minutes after the 18th waterfall (at least according to my notes), I encountered the 19th waterfall. This one seemed to be one of those randomly-shaped cascade waterfalls sitting in a gorge. I was becoming waterfall-saturated at this point thinking the waterfalls were probably getting smaller the higher up I went.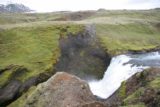 The hits kept coming as a few minutes after the nineteenth waterfall, I encountered the twentieth waterfall. This one I was able to view from an angle with more raw Icelandic scenery in the background. But like my hunch was telling me, it seemed like the waterfalls were getting smaller the higher up the trail I went.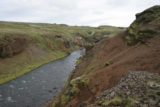 Beyond the 20th waterfall, I encountered yet another waterfall that fell on a tributary. I noted this down as the 21st waterfall though it didn't seem like it was very significant.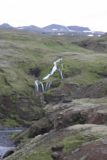 I could easily see someone deciding this one didn't count (though I could've said that about other waterfalls on the way up here).
With the law of diminishing returns seemingly coming to fruition, I started to wonder when would be a good time to turn around and head back to Julie at the hotel. The hike was long and despite my early start, it was getting fairly late in the day knowing that all the hiking I did to get here had to be recovered on the return.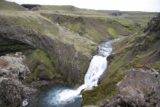 The theory of the law of diminishing returns was still somewhat holding to form as I encountered the 22nd waterfall according to my notes. However, this one was a little bigger and more forceful than the previous ones so it kept me wondering whether I was in for more surprises.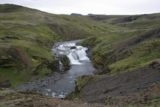 Then, not even 10 minutes later, I encountered the 24th waterfall (the 23rd waterfall was not photographable). This one as wider, but it was still relatively small. So in the back of my mind, I was still wondering when I should turn around and head back.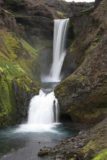 Beyond this 24th waterfall, the Skógá River split up and the trail followed the eastern fork.
Then by about 1pm, I was in for a shocker. It started with the 25th waterfall, which was an amazing 30m tall double waterfall with a tiny peephole natural arch on the cliff above it. Quite cool!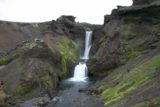 Up to this point, I haven't had a photo of a waterfall with me in it. So I figured since I was carrying a tripod all the way out this way, I mind as well make use of it. Of course, I had to be a little careful given the dropoffs, especially when I had to rush to the front of the camera when the timer went off.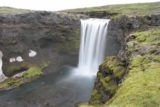 The trail then ascended sharply again to get past this waterfall and then I saw Foss 26.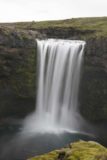 Defying the law of diminishing returns yet again, this was a thunderous but shorter version of Skógafoss. It still had that satisfying rectangular shape, it was still tall (maybe on the order of 25-30m or so), and it had nice volume.
There were some folks already here enjoying this waterfall near its brink before continuing on. But I was content to get my frontal views of this waterfall before I continued further (still not sure if there would be more surprises awaiting me).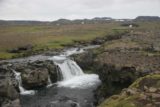 Shortly after this waterfall, the trail flattened out and I was surprised to see a group of people picknicking past a bridge as well as a 4wd vehicle! Obviously, a 4wd track must intersect with this trail at some point! There were also smaller (almost insignificant) waterfalls, and I guess it was subjective whether to call it Foss #27 or not.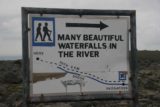 When I got to the bridge myself, there was an amusing sign saying "Many Beautiful Waterfalls In The River."
No kidding!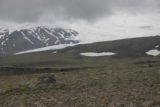 The sign also indicated that I had gone 8km beyond Skógafoss. But looking further up the trail, I noticed there was what appeared to be a glacier that was within reach!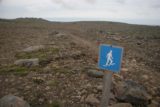 But by now, it was about 1:15pm and it was time to get back down. Some Belgian backpackers I met at the top answered my inquiry about how much further the shelter was.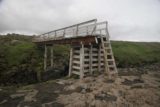 "4km," they said.
Obviously, I wasn't going to make it all the way to the Fimmvörðuháls shelter (12km from Skógafoss). Still, I was pretty happy with my waterfalling experience of today. But now the weather started to drizzle. I had better make my way down now.
At 2pm, the drizzle turned into rain. Still, I was hot and sweaty from all the activity and I actually welcomed the wet relief. The only bad thing was that the rocks and shale started to become slippery.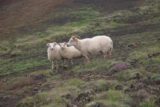 Along the way down, I saw the same trio of sheep grazing near the top of Skógafoss earlier this morning. I wondered how their day went.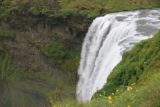 Finally at 3:30pm, I made it back to the busy base of Skógafoss. By now, my right knee was inflamed and it was a bit painful to go down the stairs by the falls, but I managed.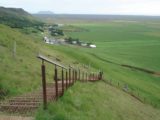 Now, I had to walk the last 20 minutes or so back to the Hotel Edda. By 4pm, I was back at the Edda. I was finally glad to change out of the smelly hiking boots and take a nice hot shower before the crowds would arrive at the shared facilities later in the evening.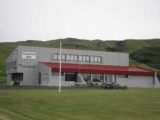 Dinner beckoned after the refreshing shower. We were intent on going cheap today and that meant having pizza at the Fossbuð (pronounced foss booth though Julie kept saying "foss bud").
During our meal of subpar pizza, I realized that this could very well be the least expensive day we've had in Iceland. I didn't buy any brekkie nor lunch. One of our nights in the Edda Hotel was also free thanks to some Hotel Edda Promotion. Julie did buy a shrimp sandwich and gummi bears, but other than that, no petrol was used…
I'd say all in all, it was quite a satisfying and triumphant day in South Iceland…
Visitor Comments:
Got something you'd like to share or say to keep the conversation going? Feel free to leave a comment below...
No users have replied to the content on this page