This was one of those seize-the-moment trips where we had an opportunity to make a last-minute trip to explore the Great Lakes area at a time when the Fall Colors should be in the process of intensifying.
Given the long driving distances, we necessarily had to make it at least a two-week trip. So even though it was pretty last-minute in terms of when we made the bookings, I did spend quite a bit of preparation time to plan out our route.
Here are the highlights and logistics from this trip through Big 10 Country…
Trip Highlights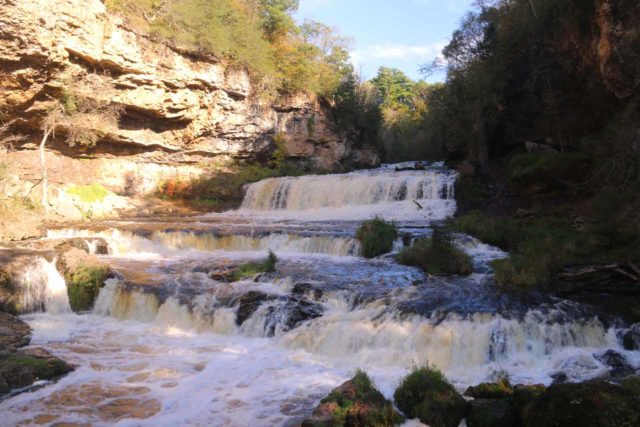 Willow Falls – this was my waterfall introduction to the Great Lakes area as it sat just across the border on the Wisconsin side after driving east of Minneapolis. It featured a satisfying wide multi-tiered cascade as well as a steep path to an overlook to take in the changing fall colors around this waterfall.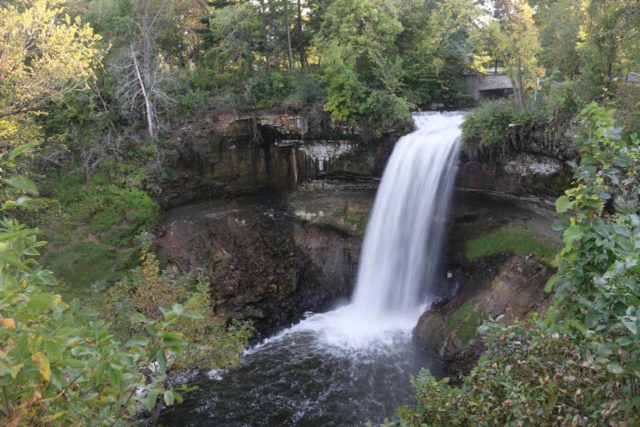 Minnehaha Falls – this waterfall was very easy to visit as it sat smack within the city limits of Minneapolis. The park itself had a bit of a festive atmosphere because it seemed like my visit coincided with some kind of party or festival that was going on.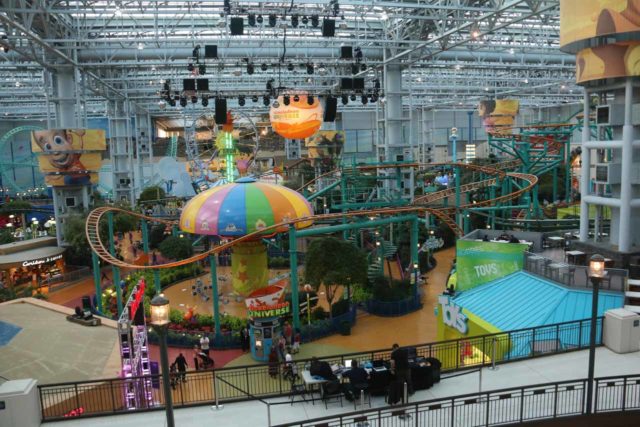 Mall of America- this was the very first thing that Tahia and Julie did on our Great Lakes Trip, and they (especially Tahia) had a blast while I was out waterfalling. It was one of the things we sold Tahia on about this trip as it featured amusement park rides as well as plenty of shops and restaurants (as you would expect in a mall). So imagine her excitement when she finally got to experience what she was anticipating!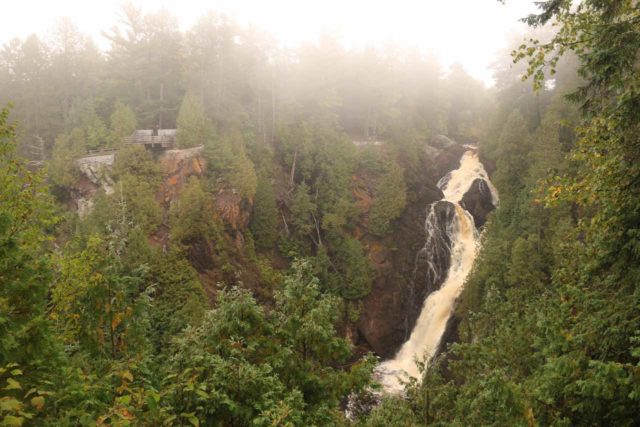 Big Manitou Falls – even though we had to contend with unseasonable fog during our visit, this impressively tall waterfall was a nice stop for us on the way up to Thunder Bay. We also checked out the nearby Little Manitou Falls not much further downstream.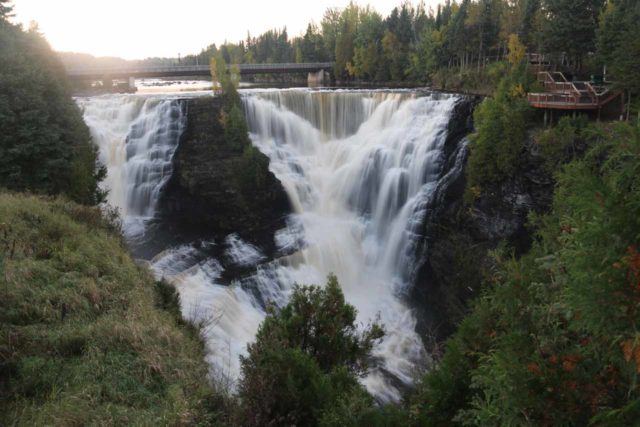 Kakabeka Falls – we went out of the way to experience this big waterfall, which felt a bit off the beaten path for a waterfall of this size! It also gave us an excuse to experience other highlights along the North Shore of Lake Superior en route, which we're also listing as a trip highlight further on in this page!
[expand title="MORE" swaptitle="LESS" trigpos="below"]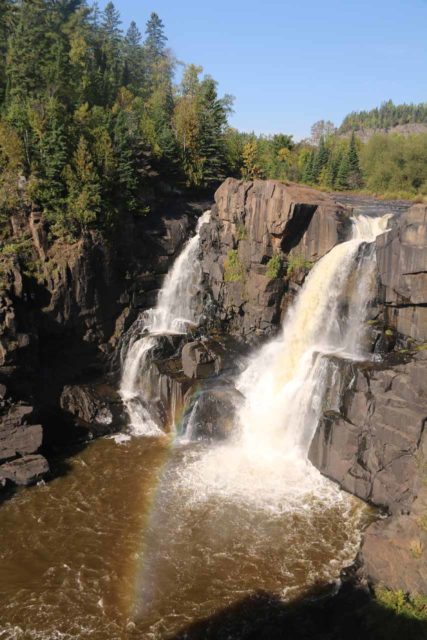 High Falls on the Pigeon River – This was actually a waterfall that was shared between Canada and the USA. It was certainly the most impressive of the series of waterfalls we saw on the Pigeon River, and it was well-worth the effort to experience this waterfall from both sides.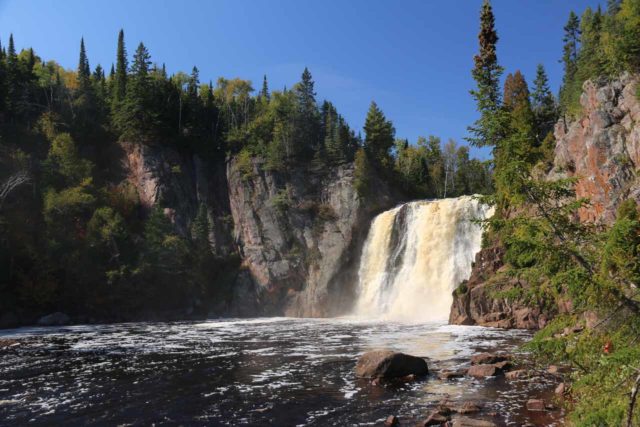 High Falls of the Baptism River – This was one of the waterfall excursions we made the time to do while doing the drive along the scenic North Shore of Lake Superior in Minnesota. We were quite impressed with its volume and size, which was something we totally didn't expect.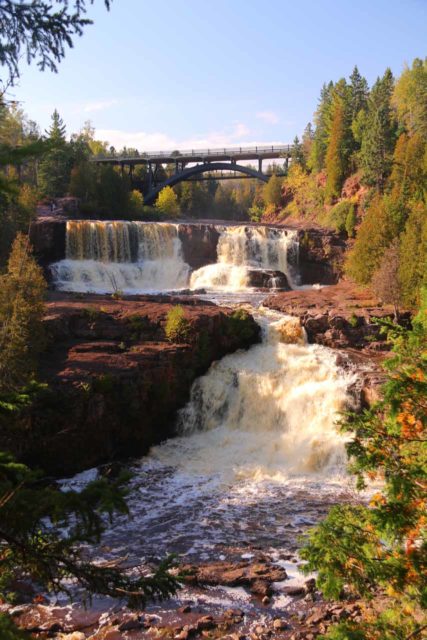 Gooseberry Falls – This was perhaps the most popular and most impressive of the waterfalls on Minnesota's North Shore of Lake Superior. What's shown in this photo is just a couple of the waterfall's three main drops, which we took in with a loop hike.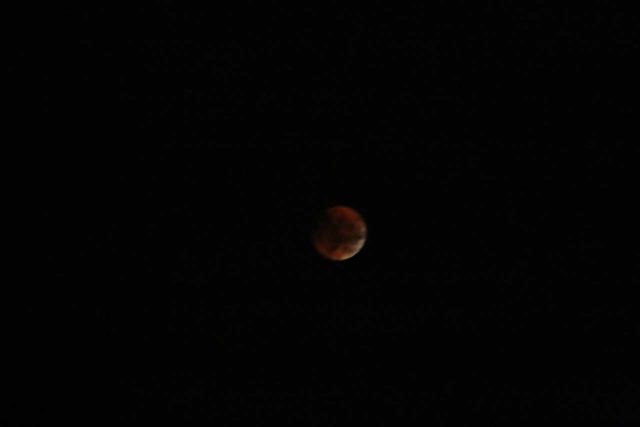 Eclipse – An unexpected surprise of this trip was that it just so happened to coincide with a lunar eclipse, where we managed to catch a glimpse of the blood-red moon from the shores of Lake Superior in Duluth before clouds got in the way. It was worth staying up late though I was definitely feeling groggy on the following morning.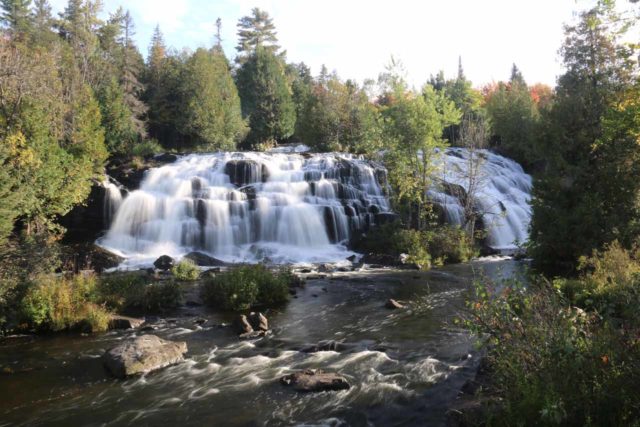 Bond Falls – this was one of the larger and graceful waterfalls that we encountered while crossing through Michigan's Upper Peninsula (or UP), which was the state's more naturesque side.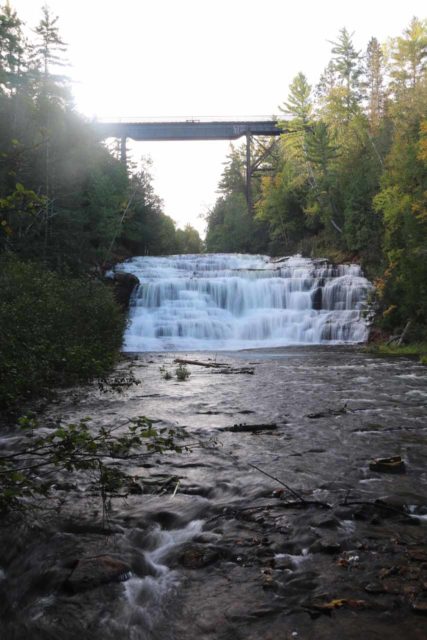 Agate Falls – Also not far from aforementioned Bond Falls was this attractive waterfall, which required a little bit of a hike on a non-sanctioned trail to get the view you see here. It was a great recharger for us as we then continued on the long drive towards the heart of the UP at Munising.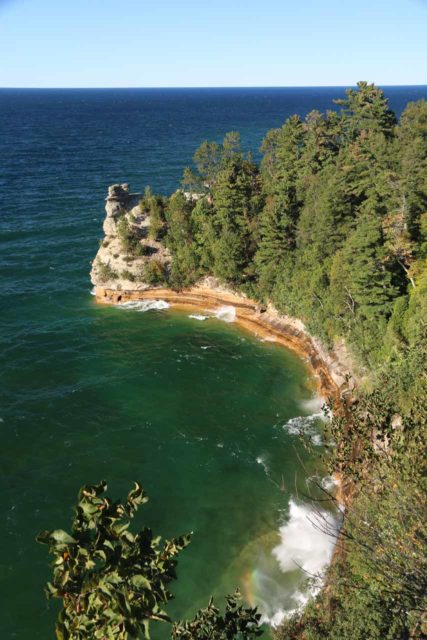 Miner's Castle and Miner's Falls – close by the town of Munising was this excursion that allowed us to not only experience the impressive Miner's Falls, but we were also able to drive up to this overlook of Miner's Castle, which was an impressive formation while also allowing us to see a blowhole shooting out water against the choppy waters of Lake Superior.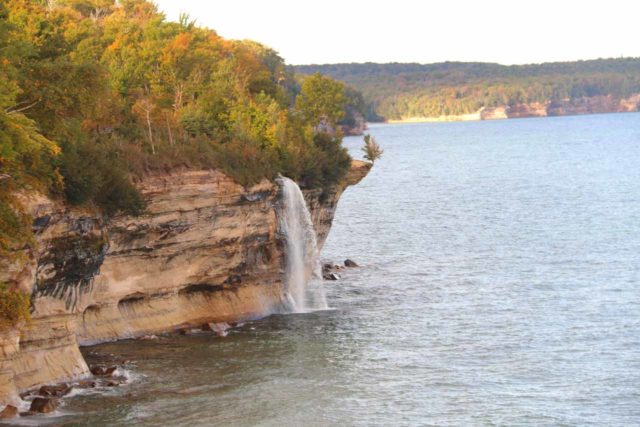 Spray Falls – I had to work a bit with an eight-mile hike to reach an overlook of this scenic wonder, where a gushing waterfall spilled right into Lake Superior. It was one of the more immersive ways to experience the Pictured Rocks scenery on Lake Superior's southern shores, which also featured some small caves as well as access to beaches.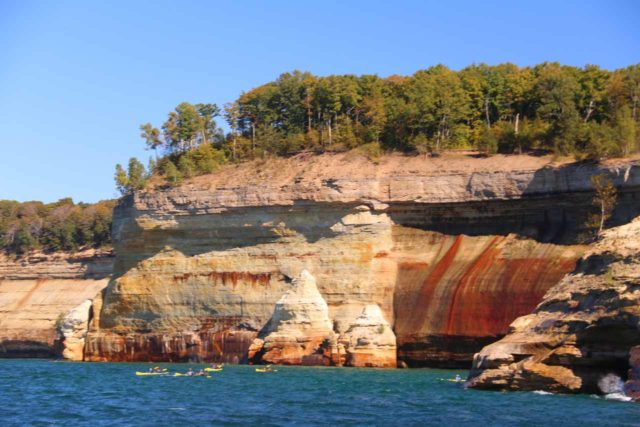 Pictured Rocks Cruise – Given high winds on the day before that resulted in unsafe boat touring conditions, we actually had to wait until the following afternoon (when we still had a long drive ahead of us) before we could make another attempt at experiencing the signature attraction of the UP – the Pictured Rocks. Indeed, the colorful rocks, jagged cliffs, and waterfalls made our afternoon cruise well worth the wait (even if it meant less time for us to experience Tahquamenon Falls, which we'll get to later on)…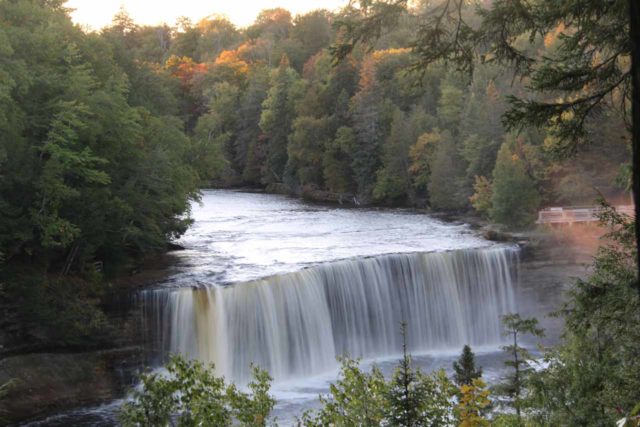 Tahquamenon Falls – This was the premiere waterfall of the UP as it had a wide flow and some height to go with it. Reminiscent of a Great Lakes version of Cumberland Falls, we were able to get close to this falls as well as get a frontal view of it with some hikes to take it all in. There was also a Lower Tahquamenon Falls to keep us around a little while longer to bask in such scenery.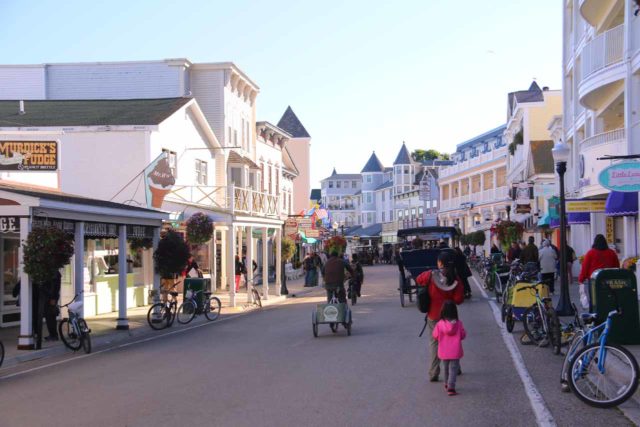 Mackinac Island – This island had no motor vehicles and a certain colonial charm that seemed hard to reproduce elsewhere. It also featured a natural arch, gardens, and plenty of fudge shops. We certainly had a relaxing time whilst here as it was one of the more memorable and unique experiences of our tour of the Great Lakes.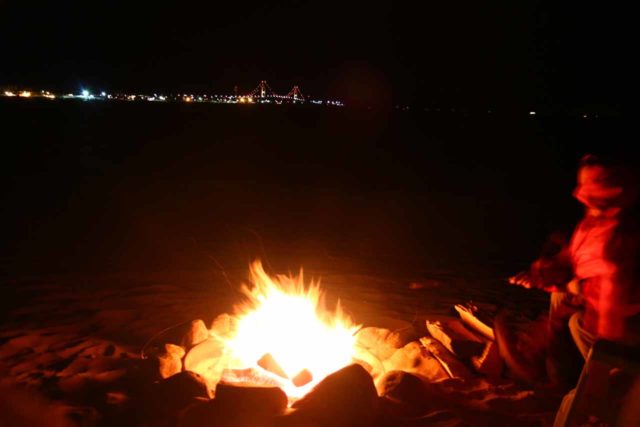 Smores over Pit Fire at Lake Huron – Even though it was windy night on the shores of Lake Huron, we still managed to cook some Smores over a pit fire, which definitely brought smiles to the family (especially Tahia). While most of the trip to this point was one scenic excursion after another, this intimate moment allowed us to just relax and enjoy each others' company.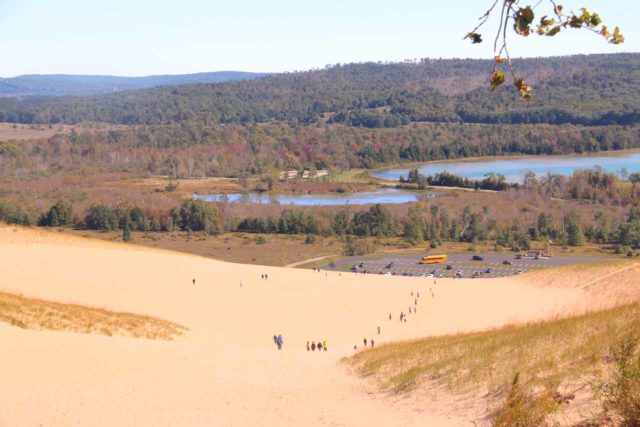 Sleeping Bear Dunes – We actually made a long day trip from Mackinaw City to Traverse City and back so we could experience these impressive dunes near the shores of Lake Michigan. Tahia definitely had fun running around in the extensive field of soft sand, and the scenery was drew plenty of camera clicks from us.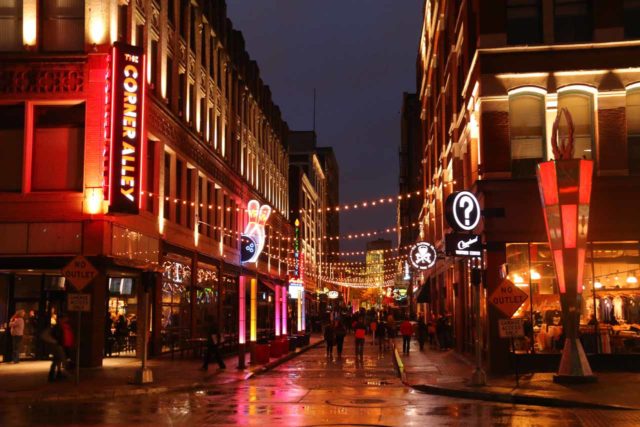 Cleveland – Even though this city has had the unfortunate reputation of being "the mistake by the lake", we actually found it to be surprisingly charming. During our visit, the city was undergoing a lot of construction to really re-do the downtown area, but we could totally tell that it possessed "good bones" as Julie likes to say as it featured historical buildings, a happening downtown section, a rock and roll Hall of Fame (probably having something to do with how "Cleveland Rocks!" got coined), and some surprising waterfalls in close proximity.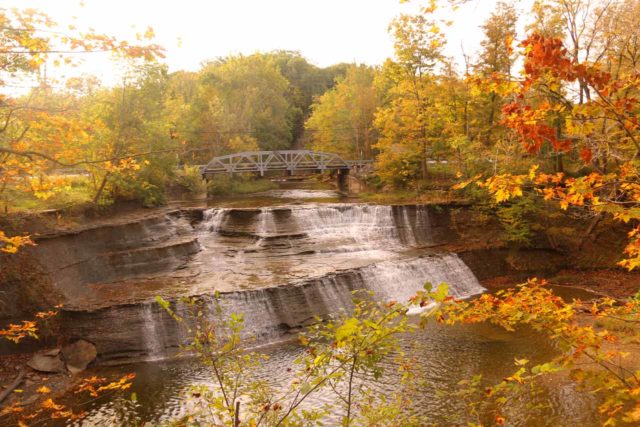 Paine Falls – with the onset (though still too early for the full explosion) of Fall colors, this was one of the more intimate and picturesque waterfalls that we encountered while making our brief tour of Ohio. Such scenery was a total surprise to us given how close it was to the city of Cleveland.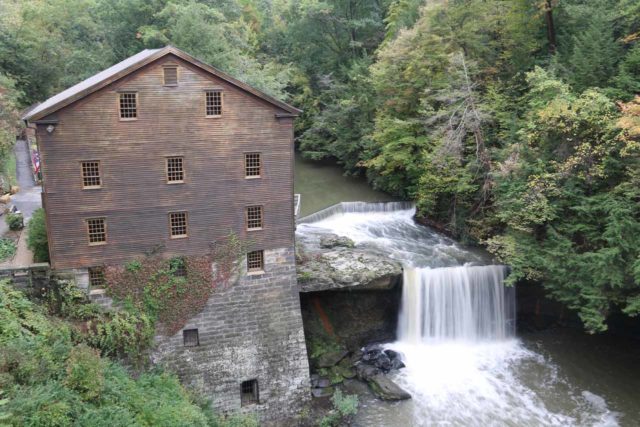 Lanternmans Falls – With this waterfall, it was more about the ambience of a mill, a covered bridge, and forested surroundings. It definitely felt colonial even though we were very close to Youngstown, Ohio.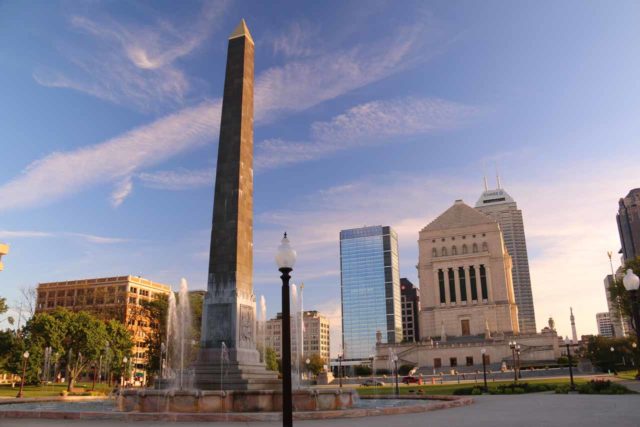 Indianapolis – The downtown part of this city also surprised us with a bit of impressive buildings and a Veteran's park that was reminiscent of a kind of miniature National Mall in Washington DC. It contrasted the surprising waterfalls we encountered not too far west of the city.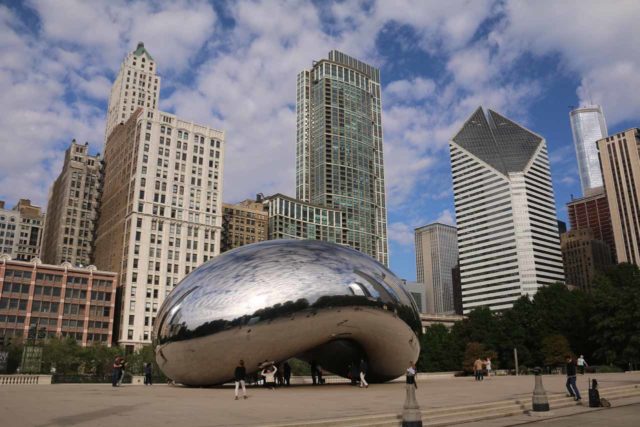 Chicago – This was one of America's great cities (right up there with New York, in my mind) as it was chock full of sights and a happening foodie scene. We not only got to go up the Sears Tower, but we also walked around the river, checked out the bean, and overall just savored the energy of this dynamic city that also seemed well-served with public transportation.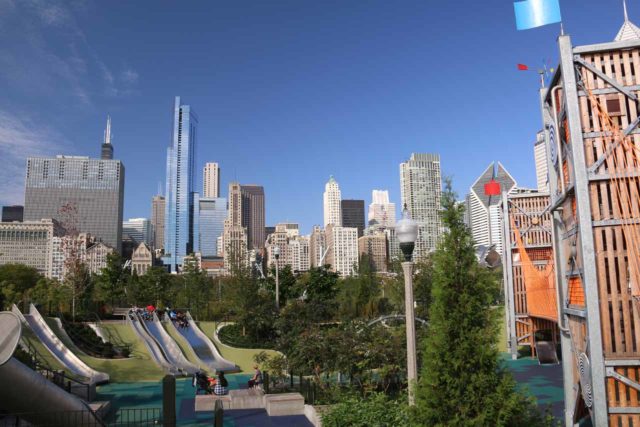 Maggie C. Daley Park – Last but not least, this giant free playground area was a huge highlight for Tahia. While I was busy watching both Tahia and the city's impressive skyline in the distance, Julie went to a fine art museum nearby. Who knew that there could be three-story slides mazes, and all sorts of apparati for the kids to enjoy without even paying an admission fee!
[/expand]
Trip Advice

The main reason for the timing of our trip was to aim for the Fall Colors. On that front, it was a bit hit and miss as we apparently showed up maybe a couple of weeks too early for the big explosion of Fall Colors. That said, there were other lessons learned from this trip, and here they are…
Taking Advantage of Rewards: This trip turned out to be one of our cheaper trips that we'd ever done of this duration mostly because we took advantage of a bunch of rewards. For starters, we used our Delta SkyMiles on the flight to Minneapolis (MSP), which probably saved us over $700 per ticket! We also took advantage of hotel points at one of the Holiday Inns (IHG) as well as a few Hyatts (where it really paid off for us in downtown Chicago).
Beautiful Weather: I generally like it on the cool and crisp side, which was perfect Autumn Weather as far as I was concerned. It made the hikes comfortable, it made the leaves change color, and it also seemed to keep the bugs at bay. As far as weather was concerned, we only had to deal with rain in Cleveland and some unseasonable fog whilst driving the North Shore of Lake Superior. Other than that, we enjoyed plenty of sunny days.
Uncrowded: I wasn't sure if our timing had anything to do with this or if it had more to do with the fact that much of the Lake Superior area was pretty remote to begin with. Whatever the case, we only had to deal with crowds to a limited extent in spots like at Gooseberry Falls. But it never felt like a crush. And when it did get busy like in Chicago, that fed more into the city's ambience and energy. Indeed, the scenery and Nature in the Great Lakes area are unsung attractions, and thus we were able to get the maximal enjoyment from all that peace and quiet.
Too early for Fall Colors: I guess it's hard to truly plan a trip in advance to land smack during the Fall Colors explosion, but such is the fleeting and fickle nature of this natural phenomenon. Maybe if we did this trip two weeks later, we might be able to capture more juxtapositions of Fall Colors with waterfalls. But I'd imagine this changes from year to year, and it's all dependent on a bunch of factors though the predominant one is when the cold weather starts kicking in.
Car Seat: We actually forgot to bring our five-point-harness car seat that we had been using quite a bit in our travels over the past two years. However, we knew that Minneapolis was the headquarters of Target so we figured we could buy a cheap child seat or booster in there, and it would still be cheaper than renting out a child seat for two weeks at somewhere around $10-$15 per day.
So that's what we wound up doing, but we were only able to find a booster seat for Tahia. And it turned out that it didn't work that well for her on this trip (she was too petite for it to be effective). So we were kind of stuck with it and we definitely had to watch what she was doing, especially if she wasn't sitting right. Similarly, I had to really watch my driving to minimize the chances of her getting injured.
At the end of the trip, we found a Target near Chicago, where we could return the booster since it wasn't working too well for us.
Travel Itinerary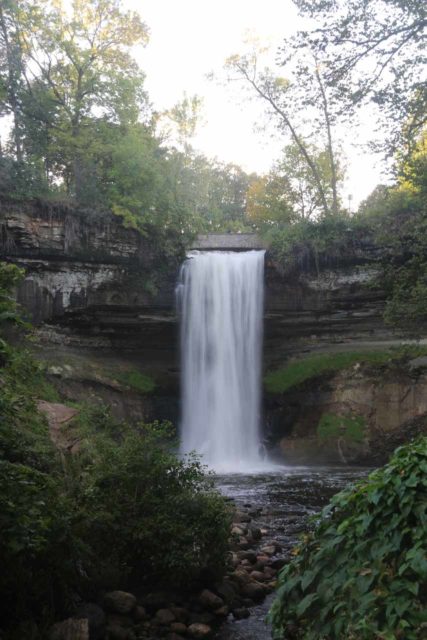 Day 1: Fly from LAX to Minneapolis
We flew using our Delta Skymiles, which actually saved quite a bit of money. Once we got the rental car, then, we divided-and-conquered as Julie and Tahia went right into the Mall of America while I visited Willow Falls and Minnehaha Falls.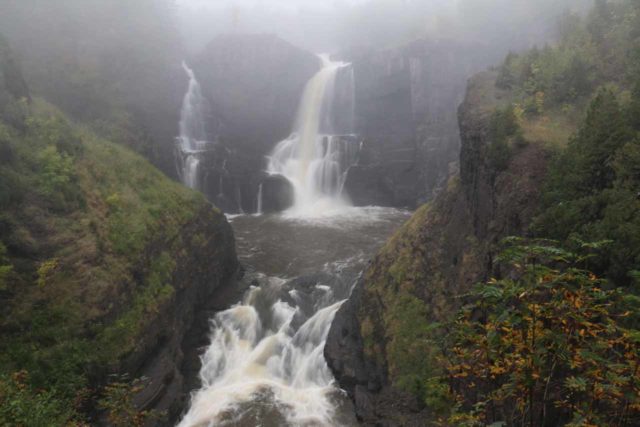 Day 2: Drive from Minneapolis to Thunder Bay
Overnight: Holiday Inn Express (Thunder Bay, Ontario, Canada)
This was a long day of driving that included stops to Big Manitou Falls, Little Manitou Falls, High Falls on the Pigeon River, and Kakabeka Falls. We probably could have squeezed in more roadside stops but thick fog prevented us from getting any of the desired lake views en route.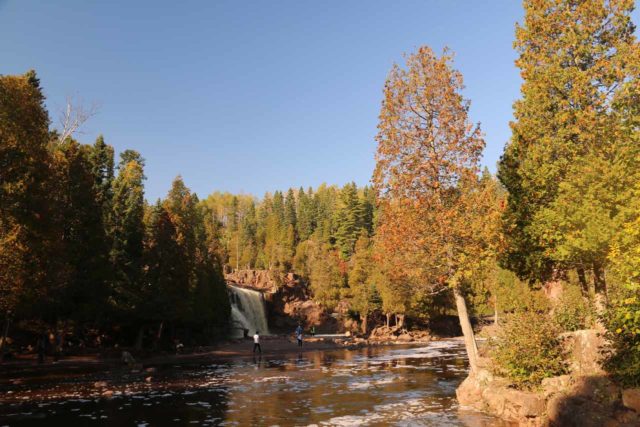 Day 3: Drive from Thunder Bay back south to Duluth
This long drive headed pretty much back the way we came before stopping for the night in Duluth. Along the way, we stopped for Kakabeka Falls, the Canadian side of High Falls on the Pigeon River, Middle Falls on the Pigeon River, High Falls on the Baptism River, and Gooseberry Falls. In the night time, we tried to stay up late to watch the full moon turn red due to the lunar eclipse.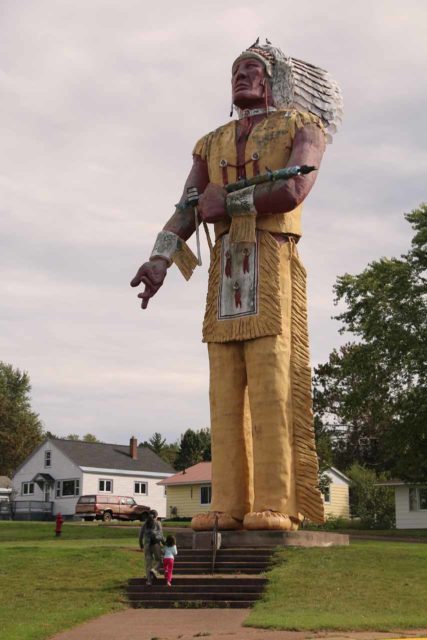 Day 4: Drive from Duluth to Paulding
Overnight: Running Bear Resort (Paulding, Michigan, USA)
On this day, we cut across Northern Wisconsin into the Upper Peninsula of Michigan. Along the way, we visited Potato River Falls, Copper Falls and Brownstone Falls, Superior Falls, and Bond Falls.
[expand title="MORE" swaptitle="LESS" trigpos="below"]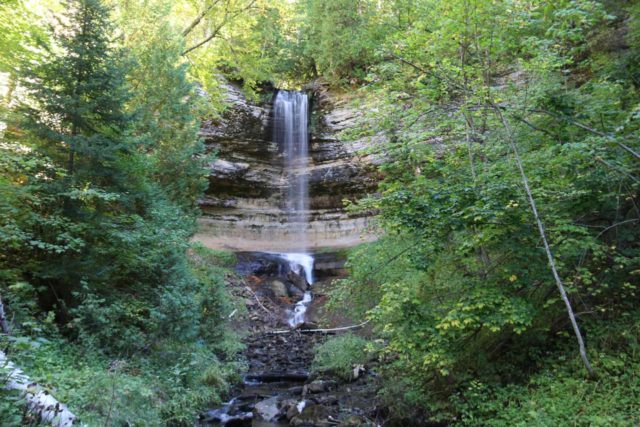 Day 5: Drive from Paulding to Munising
Overnight: Holiday Inn Express Munising-Lakeview (Munising, Michigan, USA)
On this day, we drove into the heart of the UP while visiting waterfalls along the way. Among them were Agate Falls, Munising Falls, Miners Falls with Miners Castle, and Wagners Falls. We were supposed to do a Pictured Rocks cruise on this day, but high winds meant it was unsafe to do such a tour so they cancelled all tours on this day.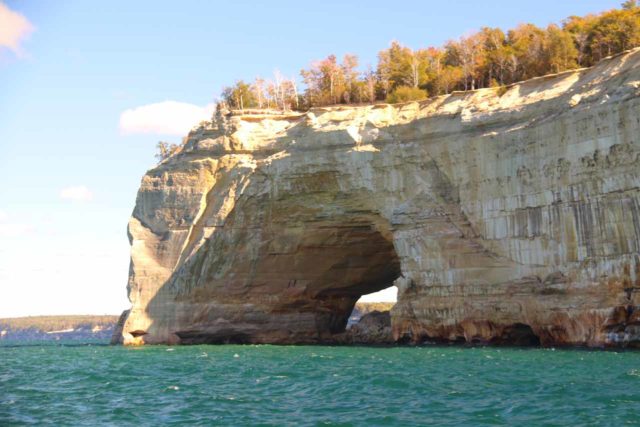 Day 6: Drive from Munising to Paradise
Overnight: Magnuson Grand Hotel (Paradise, Michigan, USA)
We had to delay our drive from Munising to Paradise as a result of yesterday's Pictured Rocks Cruise cancellations due to high winds. So that afforded me the morning to do Spray Falls before we finally got to do the coveted Pictured Rocks Cruise. Then, on the way to Paradise, we visited the impressive Tahquamenon Falls before it got dark.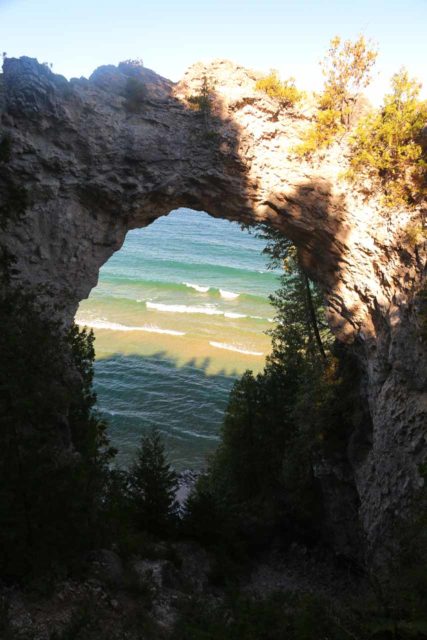 Day 7: Drive from Paradise to Mackinaw City
We began the day with a morning visit to Lower Tahquamenon Waterfalls while waiting for the fog to subside. Then, after checking into Mackinaw City, we took a boat ride to Mackinac Island, where we spent most of the day.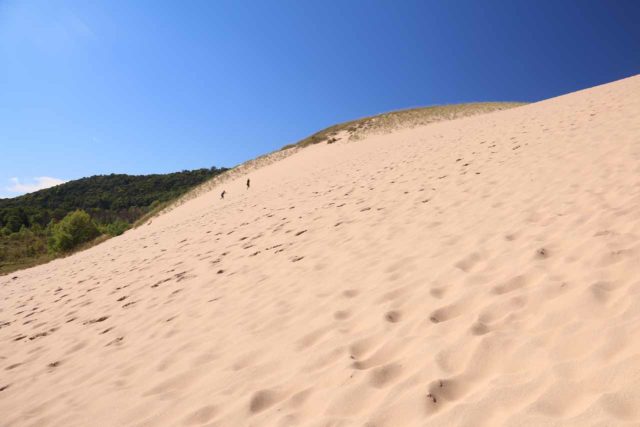 Day 8: Day trip to the Sleeping Bear Dunes by Traverse City
This day was dominated by a long out-and-back drive to the Sleeping Bear Dunes near Traverse City.
It also was the first day of the trip without a waterfalling excursion so by the time we finally made it back to our accommodation, we then spent an after-dinner evening cooking Smores by the fire on the shores of Lake Huron.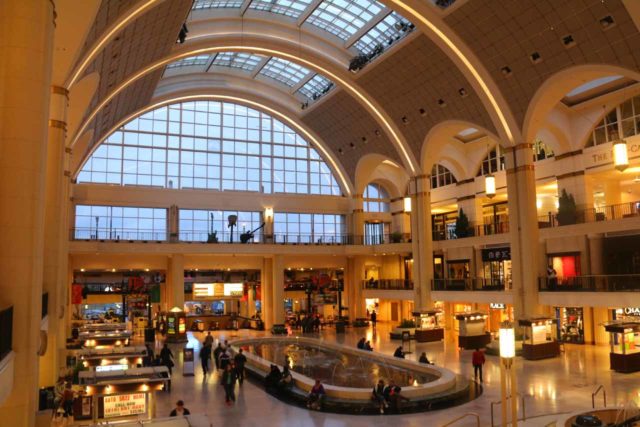 Day 9: Long drive from Mackinaw City to Cleveland
This was a day dominated by a very long drive across the length of Michigan into Ohio. If there had to be a day of rain, this was it since we were pretty much sitting all day in the car. Once we got to "The Land", we then briefly checked out the downtown area as well as the attractive Arcade within the Hyatt.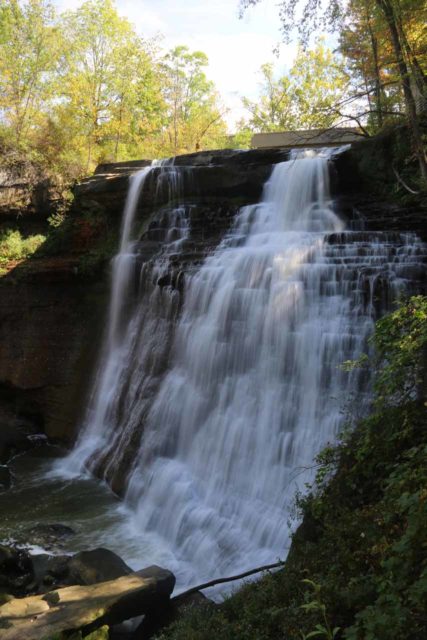 Day 10: Waterfalling in the morning, then exploring Cleveland the rest of the day
During the morning, we drove out to Paine Falls, , and Brandywine Falls. In the afternoon, we checked out more of downtown Cleveland (including the Rock and Roll Hall of Fame) and the Cleveland Museum of Art.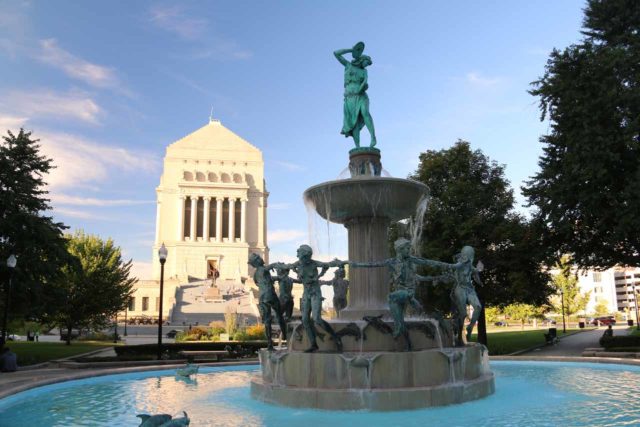 Day 11: Drive from Cleveland to Indianapolis
We made the long drive from Cleveland then overshot Indianapolis to visit Upper Cataract Falls and Lower Cataract Falls. We then spent the afternoon and evening checking out the downtown scene in Indianapolis.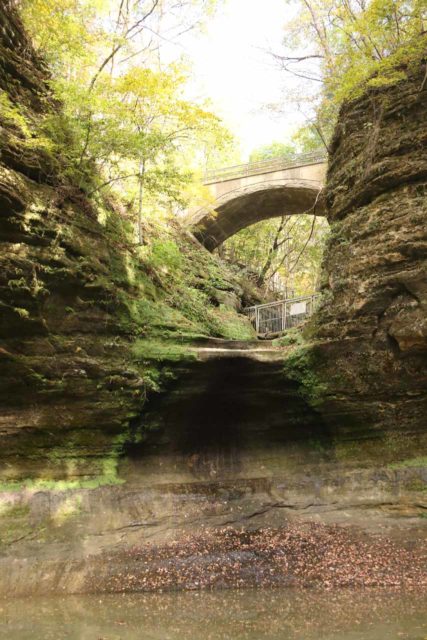 Day 12: Drive from Indianapolis to Chicago
This was yet another long driving day as we cut through Illinois towards the only waterfall we're aware of in the state of Illinois at Cascade Falls Unfortunately, it wasn't flowing. We then spent the rest of the evening in downtown Chicago.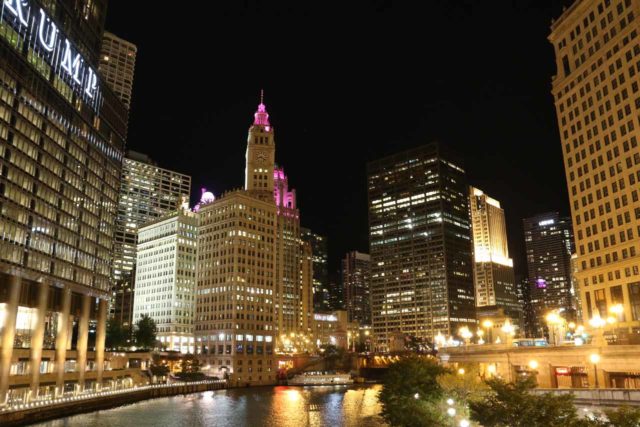 Day 13: Chicago
Finally, we got to enjoy a day without driving. That said, it was a full day of activities as we let Tahia play at Maggie C. Daley Park, we checked out the famous bean, then spent the majority of the day in the city's downtown.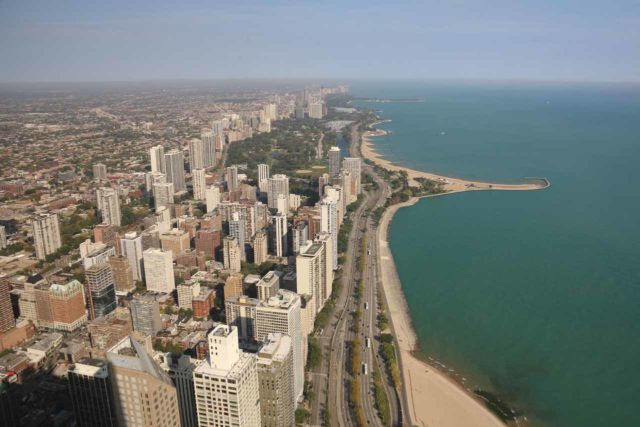 Day 14: Chicago
This was another day at leisure in Chicago, where we went up the Sears Tower, then checked out some museum before letting Tahia have one more go at the Maggie C. Daley Park.
Day 15: Fly home to Los Angeles
On this day, we drove early to the airport, then returned the rental car, and finally caught our flight back home.
[/expand]
Best Places We've Stayed At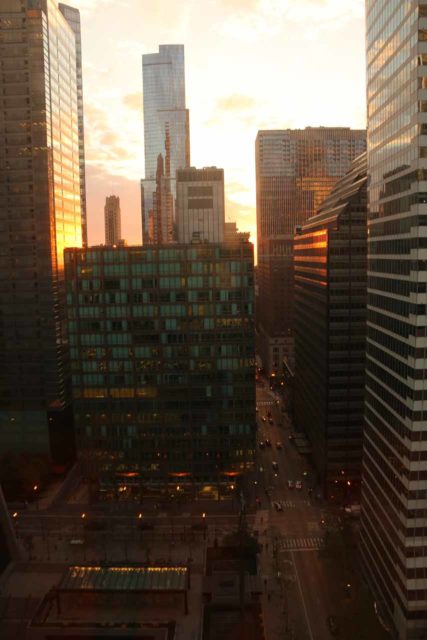 Hyatt Centric The Loop – This accommodation was all about its central location in the heart of downtown Chicago. Along with its pretty good mass transit system, we were able to go all over the place without the need for a car whilst staying here for three nights.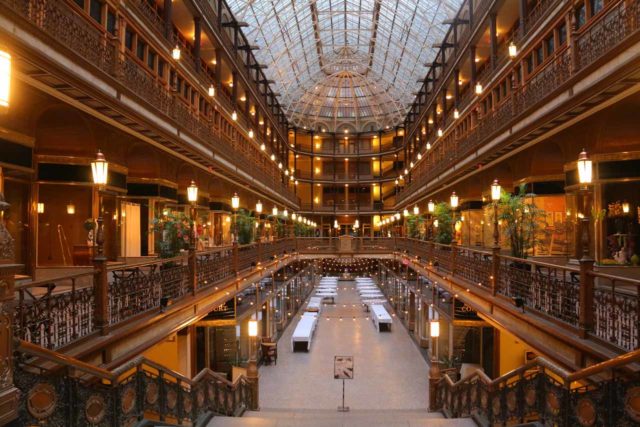 Hyatt Regency Cleveland at The Arcade – This place was right across the street from the main drag in downtown Cleveland, but it also featured a classy Arcade that doubled as the hotel's atrium. It's no wonder why they tended to have wedding receptions here, and it was certainly one of the more memorable aspects about this place. Of course, the room itself was quite spacious with high ceilings and a view towards Jacob's Field.
What to Bring

In addition to the equipment that we bring on all of our trips, there wasn't anything in addition that we needed for this trip.

Related Trip Reports
Waterfalls included in this itinerary
Visitor Comments:
Got something you'd like to share or say to keep the conversation going? Feel free to leave a comment below...
No users have replied to the content on this page