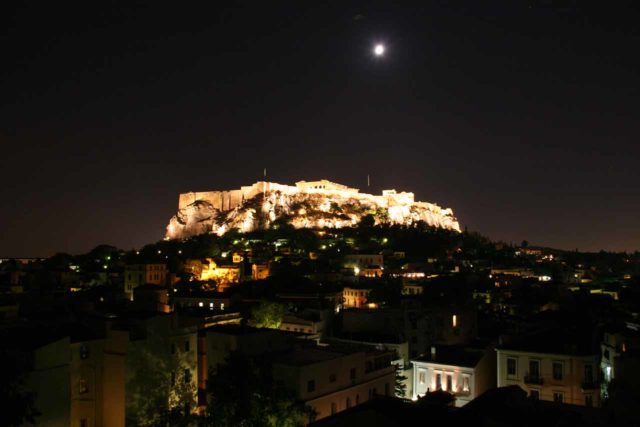 19-May 2010 to 30-May 2010:
As Julie was walking ahead of me and I was lugging all of our luggage, a lady dressed in street clothes got off her cell phone and asked me, "Where from?"
"US," said I. And at that moment, the lady got in front of me and said, "Stop!"
"Stop!" she repeated again. "Stop!" she said once more, this time pushing me back.
I wasn't sure what this was all about, but I thought we were getting scammed.
When Julie rejoined us, that was when the lady finally showed her badge. She was a customs officer. So upon her request, we put our luggage on a flat table and opened everything for her to see. And as we did this, she asked me, "In the US do you keep walking when customs officers tell you to stop?…"
Days 0-1: THE BIG FAT GREEK STRIKE
It was 3am when Julie and I grudgingly awoke to our alarms. We had only slept for a couple of hours, and both of us were in cranky moods when you add the anxiety of getting to the airport, changing your routine, and fighting sleep.
We eventually got to the airport at a little after 4am, but no one was manning the counters for US Airways. Julie warned me about her bad experience with US Airways (especially compared to international carriers), and the queue that was building up as a result of the lack of employees working seemed fitting. But still, neither of us had doubts about catching our 6:25am flight to Philadelphia.
We originally booked our international flight through British Airways, but they cancelled our flight last Thursday as a result of a strike. So instead of discount $1100pp seats, we ended up paying over $1700pp on an inferior carrier thanks to the flight cancellation (and this didn't include some additional costs for accommodations to rearrange our schedule for additional nights of accommodations and cancellations). But I guess we can't complain since the ash cloud from the Eyjafjallajokull volcano in Iceland kept disrupting air traffic in Northern Europe, which was precisely where London Heathrow was located. So instead of connecting in closure-prone London Heathrow, we connected in Phillie, instead. Maybe it was a blessing in disguise.
We eventually got to board the plane shortly before 6am. Apparently this leg of the trip won't be delayed. But as we got onto the plane, I managed to jam my left hand as I instinctively tried to catch someone's luggage falling from an overhead locker only to strike my left hand against the hard part of a seat. Not a good way to start off the trip.
The flight went on uneventfully, and both Julie and I even managed to catch a few hours of sleep. I guess it was made easier considering that they seated us in an exit row and there was a lot of leg room.
We landed at around 2:30pm Phillie time, and took our sweet 'ol time getting to the gate we were supposed to be on for our flight to Athens, Greece. We even had ourselves some airport-quality Phillie Cheesesteak, which I thought was a bit overrated, especially after the way Julie talked up how good the Phillie Cheesesteak was supposed to be from her last experience when she flew with her Mom to Europe.
Our flight was supposed to be at 4:10pm, but it turned out that the airplane was late in arriving. It didn't show up until after 4pm, and the new departure time was supposed to be 5pm. But after the plane landed, we learned that we were in for more delays thanks to a landing gear that needed a tire change. That seemed to have taken forever. Eventually, the plane wouldn't take off until about 6pm. We weren't sure how that would mess us up in Greece on the day we get there, but at least the flight wasn't cancelled.
The 10-hour flight was as Julie expected – crummy.
Perhaps we were spoiled by our experiences with Qantas, Singapore, Japan Airlines, or even British Airways. Heck, even Air New Zealand and American Airlines somehow didn't seem as subpar as US Airways was. Basically, there was no individual entertainment, the interior was severely dated, the meals were bad, you have to pay to check in your bags (though you do get 1 free one per passenger on International flights, which we took advantage of), and there weren't even headphones (I think you have to purchase them).
Thus, Julie thought the flight took forever. I was lucky that I was able to get at least some hours of sleep, knowing that we'd be doing a long drive to get all the way to Olympia, which was some 330km from the airport at Athens.
We landed at the Athens Airport at around 10:30am. After getting through passport control, we got our luggage, but then we did a foreign exchange for about 1.36 USD to 1 Euro. I was worried that we might have gotten ripped off since we had been hearing on the news that the official rate was around 1.25 USD per Euro.
After doing the exchange, we proceeded to go into the main area.
As Julie was walking ahead of me and I was lugging all of our luggage, a lady dressed in street clothes got off her cell phone and asked me, "Where from?"
"US," said I. And at that moment, the lady got in front of me and said, "Stop!"
"Stop!" she repeated again. "Stop!" she said once more, this time pushing me back.
I wasn't sure what this was all about, but I thought we were getting scammed.
When Julie rejoined us, that was when the lady finally showed her badge. She was a customs officer. So upon her request, we put our luggage on a flat table and opened everything for her to see. And as we did this, she asked me, "In the US do you keep walking when customs officers tell you to stop?"
That was when Julie interjected, "Well, we didn't know. You're not in uniform."
Anyways, the customs lady saw we weren't smuggling anything and she let us go. Once we got into the busy public area, Julie wondered why I was singled out when she let everyone else pass. Was it because I was the only Asian-looking person at the time? Racial profiling? In any case, it didn't matter. Perhaps what annoyed me more at the time was that we noticed other bureau de changes with exchange rates of 1.25 USD per Euro. I felt like we got ripped off on that, especially since we exchange nearly half of our cash supply already.
Next, we went to the Budget rental car kiosk. There, we picked up the rental car contract and learned that our rental was only good for 400km free. I knew we'd be over since it was already that distance going one way. But the guy at the kiosk said that if we had gone over, we could say the rental was unlimited for 3 days if it worked out cheaper.
We then asked him about driving distances. I knew it was 330km to get to Olympia, which was where we were to spend the night. However, I wasn't sure how long that would take. So when we posed the question to the rental car guy, he said it's only 3 hours.
Julie and I looked at each other wondering if he was smoking crack or something. That was when we said to the guy, "Really?"
He then qualified himself saying, "Well, it's 3 hours if you drive the Greek Way. Maybe 4.5 hours the Tourist Way." I guess that kind of explained things on a multitude of levels…
Julie then asked the guy about how far Mycenae (we pronounced it "my-sin-EE-uh") is. Except the guy didn't know what we were talking about because I guess the pronunciation "my-sin-EE-uh" was off. When we pointed it out in our DK
book, the guy said, "Oh, you mean Mikinas.
"Mikinas?," said Julie quizzically.
"You see?" replied the clerk as he was pointing to the Greek text (as if we were supposed to understand what that was supposed to mean).
Anyways, we got our contract and off we went to look for the tourist information office to see if any of the things we wanted to see today were closed due to a work stoppage strike that was going on today. And when we finally found the kiosk, a guy at the counter said, "Everything's closed."
"What about Mycenae? Or Epidavros?" said Julie.
"Everything's closed today," repeated the guy. So with that, we just took our time thinking there was nothing to be in a hurry for.
The recent labor strike and demonstrations were due to unhappy Greeks protesting over austerity measures (e.g. wage cuts, layoffs, increased retirement age, reduced pensions, etc.) that largely affected the general population even though I'm sure most of the corruption and stealing occurred with politicians and banks. Sound familiar?
Eventually, we finally checked into the Budget car rental and got into our car at 12:30pm. We were glad to be out of the airport because it did smell of cigarette smoke reminding us of the choking second-hand smoky air we had to breathe while in China. En route to the car rental lot, we also scoped out the Bus Express stop 94 because we'd be coming back here in a few more days to take into downtown Athens.
After a few minutes of getting comfortable in the tiny compact Hyundai (it took a little adjusting since we were used to driving larger cars back at home, but little did I know how handy the compact size would come), our GPS finally locked, and we were good to go on our 330km drive to Ancient Olympia. At first I was a little nervous about driving in Greece, but it seemed like the traffic was light today. Not sure if it was due to the strike…
It turned out that the driving was pretty easy as it seemed the Greeks on the highways respected the fast lane. Even if there was someone going slower than a guy behind him, the slower guy would move over a lane to the right. Such road courtesy is definitely lacking back at home, but I suppose it could be worse like in Asia where it was survival of the insistent or utter chaos.
Julie and I did worry that we might be running out of Euros though because there were at least four toll stations (ala our Norway experience).
After about 90 minutes of driving, I was getting sleepy on the road, and perhaps I should've stopped and taken photos at some of the cliff-hugging red-roofed dwellings in charming Greek towns along the Hwy 74 like Lagkadia. Maybe we'll take some time to stop and take photos tomorrow.
At 4:25pm, we finally made it to the Hotel Europa in Ancient Olympia. On the way up, we filled up gas at a Shell in town instead of the BP, which was actually a little cheaper. But we weren't too happy about the oil spill, and we opted to boycott them, nonetheless.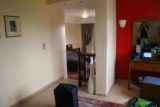 The receptionist greeted us and also contradicted what the tourist guy at the kiosk said to us when asked if Ancient Olympia was open today. He told us that it was open until 8pm today, and he then proceeded to take us to our room.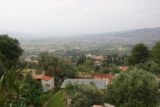 He then said we were "very lucky." For when we went into our room, it turned out to be a pretty big suite with a view towards a valley. This got Julie and I smiling as we're not used to such big spaces, but we knew we only had one night here before going on to fly to Santorini tomorrow night.
At 5:15pm, we returned to the car and headed a few minutes down to the Ancient Olympian archaeological site and museum. The weather looked like it was threatening rain, which seemed strange because we didn't expect rain in Greece. We had always thought of it like having a similar climate to what we usually get in Los Angeles. And we're practically in dry season by now.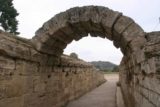 But as we were walking amongst the ruins of Ancient Olympia, rain started to fall. It was mostly light and also a little on-and-off. The rain stayed more-or-less at bay which afforded Julie and I some time to take photos of the ruins here. There wasn't anything jawdroppingly outstanding, but the complex was pretty big, and we could picture what it must've been like here (what with all the activity that must've been going on considering the quantity of ruins and the large acreage).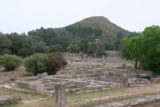 Plus, it was fairly quiet here as there wasn't a whole lot of people. We weren't sure why, but perhaps it had to do with the strike and the lack of transport to even get here.
Julie and I also noticed that the workers here checking for tickets were also not in uniform. Apparently Greeks aren't into wearing uniforms for work.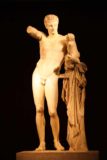 A little after 6pm, we were done checking out the archaeological site just as the rain started falling even harder. It was enough to be a nuissance, but it wasn't drenching. Now, it was time to check out the museum, which seemed to contain several trinkets and statues excavated here. Employees there didn't want anyone taking people shots in front of the monuments due to the fear of having camera flash going off. So we couldn't get any people shots that we wanted.
The museum featured some of the Greek mythological characters we've come across as we grew up such as Hercules, Zeus, and Athena. But after a while, the artifacts started blending in. I'm sure they'd be more interesting to people more passionate about archaeology than we were, but it was still interesting to us nonetheless because of the sense of history that was on display here.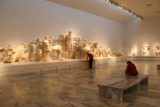 Eventually at 7pm, we were back in the car seeking shelter from another moment of quick heavy rain before subsiding. And when it did subside, we spent some time walking around the charming vehicle-free part of Olympia town. We'd ultimately pick a taverna place that served some delicious homemade Moussaka as well as other traditional Greek dishes. And once we finally bit into our food, Julie and I celebrated for we finally got to taste real Greek food!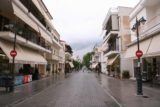 At 8:20pm, we were back at the hotel. Now, it was time to rest our jetlagged bodies at last. For we anticipate tomorrow to be a busy day that would include a long drive back to Athens Airport while sightseeing many things like Mycenae, Nafplio, Epidavros, and others…
Day 2: EUROPE VIRGIN
Julie and I awoke to a 6:30am alarm. The bed we slept on was a bit hard, but we were so jetlagged and tired yesterday that I don't think it deterred us from a decent night's rest. After getting our stuff together and freshening up for the day, we went for a complimentary breakfast where a massive tour group had already occupied most of the banquet hall.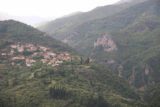 The brekkie was mostly Westernized and fattening. But we did try out some yogurt with honey as well as this delicious (but fattening) sweet Greek pastry with what appears to be melted cheese and loads of sugar inside. It was something we hadn't had since overeating at Papa Cristo's in Los Angeles.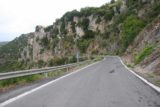 By 7:50am, we left the Best Western before getting completely sandwiched in by the big tour buses. And we were off to Mycenae.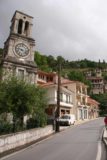 The drive was pretty quiet and mostly uneventful. This time I was negotiating the curvaceous narrow roads pretty wide awake (unlike yesterday arvo). And eventually we returned to Lagkadia at 9:15am where we made a brief stop to take some photos within the charming steep cliffside town. I wanted to take more photos in here, but we were a little bit rushed to do the higher priority sightseeing of today so we didn't linger for long.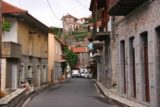 After continuing along the road outside of town, we pulled over at a rest stop with on overview of the charming Lagkadia. An elderly Greek guy who spoke no English came out and invited me over to a better view. He then invited me into his shed where he showed me some photos he took of him posing with other tourists. But Julie was in the car waving me back, and I had to politely decline the elderly guy's generous offer.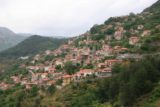 The drive proceeded onwards pretty smoothly as the weather fluctuated between partly cloudy skies and a few spots of rain. Julie and I wondered if this would be the weather in Santorini tomorrow, which would not be good. I think the rain caught us off guard because we expected it to be similar weather to ours (and I don't think it's raining anymore where we're at).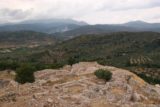 At 10:55am, we arrived at Mikines (Mycenae). Despite the threatening skies and the sprinkles here and there, the place was pretty busy with tourists. Julie and I were going for the highlights of this place, which Julie deemed were the Lion's Gate and the Beehive Tomb according to what she saw in her DK
book. I'm sure there were other things we could've checked out here, but we were competing with both time (we had to catch a flight tonight) as well as the hordes of kids and big tour groups ready to swamp us with their numbers.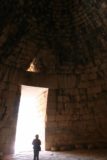 Walking amongst these ancient ruins kind of reminded me walking amidst the ruins in Peru. Except in this case, the ruins here were much older so I guess it shouldn't be too surprising that many of them weren't intact.
The museum here was interesting in that we could see some ancient coins as well as some early bronze age weapons. We could envision why Mycenaean civilization had the advantage militarily if they were amongst the first to utilize metallurgy to gain a militaristic advantage against their neighbors.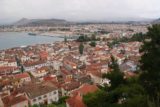 We left Mycenae at 11:50am and headed south to Nafplio. This wasn't on our itinerary at the start of the trip, but this caught Julie's eye while thumbing through the DK
book and it was next on our agenda. It looked like the rain was coming down pretty hard at times, but it seemed to have calmed down when we finally arrived in town at about 12:15pm.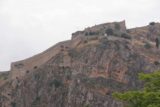 There was quite a bit of traffic in town so driving wasn't easy. It was a far cry from the light traffic of yesterday. So I guess the strike was over and now we got to experience the full rhythm of Greece.
After getting through a long traffic jam through town (not knowing where we wanted to go or park the car and walk around), we drove up through some charming cobblestone street up to a fortress wall overlooking the Nafplio town and the plethora of red-tiled rooftops. From up at this vantage point, we could also see where the car park was so we knew to make a beeline for that part and go for a walk in town.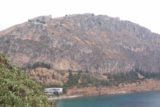 As we turned around and looked up to the top of the hill to our right, we could see an imposing fortress. It looked like some people were walking up and down some stairs and tunnels to get up to it. So we entertained the notion of going up there ourselves, but since it was essentially lunch time, we decided to go back into town instead.
At 12:30pm, we made it to the car park. Apparently parking down here was free though we weren't totally sure. We just did as the rest of the vehicles already parked here did.
We then walked around some square. We were a little confused as to where we should have lunch, and we eventually picked a pretty humble (and empty) little place. The food, which consisted of souvlaki, sardines, and Greek salad, was ok. But somehow it felt as if we could've done better. Oh well, we're full now, and it was time to go for a walk to walk off all the calories gained from the meal.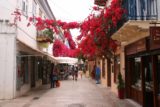 After the lunch, we aimlessly strolled around into some attractive-looking modernized wannabe-cobblestone street with a narrow Italian-looking alleyway. Actually, the alleyway went pretty deep for several blocks as roses grew around suspended lines hanging above the street. There were also a handful of cafes and shops protruding right out into the street, which was mostly free of vehicles (and this made the area all the more charming).
Eventually, the alleyway opened up into a wider quad area where we saw several cafes or tavernas with patio seating. Julie and I looked at each other with regret wishing we had had our lunch here. I guess we were just too hasty with our lunch time decision (kind of like our haste in exchanging money at 10% poorer rates than competing banks at the airport).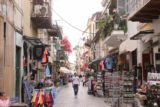 Our walk and photo-taking sessions continued as we found this gelato place that Julie had read in LP and was determined to find. And when we found it, we treated ourselves to some delicious-tasting gelatos as the proprietor greeted us with, "Bongiorno!"
The gelato was tasty (albeit a bit sweet), but somehow we weren't surprised to find good gelato here what with all the apparent Italian influence this area has.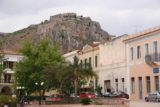 Julie could sense that I was pretty entranced by the charm of Nafplio with its narrow streets and alleyways. But having been to Italy and France, Julie told me, "You're such a Europe Virgin.
"If you think this is charming, wait until you go to Italy," she continued. That's something both of us would definitely look forward to doing together.
Anyways, it was getting late as we still had Epidavros to check out later this afternoon. So we chose to walk through some more charming parts of town (passing by yet more charming Greek tavernas) before getting out to the harborfront where we finally found this other Greek restaurant that Julie had read about in LP
.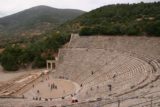 By 2:50pm, we were back in the car and headed out to the ancient Epidavros Theater. Once again, the weather during the drive fluctuated between rain and dark threatening skies. We wondered if we were ever going to see any sun while we were in Greece.
At 3:25pm, we finally made it to the Epidavros car park. Overall, this archaeological site wasn't quite as busy as Mycenae, but it did certainly have its share of tourists.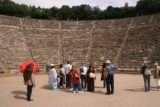 After going past the ticket gate and then up several flights of stairs, we were right in front of the imposing ancient theater which looked to be remarkably well preserved. I couldn't believe this place didn't undergo extensive restoration work (or maybe it did) because this place looked like it was still in use and that it was very intact!
A large Indian tour group hijacked the circle at the center of the performing section at the base of the theater. So we walked up the stands just as another bout of rain started coming down on us. Without bringing rain gear, we just took it as we sought shelter beneath some trees at the very top of the stadium.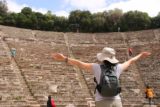 Other large groups were also sitting down and having fun with the acoustics of the stadium. A large French group was busy yelling downwards at some friends near the base. A handful of Chinese people were busy making their way up the steps while those already on top were taking photos of them. And once the large Indian group relinquished the circle, a group of young folks took over the center circle and started yelling in unison, "Whoooaaa Ohmmpaa!"
Now that we had seen this place in person, it certainly felt bigger than what we had originally thought despite having seen this on Rick Steves DVD
. Indeed, there's certainly something to be said about seeing something in real life, despite what xenophobic homebodies and armchair travellers would have you believe.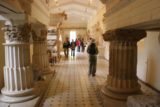 As Julie and I had our fill of the theater, we then went to the tiny museum where we saw a few more statues, trinkets, and columns from the archaeological site here. And when we were done, it was about 4:15pm. That was when we saw even more large groups and tour buses show up and prepare to mob the theater. Good thing we beat the rush.
Now it was time to continue heading back to the Athens Airport. Julie wanted me to make a stop at the Corinth Canal, but when we got there at around 5pm, it wasn't obvious where we should head to for it. And with our time constraint to get back to the airport in time for our flight to Santorini, we opted to skip this. But admittedly, this didn't do me any favors for my road fatigue as I started to get a little bit of that late afternoon siesta wanting to kick in.
After enduring a few more toll stations, there was a pretty nasty downpour near Athens (hope Santorini won't be like this when we're there). The sudden downpour ending up creating some standing puddles on the freeway and slowed down traffic a bit.
But eventually we found the airport and managed to find a gas station after circling around once. And once we were done filling up at that gas station (it was on the way out instead of on the way to the airport, which was why we had a hard time getting to it on the first go; doesn't make any sense why they did that), we finally returned the car unharmed and checked into the airport at 6:30pm.
The rest of the evening was spent having airport food and trying to avoid (unsuccessfully) all the cigarette smoke at the airport. I'd still say the smoking situation here wasn't quite as bad as it was in China, but it came pretty darn close.
Our 9:10pm flight boarded right on time, and the flight itself took off on time (even considering the rain). We arrived in Santorini less than an hour later. The landing was a little rough (rough enough to re-awaken both Julie and I from our momentary slumbers), but all was well.
We met up with our hotel pick-up and off we went to Fira, where we were staying for the next couple of nights. Even though it was dark, I could already get a sense of the charm and beauty of the island with the white buildings juxtaposed with the darkness of what's supposed to be the Aegean Sea. There were lots of cobblestone streets, narrow alleyways, and steps. And we couldn't wait to see the island during the day (hopefully with the cooperation of the weather)!
Day 3: SURREAL LIFE
Julie and I got up grudgingly despite the relatively late 7:30am alarm. It wasn't until 8am before we got ourselves out of bed. But we were still groggy because we were somehow entranced into watching the movie "The Black Dalia" to its end even though we weren't impressed with it.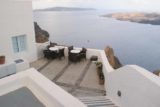 As we were getting ready for the day, I looked out the window and even started taking pictures from the terrace right in front of our room. It was rather cloudy and I could tell the scenery wasn't all it could be, but it was still beautiful nonetheless. So I was taking photos with mouthwash still in my mouth when a fellow tourist went out his door to join me in checking out the scene.
He said "Good morning" to me, but I could do nothing except nod back at him as my mouth was still full of mouthwash.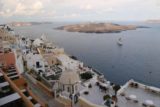 After aimlessly walking around the town of Fira just to scope out the area for future reference, we had a very subpar breakfast after 9am and got back to our accommodation at around 9:45am.
Last night, we had arranged (with the help of the friendly proprietor) yesterday to meet up with our rental car representative at 9:30am this morning. So given our 9:45am return, I doubted the guy appreciated having to wait an extra 15 minutes for our tardiness. Then again, we had read the Greeks were not all that punctual themselves so maybe it wasn't all that bad.
Anyways, we paid for one day's rental, got the keys, and were eventually out and about by 10am. At first it was a little awkward driving the narrow streets with some bustling traffic squeezing past each other amongst these narrow streets, but I eventually got the hang of it especially considering that the tiny car we were driving were made for these tight quarters. I couldn't imagine driving any of the tanks we see all the time back at home within these streets, and I wondered if this was typical of driving conditions throughout Europe.
As for the car itself, this hatchback sure lacked power (especially for a stick shift) as I noticed it seemed to struggle even in 2nd gear on the hills.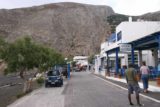 Just as we were about to leave Fira town, we filled less than a half-tank (about 20 Euro). But the more I thought about it, the more I realized that maybe I filled in a little too much gas. I started to understand why the car was practically empty when we first got it, because the island itself wasn't very big and the probably never needed a full tank or anything close to it.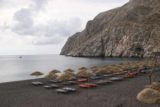 So first up, Julie and I headed south towards this town on the eastern coast of the caldera called Kamari. I was a little lost not knowing the narrow streets and ended up parking right on the waterfront with all its shops and cafes. It was a little dead this morning so we briefly checked out the black sand beach here and we didn't linger for much longer.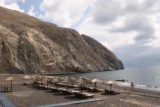 Next up, we headed around the rocky mountain separating Kamari and Perissa, and we eventually got to the equally dead Perissa and its black sand beach. Again, not a whole lot to see here, but we did notice some Ancient Thira signs and followed it to a rough road and trailhead. After realizing we weren't going to do the hot hike up to the top of the rock, we decided to drive to Akrotiri which had a read sand beach. It was too bad the frescoes here were closed and had been for several years.
Julie was looking forward to seeing it, but apparently we didn't do our homework on this and only learned of its closure when we arrived in Santorini last night.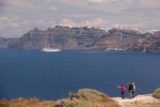 So at 12pm, we were at the rather busy car park for the red sand beach. After a real short walk, we saw the red cove with big volcanic rocks as well as some pockets of coarse beach below. And just as we got here, the sun started shining brightly and we could see there was some color in the water.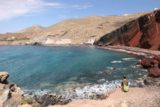 Anyways, all the touring we had done up to this point was pretty much filler as far as I was concerned. For we came to Santorini for the famous white buildings juxtaposed against steep hillsides leading to deep blue azure seas flooding the caldera of this volcano that has been said to wipe out ancient civilizations (possibly even the legendary Atlantis).
So we headed up to the northern end of Santorini hastily passing signs leading to Ancient Settlements as well as the town of Pyrgos. And eventually we made it to Oia at 1pm. We ended up following one of the parking signs to a spot that required 3 Euros, but since we weren't comfortable exploring Oia for a parking spot not knowing the town (let alone Santorini for that matter) all that well, we didn't mind paying the price and having that piece of mind.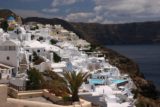 As we drove up to Oia, we could already see the architecture that made Santorini so famous. So after parking the car, we couldn't wait to get towards the views of the white buildings hugging the steep walls of the caldera sloping towards the Aegean Sea.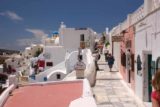 I'm sure it didn't hurt that the sun was out and gave the scene a bit more life (in contrast to this morning). However, I did make the mistake of not bringing my sunglasses, and I'm sure my eyes were going to pay dearly for all the brightness from the white buildings to the bright sun (if not now then later in life with cataracts).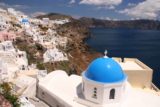 The walk continued into a charming area that was vehicle-free and lined with villas, shops, and tavernas. As we walked within this promenade, constantly mesmerized by the beauty of the scene and going nuts taking photos, I think it started to sink in on us that this place got it right. It had the charm, it lacked vehicles, it was perfect for visitors on foot, and it had that sense that nowhere else in the world was like this except here.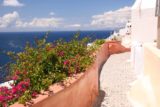 Indeed, it felt surreal. It was as if the postcards came to life, and the postcards weren't Photoshop exaggerations or marketing gimmicks sending unrealistic messages.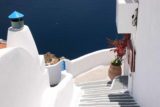 So Julie and I walked further along the charming promenade wondering exactly how far we needed to go. For it seemed like the walk kept going on and on. We were both getting hungry for lunch, but we couldn't help but to keep walking to see what else was beyond the next corner or fork in the walkway.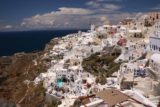 Eventually, we got to some outcrop near the very tip of the island where we could look back at some kind of windmill structure. Julie and I knew that this was where we'd have to be for sunset, which was highly recommended by the receptionist at the Nonis Apartments we were staying at.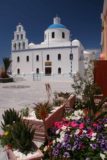 It was only after this that we finally considered this to be the end of the walk and we headed back to the restaurants to try to find some suitable place to eat. Eventually, we managed to find such a place at around 2pm. It was a bit late for lunch, but we were simply having too good a time checking out Oia.
Even though the lunch was outdoors, Julie and I had trouble trying to avoid the cigarette smoke coming from other tables. Indeed, it felt like China all over again.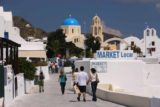 After we were done with lunch at around 3pm, we were about to head back to the car and drive to Ancient Thira before coming back here for sunset. But then, Julie had this idea of going for a gelato for she thought she had seen such a shop in town. So we ended up going back the other way and went looking for this gelato place. But an hour later, we came up empty, and now we began to question whether we'd even make it to Ancient Thira and back in time for sunset.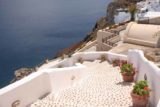 Maybe it was a good thing we reconsidered because in hindsight, it would've been really rushed and perhaps unrealistic to pull it off.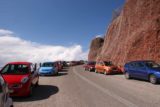 So instead we headed down to the Bay of Ammoudi, where parking wasn't easy (it was pretty much on the road but no one seemed to mind). We then walked down to the bottom of the road and saw a charming little bay with more charming waterfront cafes with some stairs leading up to the area we had visited earlier in Oia high up on the cliffs.
We figured this would be a good place to kill some time and have an early dinner before heading back up to Oia for the sunset finale.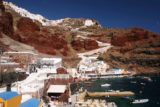 And so we eventually splurged and went for a rock lobster and a scorpion fish (at 85 Euros and 50 Euros per kilo, respectively). We were appreciative of the Canadian proprietor at Dimitri's who gave us some tips at getting to the best parts of the lobster as well as some of the best parts of the scorpion fish (after seeing us make the same mistakes as previous customers I'm sure, who ran the risk of throwing those parts away).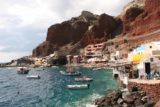 The food was definitely fresh (they better be at these prices), and we engaged in some dialog with the proprietor since there was no communication issues as it was obvious she had total command of English.
During our dinner, we noticed that the skies went from bright and sunny to threatening and grey as dark clouds with squalls threatened to engulf us with downpours. Fortunately, none of them hit us directly, but we did wonder if the sunset was going to be on or not.
The Canadian proprietor said this weather was more typical of early May at the latest but not now. All this made us wonder whether Global Weirding had to do with what we were experiencing on this trip since it seemed like everywhere we went weather patterns seemed to be abnormal.
Julie was having a little fun feeding bread to the little fish in the bay. But a boat that had passed a little too close created a wake that managed to be tall enough to wet the nearest tables against the edge as well as Julie's feet. That seemed to be our cue to leave.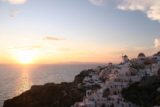 Eventually at 6:30pm, we were back to our car. Even though it was still probably at least another hour before sunset, we decided to look for parking before walking back to the edge of Oia to view the sunset. We'd finally find a spot right by a garbage bin, which didn't seem to be a valid spot (very limited front to back space), but we were driving a real tiny European car so it didn't seem nearly as bad as I thought for we certainly weren't protruding much further than other cars surrounding us.
By about 7pm, we were back at the overlook as well as with dozens of other tourists who had come for the same thing.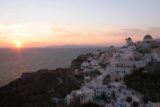 And so we waited…
and waited…
and waited…
And this waiting wasn't made easier by the blustering cold winds that blew right at us for there wasn't much of a shelter blocking these breezes. At least Julie and I had windbreakers on, but I can only imagine how uncomfortable it must've been for those who were still in short sleeves or even shorts.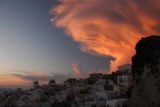 After about 7:45pm, we had finally seen the sunset we were after. But so were a hundred others or more! You know it's pretty serious when you have at least a half-dozen folks with full-on tripods and SLR cameras. Though I wondered how they were able to manage with the crowds making it difficult to maneuver for a decent photo.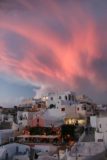 So we spent lots of time taking the same photos in different lighting and different positions (at least for what we could manage given the crowd here). But even as the sun set, I knew the show wasn't over yet. For the clouds that were over us were now a fiery orange before becoming pink.
And after trying to capture the clouds with the town, I finally figured out that we should go back up to the upper platform to see the pink clouds against the uppermost buildings of Oia. Apparently, the tripodded photographers figured this out already, but I was glad I captured what I could before the magic hour left and it was time to call it a day.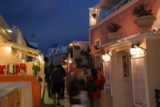 When the sunset excursion was over, we decided to spoil ourselves with a bit of a dessert. Julie saw souffle on a menu and we were hooked in. But after having ordered it, we realized that it wasn't the real deal (more like a lava cake or a cake with fudge inside). Anyways, it was delicious, but it wasn't souffle.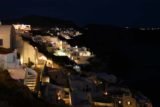 At 9:15pm, we were back at the car. Oia took on a different vibe in the evening as the restaurants and tavernas along with some shops were open (some of which were closed during the day). Clearly there was a bit of a nightlife here, but we were ready to call it a day so we didn't linger around much longer.
And finally at 9:45pm, we were back at the Nonis Apartments. We couldn't return the keys to the car at the front desk, but we decided we wanted to hire the car for another day tomorrow anyways. After all, I felt like I had to make use of the excess fuel I had filled up this morning, plus we still wanted to see Ancient Thira among other things.
In any case, all those arrangements will have to be made in person with the car rental guy tomorrow morning. We'll just play it by ear on what happens tomorrow…
Day 4: HISTORICAL SANTORINI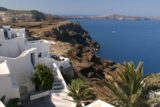 Once again the day began with a 7:30am wake-up to our alarm, but we didn't really get out of bed until 8am. Unlike yesterday, when we first looked out the window, we saw immediately that there wasn't a cloud in the sky. Indeed, this was the weather we were looking for when we came to Santorini, and now we have it.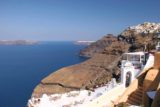 The day got off to a slow start though because we had to pack our belongings, then check out of our accommodation. While there, we managed to extend our car hire by another day since there were still parts of Santorini that we wanted to check out. I guess we had an arrangement to drop off the car at the airport or meet the car hire representative there at 10:20pm. I'm not sure how that was going to work out especially considering we've got to board our flight at around 10:40pm or possibly earlier. I guess we'll just deal with it when the time comes.
So we started off the day doing a little internet in front of the Aroma Suites. The passcode didn't work so we ended up using the proprietor's laptop, which was low on batteries. And that was good for checking a little email before the screen went black.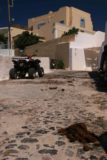 Just as we were done with the computer, a couple from Las Vegas had just showed up to check-in, and they seemed pretty blown away by what they saw. They were on their honeymoon, and given the luck with the weather we had had, it seemed like this Vegas couple showed up just at the right time for some very clear skies showcasing the scenic Santorini.
Afterwards, we then made a brief walk (dodging some mule scat) into Fira town to grab a gyro for takeaway. At 6 Euros for 2 gyros and a 1.5L bottle of water, this was by far the best deal we ever had so far while we've been in Greece. Oh yeah, the gyros were tasty; certainly better than any gyro we had back at home.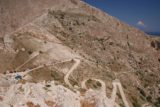 Finally at about 11:15am, we took our luggage and squeezed everything into the tiny Chevy Matiz (by the way, an American make of a car as tiny as this just shows that American car makers could certainly make fuel efficient models if they wanted to). Then, we headed straight for Ancient Thira.
The drive was mostly uneventful except the winding narrow road that started off as bumpy cobblestone before becoming more conventional paved roads. The sinuous nature of this road totally reminded me of driving the Trollstigen or Stallheimskleiva in Norway, except now I began to wonder whether my perception of what narrow was some 5 years ago was a little exaggerated (as I wasn't used to driving such roads back then).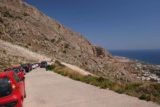 Anyways, at 11:40am, we finally made it up to the car park at Ancient Thira. There weren't many parking spaces so we were relegated to parking along the ride like the rest of the folks who weren't lucky enough to grab one of the easier parking spots. Although as I say this, there was a guy right in front of us who double parked and nabbed two spots.
So we got out of the car and proceeded to walk up a ramp towards a ticket booth. And after paying our fee, we proceeded to walk further up what seemed to be a rather long series of steps. Given the dramatic difference in weather from yesterday to today, I think the sudden heat from the intense sun caught us a little off guard, but fortunately our bottled water was still a little chilled.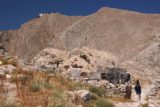 About half-way up the stairs, we saw some church that dated back to the 1800s I believe. There wasn't anything extraordinary about this otherwise tiny structure. So we didn't spent much time here before we continued onwards up the steps.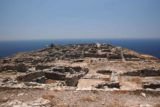 Eventually, we got up to where we could start to see ruins. There wasn't a whole lot that could be made out in terms of obvious buildings that were intact. However, the orderly arrangement of the rocks strewn throughout the complex definitely caught our attention and our camera clicks. And LP
was certainly right about this place being atmospheric, but we'll add the adjective haunting to that mix as well.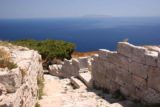 It was very reminiscent of our tours through other ruins like Macchu Picchu or Kuelap in Peru.
Anyways, we spent a good deal of time trying to compose photos amongst the ruins all the while getting gorgeous views of the Aegean Sea, Kamari, and Perissa, all juxtaposed with the ruins in the foreground perched atop the mountain we were on.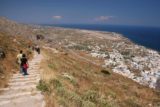 In any case, the sun was draining and we finally headed back down the steps and to our rental car, which was baking in the sun (and probably baking our belongings in there too). And by 1pm, we were headed back down the mountain and went towards Pyrgos.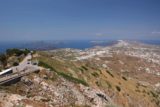 Actually, we ended up going right through Pyrgos through we couldn't exactly tell whether we even touched the town or not. We weren't even sure what were the sights to see here. So we ended up continue up some road that ended up switchbacking its way up to the top of a hill called Profitis Ilias, which was where you could get some comprehensive panoramas looking both towards the volcanic island as well as away from it. There were also radar and military installations up here as well as a little church.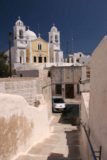 By around 2pm, we were back in the car and headed back down to where the rest of Santorini was. This time, we made a quick stop at this place called Megalohori at around 2:15pm. This "traditional settling" (as the sign so eloquently put it) was at first a little hard to spot. But at Julie's insistence, we went down this road past the car park that weaved its way between narrow streets surrounded by either white walls or those with a kind of yellowish hue.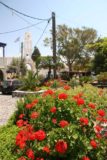 The road passed under a couple of attractive archways with bells on top of them. Plus we even passed through this charming quad area with a vegetarian restaurant as well as some accommodation or shop nearby. Eventually, we'd find some signposted parking spot past the Hotel Verema (I think) where we promptly left the car and walked through this charming settlement (some of which looked like they were still inhabited while others looked a bit dilapidated).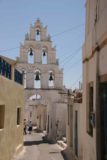 It was nice and quiet here, and I think the silence made this strangely alluring place also seem both eerie and haunting as well.
At 2:45pm, we were back in the car and then went back to Fira some 15 minutes later. Fortunately, there was some parking space back where we had left from this morning so at least that bit of stress was over with.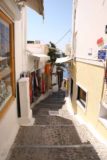 Next, we made a quick stroll through part of the touristy part of Fira while spoiling ourselves with some gelatos on this hot afternoon.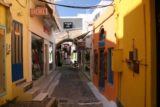 It definitely seemed like Fira wasn't as dead as we had thought (especially considering how we had spent most of our time in Oia yesterday). But somehow Fira felt a little more modern though its line of colorful buildings and shops within the pedestrian walkways still was a pleasure to stroll (though the confined quarters still had our minds kept on avoiding cigarette smoke).
After finishing our dessert, we then went to the Prehistoric Museum of Thira where the small museum housed some of those frescoes that Julie wanted to see in Akrotiri but had to settle for these due to Akrotiri's closure. There was also several artifacts excavated from Akrotiri including a golden little dog-looking thing near the end of the exhibit.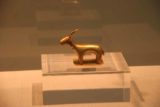 The quick museum visit was nice in that it provided a little bit of relief from the heat of the day. I'm sure we could've easily spent the whole afternoon here reading all the signs and trying to truly appreciate all the archaeological efforts and finds that comprised this museum, but we weren't archaeology buffs and we left after strolling through all of its exhibits.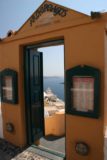 Next, Julie and I went to have a late lunch (it was well after 3pm at this point) at Archipelagos where we spoiled ourselves with more grilled octopus as well as some stuffed tomatoes. I think this restaurant got it right when they put an attractive doorway at its entrance, and it was no wonder so many people went here to eat (us included).
Both of these appetizers costed me over 33 Euros (which is like $44USD), which was quite overpriced. But hey, I guess it had one of the million dollar views so that put people in a good (i.e. spending) mood, which I'm sure is a principle the Greeks are well aware of.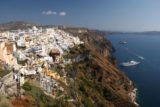 After the late lunch, Julie and I started walking even further north in Fira to parts we hadn't explored all trip long until now. We basically followed the cable car signs thinking this must also be a tourist thoroughfare that we had merely neglected up to this point.
In fact, it seemed like most of the tourists were on this part of the island as the shops and walkways were quite busy. Plus, I guess it didn't hurt that the cable car leading down to the base of the caldera was also in here as well. Moreover, there were a couple of restaurants as well as walkways with views looking back at the buildings that made up Fira.
But it was really the charming pedestrian walkways flanked by colorful petit shops that we spent most of our time in, where it also tended to be quieter (perhaps because it was siesta time?).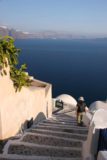 At 5:20pm, we were back in the car with still plenty of time to kill before our flight back to Athens (which wouldn't take off until 11:10pm according to our schedule). So that was when we shifted the focus of our day's worth of touring from history to the atmosphere of Oia, once again.
At 5:50pm, we were back at Oia where this time we wisened up and found free parking along some side road. Forget paying the 3 Euros at that one lot where we had been yesterday.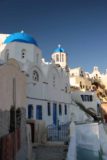 We checked out Oia town where I was looking forward to taking more camera clicks and adding more photos to over 200+ photos taken on this day. But having seen the sunset yesterday, which was more impressive with clouds around, we didn't bother sticking around for that event.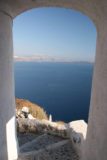 Julie and I actually managed to find some stairs descending into what appeared to be quiet villas or residences. Many of them looked closed or dilapidated. But all-in-all, we discovered a part of Santorini that didn't seem to see many parents. It was too bad that the lighting was a little too little too late as long shadows were cast upon the seen.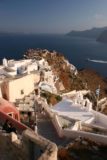 We ended our time in Oia having dinner and dessert at the same restaurant that we had dessert in yesterday (I forgot its name). Here, we could see the buildings and sail ships all changing clors to orange and even pink depending on the sun's position.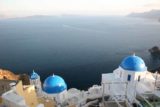 As for the food, it was very pricey yet fairly decent for what we got. It was our last indulgence on Santorini except three women (one with a little girl) were too busy chain smoking and bringing that second hand smoke to us. This annoyed both Julie and I, but it was well-accepted in China, and I guess Greeks don't care as much for regulations nor health of themselves nor others.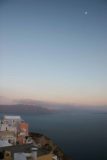 At 9:05pm we finally made it back to the airport, but not before the GPS
had me going to some rather barely-travelled roads of Santorini. Before I realized that I had been driving extensively on backroads as darkness fell, I was already committed to exploring the rest of Santorini where I'm tourists never go. Anyways, this was definitely one instance where I should've just ignored the GPS
and went with my instincts.
At 9:05pm, we arrived at the airport well ahead of schedule. We were hoping to meet up with the car rental representative, but he never showed up, and it was time to board our flight after getting through security. We basically waited until the last minute, but by about 10:30pm, we just left the keys inside the glove compartment of the car and left it parked at the airport (per instructions by the car hire guy when we first took this car out for a spin.
It turned out that the plane took off about 15 minutes early, which was quite a change for once. The flight went pretty smoothly (including a nice landing, which seemed to be a rare occurrence these days). And by about 11:40pm, we were back at the Atens Airport to collect our checked baggages.
After collecting what we needed, we made a mad dash for for the Express Bus X95 to get to the Athens CBD in the Plaka District. Our day wasn't over because we still had to take this bus for about 40 minutes or so into town, then figure out which way is north, before finally finding our accommodation a few blocks away.
It was about 1am when we finally arrived and were able to check in. Unfortunately, we were going to be moved to a different room tomorrow so it wasn't like we could get settled tonight.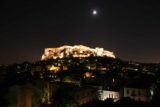 Once we were in our rooms, Julie coerced me to go to the rooftop to check out the lit up Acropolis. And once we got up there laid our eyes upon the scene, it was a bit surreal as the Acropolis was lit up under a bright moon. We were mesmerized and tried taking a handful of photos in the dark without a tripod.
It wasn't until about 3am that we finally went to sleep. It was a long day indeed, but certainly rewarding. And we couldn't wait to see what Athens had to offer as soon as we can wake up and get our stuff ready for a move…
Day 5: IT'S ALL GREEK TO ME
Given the late sleep time last night, it was a struggle just to even wake up at 9am. We spent a good deal of time this morning having ourselves a quick (and underwhelming) complimentary breakfast before spending the rest of the morning getting packed since we had to move to a standard room due to the fact that it was full yesterday so we paid extra just to stay in a superior room.
It was about 11am when we finally left the room and went for the Acropolis. From the hotel, the attraction didn't seem all that well signposted. So Julie and I struggled a little bit finding a way to get up to the attraction despite the fact that it's so conspicuously perched atop a hill right in the center of Athens.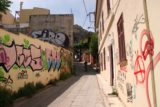 We ended up passing through some gritty parts of Athens as walls and even some traditional looking buildings underwent a spraypaint assault as graffiti was about as ubiquitous as cigarette smoke.
Eventually, we finally asked around and managed to find a back entrance that led to the main thoroughfare where lots of tourists were going in both directions up to the Acropolis. Apparently, admission was free today though Julie and I couldn't quite figure out why that was the case.
And when we finally got right in front of the main entrance at the Temple of Athena Nike at 11:55am, we were amongst a sea of people trying to go up some more steps flanked by tall columns. It was quite clear that there were multiple tour groups as it definitely seemed like the UN of tourists and tour groups here. But I guess world class attractions attract people from all over the world in such quantities.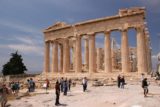 Once we got through the entrance, we could see the imposing Parthenon with its numerous columns. It was too bad we showed up at a time when the sun was very high on the horizon and hazy. I would've preferred to come here in early morning or late afternoon.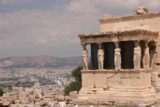 In any case, we got in for free so I guess it was what it was and we had to make do with the conditions presented to us. And as for the conditions themselves, it was bright, blue, and sunny, but a few clusters of thunderclouds were forming and muted the colors of the sun when they got in front of it.
But what really took the luster off the photos we wanted to take of the structures at the Acropolis was the construction vehicles and scaffoldings everywhere. It was difficult to take any photos of the ruins without a crane here or a scaffolding there. All this was due to reconstruction or restoration of the various attractions up here. I had recalled similar things going on in other historical sites we had been to like Angkor Wat as well as Kuelap and Macchu Picchu.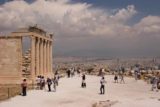 And the more I thought about it, I once again started wondering whether there was a bit of creative license being exercised in this restoration to keep the tourist dollars coming in. After all, there always seemed to be a judgement call made by archaeologists whether the recreations or reconstructions were genuine and authentic or merely guesses or fantasies (or worse – manipulations to extract more tourist money).
And while this thought exercise was going on, I wondered what would happen if all these resources poured into these structures were later to be found to be incorrect or false? Would they rewrite the history books or try to cover it up? Would they admit their faults?
And that even got me thinking even more about whether we're being fed romanticized versions of history as told by the victors of war. For one rarely hears what happened from the perspective of the losing side.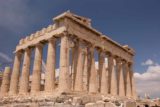 In any case, all these thought exercises could probably end up being for naught as what we were seeing could very well be the real deal. But I always wondered about these things just because I think it's healthy to have a bit of skepticism and be willing to test established beliefs or "facts" that are fed to us. For if the established views hold, they would stand up to these tests.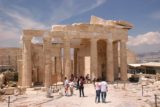 But on a deeper level, I think this was the essence of why I think natural attractions ought to be more revered than human-made attractions even if archaeological relics are purported to be an important part of our heritage. After all, natural attractions mostly can't be faked, and they don't require reconstruction.
For what they need most is responsible management by leaving them alone or minimizing the impact that people have on them. Perhaps that's why we like waterfalls so much as well as the other attractions seen along the way that are natural. For under those circumstances, we learn about the rhythms of Nature and how the world really works regardless of human perceptions of how things ought to be (which is different for various people). The bottom line is that Nature dictates the terms and we either adapt or suffer the consequences.
So with that thought exercise passing through my conscience, it was time to resume the sightseeing. But with all the tour groups that crowded the large plateau, it was certainly difficult to take photos in peace as well as taking photos of ourselves proving we were here.
We also definitely had to watch our step as the ground had plenty of spots that were worn smooth and made things quite slippery. But perhaps even more annoying was that people noticed that I was lugging a digital SLR around and I constantly got asked to take photos for them. I really should charge Euros for this service, but I know there's an expectation that it's done as a courtesy. Unfortunately, when the favor is returned, it seems most people aren't very good with composition and we ended up photos that got discarded.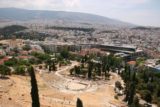 From up at the Acropolis, we could get practically birdseye views of Athens no matter which direction we looked. We could also look down at ground level and get an idea of where surrounding attractions were in relation to us. So we knew where we had to walk in order to find the New Acropolis Museum, the Theater of Dionysos, the modern theater, the Agora, and more.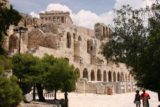 Finally at around 1:15pm, we left the main entrance and descended towards a walking street next to the outer limits of the Acropolis complex. About 20 minutes later, we finally made it to the New Acropolis Museum, but we learned that it was closed. Julie asked a nearby police officer why it was closed, and we thought we heard that this place typically closes Mondays.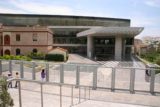 So we strolled around for a few minutes more exploring the ruins of the Theater of Dionysos while taking a quick break from walking in the heat by just chilling on some benches under the shade.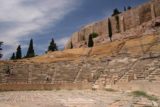 But as it was getting a little late for lunch, Julie and I went to one of the tavernas alongside the blocks of walking streets in this part of town. The one we picked in particular was this place called the God's Restaurant. I don't know if the food was as divine as the name suggested (though it was pretty good), but the cigarette smoke was certainly hellish.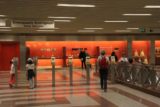 We were done eating our lunch and headed to the Athens Metro at the Acropolis station at 3:15pm. At first, we couldn't quite tell which way we were supposed to go and the maps here didn't help much as everything was in Greek. That was when Julie quipped, "It's all Greek to me," which drew a chuckle out of me.
What stood out about this station was that there were displays of pottery and architecture against some of the walls within the station. It was like this quirky mix of a museum within a subway station, and I honestly can't ever recall having seen this combination before.
Taking the Metro was actually quite straightforward, but we did think it was hokey that they didn't have turnstiles. Instead, they had auditors checking to see if your ticket had been properly validated. That kind of made us wonder if this system was even collecting enough fare to even maintain operations.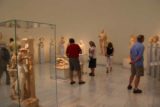 After about 3 stops, we arrived at the Omonia Station. Then, we headed up to the surface level and walked through a rather gritty part of town as we must've seen at least a dozen or so prostitutes. In fact, they seemed pretty open about engaging in this profession in broad daylight.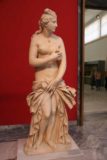 At 3:50pm, we finally arrived at the National Archaeological Museum. It turned out that our visit to this museum was free. Again, we weren't sure if this had to do with maybe Monday being a rest day or something. In any case whatever it was, we spent quite a bit of time in this impressive museum as it seemed that the number of displays and rooms were practically endless.
Just when we thought we were about done with the sightseeing here, another room would show up. Needless to say, this was a little draining as after a while it seemed that the statues started to blend in with each other as well as the other trinkets and potteries.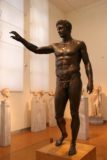 Some of the statues we had seen in the past in history books were on display here.
For example, we saw an Athena statue showing various feminine qualities and was quite obvious that the sculptors back then must've had some beautiful woman in mind when coming up with the most celebrated female goddess in the land.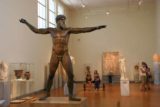 We also saw the famous Zeus statue in the motion of throwing a lightning bolt. Of course, I knew it was supposed to be a lightning bolt he was throwing since that was what I had learned back in my European History classes growing up, but there was no lightning attached to the statue.
Then there was that statue that was famous because it demonstrated that the Greek sculptors finally figured out how to manage human balance. It was basically a dark statue with a guy with one leg in front of another with an outstretched arm. I'm sure this statue would seem ordinary until you realized this little obstacle that had to be overcome to even make this pose possible.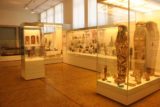 Anyways, this museum not only featured Greek artifacts from various eras, but they also had Egyptian, Byzantine, and Roman artifacts. The Egyptian relics totally reminded us of our museum visits in Egypt a couple of years ago.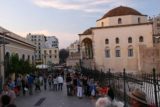 After 5pm, we finally had our fill of the museum and headed back to the Omonia Station. And after one stop, we got off the bustling Monastiraki Station. And once we got up to the surface level, there were crowds of people walking to and fro amongst what seemed to be a happening scene of flea markets and cafes.
Aside from the cigarette smoke and the worries about pickpockets, this seemed like the place to be when the sun goes down.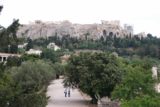 So we passed through this happening scene before reaching the entrance to the Ancient Agora area at 5:45pm. Once again, the lady at this entrance told us that admission was free. And Julie finally asked the question (once again) why admission was free today.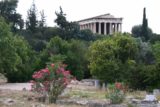 The lady replied that today was a Natioal Greek Holiday. And once we learned that, it became obvious why places were either closed or free. And with all the Euros we had spent up to this point on this trip (which was certainly more than I wanted because we were running out of cash), I guess this helped to alleviate the amount of money spent though museum admissions were typically cheap compared to things like food, petrol, car hires, and other expenses.
So Julie and I walked amidst the Agora Complex which had another museum fronted by lots of columns. Of course the main attraction of this park was this structure called the Temple of Hephaistos, which was held up by lots of pillars.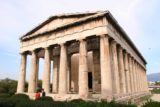 What was striking about this monument was that it was like the original inspiration for some of the buildings we associated with American government. As a matter of fact, I'm pretty sure they were derived from Greece especially since they were accredited with being the first advanced society to foster and advocate Democracy so I'm sure the similarities were no accident. And that tie-in with American Democracy certainly seemed fitting, at least in theory as you could argue we don't have a true democracy.
Nonetheless, I could now envision the Lincoln Memorial (even though we hadn't even been there yet) with the columns surrounding some statues of the forefathers of American History nestled within.
At 6:30pm we were done checking out the Agora and headed back into the bustling part of town looking for a place to have dinner.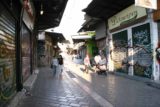 We ended up going into a real rough and gritty part of town that was full of graffiti and had all the makings of a place you don't want to be for safety's sake (what with the lack of traffic, the touts, and the blind corners). But it was in this area that we were looking for a restaurant having Greek food that was worth the trouble.
Unfortunately when we finally found the place, it was closed on Mondays. So we went one block over and had dinner at this other place with oversized menus. The food was decent, but the portions were huge and they happened to skip our order of seafood rice pilaf. At least the dessert was on the house, which was a chocolate crepe and was delicious.
And finally at 8:35pm, we were back at our room, which now was on the first floor. Sure there was less real estate, but at least it was clean and our belongings were waiting for us there. And that was the end of this very busy day of touring. With all the touring we had done today, we wondered what more there was to see tomorrow. I guess we'll worry about those things when they come, but we do look forward to having a more laid back day…
Day 6: HELLAS – GREECE IN GREEK
It was 8am when we awoke and we took our time getting up for the day. It wasn't until 10:15am when we finally left the hotel.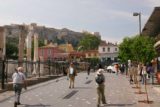 The reason why we took our time was because the only goals for sightseeing today were the New Acropolis Museum (closed yesterday) and the Temple of Olympia Zeus. So it was going to be a very light sightseeing day especially compared to yesterday or even the last several days for that matter.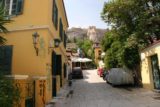 So we once again walked towards the other side of the Acropolis, but not before going the wrong way in order to achieve where we wanted to go. For the way we went originally yesterday involved ascending up to the Acropolis, but we knew that would be an unnecessary path to take especially if we had to pay for admission in order to get to the other side.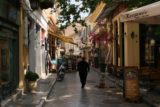 Thus, we ended up walking along some quiet but charming residential streets until we finally re-intersected with some happening streets on the Plaka District. It turned out that we made a pretty wide U-turn and we weren't that far from our hotel. Nonetheless, we took mental notes that we would return here after our sightseeing. We even passed by a famous Greek restaurant called Daphne's. It looked rather expensive from the decor of its outside though so I'm not sure if we'd return here to spend more money than I wanted for food.
It wasn't until 11:05am when we got back to the New Acropolis Museum after walking through some familiar streets from yesterday. Now, we understood the context from which we walked yesterday, and we were getting more comfortable with the streets of Athens – a familiarity that we definitely didn't have yesterday and probably resulted in some wasted time and energy.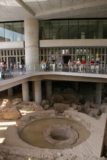 Right off the bat, we could see lots of kids at the museum. But perhaps what was quite a unique aspect as far as museums that we've been to go was that this one seemed to have excavations and ruins below the museum itself! They even put glass flooring so you could see the ruins beneath you. And what's more, there were even officials in uniform! What a concept!
So Julie and I strolled through the comfortably air-conditioned and spacious museum after going through the metal detector and baggage X-rays. If we ever wondered why the ruins on the outside looked so beat up or that the statues were missing something, this museum seemed to have resolved that question… for they were pretty much all here!
In here, we saw the exquisite detail of many of the statues and figurines as well as heads, ancient gold coins, and various other things that were on display here. It was almost as if this was a showcase of the various archaeological artifacts and treasures, and that they were showing off their collection the way some rich person would show off whatever collection they wanted to share.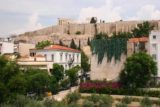 But unlike the National Archaeological Museum in the gritty part of Athens, this museum was smaller (though much more modern) and at least it wasn't as overwhelming in that sense. We even spent some time looking at a video about the history of the Parthenon, and what really got my attention was how the Parthenon was in its current state.
I guess given that context, I could see why there's such a push to do some major reconstruction to try to put back together the Parthenon for posterity (though again, I wonder if this borders on faking history or preserving it).
At 1pm, Julie and I were done visiting the museum and walked back into the happening part of the Plaka area. We were constantly addressed by local shopkeepers and taverna hosts in an effort to actively lure us into their shops. We'd been hearing lots of "Ni hao!" though there was one or two guys who displayed some surprising knowledge of some Mandarin expressions (even if the tone was off).
Well at least this wasn't quite as intrusive as Egypt, but it can get annoying after a while.
We finally settled on this place where we could get gyros and souvlaki pitas for takeaway. It only costed us 2 Euro each and I was amazed at the price disparity between takeaways versus sit down places charging the same thing for 7 or 8 Euros. And for those 8 Euros, we also got a cold bottle of water plus a traditional Greek salad without the feta cheese.
We probably wouldn't have gone to a sit down place anyways for the ubiquitous cigarette smoke would probably get to us.
So we got our stuff, paid the Euros, then walked closer to the New Acropolis Museum to have a picnic lunch. It wasn't comfortable and the food wasn't nearly as good as the takeaway we got in Fira, but it held us over.
When we were just about done eating, we suddenly saw a group of people running by us. They turned out to be those same people selling trinkets on the street, and we suspected they were probably either here illegally or they were operating without proper business licensing. That was because they were running from police in motorbikes.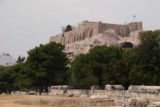 As we were headed over to the Temple of Olympian Zeus, we even noticed more of the folks on the run as the police were chasing after them.
At 1:40pm we eventually got to the entrance of the outdoor temple where we paid a couple of Euros per person and took our time going around the impressively tall columns that were remnants of what was once grand temples I'm sure. I was also busy trying to compose these columns with the Acropolis in the background.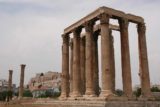 There were plenty of park benches under trees on the perimeter of the complex so we took advantage of them by having a seat and taking it easy (at least until cigarette smoke from employees forced our retreat).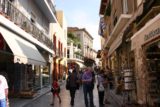 At 2:05pm, we were back in the happening streets of the Plaka District. Now we were just browsing around the shopping streets enjoying a few tasty gelatos (the Greeks sure seem to do Italian pretty well) while Julie was indulging herself shopping for a Greek dress and sandals (much to my dismay; even the cigarette smoke and exhaust from motorized vehicles as I waited for Julie wasn't pleasant).
But on the way back to our accommodation, we did find a T-shirt with phonetic translations of various Greek expressions. It was during this time that I noticed on other T-shirts that "Ellas" or "Hellas" (spelled in Greek letters) is Greek for Greece. I wondered how we got Greece from Hellas or Ellas?
It wasn't until 4:05pm when we finally returned to our accommodation. There, Julie took a nap while I was spending lots of time trying to get caught up on photo organizing and composing this blog entry.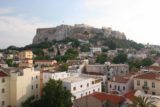 At 7pm, Julie and I were at it again heading out on the town for a place to eat one last meal in Athens before road tripping up north to Macedonia via Meteora. However, before doing that, we made one quick stop at the roof of our hotel to look at the Acropolis in late afternoon. But with the position of the sun being somewhat in the line of sight, it wasn't as good as I had hoped. Perhaps I'll give another go tomorrow early morning to see the Acropolis glow with soft early morning light.
So Julie and I walked into the Psyrri and Monastiraki area looking for a place to eat. And it turned out that Julie wasn't in any mood to try any of the LP
recommendations (especially since one of them was in a pretty seedy part of town while another one was in a place that wasn't atmospheric enough for her).
Eventually after over a half-hour of looking around, we just picked some place called Attalos, which was right on the main thoroughfare next to some rail and the Ancient Agora.
It turned out the food was pretty reasonably priced, and we also learned that three appetizers (mezedhes) were enough food for the both of us. For future reference, we'd either do 3 mezedhes in one sitting or 1 mezedhes and 1 main while declining bread. I was already feeling bad about my gut bulging barely a week into this trip and Julie was letting me know about it.
However, the food was fairly average except for the aubergine (stuffed eggplant) that we had. Julie did let the staff know about being careful since we found a wire inside a bite of our aubergine. The perch and the spaghetti were real average or below average.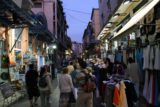 After the dinner, we walked around looking for another T-shirt that said "It's All Greek To Me" with the Greek alphabet below. We weren't successful for we didn't feel like spending 15 Euros for one especially after spending 7.5 Euros for a different one earlier in the day. Unfortunately, it turned out that that one vendor charging so much was the only one that had that pattern in the Greek Royal Blue color. Oh well, maybe during our road trip we'll find it.
We eventually got back to our room at 9:30pm. Now it was time to get packed and ready for tomorrow.
Day 7: SHOWTIME AT THE APOLLO
At 6:30am, I woke up. For once I had myself an early start because I wanted to at least see the Acropolis from the rooftop of our hotel in the early morning.
Who knows?
Maybe I might get lucky with pinkish or orangish soft sunlight as the sun just barely breaks the horizon. So with my hair standing up and my eyes probably full of morning, I took the elevator up to the roof garden.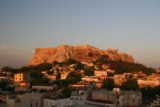 Well it turned out that I was a little too late for the early sunrise, but the lighting was still soft enough to cast a warm glow on the Acropolis. Much of the city in the foreground was still in shadow so it wasn't easy to manage the light and dark zones in the same shot. Nonetheless, I took a little over a dozen shots and proceeded to head back down to our room where we had to get packed up and ready to go.
It wasn't until around 8am when we finally got ourselves the same familiar breakfast. Afterwards, we checked out and proceeded to walk to the bustling Syntagma Square arriving at 8:40am.
At first, we headed down the stairs and into the real busy metro station. Julie wasn't sure which buttons to push on the machines to get the proper ticket for the airport. Some stranger was telling her which buttons to push and then he wanted some Euros for his advice. In any case, Julie didn't have change so she didn't buy the tickets.
When we went to the ticket booth to get change, she then came to me to follow her over to the machines. And upon looking at the prices one last time, we saw that they were charging 6 Euros for a single ticket to the airport and 10 Euros for two people.
Given the number of people in the metro system and the luggage we have to lug around contrasted with the bus ticket price of 3.2 Euros per person, we opted to go back above ground and take the X95 express bus back to the airport.
We managed to catch the bus just in time at 9am.
The 50 minute bus ride was more or less uneventful except that we were facing the back of the bus, and this made Julie real nauseous. We were worried that she might hurl during the bus ride, but she toughed it out, and with about 10 or 15 minutes left on the ride, she managed to secure a front-facing seat.
Back at the familiar airport, we finally picked up our rental car at 10:20am. It turned out that we paid an additional 114 Euro for 5 days of car insurance plus another 117 Euros for the one-way dropoff at Thessaloniki. This combo of extra charges eclipsed the basic rate that we were charged for the 5-day rental itself. Ouch!
Anyways, we wanted to be safe rather than sorry. So off we went at 10:35am.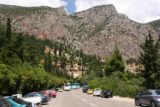 The drive was mostly uneventful as it took us until 1pm to finally make it to Delphi. We had trouble getting the destination into the GPS
because it recognized the Greek phonetic spelling and not the way we were used to. So it wasn't until Julie put in "Delfoi" (some 30 minutes later) could we finally trust the GPS
.
After finding a parking spot, we endured the fairly hot midday sun as we climbed up the many steps (quite a few spots on the surface were worn smooth and slippery like the top of the Acropolis) and spent some time strolling amongst some Treasury House, the columns of the Temple of Apollo, and a theater.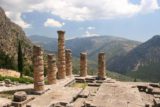 The higher we went amidst the archaeological ruins, the more dramatic the views looking down towards the valley. This kind of reminded me of the feeling we got visiting Macchu Picchu on a much smaller scale. In any case, the appeal of Delphi was a bit more subtle than say the Acropolis.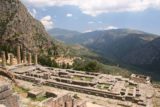 Continuing higher still, there was a theater (this must've been like the 3rd or 4th one we'd seen on this trip; I guess Ancient Greeks loved entertainment) and we could see the path continued climbing even higher. But Julie and I figured we had seen enough and were contented with our Macchu Picchu-like vistas looking back down towards the Temple of Apollo.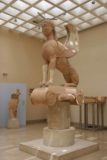 Next, we walked into the museum and welcomed the relatively cool air from its air-conditioned confines. And like the museums we had seen previously (we'd seen at least 4 or 5 at this point including the Acropolis Museum and the National Archaeological Museum), this visit consisted of a few stops for photographing statues and skimming through other exhibits and signage.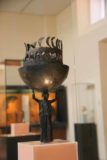 I had to admit that I was getting both ruin'ed out and museum'ed out at this point.
At 2:35pm, we returned to the car where we proceeded to drive a short distance east towards the Temple of Athena (admission was free since it's not part of the overall complex of the Ancient Delphi). Unfortunately after parking the car at a rather long and empty pullout, we realized after the fact that we still had to walk roughly another 1/4-mile or so before even getting to the proper entrance to the Temple of Athena. Plus, to rub insult into injury, there were even more pullouts closer to the entrance.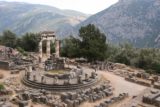 Nonetheless, we walked our tired bodies towards the switchbacks leading down to the ruins surrounding the three still-standing pillars that were once part of the Temple of Athena. I believe the still-standing pillars were restorations.
There was a rather large group of American youngsters about college-looking age apparently part of some class or program. They basically stood right in front of the three columns for a long time listening to the instructor give the history and features of the architecture. I guess the students were eventually supposed to sketch the Temple of Athena.
Julie and I basically took what shots we could but didn't really have a whole lot of time waiting for the students to completely disperse out.
By 3:15pm, we were back in the car and proceeded to drive into town. Five minutes later, we ate at this gyros and souvakis place right across the street from the Hotel Leto.
The food was pretty cheap and hit the spot. It was quite a late lunch, but we weren't going to skip lunch and hold out for dinner in another three or four hours drive in the Meteora area.
The proprietor there was very nice to us and allowed us to eat at the restaurant even though we intended it as a takeaway. So that let us take a little bit of a break before continuing on with the road trip.
At 4:05pm, we left the Delphi town and proceeded with the long drive. It wasn't until about 7:15pm that we finally made it to Kalampaka town. The drive was mostly uneventful though it did involve passing and being passed quite a few times. Though it still amazes me that most drivers exercised road etiquette by driving into the shoulders to facilitate allowing faster traffic to pass them. There was even a truck that used his blinkers to indicate when we should pass him. Again, Julie and I couldn't imagine something like that happening back at home.
We also tried our hand at perhaps getting gas at about 1.45 Euros per liter. We had typically been filling up at upwards of 1.56 to 1.61 Euros per liter. But I'd eventually learn that the cheaper stations were cash only. And given our tightness with our cash supply (since we still have Croatia and Switzerland to visit later), we had to decline on those places.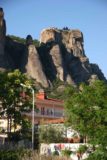 Once we were in town, we could see the impressive cliffs of Meteora. I even noticed a monastery sitting atop one of those cliff pillars from the Shell station that I filled up at (which did take credit cards though at a price of 1.55 euros per liter).
At 7:35pm, we finally arrived at the House of Arsos where we saw the late afternoon sun make the cliffs right in front of us glow. And after getting our stuff out while locking up our car (something I had trouble with as well as with the reverse because of the Fiat Panda's non-intuitive interface) and then putting our stuff in our room, we walked into town for dinner at the Taverna To Paramithi, which was recommended by both the proprietor at the House of Arsos as well as LP
.
There, we had ourselves a reasonably priced dinner consisting of 2 mains and an appetizer. But at least we didn't overstuff ourselves with food as we had just the right proportions. The co-owner was getting a kick out of our LP
book because it mentioned both him and his wife in a positive light.
During the dinner, we also engaged in a pleasant conversation with a Canadian couple from Ottawa. They happened to be staying where we were staying and so we talked about all sorts of things regarding travel and even travel with children (something that had always been on our minds).
Since we both had a full day to explore the monasteries of Meteora, getting a late night sleep and looking forward to sleeping in was what was on both of our minds as we contemplated tomorrow under the full moon.
Day 8: MONEY SHOTS
We awoke at 8:45am to a bright sunny morning. As soon as the sun went over the west-facing cliffs in our line of sight right out our window, the sun went directly at us. Almost immediately, we could feel that this was going to be a real hot day. And after a quick simple breakfast, we proceeded to get started with the day at 10am.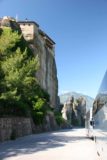 It didn't take long before we visited the first cliffhanging monastery of Santa Barbara Rossanou where we followed a tour group that was just about to leave the tight confines of the monastery. We were already entranced by the mindblowing scenery of the protruding rocks with monasteries perched on them, and so we feverishly took one photo after another.
Before we knew it, we had already taken over 50 shots from just the one visit. And for good reason.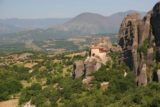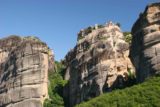 For from this monastery, we could see other monasteries perched atop cliffs in at least three directions. It almost felt surreal being ourselves perched precariously atop a monastery on a cliff and looking down at the verticality of it all.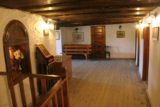 The monastery itself was quite small. There were quite a few doors where we wondered where they led to, but the official path merely curved its way over to a quiet but holy looking sanctum where photos weren't allowed and there was a sister sitting right in front of the door to ensure that was the case.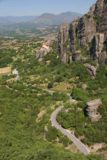 It really started making sense to us how monks managed to escape persecution back in the Middle Ages by having these monasteries on cliffs and having rope ladders provide access to these places on an as-needed basis. Of course, if the rope ladders failed, that would be the end. But it's been also said that "God meant it to be" if you happened to be on such a failed ladder. Good thing we didn't have to find out.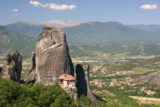 By 11:20am, we had explored various ways to take photos of Meteora from the western end of the rock formations. There were a few unsigned vantage spots without pullouts that required a little walking from the car. Some younger people did the cheaper way by taking a bus to the top and then walking their way down.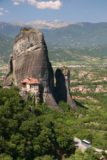 Indeed, Julie was busy making me trying to replicate some of the DK
or LP
shots.
We did ultimately find most of the money shot locations. The Monastery of the Santa Barbara Roussanou (I've also seen it spelled Rousanou) provided one of the better subjects when we sought out that money shot.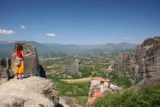 I had recalled one in particular where there wasn't a formal pullout near where there was a real cliff-hanging view of the Monastery Santa Barbara Roussanou. So for that one, we parked closer to an unfinished pullout and then walked for a few minutes along the narrow road to the sought-after money shot.
In another instance, we scrambled along some rock outcroppings until we were essentially right at the end of the outcrop looking towards monasteries perched on the cliffs with a hint of Kastraki in the backdrop far below and beyond the monasteries.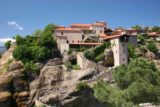 Ultimately at 11:40am, we made our way to the Great Meteoro (Megalo Meteoro), which was full of people, tour buses, and cars. We managed to find a parking spot that required a bit of a walk. And with the midday heat, it was a rather draining walk.
Well at least once we stepped foot into the Great Meteoro Monastery, we could immediately feel the relief from the heat. Definitely AC was not necessary here.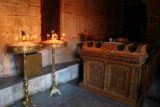 The Great Meteoro was quite extensive as there were several chambers, hallways, and exhibits. Most of the chambers had religious themes and artifacts, but photos and videos were strictly forbidden in specific chambers that housed some of the more sensitive artifacts or religiously sacred sanctums. But upon looking at some of the signage and works of art, I was somehow reminded of the Crusades or Medieval Times or something like that.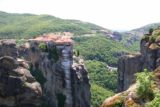 I'm not sure how old these monasteries were, but I got the sense that they were more modern than say the ancient wonders at the Acropolis or even the Ancient Thira in Santorini. I did read that some were 11th century and others were 15th century so that might give credence to the notion that they were medieval or even Crusades related.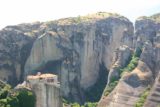 At 12:45pm, we were back at the car. We spent a little more time looking for money shots of monasteries against the rounded cliffs surrounding them. For the temptation to take more photos was so ever persistent.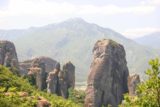 It was becoming quite apparent that the best monastery to photograph was that Rossanou Monastery. For even from here, it looked like it was perched precarious above a pinnacle with others surrounding it to provide context.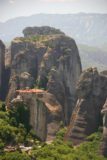 And the more I thought about it, I'm sure over 50% of the photos taken on this day were of that monastery.
Nonetheless, against the harsh light of the midday sun (not to mention the unrelenting heat), we didn't persist for long. Even though we had sunscreen on, the light felt intense, and I was still worried about getting a sunburn.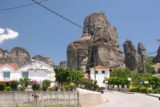 So by 1:15pm, we had a cool lunch at Taverna Paradisos. There, we had ourselves a couple of cold dishes of Greek Salad as well as stuffed vine leaves. The main was another go at moussaka. This place made their moussaka a bit cheezier, but we still thought it was fresh and tasty. Still, I believed the one we had on our first dining experience back at Olympia remained the gold standard of moussakas.
After the fulfilling lunch, we proceeded to head into town and start walking around at 2:10pm. We went looking for some more of that sweet cheese pastry we had back in Olympia but haven't seen since. We were also crossing over siesta time as all the fruit markets were closing their doors. So the next hour pretty much consisted of just walking around, but nothing really to show for it.
By 3:10pm, we were back at the House of Alsos. We figured if the locals were on siesta, we mind as well do the same too. Besides, it was still real hot plus the lighting wasn't exactly the best for taking photos.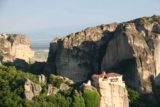 At 6:30pm, we headed back out. In 20 minutes, we made it back up to an overlook on the way to the Great Meteoro Monastery. This time the afternoon light was favorable towards looking down at the Monastery Santa Barbara Roussanou.
After spending some time taking shots of this monastery, we returned to the Great Meteoro itself. Unfortunately, the door leading to the tunnel and up the stairs were closed by this time. So I couldn't get the nice shot of the neighboring Varlaam Monastery that I wanted with the favorable afternoon light facing east.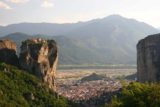 Next, Julie and I drove towards the eastern side of Meteora, which we didn't do earlier this morning. It turned out that there was an attractive nunnery (Agia Trias) perched atop another pinnacle. The afternoon lighting wasn't the most optimal, but we made the best of the situation. We reckoned that early morning should be better, and we wished that we had been here earlier in the day.
Oh well. We can't turn back the clock on that one.
We then continued driving back towards Kalampaka. At the same time, I looked out to the right side for a road leading to some brook or spring. We noticed it (called Koratsitsa Brook) on the Meteora map that we were given upon check-in, and we were itching to see a waterfall, if it existed here.
Unfortunately, we weren't successful. Then again, we weren't exactly trying real hard either since it was getting late, we wanted dinner, and we still had to clean up and pack for tomorrow.
At 7:25pm, we were back at the House of Alsos. Then, we walked into town to buy some fruits from a local grocery, buy some more sweets from a bakery at the roundabout in town, and have a meal on the opposite end of the roundabout.
After dinner, we walked back to our accommodation and had our own little private moment eating the sweets on the table right in front of our room while reflecting on our trip as well as some past moments where we have met strangers and traded travel stories. I guess we were in the mood to reflect on those moments because there was group of five American girls doing the same thing sitting on the larger table.
That also made me realize that this trip seemed to have an unusually high quantity of American visitors. I don't think I had seen so many Americans outside of the States except for the Caribbean where it was practically like we had never left the country.
Day 9: SUBDUED DAY
It was 7:45am when we awoke. There was this mosquito (or several of them) that seemed to buzz by my ear all night last night interrupting my sleep as I was busy slapping at them against my face. And when both Julie and I were conscious, we noticed a handful of bites on our faces as well as on our limbs. There were even a handful of them on my belly, which I'm not sure how they got access.
At 9:05am, we were ready to leave. Though we had to wait another 10 minutes before the proprietor returned to the property as he had left for town (probably for some produce) before returning.
So at 9:15am, we finally left Kalampaka. But we had to avoid the main road towards the roundabout that we usually took into town because there was some farmers market that blocked off a few blocks including the thoroughfare we were used to taking.
But once we got by that obstacle, we proceeded to drive towards the town of Larisa. Actually, when we arrived at a little before 11am, we discovered that Larisa was more of a big city and so the driving was a little more stressful and crazier than any bit of driving that I had to endure on this trip so far (remember, we took the bus from the airport to Athens and back so we didn't need a car for those days).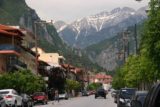 By about 11:40am, we finally made it to the town of Litochoro. The highway we were on was flanked by the Aegean Sea on the right. We even passed by some interesting-looking castle en route, but we didn't stop for it.
The town itself didn't quite meet my fantasy expectations of the town providing some kind of atmospheric view of Mt Olympus while descending into a valley. I had this mental image from what I read in LP
, but it turned out to be far less dramatic than that.
Instead, the town sloped uphill and the road to Mt Olympus deviated from the town center eventually going up steeply on several switchbacks. After about 15 minutes or so, we were stopped at a kiosk patrolled by the Forest Service. We thought we had to pay some kind of entrance fee, but the employee came out to us and merely asked where we were from so he could note it down. And once he did that, he told us that it was another 14km to the end of the road, and that was that.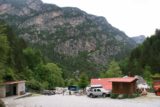 By 12:25pm, we finally made it to the end of the road. We were still nowhere near the summit of Mt Olympus nor could we even see the peak of Greece's tallest mountain from this car park. So we spent a few minutes exploring a little bit of the nature walk (one going downstream and one going up the mountain). But we didn't go very far before we realized that there wasn't much here to see or do unless we were ready for a long hike. And with our upcoming drive to Thessaloniki along with the threat of rain, we just decided to head back to the car and drive back to Litochoro.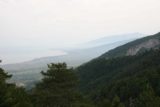 Hey, at least we tried to see what there was up here.
The drive back down was uneventful though we did sneak in a nice view of the Aegean Sea against the haze of clouds.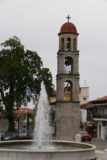 By 1:25pm, we finally found the charming town center of Litochoro with its large roundabout surrounding a fountain while bordered by a church and bell tower. A few paces north of the square, there was a quiet area with a pretty view of Mt Olympus and some homes fronting it. For a mountain as religiously significant as the birthplace of Zeus, I got the sense that this place didn't quite get the same fanfare as say Yosemite National Park would get.
We ended up eating at this place at the square called Gastrodnomio's, which served some dishes that were a bit different and more imaginative than some of the other sit down establishments we had been having up to this point. Of course, we were getting a little bit fatigued of Greek Food so we were definitely looking forward to something different.
Our food consisted of some kind of Mediterranean pasta while another was some kind of meatball in gravy.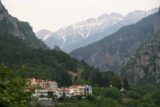 From our seat, we had a pretty nice view of Mt Olympus. After getting up to the end of the road, this turned out to be the best view of Mt Olympus that we were able to get.
We left Litochoro at 2:20pm. Now, it was time to finally finish off the drive continuing north to Thessaloniki.
After about an hour, the smooth driving on the motorway led us right into Greece's second largest city. I was a little anxious about driving in a metropolitan area in the country where the Greek way (i.e. the aggressive way) was the norm. But then again, I guess it could be a little comparable (albeit a tad crazier) to San Francisco but not quite as crazy as say Delhi (where there's no way I'd be caught dead driving there).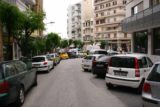 Good thing the GPS
was pretty clear about the directions while in the city because I did have to weave in and out of a couple of traffic jams. But finally at 3:40pm, we managed to secure parking right in front of the hotel. And that was because the hotel put out no parking fences that we were able to move. If not for that, I'm not sure how we would've been able to find parking.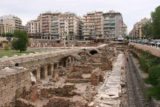 So we got unpacked and settled at the Hotel Olympia. Even in our tired states, we did want to do a little walking around the city just to see what it was like here. Besides, we were ready for a little dinner that we hoped would be Turkish (since this part of Greece was occupied by Turks for 450 years only to relinquish it as late as 1912). Or if it wasn't Turkish, at least something different than the Greek fare we'd been having up to this point.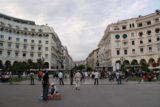 At 4:40pm, we were back out of the hotel walking around. After passing by the Roman Agora, we caught sight of the waterfront across the park and headed right to it. Along the way, Julie and I indulged in our sweet tooth a bit by visiting some bakeries or sweets shops. The varieties of baklava-like desserts (some filled with cream) and gelatos was all in an effort to find that cheese pastry we had in Olympia but couldn't find since.
Unfortunately, Julie and I had one of those WTF moments when Julie was waiting in line, and then was promptly ignored rather openly when it was her turn to place an order. It wasn't until the lady behind her graciously said to the worker that Julie was in front of her. It wasn't exactly a very pleasant to have experienced this apparent racism, but come to think of it, Julie and I noticed this even at a bakery in Meteora.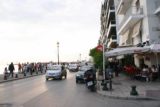 Anyways, after a couple of blocks of walking along this wide pedestrian promenade that was pretty happening with lots of people walking as well as plenty of others chit-chatting and people watching, we reached the waterfront itself where there were cafes lined up on the inland side with a busy street and waterfront walkway on the opposite side.
But these cafes were more of the hip people-watching variety with plenty of local Macedonian Greeks filling the seats that were facing the waterfront. It was totally conducive to people watching while socializing (which included the usual barrage of cigarette smoke). And in the background, several varieties of music were being played which encompassed some hip clubbing type tracks to something I was familiar with from Triple J Radio to even some American classics.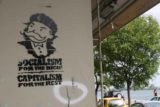 On some of the walls of the buildings along this stretch, I couldn't help but notice some of the graffiti and stencils of some political statements. I wasn't sure how new they were, but one in particular caught my attention. It was one of the monopoly man with the saying, "Socialism for the rich, capitalism for the rest of us." I thought it was a rather accurate statement, and I wondered if this was in response to the austerity measures that resulted in the lastest Greek riots that killed 3 bankers.
But I thought about how the American taxpayers bailed out Wall Street and how the basic problems still persist and remain unresolved, and I thought to myself how this statement pretty much sums up our situation, too!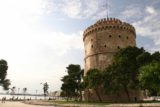 I'm sure it would've been cool to hang out at one of these cafes and joining in the atmosphere, but the heavy cigarette smoke didn't make it very appealing (the cigs really bothered Julie). So we continued walking before the noisy (and smokey) cafes while approaching the White Tower, which we could see further up ahead.
When we got to the White Tower, its location somehow reminded me of the way the Gate of India was positioned on the waterfront in Mumbai. At least up in Thessaloniki, there were no peddlers or touts who won't leave you alone.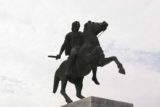 So we chilled for a bit in front of the White Tower before continuing along a concrete plaza where bikers, pedestrians, and even some interesting array of tents housing some kind of book fair or something lined this charming little area by the waterfront. Eventually, we found ourselves looking at a fairly large statue of Alexander the Great on horseback.
Then, we went to this fairly hidden restaurant called Myrsini. The menu at this place was completely in Greek. But the dishes were more Cretan, which we were a little curious as to how different Cretan food was compared to Greek.
In any case, we ended up with some kind of rabbit dish while another was some kind of snail (almost escargeau like). This place even served a shot of some kind of hard liquor prior to our meal, which was both on the house and something I don't think I'd ever experienced before in a dining experience (i.e. taking a shot of liquor prior to a meal). Julie was not one to down one of these shots so she gave up her shot and gave it to me. So I ended up with a double dose of whatever this stuff was.
The waiter helped us translate the menu while taking our order. He then engaged us in some conversation upon learning that we were from Los Angeles. That was because he spent time living in Carpinteria as well as studying in Caltech. Both of us wondered why he wasn't leveraging his Caltech degree for something lucrative (he said he was a Chemical Engineer), but then again, maybe he was back here helping out the family. In any case, we didn't pursue the issue further.
After the dinner, we indulged our sweet tooth with some pastries (some kind of baklava with cream in it at Trigona Elenidis as recommended by LP) as well as some gelatos. I think we might have overindulged with the sweets as we were walking back to our room.
Once we were through retracing our steps along the waterfront, we then headed inland through the wide promenade at 8:20am. Just then, there was a large contingent of bike riders occupying a lot of space on the square. It was an interesting scene to say the least. We weren't sure if this was a bike tour or something. But some of the people were riding bikes in very high heels, which I thought would've been unusual for a tourist group.
And when we were about to cross into the park just north of the promenade, suddenly a fair-sized group appeared to be demonstrating and heading towards us. Julie and I made sure we went further into the park to avoid any potential trouble as these folks were blocking traffic heading west.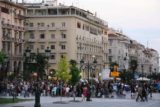 We could only speculate what they were marching about as the sign was pretty much in Greek (though the word "Banquet" was in the banner, which we weren't sure what that was all about). In any case, we left it at that as the marching group went south towards the promenade. At least we'd be out of the commotion should this blow up into something big.
We suspected it might have to do with the austerity measures imposed on the country as a result of the Eurozone countries (namely Germany) bailing them out. But in any case, it was all speculation.
At 8:30pm, we made it back to our room. Now, we could call it a day. I guess compared to the sights we had seen on the trip up to this point, perhaps by comparison it was a rather subdued day. The only other day I could think of where the sightseeing was as low key as today was the very first day in Greece when we arrived, when we drove out to Olympia from Athens.
Anyways, tomorrow is planned to be our first legitimate waterfall of the trip. Personally, I think it's about time…
Day 10: THE LONE WATERFALL
We awoke at 7am. It took us a little bit of time to freshen up and get ready for the day. But Julie and I thoroughly enjoyed the breakfast at the hotel here as this was certainly one of the better ones we've had on this trip.
Now I wouldn't say it was a good and healthy breakfast though. But it was sinfully good as they had crepes and some kind of baklava crusted cake along with the usual yogurt with honey as well as cereal, eggs, fruits, and mini hot dog sausages. I couldn't help but pour on the thick chocolate onto the crepes.
In a comical moment, I was busy serving myself seconds of the crepe and local dessert when some guy patted me on the shoulder and said something to me in Greek. He then got a second look at me and realized that he thought I was someone else.
I shook the guy's hand anyways and said no worries to him. But this was funny in many respects because apparently I must look local enough to be considered a local. Anyways, we all got a good chuckle out of it.
So at 8:30am, we were finally ready to leave and get started on the day.
The drive was fairly straightforward. The city hadn't quite woken up yet so getting out of the city wasn't bad. But once we got on the highway, it wasn't as fast as I thought even though it was roughly 80km between Thessaloniki and Edessa.
The day started off pretty cloudless and blue. I wasn't sure if this was good for the waterfall photos we would be taking today or not. I guess we'll find out when we get there.
There was one stretch where there was a caravan of three cargo trucks making it difficult to pass them. This persisted for at least 20km. But eventually, we made it to Edessa at 10:05am. It was a good thing that the falls were pretty well signposted. Otherwise, I'd get pretty lost in their maze of narrow streets.
We didn't have any trouble finding parking as it seemed pretty quiet at the park by the waterfalls. However, we weren't quite sure where the official car park was as all we did was find an open spot along a sidewalk opposite some shops and cafes where other cars were parked.
And once we got out of the car, we made our way over to the shady tree-lined park area where there was a tourist info center as well as a cafe with a trio of concrete-lined streams rushing through the complex.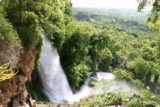 It didn't take long before we found the waterfalls. The main one we saw was the so-called Great Waterfall. This is the one we saw in photos on the web as well as in our DK book.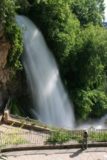 It wasn't easy to photograph from the well-developed walkway and platforms where you can stay dry. So we took what photos that we could from here while it was still quiet.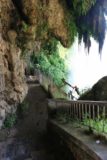 We then walked on a short path that went behind the waterfall. We thought that already made this waterfall stand out, especially considering it was the lone waterfall of our trip in Greece. It certainly provided us a bit of shade as the sun was already starting to make things pretty hot.
It didn't take long to get as much of a waterfalling experience as we could without getting wet. But then the moment of truth came as we looked at the poison ivy-lined wet walkway that weaved alongside the Great Waterfall before reaching bridges at the bottom crossing both this waterfall and appearing to provide views of the other two waterfalls (which we were made aware of after seeing a video shot by helicopter at the Budget Rent-a-Car kiosk at the Athens Airport).
So what we did was that Julie was going to stay behind, while I put everything (camera, wallet, keys, Julie's camera, etc.) in the brown bag which I would make a run through the barrage of water while trying to protect the bag from a drenching in much the way a running back would protect the ball running through traffic. And before I did this, I also took off my shirt and put it in the bag.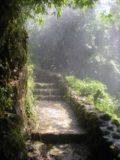 So then I made my move. Unfortunately, I made one slip and fell (cutting my toe in the process), but still got back up and persisted as I made my way down through the chaos and to the man-made bridges looking like they're part of a larger hydro scheme.
Anyways, down to the bottom I was. And even still, it was still difficult to take a photo without waterspots on them thanks to the sheer quantity of mist swirling and raining down on the walkway.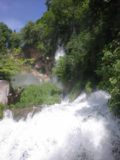 So I made more use of Julie's smaller camera which had a smaller target for the lens for water to get on it and ruining the photo. I was more conservative with my own camera.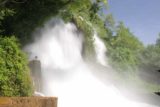 And after taking what shots I could of both the Great Waterfall as well as the Twin Waterfall, I once again protected the bag like a running back and hastily made my way up through the rain before getting back to the dry platform area.
That was when I put my shirt back. And when I walked up the stairs to rejoin Julie, I could see some local Greeks as well as a group of younger Greeks looked at me as if I was nuts. They could see that my pants were drenched and my hair was shiny and spiky thanks to the shower.
Even one of the vendors here was asking me in English why I was wet. So I told him I want down and saw the other 2 waterfalls, and I guess that answer satisfied his curiosity.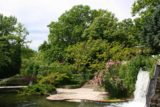 Next, Julie and I went back up to the top of the waterfall where we were chilling out amongst a pleasant little garden where part of the waterfall's stream was diverted to go through some meandering streams and smaller waterfalls amongst some sections where flowers were in bloom.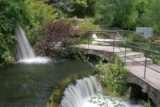 I tried to follow the walkway towards the other side of the stream where there was a sign indicating the Twin Falls. Unfortunately, all the pathways gaining access to views from that side of the incline were closed. So I guess it was good that I was able to get the views that I was able to get from the misty bottom. And in that sense, it was certainly worth the trouble, as far as I was concerned.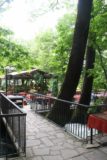 Finally at around 12pm, Julie and I had a short meal of a couple of mezedhes (appetizers) at that cafe at the top of the waterfall. Julie wasn't impressed with the food, but at least it held us over. We also used this time to look through some of the brochures and pamphlets that the tourist info center gave us, which showed some attractive hot springs as well as some historical facts about Edessa as well as highlighting some archaeological sites in the town proper.
Indeed, the sense I got from reading the literature made me realize that in Greece, you're never far from history. Even for a waterfalling excursion (like the lone one we're doing today), there's some archaeological site or some bit of historical information at the town itself. Perhaps this shouldn't be surprising since it seemed lots of Greece is ostensibly linked with history. After all, we witnessed and appreciated this from most of our excursions during the 10 days we have been here already.
But in the end, we decided to just head back to Thessaloniki and perhaps wrap up the sightseeing we only partially accomplished yesterday.
So at 12:35pm, we were back in the car and headed right back to Thessaloniki. At 2:15pm, we made it back to the Hotel Olympia in Thessaloniki. Fortunately, there were a couple of hotel parking spots, so that was one less stress that was out of the way. Yay!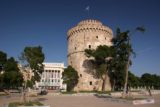 After a little bit of a rest, we finally headed back out of the hotel at 4:50pm. Just before we headed out, we asked the receptionist a few questions regarding internet access and if there were any Turkish restaurants in town (after all, the Ottoman Turks ruled this part of Greece for over 450 years). Well, we learned from the receptionist that she had never heard of one in town. So I guess we weren't going to have any hummus or anything relating to the Turkish past in terms of culinary tastes.
During our walk, we could feel it was a lot hotter this afternoon than it was yesterday afternoon. We first made a quick stop over at the Church of Agia Sofia, which wasn't open but the doors were open because it looked like they were preparing for some kind of wedding.
We didn't stay at the church for long. Next, we headed right back to the waterfront, then made a quick detour inland looking for this dessert shop called Trigona Elendis which specialized in this triangular baklava-like cone with tasty cream filling. At first we got just one small piece just to try out. But then after eating one, we bought another one.
The people in the shop were smirking as I came back in to order another one. Even one guy told me that he knew I was coming back in to order another one. He then went on to say he usually buys a big box, but both Julie and I knew we had to refrain. In any case, the sticky dessert was damn good.
At 6pm, we made it past the White Tower again (this time with a bit of a pleasantly soft glow from the afternoon sun) and then arrived at the Macedonia Archaeological Museum. The museum didn't look like much from the outside, but at 6 euros per person admission, there had better be an extensive collection inside.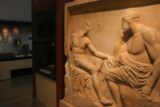 Well, it turned out that we were asked to walk a particular route that pretty much snaked its way through the museum. It started with a gemology lesson about amber before moving on to early humans (including their remains like skulls and skeletons) as well as their tools and other aspects like primitive writing. Next, there were some displays about glassworks before moving on to gold. Then, it continued on to city building before going through a bunch of statues, columns, and even mosaics.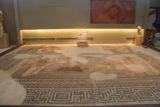 Towards the end of the indoor part of the exhibit, Julie and I noticed some interesting mosaics on the ground as well as some frescoes on the wall. They seemed like one of those things where they didn't look like much from up close, but when you look at them from far away, they were quite impressive.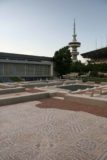 Finally, we walked outside around the building where there were old tombs as well as additional mosaics. By this time, it looked like the thunderclouds that were nowhere to be found all of the sudden popped up and hovered over the city. I thought they might make for a dazzling sunset, but that was only if the clouds didn't continue growing and obscuring the sunset to come.
While walking through the exhibit, I learned that Philadelpheia (actually, Nea Philadelpheia) is Greek. That was something Julie and I didn't know, and I guess it was fitting that our international flight from LAX to Athens connected in Philadelphia.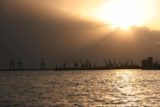 A little after 7pm, we left the museum and headed back towards the White Tower. It looked like sunset promised to be pretty good. And I couldn't wait for the sun to set and perhaps paint the thunderclouds popping up over us a shade of pink and purple.
So we ate at a Pizza Hut nearby the White Tower. That would at least buy us some time, and it would satisfy Julie's curiosity about the quality of the Pizza Hut pizzas in Greece.
Well, the small personal-sized pizza was pretty good by Julie's standards. And we managed to finish our meal at around 8pm. So after paying for the meal, we walked across the street and were suddenly immersed in a happening waterfront as it was full of pedestrian traffic while the White Tower softly glowing.
But just then, the thunderclouds that were once overhead expanded well into the line of sight of the setting sun. And eventually it became apparent that the sunset I was looking for wasn't about to come. Bummer!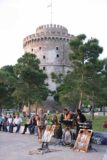 In any case, the scene at the waterfront was certainly fun to be a part of. It somehow reminded us of Santa Monica except the waterfront here is all concrete whereas the one back at home is mostly beached. But there were street vendors and street performers as well as tents, and all the while there were heaps of pedestrians strolling amidst all the action.
We even checked out this performance by some folks dressed in Incan attire playing traditional Peruvian music. We weren't sure if they were authentically Peruvian or not, but it was an interesting sight nonetheless.
At 8:45pm, we went to the Noodle Bar, which Julie insisted upon since she was tired of Greek food and wanted something different. But we both knew it wasn't going to be good Asian food, yet I knew she was forcing this.
And sure enough, her ramen was more like instant noodles and my mango chicken was nothing like the Malaysian dish we expected as it was more like typical stir fry smeared over by some kind of gravy-like sauce. And at over $20USD equivalent, it was a total rip off for the pair of dishes we got.
During our subpar meal, at 9pm we heard someone on the loud speaker leading a small group of folks walking right in front of the restaurant. It turned out to be a fairly small gathering of people, which was fine for us as we wouldn't want to be caught in another protest.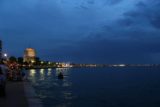 Shortly thereafter, we left the restaurant and headed back to our hotel. Our route followed the waterfront where we were entranced by the lightning strikes off shore. It seemed like the pop-up thunderstorms were building up over the city this evening. But all my attempts at trying to capture the lightning in my long exposure photographs failed.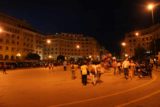 Finally at around 9:30pm, we were back at the hotel room. And so ended this very long day. It was our last night in Greece, and we were quite ready for a change of scenery, which we expect to have in Croatia tomorrow.
Day 11: AIMLESS WANDERINGS
The day began with us waking up at 8am. After getting all packed and ready to go, we went downstairs for another sugary and sinfully indulgent breakfast (of the same tasty crepes smothered in thick chocolate plus a type of cake with baklava-like crust were our favorites). And after checking out, it was 10:30am when we finally got into our rental car and headed out.
As symptomatic of a poorly planned trip aside from the waterfalls, we realized that Halkidiki Beach was too far away to be done reasonably before we would have to return the car and wait at the airport for our one-stop flight to Zagreb, Croatia.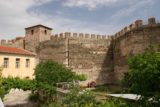 So instead, we went around to the northern side of Thessaloniki, which we hadn't really seen up to this point, and went looking for a Kastra (Castle) as well as some Byzantine Walls.
But we weren't really sure where we were going so we were slowly trying to navigate through the maze of narrow city streets before we finally stumbled upon a fortress and former prison called Eptapyrgio.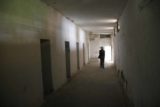 The complex looked imposing and interesting from the outside. But inside, it looked kind of confined and a bit scary as we could totally see how it was a prison in its past life.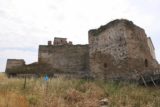 In any case, it was an interesting little sight to explore a bit, but it didn't blow our socks off. Still, this was a UNESCO World Heritage site so I guess that meant it must've had some sort of value in terms of human heritage.
At 11:15am, we then wandered around by car some more while trying to follow along the Byzantine Walls, which looked like an interesting backdrop to the narrow streets of this part of town. Somehow it reminded me of a poor-man's version of the way the city walls of Xi'an in China surrounded the city center.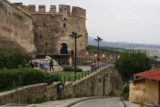 And after parking our car on the sidewalk like the locals did, we then aimlessly wandered along the Byzantine Walls until some locals told us that we were going the wrong way to the Ana Poli (Old Town?).
So once we went the correct way, we eventually followed the Byzantine Wall over to the signposted Trigonas Tower. There were tour buses there so I guess it must've been the right place.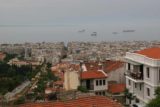 In any case, this attraction was nothing more than a tower attached to the Byzantine Wall with views of Thessaloniki towards the harbor. We could even see the White Tower in the distance as well as where the airport was as well as a long peninsula blending in amongst the grey clouds in the distance, which we suspected was Halkidiki (or at least one of its peninsulas).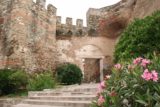 After this brief visit, we then found some gyro fast food stop that got our attention because their signs indicated that they sold some Turkish kebabs (No way!).
So we got ourselves some bereket doner, which was more like gyros with beef and topped with fries inside the pita. It appeared to be the closest thing to Turkish food that we could find in town (despite the Ottoman Empire's occupation for 450 years leading up to the 20th century).
However, I don't think it was anything near the Turkish fare we were looking for, and I guess it just goes to show us that we must be real spoiled at home for we can have such a wide variety of authentic cuisines from around the world. But you come to a place like Greece or any other more homogenized country like China and you end up with real crappy non-native food that tries to pretend to be some other ethnicity.
Such was the case with the Noodle Bar yesterday, and now this wannabe Turkish place.
In any case, it was 12:35pm when we returned to the car. And from there, we drove back through the city (good thing it was a Sunday where it wasn't as chaotic as the traffic we saw two days ago) and finally arriving at the Macedonia Airport at 1:10pm.
So the rest of the afternoon was spent waiting for our flight as we leave the history and beauty that is Greece and head into the next leg of our trip – Croatia.
Visitor Comments:
Got something you'd like to share or say to keep the conversation going? Feel free to leave a comment below...
No users have replied to the content on this page