For Julie and I, this was our first European trip together. And like most people who visit Europe for the first time, we visited multiple countries. In this case, we visited Greece, Croatia, and Switzerland.
This itinerary was the first part of the three-part 30-day journey. We broke up the itineraries and modularized them in this way because each country could have been its own itinerary. That way, you can decide how to mix and match the individual countries yourself.
Regardless, we're describing this section of the itinerary in the manner that we followed on our own trip, which means we're flying in to Athens and leaving Thessaloniki for Zagreb, Croatia. Of course, in your own itinerary, you could easily substitute Zagreb with whatever other destination of your choosing when you do your own trip planning.
Here are some highlights and the logistics of how we made this Greek leg of the trip happen…
Trip Highlights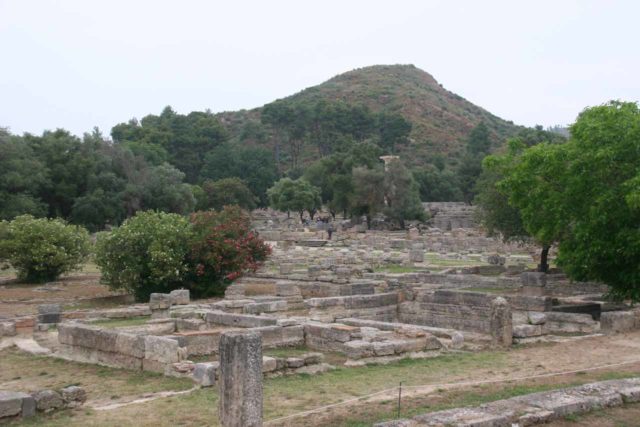 Ancient Olympia – It's one thing to watch the Olympics on TV, but it's a whole other thing to go to where it all started. And indeed, the ruins of old arenas, columns, quarters, etc. all kind of put our minds back in time to imagine what it must have been like to compete and spectate under those times. Where else in the world lets you do that?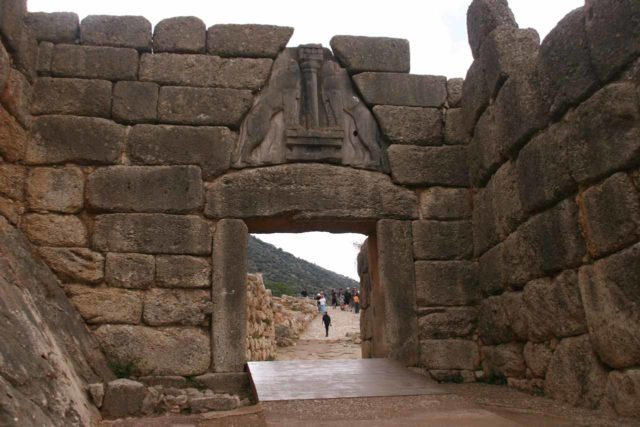 Mycenae – This was the cultural center of the Mycenean Civilization back in 1600-1100 BC so its historical significance was quite apparent, and it felt like we were walking on hallowed grounds when we made our visit. Amidst the ruins here where it's hard to tell what most of these things used to be, we were surrounded by hills and mountains as it sat in a pretty rural part of the Peloponnese. We've had problems figuring out how to pronounce this place, but the Greeks pronounced it like "Mik-EE-nas".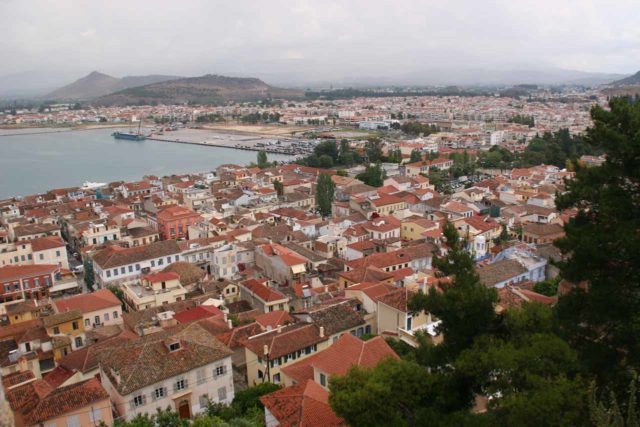 Nafplio – This was another cute town in Peloponnesia, but it had a somewhat Venetian or Italian feel to it (I can't quite put my finger on it). Regardless, with an impressive castle perched atop a coastal bluff, this port town was fun to walk around. I hope we can return here on a subsequent Greece trip to take our time a little more and spend more time here than we did.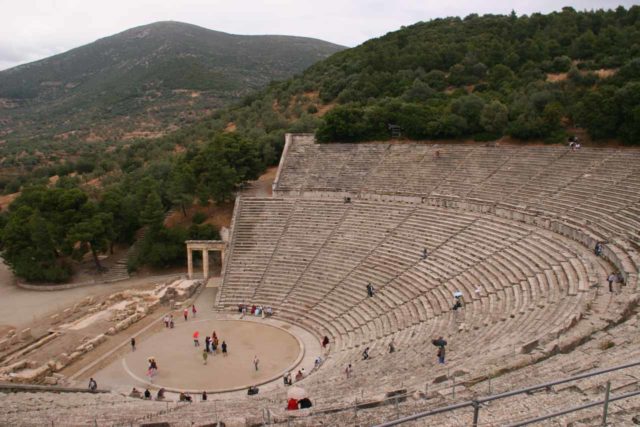 Epidavros – This old amphitheater seemed to be well-preserved and capable of still holding performances. They let you walk amongst the stands and even down to the performance circle at its center. It was also a nice place to relax and let our minds go wild imagining what kind of performances that might have taken place here.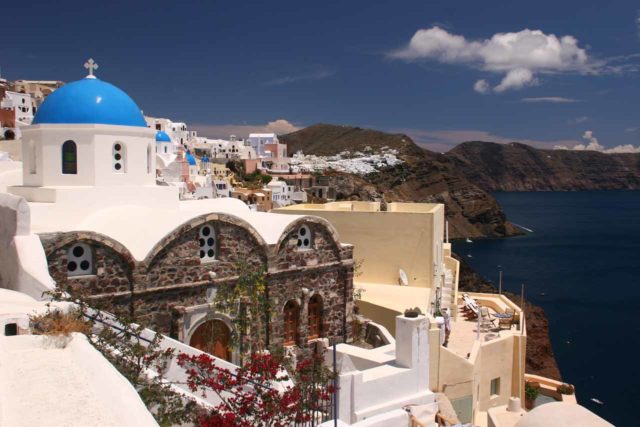 Oia – This blindingly white-painted town at the far northern tip of Santorini Island was as beautiful as they come. When they show pictures of the Greek Islands, I think this town is the poster child of the beauty of those Greek Islands of the Aegean Sea. Indeed, we loved this place so much that we came back here twice during our stay.
I'm sure over the years, this place has or will continue to grow in popularity, but it's definitely with good reason. We hope to be able to come back here and let our daughter experience it, too!
[expand title="MORE" swaptitle="LESS" trigpos="below"]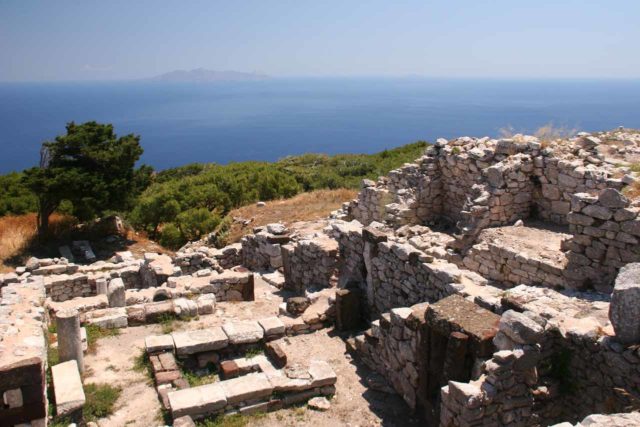 Ancient Thira – This was the ruins of an old city perched atop a sun-beaten bluff in Santorini Island. The atmospheric drive up to the top then subsequent hike to go even higher practically guaranteed awesome views of ruins juxtaposed with the Aegean Sea.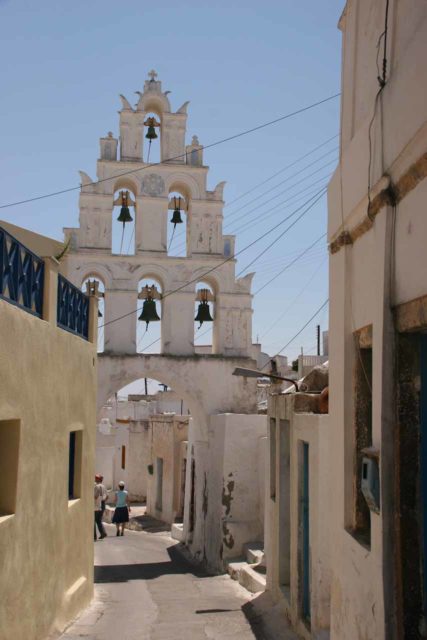 Megalohori – For a bit of a quieter experience (as Oia deservedly gets the crowds), we found this traditional village to be surprisingly charming and rustic in its own way. And the peace of getting to explore the nooks and crannies on our own made it the welcome contrast to the tourist herds in both Oia and Fira.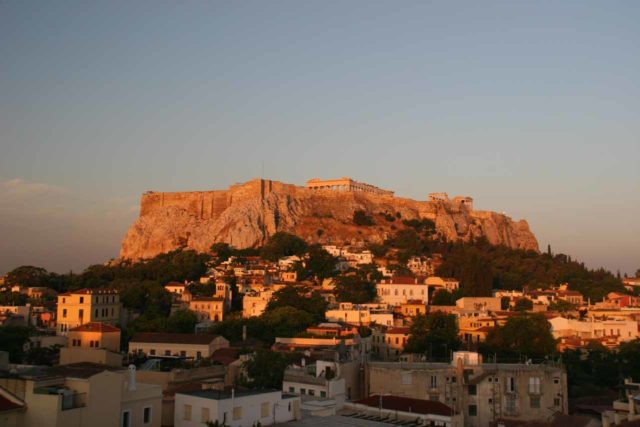 Athens and the Acropolis – No doubt that the main highlight of our visit to the city of Athens was the visit to the Acropolis, which were ancient ruins perched on top of the hill overlooking the city. It can be seen from just about anywhere in the city (which itself seems made for tourists with its walking streets lined with cafes, restaurants, and shops), and the stroll amongst the ruins up here definitely was atmospheric (if not crowded). Of course, the city also features other ruins sprinkled throughout as well as museums for the more valuable artifacts.
In a way, we could see similarities to all the government buildings whose designers and builders fancied their designs to represent the "democracy" that was invented by the Greeks. So indeed, we saw the OG versions of the columns seen in pictures of our government edifices, and now we appreciated where they got all that from!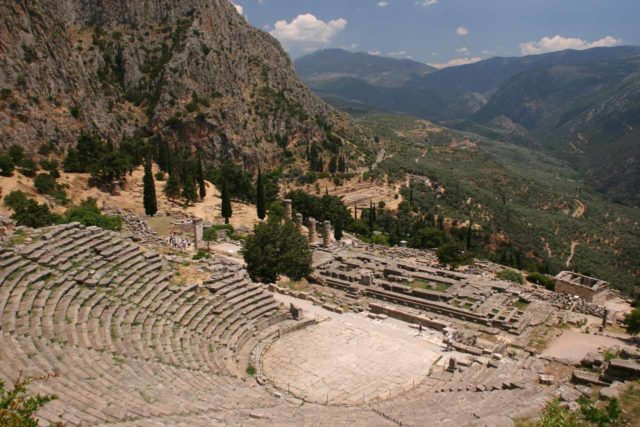 Delphi – For even more atmospheric ruins, we made a stop at Delphi as we continued driving towards Northern Greece. Up here, we not only got up close to ancient ruins in mountainous and rural settings, but we it was also way less crowded and hence a more relaxing stroll through history. Whilst here, we checked out a museum as well as noticed what's left of the Apollo, which was a circular temple that kind of reminded me of how the Jefferson Memorial might have been inspired.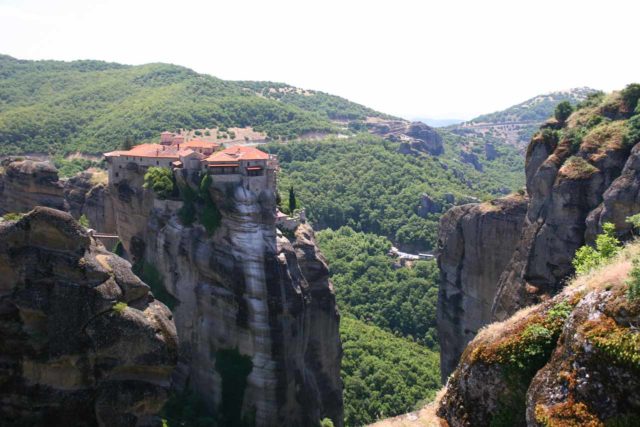 Meteora – It doesn't get much more atmospheric than a visit to these hanging monasteries in the geographic heart of Greece. There were many of these monasteries (each deserving of a self-tour), which made us marvel at how these could be built and still stand for centuries despite being so close to vertical drop offs on all sides! Even some of the monasteries had very atmospheric dark altars (with burning candles) to really make you feel like you were in some place spiritual and otherworldly.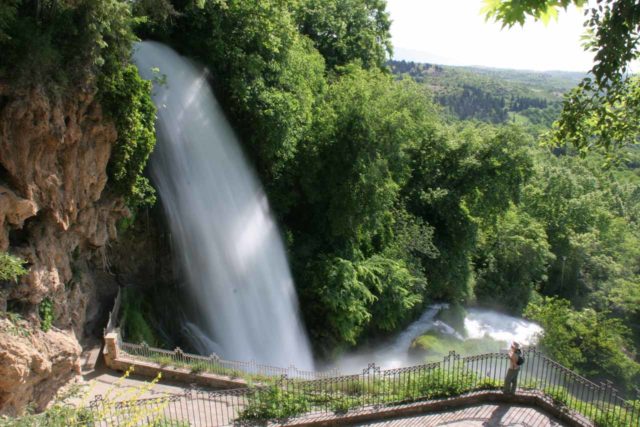 Edessa Waterfalls – This was the lone waterfall that we visited in Greece, and it was actually a series of waterfalls with gardens, cafes, and even ancient ruins all within the area or even build in between the waterflow themselves! In a country where we witnessed many stones and endured quite a bit of heat from the start of the Summer season, the spray from these waterfalls provided that perfect contrast while still having that "only-in-Greece" feel to it all.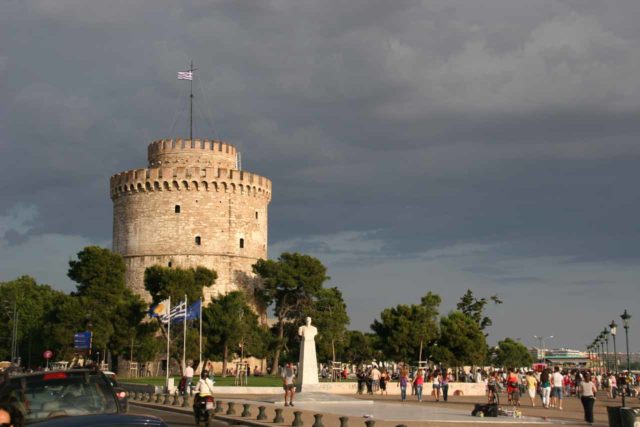 Thessaloniki – This northern Greek city had quite an interesting Greek-Ottoman history, which we kind of noticed in the buildings around here. We even visited the city walls, which also doubled as an eerie former prison. But the city itself was vibrant with ancient ruins of its own as well as a happening waterfront scene. And it was a great way to end off the Greek leg of our trip.
[/expand]
Trip Advice

With this being our first European trip together, we had a lot to learn about what we were capable of doing, especially when we're on our own. Here's some of the other lessons learned from this trip both pertaining to the trip overall as well as some of the specifics regarding this country…
Unseasonably Bad Weather: With the exception of the rain we got in Ancient Olympia and the overcast skies threatening rain in Santorini, Greece actually was ok weather-wise though not nearly as sunny as we had antipicated (since Greece was expected to have a similar climate to what we were used to in the month of May). However, the reality for the rest of the trip in Croatia and Switzerland was that we were getting bad weather. So this kind of impacted the things we wanted to do.
It just goes to show you that you can plan to do stuff beforehand, but when you're actually there, that's when you have to adjust your expectations based on the reality of what's going on.
Off-the-beaten-path: Most of the places we went to on this trip was definitely off-the-beaten-path, and thus it was delightfully uncrowded. For those places, the drives were pleasant (and mostly empty) and the same could be said of the sights. Plus, being off-the-beaten-path made our experiences seem more authentic and more like our own experiences instead of that feeling that we were living someone else's experiences by doing more cookie-cutter attractions and itineraries.
Cigarette Smoke: Smoking is everywhere you go in Europe. I believe it has something to do with the belief that it somehow makes you thinner (whether that's true or not is another story). And since personal appearance matters a lot in Europe, smoking kind of goes hand-in-hand with that image and personal appearance.
Unfortunately, with a pregnant wife, we were very wary about second-hand smoke having a negative effect on an unborn child. We were also worried about high altitudes (especially in Switzerland) where oxygen is more scarce. So by controlling what was in our control by limiting our exposure to pollution and high-altitude the best we could (note I didn't say we didn't cut out these things because that would defeat the purpose of coming here to Europe in the first place), we hoped that our child would not have been adversely impacted by this trip.
Self Driving in Greece: As scary as it might have seemed at the outset, I learned that driving in Greece was actually quite pleasant. The most important thing to note is that in Europe you don't dwell in the fast lane and clog it (unless you enjoy being aggressively tailgated). I know in America (especially California), we have people who don't keep right except to pass, which causes all sorts of congestion and road rage. But in Europe, whether you want to or not, people generally follow this convention and things seem to work as a result.
What's even more amazing was that I noticed on narrower roads, often times, slower drivers in front would drive half on the road shoulders (if they exist) to make it easier for the person behind them to pass. I've seen this on many occasions, and it made me wonder if this was a Greek thing or not. Regardless, I found this driving courtesy to be quite refreshing, and it was yet another reason why I actually enjoyed most of my time driving here.
Travel Itinerary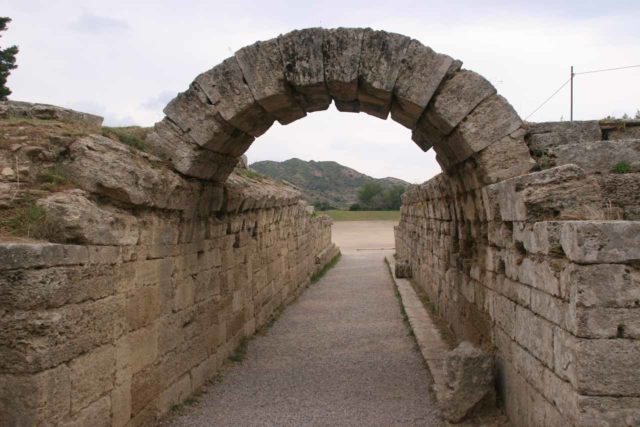 Days 1-2: Fly from Los Angeles to Athens, then drive to Olympia
Overnight: Hotel Europa (Olympia, Greece)
We did a flight (with a connection in Philly) before eventually making it to Athens. Once we got through all the customs (and there were definitely strikes from protesting austerity measures), we then picked up the rental car and left the commotion for the quieter Peloponnese. The long drive eventually ended up in the city of Olympia, where we then spent the rest of the daylight hours touring the ruins of Ancient Olympia.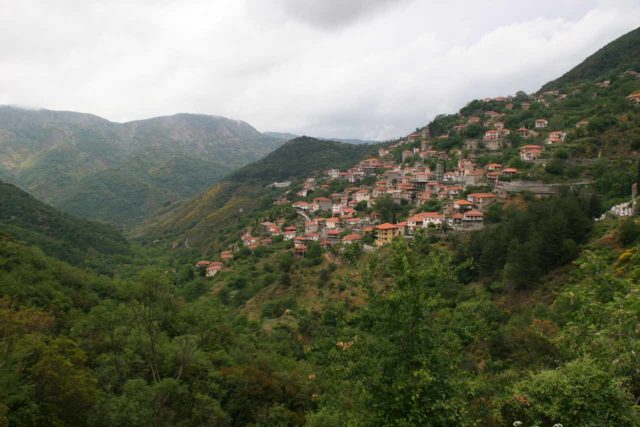 Day 3: Drive from Olympia to Athens then catch flight to Santorini
Overnight: Nonis Apartments (Fira, Santorini Island, Greece)
This was another long day of driving, where we completed a long two-day loop by driving east through the Peloponnese stopping for Mycenae, Nafplio, and Epidavros. Once we made it to the airport in Athens, we then returned the car rental and flew to Santorini Island.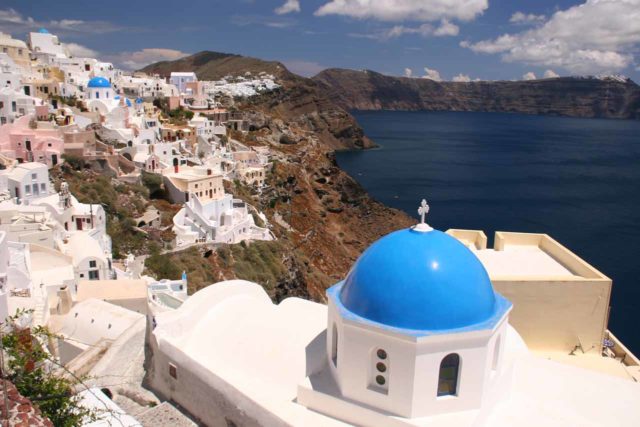 Day 4: Explore Santorini Island
Overnight: Nonis Apartments (Fira, Santorini Island, Greece)
On this day, we hired a tiny rental car for a couple of days and did our own self-touring of Santorini Island. Among the things we visited were Kamari Beach, Akrotiri, and Oia.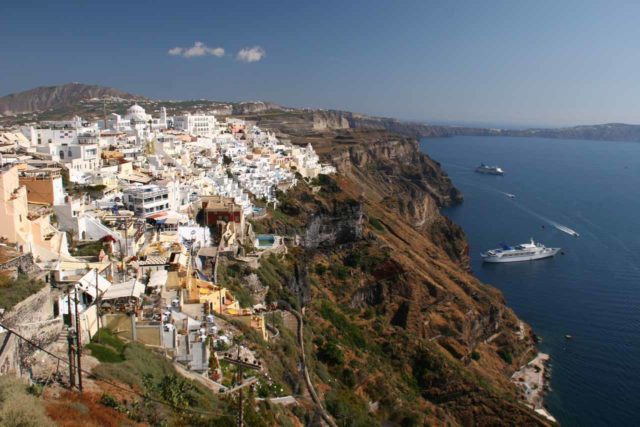 Day 5: Explore more of Santorini Island before flying back to Athens
Overnight: Central Hotel (Athens, Greece)
We started the day driving up and hiking to Ancient Thira, then we explored the rustic charm of Megalohori. Afterwards, we returned to Fira to explore the town before we returned to Oia for one last dinner on Santorini Island. Then, we headed back to the airport to return the rental car and arrive late night in Athens.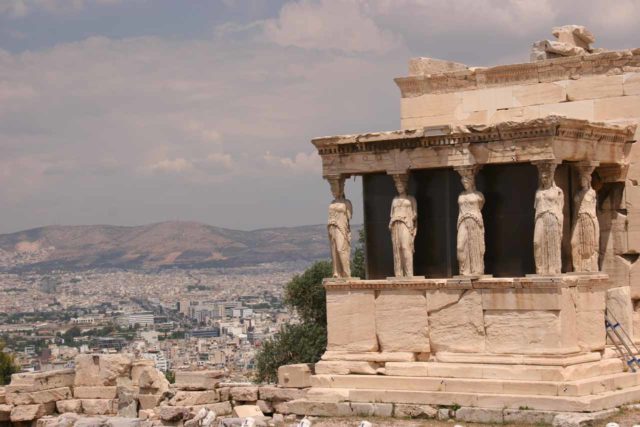 Day 6: Day at leisure in Athens
Overnight: Central Hotel (Athens, Greece)
On this day, we pretty much toured the main sights of Athens such as the busy Acropolis, the National Archaeological Museum, and Ancient Agora.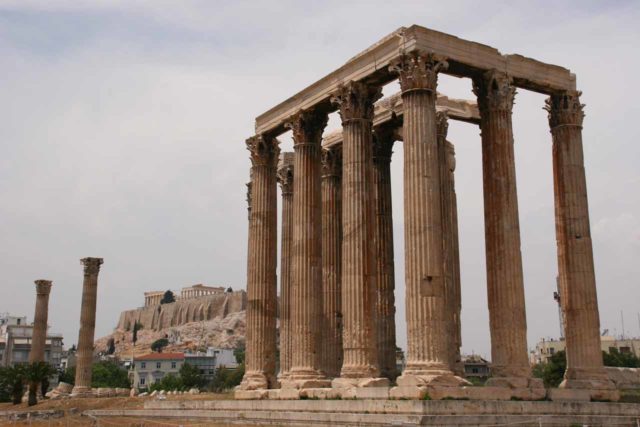 [expand title="MORE" swaptitle="LESS" trigpos="below"]
Day 7: Day at leisure in Athens
Overnight: Central Hotel (Athens, Greece)
On our second full day in Athens, we visited the Acropolis Museum, the Temple of Olympian Zeus, and stolled the walking streets in the city of Athens itself.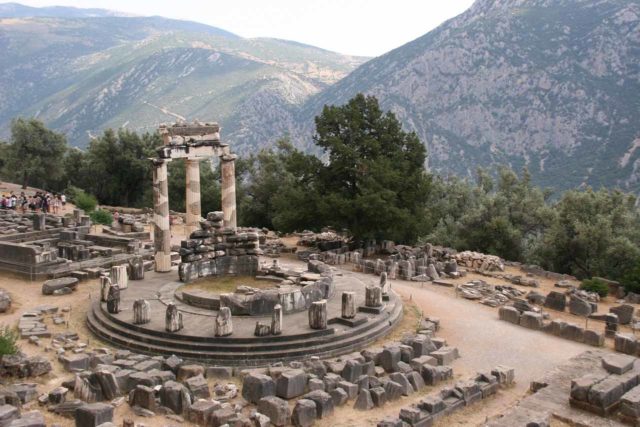 Day 8: Drive from Athens to Meteora
Overnight: Alsos House (Kalampaka [Kalabaka], Greece)
On this day, we picked up another rental car hire, then left Athens to head north. Along the way to Meteora, we stopped for Ancient Delphi.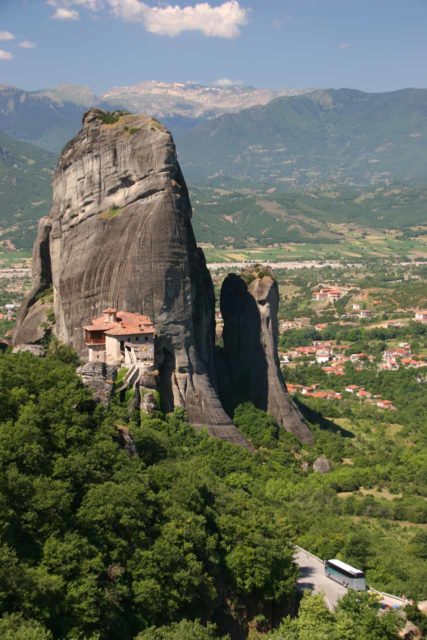 Day 9: Exploring Meteora
Overnight: Alsos House (Kalampaka [Kalabaka], Greece)
This was a day pretty much self-driving and visiting selected hanging monasteries in Meteora.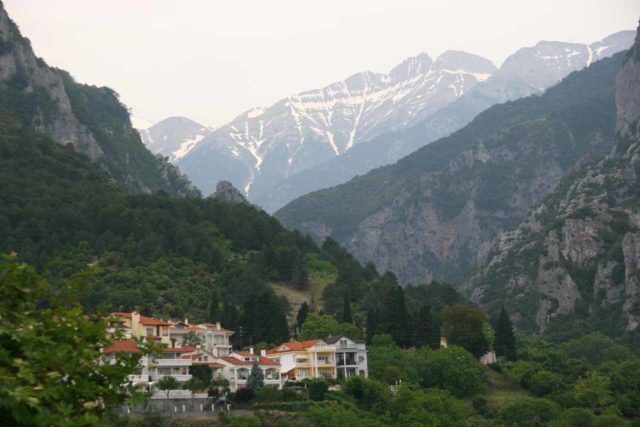 Day 10: Drive from Meteora to Thessaloniki
Overnight: Hotel Olympia (Thessaloniki, Greece)
We were back on the road driving to Thessaloniki. Along the way, we stopped by Litochoro and attempted to go up Mt Olympus to see if there were any waterfalls or hikes worth doing. But without adequate research or literature to really know what we wanted to do, we just headed back down and had lunch before continuing north. Once in Thessaloniki, we visited the White Tower and walked around the city.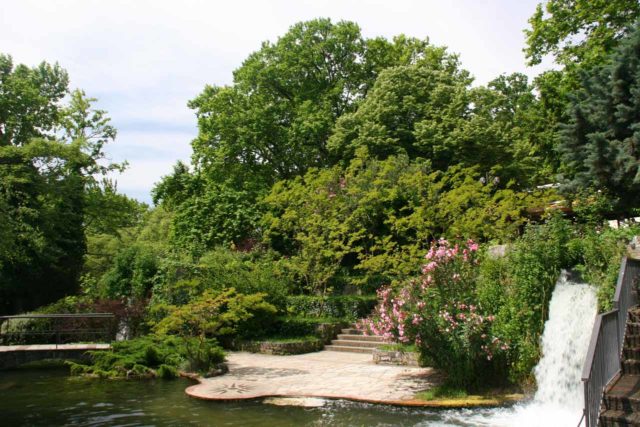 Day 11: Edessa and Thessaloniki
Overnight: Hotel Olympia (Thessaloniki, Greece)
We started the day driving out to the town of Edessa to visit the Edessa Waterfalls. then, we returned to Thessaloniki to check out the White Tower and Macedonia Archaeological Museum.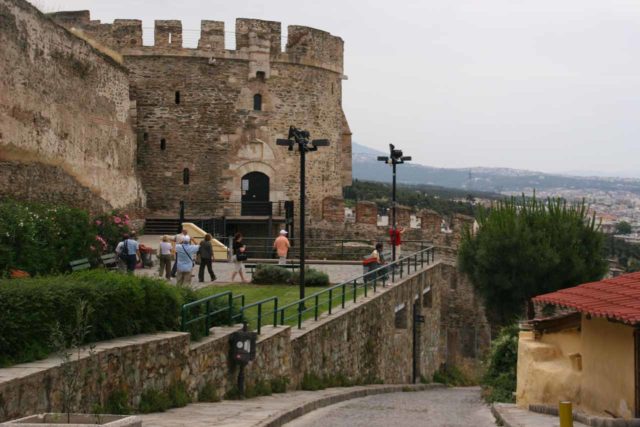 Day 12: Thessaloniki, then fly to Zagreb
Because we had an afternoon flight, we spent the morning visiting Eptapyrgio and the Byzantine Walls. Then, we drove to the airport to return the rental car. At that point, we flew to Zagreb, Croatia.
[/expand]
Best Places We've Stayed At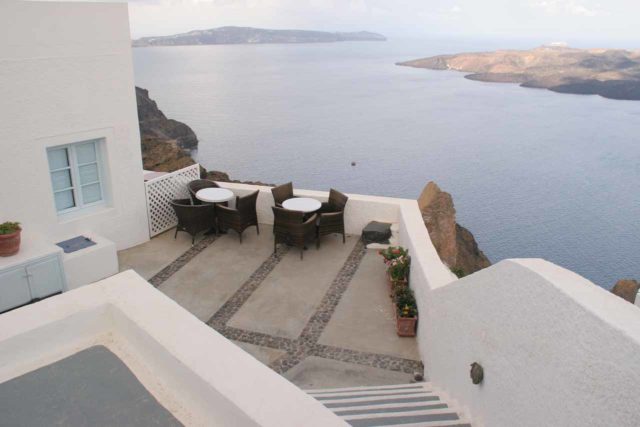 Nonis Apartments, Fira  – This accommodation was definitely up there in the charm department, because we were kind of living in a furnished cave with an atmospheric set of steps leading down to the unit (or cave) entrance all with a gorgeous view into the submerged caldera that is Santorini Island.
The picture you see here is taken from the steps just above and in front of our unit entrance, which gives you a great idea of the view we enjoyed every morning!
Location wise, I recalled that we had to find street parking, which wasn't that bad considering we had a real tiny car so we were able to squeeze into parallel parking spots. And if we were so inclined to explore Fira, we could easy walk all over the place. We just had to be careful about the mule dung that was placed all over the streets since that was another primary means of transportation of people and goods.
Related Trip Reports
Waterfalls included in this itinerary
Visitor Comments:
Got something you'd like to share or say to keep the conversation going? Feel free to leave a comment below...
No users have replied to the content on this page