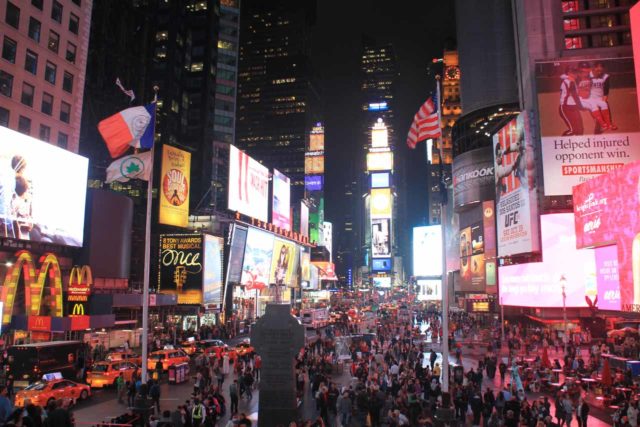 10-October 2013 to 11-October 2013 and 15-October 2013 to 18-October 2013:
But after the initial climb up, I then reached a spot where there was a rope tied across a pair of trees. I was certain this wasn't official as there'd be no way the Forest Service would endorse this. But I sure was glad it was there when I realized that trying to cross the exposed eroded section was way too slippery when I attemped to cross above the rope.
All it took was the first step and the slip of that step (without me losing my balance fortunately) to make me realize that the initial approach was too risky…
Day 16: PAYING NOW FOR A PAYOFF LATER
It was 5:30am when we awoke. Julie had been up before me at this hour, which was unusual. And I guess our body clocks were definitely getting used to the early wake-ups since the back-to-back days of getting up this early didn't seem to be an issue.
It kind of paid off for us because we were in the car by 6:55am with it all loaded up and ready to go. However, there was a little bit of a complication in that the car park for the Capital Hill Room & Suites in Ottawa had very limited parking and so we were stacked in.
It took some time to get out of the car park so to make things efficient, Julie ran over to the Tim Horton's at a street corner nearby the accommodation while Tahia and I were getting help from the parking attendant to guide me on how to squeeze my way out of the car park.
But with all the hoops and hurdles out of the way, we were quickly onto the autoroute on the way out of Ottawa and towards Cornwall while we also got breakfast on the go to boot.
By about 8:40am, we had passed through the Cornwall station where we paid some kind of cash toll of over $3.60 CAD to cross the bridge over the watercourse marking the US-Canada border, and then we were asked the usual probing questions by the border officer on the US side as we entered into New York.
The officer also searched our trunk, but with all the formalities out of the way, we were now back on the familiar English measurement system (for speeds), and we were also passing through some quiet towns that seemed to have a bit of an Amish flavor to it (as evidenced by people on horse and carriage as well as some clothing that seemed as if time stood still two centuries ago).
Much of the drive was on rural highways flanked by numerous farms, which caught Tahia's eye as she wanted to identify each barn she saw or say "moo!" for each cow that she saw.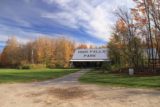 We finally arrived at the High Falls Park near the town of Chateaugay in the Adirondacks of far north New York. It was well signposted as we were headed east on the US11.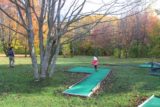 After parking the car in the wide open area fronting the main reception building with large letters on its tin roof saying "High Falls Park", we paid the $2 per adult admission, and promptly walked towards the long the RV park before going down steps leading to the base of High Falls.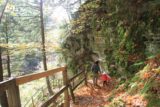 However, Tahia did spend a few moments petting the owner's dog named Chelsea. It seemed like no matter where we would go, Tahia seemed to have quite the affinity for dogs.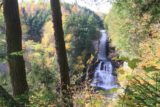 The wooden steps seemed kind of rickety in some spots. But at least they were there to make the descent to the base much more manageable than if we would somehow have to scramble down cliffs.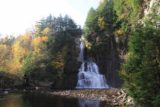 Since we decided not to take Tahia down in a child carrier, we really had to watch what she was touching, especially since there was some overgrowth onto the narrow trail where we were afraid she might touch poison ivy and then put her fingers in her mouth.
But whatever the fears we had, we made it to the bottom so we could finally take some family photos in front of this waterfall with the tripod that we lugged along.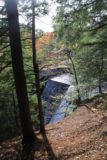 The impressive 120ft falls (or so it was reported) was in shadow while we were getting some bright side lighting from the morning sun.
While the waterfall was pretty impressive, we were a little put off by the dam infrastructure that was above the falls and seemed to control its flow. This little development kind of dampened our perception of the falls which would've been better off natural. Thus, we'd probably knock down the score of this falls from a 2.5 to a 2 because of it.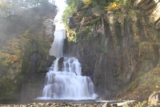 Julie and Tahia went up the steps and ultimately spent some time on the jungle gym near the RV park.
I managed to use some of this alone time to take a few photos myself of the falls from the viewing spot in as many configurations that I could think of.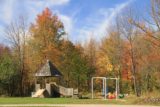 After having my fill of the falls, I walked up towards the RV park then cut right through it. It looked like some of the RV stations had permanent-looking structures, which made me wonder how long these people stayed here. I even saw some signs indicating Electric Bills were due at the end of the month. Very interesting.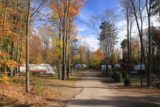 By 10:35am, I was back at the car. Julie and Tahia followed suit a few minutes later as the time to play in the swings and the slides (which was near the entrance to the RV section of the park) was over.
The drive continued further west on the US-11 before heading south on the I-87 somewhere near the city of Plattsburg. It must've been a pretty big city in the Lake Placid area because it seemed like the AM Radio reception was stronger here (though I still had trouble finding Jim Rome or Colin Cowherd or other talking heads about sports).
Once we were on the interstate, the driving was pretty smooth though it didn't take long before I started to realize that there were state troopers looking to nab someone and issue a ticket for speeding.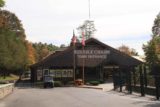 We'd ultimately arrive at the well-signed turnoff and car park for Ausable Chasm at 11:40am, which was another Adirondack waterfall destination en route to Albany.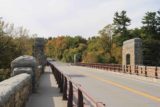 I had read on the internet literature that the falls was probably best seen from the road bridge crossing over the chasm. We were also told that paying for the tour for a better view of the falls (and only a marginal one at that it seemed), was a waste of time and money.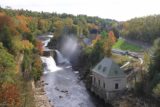 The view from the road bridge was definitely valid. And from surveying where the view of the falls that might have been available from the paid tour, it appeared that it would be directly above the falls instead of closeby and across it! It didn't seem like it would be worth spending extra time and money so those reviews and blogs were probably spot on.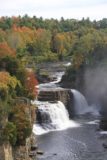 So at 11:40am, I got out of the car and walked over to the bridge spanning the ausable chasm. I could see from the bridge a pair of powerful lower tiers, which threw up mist that was starting to be lit by the sun's rays.
Then, I also noticed there were upper tiers, but they definitely looked like they could be regulated.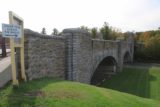 From observing that the reception here sold various tours, including a waterfall walking tour, I definitely came away with the impression that this was really more of a thrill-seekers place than a waterfallers place. Of course, the man-influenced interventions definitely messed with the falls itself. It had the makings of a 3 or 3.5, but in the end, I might give it a rating score of around 2.5.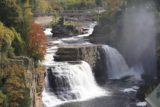 Julie then decided to check out the falls from the road bridge while I was babysitting Tahia who was still napping.
Finally at 12pm, we were ready to wake up Tahia and eat at the cafe that was here. Julie wasn't interested in going without lunch again like what happened on a couple of occasions during this long road trip.
During the lunch, we evaluated whether to continue waterfalling or visiting that natural stone bridge and caverns of the Adirondacks. However, we came to the conclusion that perhaps we should squeeze in a visit to Kaaterskill Falls (which was actually a little south of Albany) so the return drive to New York City at the very end of this trip could be done while allowing us more time to see the city along with the logistical hurdles required to take all our stuff and Tahia on the subway from White Plains to Penn Station.
Thus, it was decided to execute on yet another revised plan, but this time, it was intentional so we'd have that payoff in the end. Of course, we'd have to pay for it now as this meant we'd have to drive three hours just to get into the Catskills and the falls in there before driving another hour back up to Albany, where we would be spending the night. And there'd be no rest for weary as we'd have to drive all the way across the state to Niagara Falls tomorrow!
So it wasn't until 1pm that we were back in the car and ready to execute on that revised plan for today. But I knew that we would be running out of daylight as we knew this was a pretty ambitious plan.
The drive south on the I-87 was mostly uneventful. At least I was fortunate to get decent reception while listening to the entertaining Jim Rome show, which I almost never get to listen to given how it would be during the hours when I was at work and therefore unable to listen to the sports talk unless there was some unusual errand that had to be done during the day. I had kind of got sick of listening to the music on the iPod shuffle via the auxiliary jack at this point so the new content from the sports talk was welcome.
What made me nervous was that there were at least three or four instances of NY State Troopers looking to nab speeding motorists. I was trying to cruise at a comfortably high speed (slightly over the limit) without succumbing to road fatigue from the 65mph speed limit (and 55mph in many spots).
I didn't recall seeing that many cops on the road in all the other days of this trip combined! It made me wonder whether New York's greater public infrastructure and programs needed increased revenue, which might be helped along by writing speeding tickets.
Fortunately, we weren't caught speeding (I think), but we did notice that the clouds were darkening the further south we went. This kind of threw me off guard because I knew the forecast in Canada called for several consecutive days of sun. But it looked like we were heading to where the clouds were the further south we went.
Another thing that wasn't lost on me was the prospect of deer crossing the road since we were driving through what seemed to be many mountains and forests with beautiful Fall colors. Having already hit a deer a decade ago, it would certainly put a damper on this trip if it were to happen, so that was another check on the speed besides the state trooper presence motivation.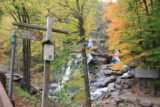 Finally at 4:15pm, the long drive was mercifully ended momentarily as we were at the trailhead for Kaaterskill Falls. However, there seemed to be practically little to no parking space for it other than for two or three cars.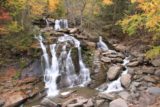 So we stopped the car here and I got out. There was an attractive cascade right beneath the road bridge, which I gladly took pictures of. But just as I was getting ready to start hiking, there was a man and two teens with him who told me that there was parking further up the road. The spot we were at was subject to a $200 fine if a cop saw us.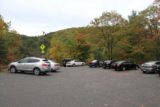 I thanked him for the info and proceeded to drive up the road where sure enough, there was the official car park for the trail. Thus, it wasn't until about 4:25pm when I started hiking. Julie and Tahia stayed behind because from the initial survey of the trail, it was going to be rough. Plus, we were running out of daylight.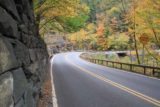 And so I was off.
As I walked along the road, I saw the man again and thanked him. He then told me that when I get to the end of the trail, I should keep going to the top of the lower waterfall (base of the upper waterfall). He did warn me that the path was steep and slippery, but he saw that I was in my hiking attire and said I definitely looked prepared.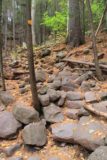 So with that, I finally got to the trail, and then proceeded to climb the rock steps going up past the initial waterfall and then continue on a pretty uneven dirt and rocky trail that flanked the Kaaterskill Creek.
Probably about 30 minutes or so later, I finally made it to the impressive Kaaterskill Falls. And just like a website contributor showed in his pictures on our website, I got similar shots except during my visit, there were some Fall colors flanking the two-tiered sheer drops of the 260ft falls (or so it was stated).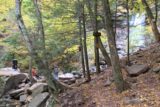 I tried experimenting with long exposure photos given the low light and the presence of rocks around to serve as makeshift tripods.
There were only so many ways to photo the falls from such a limited viewing area on the rocks besides the stream. However, I then decided to go up and see what the family guy was talking about.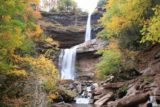 And so I went up the steep trail that was quite doable at first as it reminded me of the steep trail that hooked up the Bemis Brook Trail to the Arethusa Falls Trail in New Hampshire earlier on in this trip.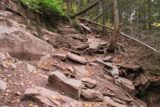 But after the initial climb up, I then reached a spot where there was a rope tied across a pair of trees. I was certain this wasn't official as there'd be no way the Forest Service would endorse this. But I sure was glad it was there when I realized that trying to cross the exposed eroded section was way too slippery when I attemped to cross above the rope.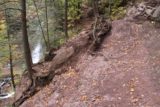 All it took was the first step and the slip of that step (without me losing my balance fortunately) to make me realize that the initial approach was too risky. However, when I held onto the rope and crossed the exposed eroded part while holding the rope beneath it, that was when I able to get past this rather hairy obstacle. Without that rope, I probably would've turned back as a slip and fall here could easily result in broken bones or death given the steepness of the ascent it took to get here.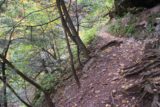 Next, the "trail" then followed along a ridge that was pretty exposed to dropoffs that would be fatal if I fell. I could totally appreciate how people in the past have died here.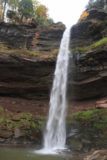 And when I got to the last corner to go around, that was when I saw that the ledge was a little muddy (i.e. slippery) plus it was exposed to those same sheer drop offs. This was probably the most dangerous part of the unofficial scramble to get here. And it was at this point that I realized that I was taking a pretty big risk even though I knew I could do it.
I certainly wouldn't recommend anyone to do it unless they really knew what they were doing or they simply didn't care.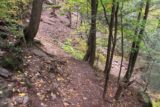 Nonetheless, I made it to the end of this scramble where I was on the shelf responsible for the lower tier of Kaaterskill Falls. Meanwhile, I was in the spray zone of the base of the upper tier. So that made photography here rather difficult. I'm sure I could've lingered here longer, but I just didn't feel comfortable being here in the first place.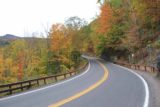 So barely less than five minutes into arriving at this spot, I turned around and headed back. Once again, I had to negotiate the dangerous ledges and dropoff hazards. And then, I was back at the rope section where I actually went backwards while holding the rope (almost like a rappeling motion).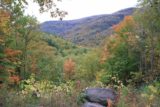 And once I was back at the official part of the trail, I then quickly made my way all the way back to the car park arriving there at 5:35pm. Julie and Tahia were wide awake, and Julie told me that both of them walked along the road to get all the way to the lower cascade of Kaaterskill Clove (or what I think the sign said this part was).
Now with the waterfall accomplishment, it was time to drive to Albany to finally check into our hotel room. We'd ultimately get there by 6:55pm (though I did see a state trooper nab someone on the I-87 going north).
Thus, the long driving of this day was finally over.
At 7:25pm, we drove less than a mile down the street to this Japanese restaurant called Hana. It was actually a combination sushi bar, hibachi (i.e. Benihana style), and standard sit-down table restaurant. We only picked this spot because it was close to our hotel, but it turned out to be one of the better meals we had on this trip that totally exceeded our lowered expectations.
I was never really a big fan of Benihana (a hibachi-style restaurant chain), but watching the chef do tricks with the knife and fork while entertaining the table of mostly college students (I think) sitting with us seemed to be the right form of dining for the moment. Even Tahia was amused as she never fussed, and if anything, she was mesmerized by the spectacle.
Oh, and she also enjoyed her salad (with miso dressing), white rice, and chicken.
Meanwhile, Julie and I shared my hibachi filet mignon while Julie shared one of the "signature" hand rolls which was something called First Day of Spring or something like that.
All in all, we left the place pretty satisfied, and it wasn't like we broke the bank doing it either.
At 9pm, we were finally back at the room. And we could finally call it a day. Though as anticipated when we had put this ambitious plan in place, there was still the long drive ahead of us tomorrow to Niagara Falls, and that meant we would be in for yet another early wake-up…
Day 17: FUNKY COLD MEDINA
It was 5:20am when we awoke. We had intended to wake up earlier at 5am, but apparently we slept through the alarm.
Nonetheless, we were well aware of the long drive ahead of us on this day, and the sense of urgency was further amplified as we anticipated being at Niagara Falls today some time in the early afternoon. Each moment of delay would cut into the time we'd be spending at the falls as this would be the only night we were to stay there.
At 7:10am, we left after having a pretty satisfying breakfast that included sausage, eggs, fresh fruits, muffins, and even pancakes! All of it was included, which typically wasn't the case in other Holiday Inns that we'd stayed at previously on this trip.
The drive was uneventful as it appeared that people driving on the I-90 (which we knew was a toll road) seemed to go much faster than the I-87 we had driven yesterday. I recalled being very uncomfortable going between 70mph and 75mph on the I-87, but plenty of people were passing me when I was cruising at these speeds today.
In any case, we made a couple of rest stops along the way at 8:10am and 10:35am. On the latter stop, we picked up some Edy's Ice Cream (something we had forgotten about since our last New York trip back in 2007).
Most of the time during the drive, I was searching for AM stations that featured talk radio. When I finally found Jim Rome and Colin Cowherd after Mike and Mike in the morning, I was pretty content to be entertained by these talking heads and not have to listen to the same music MP3s over and over again.
We eventually left the I-90 some time near 11am. Eventually, we got into the town of Medina, which looked like a fairly charming little village set between Niagara Falls and Rochester.
I was concerned that there were no signs for Medina Falls so we pretty much trusted the GPS directions to get to the waypoint, which was set during my pre-trip research.
After hanging a right at the Hwy 31 and 63 intersection (Center St), we then turned left onto State St, then made another left on the first available turn onto a single lane bridge over the Erie Canal. Then, I went right (per GPS instructions) onto Horan Rd until we saw a paved car park at 11:35am. However, there was no falls in sight from here.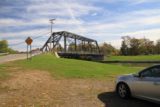 Thinking that I had made a mistake, I kept going north on Horan Rd, until Julie's own iPhone GPS showed we were going away from the canal. So I knew I had to turn back.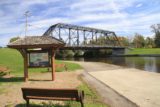 Eventually, we returned to the single-lane bridge, but this time, I kept going straight onto Laurel St (i.e. we should've not turned right when we crossed the bridge in the first place). And shortly thereafter, we saw some signs and benches just downstream from the steel single-lane bridge. It looked like there was a large grassy area with some wear and tear, and we wondered if this was the place we were to leave the car and go looking for the falls. It was now 11:50am.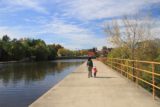 Julie first got out of the car and took a couple of steps downstream on the walkway besides the canal. That was enough to convince her and tell me that we were in the right place as she could hear the falls.
We got Tahia out and we made sure to hold her hand as there were no guard rails or fencing besides the canal. So that was always on our minds as we made our way towards the source of the noise. And barely a minute or so into the walk, we saw what appeared to be the Medina Falls, which looked like it was sourced by an outlet of the Erie Canal.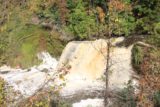 The water was a sickly brown color even though the falls itself was surrounded by pretty Autumn colors mixed in with green. However, the canal feeding the waterfall made us wonder whether this was a legitimate waterfall at all.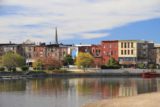 Whatever the case was, we documented the experience and then returned to the car at 12:05pm. In hindsight, this detour to see Medina Falls was probably not worth it. Now we could understand why there weren't any signs for the falls. It was because the falls itself wasn't really a big deal.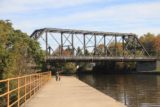 We also wondered whether that larger paved car park was truly the car park for this waterfall given how unofficial the spot we stopped the car was. That would've extended the walk by a few hundred feet or so.
Back on the other side of the steel bridge, there was also a little park that might've been a good place to let Tahia play on the jungle gym or something. But now that we got this bit of business out of the way, we weren't going to tarry here any longer as we were now headed to Niagara Falls.
The GPS had us take the historic route 104. It ultimately led us to a road alongside the Niagara River where we could see there were more parks and some escarpments rising high above the Niagara Gorge. It definitely looked much quieter than the area around the waterfalls, and I guess we could easily see why it was so quiet here as there wasn't much in the way of waterfalls.
Not much later, we then passed by a bridge that appeared to be near the Whirlpool. It was yet another thing we hadn't done 6 years ago on our prior visit to Niagara, and we weren't about to do it on this day either.
As we crossed the familiar road bridge (Rainbow Bridge, I believe it was called) towards the Canadian border, we paid the $3.25 toll to cross, and then we waited in the queue to enter Canada once again. Indeed, we were about to begin the next little stint in Canada on our New England/Canada trip, but this time, it would only focus on a specific region of Ontario (known as the "Golden Horseshoe"), or more specifically, the waterfalls from Niagara to Hamilton along with some time in Toronto… (next 4 days continued here)
Day 21: THE YANKEE HOME STRETCH
(continued from here)… It was 5am when we awoke. With the darkness outside, none of us really wanted to get up this early, but we knew that we had to beat the rush hour traffic as the rest of Toronto was headed back to work this morning. On top of that, we wanted to squeeze in a visit to Letchworth State Park before visiting Watkins Glen, where we would be stationed for the night.
It wasn't until 6:35am when we returned to the car with a lot of luggage in hand and on wheels. And not long thereafter, we drove up to the attendant (since the machines only took credit cards with chips in them), and fortunately, he was able to swipe our card so we could pay the steep $54 parking fee for the two days as we were on our way out.
From there, the drive out of Toronto was pretty uneventful except for a stalled security truck that created a little bit of congestion just as we got on the Gardiner Expressway.
It was around 7:30am when we made a quick Tim Horton's break somewhere east of Hamilton. One thing worth noting as we were driving on the QEW bypassing Hamilton was that as we approached and passed by the city atop a bridge over part of Lake Ontario, we saw lots of fiering pipes and smoke stacks.
Indeed, Hamilton had a very industrial feel to it, and it prompted Julie to say that it was Mordor. I figured it was sort of the necessary evil to the polished Toronto as Hamilton seemed to be the industrial engine that would allow Toronto to keep its clean look and feel. I wasn't sure if I was off base with it, but it sure felt that way.
It got us talking about how JRR Tolkien must've foreseen how the Industrial Revolution creeped in on the countryside of England, and it was only fitting that the dark forces supporting Sauron deforested to support machinery and other things that were apparent analogies to the scourges of industry.
In the darkness of dawn, it seemed to be even more apparent as the natural gas pipes were flaring. I guess we were glad that Julie made the "mistake" of booking us for two nights in Toronto instead of three nights in Hamilton. No wonder why Hamilton was trying to rebill itself from the City of Steel to the City of Waterfalls or the Waterfall Capital of the World.
At 7:40am, we were moving again. The drive continued uneventfully until we had a decision to make. We could've stayed on the QEW which would've ultimately taken us to Buffalo, NY. Or, we could've taken the 420 towards Niagara Falls.
The GPS had us stay on the QEW, but in the back of my mind, I wondered if Niagara Falls might see shorter queues at the US-Canada border. The only thing keeping us from doing Niagara Falls was that it appeared we would have to drive some surface streets before resuming on freeways and highways.
And so we stayed on the QEW, but as I had feared, we were queued up on the far end of the bridge over the Niagara River heading into Buffalo at 8:30am. The queue at first was moving sluggishly but it was moving. However, when we were on the other side of the bridge, the queues were hardly moving at all.
It wasn't until after 9:10am did we finally start moving again. I guess I could see why they have those NEXUS lines for those people who have to cross this frequently.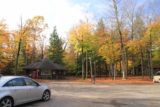 Once again, the drive was pretty uneventful once we were moving again. We took the 190, then went on some country roads as we were headed straight to Letchworth State Park via Warsaw. Eventually, after getting to the Castile entrance station, we paid the $8 cash only vehicle fee (though we ran out of exact change and they wouldn't take any Canadian denominations so there was a little bit of drama of the attendant having to use her own personal change to give us the change we needed – and making sure we knew about it), and then arrived at the familiar Lower Falls car park at 10:25am.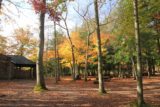 The skies were partially sunny but clouds dominated the horizon.
It had been over 6 years since Julie and I were last here in the hot and humid Summer month of June. Now, the air was a bit crisper though it was definitely warming up. And Autumn colors were everywhere.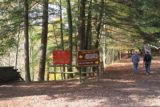 Julie and Tahia went up to the "easy" view of Lower Falls, which was nothing more than a disappointing partial top down view of the waterfall.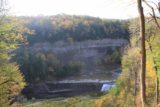 I went down the steps and returned to the familiar view where the tripod I brought came in handy to take long exposure photographs of the Lower Falls of the Genessee River. However, one thing I did notice on this go around with the Lower Falls was that the flow was not as great as it was on our last visit six years ago.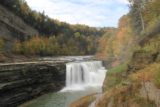 I had recalled the Lower Falls was much wider. However, on this day, it seemed to be quite a bit narrower though it was still flowing impressively.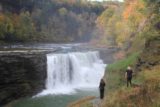 Anyways, I only allowed myself time to photograph only the falls, and when a pair of young ladies joined me at the viewpoint, I scrambled back onto the official path to take one last view of the Lower Falls though this was more partial than the better lower viewpoint we were just at.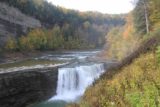 As I was taking photos at the more official spot, I did notice that the two ladies were pashing. I figured I better leave and give them the privacy they were seeking in the first place.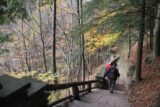 When I headed back to the car park, Julie and Tahia were by a long slide by some picnic tables. Tahia was sliding slow on that slide, but she didn't seem too upset that we were leaving to the car to continue this second stint in Letchworth before continuing on to Watkins Glen.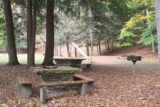 Next, we drove up to the Middle-Upper Falls car park complex. After a little bit of missing the easy-to-miss turn descending into the car park bringing us closer to those two waterfalls on the Genessee River (realizing the mistake when we showed up next to the Portage Bridge), we were finally at the desired car park at 11:20am.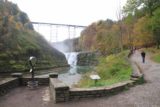 The very first thing we did was to walk up the easy path to a slight incline offering direct views of the Upper Falls of the Genessee River backed by the Portage Bridge. Even though the sun was hiding behind some high clouds, it was still bright and dreary enough to darken our photographs.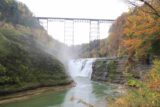 Because the walk was so easy, we spent some time trying to take family photos with the tripod and timer combo. Unfortunately, Tahia somehow figured out how to be a smart ass so she often wouldn't cooperate on the family photos choosing to pout or make funny faces at the camera.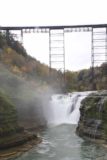 When we had our fill of the Upper Falls, I walked back down towards the car park and then continued walking towards the Middle Falls of the Genessee River. Meanwhile, Julie put Tahia in the car seat and drove the short distance over to the nearest car park to that Middle Falls.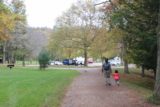 While at the Middle Falls, I was busy trying to document the falls from as many familiar positions as possible. Unlike the Lower Falls, both this waterfall and the Upper Falls looked pretty much the same as we had remembered them six years ago. However, there were some Autumn foliage colors surrounding all the falls so that made for some more interesting photos than before.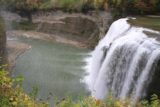 We even walked over to that circular viewpoint down a short set of steps. Julie didn't remember a whole lot about our last visit to the Finger Lakes in 2007, but she did remember sitting on the wall in this circled area fronting Middle Falls.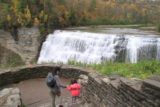 Once again, we tried to take family photos here, but Tahia was one again being the smartaleck and wasn't exactly cooperative with smiles or looking at the camera. And unlike when she was younger and didn't know any better, in this case, she was doing this intentionally.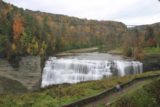 After Julie and Tahia were done with the family portraits here, they went back to the car. Meanwhile, I continued walking up some steps towards an upper vantage point right by the Glen Iris Inn. There was quite a bit of activity up here (mostly from seniors) and there was a tour bus so I'd imagine most of the traffic here was largely due to those tour buses of seniors.
That said, I did notice some people down below taking some glamor photos (or engagement photos?) in front of Middle Falls.
By 12:25pm, I returned to the car where Julie and Tahia awaited.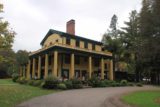 All in all, Julie and I agreed that the Middle Falls was definitely a legitimate 4. It had the size, it was natural (which we appreciated more as it seemed that most of the waterfalls in New York state were tampered with), and it had volume in a very picturesque setting.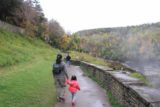 After this second visit to Letchworth, I contended that best waterfalls in the state of New York not named Niagara has to be in this state park. Somehow the second visit made us think that the falls deserved better than how we perceived them after our first trip here six years ago.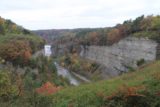 So with that, we continued the drive towards Watkins Glen, but we first made a quick stop at Inspiration Point at 12:30pm.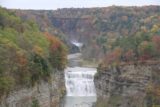 This was a short stop, but it was something we didn't do the first time we were in Letchworth. In fact, Inspiration Point was a very fascinating stop because we were able to see both the Upper and Lower Falls from a distance with the Portage Bridge high up above both falls. There were also striated cliffs exposed to the scene adding a sense of drama to the vista.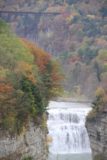 Moreover, there were Autumn colors really adding color to the scene.
Anyways, it was finally 12:40pm when we started driving off in earnest. Now that we were leaving Letchworth State Park, the next leg of the day was to make it all the way to Watkins Glen, which was where we were going to spend the night as well as experience the Watkins Glen Gorge itself.
After a brief lunch spot and gas fill-up in the village of Dansville at 1:20pm (leaving at 1:45p), we then continued on our drive as we left the interstate to drive some country highways and routes direct from Bath to Watkins Glen.
We would eventually arrive at the Gorgeous View Motel at 2:55pm. And even though all day we had been seeing mostly cloudy skies with some real threat of rain it appeared, when we showed up to Watkins Glen town, it was surprisingly sunny.
However, the daylight was waning so after checking in, we dropped off the luggage, and Julie and Tahia would stay behind in the motel (mostly so Tahia could continue her afternoon nap).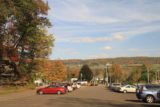 Meanwhile, at 3:15pm I got my gear together and self-drove through the Watkins Glen Village towards its south end where there was a well-signed car park and entrance for the Watkins Glen Park.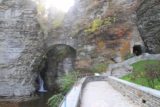 Fortunately for me, the $8 fee was waived because we had already paid the admission fee at Letchworth State Park, and apparently our purchase was good for the entire day for New York State Parks.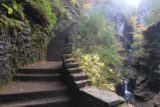 Eventually by 3:20pm, I arrived at the fairly busy car park where I wasted no time getting my water, lacing on the hiking boots, getting the camera and the tripod.
Then, I proceeded to walk up along the Gorge Trail seeing several waterfalls along the way.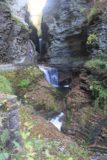 The first waterfall that seemed to be significant was right beneath the Sentry Bridge, which itself was very close to the car park.
Next, the trail went up a series of steps called Couch's Stairs.
Then, I hit the next series of cascades, which culminated in a dramatic leap from a narrow ledge in the gorge into the depths of the gorge itself. The trail actually went behind this waterfall, which I'd later learn was called Cavern Cascade.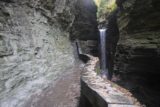 Beyond the Cavern Cascade, I went up the Spiral Staircase, and then continued further upstream keen to see what other suprises this canyon had in store.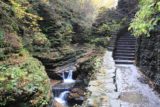 Sure enough as I continued walking through the Glen Cathedral, I then stumbled upon yet another waterfall that was also tall and thin in character. This one was called the Central Cascade, and it was similar to the Cavern Cascade, except I wasn't able to walk behind this one as I was with the Cavern one.
Shortly beyond the Central Cascade, there were a few more smaller stair-stepping cascades, but then as I rounded a bend in the gorge, I was able to see the convergence of a lighter flowing waterfall on the left and a thicker set of cascades on the main creek responsible for this chasm.
A sign here indicated that I was at Rainbow Falls.
I had spent a good deal of time trying to somehow capture and convey the scene before my eyes at this very spot due to how scenic it was. I'd have to say that Rainbow Falls was perhaps the signature waterfall in this glen.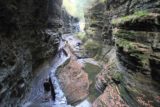 Beyond the Rainbow Falls, the stair-stepped stone path went behind the Rainbow Falls before going up steps and crossing over a bridge.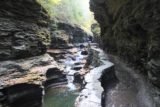 Next, the well-established stone path kept gradually going flat then climbing up steps as it then entered what was called the Spiral Gorge (probably because of the pothole formations resulting from little whirlpools throughout the history of this gorge).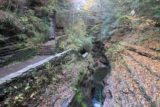 Inside the Spiral Gorge, the canyon narrowed and darkened considerable, but there was a nice small series of falls known as Pluto Falls.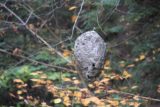 And after I went past the Spiral Gorge, I then arrived at the one-mile bridge, which marked the one-mile point from the trailhead that I had walked to get here. Sure if I had continued hiking, I would've made it to one of three car parks for the glen. However, shuttle services linking the park's three car parks was out of the question.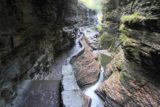 So I headed back the way I came inside the Gorge Trail. And so I was able to have a second look at most of the waterfalls in this glen including the picturesque Rainbow Falls.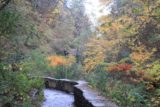 Eventually, I'd make it back to the Gorgeous View Motel by 6:10pm.
With all the waterfalling errands out of the way, we briefly unwound in our room while Yelping for possible places to eat in this area.
After 7pm, we eventually made it to the main part of the Watkins Glen town where we ate at this place called the Rooster Pub. The food was OK, but then again, we weren't terribly choosy given how late in the day it was becoming.
Eventually by about 8:30pm, we were all back in our motel room and ready to call it a day.
So now we were down to one waterfall left on this trip. But given that we wanted our time in New York City to be relaxing, we decided to ditch the original plan of taking a combination of the NYC Subways and the New Jersey PATH lines to the Great Falls in Paterson New Jersey.
It was going to be yet another long day of driving, but at least we'd be returning the rental vehicle to White Plains, NY after the Paterson Falls visit.
Day 22: A PUBLIC TRANSPORTATION ADVENTURE
It was 5:15am when we awoke. We could hear some highway traffic even though it was still dark and I thought there'd be a deer collision risk by driving in the darkness. Apparently those drivers already out on the road weren't deterred (or perhaps didn't care about the risk).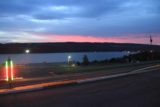 In any case, we took our time getting our belongings together while trying to discard some of the extra trash accumulated over the past three weeks. And by 7:05am, we were finally leaving. The hope that we would still be leaving at an acceptable time (i.e. not too late in the day) to visit Passaic Falls in Paterson, New Jersey, and then drop the rental car at White Plains, New York, and then finally take the mass transit all the way to our hotel at the Fairfield by the Penn Station in New York City.
We were already a little nervous about lugging our belongings through the sea of people in New York City's streets and subways. But we intentionally planned our trip this way to save on nearly $500 USD or more on rental costs while avoiding driving in the mean streets of NYC just for a little bit of this inconvenience. We'll see if our plan would work out today…
Actually, our plan for today was a little altered from our original plan which called for bagging Kaaterskill Falls before dropping the car off at White Plains, and then spending the morning of tomorrow taking the subway and PATH to Paterson before walking to Passaic Falls. But with a little flexibility and foreward thinking, we had already visited Kaaterskill Falls late last week, and then we were going to visit Paterson today instead of tomorrow. The payoff would be to have an entire day tomorrow to get reacquainted with the city splendor that was the Big Apple.
Hopefully, Tahia would enjoy it.
In any case, our drive out of Watkins Glen bound for Paterson, New Jersey was pretty uneventful. We made a Dunkin' Donuts stop at 7:10am, and the food was not up to snuff against Tim Horton's though we had some bad Tim Horton's brekkies as well.
We also made a gas and bathroom break at 9:45am somewhere near Gouldsboro State Park in Pennsylvania. Out here, the weather was quite chilly and overcast.
The prolonged drive through a combination of three interstates meant we were going around 65mph, but we also noticed at least three dead deer on the side of the road before we made our gas stop in Pennsylvania. And then we saw another three more afterwards with two of them in New Jersey. It was strange that we hadn't seen one deer (even a dead one) throughout the trip in New England, Canada, and Western New York, but here we were seeing six dead ones in Pennsylvania and New Jersey alone.
Who knew that these two states would see wildlife that we would typically be indicative of a place that was closer to nature?
Speaking of New Jersey, we were understanding why they called it the Garden State because it seemed that much of the state was full of forests and marshlands not unlike what we had seen in the Finger Lakes region of New York and the forests of northeast Pennsylvania. I guess it could easily be thought of as a garden compared to the urban jungles flanking the Hudson River.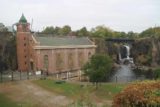 At 11:20am, we finally made it to the Great Falls (or Passaic Falls) in Paterson, New Jersey. We followed the directions given on the Great Falls website to a tee, and it worked out well for us. However, the wesite said that we were supposed to get off at exit 155P, which was misleading because it didn't exist. Instead, we took the 57B exit, and then we realized at the last minute that Cianci Street was quickly on the left after the highway 19 ended and became city streets.
So we took our time enjoying the partial views of the Great Falls from the car park near S.U.M (Society of Useful Manufactures) building. There was an Alexander Hamilton statue here (which fascinated Tahia in her love-hate relationship with statues). I guess it was Hamilton who repurposed this section of the Passaic River for hydroelectricity, and thus it was said to be the place where the American Industrial Revolution got started (for better or for worse).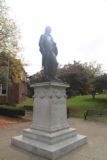 We could see that the falls had somewhat lower flow than what we had seen in the internet literature, but it was still scenic and quite an unlikely place to find such a pretty waterfall.
After getting our fill of the closest and most obvious viewpoints, we then walked along the city streets upwards towards a separate entrance where an open gate allowed us to walk onto the footbridges above the Passaic River. It was from that footbridge that we got more pretty views of the waterfall though the smelly water and the drug dealers (or at least that was what we thought many of those folks who were loitering were) kind of made us feel a little uneasy about lingering here longer.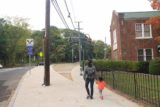 So we wouldn't get to see all the viewpoints that this place had to offer. Julie didn't want to take any more chances than necessary now that we got to see what this place was all about. Meanwhile, I found it somewhat amusing that there were some people trying to fish from the bridge above Passaic Falls. I couldn't imagine what on earth could thrive in these polluted rivers that would be big enough to be caught!
Once we were done with Passaic Falls at 12:10pm, we then drove briefly to this place called Libby's Lunch, which was visible from the exit of the upper part of Passaic Falls. But Julie didn't want to just walk there, which was why we drove the couple of blocks, found parking, and then sat within the restaurant next to a window within view of our rental car (just in case).
The place was apparently known for Texas wieners. So we got a couple different renditions of them along with a salad. Most of the customers were seniors and the place was packed with them. We wouldn't know until after we left that the place had a seniors discount on Wednesdays.
The hot dogs were ok. Julie said they weren't as good as Gray's Papaya. I guess we might get a chance to test that theory later either tonight or tomorrow. At least Libby's was pretty cheap.
By 1pm, we were done with lunch, and then we continued onwards to drive towards White Plains. Eventually by 1:50pm, we made it to the Hertz that was right across the street from the White Plains North Metro Station.
And by 2:15pm, we emptied out the rental car, got our stuff together, and proceeded to embark on our Metro Adventure that we had anticipated and feared going into this day.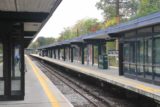 Eventually, we boarded the 2:33pm train to Grand Central Station, and it was a fairly relaxing ride that lasted until around 3:30pm. Fortunately, some workers at the North Plains station told us which trains NOT to board when it arrived so that saved us the trouble of hopping on the wrong one.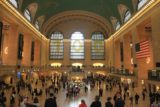 However, once we got out of the train at Grand Central, we felt immediately how humid it was. But at least when we arrived at the main section of Grand Central, we were once again enchanted by its classic look and size. Plus, there were a lot of people moving around here creating a kind of energy about the place.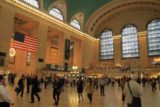 And so Julie was watching the luggages while I was lugging Tahia upstairs to take photos within Grand Central Station. Actually, she was quite mesmerized by the plethora of iPad displays on the second floor. I guess Apple really had a hold of the Big Apple if they could get this kind of product positioning in one of the busiest of public transportation spots.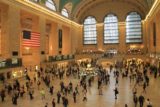 Now, we had to take the Subways, where the concentration of humanity would intensify.
As feared, it wasn't easy even getting all the way down to the purple line 7. That was because the turnstiles didn't seem conducive to allowing luggage through let alone a baby on the back. So we had to struggle a little, but we eventually figured out that Julie had to swipe her Metro Card and go in first, then I had to roll the luggage over to her beneath the turnstiles, before Tahia and I would squeeze our way in immediately after swiping the Metro Card.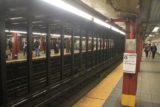 On top of that, the last bit of descent onto the platform for line 7 involved stairs. And with all the luggage we were carrying, it wasn't easy. Anyways, we would have to take the line 7 which would take us over to Times Square. Then from the Times Square stop, we would take one of the red lines for one stop to the Penn Station.
Like the bottom of Grand Central Station, the subways were hot and humid despite the crisp cool air outside. So with all the maneuvering we had to do with the luggages, all of us were hot sweaty messes.
Then, we had to find elevators and/or escalators to make our way up to street level.
Once we finally got off at Penn Station, we then had to figure out how to get up to street level, and then once we were up there, we had to figure out which direction to walk. Well, at least we just so happened to be next to Madison Square Garden in a moment of deja vu from 6 years ago when we stayed at Julie's cousin's apartment nearby this station.
And as we were walking around the Penn Station looking for where to find the Fairfield, we actually had another flash of deja vu as we were walking on 33rd street by the historical looking post office just across the street from MSG. In fact, we passed by Julie's cousin's old place, which was The Olivia. And almost right next door to it was the Fairfield.
At least now we knew that if we wanted to go to JFK on the day we leave, it shouldn't be a problem as there was a direct train from Penn Station to the Jamaica Station. We did it before, so we knew we could do it again. At least that part of the logistical adventure wouldn't be such an adventure. But at least for the sake of saving some $500 or more on car rental, it was worth the sacrifice to drop off in White Plains then going to Grand Central before transferring to Penn.
It wasn't until 4:40pm when we were finally checked into our hotel room, which was small but adequate. For over $430 per night, it had better be decent, which it was. Though it was still a rip off.
So we got settled. We needed some recovery time. My shoulders were sore from carrying my day pack backwards. My hips and thighs were sore from carrying Tahia. And we were still hot and sweaty though the AC from the room helped immensely. Finally, our feet were sore from all the walking, especially with all the added weight.
Finally at around 6pm, we headed back out on the town for an early dinner. At least now, we only had to carry one carry-on black bag, and the child carrier so Tahia could sit in it.
And having been somewhat familiar with the subway system from before, we had no problems zooming over to the French restaurant called Chez Napoleon, which Julie Yelped and decided upon simply because they served souflee, which we hadn't had since Paris in late May/early June 2012.
The dinner was a filling affair of duck confit in orange sauce, peppered steak, and of course, escargot. The meal ended with souflees, which had quite a strong hint of grand marnier in Julie's vanilla souflee and my chocolate one. The l'addition was hefty, but I guess no one said eating out in New York was cheap.
When we were all done eating, we walked over to Times Square, decided there really wasn't a need to take the subway and lose out on $2.25 per trip for such a short trip.
And when we finally made it to the bright lights of Times Square, Tahia was totally stimulated. Although it was funny that of all the things she could've focused her attention on that was around her, she chose to ask for the Elmo-costumed person looking for money for people to pose with him.
We ignored that and then went up some red lit up bleachers for a more elevated view of the energy of Times Square.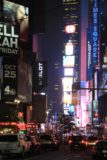 Speaking of Times Square, we noticed that there was considerably more pedestrian traffic here than before. And that was when we finally realized that one half of the roads that crossed before the flashing bright billboards and LEDs was also closed off to vehicular traffic. It was definitely not the case six years ago when we had to figure out how to get to the triangular island in the middle due to the fast-moving vehicular traffic zooming along in Times Square.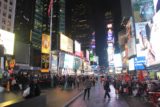 We thought that making Times Square more pedestrian friendly was the logical thing to do back then, and they had finally started doing it. No more need to worry about being road kill while snapping photo after photo. And thus experiencing the place was far more enjoyable.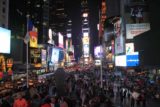 Tahia was alao very stimulated as she would look up pretty frequently while soaking it all in. I wondered how much she would remember from all that she absorbed from this moment.
Something that crossed my mind (especially after having visited Italy earlier this year) was how Times Square seemed to be a mix of the Italian concept of piazzas mixed in with a bit of a modern flair. I guess it only made sense considering the heavy Italian influence here.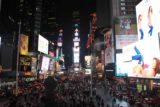 Another thing that crossed my mind was how Times Square was kind of like the precursor to the happening city centers we saw in Tokyo and even in some spots in China. Perhaps they "improved" on the idea after New York.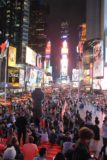 When we had it in our minds to go up the red and lighted bleachers, it was not surprising that it was quite busy. We had to squeeze our way up to the top to take some awkward photos given the crowd of people on the red bleachers itself behind the Father Duffy statue.
Once we had our fill of Times Square (ignoring Tahia's pleas to see the Elmo costumed dude), we then decided to save on our Metro Card money and take a hike all the way to our hotel at the Fairfield.
We'd eventually return back to our room at 9pm. It seemed like Tahia was overly stimulated as she quickly grew silent and then just conked out in the child carrier during the hike. So she was fussy when it was time to take a shower and brush teeth.
And so ended this busy day of driving for most of the day before working with the Subway to get from place-to-place while being a little lighter on wallet. Tomorrow, we would use our full day of NYC while also sleeping in a little after all those consecutive nights of waking up around 5am to leave before 7am.
So it was one more go of the Big Apple before we could finally conclude this trip with our plane ride home on Friday.
Day 23: TAKING A BITE OUT OF THE BIG APPLE
It wasn't until 8am when we awoke. Without much of a set agenda (other than to hit Grimaldi's and the Statue of Liberty as well as the hidden subway stop), we figured that sleeping in wouldn't hurt on this day.
Unfortunately with the late wake-up, it took a while for Julie to get ready for the day so it wasn't until about 9:45am that we finally headed downstairs for the included breakfast, which actually had one of those waffle makers.
However, the breakfast was closing when we arrived (maybe a good thing so we wouldn't waste even more time here) so we rushed to make and eat a pair of waffles before we headed out into the town at 10:05am.
After a little bit of confusion within the Penn Station about which trains we should be taking, we finally boarded the A Train to Brooklyn, which was an express train at 10:25am.
Sure enough, by 10:55am, we made it to High St Station on the Brooklyn side of the river. This was after we had missed the stop on the way in and had to take the next stop, then retrace back one stop to get to High Street.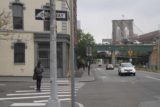 From there, we walked in the direction of the Brooklyn Bridge. Eventually, we were at the familiar Old Fulton Street where we noticed that Grimaldi's was now in a white building on the street corner. It wasn't as we had recalled it.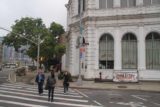 Instead, the restaurant at the old location next door was this place called Juliana's. We weren't sure what happened, but Julie started to Yelp on her phone and learned that Juliana's was the restaurant jump started by Patsy Grimaldi coming out of retirement after 15 years. The coal-fired oven couldn't move so it was now with the Juliana's Restaurant while they had to remake it in the new Grimaldi's location.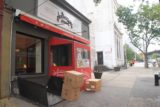 So we had a decision to make. Go with Juliana's or go back to Grimaldi's, which was where Patsy Grimaldi sold the rights to his name to another owner who ran with it. And I'd imagine 6 years ago, that was the version of Grimaldi's pizza that Julie fell in love with.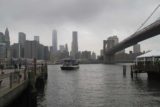 Julie eventually decided on going with Juliana's and since none of the restaurants were open until 11:30am, we continued walking over to the lookouts further down the road where we could get views across the Hudson of the New York City skyline as well as both the imposing Brooklyn Bridge to our right as well as the Manhattan Bridge further to the right after that.
With the overcast skies, the photos were a little dark and depressing, but the views were still impressive. We were even able to look far to the left and see the Statue of Liberty way in the distance. That also got Tahia a little excited with anticipation about getting closer to it.
Meanwhile, Tahia spent a few minutes playing in the neighboring Pier 1 Playground. However, when 11:30am rolled around, we had to backtrack our way towards Juliana's to ensure we'd have our long-awaited New York-style pizza before the lunch rush.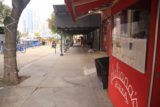 Tahia was fussing big time as we had to pry her out of the Pier 1 Playground. But we figured we'd come back to this place after lunch. Besides, it looked like the sun was starting to pierce through the clouds and make some of the financial district buildings across the Hudson have a bit of a glow to it.
As we went into Juliana's we noticed that neither this place nor Grimaldi's had a line. Now, Juliana's had a bit of a modern decor and it wasn't the hole-in-the-wall Grimaldi's that we remembered in 2007 at this very location. And from the looks of things, it appeared the new Grimaldi's next door at 1 Front Street wasn't a hole-in-the-wall anymore either.
The pizza was definitely light with good ingredients. After having tried the pizzas in Italy, Julie was still partial to this New York-style pizza, which was a crispy and less doughy than what we had in Napoli and other pizza joints throughout Italy.
Another surprise was the salad we got before our meal was also quite tasty. Normally, salads were toss ins and just filler food, but this was actually pretty good.
Even Tahia enjoyed eating her pizza and helped herself to a slice until she couldn't eat anymore. That was saying something!
We were done with lunch at 12:15pm. Sure the bill was a little on the expensive side for a pizza lunch ($38 for all of us plus tax and tip), but now we had to work off a little bit of the food by heading back to Pier 1 and getting our skyline views of Lower Manhattan with the sun now out.
So we chilled out at the Pier 1 Playground where Tahia was having lots of fun. She was interacting with the other kids which seemed to be either her age or younger as this playground seemed to really be for kids between 1-2 years.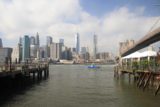 Julie noticed that many people were watching kids that didn't belong to them. They must've been nannys watching kids of parents who were probably too busy with the New York fast-paced life as I'm sure they had to work to pay the bills since I'd imagine living in the Big Apple must be awfully expensive (and probably stressful).
Finally we were done with the park at 1:20pm. We went over to the Brooklyn Bridge Ice Cream place, which seemed to be well situated as it was directly beneath the imposing towers of the Brooklyn Bridge itself. The ice cream there wasn't cheap, but I did have a $5 Ice Cream sandwich of Oreo cookies while Julie just got Peach and Cream in a cup.
At 1:30pm, we were passing by both Juliana's and Grimaldi's and noticed that there was now a big line for Grimaldi's. Meanwhile, Juliana's had no line.
I guess the lemmings effect was in full swing as tourists probably acted on the reputation and name as well as guidebooks talking about the Grimaldi's institution. Little did those people realize that Juliana's was actually the original Grimaldi's opened by Patsy and Carol Grimaldi themselves as they came out of retirement!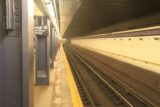 So with the pizza fix over, we were back at the High Street Station. Next, we were determined to see if we could catch a glimpse of the hidden subway stop by the Brooklyn Bridge-City Hall Station. I had read about that place in the blogs, and it piqued my interest just to see what the place looked like. Of course, there'd be no way we could get satisfying views of the stop as we'd be relegated to looking out of the subway windows while the train was moving.
And as we were about to go onto 6 train "beyond" the last stop, the train driver opened the door and asked us, "Where you going?"
I told him we were looking for the hidden subway stop. He asked the same question to the folks behind us, and he nodded his head and went back to work.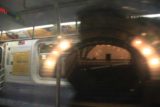 As the train moved, it started to screech as it was curving. Unfortunately, there was quite a bit of glare out the window of the moving train, but we did catch a short glimpse of the subway stop labeled City Hall. We could see the subway tiles and the arched passageways, but we couldn't really see the skylights on the ceiling. Actually, it was kind of anticlimatic given the trouble it took to get here.
So by 2:20pm, we were done with the hidden stop, and then we were back at the Broadway Station waiting on the 4 or 5 train to get down to Bowling Green, where we were now looking forward to fulfilling Tahia's desire of checking out the statue… of Liberty, that is!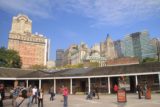 Since we never exited to street level, all the subway riding that we did from High Street Station in Brooklyn all the way to Bowling Green via the hidden City Hall stop was on one subway fee of around $2.50. Not bad.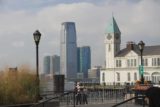 Anyways, we then walked through Battery Park towards the ticket kiosk for the Statue of Liberty boat ride to Ellis Island. It was $17.00 per adult, which probably made it a little more expensive than the vehicle fee for places like Yosemite National Park, Yellowstone National Park, and Grand Canyon National Park, but at least we were able to do it now that the government shutdown had ended last night.
So after taking some photos back towards the New York skyline from within Battery Park, we then boarded the boat and took more skyline photos while cruising on the massive Hudson.
There was afternoon light towards the skyline, but we were looking against the sun when we were looking towards the Liberty Statue. So when the boat docked at the Ellis Island dock at 3:05pm, we all got off onto the island to take more photos of the iconic Statue of Liberty.
Tahia was happy now that she got her statue fix of the most iconic one of them all in the USA.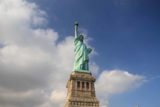 So we spent some time taking photos here. It was quite busy so we had to be very opportunistic to take family photos without other people inadvertently photobombing ours. But in any case, the harsh shadows caused by the hazy afternoon sun soon gave way to clouds, which actually helped to make the lighting more even and really bring out the green of the statue while eliminating the shadows.
Finally at 3:55pm, we were back at Battery Park where our ferry ride ended.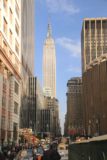 With the remaining afternoon hours, we made a beeline back to our hotel room in Midtown where we could recover a little bit before the last dinner of this trip. Julie also needed time to Yelp from our hotel room so we could figure out where to eat.
At 4:35pm, we were back at our room. Julie eventually decided to keep the Italian theme going so she eventually decided to head towards Carmine's near Times Square.
By 5:40pm, we went back downstairs and used up the last of the balance on our Metro Card to get over to the nearest subway station to Times Square on the blue line (A,C,E).
Once we made it to Carmine's, we had to wait before we got seated. We were told it was 30 minutes to 45 minutes, but we ended getting seated sooner than that after I clarified if Julie's name was called.
And when we were ordering our dinner, we noticed that other people had massive portions. It became immediately apparent that this place was like Bucca di Beppo so we ended up going very basic ordering a single dish of Pasta Bolognese for $28. It turned out to be enough, and it was also probably the most reasonably-priced dinner we had in New York (and possibly for this trip).
To reinforce the notion that Italian food was the perfect kid's comfort food, Tahia even ate some of the massive helping of the pasta without us needing to help her. Generally, if she liked something, she would help herself. That was certainly the case with the spaghetti.
After paying the bill, I was ready to head out when one of the waiters took a photo of our child carrier, which was empty since Julie and Tahia were in the washroom. This was the second person today who took a photo of it, and apparently, no one in New York had heard of REI when they asked where we got it from.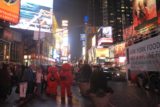 When we left the restaurant, we didn't have any more subway balance so we had to walk to our hotel room just like last night. And perhaps it was a good thing because we happened to be right next to Times Square.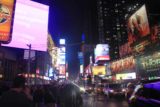 And when we got there, one lady in tall heels came up to us and complimented us on the cuteness of Tahia. She kept insisting that we "did good" when I told her that we merely just got lucky. I wasn't sure what that meant, but we thanked her and we headed in opposite directions.
By 8pm, we were finally back in our hotel room. And so ended all the sightseeing for this epic Northeastern trip. It would probably be our last hurrah for a while (at least that's what it felt like) because we were coming home to a reality that we were going to be new homeowners. I'm sure that alone would curtail some of the traveling that we had been doing up to this point.
I sure hope not. But then again, we thought our traveling would be badly curtailed when we had Tahia. And on this trip, we took the chance on bringing her with us, and it seemed to work out well. In fact, she seemed to enjoy the experience. A budding independent traveler in the making?
We'll see about that; just as we'll wait and see how the whole house thing works for or against us on our traveling desires…
Visitor Comments:
Got something you'd like to share or say to keep the conversation going? Feel free to leave a comment below...
No users have replied to the content on this page