Fiji Waterfalls gave Julie and I an excuse to island hop this tropical island nation. That said, only a few of the hundreds of islands in Fiji are large enough to have waterfalls. The rest of the islands primarily act as uninhabited atolls, isolated resorts, or more populated islands that still lack the topography necessary for waterfalls.
[expand title="MORE" swaptitle="LESS" trigpos="below"]
What this means is that in order to go waterfalling in Fiji, you'll have to be willing to leave the creature comforts of most resorts and experience the country's real character while interacting more with the friendly locals.
The waterfalls that we have been to so far exist on the larger islands of Viti Levu and Taveuni. I suspect there might be some on Vanua Levu since it's the second largest of the Fijian islands, but in all my research so far, there hasn't been one that has been "found" yet.
In any case, the waterfalls that we've managed to encounter include the wild and picturesque Tavoro Waterfalls, the serene-yet-beautifully-situated Wainibau Falls, the accessible Biausevu Waterfall, and even the remote Savu-i-one Waterfall deep in the highlands of Koroyanitu National Park.
During the course of our waterfall-themed adventure in the country, Julie and I have had the fortune of experiencing the Fijian kindness that we both still fondly remember. Many of them lead simple lives and yet their hospitality and generosity just blows me away.
So in addition to cooling off from the tropical heat, why not tickle that sense of adventure and take a hike?
[/expand]
User-submitted Waterfalls from this Country
No users have submitted a waterfall writeup
Visitor Comments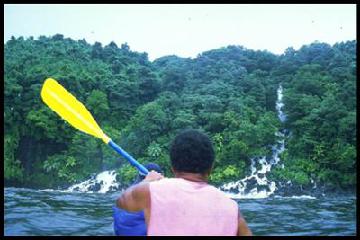 Taveuni's Ravilevu Coastline
April 23, 2009 4:07 am
-
I've been visiting Taveuni's Ravilevu coastline since 1983 and it is truly the land of waterfalls - and I've jumped a few in my 64 years of adventure. John "Caveman" Gray ...Read More
Share your thoughts about what you've read on this page
You must be logged in to submit content. Refresh this page after you've logged in.
[ultimatemember_social_login id=75766]