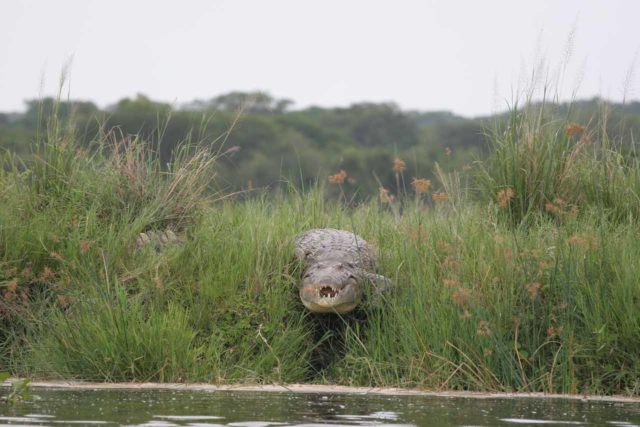 13-June 2008 to 17-June 2008:
We were supposed to sleep early so we could wake up early tomorrow and leave for Sipi Falls on the slopes of Mt Elgon near the Kenya border out east. Unfortunately, Julie started to feel fever and chills. It made her night sleepless, and the fear that she might be stricken with malaria also kept me awake all night…
Day 1: BLAND BANANAS
Today was a very long day of traveling.
We spent the morning leaving Tanzania and waiting at the Nairobi Airport for our flight to Uganda. Julie was worried about this leg of the trip because (like Zambia) it's a little off the beaten path. It was clearly going to lack that manicured feel that Salim's Tanzanian tour was. She was especially freaked about being in an older and less sturdier car than the Land Cruiser Salim was driving.
At 2pm, our plane landed at Entebbe, which was right on the equator on the north shore of Lake Victoria. Sure enough it felt a bit warm and humid here, but not nearly as steamy as we had braced for.
Our driver and guide was named Mike. He was a part Japanese part Norwegian Ugandan. Quite a unique background. I was anxious to try my knowledge of Swahili here, but there are sections of the country who'd rather not speak Swahili thanks to the antics of Idi Amin in a previous regime that plunged the country into a very dark period.
At least Mike knew Swahili so my efforts at learning it back at home and in Tanzania didn't go to waste here.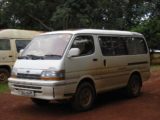 Scarred by our experience in Northern Zambia with Chester's second-hand safari vehicle that ultimately broke down in the bush, Julie was afraid that our vehicle might not be adequate to handle the terrain we might be encountering in the bush in Uganda.
And once we saw Mike's vehicle, Julie's fears about our vehicle being a second-hand vehicle that was probably unsuitable for safariing weren't allayed. Although the van was pretty comfortable and had 4wd, it was definitely older and more fragile than the well-built safari vehicle Salim used in Tanzania.
Moreover, Mike set the tone of the trip by saying our trip was pretty random and hectic. "I've never done this type of tour before. It's going to be interesting," he said.
He went on to tell us that he normally sends people to Uganda's southwest to see gorillas. We fancied doing such a trip, but the super pricey $500pp permits not including lodging and other admission fees along with the chance of having spent all that money and coming up empty just wasn't something that sounded appealing to us.
He further told us that traveling the roads in Uganda isn't as straight forward as we're used to at home. Actually after going through the Zambian experience, we already had an idea of what we're in for.
"Just don't expect to be moving as fast as you expect," he warned.
And with that, we agreed to make for an early departure tomorrow morning and not leave unforseen delays and other developments to chance. "Things have a tendency of happening unexpectedly here," he said.
At 3pm, we checked into the Grand Imperial Hotel in downtown Kampala. Trying to get readjusted from the manicured tour of Tanzania to something more understated like this, we really didn't venture from our hotel room on this day.
Anxious to try local food, we tried matoke at the hotel's restaurant for dinner. Matoke is sort of a staple food made of a type of bananas (actually plantains). The dish itself is rather bland, and I wondered how something as sweet as a banana or plantain could taste so bland. I stopped eating it after I wasn't able to dip it in the chicken curry sauce that came with my chicken curry with rice dish.
Another unusual thing about this place was that there were no mosquito nets around the bed. With our worries about malaria (even with our anti-malaria drugs), this wasn't good…
Day 2: THE PUSH FOR THE FERRY
With Mike's warning yesterday about how hectic our itinerary was, we agreed on a 6am departure from Kampala both to beat traffic and to ensure we'd be at Murchison Falls without missing out on our boat safari scheduled for this afternoon.
Of course without our mosquito nets, both Julie and I suffered from numerous mosquito bites on both our necks and faces. With the presence of malaria in this country, this was worrisome.
Oh well, there wasn't much we could do about that. It was time to get moving, and we certainly managed to get out of Kampala before most of the city woke up.
The next 4.5 hours was pretty much spent with me accompanying Mike at the front seats of the van. I tried to learn a little more about Uganda as well as trying to keep him awake.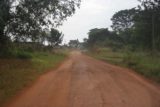 As Mike warned, the road was riddled with potholes though it wasn't quite as bad as it was in Zambia. However, the unsealed washboardy road between Hoima and Masindi was a bit rough. Mike didn't want to go the more direct northern route to Masindi stating that it was a terrible road and he hadn't gone in two years thanks to roadblocks, extreme washboards, and too many potholes. So we ended up going a slightly longer route from Kampala to Hoima and then to Masindi and to Paraa on the north side of the Nile River by ferry.
I don't know what it is, but somehow the topic of conversation gravitated towards politics. Whether it was talking about converting to solar power or about past atrocities in Uganda and Rwanda, it was pretty deep and hard-hitting stuff. Not the usual type of conversations you'd normally be having on an African safari, I reckon.
Anyways, at least it kept Mike alert for the most part. However, there did come a point where he confessed to me that he needed to pull over in one of the rural villages in the hopes of getting some Red Bull.
Well the small villages where we stopped didn't have them, and it was a bit awkward getting stared at by villagers the way we were stared at in Zambia.
It wasn't until Mike was topping off at a petrol station in Masindi did he finally get his Red Bull fix.
It was about 10:30am by the time we left Masindi. This was when Mike told us that there was a 12pm ferry that he tried to catch to cross the River Nile and have lunch at our lodge. There was still nearly 90km to go and I wasn't sure we could make that ferry. If we missed it, we'd have to wait until 2pm to cross, and well, that was when our Murchison Falls Boat Safari was supposed to take place…
And so in a sudden shift from our laid back and deliberate pace from this morning, Mike shifted into haste mode.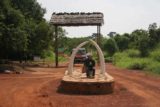 By 10:45am, we were at the Murchison Falls National Park gate and its awaiting statue of a chimpanzee. Mike kind of took his time securing the permits here and even offered us to browse for curios at the shop over there.
I thought if he's not worried about time at this point, then maybe we must be making good time and have time to spare…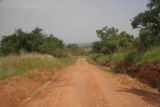 Little did I know I was wrong…
Immediately after entering the park, the unsealed road was attacked aggressively by Mike who tried to maintain a 60-70km/h speed to the best of his ability. It was clear he was pushing the limits of his van and we even hit a few small ruts and potholes at almost full speed.
"Time is not on my side," he kept telling himself.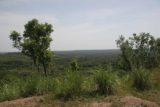 And with this state of mind in all of our minds, the race to catch the noon ferry was tense.
It was too bad because we managed to see some baboons as well as a little geology lesson as we descended the Rift Valley Escarpment into the humid jungles fed by the Nile Drainage.
Finally we got to a gate near the ferry at 11:55am. As Mike communicated the haste to the guards, they let him pass as quickly as possible. With less than a minute to spare before 12pm, Mike gave a fist pump and pounded his steering wheel.
"Yes!" he exclaimed.
Apparently, we were just in time for the ferry as it was crossing the river from the other side and was about to pick us up along with another vehicle.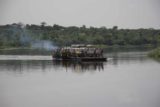 And with that, we boarded the ferry just in time, and we also learned that our Nile Safari was now at 1pm instead of 2pm.
"Remember what I said? Sometimes they do things without announcing here," said Mike to me.
Boy was it a good thing that we caught this noon ferry!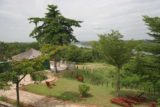 At 12:20pm, we arrived at the Paraa Safari Lodge. We hastily were ushered to have lunch, but unfortunately, it was very rushed. We had to be back downstairs after only having our food for less than 15 minutes. Forget the dessert or anything else that was on the plate except the Nile Perch.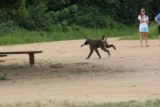 We were at the shores of the Nile River at 1pm, but we were apparently a little early for our tour. It actually didn't take off until 1:30pm. In the mean time, we had a ball watching baboons steal food from someone's truck as well as from an open-lidded trash can.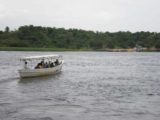 We also noticed that one of Mike's tires was going flat. "Yeah, I know we pushed the vehicle today," he said. This brought Julie flashbacks of getting stranded in Zambia so it didn't exactly help her piece of mind.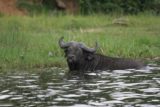 The boat ride actually surprised us because there was far more wildlife here than we had seen on the Zambezi Sunset Cruise near Victoria Falls. Even though the animals were mostly hippos, crocodiles, elephants, cape buffaloes, impalas, waterbucks, warthogs, and various birds (all animals we had mostly seen before), it was nice to see that our waterfalling in Uganda was accompanied with a little wildlife. That fact alone made this waterfall unique in many ways.
I had learned that the years of war and poaching for elephants had actually helped the ecosystem of the Murchison Falls area somewhat. We're right now in the middle of the ecosystem recovering, and from what we could tell, it was recovering nicely.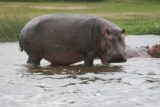 Still, with each hippo and croc sighting, it did seem that they didn't like us watching them. The hippos especially seem displeased by our presence and many of them gave angry snarls and huffs through their noses.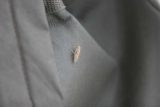 There was a guide on board sitting towards the back of the boat describing the wildlife in his broken english, but it was hard to hear him over the motor as we sat near the front. The biting tsetse flies also kept us alert – especially since they aren't deterred by DEET.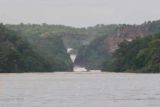 By about 3pm, we finally saw the powerful Murchison Falls. The boat driver skillfully wedged the boat against a rock and an island so we could take a bunch of photos of the falls from the bottom.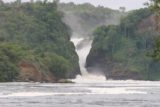 It was a good thing we invested in a telephoto lens for this trip (mostly for the wildlife) because it was necessary to get a good photo of the waterfall from the boat.
After the boat stopped by the shores of the river, a small group got off the boat accompanied by a local guide. When I saw the guide open up a little compartment at the front of the boat, I thought he was going to grab some refreshments or something. But instead, he pulled out a semi-automatic AK45!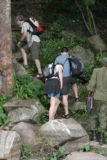 That got me chuckling, but once again I was reminded that you're part of the food chain in these parts!
On the way back to the Paraa Lodge, the boat was considerably quieter except for the smelly motor. The driver actually stopped the motor whenever he saw a crocodile at this point thinking this is what we're most interested in at this point. And we managed to get some interesting croc shots in the process, but it seemed that the crocs were disturbed and often went into the water whenever we approached.
There was one instance where an angry hippo actually lunged towards our boat when the boat moved away. By the time the hippo resurfaced, it was right where the boat used to be!
Whoa! Good thing we moved out of there and not get capsized by it! These guys are not to be messed with!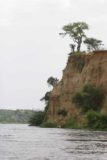 By 4pm, we were back at the jetty, where we walked the short distance uphill back to the Paraa Safari Lodge, where we arrived 20 minutes later. There, I was having fun practicing Swahili with one of the employees who just happened to have come from Kenya!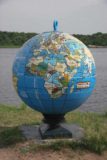 Mike did tell me earlier that people in these parts are more Nilotic rather than Lugandan so they had to speak Swahili to communicate with others in the country.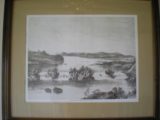 Back at our room, we had a little bit of a rest. I took this time to look at our surroundings and some of the portraits hung up on the wall of our room. Something that caught my eye was a drawing of Rippon Falls. It turned out that this waterfall was once the marker of the Source of the Nile, but the Owen Falls Dam flooded it out. That's too bad because I'm sure Rippon Falls would've been an excellent landmark for the Source of the Nile, which we'd be seeing at the end of our Uganda leg of the trip.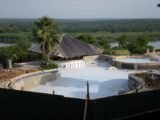 The rest of the rather humid afternoon was spent having afternoon tea and admiring the incomplete and closed swim-up bar.
Boy, we sure could've used a little bit of cooling off…
Day 3: "GOD LIKES PATIENCE"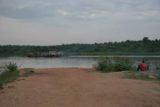 Keeping in the spirit with our hectic schedule, we left the Paraa Safari Lodge at 6:50am so we could catch the 7am ferry back across the Nile. Being on the ferry schedule was quite annoying, and we didn't feel like waiting until the 8am ferry. So our 6:30am breakfast was eaten in haste.
As we awaited the ferry at the jetty, we saw a hippo as well as a grazing waterbuck.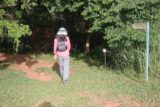 After crossing the ferry and returning to the south bank of the Nile, Mike drove more deliberately towards the top of Murchison Falls. We were all hoping the spare tire and the rest of the tires would hold up until we return to Kampala later this afternoon.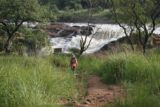 Anyways, we were at the top of Murchison Falls picnic site at 8:25am.
There, Mike left us alone and both Julie and I walked the short trail down to the top of the falls.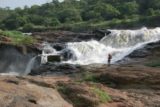 The thundering falls was certainly much better experienced up close than from the boat. The morning sun also produced nice rainbows in the mist wafting up from the falls. But our enjoyment was tempered by those annoying tsetse flies who wouldn't leave us alone!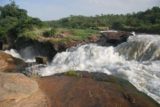 It looked like there used to be a bridge over the top of this part of the waterfall because we saw a protruding concrete block sticking up next to the raging torrent. I guessed that if there was a bridge across the falls, it must've been washed away and never rebuilt again.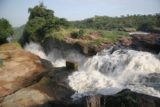 Despite what Mike and other literature on Murchison Falls had said, not all of the falls went into the more visible upper tier of the drop. We could clearly see a good chunk of the river bypassed the falls, but we weren't sure where the other half of the river disappeared to.
Could this be another case of false advertisement calling this falls the "most powerful on earth?"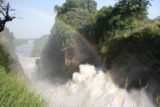 Still, the experience of feeling the power of the falls from the overlooks as well as getting nervously close to the rush of water without railings sure made us debate whether this waterfall made our top 10 list of the world's best.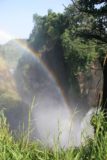 "Gocta should go," said Julie. I wasn't so sure about that.
Nonetheless, the falls did offer the unique ability to combine a waterfall excursion with a wildlife safari. That had to count for something…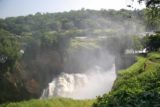 When we got back to the car at 9:20am, Julie nearly stepped on a snake in her Keens! I had always wanted to see a snake to round out our wildlife sightings, but this was a bit too close for comfort.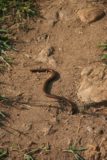 It had a big brown shape that reminded me more of a giant earthworm than a snake, but it had that brown unassuming shape like a black mambo (though it clearly wasn't a black mambo). We weren't sure if it was poisonous or not, but after asking Mike back at the car, he said that it was possible it was poisonous…
Yikes!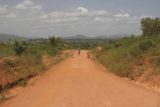 Anyways, during the drive back to Masindi, I challenged Mike about how the falls didn't seem to funnel all of the Nile River through its drop. But he was quick to point out that the falls did indeed accept all of the Nile River.
He went on to tell me that the square pillar by the falls used to support a bridge onto the island on the other side of the falls. He continued that the bridge was washed out in a flood back in the 60s. However, if we were able to get onto that island, we could see the rest of the Nile River funneled back towards the lower tier of Murchison Falls. Thus, the falls does indeed accept all of the Nile River's flow (just not on that upper tier).
He said it's possibly churning water at about 10kL/s!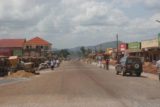 At 11am, we had an early lunch at the town of Masindi. There, we had ourselves some stews and curries with rice. It was something more typical of authentic local food than the Westernized Serena foods we were used to in Tanzania.
At 12pm, Mike learned from another driver that the road he had avoided for over two years actually isn't that bad anymore.
"Now we'll have to find out," said Mike.
"That road was a real pain in the ass," he continued. "No one even thinks about taking this road."
In any case, we're on it now…
But as we were leaving the south end of Masindi, Mike was in disbelief.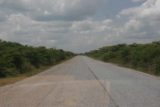 "I don't believe it!" he said as he was driving the smooth, newly paved road. "I'm impressed!"
Indeed, this road was completely new. Apparently the Ugandan government wasn't kidding about putting transportation at the top of its spending list in its new budget for the year (we noted that tourism was allocated hardly anything though).
He then said, "See, look how few cars take this road. No one knows about it!" And well, we only saw one or two vehicles going the other way.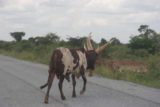 "They even have drainage channels," said Mike pointing to the sides of the road.
But before we got complacent and settling into a comfort zone, Mike then said, "I'm still keeping an open mind. Lets wait and see by Kampala."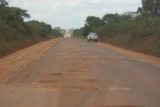 Well about an hour later, we rejoined the main road south towards Kampala. The road was no longer new down here, and sure enough, there were potholes all over the place.
"Now this kind of road reminds me of something we have seen in Zambia," I told Mike.
Indeed, all vehicles were swerving around the potholes and even driving off road just to avoid the big potholes littering the middle of the road.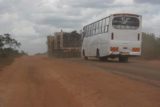 In one comical moment, a big bus carrying passengers passed us as it ran right through the potholes. On the window, there was a sticker saying "God Likes Patience."
Mike and I were laughing at the irony considering that bus was going like a maniac right through the potholes and tailgating other drivers.
What was even funnier to me was that the bus was driving forward, but its body was diagonal. Apparently its alignment was seriously out-of-whack. I guess that was normal in Uganda because Mike didn't even flinch about it saying he's seen that before.
Anyways, Mike sighed when he said, "Spoke too soon." This was the road that he feared, and even though the new road seemed to have shaved off 50km and lots of time, we were getting it back on this Ugandan Obstacle Course.
At 2pm, we went through a rather lengthy detour (nearly 50km) through some poor, rural village called Nakasongola. Mike commented how interesting this was because he normally would never visit this village.
But when we finally returned to the main road and passed by a dozen of giant speed bumps, the road was all smooth and new again.
"You never know what's next," said Mike.
About 90 uneventful minutes later, there was about 20km left before reaching Kampala, but the road was back to being potholes and unsealed in sections. So on top of the obstacle course, there was also the usual Kampala traffic.
When Julie and I wondered aloud why the road is so bad near Kampala, Mike said matter-of-factly, "It's really simple. Who voted for the current president?"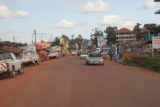 Mercifully by 4pm, we were back at Kampala. According to Mike, the jury is still out on whether he'll take that road again or just go back to the older longer route we took on the way to Murchison Falls. It's a hard call, but at least the shorter route is being worked on…
The rest of the afternoon was spent browsing the web on the Sheraton's free internet (yep, you heard that right, free internet) while emailing my worried mom who hadn't heard from us in nearly a month – just in time to wish my dad a Happy Father's Day as well).
We were supposed to sleep early so we could wake up early tomorrow and leave for Sipi Falls on the slopes of Mt Elgon near the Kenya border out east. Unfortunately, Julie started to feel fever and chills. It made her night sleepless, and the fear that she might be stricken with malaria also kept me awake all night…
Day 4: MALARIA SCARE
It was 3:45am when both Julie and I decided it was time to just get out of bed as we couldn't sleep. Julie was still feeling chills and fever, and it was really hitting home to me that she could very well have contracted malaria.
So we decided to act on this fear of malaria and immediately went downstairs to the lobby to exchange some money into Ugandan Schillings as well as to try to have the hotel call us a cab so we could go to the local clinic before Mike was to pick us up at 6am.
We weren't sure how to reconcile this (especially if it took longer than the less-than-two-hours to get all the testing and taxiing done), so after some more thought on the matter, we decided to just wait until Mike showed up at 6am.
Sure enough by 6am, Mike showed up and he took us immediately to the CARE clinic, where we arrived just ten minutes later.
By 6:50am, after a little small talk with the doctor and his english that was a bit difficult to understand for us, he cracked a few jokes that got us to chuckle and smile while he administered the blood test on Julie, the doctor finally ended the conversation by smiling and saying, "OK, you don't have malaria."
Julie was surprised that he said it so confidently (there have been false alarms in these tests especially if you're taking malaria pills as we are), and then proceeded to ask him, "How are you so sure it's not malaria?"
The doctor smiled again and told us, "You can not have malaria and smile. If you have malaria, you would not be smiling."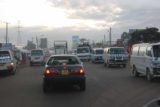 And with that we rejoined Mike, paid our fees, and faced the Kampala traffic as we headed east to Sipi Falls.
The next six hours was like a blur for both of us because we were obviously tired from not sleeping last night. When we arrived at the Lacam Lodge next to Sipi Falls at noon, Mike confessed to us that he also had trouble staying awake.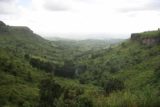 The Lacam Lodge was quite a rustic lodge and there were numerous steps leading down to our banda as well as the restaurant area. This was one place where we welcomed the porters' help in carrying our bigger luggage.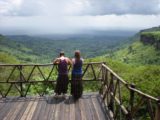 There were no mosquito nets in our banda, but the porters were staying there were no mozzies here due to the cold nights and the fact that water runs off into the valley below and does not stay on Mt Elgon.
So after our lunch, we relaxed a bit in our banda. Julie still was feeling the effects of the bacteria in her system (probably from food poisoning) so I decided to do the Sipi Falls hike alone with the local guide Joel.
It wasn't going to be an easy hike (trying to see all 3 of the Sipi Falls) being some 7km long with lots of steep sections. To make matters worse, thundershowers were passing by on and off so the steep muddy trails were slippery.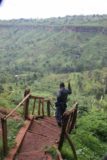 Anyhow, we started the hike at 2:20pm and sure enough the threatening thunderstorm delivered. It drenched my raincoat while Joel was busy sheltering himself with one of the large leaves he took from one of the farms we walked through.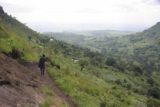 By the time we made it to the bottom of the descent, we got to a spot where we could see the main Sipi Falls (plunging some 100m), but the rain made it difficult to photograph the falls without stress (and without getting water on the lens).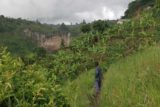 At the same time, a pair of women accompanied by a group of local guides were making their way up the steep slope from the absolute base of the main falls. They were totally drenched as they didn't have a poncho nor any other protective gear.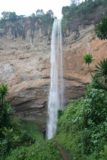 Joel decided that we shouldn't go down to where they were. Just too steep and too slippery given the rains.
So we headed back further downstream from the falls where the trail then crossed the river and climbed steeply up another steep and slippery trail complete with a wooden (slippery) ladder where we had to take one step at a time. I definitely didn't want to fall here so I didn't bother looking down with each step.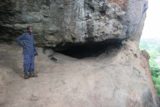 At the top of the ascent, the thunderstorm started to ease and we ended up in front of a tiny cave. From that cave, there was a nice angled view back at the main falls with Lacam Lodge dwarfed to its right.
After drinking some water and catching a short breather from the long ascent, we continued ascending a short distance more until the trail leveled out through someone's farm. There, we were able to see the second Sipi Falls and some cascades above it.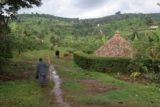 Before long, we were back on the paved main road where we continued to walk down the road, past a bridge, and onto another property.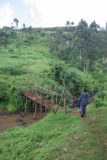 From that other property, we crossed a bridge then steeply ascended another slippery and muddy path where some flimsy walkway was supporting us precariously on a cliff.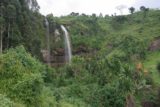 Joel led me to a rocky outcrop where there was a nice view of the 2nd waterfall (probably about 75m according to Joel). Along the way there, we saw another couple (Dutch) who were also staying at the Lacam Lodge. Joel told me that they drove to the other property. "Cheaters!" I thought to myself.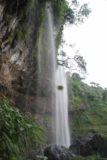 From the viewpoint, we followed a narrow trail with some precariously flimsy railings to the back of the 2nd falls. And like earlier on in the hike, there was a cave. But this cave was right behind the falls, and it looked like it did get some use as a shelter.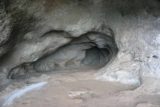 After the second falls, we continued climbing some more along slippery and muddy paths through some peoples' farms. This detour seemed like it went on forever, especially since we had hiked and ascended so far at this point.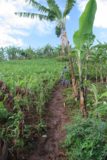 With my knees starting to feel pain and my thighs getting sore, we mercifully got to the base of the third (uppermost) falls, which was probably about 85m tall. It was misty at the base, but there was a faint rainbow despite the weak sun piercing through the thunderclouds.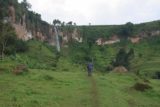 Finally after this falls, we made another long, muddy descent back towards the main road, where the trail ended near the Lacam Lodge.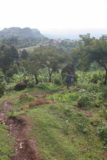 With muddy boots and pants and all, I wasn't sure when I'd get a chance to wash off all this gunk. But in any case, I was sure glad we returned to the lodge when we did at 5:35pm. My body was probably unwilling to endure more punishment.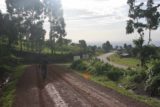 Throughout the three hours or so of hiking, Joel and I managed to pass the time trying to speak small snippets of Swahili. Being someone who desires to get into tourism, Joel knew the local languages here as well as Swahili. I guess it's only in Kampala and the immediate surroundings that resist speaking Swahili (like the doctor at the CARE clinic).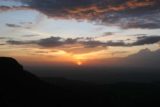 Anyhow, the rest of the evening was spent watching the sunset, having a relaxing dinner, and just letting the body rest. Without electricity, we had to rely on kerosene gas lamps to get around our banda. If not for the smell of the fuel, it was actually a rather charming experience. Also, the hot shower at the lodge was another welcome feature!
Day 5: THE SOURCE OF THE NILE
We awoke at 6am to a cool morning. I could've sworn from last night that it was raining even though it seemed the weather was clearing up. Regardless of what I thought I heard through my subconscious or semi-conscious state asleep, the weather was a little humid though still a little cool.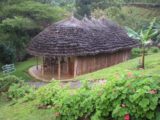 After getting freshened up for the day, Julie and I didn't wait for the porters to come to our door. We had arranged with Mike yesterday for an early start to the day. Preferably 7:30am, but realistically it would be probably a half hour later at least because breakfast depended on the speed of the Lacam Lodge crew.
Thus, I actually lugged our heavy packs all the way to the top. Joel saw what I was doing and actually grabbed one of the heavy luggages when I was already 3/4th of the way up. So I was sweaty already this morning.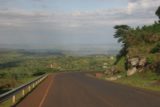 When Mike was settling the bill or something, there was some kind of an argument between Mike and Joel. I wasn't quite sure what it was about, but Mike didn't seem at all pleased with Joel about something, and I'd imagine it might have something to do with being overcharged with something. I didn't ask Mike about it, but was quite hot under the collar.
Anyways, we finally left the Lacam Lodge at 8:25am.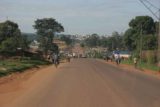 The worry for today revolved around getting back to Entebbe to catch our 8pm flight to Nairobi even though Mike wanted to take us to the Source of the Nile and Bujagali Falls for a visit.
So without further adieu, we were at the Source of the Nile in Jinja by around 11:30am. But that wasn't before Mike started to doze off about a half hour before getting there. Apparently all the long driving (at least 5 hours each day) seemed to have taken a toll on his endurance.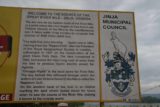 Good thing I was sitting on the front seat with him.
When he was about to go off the road, I told him, "Looks like you need another Red Bull!"
To his credit, instead of pushing onwards, he stopped the car and stretched for a few minutes. As he pressed onwards, I knew he was fighting fatigue, so I tried to keep him on his toes.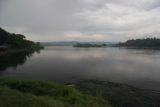 Anyways, at the Source of the Nile, it was basically where the Nile River starts as it officially stops being Lake Victoria and starts becoming the famous river that passes through Egypt. The thing is that Rippon Falls used to be right at the so-called source of the Nile, but the Owen Falls Dam flooded that out and now all you see is a series of islands.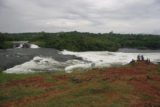 If it wasn't for a drawing of Rippon Falls that we saw at the Paraa Safari Lodge, we wouldn't have made the connection as to why the Source of the Nile was such a special landmark (imagine a waterfall marking the start of the Nile River! How special would that have been?).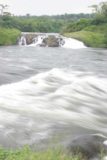 Anyways, in keeping with the spirit of trying to solve Uganda's energy needs in a quick fix, they did away with the falls. Even Mike was a little disappointed at its history. What's even worse, Mike pointed out that Owen Falls Dam is no longer efficient enough to put out the energy yields needed anymore so they're going to destroy the Bujagali Falls (popular with kayakers and thrill-seekers) rapids with another dam.
Sheesh, you'd think solar and wind energy might do them a world of good…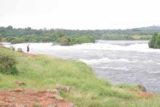 So after spending a few minutes snapping the obligatory photos of what's left of Rippon Falls, we headed straight to Bujagali Falls.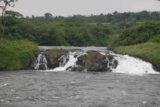 Now technically speaking, the Source of the Nile is not really Lake Victoria but all springs, rivers, creeks, and rainfall that drains into the basin of Lake Victoria. So technically, you could say some springs fed by snowmelt and glaciers in the volcanic peaks of Burrundi are the real source of the Nile.
Well whatever makes the academics feel better about it, the bottom line is the geographical source (as of the actual start of the river itself by nomenclature) is where Rippon Falls so we'll roll with what the Ugandan Tourism Board wants everyone to believe…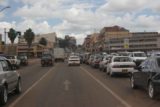 At noon, we were at Bujagali Falls. It really wasn't anything real special from a waterfall lovers standpoint. We really wanted to see some brave kayakers and whitewater rafters going down these falls in front of us (which Mike called the "trial rapids"). He said the more interesting Class 5 stuff is further downstream.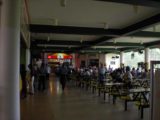 After a couple more hours of continuing west from Jinja back to the traffic jam of Kampala, we had ourselves our last lunch at a food court in downtown. After 40 minutes of having Indian food, we left for Entebbe around 3pm.
Mike noticed lots of police cars and special cars with flags on them heading in both directions.
"It looks like the president is coming to town," he said.
I guess that meant we'll have more security at the airport. In any case, it was just something to note but in the end nothing really came of it.
By 3:55pm, we were at the Entebbe Airport. We bid Mike a quick farewell and proceeded to wait patiently for our next safari in Kenya.
It ended up being a long night (and the hour-long delay in the flight didn't help) and we didn't sleep until around 2am in Nairobi with a 7am departure the following morning…
Visitor Comments:
Got something you'd like to share or say to keep the conversation going? Feel free to leave a comment below...
No users have replied to the content on this page