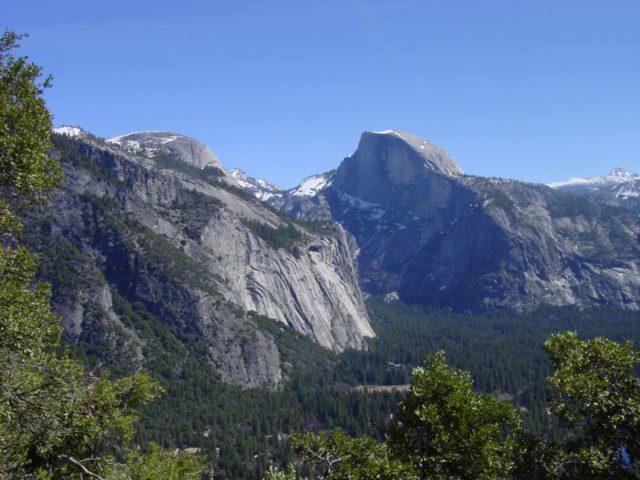 19-March 2004 to 21-March 2004:
My work recently did away with the old Paid-Time-Off (PTO) System and instituted a Sick Leave System, which was a bummer since I had heaps of hours hoarded up for longer vacations I anticipated taking – and I didn't anticipate being unhealthy. Now with reduced maximum vacation hours in lieu of sick leave hours, I had to take a vacation or lose some of those hard-earned hours. That sucks! So, where should I go on a spontaneous trip when faced with a use-it-or-lose-it situation? The first thing that came to mind was a return to Yosemite…
PREFACE
A few weeks earlier, our human resources department at work held a meeting discussing the conversion of our benefits. Our company was bought out by a larger company several years ago, and the larger company wanted to convert all of its newest employees to the new system.
The impact of all of this was the loss of the Paid-Time-Off (PTO) system, where sick leave and vacation hours were all in one basket. Replacing that was the sick leave system, where you have fewer vacation hours. However, you do have a separate bin for sick leave – which you lose half of your unused balance every year.
Personally, I thought this penalized people who were healthy because of the reduced vacation hours. I also thought it was some corporate scheme to squeeze additional hours out of employees' own personal time.
Regardless of what I thought, the deal was done and there was nothing I could do about it. To make matters worse, I had hoarded my vacation hours in anticipation of longer trips in the future. Now with reduced maximum vacation hours in lieu of sick leave hours, I had to take a vacation or lose some of those hard-earned hours.
That sucks!
So, where should I go on a spontaneous trip?
The first thing that came to mind was Yosemite.
Since this year was a pretty dry year, I knew we'd get comfortable Spring-like conditions this time of year (March). So, I went forward with some last-minute campground reservations in Upper Pines. Keep in mind that last-minute reservations in Yosemite were practically unheard of, but this year with its early-arriving Spring and Summer was unusual.
I also thought it might be a good time to start toying around with some filters and a wide angle lens for this point-and-shoot camera with some manual capabilities that I was using. It was some 3 megapixel Sony Cybershot camera that was already old for its time, but still got the job done. Besides, I was still learning how to take decent photos before I invested in an expensive Digital SLR.
Julie couldn't take Friday off, and I intended to head out to Yosemite before dawn on Friday morning. When Mom heard I was about to go alone, she took Friday off to come with me.
And so we were set up for the trip.
Day 1: REVISITING OLD HAUNTS
On Friday, we went to Yosemite as planned. The now-familiar drive up to the park was uneventful, which was largely because Mom and I were both early birds so traffic wasn't much of an issue.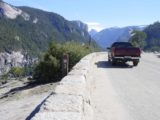 It was still mid-morning by the time we arrived at the Turtleback Dome pullout along Hwy 41 about a mile before entering the tunnel concealing Yosemite Valley.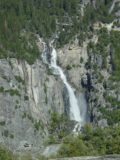 Naturally, we pulled over at the Turtleback Dome and took our time trying to capture good photos of Cascade Falls from across the Merced Canyon that morning. It almost felt obligatory at this point to make this scramble and photo stop.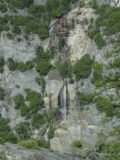 And once again, we noticed that Wildcat Falls' upper tiers were also running.
When we had our fill of this view, we then continued driving straight to Hetch Hetchy. We opted not to set up camp right at this moment in the Upper Pines because it was probably still too early. At least we knew we had reservations so we didn't expect anyone to be squatting in our spot.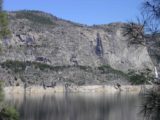 Somehow Mom and I got this idea that maybe Wapama Falls might still flood the trail. After all, our only memory of that place was from June 2002 when the conditions were crazy. We had some regrets about not taking movies or capturing the turbulence of the scene on that fateful first trip. So now that we came with the right mindset, we were ready to communicate it through photos and videos.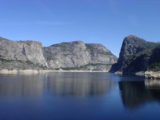 However, just as we were approaching the dam, we could see immediately that Tueeulala Falls wasn't doing so well. We still wondered if Wapama Falls would still be as crazy as it was back then, but the conditions we encountered on this day somehow made it seem unlikely.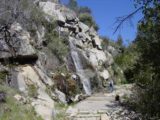 Anyhow, we passed through the familiar tunnel and then embarked on the sun-drenched trail skirting the northern shores of the inaccessible reservoir. We passed by a trailside cascade before another cascade that seemed to do better than Tueeulala Falls commanded our attention.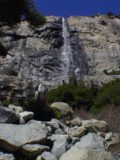 The hiking was brisque given our familiarity with this trail. After getting various angled views of that unnamed waterfall accompanied by a minor stream crossing, we then approached Tueeulala Falls.
This time, Tueeulala Falls was struggling to flow. Clearly, it had nowhere near the volume it had from two years ago. When we looked up at it, all the falls could produce was a wispy plume backed by a stained cliff from the scattering of the wispy mist I'm sure.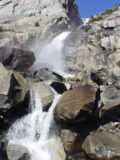 As we passed Tueeulala Falls, the thing we noticed that was conspicuously missing this time around was the flood past the footbridge. Now, it was dry as a bone and it was easy hiking.
Eventually, we made the 1/4-mile walk further to the familiar footbridges at the base of Wapama Falls. And now we could see that the conditions were nowhere near as stressful as before. Photographing the top of Wapama Falls was no longer as difficult (near impossible) as before.
Meanwhile, we were pretty stress free about taking more photos alongside the footbridges. In some instances, we saw slight rainbows next to the footbridges.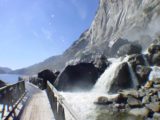 However, when we looked back towards Tueeulala Falls, we no longer saw the rising mist concealing that waterfall. Instead, we just saw the profile of a struggling waterfall against the midday sun.
After we had our fill of this waterfall, we headed back to the car park. Part of me was a little disappointed that we didn't have the turbulent scene from two years ago, but I'm sure Mom was a little relieved.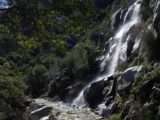 With the afternoon sun getting lower on the horizon, we could see that trailside cascade starting to glow with the side lighting. It kind of reminded me of how Horsetail Falls was supposed to behave, and in a way, it further reminded me that we ought to check out Horsetail Falls before the sun would set today.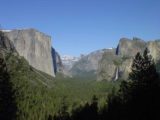 So after leaving Hetch Hetchy, we drove back to the Tunnel View, knowing that it was still too early to see Horsetail Falls. However, we knew that afternoon would be a good time to get that classic view of the Gates of Yosemite Valley.
After having our fill of this lookout, we then headed back down into the valley in search of a pullout where we could check out Horsetail Falls.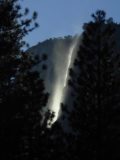 At first, we had to make a circle on the one-way road because we apparently overshot the pullout we were supposed to stop at. This pullout was unsigned and quite obscure.
But when we finally found the suitable spot to pull out, we then walked over to where we could see the wispy ephemeral waterfall lit up by the late afternoon sun.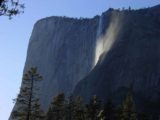 When we saw it, the falls had a bit of a ghostly white appearance as the mist was scattering. And all that mist was being sidelit, which made for quite an unusually attractive scene. Sure we knew that the falls wouldn't glow red at this time of year, but we noted our observations on this go to better prepare for a time when we might actually see the waterfall do its thing.
So the rest of the day passed without incident. When we were done with Horsetail Falls without the firefall effect, we checked in to the uncrowded Upper Pines Campground, pitched the tent, and went to Curry Village for a shower and some pizza.
Expecting a frigid night since it was early spring, the night was unexpectedly pleasant and cool. Neither of us had any trouble sleeping.
Day 2: A CHANCE MEETING ON A TRAIL
Neither mom nor I needed our alarms to wake us up. It was about 6am and we were already awake from the light of the day and some of the chirping from the early birds.
After a quick breakfast of instant noodles using the handy little MSR Pocket Rocket stove, we were ready to take on the day.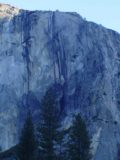 We started off by heading towards a spot where our Photographer's Guide to Yosemite said we could get good morning shots of the Cathedral Rocks. There was a standing pool here that reflected the attractive rocks. However, we also noticed that we could get direct views of the tiny Horsetail Falls.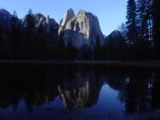 In a bit of a revelation, we could see how this falls looked real wimpy from this angle, and that this was really one of those falls where perspective meant everything.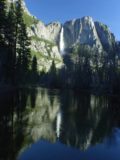 After having our fill of these intriguing photo stops, we then swung around and stopped at a spot known as Swinging Bridge. Now there wasn't a swinging bridge here (instead, it was sturdy), but we did see an attractive Yosemite Falls reflected in the calm Merced River beneath us.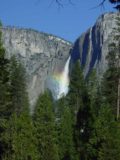 After having our fill of Swinging Bridge, we then headed over to Stoneman Meadow as we were looking for rainbows on Yosemite Falls. It turned out that we did get a somewhat distant view of the falls with a partial rainbow going across it, but it wasn't anything terribly special.
So Mom and I then looked for parking around the Yosemite Lodge area as we were intending to hike to the top of Yosemite Falls.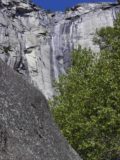 By 9:30am, we were ready to take on the Upper Yosemite Falls Trail.
It was unusual not to see any snow in neither the Valley nor the High Country (at least from what I could tell) this time of year. We did notice another ephemeral waterfall as we were looking for the actual trail from the Camp 4 area. In a way, it kind of kept our attention off of the fairly featureless first 3/4-mile of climbing on the Yosemite Falls Trail.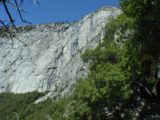 Indeed, the uphill climb was pretty relentless. We still saw ephemeral waterfall almost until we made it to the next major landmark, which happened to be Columbia Point – where we could see Half Dome hovering over Yosemite Village.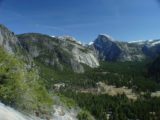 It was at that time that I thought I saw a face and voice I recognized as Mom and I passed by a group of hikers also resting near Columbia Point. It kind of nagged at me, but at the same time I didn't want to make a fool of myself so we continued on the trail.
The next section of trail was brutal.
We had to go up more switchbacks, but it was sandy. With each step we took, our foot with slide a little bit. This made us have to work harder on each step to make the same progress we would've made had the surface been harder.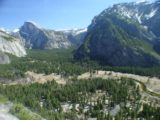 When we finally got to the top of these tiring switchbacks, both Mom and I took another water break.
It was at that time that the hiking party that we passed earlier caught up to us. As they were passing, I had to get another look at that guy I could've sworn I know from somewhere.
Finally, I just blurted out, "Aren't you Remy?"
At first he was shocked, but then he started to notice my facial features beneath my funky hiking hat, and that familiar look of recognition started to take over.
What a small world!
Remy was a coworker who would often talk about travel and nature with me when we'd see each other at the office. As we exchanged pleasantries, I got to meet his wife Katrina and both of them got to meet my Mom.
It was one of those moments where work produced both a frustrating yet cool moment. Frustrating in the sense that out of what I perceived as corporate greed, I had to take a forced vacation – though Yosemite wasn't a bad place to be on a last minute trip. At the same time, I got to unexpectedly see a familiar face in a special place.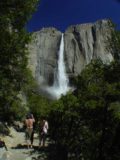 Well Mom and I weren't about to keep them from getting to Yosemite Point, which Remy said was their goal of the hike, which was a little further from the top of Yosemite Falls. Mom and I probably weren't as strong hikers as they were, and they had a couple of friends go with them so we certainly didn't want to foil their time together. And so they moved on while Mom and I went about our leisurely pace.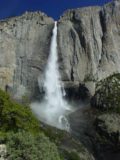 It wasn't long after the pleasant exchange that we saw the Upper Yosemite Fall. It was quite a sight to see this 1425ft freefalling column of water against a backdrop of a cloudless blue sky.
By now, both of us were sweating from the exertion and the heat of the mid-March day. However, the light spray from the falls cooled us down when it blew our way.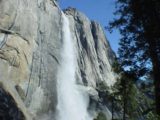 Mom and I continued a little further to a series of granite steps. By now, it was about 12pm and I had a change of plan when I realized that perhaps the pain of going all the way to the top of Yosemite Falls wasn't justified when we had more photo stops to do later in the day. Besides, we hadn't had lunch yet.
So after photographing the profile of Yosemite Falls, I told Mom we should head back to Curry Village and see if we get a late lunch. Then, we should see how far we can go on the Vernal Fall and Nevada Fall complex. I figured that given the perfect weather, we might get good rainbows at the other waterfalls while we wouldn't get as much return out of our time and energy getting to the top of Yosemite Falls. It was a judgment call, but I made my decision, and Mom went along with it.
By 4pm – after a quick Curry Village lunch, Mom and I were on the John Muir Trail and made it to the Vernal Fall footbridge in good time. Unfortunately, my nose started bleeding and wouldn't stop.
I guess I was dehydrated again.
But I was a bit concerned about how much blood had been lost in this episode.
Well it finally stopped bleeding after some ten minutes of constantly swapping tissue paper soaked with blood with fresh new ones.
It was getting late in the day and we had to proceed.
When we got to the Mist Trail, the trail closure signs were still up. This was typical since there's usually ice and falling icicles on the trail throughout the winter and early spring. However, we saw heaps of people just jump the sign and kept going.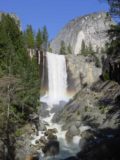 Since we were short on time and there was clearly no ice, we took a chance and followed these people.
Soon afterwards, we took some photos of Vernal Fall from the Lady Franklin Rock. My hunch about rainbows was spot on. Because as we looked up the Merced River, there was the glowing collection of colors floating before the base of the waterfall.
When we continued on the Mist Trail, the rainbow became even larger. The mist wasn't so bad that we needed ponchos. As a matter of fact, we just kept hiking while enjoying the light mist and rainbows before the massive waterfall.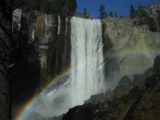 There was even one point when we saw a full rainbow before the waterfall, which was quite a treat.
As we continued onwards to the end of the Mist Trail, the rainbow persisted, but it now started to shrink and move off to the side of the waterfall.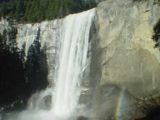 Knowing that our rainbow experience was over for this waterfall, we quickened our pace. It wasn't long before we got to the top of Vernal Fall, and then continued towards Nevada Fall along the Mist Trail.
The light of the day was continuing to get more orange while the shadows continued to get longer.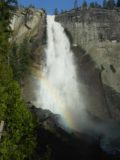 I was in search of a view of Nevada Fall that I saw on one of my Ansel Adams portraits. It was basically in front of the waterfall with a rainbow at its base. I had missed this view on all my previous tries in this area so I was determined to be successful today.
Minutes before the Mist Trail went from light forest to more granite steps, we followed the treeline to an informal spur that led to a rocky outcrop.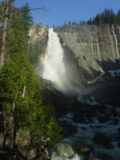 Being careful not to get too close to the edge of this natural platform, we looked before us and saw an incredible sight of Nevada Fall with a long rainbow before it!
Yes, this was what I was looking for!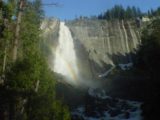 Mom delighted in the sight of yet another rainbow.
After taking heaps of more photos, it was well past 4:30pm, and daylight was fading fast. So we headed back but decided to take the longer John Muir Trail instead of the Mist Trail.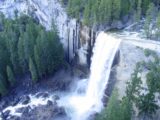 Not far from where we rejoined the John Muir Trail after a brief climb from the Silver Apron area, we saw a nice overlook that looked down upon the entirety of Vernal Fall. It was yet another viewpoint that I had missed in all my previous trips, and we finally got to see this very satisfying view.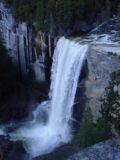 It was too bad everything was in shadow at the time, but we did snap a few photographs before we had to get back to our Upper Pines Camp. There were still some sections of snow in the areas that seemed to be under shadow all day long at some of the switchbacks. This slowed us down a little, but we were still able to get by without a problem with our hiking sticks and decent hiking boots.
Darkness had fallen upon us by the time the John Muir Trail rejoined the spur to the Mist Trail. I had a tiny CMG Reactor LED flashlight as well as a Princeton Vor-Tec headlamp in my pack. Mom carried the flashlight, while I had the headlamp.
We continued on in the darkness with the lights and with our eyes pretty well adjusted to the low lighting conditions.
However, it wasn't long before the trail started to seem unfamiliar. By now, we had probably walked at least twenty minutes since the trail junction. I knew the Vernal Fall footbridge couldn't have been that far away so both of us stopped and turned around.
After about ten minutes of anxious hiking, we finally saw the junction that we missed – which was very easy to do in the darkness. Technically, we could've kept going and followed the west banks of the Merced River, but we wanted to hike in more familiar grounds and that meant following the JMT along the east banks of the river. And so we found the Vernal Fall footbridge, kept going, and finally made it back to the Upper Pines Campground by 7pm.
After returning to Curry Village to shower and have their delicious pizza, we returned to camp.
Despite the little bit of drama at the end of the day, we were quite satisfied with the photos and the scenery we obtained.
Day 3: LAST MINUTE HIKING BEFORE RETURNING HOME
Once again the day started off nice and sunny. Although there was condensation on the tent, we were able to pack up and load up mom's SUV.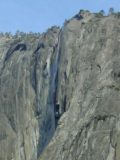 We first circled the valley in search of some more photo ops given the attractively soft morning light. First up was a return to Horsetail Falls. However, this time, it was in the morning backlight and we could see that there was a faint rainbow in its mist though the falls itself was nothing to brag about.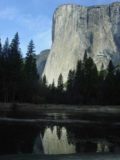 Next as we swung around to the Southside Drive, we made a quick stop where we were able to walk towards the Merced River. I think we stopped somewhere near the Cathedral Spires viewpoint. Anyways, it was a pretty seldomly used stop so all this was pretty new to me.
Eventually, we got to a part of the river where we could see El Capitan reflected in the river before us. With the attractive morning light, it was almost as if I had reproduced a black-and-white photo that I recalled seeing in our Yosemite Road Guide.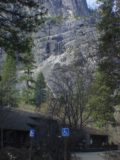 Next, we drove back to Curry Village where we parked the car and took one of the shuttles leading us towards the Mirror Lake Stop. I thought we could use this opportunity to see Mirror Lake in the early morning light, and perhaps see Snow Creek Falls. At least that was the thought process before we would leave Yosemite today.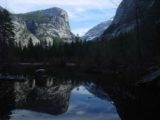 The leisurely paved trail took us quickly to the famed Mirror Lake. After getting the usual reflection photos, we continued on the trail in search of Snow Creek Falls.
Probably another twenty minutes or so later as the trail was very tranquil, we heard that familiar sound of tumbling water. Could this be the elusive Snow Creek Falls?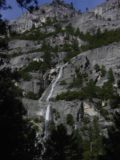 As the sound got louder, we looked up through the trees and saw what looked to be quite a tall waterfall with good volume.
Convinced this was Snow Creek Falls, we took photos of it and then started to head back to the trailhead. Unfortunately, I found out after the fact that this wasn't the desired waterfall. It was actually an ephemeral waterfall that tumbled beneath Basket Dome. I would eventually dub this unnamed ephemeral waterfall "Mirror Lake Falls," but I was a little disappointed it wasn't the other waterfall. Still, it was quite nice for an ephemeral waterfall.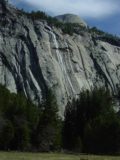 When we regained the car, we made sure to stop at several more photo stops before we would finally leave Yosemite for good on this weekend.
First up was a pullout with a view of the Royal Arch Cascade with North Dome above it.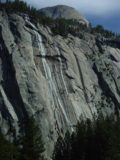 I never recalled stopping for this view of the Royal Arch Cascade, but then again, it was in our Michael Osborne book so at least we could delight in actually having an interesting subject accompany this otherwise pretty unremarkable cascade.
The pullout we stopped for wasn't signed, but it was a fairly obvious pullout. I'm guessing most people zoom past this pullout though bikers would probably notice it.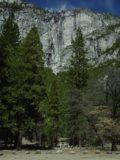 Next, we stopped in front of Camp 4, where we saw that ephemeral waterfall that commanded our attention when we hiked halfway up the Yosemite Falls trail. The falls wasn't very easy to see in our photographs as its waters were blending in with the granite.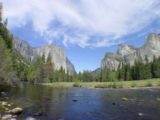 As Mom and I were on our way out, we made one last stop at the Valley View Lookout. This time, we used the wide angle lens to capture this scene, which included Ribbon Falls far to the left. It was pretty cool that we could get Ribbon Falls as well as Bridalveil Fall in one photo – though the distortion on the wide-angle lens left much to be desired.
Anyhow, it was a great way to cap off the photo run that Mom and I had just experienced.
And when this weekend was through, Yosemite managed to make me forget about my corporate frustrations (albeit temporarily) with the incredible photo opportunities, the picture perfect weather, and especially the rainbows.
It's no wonder why Yosemite is a haven for photographers.
Yet perhaps more importantly, the park was the scene for meeting up with a familiar face – from work of all places – in such a special place. And so I got a glimpse of what a coworker's life was like outside of work.
I also came to the realization that indeed we live in a small world after all.
Visitor Comments:
Got something you'd like to share or say to keep the conversation going? Feel free to leave a comment below...
No users have replied to the content on this page