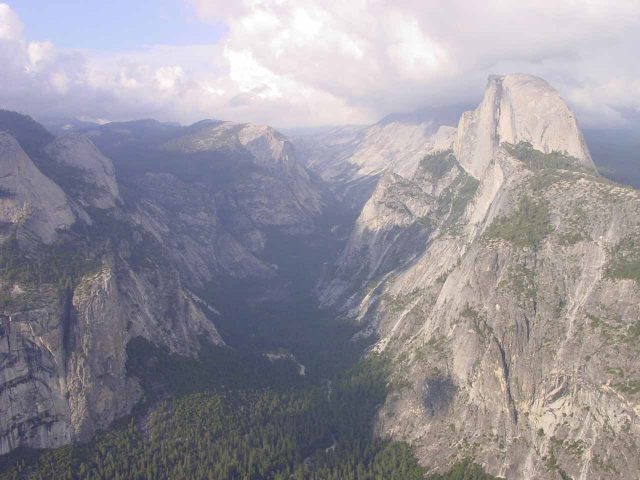 31-May 2002 to 1-June 2002:
It took a while to get the car shuttle set up for the one-way Panorama Trail. There was plenty of drama as thunderstorms threatened to sabotage our planned hike. But even as we returned to our Yosemite West condo after leaving Andy's vehicle at Curry Village at nearly midnight, none of us could get back into the condo…
Day 1: SETTING UP THE CAR SHUTTLE
After having completed an adventured-filled day at Hetch Hetchy capped off with a steak dinner and a Lakers vs Kings game, it was already around 11pm and we still had to get the car shuttle set up for tomorrow's one-way Panorama Trail – a mostly downhill 8.5-mile hike starting at Glacier Point and ending at the Happy Isles Trailhead about a mile from Curry Village.
So Andy and I went in his trusty SUV while my parents followed us in the mini van. We didn't bother taking the only pair of condo keys with us since Julie and Stacey stayed behind.
Before we got back onto Hwy 41, we saw a deer startled by our presence and pranced away. It also startled Andy a little, but nothing came of this little encounter. Mom and Dad followed behind us, but they probably didn't notice the deer.
Since the afternoon-to-evening thunderstorm was clearing, there was still fog on the road from Yosemite West to Yosemite Valley. High beams were useless since it blinded us more than it helped us look ahead. Thus, we proceeded slowly and let anyone who wanted to pass us do so.
Finally after nearly an hour, we left Andy's vehicle at the large parking lot in Curry Village. We all hopped into dad's MPV and headed back up Hwy 41 to Yosemite West.
It was now about 1am when we returned to the Yosemite West complex. When we got to our 2nd story condo, we knocked on the door hopefully without waking the neighbors…
No one opened the door.
Maybe they're asleep we thought. So we knocked louder…
Again no answer.
After spending about 15 minutes futilely trying to wake up Julie and Stacey with the door knocks, some of the neighbors noticed our raucous. Feeling guilty and realizing this wasn't going to work, we had to find another way in or else sleep and freeze in the car! I couldn't believe we were locked out!
So Andy and I went back outside and tried to toss rocks and pine cones up over the balcony of our condo…
Still nothing…
At this point, we were getting desperate. We couldn't believe Julie and Stacey were such heavy sleepers! Anyways, Andy finally came up with the idea of trying to climb up to the balcony.
This was no small feat as there wasn't much to hold on to once he got above the first floor balcony. So, I had to trespass onto the first floor balcony and give Andy a boost so he could at least grab a hold of a beam just underneath the second story.
Once he got up there, both of us were hoping he wouldn't fall because it was at least 20-30ft to the ground!
Fortunately, he managed to get in through the balcony (screen door not closed thankfully) and finally open the door for my parents and I to get in.
When all was said and done, we didn't get to sleep until about 2:30am! Not good since we intended to get up at 5am to hopefully get to Glacier Point at sunrise…
Day 2: THE PANORAMA TRAIL
The alarms went off at 5am. The men (myself included) had a difficult time getting up. Even Mom was already up and about before anyone was up! Amazing! The younger ladies had no such trouble – gee I wonder why?
Anyways, we were all out of the condo before 6am and got to Glacier Point at about 6:30am.
Since maintenance and cleaning was just done to the port-a-potties, we all took full advantage of the clean facilities. We knew as the day would wear on, these things would get more and more disgusting. Mom was certainly right when she says, "The early bird always gets the worm."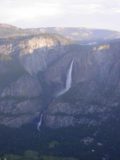 There wasn't a whole lot to photograph up here as everything was in shadow. I guess Glacier Point was really more of an afternoon attraction than the morning. But anyhow, we still got an early start to the hike before crowds would start to show up. We were on our way at about 7:30am
The trail proceeded downhill with some long switchbacks in between. It passed through lots of burnt trees from a fire that must've occurred here in the past. When we looked against the sun, we could see the Giant Stairway of Vernal and Nevada Falls. We could also see unusual sideways views of Half Dome.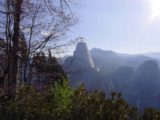 We also saw a whole family of deer grazing together – from little ones to the full grown adults. After noticing us and realizing we weren't coming any closer to them (they were a few paces off the trail), they ignored us and continued about their business.
Everyone thoroughly enjoyed that scene. It was a reminder of how experiencing nature through a hike can be so much more rewarding than an autotour.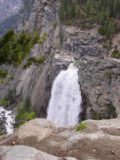 About 100 minutes beyond the start of the hike, we got to a very scary lookout of Illilouette Fall. In order to get good views of the falls, you had to get closer to the cliff edge. Very scary! I could see Mom's concern as I was trying to get the best photos that I could get from here.
Meanwhile, Andy and Stacey thought they might get a better view of the waterfall if they kept hiking so off they went. With walkie talkies in hand, they'd update us on what they saw. They eventually stopped along the banks of the turbulent Illilouette Creek.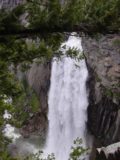 When I had my fill of this waterfall, I rejoined the rest of the group as they too already went off to meet up with Stacey and Andy.
Anyhow that search for a better view was futile. It didn't exist. Good thing I got my photos because we weren't about to go back uphill to take photos of the fall.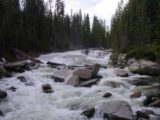 After spending a few minutes having a morning snack, we continued on. The trail veered away from the top of Illilouette Fall as it crossed the bridge over Illilouette Creek. The noise here was thunderous and we all knew that the creek was nowhere to be when it was like this.
Beyond the bridge, the trail started to climb. Then it continued to climb… and climb… and climb some more…
The switchbacks here were relentless, but I knew this was the only uphill part to the entire hike.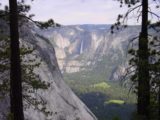 About 45 tiring minutes later, the trail finally started flattening out. From up here, we could start to see unusual views of Yosemite Falls between some trees. We also started seeing more hikers as they were passing us. Some of them were en route to Half Dome while others were on their way to Happy Isles like us. Each person who stopped to talk to us got to hear us talking about our little Hetch Hetchy stream-crossing adventure from yesterday.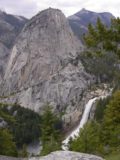 Yet despite seeing other people, this trail still felt mostly quiet. I wondered how many people actually do this hike because we had the sense that the Panorama Trail was popular. I guess we were either wrong or it was all relative by what the term "popular" meant.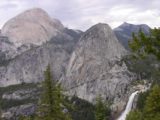 As the trail continued onwards, we could start to see Half Dome's backside towering above the Liberty Cap and Nevada Fall. We stopped to take a few photos here, but the view somehow seemed suboptimal because of the height of the foreground trees conspiring to block our views of Nevada Falls to the lower right. I guess chilling out here also gave us the excuse to notice the quantity of big ants minding their business on the granite surface we were standing on.
Now the trail started to switchback its way down. Being that we were in the park at the height of the snowmelt, parts of the trail actually acted like little creeks for the melting snow above us. None of the streams were so deep that we had to walk with soggy feet, but it did result in some muddy and slippery granite sections.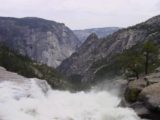 It was almost noon and we were at the bottom of the switchbacks ending the descent of the Panorama Trail to its merger with the John Muir Trail. Now we had to choose between going left or right. We opted to go right and head towards the top of Nevada Fall.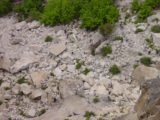 Up here, we had our hand-packed sandwiches and rested for a bit – all the while basking in the noise of the Merced River tumbling and plunging its way over the brink of Nevada Fall. While eating, we noticed a railing and some people on the other side of the waterfall. So we were determined to get there after the lunch.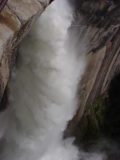 When lunch was over, we continued to walk past the footbridge then searched for a way to get to that overlook by the brink of the waterfall. Sure enough, we found it – although it was quite hidden behind some granite rocks and a dropoff. Anyhow, we spent some time taking photos of the area and soaking in the power of the waterfall while looking down the river. We could also see the little hikers as tiny as ants down below going up and down the Mist Trail. Soon we were about to become one of those ants…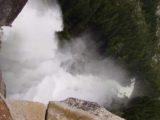 The Mist Trail was quite steep. Since we're all going downhill, it was also a little nerve-wracking. It was quite brutal on the knees with each bone-jarring step pounding on the unforgiving granite. Good thing we had hiking sticks to lessen the shock somewhat, but it was still tough.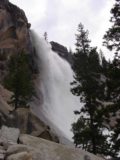 We finally made it to the top of Vernal Fall at about 2:30pm – nearly 90 minutes after our stint above Nevada Fall. Again, we could really appreciate the power of the rushing river plunging over the 307ft precipice.
Next, we had to continue down the Mist Trail. Up to this point, the trail wasn't misty at all, but soon we started to get views of where Vernal Fall's mist was going… on the Mist Trail!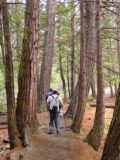 Now it was time to put on our ponchos and garbage bags. I was amazed at how much traffic there was along this section of trail, which made things a bit more uncomfortable considering a false step could result in a fatal slip and fall into the Merced River.
With the herky jerky pace we were forced to obey as we dealt with the traffic, we never bothered to turn around and look at Vernal Fall blasting its mist with its towering curtain of white water. In hindsight, I realized at this point that this trail was probably better for going up than going down.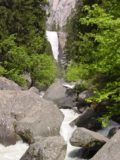 We finally made it to the Vernal Fall footbridge at 3:30pm.
Looking downstream, we could see the turbulent river continue to make its loud journey towards its confluence with Illilouette Creek as well as ultimately the Happy Isles Nature Center.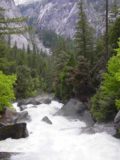 Meanwhile as we looked upstream, the view of the waterfall from here was rather unsatisfactory since much of the waterfall was blocked. It wasn't like we were going to go back towards the Mist Trail to see how we could improve our view.
Oh well, onwards we trudged on.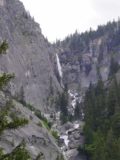 We were now on the last mile along the John Muir Trail before we got to the Happy Isles Trailhead. Along the way, we looked up the Illilouette Gorge to see the profile of Illilouette Fall – that waterfall with the scary cliff-side overlook.
Finally at 4:30pm, we returned to Happy Isles, hopped on to the mandatory shuttle bus, and regained Andy's SUV at Curry Village. He drove us back to Yosemite West (half an hour away) where the ladies were dropped off. Meanwhile, us guys continued to drive the half hour more to Glacier Point. There, we regained dad's MPV. Andy drove back to Yosemite West, while dad and I had a little father-son bonding up here – checking out the afternoon scenery atop Glacier Point along with the rest of the crowd.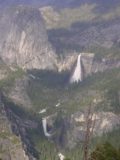 We both looked down towards the pair of waterfalls we had just walked past at the end of the Panorama Trail. Now, we gained quite an appreciation of how far apart the waterfalls were as well as how far they were from where we stood. After all, this was the exact spot where we began today's hike!
So there we were looking out at the regal scenery at one of Yosemite's signature panoramas. Even though Dad's not much of a guy who shows whether he liked the experience or not, I'll bet he must've enjoyed that moment. I certainly did.
Anyways, back we went to the Yosemite West condo. This time all were awake and we weren't locked out.
Visitor Comments:
Got something you'd like to share or say to keep the conversation going? Feel free to leave a comment below...
No users have replied to the content on this page