Nature presents us with a tremendous variety of waterfalls.  Indeed, no two waterfalls are exactly the same, and even the same waterfall may look different or assume different forms depending on the current conditions.
It's the main reason why you could be waterfalling your entire life and still have a completely different experiences whether you're revisiting the same waterfall or someone else sees the same waterfall differently than you.
Given these variations, there has been some effort made in trying to categorize these waterfalls or at least group them based on common traits.
We've seen in the literature a couple of different ways to make such a classification.  The first method is to group or classify waterfalls based on shape.  The other method involves classifying waterfalls based on volume.
Let's take a closer look at these methods.
GEOMETRICAL CLASSIFICATION
Ever since I was introduced to the notion of waterfall classification based on its geometry from reading Gregory Plumb's book
 about Waterfalls in the Pacific Northwest, I was intrigued by how he was able to categorize waterfalls based on some common features regarding shape.
Of course, Plumb wasn't the only one doing this. There are numerous other people making categorizations based on geometry out on the internet.
The big problem is that when you have criteria based on visualization and inspection, it's subject to interpretation. Therefore, there's bound to be disagreements and problems as well as inconsistencies within the categorical definitions themselves.
Nevertheless, let's look into the types of geometrical classifications that are out there.
Plunge:
Plunge Waterfalls are defined as waterfalls that drop vertically without touching the underlying cliff face.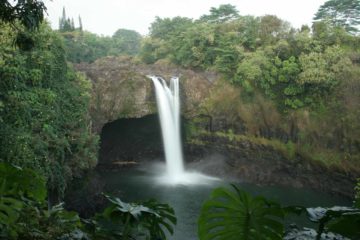 If you've read the article "How Are Waterfalls Formed?", you'll see that waterfalls that exhibit this property typically are well into the waterfall formation process meaning that they've been around for a while.
Typically, plunge waterfalls also generate enough spray to erode the underside of the cliff even further thereby causing alcoves or "caves" beneath the lip of the waterfall. Therefore, you can sometimes even go behind these types of waterfalls.
Some examples of plunge waterfalls include Rainbow Falls in Hilo, Big Island of Hawaii, Bridal Veil Falls near Raglan, New Zealand, Mangawhero Falls near Waitomo, New Zealand, Steinsdalsfossen in Norway, Nobe Young Falls in the Southern Sierras of California, and Snoqualmie Falls in the state of Washington.
Horsetail:
Waterfalls classified as having a "horsetail" shape tend to fan out as they drop on a steep slope while still maintaining contact with the underlying cliff face.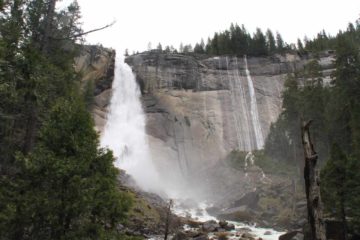 With this kind of definition, you may wonder how they differ from fan-shaped waterfalls or even cascades.
However, as the name indicates, this category was derived from some people observed the shape of a waterfall under this circumstance as resembling a horse's tail.
In terms of the process of waterfall formation, these types of waterfalls are either younger than the plunge type mentioned above, or the hard rock layer supporting the waterfall is steeply sloped to give the appearance that it's more than just a fan or cascade (whose definitions we'll get to shortly).
Examples of waterfalls that fall into this category include Nevada Falls in Yosemite National Park in California, Sanddalsfossen in Norway, and Manawaiopuna Falls on the island of Kauai in Hawaii.
Fan:
Waterfalls in this category are quite similar to that of the Horsetail variety. They share the common characteristic in that the waterfall drops and slides along a steep slope while consistently maintaining contact with the underlying cliff.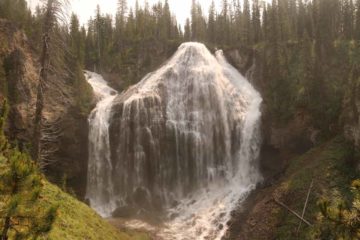 However, the difference is that the shape of the waterfall resembles more of a fan than a horse's tail. The fan shape is more along the lines of the ones you see in Kung Fu movies or the ones that Asian women would fan themselves with when it's hot (except the fan would be oriented upside down instead of up like how you'd normally hold it).
These tend to look more trapezoidal than their horsetail counterparts, and the velocity of the water going down the slopes under more ambient conditions (i.e. not flooded) are such that the water would move slower and thus allow the fanning out or widening of the waterfall's shape towards its bottom to become more pronounced.
Examples in this category include the Union Falls in Yellowstone National Park, Wyoming, Rustic Falls also in Yellowstone National Park in Wyoming, Fantail Falls in New Zealand, Mokau Falls in New Zealand, Friaren in the Geiranger Fjord of Norway, and Lower Falls or Enfield Falls in the Finger Lakes Region of New York.
Punchbowl:
This category of waterfalls is something I don't quite fully understand. Apparently, it describes the shape you get when you have a stream channeled into a narrow hanging gorge before it shoots over a drop that results in a plunge pool resembling a punch bowl that you might see at a party.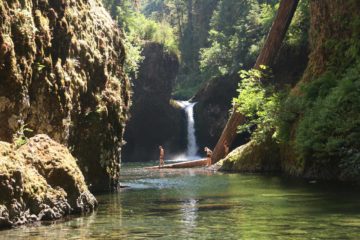 To be quite frank, I almost think they came up with this category as a way to somehow make the Punch Bowl Falls in the Eagle Creek area of the Columbia River Gorge in Oregon stand out.
That said, I'm not even sure if the definition I gave above is even accurate, but I guess I've seen this classification used enough times (and applied to various waterfalls; especially if it's conducive to swimming) to include it here and somehow try to make it clearer for you. I somehow doubt that I've succeeded in that though.
Since I don't have a clear understanding of what exactly makes a waterfall a punch bowl type (except for waterfalls so named), I can only take guesses. So my guesses at punch bowl type waterfalls include the aforementioned Punch Bowl Falls in Oregon, the Tawhai Falls in Tongariro National Park, New Zealand, and Cedar Creek Falls in Ramona, California.
Block:
Sometimes called rectangular waterfalls, these are the types of waterfalls that possess what Julie likes to characterize as having that classic appearance. Basically, you have a waterfall that assumes some rectangular shape.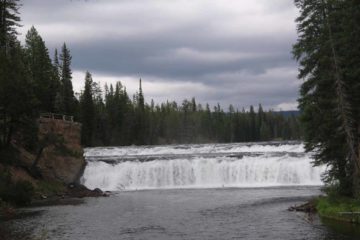 The underlying cliff face is usually a vertical wall. Sometimes, waterfalls in this category end up being wider than it is tall. Usually, the wider the river that's going over the ledge, the wider the waterfall is, and hence the wider the rectangle. We also believe that some block waterfalls are taller than they are wide yet they still retain that rectangular block appearance.
Examples of the waterfalls in the block category include Cave Falls in Yellowstone National Park, Wyoming, the Shifen Waterfall in Taiwan, Raukawa Falls in New Zealand, Skógafoss in Iceland, the Horseshoe Falls section of Niagara Falls in New York and Ontario, Canada, and even Victoria Falls shared between Zambia and Zimbabwe!
Tiered:
This category of waterfalls describes those that have more than one vertical leap or tier, but they're close enough together to be seen together from a singular vantage point.
This definition could have problems given the ambiguity of how far apart these tiers of the waterfall can be as well as from which vantage point you can be to be seeing them all in one shot.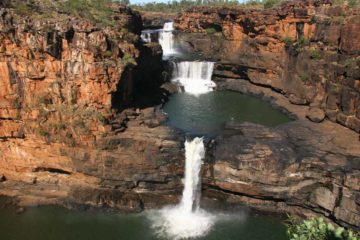 For example, you could ask yourself whether the combination of Nevada Falls and Vernal Fall should be seen together as one waterfall or a distinct pair. After all, they could be seen as a singular waterfall if you're seeing them from as high up and as far away as Glacier Point or Washburn Point. However, if you're hiking the Mist Trail or John Muir Trail, you'd be close enough to both of them to think they're distinct waterfalls each on their own.
Nevertheless, we're citing waterfalls that fit under this category whose tiers are in very close proximity to each other. And as you can see from the adjacent photograph, it's pretty obvious they certain fit into the tiered definition.
Such examples of tiered waterfalls include Mitchell Falls in Western Australia's remote Kimberley Region, Sentinel Falls in Yosemite, Belmore Falls in New South Wales, Australia, Gullfoss in Iceland (this one has a pair of falls falling at a nearly 90 degree angle from each other), and Sutherland Falls in New Zealand.
Segmented:
This category of waterfalls involves the descending watercourse splitting up into two or more parallel segments or threads.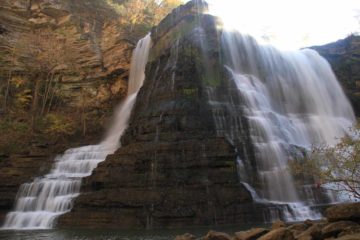 Usually, the cause of the split is some protruding rock in the middle of the watercourse before or during the watercourse's steep cascading descent.
The problem with this definition is that it's very subject to waterflow conditions and the segmented waterfall could easily degenerate into a singular waterfall with the smaller threads missing. Or, it can also blow up into a raging torrent where enough volume was in the watercourse to cause the segments to merge into a wider block-type waterfall.
In any case, examples of this type of waterfall where they'd more typically exhibit the segmented characteristic are Burgess Falls in Tennessee, Waipunga Falls in New Zealand, the Seven Sisters in the Geiranger Fjord deep in Fjord Norway, Dinner Falls in Queensland, Australia, Conwy Falls in North Wales, and Glanni in Iceland.
Cascades:
Waterfalls in this category basically descend along a sloped surface.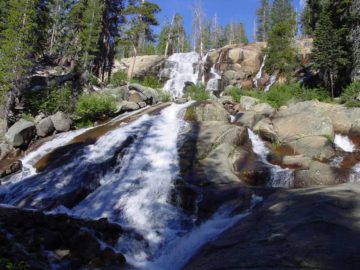 From the standpoint of the evolution of a waterfall during waterfall formation, this falls could be in the early phase of its development, or the underlying hard rock layer could be sloped with water moving along that slope.
Sometimes, you get stepped formations if the individual tiers are too small to count as a tiered waterfall.
Examples that I could think of that would fall under this category include Minaret Falls in the Eastern Sierra of California, Dip Falls in Tasmania, Australia, Chilnualna Falls' uppermost section in Yosemite National Park, California, and Tokopah Falls in Sequoia National Park, California.
Chute:
Waterfalls in this category are typically where its watercourse is forced into a narrow channel resulting in a violently pressurized ejection of water over its drop.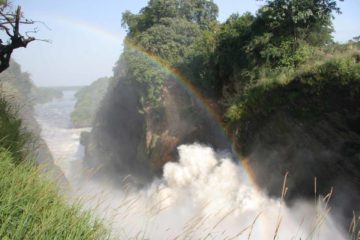 I guess to some degree, you could argue that these are more rapids than falls, but it's hard to tell when you have a noisy, frothy, white mess forcing its way through the narrow channel.
To further complicate the definition of this type of waterfall, you could also argue that the chute action of Punch Bowl Falls in Oregon could technically belong here instead of the punch bowl category that we've currently put it in.
Nevertheless, from what I could tell, examples of such waterfalls in this category include Murchison Falls in Uganda, and Barnafoss in Iceland.
Scree:
Sometimes referred to as talus, you could argue that waterfalls cascading over scree or talus should belong in the cascades category.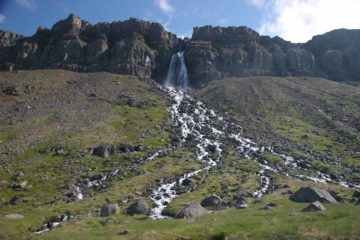 However, scree-type waterfalls tend to flow over loose rock (i.e. scree or talus) that has accumulated at the base of a mountain or cliff as a result of erosion.
Often times, cascades like this appear in combination with any of the other types of waterfall categories on this page, but there may be instances where a watercourse just so happens to fall only over scree.
In our waterfalling travels, the examples of waterfalls that in our minds would most adequately fit this category are Djúpavíkurfoss in the Westfjords of Iceland and Vedalsfossen near Eidfjord, Norway.
Slide:
Waterfalls flowing over a relatively low angle slope fall under this category.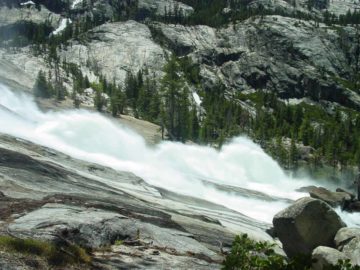 Indeed, sometimes you get nothing more than rapids, but other times you get interesting waterslides.
But in another instance of a problematic definition based on waterfall shape or visual characteristics, you could ask the question of how much of a slope is required to make a waterfall belong to the slide category versus being just rapids.
Nevertheless, if you think this category of waterfalls should exist, here are a few examples that we've encountered that we think might belong here: LeConte Falls and Waterwheel Falls both on the Tuolumne River in Yosemite's High Country, Pywiack Cascade in the Tenaya Canyon of Yosemite, and Slide Falls near Sedona, Arizona.
Ribbon:
Finally, this category is merely a toss in to encompass very thin or ephemeral waterfalls that have a very narrow stream but may possess a long vertical drop resulting in its ribbon-like appearance.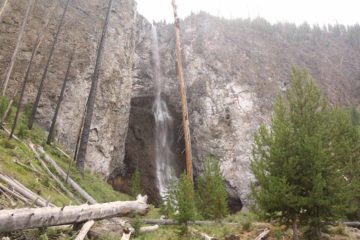 If you don't count ephemeral waterfalls or short-lived seasonal waterfalls as legitimate waterfalls, then the pool of waterfalls that would have gone under this category would be dramatically reduced.
That said, there are more consistent performers that we've encountered that would fall under this category, but just about none of them flow year-round.
Nevertheless, those that I'd say would belong here include Fairy Fall in Yellowstone National Park, Wyoming, Ribbon Falls in Yosemite National Park, California, perhaps even Manoa Falls on the island of Oahu in Hawaii, Pelverata Falls under light flow in the Australian state of Tasmania, and even the Catarata de Yumbilla in Northern Peru when we saw it under low flow conditions.
WATER VOLUME CLASSIFICATION
Rather than worry about the subjectiveness about a waterfall's shape, this is a more scientific approach to waterfall classification and it's completely based on how much water is present during the vertical drop of the waterfall.
The following diagram illustrates this principle.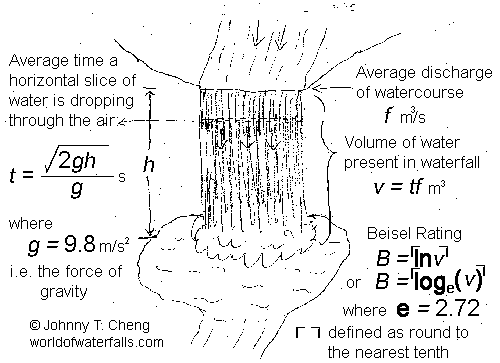 Filling in the numbers to arrive at a Beisel Rating from Class 0.1 to Class 10 is quite involved.
First, you need to get streamflow data of the watercourse in question. Some watercourses have stream gauges measuring such data (many watercourses in the USA have this thanks to the USGS or US Geological Survey). Since waterflow tends to fluctuate throughout the year, you'll need to take an average over several readings at different times of the year.
Second, you need to determine a waterfalls' vertical height. You can get this through the procedures described in the Waterfalls 101 article "How Do I Measure A Waterfall's Height?".
Once you get the height number, you can calculate how much time a horizontal strip of water in the waterfall is falling from its top to bottom. Note that if you have a funky situation where the waterfall has a weird shape or it's sloping, you'll have to employ some trigonometry (explained in the height measurement article) and/or correlative measures to get the effective waterfall height.
Once you have those parameters, you can run through the natural logarithmic calculations (rounding the result to the nearest tenth) to arrive at Beisel's Rating.
Thus, miniscule waterfalls are either Class 0.1 or don't even get a Beisel Rating at all if the average volume is less than 1 cubic meter (to avoid a negative Beisel Rating or run into zero log mathematical singularities). Massive waterfalls obviously are closer to Class 9 or Class 10.
I'm sure my brief explanation about Beisel's objective waterfall ratings system is incomplete. So to get all the gory details about this International Waterfall Classification System, you can read Beisel's book
.
Now there is some degree of subjectivity about a waterfalls' dimensions. For example, you could argue some of the Class 10 waterfalls that Beisel notes in his book are really more rapids than waterfalls. You could also nitpick about the accuracy of some of the stream flow numbers for many of the example waterfalls in his book
.
Nonetheless, the science behind his ratings remain sound and consistent.
Learn More About Waterfalls
Visitor Comments:
Got something you'd like to share or say to keep the conversation going? Feel free to leave a comment below...