About Trail Canyon Falls
---
Hiking Distance:
4 miles round trip
Suggested Time:
2.5-3 hours
---
Date first visited:
2002-12-30
Date last visited:
2013-01-20
---
Waterfall Latitude:
34.32022
Waterfall Longitude:
-118.25533
---
Trail Canyon Falls is certainly one of the prettier and more unique waterfalls we've seen in the Southern California area.
In fact, it once made an appearance on our Top 10 So Cal Waterfalls List and we're on the fence about putting it back in.
Both times I've seen this 30-40ft waterfall (I don't think it's 50ft as I had originally reported), it featured a Y-shaped flow that made it very pretty.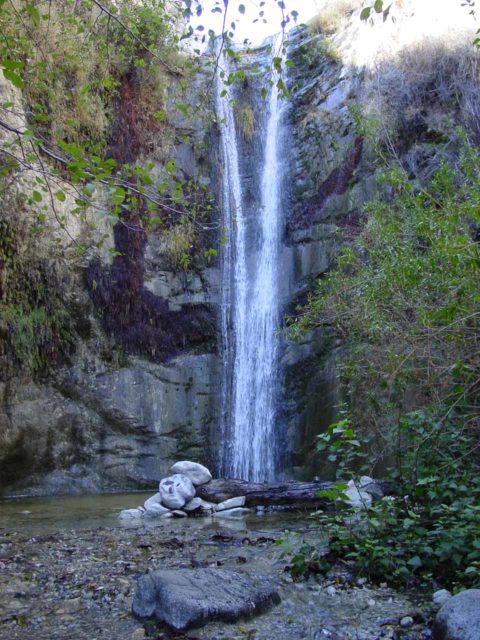 However, sometimes rewards or victories are made sweeter when there's uncertainty in the outcome of an adventure, and it certainly felt that way with this one.
To even get the view you see at the top of this web page, we had to earn it with a bit of a moderate 4-mile round trip hike capped off with a harrowing scramble.
Plus, it had been over 10 years between our visits, and the 2009 Station Fire had much to do with forcing us to test our patience.
The falls is located near Big Tujunga Canyon in the rugged foothill mountains near the cities of Sunland and Tujunga.
Unlike the other local waterfalls we normally find neighboring the 210 Freeway, this one was a bit further west, which made it seem a little more out-of-the-way for us, and perhaps that was a contributing reason why it took us at least 10 years to revisit it.
Even though it seemed pretty popular during our latest visit in 2013, it didn't quite have the crush we were accustomed to seeing at the waterfalls further east.
Hiking to Trail Canyon Falls
Once we got to the car park and trailhead (see directions below), we followed a sign labeled "trail" past past some other signs warning us that we were about to enter a burn area containing hazards like fallen trees, landslides, etc.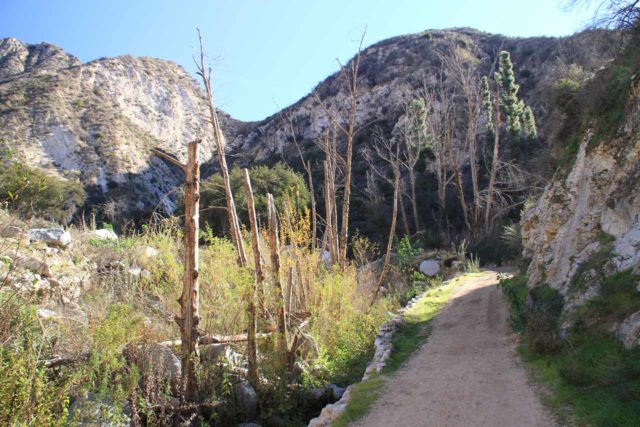 After passing a gate, we found ourselves on a fairly wide access road, which forded a shallow creek as well as passing between a few cabins that appeared to be newly-built (I didn't recall these cabins during my 2002 visit).
Beyond the foundation of what would have been the last cabin, we saw another "trail" sign with a "waterfall" sign stacked on top of it followed shortly thereafter by another sign indicating that the trail was unmaintained from here on out.
At this point, the dirt road narrowed a bit more as it briefly climbed a drier side canyon, then rounded a bend as the trail meandered past some unused tractor and other remnants of equipment, and entered into a larger drainage with a more substantially flowing creek.
This drainage turned out to be Trail Canyon, and it was at this point that the trail was back to the familiar narrow footpaths criss-crossing over the creek several times (there had to have been at least 4-6 of them though I lost count).
Most of these crossings were pretty easy to traverse though there was one that had a makeshift log bridge (basically four logs felled and placed side-by-side).
There wasn't much shade in this stretch of trail despite the ghostly remnants of bare trees juxtaposed with newly growing foliage (thanks to damage from the Station Fire) so it was a noticeably hot hike.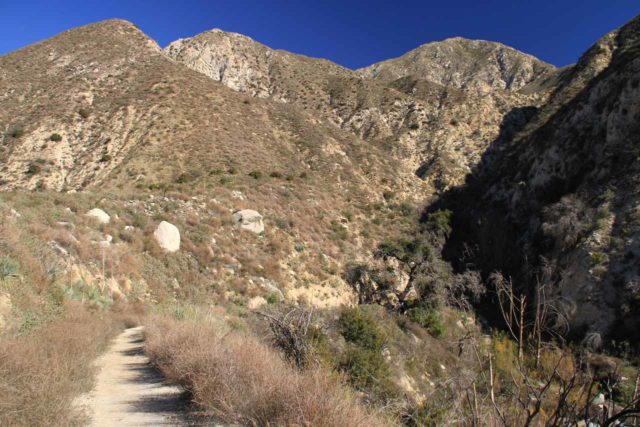 After about a mile from the trailhead, we reached the last of the creek crossings.
It was actually quite easy to miss this crossing and continue onwards into a rough stream scramble (which would ultimately lead to the base of Trail Canyon Falls though it would involve a lot of bushwhacking), but we made that last crossing and continued on the official trail.
At this point, the trail now made a serious climb over the next mile as it ascended one of the walls flanking Trail Canyon.
Since this canyon wall was completely exposed to the sun, it definitely took a bit out of us. This was the part where we probably consumed most of the water that we brought, and I'd imagine you'd probably be doing the same as well.
Adding to the challenge were gullies that have washed out parts of the already narrow trail as the fires removed much of the vegetation that once held onto the soil thereby destabilizing it and making the slopes here prone to landslides and washouts.
We were able to get through these obstacles without much problem, but how these hazards evolve over time would be something worth keeping in mind, I'm sure.
As we climbed higher, we had plenty of opportunities to look back at Trail Canyon and its wrinkly V-shaped contour. So the photo ops definitely helped us break up the monotony of moderately steep uphill hiking.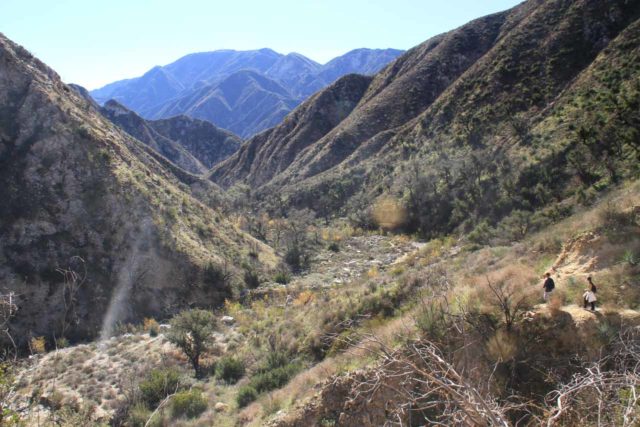 When the climb flattened out as the trail rounded a long bend, we noticed that the canyon walls closed in even more.
When we got past this bend, we were finally able to see Trail Canyon Falls from a distance.
In the past, the falls was surrounded by trees though we would still be able to see most of the falls. However, after the burn, we could see that the tree conspiring to block some of the falls was a bit more prickly and bare.
Getting close to Trail Canyon Falls
The official trail continued towards the top of Trail Canyon Falls as I had remembered. However, there was now a somewhat pretty noticeable spur trail of use that steeply left the trail and descended towards the ravine just downstream from the waterfall.
I had recalled there used to be a guardrail by the main trail fronting this detour, but now that guardrail was nowhere to be found.
Anyhow, the initial descent on the narrow dirt path was steep enough to be slippery even when dry (due to the presence of loose pebbles).
Once the "trail" reached the edges of the ravine, it then veered to the right before passing through some more overgrowth and continuing down a very steep and potentially treacherous gully.
I didn't recall doing the final descent this way back in 2002, but perhaps the Station Fire changed the route as there were no longer trees to hold onto and roots to step onto.
This steep descent may require quite a bit of the sit-and-scoot maneuver, and we definitely had to take our time to minimize the chances of getting badly hurt.
Eventually, we'd get to the bottom of the descent and briefly scramble past the obstructing foliage fronting the falls until we were right in front of it opposite its shallow plunge pool.
From up this close, it wasn't easy to capture the whole Y-shaped waterfall without a wide-angle lens, but I found it was possible to scramble a little further downstream for a more photogenic look (again as shown at the top of this page).
This was the conclusion of the excursion for most people (including Julie and my Mom, who went with me on our 2013 visit), and aside from the steep scramble back up to the main trail, it was pretty much downhill from here back to the trailhead.
The Brink of Trail Canyon Falls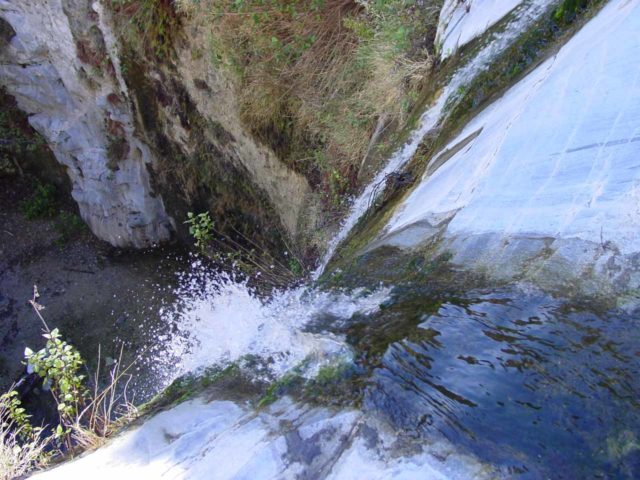 I did take some time to continue up the main trail to the top of the waterfall just to see how much things have changed over the years.
I recalled that there used to be a path that hooked around the top of Trail Canyon Falls and eventually ended right at its brink.
However, that path now appeared to be undefined and full of hard, prickly vegetation.
From up here, there was no safe way down to the base of the falls (just like there wasn't one 10 years ago).
Also, the main trail was said to continue onwards to the Tom Lucas Camp but we had never gone beyond Trail Canyon Falls so we can't say anything more about what lies beyond.
All things considered, we had spent a total of about 3 hours to do both the hiking, the photographing, and the picnicking at the base of the falls.
Ten years ago, I had spent about 2.5 hours for both the hiking and the photo taking. Perhaps this was a sign that as we got older, we now tend to take our time a bit more. Either that or we're just getting old and we're not as spry and nimble as we used to be…
Authorities
Trail Canyon Falls resides in the Angeles National Forest. For information or inquiries about the area as well as current conditions, visit their website or Facebook page.

We're going to start the driving description from the 210 Freeway at Pasadena (which is north of downtown Los Angeles). To get to the car park, take the 210 Freeway towards Sunland (west of the Hwy 2, also known as the Angeles Crest Highway). Take the Sunland Blvd exit and head north. On our latest trip, we were westbound on the 210 so we turned right at the traffic light once we exited the freeway.
Sunland Blvd becomes Foothill Blvd, and we took it to Oro Vista Ave (optionally, you could also take Foothill Blvd to Mt Gleason Ave). Turn left onto Oro Vista Ave, where you have the option of stopping at the 7-11 at the street corner here to pick up an Angeles Forest Day pass or Annual Pass, which was carried there on our latest visit in 2013. Then, continue on Oro Vista Ave through a residential area past the handful of stop signs and deep dips as Oro Vista Ave curves to the right and becomes Big Tujunga Canyon Road.
Follow Big Tujunga Canyon Road for about 3.5 miles past the Mt Gleason Ave intersection and look for a dirt road with a gate leaving the main road to the left. As of our last visit, there was no obvious sign for Trail Canyon when we headed east on Big Tujunga Canyon Road, but this turnoff was between red-and-white mile posts labeled "2.01" and "2.05." If you wind up seeing a ranger station and some picnic areas, then you went too far. Interestingly, when backtracking west on Big Tujunga Road, there was a sign that gave us a heads up to turn right onto Trail Canyon Road.
This turnoff is a dirt road, where it can be scary in parts as it is steep and narrow with some ruts. Julie and I each were able to do this with our 2wd low-clearance passenger cars, and we saw quite a few of them at the trailhead on our 2013 visit so I think you should have no problems if you take your time and you don't have a high clearance vehicle. Keep bearing right at the junctions until you reach the car park at the end of the 1/4-mile road.
Find A Place To Stay
Related Top 10 Lists
No Posts Found
Trip Planning Resources
Nearby Accommodations
Tagged with:
sunland, tujunga, angeles national forest, los angeles, angeles crest, southern california, california, waterfall
Visitor Comments:
Got something you'd like to share or say to keep the conversation going? Feel free to leave a comment below...
Visitor Reviews of this Waterfall:
If you have a waterfall story or write-up that you'd like to share, feel free to click the button below and fill out the form...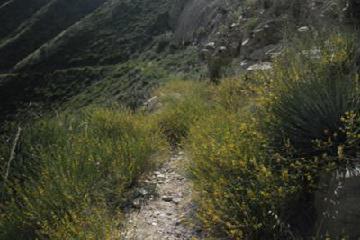 Trail Canyon May 17, 2012
May 18, 2012 6:48 am
-
Just went to trail canyon falls today. The trail is closed due to fires that happened years ago but I think it is because they don't have the money to fix and maintain the trail to be honest. You must trespass at your own risk. I parked on Ollie Rd. just yards from the dirt… ...Read More