About Soldier Creek Falls (Lewis Falls)
---
Hiking Distance:
1.25 miles round trip
Suggested Time:
45-60 minutes
---
Date first visited:
2002-03-10
Date last visited:
2017-06-10
---
Waterfall Latitude:
34.30695
Waterfall Longitude:
-117.83665
---
Soldier Creek Falls (also referred to as Lewis Falls after a ranger that once patrolled this area) seemed like one of those obscure waterfalls that made for a surprisingly pleasant local outing.
The reason why we thought it was obscure was because there were no signs indicating its trailhead (see directions below), it required a bit of an unmaintained scramble to reach it, and access to it was closed for several years before we finally got to come back and revisit it recently.
The prolonged closure was largely due to the 2002 Curve Fire and then subsequent road washouts that complicated rebuilding efforts. My Mom and I once made an attempt to come here back in Spring of 2009 and this road was still closed at the time.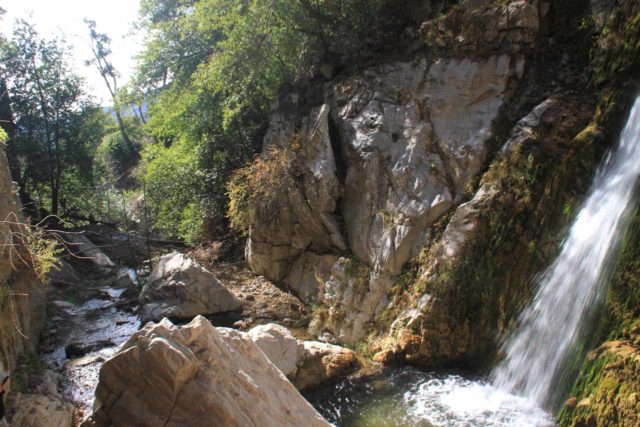 I also didn't think the Station Fire did any of the reopening efforts any favors either.
In any case, this waterfall appeared to us to be about 30ft or less unless there were more unseen tiers further above. We had previously reported it to be 50ft (which we regurgitated from our old Ann Marie Brown book
).
But after our latest visit, now we doubt that claim. Yet even with its somewhat short stature, our views of the falls were mostly in such close proximity to it that some kind of a wide angle lens would be helpful to capture its entire height.
Nonetheless, each time we've visited this waterfall, it had satisfying flow and thus made it both pleasing and memorable.
Hiking and Scrambling to Soldier Creek Falls
From the unmarked trailhead, we hiked gradually uphill on an established trail that followed along the eastern banks of Soldier Creek.
This trail passed by a pair of cabins that were either untouched by the fires or were rebuilt (given by their new-looking appearance while being surrounded by evidence of fire from the black-barked trees in the immediate area).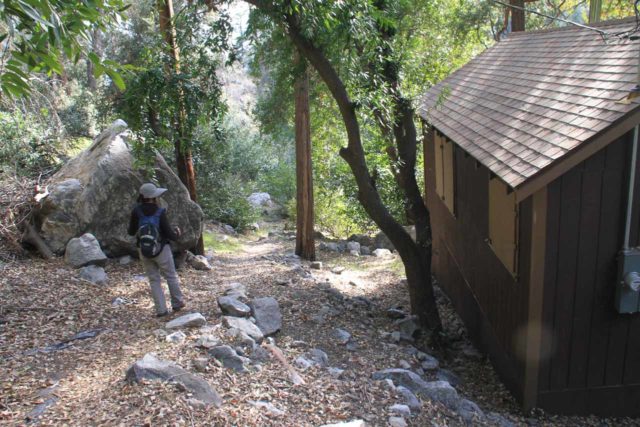 Beyond the second cabin, there were a couple more cabin foundations (probably cabins that didn't make it from the fires and weren't rebuilt) that the trail passed by.
It was after the second foundation, which had fences and railings surrounding it, did the path then cross the creek and transition from an assuring established trail to a pretty rough scramble.
In fact, I suspected that the trail was as established as it was up to this point because of those cabins.
At this point, the remainder of the "trail" pretty much involved ducking under or climbing over fallen trees, balancing on logs, using both hands and feet to negotiate trickier "sit and scoot" spots, and brushing against some thorny foliage.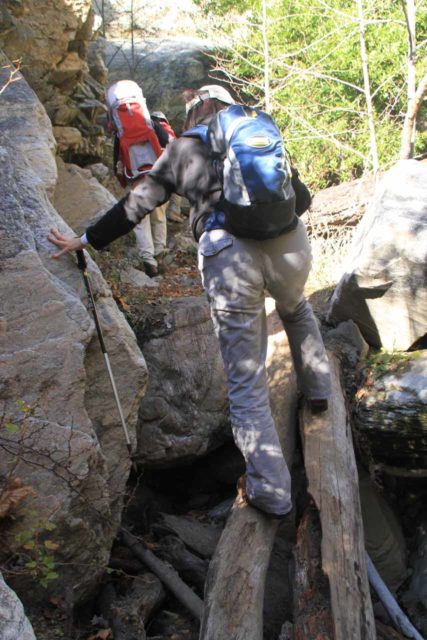 I recalled our experience back in 2001 involved a bit more stream scrambling, but our most recent visits in 2013 and 2017 involved a bit more rough scrambling where we had to be very wary of the obstacles and minor dropoff hazards, especially since we were hiking with kids.
Speaking of which, once we got to the boxed-in three-sided-enclosure at the head of the canyon, that was where Soldier Creek Falls was at.
It faced towards the opposite wall in a limited amount of real-estate so most of the views of the falls were pretty much right up in front of it (thus making it non-trivial to photograph the whole thing in one shot without a wide angle).
To even get in front of the falls, we did have to cross Soldier Creek one last time and that was where hiking sticks and/or Gore-tex boots helped keep our socks dry.
In our latest excursions, we've managed to see other hikers in rugged gear. On one occasion, we saw two other hikers wearing very wet and muddy pants. We didn't ask them whether they went beyond the waterfall, but we figured that they did somehow.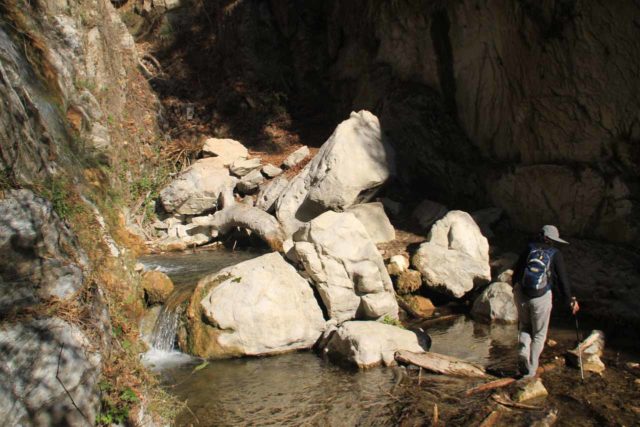 In another instance, there was a family of four dressed in camouflage while wearing rugged boots and gloves, and they looked ready to get rough and dirty on this trail.
In any case, we're not sure what was beyond Soldier Creek Falls (if that was where they went or were intending to go), but any further scrambling upstream seemed to be very technical and beyond our comfort level.
Adding it all up, we probably spent about 60-90 minutes encompassing both the hiking, scrambling, and photographing.
However, on those times when we did bring our daughter (the first time at two years and later at six years) as well as my parents, I'd imagine that might have slowed us down considering extra care and caution that was necessary to negotiate the hairier spots of the hike.
Authorities
Lewis Falls or Soldier Creek Falls is in the Angeles National Forest, but it's also near the Crystal Lake Recreation Area. For information or inquiries about this area as well as current conditions, visit the Angeles National Forest website or Facebook page.

From the I-210 and I-605 interchange near Duarte and Monrovia (well east of downtown Los Angeles), we headed east on the I-210 towards the Azusa Ave (Hwy 39) offramp in the city of Azusa. Then, we turned left and passed through some traffic lights in downtown Azusa before continuing on into the mountains where the road wound about in opposing two-lane traffic (so there were limited to no opportunities to safely pass slow vehicles, including bikers).
After just under 19 miles from the Azusa off-ramp (passing by the Coldbrook Camp but we were well before Crystal Lake Recreation Area), we reached a hairpin turn with a snow pole (there used to be a sign that said "No Fires" here). Besides our memories and our pre-trip GPS
waypoints, this was the only clue that we were in the right place. A ranger at Crystal Lake also informed me that this trailhead was near the mile marker labeled 34.84.
As an alternate to the direct method stated above, my parents, who were familiar with this area, also suggested that you could avoid the traffic lights of downtown Azusa for the most part by exiting Irwindale Ave instead of Azusa Ave (since the I-210 goes southeast). Then, go north towards Foothill Blvd and turn right. And follow Foothill Blvd until you reach Azusa Ave (Hwy 39) and turn left to continue going north on Hwy 39 towards the trailhead.
Related Top 10 Lists
No Posts Found
Featured Images and Nearby Attractions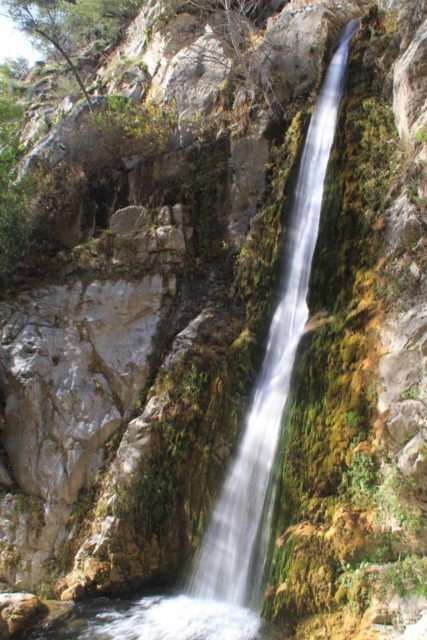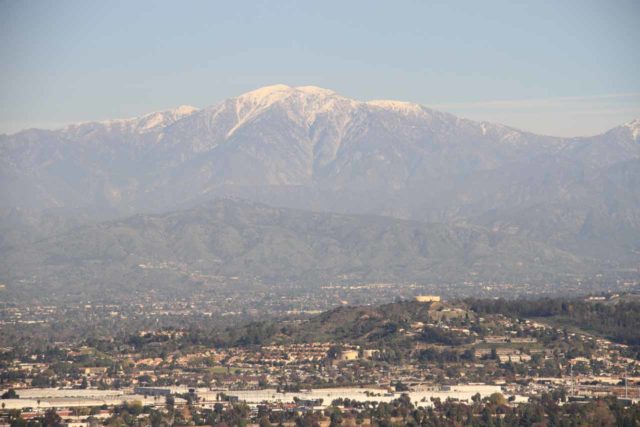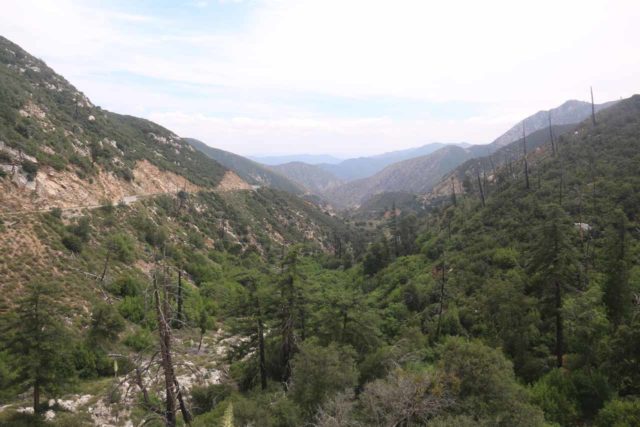 Tagged with:
lewis falls, soldier creek, los angeles, falling springs, san gabriel, crystal lake, california, southern california, waterfall, angeles national forest, azusa, 210, coldbrook camp
Visitor Comments: Diamond Jans (Soldier Creek Falls)
August 20, 2016 1:18 pm
-
Does anyone remember this place back in the 80's just about 100 yards up the road f on the trail leading to the falls, my aunt and uncle use to on it back then I used to be one Of the cooks, my friend Donald was a waiter , we were like 13 years old,… ...Read More Highway 39 is reopened
March 30, 2011 7:20 pm
-
Caltrans has reopened the highway after being closed for nearly 10 years due to extensive fire damage (Curve Fire) and then the 2005 flooding. Access to Lewis Falls is difficult due to the inability for volunteers to get in to the area to maintain the trail leading to the falls. In that video you can… ...Read More
Visitor Reviews of this Waterfall:
No users have submitted a write-up/review of this waterfall