About Etiwanda Falls
---
Hiking Distance:
3 miles round trip
Suggested Time:
2-3 hours
---
Date first visited:
2015-02-01
Date last visited:
2015-02-01
---
Waterfall Latitude:
34.18576
Waterfall Longitude:
-117.52323
---
Etiwanda Falls was one of those waterfalls that Julie and I had previously overlooked over the years even though it wasn't far from places like Bonita Falls and San Antonio Falls. But as we were starting to get tired of seeing the same local waterfalls over and over again (the California drought from 2012 to 2015 and counting didn't help), it was about time that we finally resumed our search for local waterfalls we hadn't done before; starting with this waterfall. The one thing that struck me about this waterfall excursion was that it was pretty much situated in a desert. Even though there were a lot of new housing developments in and around Rancho Cucamonga, which conspired to conceal or make less obvious the dry climate here, it was pretty clear that this area tended to see more heat waves and gusty Santa Ana winds than rainy days. So it was one of those places that I would've least expected to encounter a waterfall (and a real popular one at that!).
Further reinforcing the fact that we were indeed in the high deserts, we experienced one of the desert extremes on our first attempt at visiting this waterfall in late January 2015. That was when we were blasted with very strong Santa Ana winds that were probably around 50-70mph gusts. Such winds easily knocked down trees, made flying pebbles sting as they were kicked up and flung towards us, and made it hard for us to stand up straight. Under these conditions, we aborted the hike. Fortunately, our retry a week later took place without the strong winds, but then we were exposed to the arid conditions while being beat down by temperatures in the high 70s to low 80s with little shade throughout the hike. I can't imagine how unbearable the hike would be later in the year when the temperatures could easily soar in the 90s or 100s.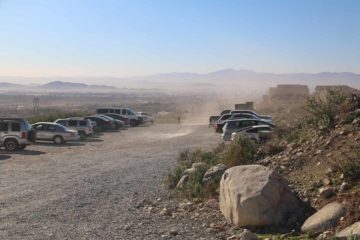 So given this environment, perhaps it shouldn't have been surprising that Etiwanda Falls was so popular given the scarcity of water in these parts. In fact, I'd argue that it was more of a play waterfall where lots of people were playing in the cool water upstream of the main drops of the falls. Plus, the hike to get to the falls contained some surprisingly impressive scenery. Indeed, despite the diminutive nature and seemingly short season of Etiwanda Falls (it was probably only about 50ft tall spread over three drops of 15ft, 10ft, and 25ft from what I could tell), it seemed that the other benefits of this excursion outweighed the properties of the waterfall itself.
The hike began from the designated car park for the North Etiwanda Preserve (see directions below). It was next to some seemingly newly-built homes. And after finding a spot to park, we then headed directly north past a wide gate at the far northern end of the unpaved car park and fire road. We then continued hiking on the somewhat rocky fire road going past a large water tank, then continuing to snake our way north with some impressive foothills of the San Bernardino Mountains immediately ahead of us. The impressive scenery helped to keep our minds off the hot and sweaty uphill nature of the hike as it was pretty much all exposed to the sun. We also made sure to stay on the trail (very important when hiking with kids like we were) to minimize the threat of surprising a rattlesnake hiding in the desert shrubs flanking the wide trail.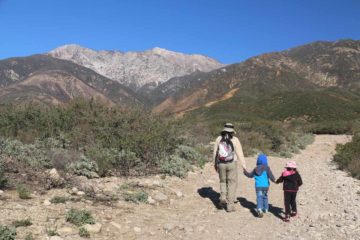 A little before the quarter-mile post (elevation 2153ft), there was a turnoff on the left leading to a shelter that contained a bunch of interpretive signs (though most of them were defiled with graffiti). We reached the next post at a half-mile (elevation 2247ft) from the trailhead after about 30-40 minutes into the hike. I'm sure we could've gone faster than this, but the pace tended to be slower when hiking with kids, plus the hike was pretty much all uphill, rocky, and unshaded to this point. A short distance further, we proceeded to go straight at a four-way intersection, where we then passed another open gate. And at that point, the trail narrowed a bit more while the slope of the ascent became noticeably steeper.
After another half-hour from the gate (or an hour from the car park), we then reached a yellow gate. The climb somewhat flattened out at this point, and I was able to peer over my shoulder for glimpses of the impressive views of the basin. Less than five minutes after the yellow gate, there was a short spur trail leading to a vista point to better enjoy the views of the Inland Empire. This spot had a rock with graffiti that said "Frank's Rock" though I doubted whether that was really the official name or not. Anyways, after a brief climb on the main trail, it then started to curve left just as we reached some kind of water contraption.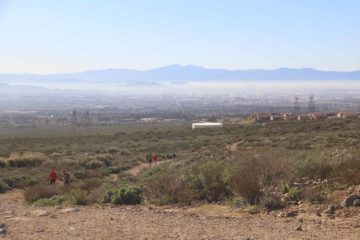 There was a spur trail veering right (behind the water contraption), but that was an informal trail of use that ultimately led to the steep access of the base of the lowermost of the Etiwanda Falls. There was also some kind of water gauge or door in the cliff at the end of this spur trail. I wasn't able to see much of the falls from this informal trail (though I could definitely hear it), but it appeared that I could've scrambled down to the base, where it was clear that there were many people who have done that before as evidenced by the graffiti that was all over the gorge below. Perhaps in my younger days, I wouldn't hesitate to go down, but being a dad now, I opted to play it safe.
Anyways, back on the main trail, it made one last short climb before bending to the right. It was only at that point that the trail eventually started to disappear as it descended towards the stream responsible for Etiwanda Falls. There were several scrambling paths leading to more frontal views of the uppermost tier of Etiwanda Falls (see photo at the top of this page), but for all intents and purposes, the official trail pretty much led us to the brink of Etiwanda Falls. The dozens of folks who had made it here were pretty much playing in the stream above the falls.
The picture you see at the top of this page was merely the uppermost drop, which was probably about 15-20ft tall at best. It was definitely the most accessible of the tiers of Etiwanda Falls as it was a short and relatively simple scramble (just be careful) to get to that frontal view. There was then a shorter drop a short distance downstream, but that one was harder to appreciate given how steep and precarious the viewing spots were. The lowermost drop of Etiwanda Falls was definitely not safely visible nor accessible from this area.
When we had our fill of Etiwanda Falls, we got to look forward to the all-downhill hike on the way back to the trailhead. An added benefit of the return hike was that the impressive vistas of the Inland Empire (smog haze and all) were pretty much consistently in front of us throughout the descent. When we were back at the trailhead, we had logged about 3 miles round trip, and we had spent roughly three hours away from the car. Again, because we were hiking with a bigger party that included three kids, we took our time so conceivably, this entire hike could be done in around two hours in an unhurried pace.
The key to reaching Etiwanda Falls was to drive out to the I-210/I-15 junction near Rancho Cucamonga. From the Los Angeles basin, there were many ways to get there (e.g. going east on the I-210 or the I-10), but we'll describe it in terms of going east from the junction of the 57 and 60 Freeways.
We pretty much continued east on the 60 then went north on the I-15 until we reached the Base Line exit (just south of the I-210/I-15 junction). We turned left onto Base Line, then followed it for a couple of lights until we turned right onto Etiwanda Ave. Going north on Etiwanda Ave, we the road then veered left onto Wilson Ave (to avoid private property) before we turned right to get back onto Etiwanda Ave. Etiwanda Ave passed through a housing development before ending at an unpaved parking lot at the well-signed North Etiwanda Preserve.
Overall, the drive from the merging of the 60 and 57 Freeways to the trailhead took us about 45 minutes. Without traffic the 60/57 junction was probably about 30-45 minutes east of downtown Los Angeles (for a grand total of about 90 minutes of driving between downtown LA and the trailhead).
Find A Place To Stay
Related Top 10 Lists
No Posts Found
Trip Planning Resources
Nearby Accommodations
Featured Images and Nearby Attractions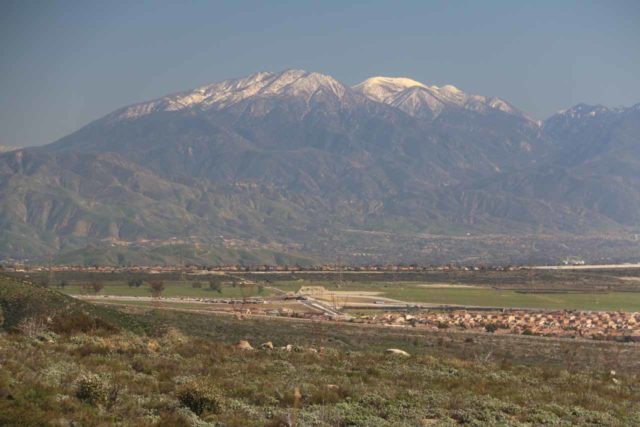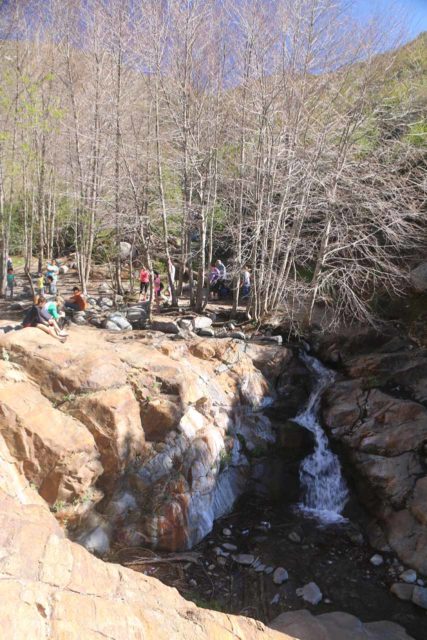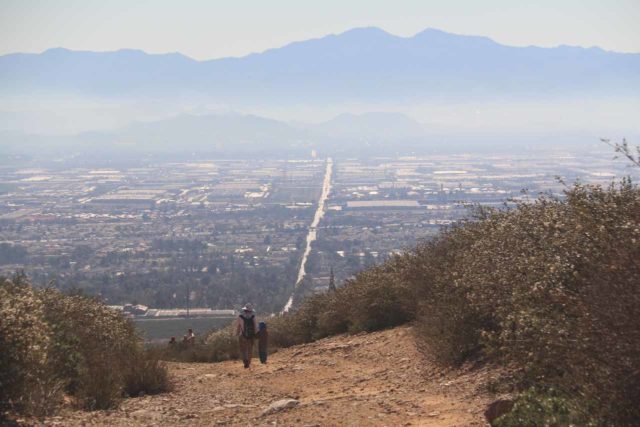 Tagged with:
north etiwanda, etiwanda, rancho cucamonga, san bernardino, california, southern california, waterfall, los angeles, inland empire
Visitor Comments:
Got something you'd like to share or say to keep the conversation going? Feel free to leave a comment below... Some more info about San Bernardino Mountains
February 12, 2016 1:24 am
-
Not a big deal by any means but the picture on your site that shows the snow-covered San Bernardino Mountains with the caption "This is the view east in the direction of Big Bear (I'd imagine) and the last vestige of south-facing snow," captures San Bernardino Peak (left) and San Gorgonio Mountain (right). San Gorgonio… ...Read More
Visitor Reviews of this Waterfall:
If you have a waterfall story or write-up that you'd like to share, feel free to click the button below and fill out the form...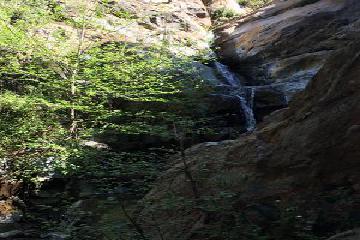 Etiwanda Falls Should Be a Solid 2 On the Ratings Scale
March 21, 2016 6:29 pm
-
My wife and I visited Etiwanda Falls on the first day of spring and we were pleasantly surprised by the beauty of the canyon (once you get up into it). We braved the descent to the (almost) bottom of the falls (she's a trooper). It is a strenuous scramble, but from here you get a… ...Read More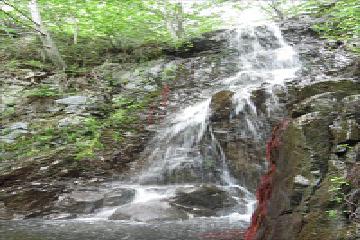 That waterfall is just the beginning…
July 31, 2015 4:30 pm
-
I have explored Etiwanda Canyon and Day Creek Canyon quite a bit and there are other water falls further up the canyons that most people never see. The ones to the left are most accessible and a short distance. Several of these have graffiti all over them. But if you follow the canyon up to… ...Read More