About Bassi Falls
---
Hiking Distance:
4-4.5 miles round trip
---
Date first visited:
2016-06-22
Date last visited:
2016-06-22
---
Waterfall Latitude:
38.89233
Waterfall Longitude:
-120.331
---
To us, Bassi Falls was kind of a smaller but far more accessible and fun version of the Horsetail Falls near South Lake Tahoe. We didn't have much expectations of this waterfall when we set out to make our visit, but once we finally arrived at this 130ft waterfall and witnessed its waters cascading over the kind of granite scenery similar to that of Horsetail Falls before it started to fill in potholes and grooves further downstream that became swimming holes, we became fans. In fact, we enjoyed this waterfall so much that we even equated it with Horsetail Falls in terms of scenic rating despite its smaller size and relative obscurity. In our minds, it was the presence of these wading pools and swimming holes all within sight of the impressive waterfall that reminded us of why waterfalls were so much fun in the Summer, and indeed we saw people of different ages bringing swimming trunks or bathing suits and frolicking in the pools while also enjoying the scenic waterfall. Neither Mom nor I could recall there being a swimming hole this scenic and this secluded, and the combination of those factors alone made a definite positive impression on us.
As for accessing Bassi Falls, there were three different trailhead options each with varying levels of risk and reward, which we'll get into when describing the driving directions below. Basically, the risks boiled down to the potential for damage to your vehicle. The reward was how much less hiking you'd have to do to reach the falls. And the decision ultimately came down to how much you think the potential damage to your vehicle was worth the reduced hiking. In our case, we actually explored all three options, but we ultimately settled on the longest hike option from the Millionaire Camp, which wound up being two miles each way (or 4 miles round trip).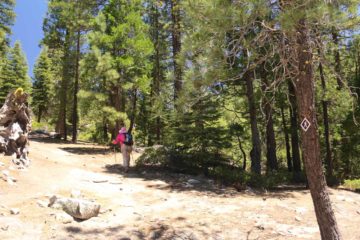 After finding parking at the Millionaire Camp, we then followed a pretty straightforward trail indicating that Bassi Falls was two miles away. Initially, the trail skirted the edges of a grove of trees between Bassi Creek and the trail itself. Unlike the Horsetail Falls Trail in the Desolation Wilderness, this trail was far easier to follow as there were plenty of diamond-shaped hiking signs along the way. Most of the trail was pretty flat with a few mild uphill sections. Every so often, we would catch glimpses of Bassi Creek or even hear the sounds of rushing water where there might have been minor cascades tumbling unseen amongst the overgrowth separating us from the creek.
At around 0.7 miles from the Millionaire Camp, we reached a trail junction with a shorter trail that came from the Towering Rocks Trailhead Parking 0.3 miles away. Had we parked the car from there and started the hike, it would have been a 3.2-mile round trip hike (saving about 0.8 miles of hiking when compared to the Millionaire Camp approach that we wound up taking). Anyways, we continued on the main trail as it would continue meandering amongst a combination of groves of trees providing some shade from the hot sun as well as open sections exposed to the hot sun.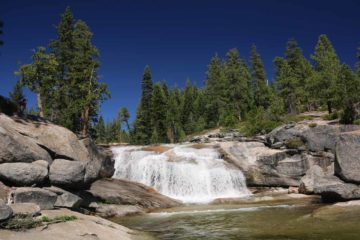 After another half-mile of hiking, we reached a lookout with a direct view of a wide but rounded waterfall that we thought at first to be Bassi Falls, but it turned out to be just an attractive intermediate waterfall. Luckily for us, we didn't make the mistake of turning back early thinking this was the one. This intermediate waterfall on Bassi Creek was a nice swimming hole in its own right as it had the picturesque waterfall (maybe 15-20ft or so) with a calm plunge pool that seemed to be relatively quiet and not too overrun with bathers. In order to reach the plunge pool, there was an informal scramble alongside the falls after continuing on the main trail for another 500ft or so ultimately accessing this waterfall's brink. The scramble alongside the falls was a fairly tame friction pitch eventually leading to the protruding slabs of granite fringing the calm plunge pool.
Back up at the main trail, we continued hiking through more undulating patches of forest and open granite (with hints of domes in the distance). At about 0.3 miles from that intermediate waterfall on Bassi Creek, we reached yet another trail junction. This time, the trail coming from the left was the closest trailhead parking to Bassi Falls at a mere 1/2-mile away. Continuing on the main trail, the granite terrain became even more pronounced as we started to see the impressive Bassi Falls in the distance there by hastening our pace to get closer to the end. The closer to the falls that we got, the more that we could see overflow streams streaking over the granite surface while some of this overflow filled in wading pools and swimming holes.
Finally after about two miles of hiking (taking us a little over an hour), we finally arrived at the base of Bassi Falls. Like with Horsetail Falls, we were able to see more of the entirety of the waterfall from further downstream as we were approaching it, but it was only when we got close to the falls could we appreciate the cool spray, the volume of Bassi Creek, and the shade and swimming holes that dozens of other people were enjoying at the height of a pretty hot Summer day. The timing of our visit was such that we were benefitting from snowmelt from relatively late Spring storms so it's conceivable that the falls would lose much of its vigor deeper into the Summer months. Still, there was no denying the fun scene that unfolded before us as it seemed like everyone was having a good time. Mom and I enjoyed a picnic snack and well deserved water break, while Mom took off her shoes and dipped her feet into the icy cold water that stung at first, but then felt real good compared to the 80+ degree day we were experiencing.
We easily spent a solid hour just chilling out at Bassi Falls, and it was the kind of scene that we didn't want to leave. Mom and I kept thinking that Julie and Tahia really missed out on this one as I could easily envision at least Tahia spending an entire afternoon here not wanting to leave. Anyways, when we finally had our fill of this spot, we quickly made our return hike back to the Millionaire Camp, and we'd eventually get there after spending nearly 3 hours away from the car. If there was one waterfalling experience that we'd like to re-create but share it with more loved ones, it would be Bassi Falls.
From the Hwy 89 and Hwy 50 junction at the intersection of Lake Tahoe Blvd and Emerald Bay Rd in South Lake Tahoe, we headed south (which then curved west) on Hwy 50 (Emerald Bay Rd) for about 35.5 miles to the signed turnoff for Ice House Road (or Icehouse Road according to some maps) on the right. We then took the narrower Ice House Road and followed it for a little over 16 miles until we'd eventually reach a turnoff for a dirt road on our right just opposite a sign for Big Silver Group Campground on our left. It took us a little over an hour to make the drive from South Lake Tahoe to this dirt road opposite the Big Silver Group Campground (covering nearly 52 miles). Note that coming from the other direction in Placerville, it would have been 21 miles of driving east along Hwy 50 to the Ice House Road.
Once we were on the dirt road, this was where we had some decisions to make regarding how far we wanted to drive versus how far we wanted to hike.
First, let's start with the option that would put the least amount of stress on the car (it was also the manner in which we visited the falls). For this option, we stayed straight on the dirt road (ignoring the turnoff on the left) and eventually reached a bit of a large cul-de-sac after about 0.4 miles from Ice House Road. Once at the cul-de-sac, we then followed a narrower and rougher road to the right leading down to the Millionaire Camp in the next 0.1 mile. There was pretty ample parking at this campground. The hike from here to Bassi Falls was said to be two miles in each direction (4 miles round trip), but our GPS
logs indicated that we actually went 4.5 miles.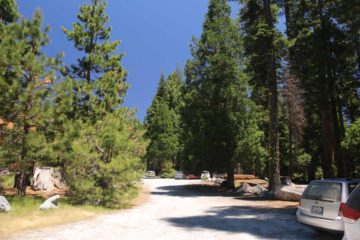 The second option was to immediately take the fork on the left shortly after leaving Ice House Road. This road was already pretty rough and rugged as it featured some water gullies and some protruding rocks as high clearance vehicles was definitely recommended on this road. After about 0.7 miles, we saw a sign for Towering Rocks Parking, which seemed like it only had room for a couple of cars (without blocking the road). Had we known or been fortunate enough to claim a parking spot here, the hike from here to Bassi Falls would be 1.6 miles each way (or 3.2 miles round trip).
The last option was to continue driving beyond the Towering Rocks Parking. Unfortunately, we saw a worrying handwritten sign shortly after that trailhead saying "Warning Rough Road 2WD and Passenger Vehicles Not Recommended". As we pushed forward on Mom's SUV, we quickly saw that the sign wasn't kidding. Pretty much the road was very slow going as the bumps and rocks were even more pronounced and the slope of the road was even more severe. We eventually got to a part of the climb where there was an undulating series of dips at the apex of the hill, but I didn't think we'd make in Mom's car so we backed up carefully towards the base of the hill and turned around. Had we persisted (probably needed 4wd mode to get over those steep and deep undulating humps), we would have made it to the nearest trailhead requiring a mere one mile round trip to reach Bassi Falls.
Finally, for some geographical context, South Lake Tahoe was 62 miles (about 90 minutes drive) south of Reno, Nevada, 104 miles (2 hours drive) east of Sacramento, 139 miles (under 3 hours drive) north of Mammoth Lakes, 188 miles (about 3.5 hours drive without traffic) from San Francisco, and 443 miles (7.5 hours drive) north of Los Angeles.
Find A Place To Stay
Related Top 10 Lists
No Posts Found
Trip Planning Resources
Nearby Accommodations
Featured Images and Nearby Attractions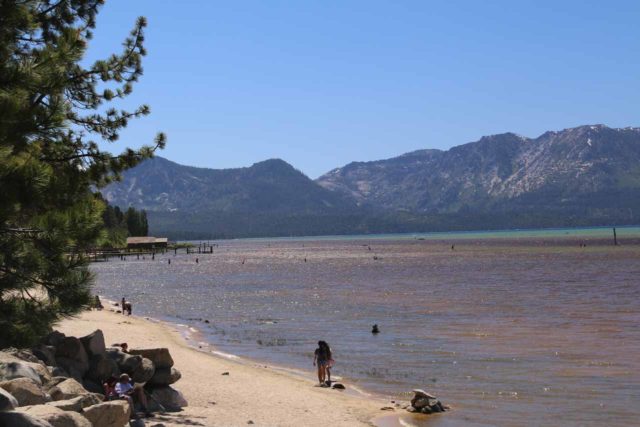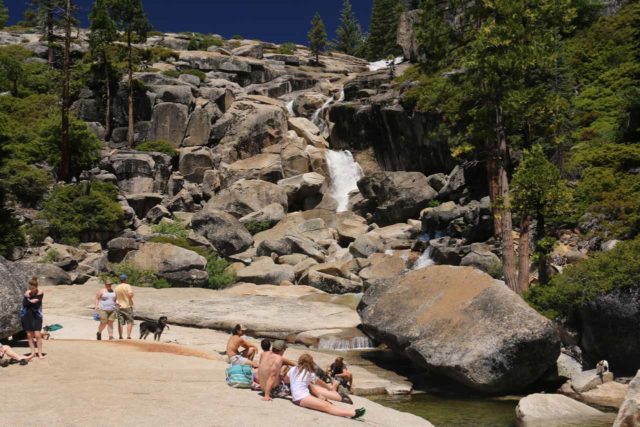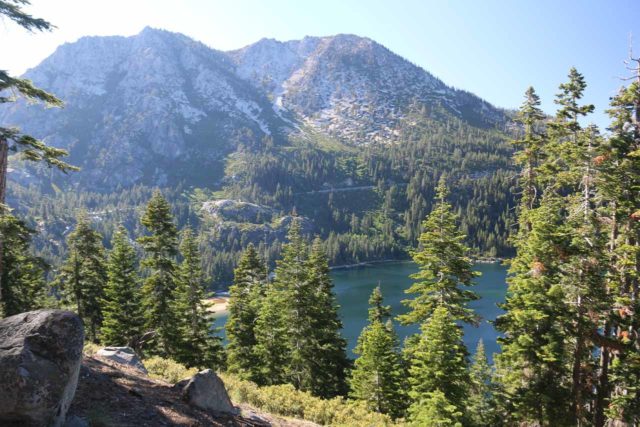 Tagged with:
pollock pines, placerville, el dorado, eldorado, national forest, south lake tahoe, hwy 50, california, sierra nevada, waterfall, northern california, swim, swimming, millionaire camp, bassi creek, union valley reservoir, icehouse, ice house, big silver, towering rocks
Visitor Comments:
Got something you'd like to share or say to keep the conversation going? Feel free to leave a comment below...
No users have replied to the content on this page
Visitor Reviews of this Waterfall:
If you have a waterfall story or write-up that you'd like to share, feel free to click the button below and fill out the form...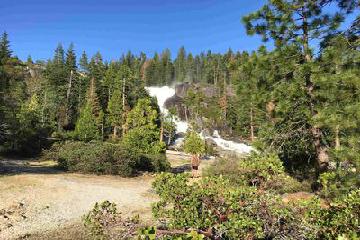 Nice walk to a beautiful falls (Bassi Falls)
May 28, 2017 9:03 pm
-
My son and I drove up from Sacramento for a day hike. The drive was a less than an hour and a half, and all but the last little bit is paved. This was Saturday of Memorial Day weekend, so the cul-de-sac mentioned above was filled with cars. We turned down to Millionaire Camp (not… ...Read More