This particular week-long trip was a long time coming. Up until now, we had a major hole in our survey of waterfalls in our home state of California. Even though Mom and I had visited a very small sampling of waterfalls in the far northern parts of the state back in May of this year, there were still lots of gaping holes that we sought out to fill.
So on this visit, My Mom and I went together to seek out new waterfalls as well as a couple of old haunts. Julie stayed home with Tahia due to Julie's health issues.
It was the second trip I went on with Mom (out of three such trips over a span of two months), and this one lasted just a week. So we had to pack in quite a bit of stuff in the limited time we had since it involved very long drives to the far north of California from Los Angeles.
Here are some highlights and logistics from that trip…
Trip Highlights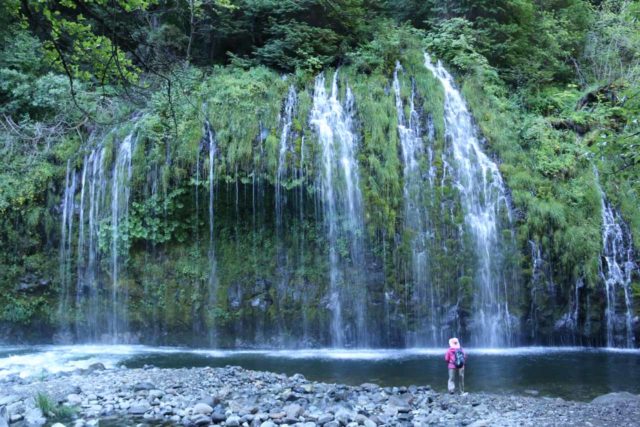 Mossbrae Falls – this was one of the most memorable waterfalls that Mom and I had ever done. Part of the reason why was due to the railroad hiking required to reach it (until access and property rights issues are resolved). Once the trail is finally complete, it would be one of the most spectacular in the Mt Shasta vicinity.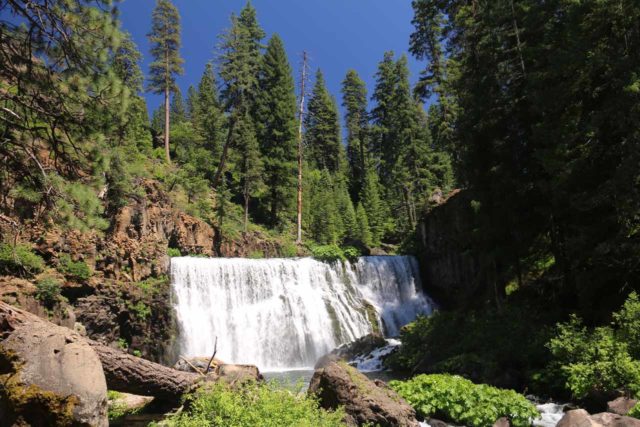 McCloud Falls – right within the foot of Mt Shasta were this impressive trio of waterfalls. Instead of driving to each waterfall, we went on a hike to take it all in, and that wound up being the way to go when it came to really experiencing this place…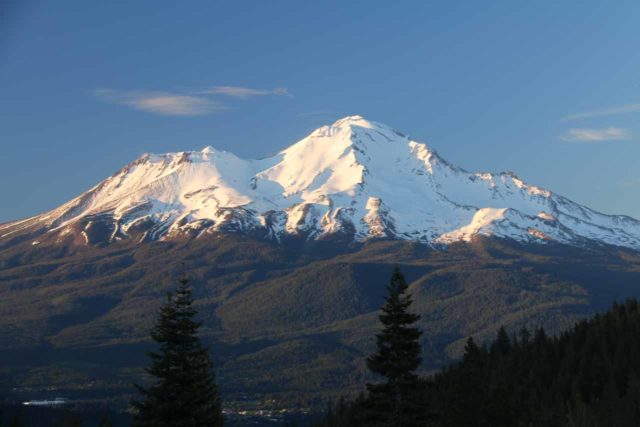 Mt Shasta – we were able to view this majestic mountain from a variety of different spots (i.e. the I-5, within the Mt Shasta Town, around McCloud Falls, and near Castle Lake). Indeed, there was an air of mysticism surrounding it and it was hard not to get caught up in it!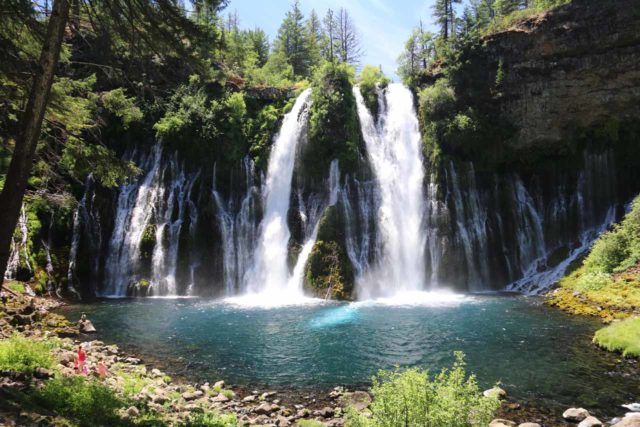 Burney Falls – it took a while before we would visit a waterfall that would shake up our Top 10 California Waterfalls list, but it turned out that this waterfall was it! Like so many other waterfalls that we had missed out on over the years, this was also a long time coming.
[expand title="MORE" swaptitle="LESS" trigpos="below"]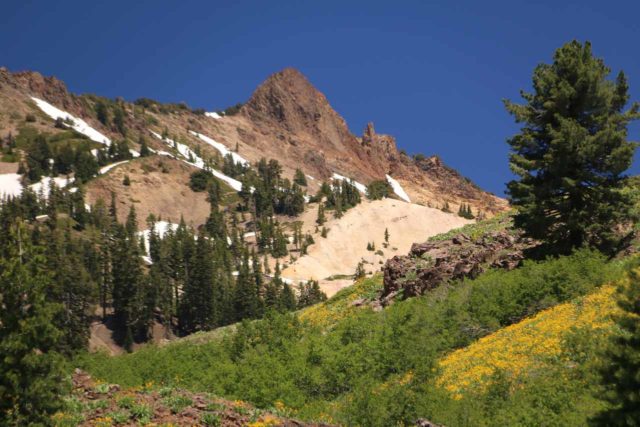 Lassen Volcanic National Park – this was kind of like a miniature Yellowstone in California as it featured thermal features in addition to wildflowers, sharp mountains, lakes, and waterfalls. Speaking of waterfalls, we managed to get intimate with the park by visiting the popular Mill Creek Falls.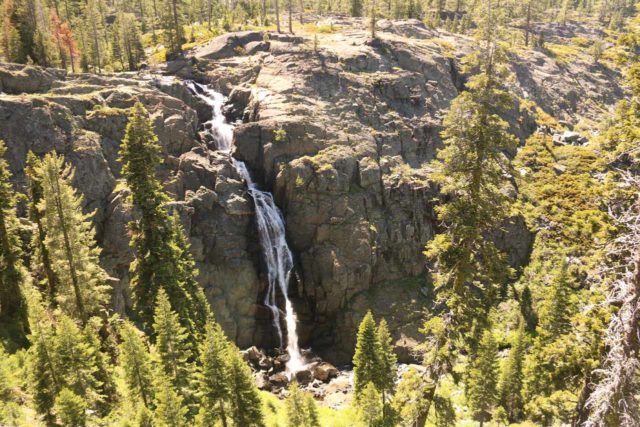 Frazier Falls – this was a bit of a waterfalling surprise as we were making our way from Lassen to Lake Tahoe. It had impressive height and the scenery around it made for a peaceful outing despite how popular this place seemed to be.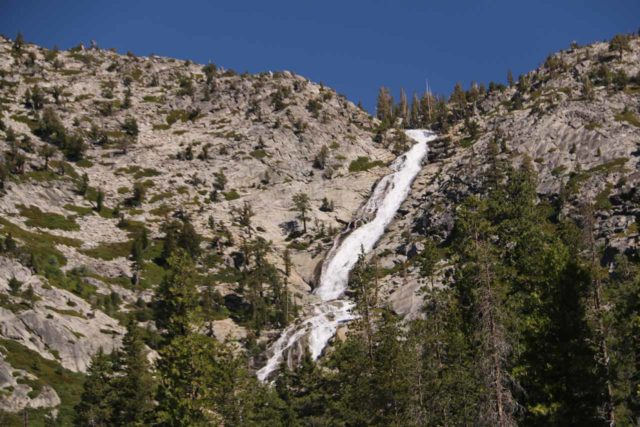 Horsetail Falls – it wasn't easy scrambling our way towards a satisfactory look at this teasing waterfall that was visible from the road but quite elusive to get close to. In my mind, it was probably one of the most impressive of the waterfalls in the Lake Tahoe area.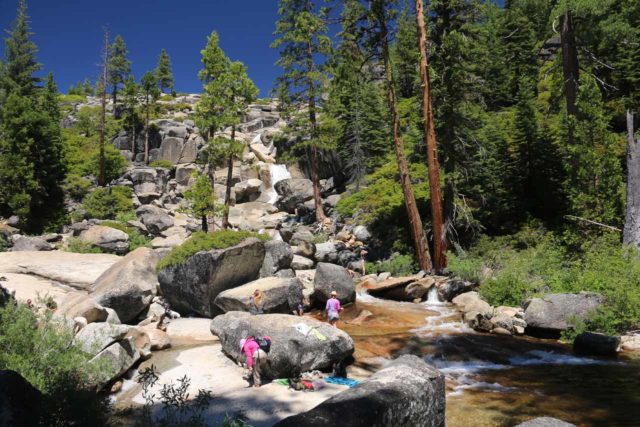 Bassi Falls – the biggest surprise of our Lake Tahoe visit was doing the hike to this waterfall, which featured a nice tumbling waterfall accompanied by potholes filled with cool water that was the perfect antidote for the Summer heat!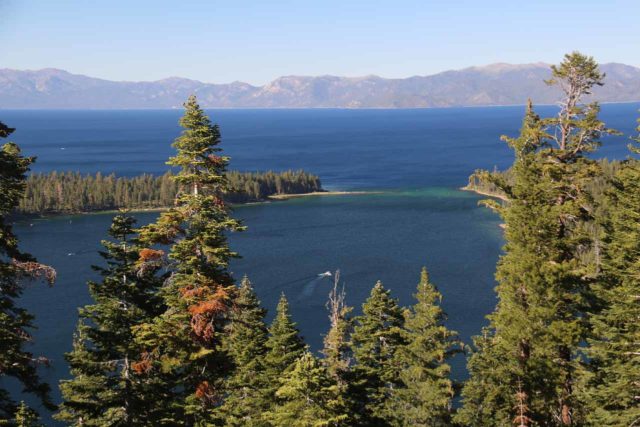 Emerald Bay, Cascade Lake, and Cascade Falls – amongst the views and the activities around Lake Tahoe, we found this hike to the Cascade Falls to be the perfect combination of lake views (at Emerald Bay) as well as doing a hike to really appreciate the scenery while also getting close to the top of the waterfall.
Lake Tahoe and Lower Eagle Falls – while we were drawn to the lakeside views around the trail to the Lower Eagle Falls, we were surprised by a historical building on the shores of the lake as well as a hike leading right to the base of the falls. All throughout the hike, we were treated to majestic views over Lake Tahoe.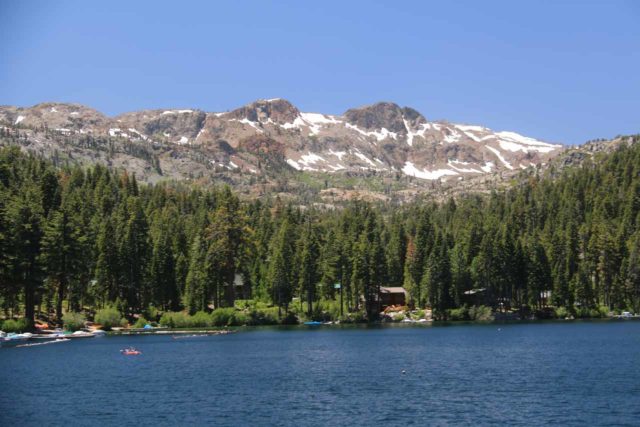 Fallen Leaf Lake and Glen Alpine Falls – during our last full day in Lake Tahoe, we experienced gorgeous lakeside scenery at Fallen Leaf Lake en route to the Glen Alpine Falls, which was an impressive cascade rivuleting over reddish bedrock. As if that wasn't enough, we took the road to its end, where we did another waterfall hike amidst the alpine scenery.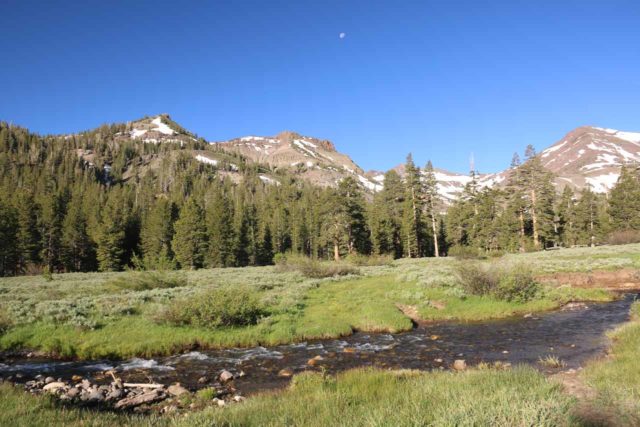 Sardine Falls – this adventurous hike took place at nearly 10,000 feet by the Sonora Pass, where we had to get our feet wet then scramble our way over to the base of the waterfall itself while being intoxicated by the aroma of naturally growing mints in the area.
[/expand]
Trip Advice

California was becoming more and more of an early Summer destination, especially in the forested areas of the north, which we'll get into right now…
Good weather and high snowmelt: Early Summer was ideal in terms of good weather as we were getting pretty much blue sky weather for every day of this trip. Also, each of the waterfalls we visited were pretty much gushing as the peak (or near-peak) of the snowmelt was in full effect. That meant the waterfalls were putting on a show!
Fires: Our trip was affected in a couple of instances when it came to experiencing fires. There was one that took place near the east of Colfax where we were looking to visit Giant Sequoia Trees. But a wildfire that was spreading in the forest there kept us from considering going there.
Then, there was a scary one at Lee Vining which momentarily shut down the Hwy 395 before they let us through while the fires were still burning! For sure, the fire season that year wasn't a good one because more would pop up as the Summer progressed.
Travel Itinerary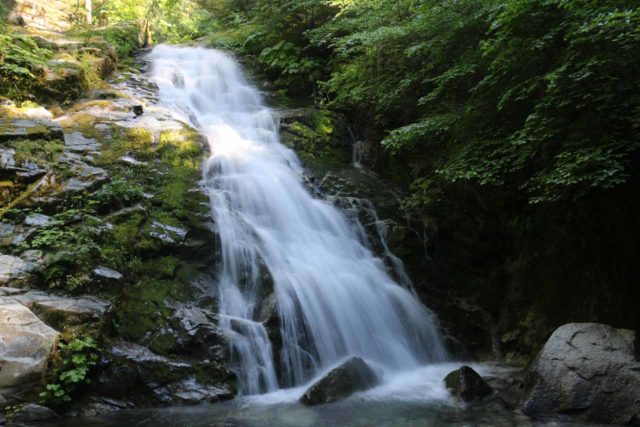 Day 1: Drive from Los Angeles to Red Bluff
We managed to get a very early 4:30am start to the drive, which allowed us to visit Whiskeytown Falls before settling in for the night in Red Bluff.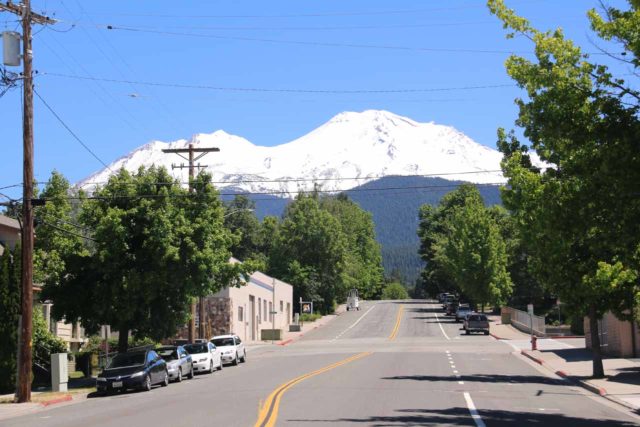 This was a day dominated by Mt Shasta as we pretty much did waterfalling excursions as well as having food in the town of Mt Shasta. We capped off the long day of activities with a sunset viewing of Mt Shasta's snow-capped peak as the skies were getting dark.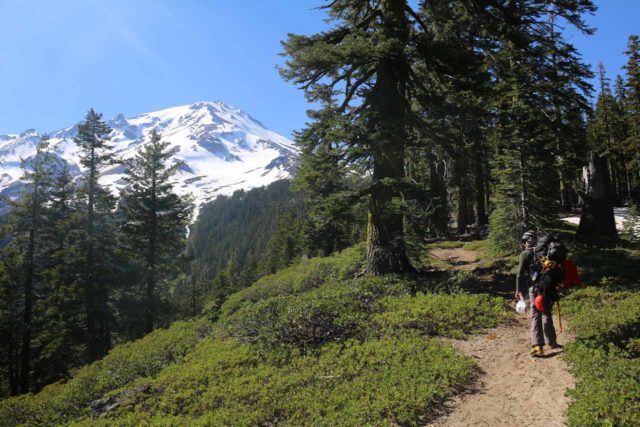 This was yet another day in and around the Mt Shasta area. This time, however, we did a loop drive that included several waterfalls uch as Potem Falls, Hatchet Creek Falls, Burney Falls, and putting Mom's car through some rough driving conditions to reach the trail to Mud Creek Falls.
Day 4: Drive from Red Bluff to South Lake Tahoe via Lassen Volcanic National Park and Carson City, Nevada
Overnight: Holiday Inn Express (South Lake Tahoe, California, USA)
This was a transit day as we got an early morning start to go east towards Lassen Volcanic National Park before hiking to the Mill Creek Falls then visiting Frazier Falls and Kings Canyon Falls (the latter by Carson City, Nevada) before finally settling in to South Lake Tahoe.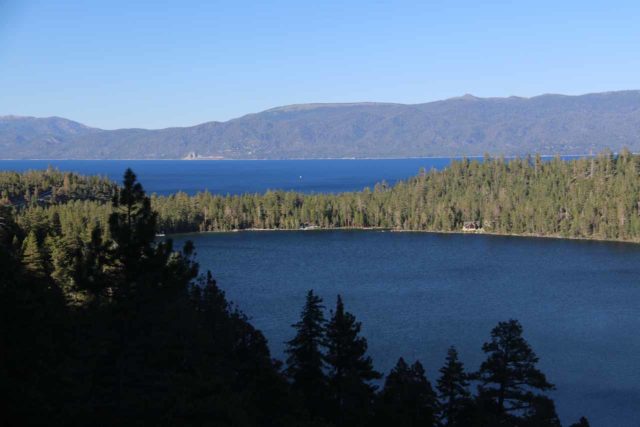 Overnight: Holiday Inn Express (South Lake Tahoe, California, USA)
This was a waterfalling day around the Medford and Crater Lake area, where we visited four significant waterfalls.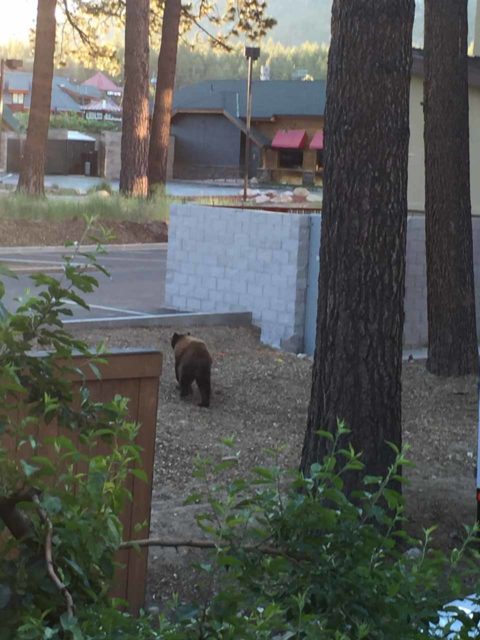 [expand title="MORE" swaptitle="LESS" trigpos="below"]
Overnight: Holiday Inn Express (South Lake Tahoe, California, USA)
This was another adventurous day around the Lake Tahoe area as we visited the western and southwestern shores encompassing both the Upper and Lower Eagle Falls as well as the Glen Alpine Falls and Modjeska Falls. We unwound the day checking out the shores of South Lake Tahoe.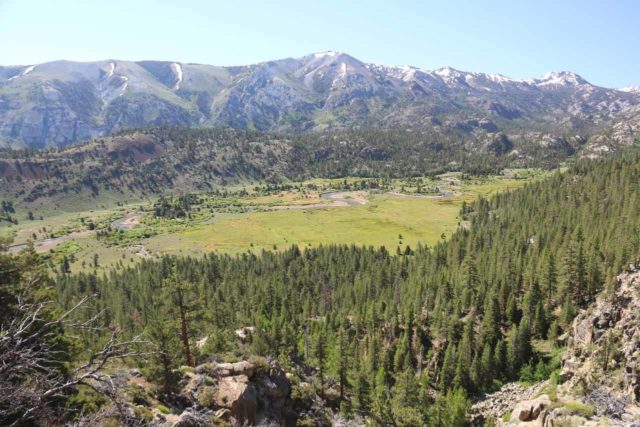 Day 7: Drive home from South Lake Tahoe to Los Angeles with a detour to Sonora Pass
On this final day of the trip, we got another pre-dawn early morning start to visit both the Sardine Falls and Leavitt Falls before making the long drive back home while contending with an early start to the fire season.
[/expand]
Best Places We've Stayed At

On this trip, there really wasn't an accommodation that stood out as we mostly stayed in places for exclusively logistical and price reasons.
What to Bring

In addition to the equipment that we bring on all of our trips, there wasn't anything in addition that we needed for this trip.

Related Trip Reports
Waterfalls included in this itinerary
Visitor Comments:
Got something you'd like to share or say to keep the conversation going? Feel free to leave a comment below...
No users have replied to the content on this page