Our trip to the Southeastern United States in the Southern Appalachian Mountain Range was kind of an odd trip for Julie and I because it was a region that we had never really seriously considered visiting.
But one thing we learned over the years was that you haven't really lived life until you challenge and test your preconceived notions and beliefs by opening your mind and stepping into new places with new people who think very differently than you do. This was true when we spent nearly three weeks in India a few years back, and so we came into this trip with a similar mindset.
Our attitude was, "Let's try to ignore the stereotypes and oversimplifications, and see for ourselves what we think could be the best that this region has to offer." Of course, it didn't hurt that we knew this part of the country harbored many impressive waterfalls, too!
So with that, we planned out our trip aiming to time it for the peak of the Autumn colors. Then, we aimed to go waterfalling in these natural places where the visual feast that we were setting ourselves up for would be unlike anything we had done in our waterfalling experiences to this point.
Here are the highlights and logistics from this trip…
Trip Highlights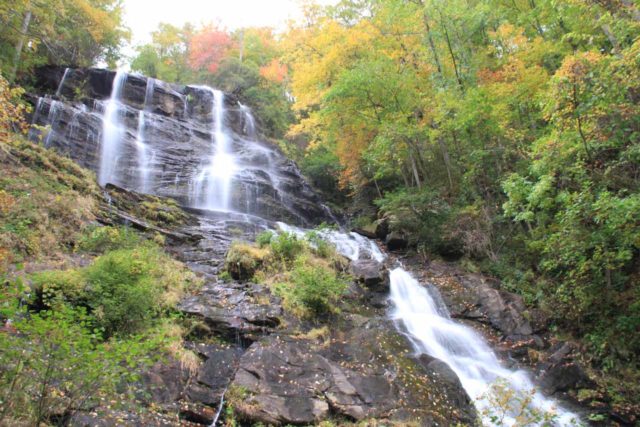 Amicalola Falls – This was the first waterfall that we saw on this trip, and it was a tall one as well as being in close proximity to a section of the Appalachian Trail in Northern Georgia. There was a trailhead both at the brink of this waterfall as well as by a "skating rink" near its base. But we did the walk up to a bridge going right across it and we were mesmerized by some leaves floating down from trees as Autumn was starting to take hold in this region.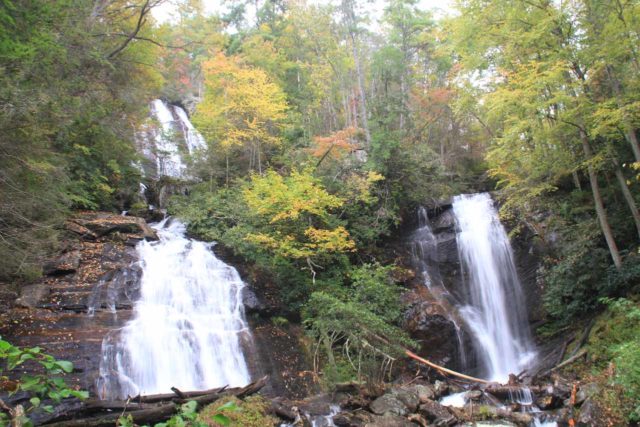 Anna Ruby Falls – This multi-tiered, multi-segmented waterfall was one of the more unique ones that we've seen. Accentuated by the beginnings of the Fall color turn, we enjoyed it and found that pictures really don't do this one justice.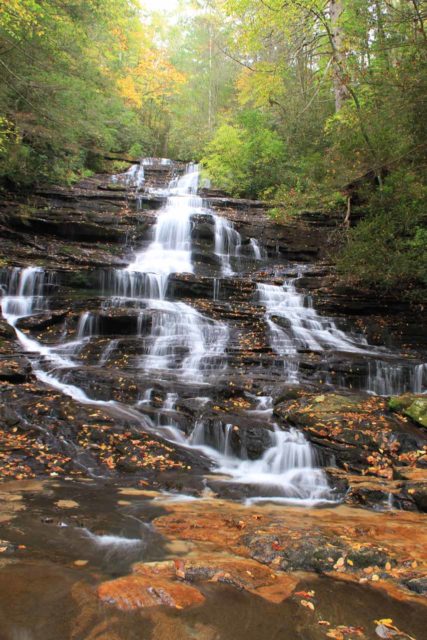 Minnehaha Falls – Of the waterfalls that we saw in Northern Georgia, this one could very well be the most photo-friendly because of its graceful flow and the contrast of the dark bedrock with the orange foliage mixed in with the greens from above. It may not be the most powerful nor the biggest, but this one certainly has that relaxing vibe to it.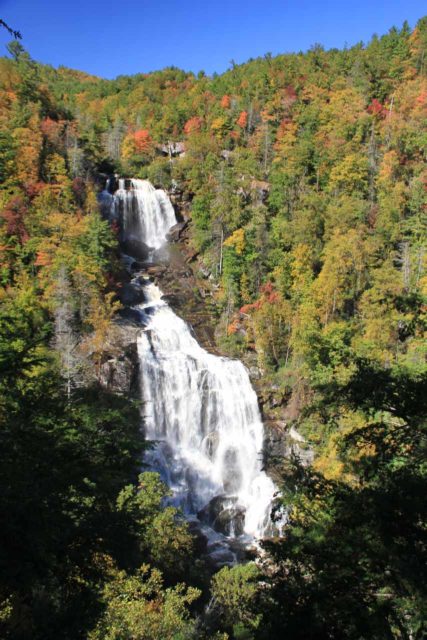 Upper Whitewater Falls – This was one of our favorite waterfalls of the trip as it seemed to have it all – the height, the character, and some Autumn foliage to go with it. It was also pretty easy to visit with teasing vistas along the way. So what's not to like about this one?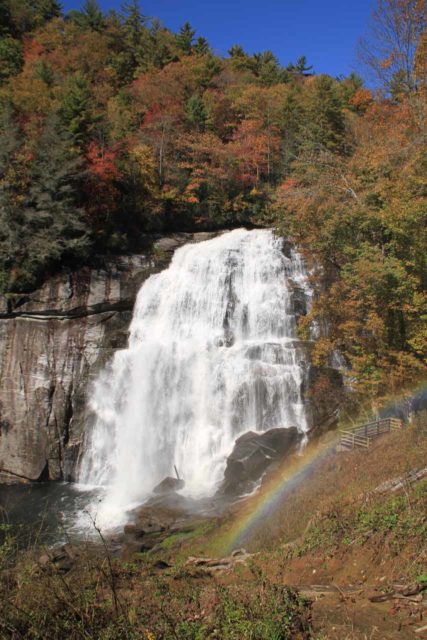 Rainbow Falls – This was a gushing waterfall that yielded its namesake rainbow when we were there. The trail to get to this falls also featured other minor waterfalls. I even went further upstream to the attractive Turtleback Falls. So indeed, this was certainly one well worth the time to see.
[expand title="MORE" swaptitle="LESS" trigpos="below"]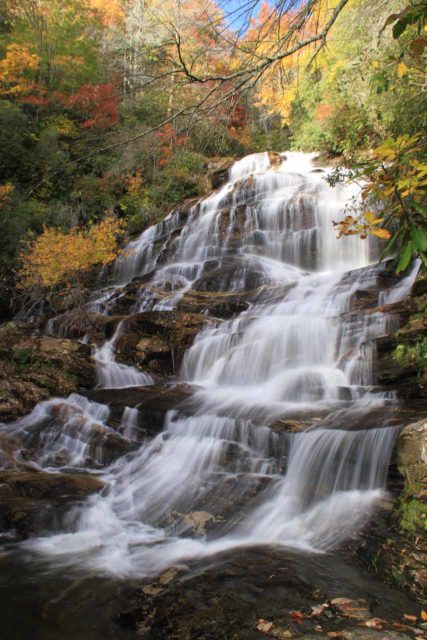 Glen Falls – This was actually a graceful series of three waterfalls. And the panorama from the brink of the upper waterfall was also worth the time to do this excursion in the Highlands area.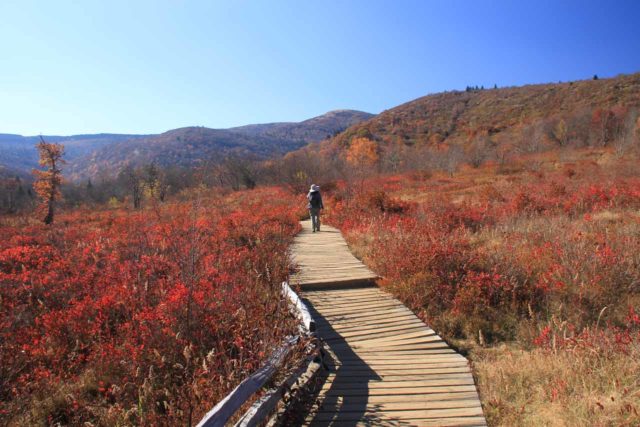 Graveyard Fields – While Second Falls and Upper Falls were our waterfalling excuses to make this stop along the Blue Ridge Parkway, it was the Autumn colors in a patch of area that seemed to harbor more bushes and shrubs than trees. And that alone made this place stand out against the other stops along the Blue Ridge Parkway.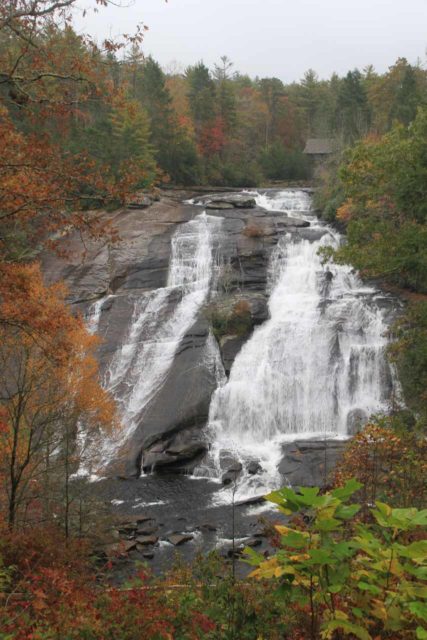 Waterfalls of DuPont State Park – It wasn't until after we visited this state park and checked out three of the four main waterfalls (Hooker Falls, High Falls, and Triple Falls; we didn't do Bridal Veil Falls) did we realize that The Hunger Games movie was filmed at a couple of them. Each of the falls had a distinct character to them, and they were all doable within a couple of hours total. Had we extended our visit by another couple of hours, perhaps we could have also fit in Bridal Veil as well.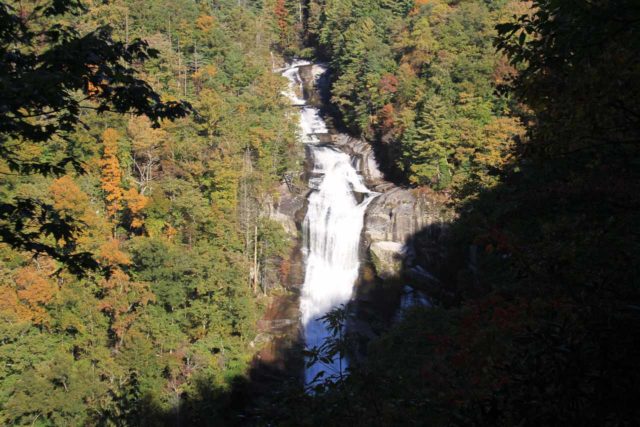 Lower Whitewater Falls – While the upper brother of this waterfall was by far more popular and more satisfying, this waterfall gives you more peace-and-quiet. Indeed, that may be because the Duke Energy gate at the start of the road to get down to the trailhead looks uninviting, and you have to walk a b it longer to reach the lookout as well. But for those who persevere, it can be a rewarding experience.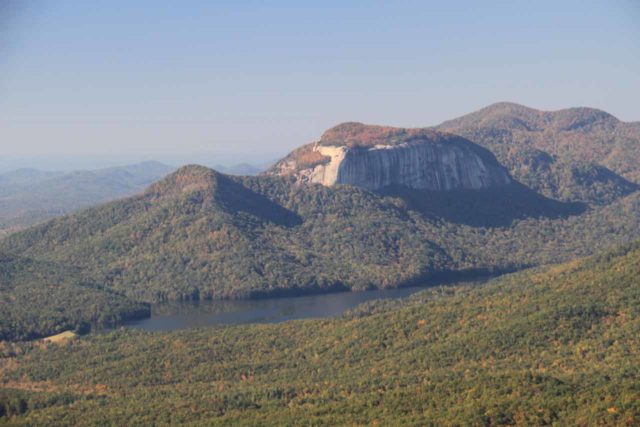 Caesar's Head – The panorama at Caesar's Head was expansive and attractive as it featured dome-like formations, a lake, and the potential for lots of colors to be seen across the entire valley below. It might have been a few weeks early when we got to this overlook, but we could clearly see how this vista could be magical with the Autumn explosion of colors!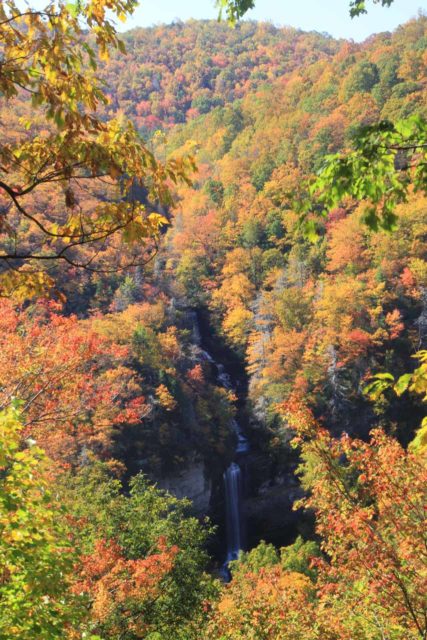 Raven Cliff Falls – While this waterfall featured many tiers and was quite tall, we found its position amongst lots of trees with leaves turning color to be what made it as attractive as you can see in this photo. It took a bit of a hike to reach the overlook, but to be walking amongst rustling trees under blue skies with reds and oranges everywhere really set the mood and the eventual grand finale at the overlook of the waterfall.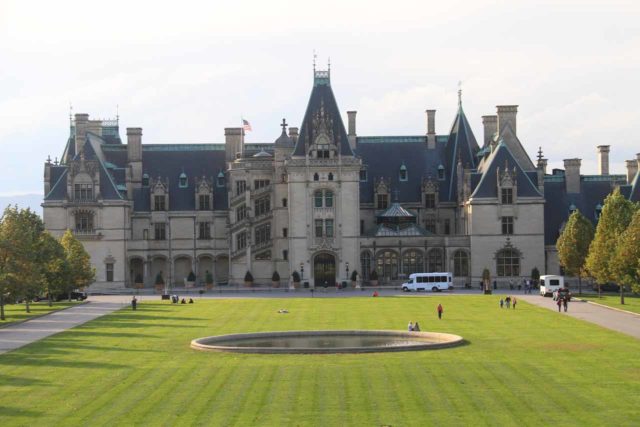 The Biltmore Estate – Visiting this huge estate was very expensive, and I believe the intent was for visitors to take their time and spend the whole day here. We didn't allocate so much time so we probably didn't get our money's worth, but we did get to glimpse the furnishings inside as well as the extensive yards and gardens on the outside. Indeed, it could very well be the prime example of concentrated wealth in the USA, and I've read that it's still the largest private residence in the country.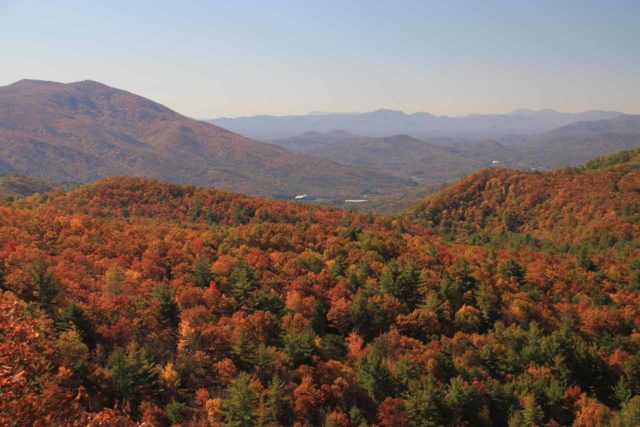 Blue Ridge Parkway – This drive that follows a mountain ridge yielding panoramic views on both sides definitely was a feast for the eyes (especially when there's the Fall Colors). It's not often that we get to look down instead of up since the road is essentially the mountaintop, and that's what really makes this drive special.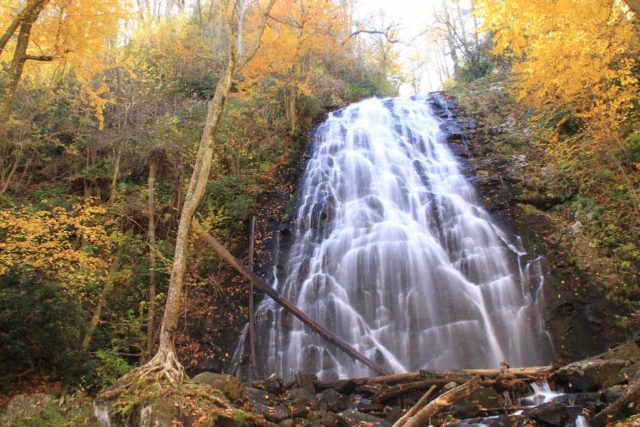 Crabtree Falls – This graceful waterfall tumbled amongst some golden trees as the leaves were turning more yellow than red here. It was also long-exposure friendly as its rippling quality seemed to exude a grace that complemented the surrounding scenery, which we came to appreciate after a moderate hike to get down to this falls…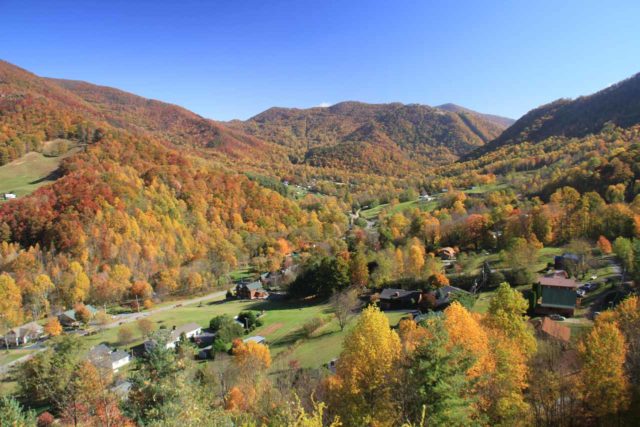 Great Smoky Mountains National Park – This reserve on the far western side of North Carolina definitely felt more remote as there were elk sightings as well as more Autumn foliage color explosions. There were also a pair of waterfalls in Mingo Falls as well as Soco Falls to give us that waterfalling excuse to be here. In fact, there were even more waterfalls we had missed out on, which we'll have to come back to re-try if the opportunity arises.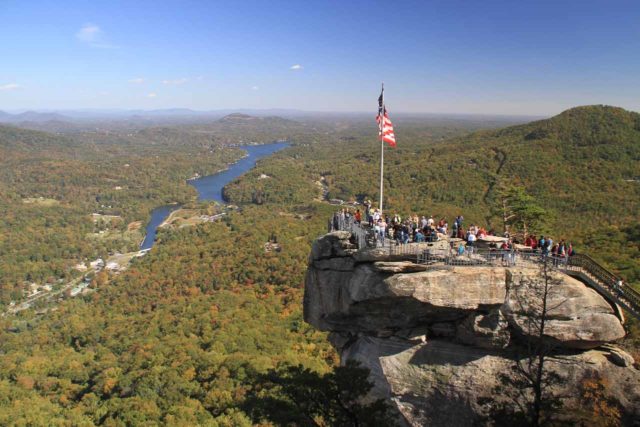 Chimney Rock – This natural rock outcrop yielded some of the best panoramas to be had in southwestern North Carolina. Indeed, this place was quite the popular spot, and we don't blame them after being there ourselves. This park also featured a few trails, some alcoves, rock climbing walls, and all sorts of other activities for the whole family. Of course, it was Hickory Nut Falls that brought us here, and that waterfall didn't disappoint either.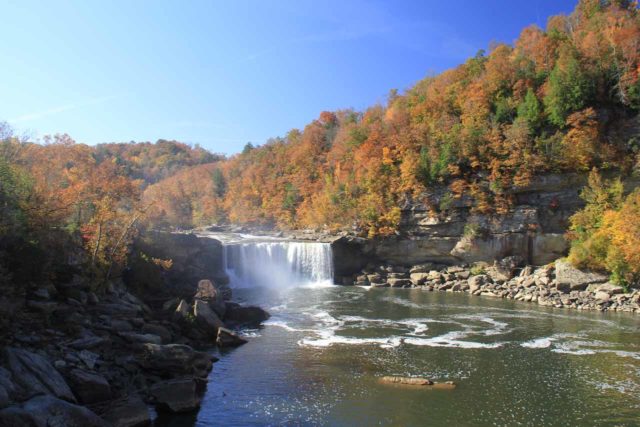 Cumberland Falls – This may very well have been the waterfalling highlight of this trip as it featured a wide drop of the Cumberland River surrounded by a gorgeous display of color as the foliage turn was in full effect during our visit. And while this waterfall may be best known for moonbows, we saw the conventional rainbow just fine. And believe it or not, our visit was free!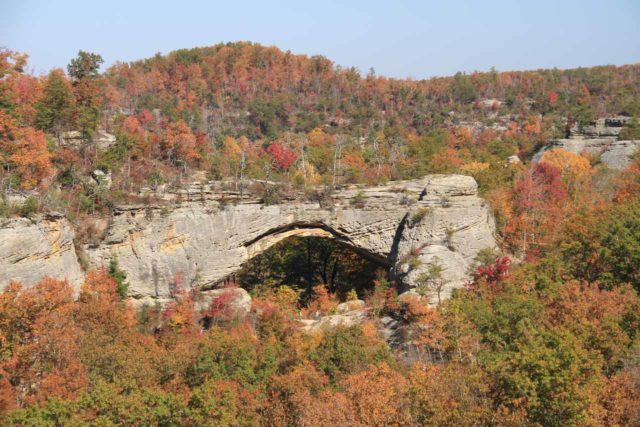 Natural Arch of Kentucky – This broad arch had a gaudy name but it certainly lived up to its hype as we could clearly see its span juxtaposed with the oranges and reds of the Autumn foliage around it. We were even able to get closer to its span for that photo where we can see the sky through its span (practically a mandatory photo for all natural arches and bridges experiences).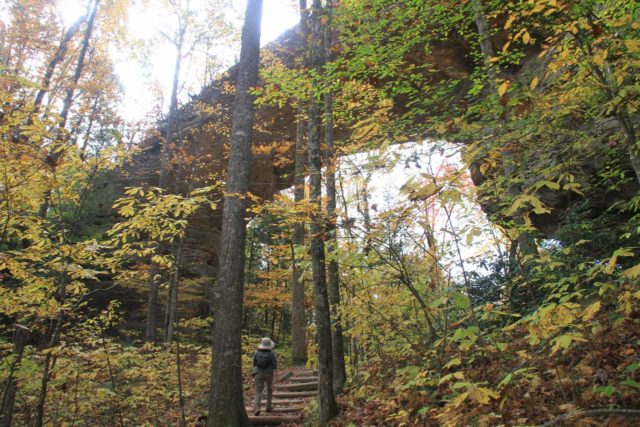 Twin Arches – This pair of natural arches involved a serene trail to reach within the Big South Fork National River and Recreational Area. The hike yielded some attractive vistas but it was the arches that attracted us here and we were richly rewarded for it.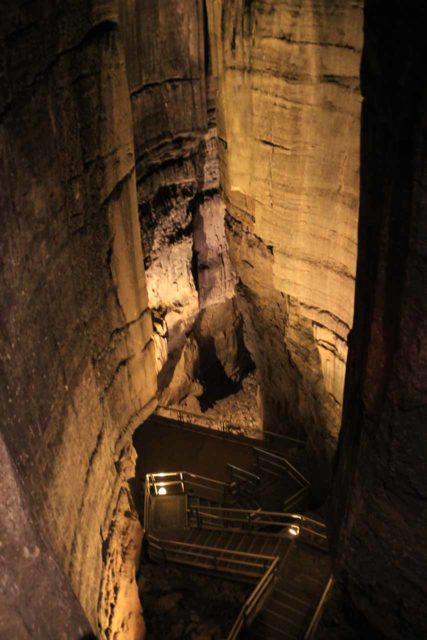 Mammoth Caves – This could be one of the largest cave systems in the United States, and we got to do a tour that took in one of the bigger series of rooms. The tour was popular so it wasn't a relaxing experience, but it was certainly atmospheric and educational, and it was well worth the detour to get here.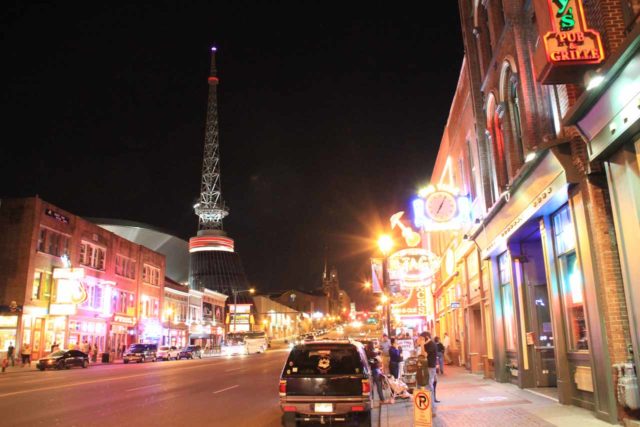 Nashville – We only had one night in this musical city, but we made it count with our stroll in Music Row as we went from one bar to another, where it seemed like each one was trying to attract crowds with live bands playing mostly blue grass, country, or blues. Some joints even had line dancing!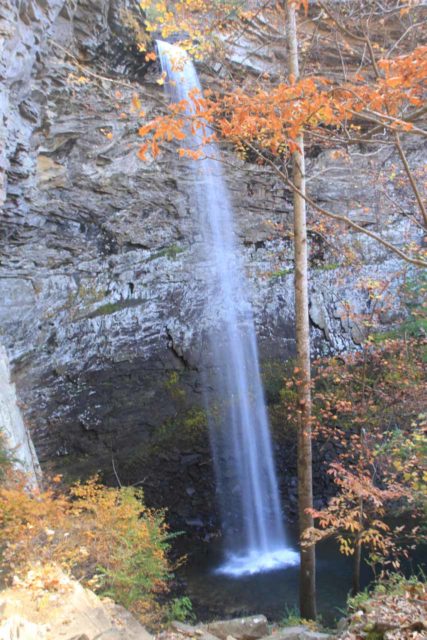 Ozone Falls – This tall pluging waterfall provided us with a calm and relaxing experience because we were here pretty much by ourselves. We had to drive across the state to get here, but our efforts were richly rewarded. That said, we did have to be careful not to get too close to the cliff edges because it was a long way down!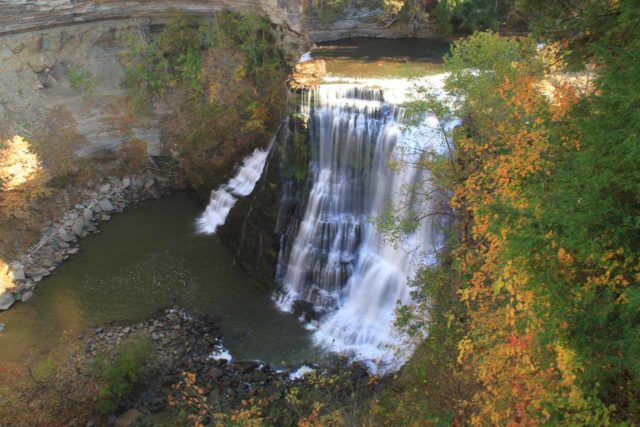 Burgess Falls – This was up there as one of Tenessee's most beautiful waterfalls for it had the size and the surrounding Fall foliage. However, this excursion also featured at least three other waterfalls on the same watercourse, which further accentuated the overall experience! In fact, we liked it so much that we came here twice on the trip!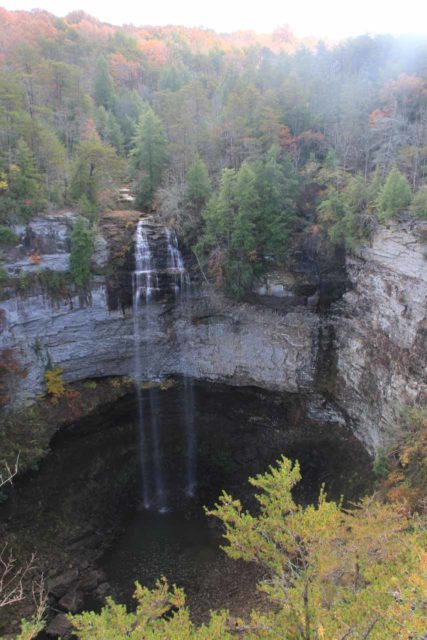 Ozone Falls – This was one of the state's more famous and popular waterfalls and it certainly had the tourist infrastructure to back it up. In addition to hiking to its base and checking out its overlooks, we also visited other waterfalls in the state park such as Cane Creek Falls, Rockhouse Creek Falls, and Cane Creek Cascade.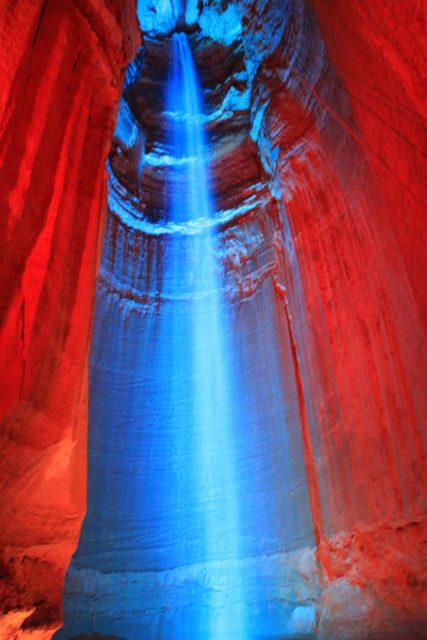 Ruby Falls – This subterranean waterfall also featured a cave tour that went along with it. It was one of the more unique waterfalling experiences we've done, and the hype around this falls was certainly justified.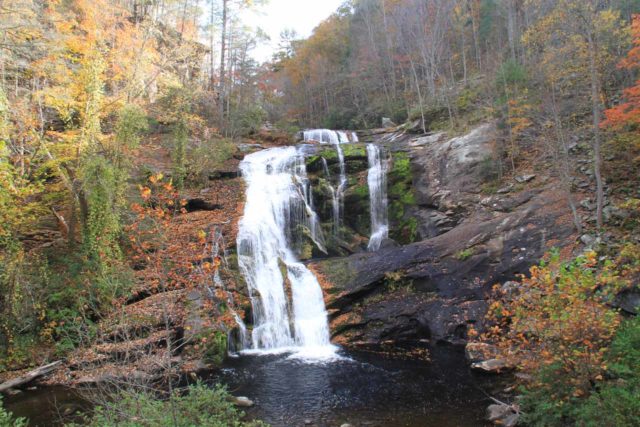 Bald River Falls – Even though this was an easy waterfall to see (it's roadside), it took a bit of a drive to get here from Chattanooga. Still, the Autumn color scene and attractive nature of this falls made it worth the drive.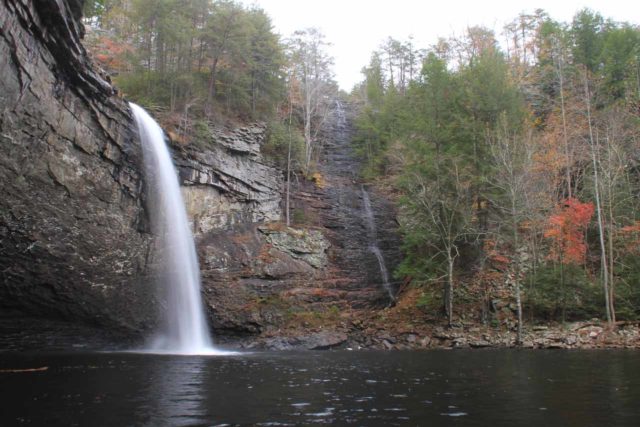 Foster Falls – This was the last waterfall we visited on this trip, and it didn't disappoint as it featured a satisfying freefall with large plunge pool. It was visible from above at a distance as well as up close from a hike down to its basin. And since this place was uncrowded, it was also peaceful and quiet down here.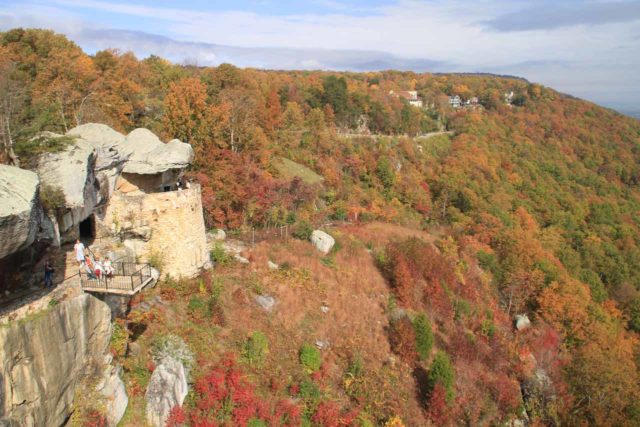 Rock City – While this place is beautiful enough to be included in this list of highlights, we really felt that this place could have been so much more if it was less kitschy and more natural. At least the vistas were mindblowing, especially with the Fall colors and the possibility of looking into seven states from one particular lookout. But we weren't too nuts about the gnomes and the weird mix of Disneyland ride meeting a natural attraction.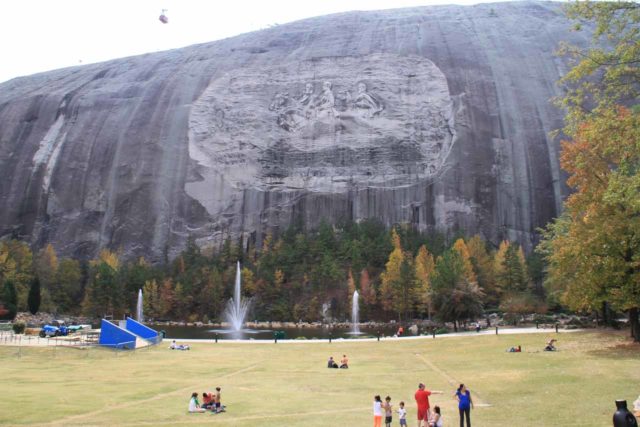 Stone Mountain – Although this park was dedicated to three key figures of the Confederacy, there's no denying the impressiveness of the huge monolith as well as the giant carving they put of the figures into one side of this monolith. The park itself was extensive and relaxing, and it was really a place for the whole family to hang out.
[/expand]
Trip Advice

The main reason for the timing of our trip was to aim for the Fall Colors. And after having done this trip, I'd have to say that our timing was pretty spot on (though we realize that this changes from year-to-year and there is no hard fast rule).
In any case, here are some other lessons learned from this trip that we'd like to share with you…
Southern Hospitality: We met some very friendly people who were eager and passionate to share the beauty of the land that they called home. We engaged in pleasant conversation with a South Carolina couple at one of the waterfalls along the Blue Ridge Parkway, and I met a Mississippi family on holiday at Turtleback Falls in North Carolina. And we didn't mind one bit that we spent maybe a half-hour or longer engaged in interesting conversations.
It's amazing how common interests can break through the stereotypical gaps that is easy to fall into if all you know about this place and its people are what you see in the media. And it's why I feel you have to go and see for yourself while keeping an open mind to really get the most out of life's adventures while educating yourself in the process.
Beautiful Weather: Throughout this trip, we had gotten lucky with the weather because I don't think we encountered a single rainy day on the entire trip (though it came close when we were leaving Chattanooga towards the end of the trip). Although the mornings were quite chilly, they were the very reason why the leaves exploded in color the way they did.
I'm not sure if the weather we had on this trip was dumb luck because Hurricane Sandy was going up the eastern seaboard bypassing us and heading right for New York and New England. I guess it just goes to show you that while I'd advocate a visit at this time, the hurricane season is still not over (and likely to continue to push deeper into late Autumn with Global Warming).
Busy only in specific spots: We've found that it was the busiest in the Blue Ridge Parkway as well as the Mammoth Caves National Park. For the rest of the trip, it was delightfully uncrowded and quiet. That's one of the big benefits of waterfalling… It definitely takes you to places that aren't the most obvious in the literature and hence they made for pleasant experiences.
Passionate Waterfallers: On many occasions, we spotted other visitors wielding waterfall books as well as straight telling us how they were out to bag as many waterfalls as they could (in the case of the South Carolina couple we met). It was actually kind of humbling to see so many people into the activity of waterfalling, and it kind of made us realize that there were way more people into this than we were (and that's saying something)!
Travel Itinerary

Day 1: Fly from LAX to Atlanta
This was basically a travel day. We flew into Atlanta, then picked up the rental car (it took a long time because our car wasn't ready), and all the time left that we had was to go out for dinner. We really didn't see much of the city.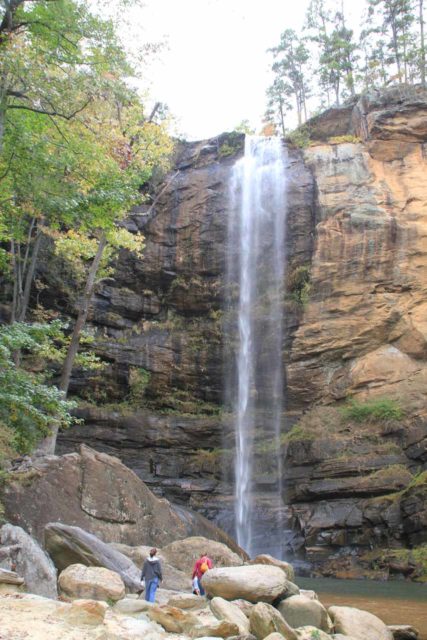 Day 2: Drive from Atlanta to Toccoa
After leaving Atlanta, we headed to the states north as we visited Amicalola Falls, Anna Ruby Falls, Minnehaha Falls, and Toccoa Falls.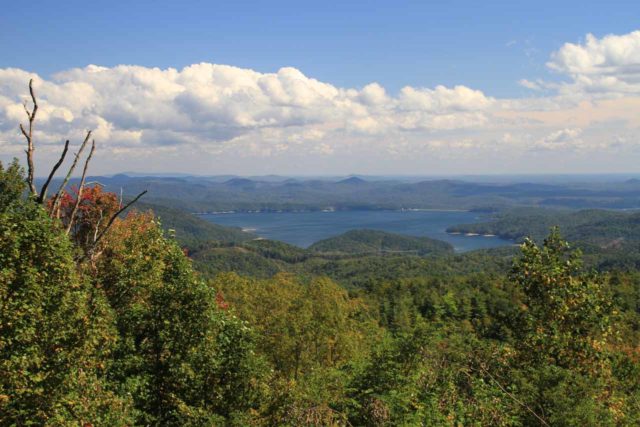 Day 3: Drive from Toccoa to Brevard
Overnight: Deerwoode Resort (Brevard, North Carolina, USA)
On this day, we drove through Upcountry South Carolina to get to Western North Carolina. Among the waterfalls we saw on the way were Issaqueena Falls, Yellow Branch Falls, King Creek Falls, and Upper Whitewater Falls.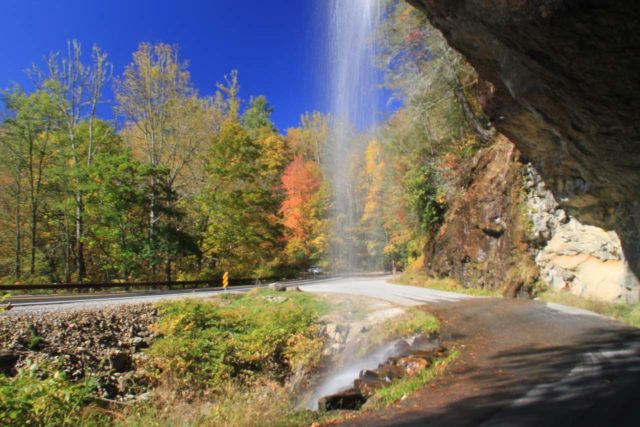 Day 4: Day Tours of Western North Carolina
Overnight: Deerwoode Resort (Brevard, North Carolina, USA)
In the morning, we went south back into South Carolina to hike to Lower Whitewater Falls. Afterwards, we spent time at Rainbow Falls and neighboring waterfalls. Next, we spent the better part of the afternoon visiting Bridal Veil Falls, Dry Falls, and Glen Falls.
[expand title="MORE" swaptitle="LESS" trigpos="below"]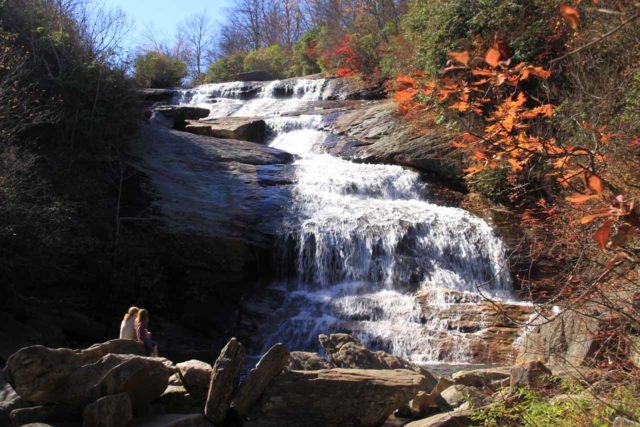 Day 5: Day Touring in Upcountry South Carolina and the Blue Ridge Parkway
Overnight: Deerwoode Resort (Brevard, North Carolina, USA)
We started the morning going south into the Upcountry region of South Carolina visiting Reedy Cove Falls, Raven Cliff Falls, and Caesar's Head. Later in the day, we then went to the Blue Ridge Parkway where we visited the Graveyard Fields, including Second Falls and Upper Falls. We also got distant views of the conspicuous Looking Glass Rock as well as a good taste of the Autumn Colors from driving on the ridge and getting colorful vistas along the way.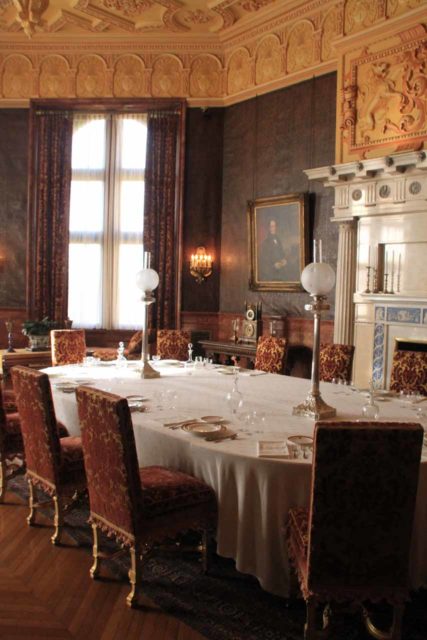 Day 6: Drive from Brevard to Asheville
Even though we changed accommodations, we were still touring the same geographical region in Western North Carolina. However, this time, we focused on DuPont State Park, and whilst there, we visited Hooker Falls, Triple Falls, and High Falls. Then, we drove to Looking Glass Falls before settling into Asheville and fitting in a VERY EXPENSIVE visit to the Biltmore Estate.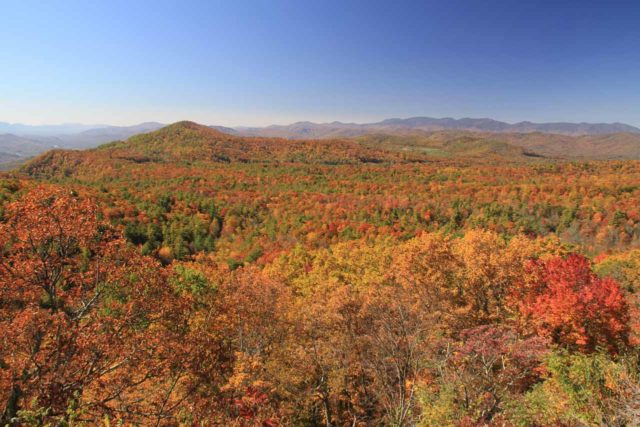 Day 7: Blue Ridge Parkway
We started the day shooting north of the Blue Ridge Parkway to visit Elk River Falls before returning to the Blue Ridge Parkway to reap the benefits of all the colorful vistas from the Autumn color explosion. Along the drive, we stopped for Linville Falls, Crabtree Falls as well as Glassmine Falls.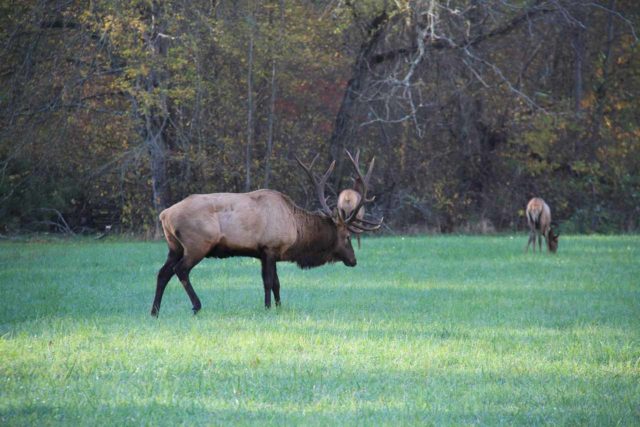 Day 8: Great Smoky Mountains and Chimney Rock
On our final full day in North Carolina, we went all the way west to the Great Smoky Mountains National Park (Oconaluftee Visitor Center) where we saw some elk as well as Mingo Falls and Soco Falls. In the afternoon, we drove to the east then south from Asheville to visit Pearson's Falls before continuing to Chimney Rock where we also visited Hickory Nut Falls while enjoying the vistas from the Chimney Rock itself.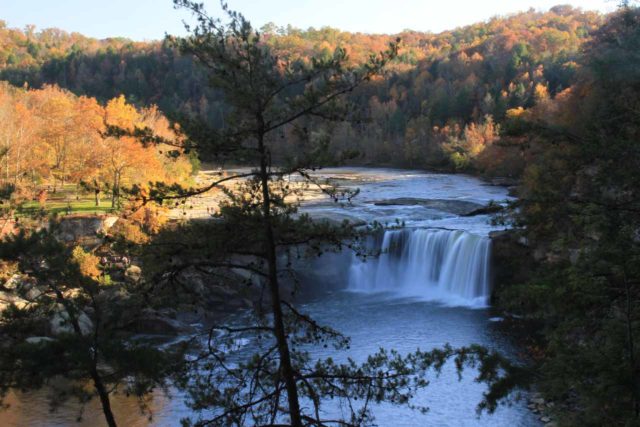 Day 9: Drive from Asheville to Williamsburg
Overnight: Cumberland Inn (Williamsburg, Kentucky, USA)
We made the long drive northwest passing through parts of Tennessee before entering eastern Kentucky. Once there, we headed further west to visit Cumberland Falls. Afterwards, we continued heading west to visit the Natural Arch of Kentucky before checking out Yahoo Falls. In late afternoon as we were headed back to Williamsburg, we stopped to hike to Eagle Falls, which also yielded a different view of Cumberland Falls.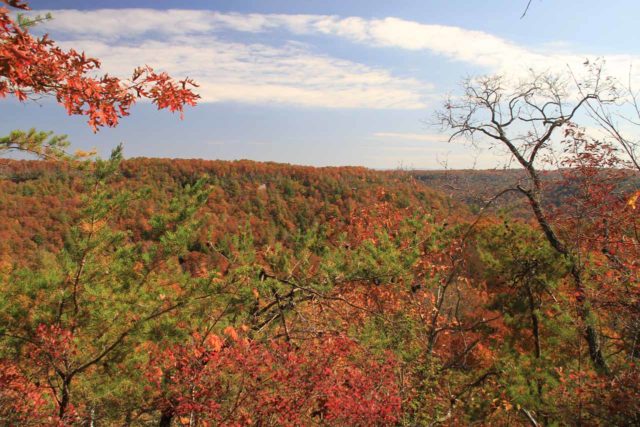 Day 10: Day Trip to Big South Fork
Overnight: Cumberland Inn (Williamsburg, Kentucky, USA)
On this day, we did a day trip crossing back into a remote corner of Tennessee at the Big South Fork National River and Recreation Area. While there, we hiked to Slave Falls as well as a nearby natural arch there. Then, we saw more arches on the Twin Arches Trail.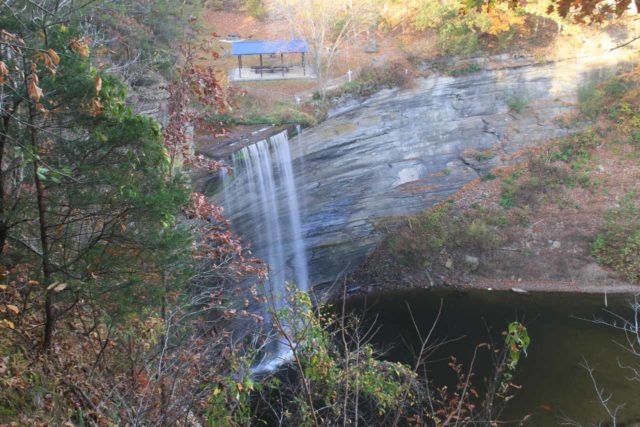 Day 11: Drive from Williamsburg to Nashville
First, we headed northwest and made a stop for Seventy-six Falls. Next, we continued to the Mammoth Caves where we spent the better part of the day, especially since we did a tour to see its largest section. Finally, we left Kentucky and settled in at Nashville, where we spent the evening strolling about Music Row and checking out the atmosphere of several blue grass, country, and blues bars each with live acts (some more crowded than others).
Day 12: Drive from Nashville to Cookeville
We drove across the state to visit Ozone Falls, Upper Piney Falls, and then we headed back towards Cookeville to visit Cummins Falls and Burgess Falls.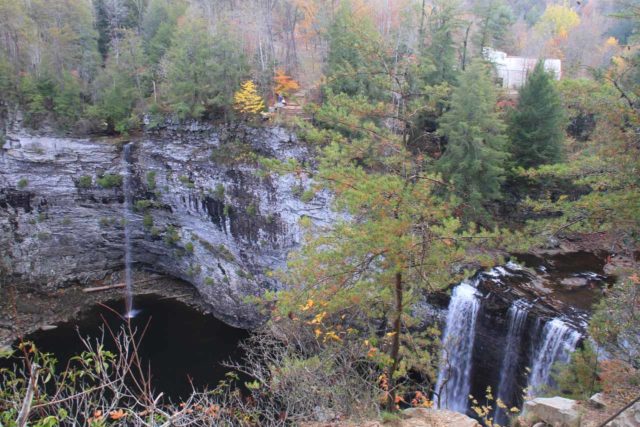 Day 13: Drive from Cookeville to McMinnville
This was another busy waterfalling day as we first returned to Burgess Falls before continuing south to visit Falls Creek Falls, Piney Creek Falls, Cane Creek Falls, Rockhouse Creek Falls, and Cane Creek Cascade.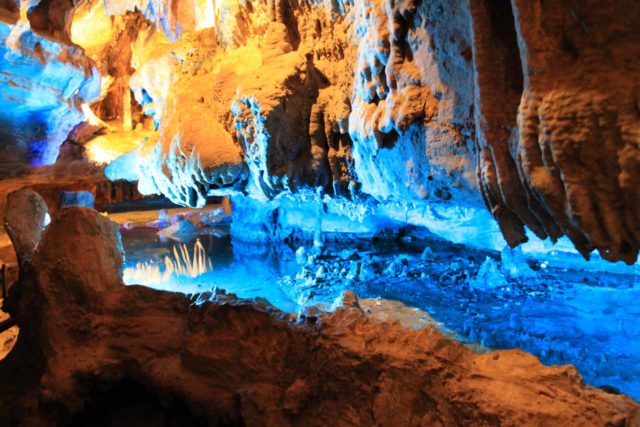 Day 14: Drive from McMinnville to Chattanooga
We headed straight to Chattanooga where we visited Ruby Falls as well as checked out the kitschy park at Rock City. We spent the better part of the afternoon doing the long out-and-back drive to check out Bald River Falls.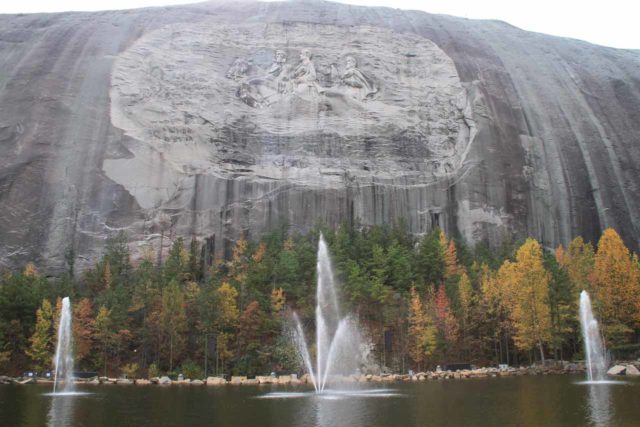 Day 15: Drive from Chattanooga to Atlanta
We started the day driving to the last waterfall of the trip in Tennessee to see Foster Falls. The rest of the day was spent driving towards the Atlanta Airport but visiting Stone Mountain along the way.
Day 16: Fly home to Los Angeles
Basically, we returned the rental car and flew home first thing in the morning.
[/expand]
Best Places We've Stayed At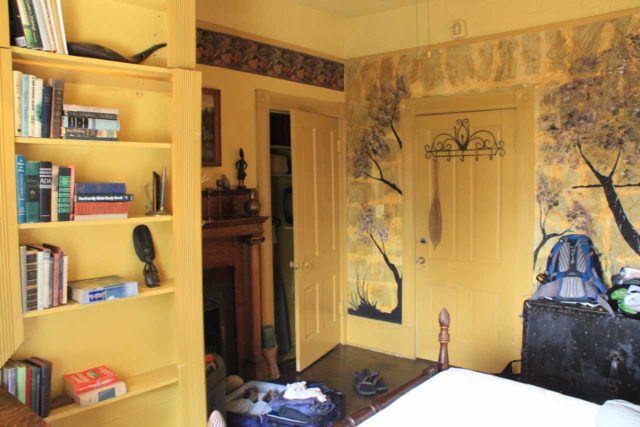 The Simmons-Bond Inn, Toccoa – With this accommodation, it was all about the creativity that made it stand out. It was basically a bedroom, but what they did to decorate it and use the bookshelf to cover as the door for the restroom was very cute. And it's such attention to detail in a place like this (as well as the elegant shared area and dining room with its excellent breakfast) certainly made us enjoy our stay here.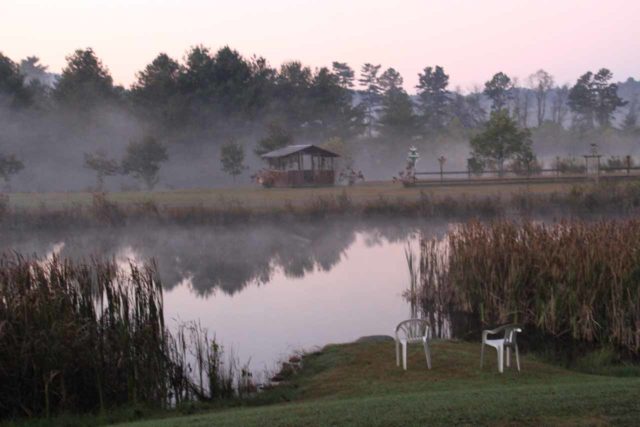 Deerwoode Resort, Brevard – This remote lodge stood out to us because it was in the woods so it was nice, quiet, and secluded. It was also very spacious and rustic as it was a comfortable log cabin complete with fireplace, a huge living room area, and bedrooms.
The only downside to staying in this place was that there was no internet. But then again, you could argue that for the rustic feel and the back-to-nature location that it was in, perhaps the internet would be the last thing you'd want here.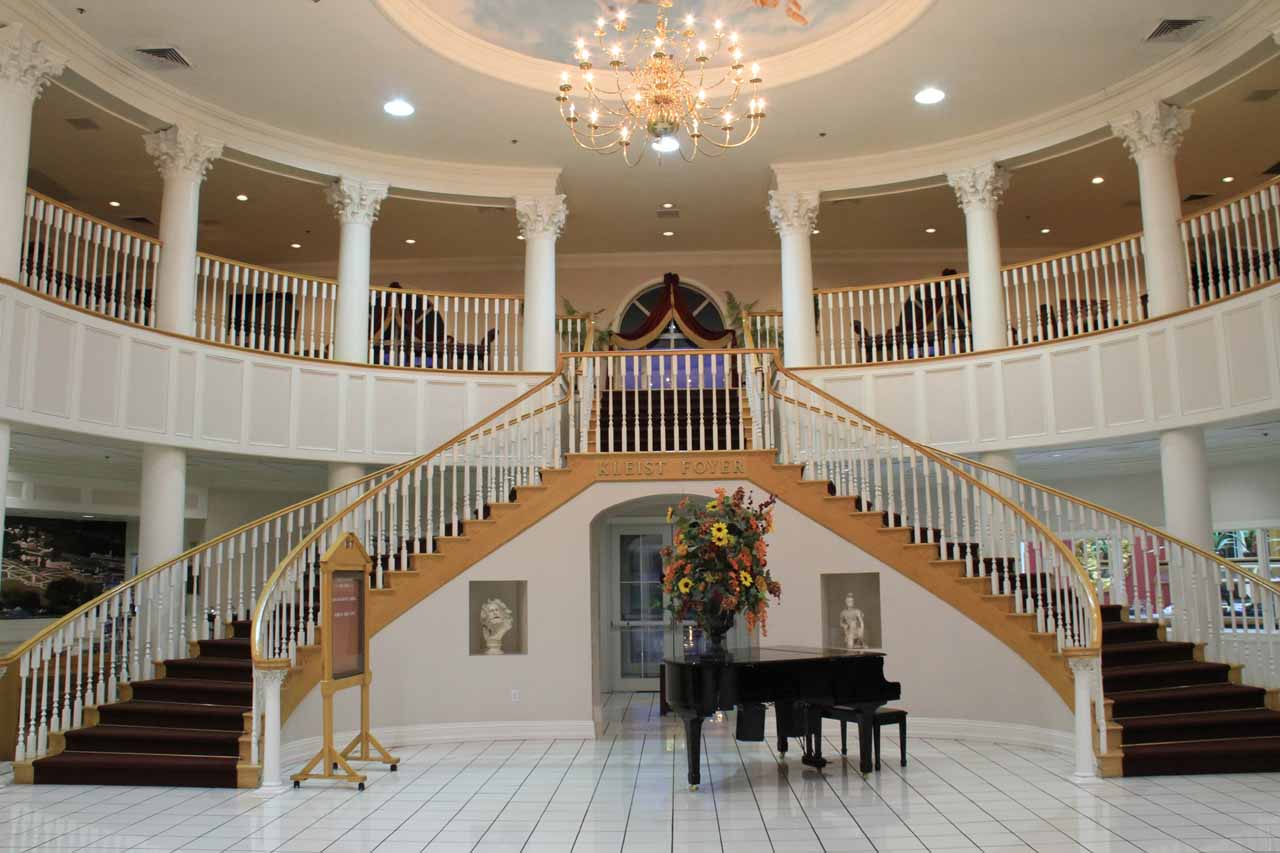 The Cumberland Inn, Williamsburg – This accommodation surprised us with its grand foyer, which almost made us feel as if we were somehow transplanted into some elegant estate you might see in Gone With The Wind or something like that. And considering that we were in an area that I gathered didn't seem to have a whole lot of lodging options, this place really overdelivered on that front. Plus, the rooms were spacious and we found the food served here to be pretty good, too!
What to Bring

In addition to the equipment that we bring on all of our trips, there wasn't anything in addition that we needed for this trip.

Related Trip Reports
Waterfalls included in this itinerary
Visitor Comments:
Got something you'd like to share or say to keep the conversation going? Feel free to leave a comment below...
No users have replied to the content on this page