4-September 2002:
Almost an hour had passed since we arrived by ferry from Moorea. With each "truck" that passed by that wasn't bound for Taravao, I was beginning to think that maybe this idea of going to see the Faarumai Waterfalls without a tour nor a car hire might not happen. I could feel the tension mount as Julie wasn't happy about the stress of the situation nor was she happy about breathing in all the diesel fumes of the surprisingly heavy traffic of Papeete. But before we gave up hope and abandoned my plan to go off on our own to save money, the bus we were looking for finally arrived…
DRAMA ON TAHITI ISLAND
It was our third day in Paradise. While the first two days consisted mostly of tours (such as the Moorea Explorer 4WD and the Maco Lagoon Tour in Moorea), I wanted to try something different today. Given an itinerary snafu that prevented us from spending some time on Tahiti Island, I thought perhaps we could find our own way to the ferry port further south of our Sofitel Ia Ora Resort and then try to use "Le Truck" or some other form of public transport to make it out to the Arahoho Blowhole and the Faarumai Waterfalls.
I thought it might save us some money and also allow us to see a waterfall I intended to see when I was planning this trip.
So from looking at the ferry schedule, I knew the ferry would take off at 6:30am. Julie and I got out of the Sofitel Ia Ora complex at 5:30am and stood in front of the property waiting for some kind of transport to take us to the ferry port. The walk was a little bit out of reach for us to make it to the port in time for the ferry, we reckoned.
After standing there for about 20 minutes or so, we grew concerned that maybe the transport won't show up. Lonely Planet wasn't kidding when they said Moorea's public transport is infrequent and unreliable.
But, then, one of the cab drivers showed up. It happened to be the same guy who taxied us from the Sofitel Ia Ora to Te Honu Iti for last night's dinner. He told us to hop in and we gladly did so.
The fare ended up being around 300 CFP, which was slightly higher than what we had read in Lonely Planet, but we weren't complaining.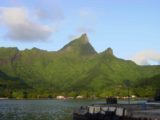 So Julie and I stood around the ferry port at Vaiare after paying for our fare. We noticed in the schedule that if we didn't catch a return ferry at 12:30pm, we'd have to wait another 4 hours before the next ferry would head back to Morrea. So with that, we planned on spending a half day in Tahiti.
And at 6:30am, the big ferry showed up right on time. The ferry was necessarily large because it also took cars as well between the islands of Moorea and Tahiti. When Julie and I got on, we picked a reasonable seat and basically waited out the 45-minute boat ride.
At 7:15am, we arrived in Papeete, Tahiti. When we left the ferry, we initially followed the foot traffic before it started dispersing. We were shocked at how busy and hectic this place was. I guess every place (even paradise) has its urban area.
As we adjusted to the hectic scene in the city, the next order of business was to try to find the correct bus stop and the correct bus that would take us to the Arahoho Blowhole and the Faarumai Waterfalls.
And although the color coding schemes looked efficient, we couldn't figure out if we were standing at the correct stop or not and sometimes we couldn't see the color on most of the buses and trucks that passed by.
So I finally started asking each truck that stopped whether it was going to Arahoho or not. Most of the drivers didn't speak english so I had the Lonely Planet book open to the Tahiti map and pointed to Arahoho.
With each inquiry, I kept getting told that they didn't go there. Finally, one of them told me to look for a bus that would go to Taravao, and it shows up once an hour. So armed with this info, Julie and I stood at a bus stop waiting for the ones that go to Taravao.
Almost an hour had passed since we arrived by ferry from Moorea. With each "truck" that passed by that wasn't bound for Taravao, I was beginning to think that maybe this idea of going to see the Faarumai Waterfalls without a tour nor a car hire might not happen. I could feel the tension mount as Julie wasn't happy about the stress of the situation nor was she happy about breathing in all the diesel fumes of the surprisingly heavy traffic of Papeete. But before we gave up hope and abandoned my plan to go off on our own to save money, the bus we were looking for finally arrived!
Quickly Julie and I hopped on the bus and paid the fare. Just to make sure we were on the right bus, we asked if it was going to Arahoho. He nodded and we went to our seat.
The passengers on the bus consisted of what appeared to be mostly locals. Julie and I must have stood out because we were the only ones dressed to go hiking.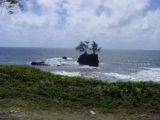 As we looked out the window, we couldn't help but see the rugged coasts and the waves crashing against them as we left the bustle of Papeete. Eventually, the bus started to tackle twisting and winding roads as the two-lane road would start hugging some of these rugged coastlines. Then, the bus stopped and told us that this was the stop. He went on to tell us that a bus comes by here once per hour. And with that, we got off the bus and could hear the whooshing sounds of a blowhole. It was now 9am.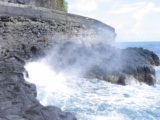 So we started to follow our ears and walk towards the sound. Eventually, we would have to backtrack on the road towards an opening in the barrier wall as the road curved around a bend and away from the sea. When we got to the opening, a set of stairs led down to a outcrop. The blowhole at first couldn't be seen, but as we got onto the outcrop, we noticed the blowhole was blowing sideways as it pushed the swells back to the sea. I assumed this was the Arahoho Blowhole.
So Julie and I spent some time taking photos here trying to anticipate the blowhole blowing as we pressed the shutters of the digital camera. But the camera was too slow and so it wasn't easy to capture it. We tried not to get too close to the edges of the outcrop as the swells seemed rather large and unruly. This was not a place to fall into the ocean! Plus, we grew increasingly worried that the swells could be large enough to go over the outcrop. So with this sense of uneasiness, we quickly headed back up to the relative safety of the road and started walking down the road towards the turnoff that led inland to the Faarumai Waterfalls.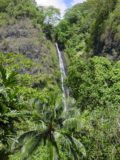 As we walked up the spur road, we could see the waterfall diving off a cliff above the vegetation way ahead of us. This increased our anticipation as our paced quickened a bit.
During the walk, we passed by a few homes. Some had locals tending their yards or running errands, but they smiled and said "Bon jour" when they saw us. There were also rental cars who would pass us by.
Eventually at 9:45am, we made it to car park where we noticed a couple of cars were already parked here. We quickly proceeded onto the trail to the waterfall which went through a shady jungle. As we made it to about the half way point of the short 15-minute trail, I was disappointed to see closure signs for the spur trail that led to the other pair of Faarumai Waterfalls – Haamarere Iti and Haamarere Rahi.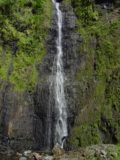 So we continued towards the end of the trail where we could see Vaimahutu Falls tumbling before us. We could only see the main part of the plunge and not the taller column of water we had seen while walking the road. Still, it was pretty and it had satisfying flow considering it was late in the Tahitian Dry Season.
It was 10am when we started walking back. When we returned to the closure sign for the other 2 Faarumai Waterfalls, Julie did some heavy convincing to keep me from jumping the barricade and seeing the waterfalls. Eventually, rational heads prevailed and I accepted the reality that I wasn't going to see these falls.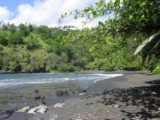 We were back at the spot where the bus dropped us off at 10:30am. We anticipated a maximum of a one hour wait though a worst case scenario could be as bad as 2 hours if we had just missed a bus and the other one was almost an hour late. Anyways, I sat and stood guard for the bus while Julie briefly checked out the black sanded beach near the Arahoho Blowhole.
To our relief, at 10:50am, the desired bus showed up. And it just so happened to be the same bus that dropped us off here originally.
When we returned to Papeete, the bus made several more stops before the bus driver told us we were at the stop that was closest to the ferry. And with that, we disembarked and thanked the guy after paying the fare.
Julie and I still had a little time left so we took this opportunity to change some more money for Polynesian Francs. They didn't take our credit cards nor our bank cards as they only took credit cards that had pins on them. Since no American credit cards do this (don't know why), I had to reach for my emergency stash of American cash and exchanged them. I don't remember if the exchange rate was better directly at the bank, but it sure felt that way.
Then, we returned to the ferry at 11:45pm where we paid our fare and awaited the craft to arrive and pick us up. So with all the drama and uncertainty that had happened during this eventful morning, it all seemed like it was going to work out in the end.
OUR OWN CIRCLE ISLAND MOOREA TOUR
As expected the ferry took off at 12:30pm. It was much more crowded this time around. Anyways, we returned to Vaiare on Moorea Island at 1pm. I was concerned about waiting again for a ride back to the Sofitel Ia Ora, but that cab driver who brought us here in the first place was there once again looking for someone needing a ride like us.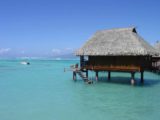 And with that, Julie and I returned to the Sofitel Ia Ora minutes thereafter, and the weather was as good as it had ever been during our trip.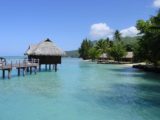 It was almost siesta time so before that happened, Julie and I looked to hire a car for a 24-hour period. That way, we could also drive to the other side of the island for dinner. We had Le Linereva (Le Bateau) on our minds since it was recommended on the Tahiti boards.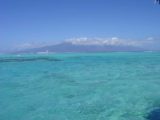 So when we talked to Maria, who was the very helpful receptionist, she called the restaurant and secured our spot. Then, she also directed us towards the car hire kiosk right next to her so we could go ahead and book the car.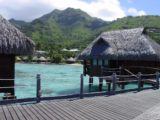 The car hire rates weren't cheap. The car had no AC, was compact, and it was manual transmission. All this was for over 10,000 CFP, which translated to upwards of $100 USD for the day.
So Julie and I wasted no time getting into the car and doing our own circle island tour of Moorea.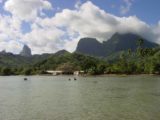 We began the tour going counterclockwise around the paw-shaped island. We made a few stops where there were views of smaller bays, but it was mostly uneventful.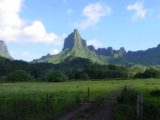 We passed Le Linareva (Le Bateau) on the way to Haapiti which was on the non-touristy part of the island. We took note of that restaurant as we would come back there later in the evening. But the tour guide from two days ago recommended this place in Haapiti for authentic Tahitian food. We had our hearts set on that place for lunch. Unfortunately, Julie and I were too late as it was 3pm and they were closed at 2:30pm.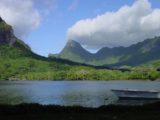 The drive continued towards Opunohu Bay. From there, we took an inland road that twisted its way up to the Belvedere (overlook) on the island. When we got there, it was pretty quiet and we had partially cloudy views of Mt Rotui along with the two bays – Cook's Bay and Opunohu Bay.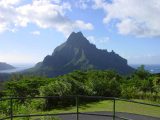 While Julie and I took photos up here, we also took this time to buy some ice cream from a nearby stand as well. Given the heat and humidity of the tropics, this Tahitian Vanilla ice cream was appropriate for the moment. But it was also perhaps the best tasting vanilla ice cream we ever had!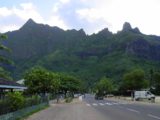 Afterwards, we continued back down towards the main road and proceeded to go around Mt Rotui towards the scenic Cook's Bay. Next, we continued around the bay and noted some of the restaurants we had eaten at already such as Te Honu Iti (our favorite up to this point) and Le Mahogany.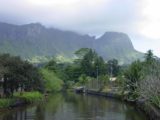 We would eventually reach the village of Maharepa where Julie and I took a break to do some souvenir shopping. I don't recall we picked up anything here, but it was starting to get dark anyways so we had to get back to the Sofitel Ia Ora to ensure we can get cleaned up and ready to go to our restaurant in time for our booking.
We returned to our resort at 5pm and we left for Le Bateau at 6pm. By now, night had fallen and the drive was pretty much pitch black. We needed high beams to ensure we could see where we were going. But we took our time as we weren't in any hurry.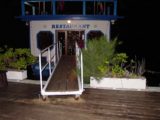 Julie and I finally arrived at the front of Le Bateau. It looked humble so far. We followed a sign that directed us past these buildings and eventually we found ourselves on a long dock that was lined with lights on its side. The dock ultimately led to a boat that said "Restaurant" on it.
When we walked into the lightly swaying boat, the interior was cozy with dim candled lighting. There was probably room for about 4-6 couples I reckoned. The tables were neatly set and everything had a very beachy theme to it. Clearly this was no ordinary restaurant but even a cynic like me couldn't ignore the atmosphere of romance this boat had.
My only concern was getting seasick while eating, but surprisingly it wasn't that bad.
Julie and I enjoyed some very interesting seafood dishes. I had a very heavily marinated yet tender shark. Julie had some kind of jack fish. The appetizers also blew us away and of course the complimentary baguettes were top notch.
We had enjoyed Te Honu Iti last night, but we were so blown away by this experience that we would associate the best of fine dining in Tahiti with this place. Sure it wasn't cheap, but you don't really think about these things when everything just feels right about your dining experience.
After a very satisfying and memorable dinner, Julie and I happily drove back to the Sofitel Ia Ora in the dark. We blissfully took our time and by the time we returned to our traditional garden bungalow, we went to bed. And as we replayed the way this day went in our minds, we were glad the way things turned out after having been on our own for the whole day.
It was indeed paradise… done our way!
Visitor Comments:
Got something you'd like to share or say to keep the conversation going? Feel free to leave a comment below...
No users have replied to the content on this page