Day 9 (November 18, 2019 – Los Angeles, California, USA): "Surviving Paradise"
It was about 7:30am when we awoke, which was about as slept in as we were going to get on this trip.
Julie complained that she got the chills again. She was already in a bad mood, and then she realized when she had the runs again, that we had run out of toilet paper.
So that meant that I had to run errands for her, and this had to happen NOW!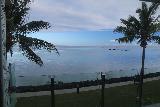 So by 7:40am, I asked for extra toilet paper for our room, and then I went into the car, where I immediately noticed that it was cloudy outside. Indeed, I sensed that it was likely to rain on this day.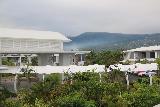 I promptly got into the car and drove out of the Taumeasina Island Resort, and when I got to the main road, I saw straight away that there were quite a few vehicles on the road at this time.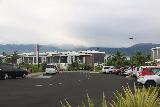 There was definitely something in the air today as I not only had to wait to get onto the main road due to rush hour traffic.
It was like for every song I heard on the radio, there were a couple announcements concerning government-ordered shut downs of the RLS Schools (including any exams that were to be missed and internally assessed otherwise).
There was also some kind of Fiji Airways announcement saying you must have proof of immunization against MMR in order to get into American Samoa.
Failure to do that meant that you'd be sent back on the arriving vessel, which actually already happened earlier in the week when a couple of infected Samoans showed up on a ferry.
Indeed, this measles outbreak that we were only made aware of a few days ago really was serious. Julie and I had been childhood immunized, but we still did what we could to avoid public places and tried to keep our hands away from any orifices.
After making a much-needed gas stop (where I paid 80 tala, which actually might have been too much money as I only had to return the car with 5/8 tank, but I was about 7/8 tank after this fill-up), I then went to the nearby Wilson Supermarket to pick up some water for Julie since we had also run out of it.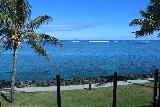 By 7:55am, I was back at the Taumeasina Island Resort, where the extra toilet paper I had asked for still hadn't showed up while I was away.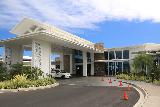 Not long after that, we went downstairs for our included breakfast, but given that both of our tummies were not in the greatest of shape, we tried to avoid inflammatory stuff as well as sugars as much as possible.
Probably compared to most of the guests, I'd bet that we had the healthiest and most sparse dishes at the brekkie buffet.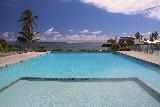 On our first helping, we had soup, bananas, and some veggie stir fry where we removed the gluten stuff (like the noodles).
Julie also picked up some cooked eggs as well as a veggie omelette from the omelette bar.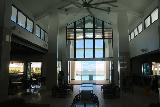 On my second helping, I cheated a little and got a banana bread with Nutella as well as some pineapple, watermelon, and papaya. It was probably a good thing that the Nutella didn't taste that great, and neither did the banana bread so I didn't cheat very much with those.
However, I did eat up the fruits though Julie wouldn't let me finish the orange.
By around 8:40am, I had returned to the room to do a little more brushing and flossing since it seemed like Julie wasn't packed.
Whatever hopes of hitting both the Robert Louis Stevenson (RLS) Museum and the Nourish Cafe before going to the airport, it seemed to be looking less and less likely given our late checkout and departure from the Taumeasina Island Resort.
Indeed, it wasn't until 11:15am when we had finally got back into the car after checking out of the resort, checking into our international flights with Fiji Airways, and loading up the car.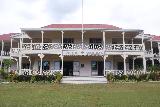 At around 11:30am, we showed up to the RLS Museum, which was actually in a pretty large estate higher up on the island of 'Upolu right off the Cross-Island Road.
There was a huge lawn area where we parked a little to the left of the big mansion, and then we promptly paid our 20 Tala per person to go right into the open door on the left side of the property.
We were led up some stairs and towards one of the bedrooms where a guide was leading a couple of Kiwis though we caught the tail end of the tour. So I wondered what else we had missed out on.
Of the part that we did visit, we saw a few bedrooms as well as the large dining room area. The kitchen was detached to reduce the risk of fire and accidents that would have affected the rest of the house.
When we went downstairs for the conclusion of their tour, we listened to the guide give a beautiful singing exhibition of a poem written about (or by?) Robert Louis Stevenson. We could tell from this song that this guy really did matter to Samoans.
After the conclusion of the tour, Julie and I did a little more self exploration of the RLS property back upstairs before concluding our tour. It seemed like there was another half of the house that we didn't get to see, and I wondered if we had missed out on that.
Nonetheless, just as we were about to leave, I noticed a sign board explaining that there was a walk to both the RLS Tomb as well as a waterfall.
Upon studying the map further, the guides asked if I wanted to do one of the walks. And so I asked about the waterfall.
They pointed the way behind them towards the far end of the RLS Museum, where there was a wide path leading right into the lush bush surrounded by tall fig trees (or were they banyan trees?).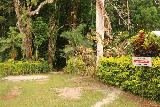 So after going back to the car to get my backpack so I could log the tracks on my handheld GPS, we then proceeded on the path.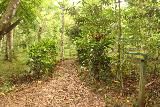 At first, the trail led to a junction where the path on the right led to the visitor center, the path on the left led to the RLS tomb, and the path straight ahead I presumed went to the waterfall since I could see that there was a ravine where I suspected the watercourse would be.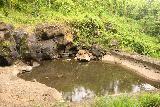 After a few minutes of walking, there was a path leading down towards the left side, which went to a trickling waterfall with a pool that appeared to have had some help.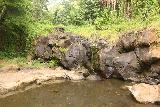 I wasn't sure if this was what the maps referred to as the RLS Pool or if this was the waterfall, but I presumed it was the pool because of the pool-like infrastructure around it.
Given that this waterfall was hardly flowing, I didn't have much hope for any other waterfall having any better flow, but I at least had to find out if there really was another waterfall to pursue.
So we then went further down the trail hoping to find the "waterfall" that was on the maps, but after another minute or so of following the trail, we wound up at a junction where it appeared to be the visitor center of some forestry department.
The path closest to the ravine where the stream would have continued looked like it went into a driveway.
We asked a couple of people walking in the opposite direction of us who looked like they worked here, and they actually pointed back in the direction of that pool we were at.
So after looking around a little more (and seeing a map sign confirming that there was both an RLS Pool and a waterfall), I started to go off trail towards the ravine towards at least where there was this rusted flume or "bridge".
At this point, Julie was protesting loudly that we are running out of time (to both go back to Nourish Cafe for lunch before going to the airport three hours before our 5pm departure), but I had to at least see whether that waterfall was there or not.
So when I scrambled down there (on somewhat spotty footing), I got to the "bridge" but I saw that there was nothing but a dry stream in either direction with no sign of a waterfall in sight.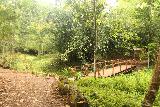 That was when I gave up the search downstream of the falls that we were at earlier, and I rejoined Julie on the trail all sweaty from this scramble along with the humidity and the stress of mosquitoes buzzing around me.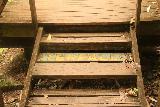 Finally, as we were near the ascent back up to the RLS Museum, I took a trail towards the RLS Tomb to pursue perhaps the RLS Pool (thinking that perhaps we had seen the "waterfal" but not the RLS Pool).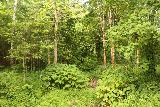 I wound up going towards a footbridge where the far side of the footpath on the bridge said "Waterfall" on it, but it was facing the wrong way. In any case, I didn't see anything signifying that there was a pool around this bridge.
And so only at that point, I went back to the path we took, and then we went back up to the lawn area fronting the RLS Museum.
I noticed that there was a guide and a couple on the upstairs balcony (an area that we didn't get to visit), and it seemed like there was a whole other half of the museum that we didn't get to see.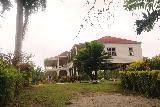 But by this time, Julie was insistent that we just go back to the car (maybe hoping that we could still go to Nourish before going to the airport), and thus we got back to the car at 12:45pm.
I kept thinking to myself how we managed to miss half of the RLS Museum, but at this point, the important thing was that we were now pursuing the airport as we ultimately decided to just skip the Nourish Cafe since we had already gone there twice before (but we never got to try out their coconut waffle or banana crepe thanks to our unsettled stomachs).
Anyways, we ultimately got back to the Faleolo Airport at 1:45pm, which was like a ghost town as there were hardly anyone there.
There was no one at the Avis Office and I wasn't quite clear on the signed instructions about what to do with the rental car. So I ringed Edward the Avis agent who helped me (since he gave me his cell phone number), and after a little bit of a conversation on the phone, I finally figured out what was meant by the "Upper Car Park".
It was still in the airport facility behind the entrance gate, but it didn't require a ticket to open the boom and payment to leave the lower car park. Instead, it was just free parking up there.
He also instructed me to leave the keys inside the car, which I thought was a strange request, but they must have a spare key to open the car. I also told him the reg-o number of the car so he could identify it and give back the deposit after final inspections.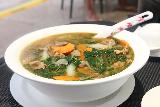 So with that, we checked in our bags at about 2:05pm, and then we had some time to kill so we had ourselves a soup lunch though it was a next-level-sized portion of soup with beef and veggies as well as a bowl of rice.
With our unsettled stomachs, it was just what we needed, and it only costed 20 Tala for the whole thing that was more than enough food for both Julie and I.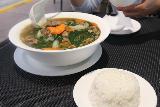 With our BlueSky sim card still working, we thought about our 3.5-hour layover and checked if the Nadi Airport supported a VIP lounge for our Priority Pass, and it turned out they did! So we looked forward to exercising this.
After filling up on that and drinking up the rest of our water (as well as watering the plants with what we couldn't finish), we then waited for at the departure lounge for our flight at about 3:35pm.
Our plane hadn't landed yet, which was a bad sign, but it eventually showed up at almost 4pm, and it was at Gate 3 instead of Gate 2. Julie asked about the boarding situation, and a clerk said they were boarding at Gate 3 despite the monitors indicating Gate 2.
It was strange that we were the only ones at Gate 3, but we waited there all alone and eventually we were one of the first to board.
It turned out to be a surprisingly empty flight, and so the boarding happened swiftly, and it turned out that we departed on time at around 5pm, and we landed at the Nadi Airport at a little before 6pm.
After getting through another security line, we then got into the Fiji Airways lounge, and we proceeded to get into spacious and comfortable lounge area.
When Julie checked out the foods, it turned out that they had a tasty chicken satay, basmati rice, lots of fresh fruits, some desserts, taro chips, and breads with all sorts of spreads and toppings.
With the whole Chase Sapphire Reserve and the Priority Pass that came with it, I guess we realized that we really were underutilizing these VIP Lounges. We probably could have used it on our last trip at the Stockholm Arlanda Airport, but failed to do so.
Well, at least in Nadi, we didn't whiff on this though we did miss out on it on the 7-hour layover on the way to Samoa.
We really have to remember to check on the VIP Lounges on all future trips for as long as we're Sapphire Reserve members with that Priority Pass!
And with that, we comfortably waited for our evening departure home while also enjoying the foods provided at this lounge. At least we didn't have to spend more money on the curry offered at the bakery at the more public lounge…
By around 8:45pm, we went over to the departure gate for the LAX flight, which we were certain would be way more full than the flight we took from Samoa to get to Nadi, Fiji.
Sure enough, we boarded the plane and by about 10pm, the flight finally took off for home.
While the seats were just as uncomfortable as on the way here, Julie and I did manage to catch a very limited amount of shut-eye, while we watched some movies that helped to pass some of the time like the movie about Enzo the Dog, Stuber, and a controversial Bollywood movie that was very beautiful but we didn't get to finish it since it was long and we de-planed before it ended.
Indeed, we landed and got through the passport control with the Global Priority Pass, which got us to the baggage carousel by about 11:40am, but it wasn't until much later did we finally get all our luggages and could call the airport shuttle to take us to where we parked the car.
I always hated this part of coming home since we are so backwards when it comes to getting to and from the airport, which is needlessly costly, time-consuming, and complicated, but when it comes to bending to the will of lobbies, that is what you get (like in most of America).
We finally got onto our shuttle at about 12:30pm, and it wasn't until about 12:55pm when we finally got our car and drove home. Indeed, it seemed like the driver took slower routes all the way through, especially since Sepulveda was jammed, but I guess he stuck to his usual routes.
By about 1:25pm, we finally made it back home. Even though Julie wanted to have lunch somewhere on the west side, I wasn't having any of it knowing that there was bound to be rush hour traffic which would prolong the misery of driving in LA just to get home from the airport.
And with that, the trip was over, but now the return to the rat race as well as the work coming from all this new content from this trip will begin…
Visitor Comments:
Got something you'd like to share or say to keep the conversation going? Feel free to leave a comment below...
No users have replied to the content on this page