Day 8 (November 17, 2019 – Apia, Upolu, Samoa): "Sunday Best"
We woke up to our 6:15am alarm, where it was still dark outside.
My stomach wasn't feeling that great so I guess the test of having the sticky date pudding last night had failed miserably as I had apparently revived whatever parasite was inside me given the sugar content.
By 7:30am, I had diarrhea'd twice so my stomach was back to feeling as crappy as it did when we ferried to Savai'i two days ago. However, at least I didn't have to contend with the toxic burp as I had avoided raw fish in the past couple of days.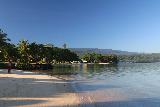 It took some time before we got our belogings together, and then we left for breakfast a little after 7:40am.
There was still someone parked behind our car, which was not good news in terms of us getting out of Le Lagoto in a timely manner, but we let the reception know and in the mean time, we had breakfast.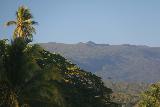 This time around, the included breakfast consisted of a veggie omelette as well as some fruits, which consisted of papaya, whole mango, and some hard coconuts. There were no pineapples this time around.
We saw the soft-spoken waiter again (this time we learned his name was Seti), and he pointed out that today was very fine weather, where there was hardly any clouds in the sky!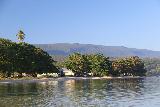 In fact, when we walked out towards the beach by Le Lagoto, we could see that the summit of Mt Matavanu could be seen for the first time since we got to Savai'i.
I'm sure the views would have been better over by the Savai'i Lagoon Resort, where their barefoot bar seemed to have an elevated view towards the shield volcano without as many trees blocking the view.
Nevertheless, we had a satisfying brekkie, then we settled the bill. By the time we made one last visit to the toilet (both of us had diarrhea), the car behind us had moved, and we could finally get going by about 8:35am.
First order of business was to drive back towards Jane's Beach Fales to return the snorkel gear. It was interesting to see everyone on the streets dressed in their Sunday best as they were about to congregate in their local churches.
This was the Sunday services that we had read about prior to coming here, but it was quite interesting to see this in action as all those churches that seemed to be closed or dead throughout our week in Samoa all came alive.
Anyways, we happened to catch the activity guy just before he was about to go across the street to go to church. We left him the snorkel gear, and then he proceeded to go across the street to meet with some other guys congregated there.
With this order of business out of the way, we then drove back south along Savai'i's eastern shore where the bright sun really brought out the turquoise colors of the water just off the coast.
As much as I wanted to stop to take photos, we had a ferry to catch, and we still had a pretty solid hour or so of driving to get all the way to the wharf at Salelologa.
We continued to see more people dressed in white, which looked really good on a lot of the Samoans as we had never seen them dressed this way throughout our week in the country.
Even the women were dressed in long dresses that seemed tight-fitting in some instances, which really seemed like the kind of outfit you wouldn't want to wear with such heat and humidity prevalent at this time of year.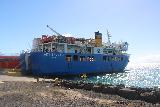 In any case, we finally made it to the ferry terminal at around 9:55am, where the person at the gate asked for 95 Tala for the vehicle ticket. I thought it was strange that it wasn't 107 Tala like it was on the way to Savai'i.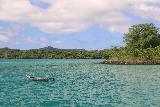 Regardless, we waited for our turn to get onto the ferry itself, and that didn't happen until about 10:25am.
Unfortunately, the guy collecting the tickets wanted to see a purple adult ticket, which we never got from the guy at the gate. So eventually we just paid the 12 Tala on the spot but we had to break of 100 Tala as we didn't have exact change.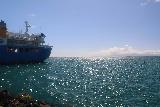 That said, shortly after parking the car within the ferry, a man approached Julie with the 88 Tala in change.
And with that, we locked the car and went upstairs to sit in the air-conditioned room as we awaited the ferry to take off for 'Upolu.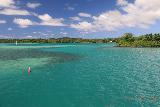 I had to visit the toilet one more time as my stomach was churning once again, but this time, I picked a toilet that actually had a proper toilet seat.
It was not a good feeling to have my stomach in this shape again, and it really felt like Julie and I were surviving our trip to Samoa as opposed to other trips where we didn't want to leave paradise.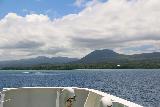 After napping and watching some ABC shows on the TV within the ferry, we eentually got back in the car at 12:05pm, and then we proceeded to drive the road towards Apia.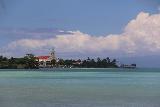 At around 12:40pm, we made a quick water stop at a local mom and pop shop. And five minutes later, we stopped by the Farmer Joe Supermarket, where we bought taro chips except it was made with vegetable oil, which was inflammatory.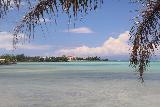 By 12:55pm, we continued on our way to Apia, where by about 1:20pm, we arrived back at the Nourish Cafe once again.
This time, we got a Nasi Goreng as well as a chicken curry. We also got a breadfruit nacho with guacamole and mango salsa.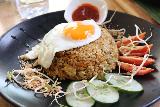 We avoided the uncooked stuff as well as the beans, and this meal was just what we needed to help heal our ailing guts.
After the lunch (which closed early at 2pm), we then returned to the car at 2:30pm but this time we didn't bother re-visiting the Immaculate Conception Cathedral.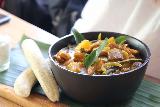 We also knew that the visitor center across the street was closed so we didn't bother going back there either, but we did have plans to come back first thing tomorrow morning for the Samoan Cultural Demonstration.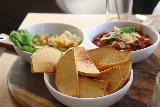 By about 2:40pm, we drove onto the Taumesina Island Resort, which was on its own little island just attached from the outskirts of Apia.
And by 2:55pm, we got settled in our room, which was modern and fancy unlike the traditional bungalow-style rooms that we had been accustomed to earlier on in this trip.
With my stomach still unsettled, I had to use the toilet one last time though it wasn't as bad a diarrhea as I had thought. Perhaps what we were eating was working.
After chilling out in the room for a bit, we finally explored the property at around 4:15pm. We basically walked through the reception, checked out the dinner menu at the resort, and then walked past the pool towards the beach where the winds were blowing hard from the northeast.
What was strange was that the clouds seemed to be growing as the afternoon wore on, but the strong winds actually reduced the stifling humidity that otherwise would have prevailed without these winds.
Anyways, the winds made the water choppy although it was colorful. So we took some photos, and then walked back towards the reception area where we looked at the dinner menu some more while also getting a couple of coconuts.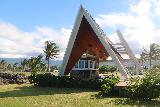 The person at the bar was nice enough to get us the kinds of coconuts that had the softer meats within as apparently you can tell (or get a preview) of whether the coconut meat inside was scoopable or not.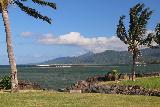 Although the niu costed $10 Tala each (which was double the price of what we had been paying everywhere else), at least the bartender cut up the coconuts such that it was easier to get at the coconut meat after drinking up the juice.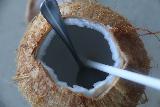 Ah, this was the electrolytes replenishment that we needed!
When all was said and done, we then briefly checked out the gift shop where we chatted with the young lady working in there who was surprised that we could speak fluent English.
I guess she was used to Chinese visitors that spoke limited English as apparently they get lots of Chinese visitors to this hotel for conferences and such (something that wasn't lost on us as we saw numerous Chinese people at this hotel).
By about 5:40pm, I was back at our room, where I thought my stomach was churning, but it turned out there was nothing coming out of the wrong end. As uncomfortable as I felt, maybe my gut was improving once again?
We lingered around the room for another hour or so before around 7pm when we headed back downstairs to get a dinner at the resort's restaurant.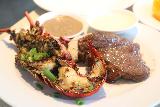 To our surprise when we got down there and seated, they had a special steak and lobster dinner that only costed 65 Tala. We didn't have to bother with overpaying for a two-course or three-course menu that included raw fish that we couldn't eat.
So we bought and split the steak and lobster dinner, where the steak was finally cooked properly as medium rare.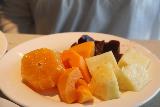 Julie also got some unlimited sides, which included beets, oranges, papaya, and pineapple (though a bit sour).
We also added on some steamed veggies which took quite a bit of time to show up, but when it finally did, we ate that up too.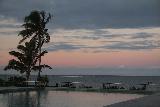 This was probably the healthiest meal that we had on this entire trip, and sure we didn't get to properly celebrate Julie's birthday with a birthday cake and song, but given how our guts were feeling, we didn't need to feed our parasites with more infusion of refined sugars.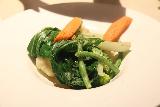 By 8:25pm, we finally made it back to the room, where we ultimately wound down the day, tried to wrap up our packing, and eventually get cleaned up and to bed for our final night in Samoa.
Tomorrow, we actually had some planned activities in the morning, but we knew that we had to get to the airport by around 2pm for our 5pm flight to Nadi before connecting to Los Angeles.
Given the heat and humidity of Samoa, we were probably going to sweat it out for our two flights to get home, but alas, sometimes you have to get uncomfortable in order to earn the remote places like this one where we got that low-key South Pacific experience to recharge our batteries and get back into the rat race…
Visitor Comments:
Got something you'd like to share or say to keep the conversation going? Feel free to leave a comment below...
No users have replied to the content on this page