Day 7 (November 16, 2019 – Savaii, Samoa): "Shaken Not Stirred"
It was about 7am when we awoke. We intended to take it easy and sleep in on this day, and by getting up this late, we pretty much did precisely that.
The first order of business was to try to secure snorkeling gear after experiencing the water yesterday without such gear and realizing that we really needed at least a snorkel mask.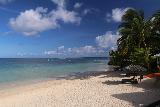 Even with the taste of the water world just outside our room, it piqued our interest, especially when it came to the prized sighting of a sea turtle.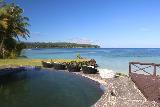 With Global Warming threatening all things reef related, who knows how much longer we can witness the variety of life under water like this? I was genuinely surprised that we even had this option so close to the resort in the first place!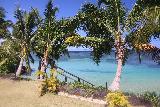 Anyways, it took us some time to get to the brekkie room and enjoying some fresh fruits though we had to order bacon and eggs at a pricey 25 Tala for just that.
We could have gone with the coconut-flavored French Toast which was included in the room, but I was still fighting the stomach bug (even though I had now gone about 4 straight meals without diarrhea) and Julie definitely couldn't have gluten in her diet.
It was a pretty nice day as once again we could see blue skies around our resort, and it seemed like the thunderclouds for the moment were at bay though there seemed to be some clouds budding around the summit of the Mt Matavanu and perhaps beyond further to the west.
While we were waiting for our brekkie to be served, we were very disappointed to learn that the dive shop across the street was open earlier this morning but then closed as they decided to take some people out to some sort of snorkeling tour.
With the waters in relative high tide this morning, it seemed like that elusive snorkeling gear that we needed was going to remain elusive.
Fortunately, the soft-spoken server told us that we could also taxi or drive over to Jane's Beach Fales further down the street to try to rent snorkel gear. Since we had our own car, this would be no problem.
So after having our brekkie, Julie was struggling with some kind of stomach bug so it seemed like it was now her turn to get the runs. That said, I still wasn't quite out of the clear yet.
Regardless, by 9:25am, I drove off on my own to go get the snorkeling gear. It didn't take long before I found Jane's Beach Fales, and then I was led to the guy at the activities area facing a very beautiful beach and colorful waters.
He eventually gave me a couple of snorkel masks and two pairs of fins for 40 Tala (20T each), and with that I got back in the rental car and returned to the room by 9:55am.
Now, we could finally try out the snorkeling just outside of our fale.
By this time, it was partly cloudy but there were still blue skies in the area so it was a mixed bag as far as the colors of the reef were concerned.
As we went out into the water, Julie was having trouble with her snorkel mask so we switched. It turned out that she had a legitimate complaint because the mask was leaking both around the eyes as well as the mouthpiece.
So I was always finding myself spitting out sea water periodically while also needing to remove the snorkel mask to expel the seawater before putting it back on. Very annoying!
Anyways, this experience on the reef at least allowed us to see a moray eel as well as lots of fish and coral.
Indeed, this was an impressive snorkeling experience, and it kind of rivaled what we saw at the Great Barrier Reef except the GBR still took the cake when it came to the diversity of sea life.
Nevertheless, Julie and I figured that Tahia would love this experience, and it probably further planted the seeds for us to take her there during the Dry Season in the near future.
By about 11am, we were back in the room. While the snorkeling was satisfying, we didn't get to see any of the elusive sea turtles.
So after getting rinsed and getting dressed, we then got into the car, and proceeded to drive back to Jane's Beach Fales to change out the defective snorkel mask.
When we got there, the guy was generous enough to give us two different snorkel masks just in case one of the ones he handed me was defective.
In the mean time, Julie and I were enjoying the photographic experience of the white sand beach fronting the turquoise colors of the water just outside this fale. Although the waters were a little choppy here, it was still a feast for the eyes to try to capture it.
By about 11:30am, we were back in the car and proceeded to drive to the Saleaula Lava Fields, which was just a few minutes drive east of Le Lagoto.
We promptly got there at about 11:45am, paid the 10T total, got a little bit of a broken English explanation of the eruption and a couple of the ruins from the lavaflow (basically the missionary church and the Virgin's Grave), before going off on our way in the stifling heat.
At first we followed a path that then went to a junction near the ruined church. We followed the sign to the Virgin's Grave, which then took us over some mounds of lava flow leading to a hole in the ground with some stuff growing out of it.
That hole was the Virgin's Grave, and it was believed that the lava flow spared the grave by whatever divine intervention.
It seemed like there was always a story like this whenever there was a lavaflow incident involved, and the last time we saw something like this was the Sister's Cafe in Kirkjubaejarklaustur, Iceland.
After having our fill of the Virgin's Grave, we then walked back towards the missionary church, where we then proceeded to check out its front side before continuing over a lava field towards a viewing platform right by a lagoon.
It appeared that whatever trail that was once here to go 900m to the lava cliffs was no longer visible and likely overgrown since it was deemed too dangerous. That was the first time I saw a closure due to public safety concerns in Samoa on this trip! So it must be a pretty legitimate concern.
Anyways, there were some kind of pink clouds in the distance though we weren't sure what was causing that.
There was also some fish in the water around the dock.
And just as the other couple that was here was done viewing this spot, Julie and I got to spend some time alone here while basking in the momentary breeze that at least provided temporary relief from the stifling humidity and heat.
After having our fill of this spot, we then walked back across the lava fields and then through the ruined church, where the lava seemed to have flowed fairly high into the church itself.
By about 12:30pm, we got back to the car and then we returned to Le Lagoto for a lunch.
Our lunch consisted of NZ steak and eggs, taro and luau, a coconut-infused rice bowl, and a tasty chicken curry.
We also enjoyed a coconut (niu) as well as a cold water to wash it all down.
We avoided fish on this meal since both of us seemed to be struggling with the food poisoning aftermath (me with badfish while Julie suspected bad raw veggies).
She was actually struggling with maintaining her appetite so I wound up eating the lion's share of our rather substantial lunch.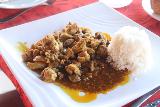 Meanwhile, we also chatted with the soft-spoken server as we learned about some of the locals' behavior when it came to trying to shake tourists for money (even he and his driver get approached to be shaken), and his solution was simply to be upfront with the prices and post them on signboards.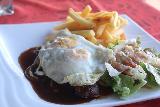 I guess the telltale sign of being shaken was whether there was no signage around declaring what the prices would be for simply stopping to take a picture, and then prices get made up as you go.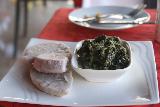 Julie and I experienced something like this near the Lalomanu Beach on 'Upolu Island a few days ago, and it wasn't exactly a pleasant experience. While we would gladly pay to go onto private land, we're probably with other tourists who might have had a bad taste in their mouths when prices are made up on the spot and they do feel like they were shaken for money.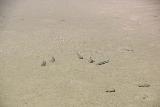 Come to think of it, while Fuipisia Falls could have been under that category, at least their pricey 20T price remained consistent since I last saw the reviews. Perhaps they, too, need a signboard to let the tourists decide whether they want to pay the premium to see the pair of waterfalls there or not.
While we thought 20T might have been fair considering we can divide by 2.5 to get the equivalent USD amount, compared to everything else we paid, which was between 5T and 10T per adult, I guess 20T per adult did seem kind of steep.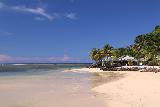 And in Savai'i, we had read that similar prices (even higher in some cases like 30T) were prevalent. And perhaps this might be a reason why Savai'i wasn't as popular nor as well-visited as 'Upolu Island.
Regardless, the server gave us some ideas to at least check out the Tree Canopy Walk on the far northwest side of the island. I also saw that our LP map said something about sea arches a little further south of there that perhaps we might be able to check out (though we were well aware that no matter where we would stop, there was always a chance of getting shaken).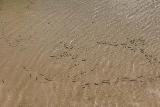 We also chatted with him about his family and what American Samoa might be like considering we told him that we were from the US. I guess we learned from him that it might not be the greatest of experiences there because every time he has gone there to see relatives, he can't stand the smell of the fish from the two canneries there (one of them being Starkist).
While it drew laughs, this was the kind of local knowledge that you simply can't reproduce in the guidebooks.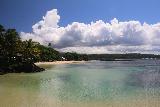 We also learned that he had relatives in Auckland, and it was kind of interesting to see how he embraced the nightlife there, especially at the Sky City, where there were views and gambling.
It wasn't the first time a Samoan told us of how nice Auckland was (I think Tess was the other though she also liked Macau), and I suspected that people tend to embrace experiences that would be different to their typical lives.
So in Samoa, the slow pace of life begs for a change to something faster paced. We tended to go in the opposite direction since we've had the city life and now we were seeking to escape the city life for a brief moment before returning to it.
By about 2:30pm, we finally left the lunch and twenty minutes later, we proceeded to drive west to at least explore what the rest of Savai'i might be like.
I had a feeling that we wouldn't have enough time drive all the way around the island, we could at least go to the northwestern part of the island.
All I know was that it was 50/50 whether we were going to stop anywhere, and perhaps we might see the sea arches that LP mentioned was there on the map (but not in the text).
And so we proceeded to drive off and it turned out to be a pretty long drive.
There were some pockets of rain on the northern side of the island, but when we got past a sign that said "Welcome to American Samoa" near the tree canopy turnoff, we then headed south in search of the sea arches.
But that was when the rain got even more intense as clearly the thunderstorms were pelting this side of the island.
From what we could tell, there was no signage saying anything about sea arches, and we didn't see any of them by the road (though we did see some locals standing on lava rocks against the turbulent seas perhaps fishing or something).
But we knew that we couldn't stop without getting shaken since there was no signage here. And so we turned around at 4:05pm and headed towards the tree canopy walk.
When we finally got to the car park for the tree canopy walk at 4:25pm, Julie was getting the chills, and we decided that we weren't going to do the excursion, especially since we might not be back at our resort until 5:30pm at least, and I still wanted to fit in one more snorkel before we had to return the equipment first thing tomorrow.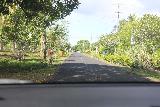 LP also mentioned that it was like 20T per person to do this excursion, and it was threatening rain so we ultimately turned around and headed straight back to Le Lagoto.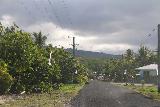 In hindsight, this was kind of a fruitless long drive, but at least we got to see what it was like on this part of the island. I guess that left the western shores of Savai'i, but I'd imagine it was something similar.
Eventually at 5:40pm, we were back at Le Lagoto. We spent some time to buy an hour of WiFi so we could Facetime Tahia.
She was missing us, but we kept showing her the scenery outside our resort. Tahia's solution to everything was always to draw pictures, and she drew a "gift" for us of some kind of roses in a vase.
Towards the end of the call, I got out the snorkel gear and proceeded to head into the water. Down at the docks, there was a group of Aussies from Queensland chilling out down there. One lady there told me that some kayakers from yesterday right around this time saw sea turtles towards the lone white stick left (the locals removed the rest of the sticks so they could get repainted).
So I went into the water and immediately headed over there. I used the black snorkel mask that I knew was good and the experience already was way better than what I had to deal with earlier on.
Anyways, as I was quickly making my way out, I was starting to get a little discouraged that I didn't see any sea turtles to this point as I was gravitating further to the east. So then I stopped to turn around and see what was around me, and that was when I noticed some kind of rock-looking thing attached to some coral.
When I swam for a closer look I started to notice that it had legs, and sure enough, it was indeed a sea turtle where its head was buried in the coral as it was trying to pluck something.
Bingo! I finally got my sea turtle sighting!
And since I was finally using the functional snorkel mask (since Julie didn't go back in the water), I could stay with this turtle without trying to rid the mask of water that would leak in.
When the sea turtle was done doing its thing, it then started to swim off. I pursued it as I was trying to take as many videos and shots as I could of it, and at some point, it led me to another sea turtle doing its thing digging into the coral to get at something.
So I found myself now following this second sea turtle though it kept going west and when it got past the boundaries of the resort, that was when I knew that I should just head back.
By about 7:05pm, I was back in the room where Julie was fighting the chills as she was in bed trying to nap.
With the sun setting, I knew that we had to at least have a dinner before trying to sleep off whatever bugs we had.
Even though I had held down my last four meals, I still wasn't totally out of the clear yet though I was game to at least try their dessert (they had chocolate cake with ice cream last night).
When we finally got to the dinner, we wound up having a dinner of grilled tuna steak (it was actually seared, which was dicey as far as our food bugs were concerned) as well as lobster tail. We weren't having the organic rib-eye steak though I wondered if in hindsight that would have been better.
In this dinner, they ran out of niu, and it took 20 minutes for our sticky date pudding to come out (they didn't have the chocolate cake with ice cream), but that was my test dish. Julie headed back earlier to try to sleep off the chills.
By about 9pm, I joined her back in the room. Our last calm dinner had that stomach bug looming over us so Julie didn't have an appetite. We were worried that her birthday tomorrow would see similar symptoms, and I guess it just wasn't meant to be as far as the culinary splurge that we were looking forward to.
Anyways, we were boxed in at the car park so we were concerned that we might not be able to return the snorkel gear and get out of the resort in time for the ferry, but that was a concern for tomorrow. For now, we were just focused on fighting off whatever parasites we might have contracted over the past few days…
Visitor Comments:
Got something you'd like to share or say to keep the conversation going? Feel free to leave a comment below...
No users have replied to the content on this page