Day 6 (November 15, 2019 – Savaii, Samoa): "Outbreak"
I awoke about 4:15am to the first of my alarms. Right off the bat, I got right to wrapping up the packing duties while also blogging about yesterday.
Julie got up at 5am, and tended to her packing.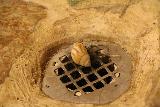 By about 5:25am, we heard noises outside like it was legitimately raining. I was worried that I had cracked the windows in the car so things might get wet inside.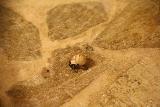 I think this was the first time all trip long that it had been raining hard in Samoa though it was pouring rain in Nadi, Fiji when we had that long layover before flying to Samoa.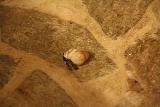 So we were a bit concerned about walking in the rain to the car.
I wound up eating the continental brekkie while we were both ready to leave by 5:55am as we had an 8am ferry to catch preceded by a pre-check-in an hour before and an hours drive or so just to even get to the ferry wharf.
To our surprise when we left the Fale Alii for the last time, there were two porters waiting for us right outside our room.
So they grabbed our rollable luggages while Julie and I carried the rest of the loose items.
And once we loaded up the car, we promptly went inside where it seemed like things weren't too wet from what we could tell from the inside.
So with that, we left Coconuts Beach Club in the darkness and made our drive out west towards the ferry wharf so we could ferry to Savai'i.
The drive was for the most part uneventful though we were surprised by the number of people already out and about walking the roads.
We even saw one foreigner standing outside apparently waiting for her ride.
So I'm presuming that most of these people were waiting to be taken to the ferry to Savai'i.
As the day was getting brighter and the headlights weren't needed, we finally made it to the Mulifanua Ferry Wharf at about 6:55am, where after a little confusion, we were then directed by someone inside to drive to the other side of the facility to register.
It was a good thing that Julie pre-booked the ferry because the guards were checking for confirmations as space was limited.
It was also a good thing that we showed up an hour before because there were quite a few cars already here. It not only included other tourist cars as well as locals, but it also included taxis, commercial vehicles, and tour vans.
The ferry costed us about 107 Tala in cash so we had to make sure that we had at least that much cash on the return.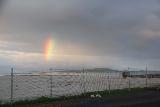 Anyways, as we were waiting for the ferry to show up and then to board, we saw that there was a rainbow off in the distance. It happened to be near some dark clouds which was probably the same system that produced the rain storm earlier this morning.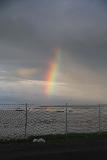 As we looked towards Savai'i Island, we could see that its west side was covered in dark clouds. However, the east side seemed ok as far as the weather was concerned.
In fact, pretty much all of the south side of 'Upolu Island throughout our drive seemed to be covered in clouds, and we wondered if this was a foreshadowing of what we could expect for our two days in Savai'i.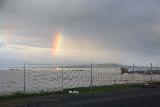 Eventually by about 7:35am, we were finally allowed to drive onto the ferry as we were one of the last vehicles to board.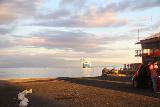 The time spent on the ferry was pretty much a low-key affair as Julie picked a seat on the inside while some kind of YouTube TV specific to Samoan news was on.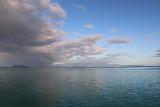 At the start of the hour-long journey, I was battling food poisoning ailments as I had toxic burp as well as a bad case of diarrhea. The toilets on the ferry were a bit full-on as they didn't have toilet seats as I had to sit on it to let the body try to expel the toxins coming out both ends.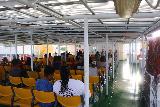 I'm pretty sure I must have eaten bad fish left out at the buffet when I went to get a second helping because I think every time I've had toxic burp, it could be traced back to bad fish (typically raw).
Anyways, we were reading up a bit about Savai'i and Samoa in general on bot LP as well as on the Blue Sky sim card.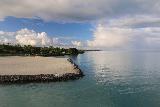 Something in particular that caught my attention was the Pulemei Mounds in LP as it was apparently some kind of star mound or pyramid hidden away on the southern side of Savai'i.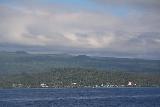 I also fancied visiting Sinaloa Falls (the tallest waterfall in Samoa), but both activities seemed to require uncomfortably muggy and long jungle treks to reach.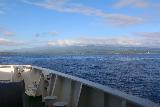 Julie was deadfast against the idea of doing this as she insisted that we should relax on this vacation and heal our guts, especially mine since I had ulcer concerns from the stress of work prior to this trip.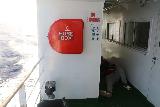 In the few times that I explored the deck of the ferry (I think it was Lady Samoa III), I had found it comical that there were some Samoans who were using the floor of the deck as a bed.
In a couple of instances, it seemed like you couldn't even get past some of the guys who blocked the hallways. I don't think I had ever seen that before.
Eventually by about 8:55am, we were told in Samoan to return to our vehicles (if we were self-driving, which we were), and it took us asking a local what the announcement was about to confirm since we didn't know Samoan.
And eventually after 9am, we were finally driving off on the island of Savai'i where we had planned to do most of our sightseeing this morning before driving up to our resort.
With the weather pretty sunny as of now, we wanted to seize the moment and leave nothing to chance tomorrow even though we had another full day of Savai'i (though I wasn't sure if we overachieved by spending two nights here instead of one considering I wasn't sure what else we could do besides the three things we were targeting today).
And so we headed west where we drove along the circle island road before reaching the signed turnoff for the Afu-a-au Waterfall on the right.
Unlike what LP said (where the turnoff sign could only be seen from the east), we did see that there was a separate sign pointing the way left if you happened to be driving from the west instead of the east as we were doing.
Just as we were descending the unpaved road past the fales at the start of the spur road, a mother and child walked out towards us to intercept us, where we had to pay 5T per adult to continue.
After a little more driving on the unpaved roads past a bathroom facility and ultimately to a dead-end, that was where we eventually parked the car at 9:40am.
There was already a scooter here, and there was apparently a woman who was already on her way to the falls.
My stomach was churning at the time, but I figured that I could tough out my food poisoning ailments while trying to savor the steamy experience of the Afu Aau Waterfall.
The waterfall was basically a series of short cascades culminating with the plunge of the uppermost drop of the falls. The lowermost one had four separated segments.
And given the steamy stale air here, the pools beneath each of the waterfalls seemed like the ideal place to go for a swim.
Ah, but as we were busy documenting the experience, as tempting as it was to just get wet and cool off, my stomach was getting so uncomfortably pushy (with the runs), that we had to hastily retreat back to the car at 10:20am and get over to the toilets that we knew were nearby.
It took me another 15 minutes to let out whatever my body was pushing to get rid of (but at least these toilets had seats), and I figured that it was expelling the last of the breakfast food that I had eaten this morning.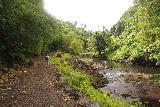 I finally returned to the car at about 10:35am, and we then proceeded further west along the south coast of Savai'i.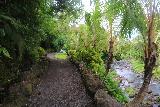 The drive seemed pretty long but pretty chill. By about 10:55am, we were nearing where Mu Pagoa Falls was supposed to be, but this waterfall was not signposted.
That said, we crossed a bridge over a river, where a glimpse downstream revealed some locals standing on a cliff edge over where we could tell the Mu Pagoa Falls was supposed to be.
However, after driving past the bridge, we could clearly see that this was kind of a locals waterfall spot as there was definitely no sanctioned spot to park, nor anything to let tourists know about this spot.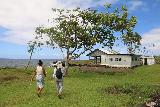 We ultimately went back across the bridge and drove down into the driveway of the nearest residence to the Mu Pagoa Falls to ask about it.
One girl who had this coy smile (as if we were these foreigners who didn't know what time it was) answered our questions about the falls. She said that we can pay 5T each to go see the falls, which was a reasonable rate.
The rest of her family in the area also had these smiles and it seemed like this visit to the Mu Pagoa Falls was about as awkward as well as non-touristy as it gets.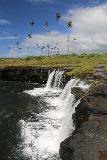 Regardless, she led us out to the grassy area behind the shacks, and then she proceeded to leave us alone. We then walked towards the lava at the end of the grass where we looked down at the churning ocean crashing onto the lava cliffs as well as the Mu Pagoa Falls.
So technically speaking, this was another one of the waterfalls that spilled directly into the ocean.
On the opposite side of the waterfall, there were cows grazing, and upstream from the falls was the road bridge that we had crossed over earlier.
Julie and I spent some time capturing the turbulent yet idyllic scene of the waterfall and the open ocean beyond.
And by about 11:15am, we were back in the car.
Next, we continued our drive out west as we then pursued the Alofaaga Blowholes, which was a bit further to the west.
This was the last of the sightseeing targets before we would backtrack towards Salelologa for lunch on the way up to our accommodation.
We eventually reached a signed turnoff for the Alofaaga Blowholes on the left, and that put us onto a fairly rough road that went over a combination of sandy track with volcanic lava rocks.
This track led us to a fale where we paid a guy 5T per adult to continue.
The drive pretty much skirted some lava fields where we could see big splashes as well as what already appeared to be some blowholes spewing up seawater in the churning oceans that we knew were beyond.
We'd eventually get to the closest car park at 11:50am, where there were a few more fales as well as an open lot.
At first, there was one other couple here while we were there.
We first went to an overlook platform while the other couple went closer to one of the blowholes so they kind of served as subjects for us to show how high the water shoots up.
From the viewing deck, we noticed that there were other blowholes shooting up water though it was hard to convey their power without a subject for scale.
There was another guy who showed up and went closer to one of the blowholes, and we pretty much headed in that direction just for a slightly closer look.
We got close enough to feel the ocean spray from the other blowholes behind us but not close enough to see where some of the crashing waves splashed onto the lava field nearby.
We spent a bit of time just basking in Nature's raw power here, but I sensed that these blowholes might have put on a bigger show had we showed up closer to high tide earlier this morning. We were somewhere in between high tide and low tide, which was supposed to be around 2:30pm.
By about 12:25pm, we returned to the car but not before paying a woman at the fale another 5T to park here. Upon learning that we were from California, she told us that she had relatives in both California and Texas.
With that, we headed back to the main road, and then backtracked to the east to go find a place to eat lunch.
By about 1:30pm, we eventually showed up to the Savaiian Hotel for lunch, which had a nice view back towards 'Upolu except there were some really dark and menacing clouds over that island.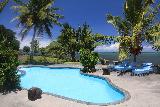 With my food ailments, we wound up eating a Thai chicken curry dish as well as a chicken salad. I don't think the food was a clean as Julie would have hoped (gut wise), but it was satisfying for the time being.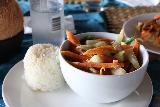 We also had some fresh niu (coconut) to help with the electrolytes situation in my gut.
While the food and service here was on island time (probably more like the Samoan Way that we had read about prior to coming here), we took some time taking pictures of the coastline as well as some of the fruits growing on the property.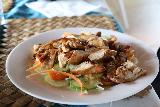 Eventually by 3pm, we returned to the car and then continued driving north towards our accommodation.
However, at about 3:15pm, we were struck by the colorful turquoise waters in the reefs just off the shore. This was in stark contrast to the churning oceans of the south coast.
And we ultimately decided to stop by the Amoa Resort to look at their menu as we were thinking ahead to possible places to have a dinner.
But really, we were looking for an excuse to stop by and try to capture the memory of the vibrant colors off the coast where I'm sure stopping anywhere would be a recipe for paying a family demanding payment even for just stopping to take a picture.
At least the Amoa Resort had a jetty that we walked out to and looked in both directions at the colorful reefs or sandbars.
With the sun still out, I knew that we had to seize this moment because who knows if the large thunderclouds budding all around us would dominate tomorrow?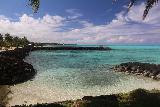 I found it strange that only Julie and I were here enjoying the jetty and the views, and that the guests at the Amoa didn't even come out here to enjoy it?!?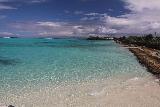 By about 3:35pm, we were back in the car, and I was glad that we took advantage of this moment to at least capture the color in the water that was as surreal as any of the other South Pacific destinations we had been to in the past where we saw colors like this – like Aitutaki or Bora Bora or Espiritu Santo.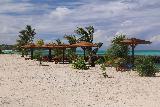 We then continued driving north as we ultimately made it to the Le Lagoto Resort at 4:20pm. Up here at the north shore, it looked like there was going to be rain coming as there were dark thunderclouds to the north and east of us, as well as to the south and west of us.
After checking into our accommodation and being shown to our beach fale, we noticed that this accommodation was a bit more primitive than the fancy fale we had at the Coconuts Beach Club.
Again, I figured this place was more traditional and more according to the Fa'a Samoa (i.e. the Samoan Way), but neighborng places didn't have AC and with how muggy and hot it was at this time of year, that seemed like an unacceptable proposition for this trip as far as Julie was concerned.
We had some time to kill at around 5pm so we checked out the dinner menus at both Le Lagoto as well as the Savaii Lagoon Hotel. But we saw that only our resort had the more compliant and local foods while the other had more gluten stuff that Julie couldn't have.
We then killed some more time just in the lagoon outside our fale though we couldn't snorkel as the hotel didn't have snorkel gear and the dive shop across the street was already closed since 4pm and wouldn't re-open until 8am.
Nevertheless, there was still enough clarity in the water to at least use my GoPro and take some shots of the some of the fringes of the reef as well as some random fish.
But by about 6pm, we were back in the room to rinse off and get changed.
We then proceeded to go for dinner, where we sat closest to the beach where things were idyllic as the sun was setting even amidst the storm clouds in the distance and threatening to skirt over us.
We ultimately got a local coconut cream lobster as well as a NZ sirloin steak. We were fished out so we didn't get any Oka or grilled fish of the day. Especially since I was still fighting food poisoning, I couldn't take any more chances and had to stick with the boring stuff.
As the sun had already set and the evening was quite the romantic affair, we saw the clouds turn purple and pink though it wasn't quite as pronounced as our Matamanoa Island experience in Fiji many years ago where whole thunderclouds put up a dazzling display of purple and violet skies with the odd lightning in the distance.
We were chatting with our server who was lamenting the measles outbreak as she said it was a Samoan family whose kids contracted the disease while in New Zealand and brought it to Samoa in a careless manner as they didn't act on the symptoms until the very last minute.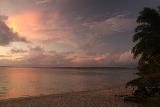 That ultimately costed 8 children their lives and counting, and I'm sure if vaccinations were rare back then, I'm sure they're mandatory now. Even American Samoa was said to require proof of MMR vaccines in order to get onto that island as one family was denied entry as they had measles after coming there via ferry.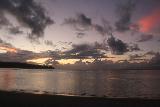 We also learned that there was a family on the beach having a dinner, and they happened to be family of the owner of this resort. They got our attention because one of the girls had an American accent instead of a Kiwi accent, but the server told us that she was born in Auckland, which was all the more surprising.
We also learned that our server had an American husband from California, so it was yet another instance where Californians seemed to represent well in Samoa.
Anyways, we ultimately retreated to our room at 8:15pm after paying for the dinner (we almost got double-charged for the NZ steak), and we then pretty much spent the remainder of the evening just relaxing and trying to sink into the slower pace of life of Savai'i.
Indeed, it seemed like Samoan Way (fa'a Samoa) was sinking into our pace of touring in much the same way that the locals here live the Samoan Way. And perhaps, this was the experience that Julie was seeking out to detox on our 15 year anniversary trip before returning to the rat race next week…
Visitor Comments:
Got something you'd like to share or say to keep the conversation going? Feel free to leave a comment below...
No users have replied to the content on this page