Day 3 (November 12, 2019 – Upolu, Samoa): "The To Sua Circle"
We woke up at about 6:15am, and it was still dark outside.
The sun started to rise some time at around 6:45am, which prompted Julie to want to get outside to take pictures.
With not so many clouds out and about this morning, it seemed like it was going to be another fine day.
I eventually followed suit and went outside myself to take some pics. While the lighting was already harsh by the time I got out, it was still serene.
The morning got off to a slow start as we got to the breakfast area at around 8am, and after having a very hearty meal (with the Paniolo [kind of a ground beef with onion, bell peppers, tomato sauce, and potatoes all smothered in cheese] and a French poached eggs on top of the included continental brekkie), we got back to the room, and took some time to get ready for the day.
It wasn't until about 9:45am when we finally got into the car. And to my surprise, the GPS was actually working now!
I guess the battery on that thing doesn't hold charge anymore, and it needed the laptop to revive it a bit in order to finally let the car charger bring it back to life. Funny how the car charger didn't do jack yesterday.
With the sun beating pretty hard on this day, we knew that it was going to be hot and humid.
So that meant that we were headed straight for the most popular attraction on Samoa, which was the To-Sua Ocean Trench.
This was like a swimming hole in a collapsed cave that created a cenote-like effect, but the water filtered in from the ocean so it was seawater.
We made a beeline for the trench, which took us about 45 minutes to get there after bypassing the Togitogiga Waterfall (thinking we could come back for it later) while dealing with the speed limit.
There were hardly any signs saying what the speed limits were, but a sticker behind the steering wheel of our rental car said it was 35km/h, which was a snail's pace.
I saw locals driving more on the order of 45km/h to 55km/h though I didn't want to chance anything.
So I tried to follow them where I could, but when I was on my own, I stuck to around 45km/h or thereabouts.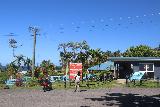 When we got to the To Sua Ocean Trench, we were surprised to see how few cars there were. We were maybe the third or fourth car that were here, but we tried to seek out a shady parking spot.
We managed to get a partially shaded spot next to a large tree, but we weren't sure if the sun would move over and cause shade for our car by the time we were done here.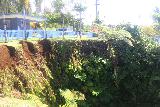 It took us some time to pay the 20 Tala total (10 per person) while also trying to figure out where to leave our stuff.
Since there were no lockers, we eventually left most of the stuff in the car, but we'd have to come back for the cameras and stuff when we were done taking a dip.
As for the trench itself, it looked like it was partially in shadow at this time of the day. The ladder leading down to the trench was completely in shadow while the pool itself was partially in shadow.
There were a handful of people already doing cannonballs from the platform above the pool, while there were others just floating about on the side of the pool closest to a smaller hole that we saw earlier on the way to the main pool (I think it was called Tu Le Sua).
The descent to the pool looked a bit scary as there was a slippery-looking ladder that only allowed one direction of traffic at a time.
After getting changed, we eventually figured that we would just leave our stuff next to the top of the ladder. I guess no one was going to steal anything, and we left our key valuables at the car park under the supervision of the person collecting the fees.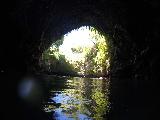 We probably didn't get into the pool until around 11am, and we pretty much just floated about in the pool which was not too cold.
There were ropes set up so we could navigate a little more easily around the pool, including one that went through an apparent tunnel connecting to the To Le Sua.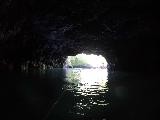 When we looked up while floating about the To Sua, the eye could see the circular rim of the trench, which was quite the unusual sight.
When we got to the bottom of the smaller opening at To Le Sua, we noticed small fish near where there was sand (they were more visible there).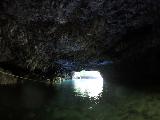 But all in all, the pool seemed to be devoid of life since I'm sure there had been a lot of human activity over the years here to ensure that no wildlife could thrive here.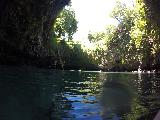 The depth of the pool went from being able to keep my head above water while on my tippy toes to being deep enough to require paddling or floating.
We spent a pretty decent hour within the pool before going back up.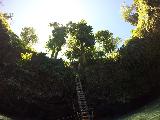 Once we were back up, we got our cameras and stuff, and we promptly spent some time checking out some of the park's other features like an interesting rock arch as well as nice bluff views of the colorful reefs surrounding this southern coast of 'Upolu Island.
The Rock Arch in particular seemed to have some work going on, but myself and another family were able to check out the area, which seemed to have an interesting little waterfall that would be fed by he tides before falling and letting the water sink beneath a small sea arch.
There also seemed to be a small blowhole next to the arch here.
I didn't have my shirt on so I was definitely getting burnt on my back.
There was also some locals doing work around the rock arch so apparently they might have been making it easier to walk around the arch or to enhance one of the tidepools or something.
I wasn't actually sure what they were doing, but they were definitely hard at work there against some blaring hip hop and local reggae music.
After having our fill of this part of the To Sua Ocean Trench, it was now 12:40pm, and it was getting late in the afternoon so we were now headed for lunch.
So the next order of business was to keep driving to the east towards Lalomanu Beach, which was said to be a famous beach area on 'Upolu Island.
However, a tsunami in 2009 seemed to have seriously affected the area so it was apparently not as popular as it had been in the past.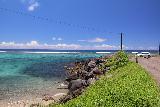 When we made our way out to there, it seemed like GoogleMaps was incorrect about the nice parts of the Lalomanu Beach as it seemed to suggest that we should keep driving around the southeastern tip and towards the north.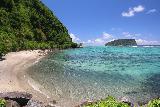 But we saw very nice white-sand beaches fronted by fales that all seemed to be private or require payment.
We tried to find a spot where we could be able to take photos without a charge, but that was pretty much limited to a landslide section, which we got to at around 1:05pm.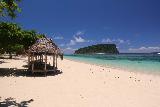 We found one makeshift pullout spot that didn't seem to have signage or a home in the area, and we spent a few minutes taking pictures out there.
However, some kids came out of a house and demanded money pretty aggressively. The oldest asked that we pay 10 Tala for taking pictures (seemed like she was making it up as she went), and we just did that.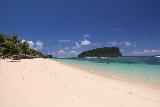 One young boy was pointing at my pockets (which were empty) and demanded additional money.
In any case, we paid the 10 Tala, and then we headed off though I sensed that the kids didn't get as much as they wanted from us.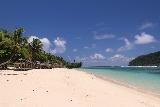 So that experience kind of told us that if we were going to stop, we'd have to do a legit stop to enjoy the beach. Otherwise, a short stop for 10 Tala didn't seem to be a worthwhile way to spend our limited cash supply.
Nonetheless, it was the locals' right to demand payment if it's their land. They probably don't get much else if they're not employed in anything tourism related, and it definitely seemed kind of quiet in these parts.
I'm sure the tsunami back in 2009 didn't do any favors for the locals here.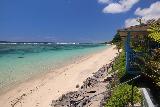 By about 1:30pm, we ultimately got to a restaurant called Litia's after turning around where the GoogleMaps had suggested Lalomanu Beach was, but it was really nothing more than the village.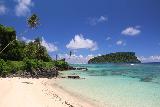 The beaches and the restaurants were actually more south-facing as opposed to east-facing.
Anyways, there was only one other couple at this restaurant, and we pretty much just chilled out, enjoyed the views of the white-sand beaches (with an island in the background as well as blue fales looking in the other direction), and just chilling for the time being even though mosquitoes were taking pot shots at us (despite the bug repellent).
Our lunch consisted of a Samoan poke, curried prawns, and a mahi mahi catch-of-the-day.
Unlke last night's dinner, this one was more compliant for Julie's dietary restrictions, and we also thought it was better here.
Of course, we had to pay quite a bit to eat here (on the order of 115 Tala but they took credit card with a 5% surcharge).
When we were done eating, we briefly checked out the beach down below, where we saw that the fales were built higher from the beach as compared to how the photos showed how this place looked before the tsunami when they were down on the beach.
We eventually got back into the car at around 2:55pm, where we then drove back towards the Sopoaga Waterfall.
Along the way, we stopped by the To Sua Ocean Trench again at 3:15pm, where the lady recognized us and let us take photos with the different lighting.
Now, it seemed like the ladder was lit up, but the pool below was still in partial shade. I'm guessing that the best photos of this place would likely be when the sun would be covered up.
When we returned to the car at 3:25pm, Julie noticed a group of Chinese tourists, which kind of undermined our thinking that Samoa was off-the-beaten-path.
Anyways, we then continued backtracking to the west, where we ultimately got to the well-signed Sopoaga Waterfall car park at about 3:35pm.
We paid 10 Tala per person for this place, where we walked briefly through a garden before arriving at an overlook at the thicker 32m columnar drop of the Sopoaga Waterfall in the distance.
There wasn't much more we could do with this waterfall other than to look at it, and the lady who collected money from us seemed to want to sell coconuts to us.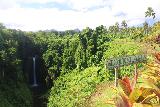 But we were sweating beads even though we were hardly doing any physical activity, and by about 3:50pm, we were back in the car and its air-conditioned confines.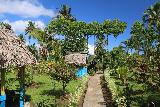 Next, we continued driving to the north as we headed towards Fuipisia Waterfall.
Of all the waterfalls that we had researched, this one seemed to have the worst reviews mostly due to the price of admission.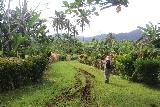 To do our due diligence, we had to do this since we were already here, and we were mentally prepared for the high price of visiting.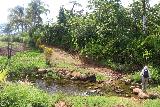 When we showed up at 4pm, a lady surrounded by kids greeted us and said that we were welcome to visit the waterfall. She said the price was 20 Tala per person, which was a little on the high side compared to other places we've been, but it still wasn't in the realm of rip off in our minds.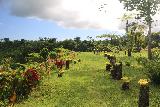 After all 40 Tala in total was like maybe $16 USD, which wasn't terrible though the To Sua Trench, which was more popular and more manicured seemed to be cheaper by comparison.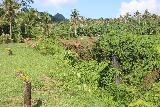 Nevertheless, we walked down a wide grassy path then crossed a stream where we could rock hop our way across.
It turned out that this stream fed the first of the Fuisipia Waterfalls, which was a little awkward to see as we had to see it from the top along a rim and try not to get too close to the edge of the cliffs for the view.
As we continued along the path, which seemed to be under work for improvements to make the place more inviting, we then got to a corner where we could see a convergence of a pair of ravines as well as partial views of both of the Fuipisia Waterfalls.
We ultimately got to the main lookout for the twin falls of the Fuipisia Waterfall, which looked impressive though the lookout was a work in progress.
We were allowed to still check out the falls despite the work going on, and the person working there even told us that we could keep going past this overlook into the jungle, which ultimately led to the top of the Fuipisia Waterfall.
The path was a little on the muddy side in spots, but at the top of the falls, we were careful not to get too close to the edge while trying to savor the views looking downstream into the deep ravine.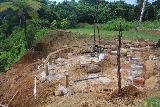 After having our fill of the Fuipisia Waterfalls, we then headed back to the car, and we got there at 4:35pm.
We thanked the hosts for having us, and they genuinely seemed appreciative that we were paying this place a visit. I wondered if all the bad reviews in the literature was having a negative effect on them.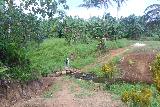 Anyways, Julie and I were sweating beads once again as we got back to the car. And then we continued to backtrack our way to the west as we were now headed to the Togitogiga Waterfall.
I wasn't sure if they were still open or not as it was getting late in the afternoon.
Nonetheless, by about 5:15pm, we finally got to the National Park area containing the Togitogiga Waterfall.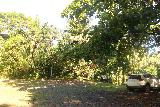 We took an access road that ultimately got us to a fork where the visitor center was on the left and the waterfall continued to the right.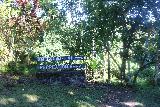 We weren't sure what the visitor center had that was of interest, but we were here for the waterfall so we continued on the rough road ultimately bringing us to the car park near some cows for the signed Togitogiga Waterfall Recreation Area.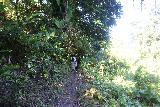 There were quite a few mosquitoes buzzing around here even though we were wearing bug repellent. Perhaps our sweat was washing off the spray.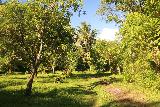 We then proceeded to go onto a well-defined trail that followed along the stream responsible for the falls.
The trail seemed to skirt on some lava rocks or some kind of hardened layer hinting at the reason why the falls here existed.
And we'd ultimately arrive at some changing rooms and some fales for picnicking.
We first descended a couple of steps near the changing room, which brought us down to the stream bed, where we then scrambled to the partially-shaded pool fronting the two-tiered Togitogiga Waterfall.
The lower tier was a chute plunge while the upper tier consisted of four segments in a semi-horseshoe, it seemed.
It was hard to get a good photo of the whole thing from this angle since the upper falls could only be partially seen from the bottom. Plus, the shadows kind of made it harder to photograph nicely.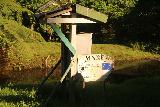 After having our fill of the bottom, Julie started heading back while I did a little more exploring of the top of the Togitogiga Waterfalls, where I managed to get an awkward frontal shot of the upper tier as well as a top down view near a stream gauge.
At the back of the property was a pretty filthy toilet with lots of black flies and mozzies buzzin about.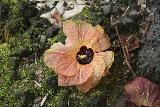 By about 5:45pm, I finally rejoined Julie at the car park, where we then started to drive off. Just as we were leaving, there was another car that showed up, and it turned out to be a group of Kiwis that we saw earlier in the day at the To Sua Ocean Trench.
I guess we were on similar itineraries, but they looked like they were ready for another swim.
By about 6:05pm, we returned to the Sinalei Reef Resort, which was next door to the Coconuts Beach Club.
We decided that we were going to eat dinner here while also make a booking for their cultural dinner tomorrow.
By around 6:15pm we made it down to the pier restaurant, which had a very nice ambience to it though the kitchen wasn't open until 15 minutes later.
Still, the waitress helping us invited us to have a table, which we promptly did.
And when we finally got to order and have dinner, we enjoyed our coconut chicken salads, then were blown away by the chicken curry, which came with a roti as well as tamarind chutney that had quite a spicy kick to it.
Julie also got a curried prawn, which she liked. And I topped it off with a chocolate tart for dessert (though the menu said vanilla ice cream but got chocolate ice cream instead).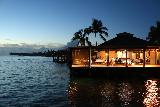 Nevertheless, we liked this meal better than last night's meal, and it was a toss-up between this place or Litia's as the best meal in Samoa so far.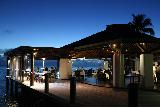 Eventually by 8:15pm, we returned to the car. But not before seeing the full moon rising behind the bungalows though the setting sun was muted by the thickening dark clouds in the distance.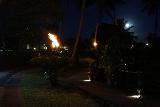 There seemed to be even more mozzies as well as more mugginess by the time we drove off and returned to Coconuts Beach Club at 8:25pm.
And after a few more bites and more sweat beads on our sticky skin, we finally settled in for the night.
Visitor Comments:
Got something you'd like to share or say to keep the conversation going? Feel free to leave a comment below...
No users have replied to the content on this page