Days 0-2 (November 9-11, 2019 – Upolu, Samoa): "The Anniversary Circle"
It wasn't until about 6:25pm when we boarded one of the airport shuttles to LAX.
With all the swirl around not letting Uber or Lyft drivers to pick up or drop off at the terminals deep into the airport, we decided to eat the slightly higher cost (they've costed us around $11-15 per carload in each direction) and go with the $15 per person round-trip ($30 for Julie and I) 105 shuttle like we used to do.
We managed to get checked in without a hitch through Fiji Airways, where we'd connect in Nadi and then fly to Samoa. We saw the crowd of cars in the lot near Terminal 1 along Sepulveda Blvd. That might be a foreshadowing of what we'd have to deal with when we go on our next trip with Tahia.
But for this trip that was to celebrate our 15-year anniversary as well as Julie's birthday, we were going it alone for the next 9 days.
And by about 7:30pm, we made our way over to the waiting area to board a bus to get to a remote terminal where our jumbo jet was waiting.
The airport was still quite busy on a Saturday night even though we thought Tuesdays, Wednesdays, and Saturdays were the slowest days to fly out.
I guess it goes to show you just how many people are traveling these days.
Anyways, after about 8:30pm, which was the boarding time, we lined up and started to board the plane as they boarded from the back first.
Then, we got onto the plane and proceeded to try to get comfortable though we were already starting to get sleepy.
It seemed like the flight took off without too much delay (it was scheduled for 9:30pm), and really, the only hitch regarding the otherwise smooth flight was how hard the seat cushions were which made my butt uncomfortably sore the whole time (making it difficult to get some legitimate sleep).
As far as movies were concerned, they didn't have a good selection. I had already seen Free Solo, but the rest were either old movies or those action blockbusters that I didn't care to see.
Perhaps towards the end of the flight, Julie and I watched Toy Story 4, which seemed like a good one for our little girl to see though she wasn't on this flight with us.
By about 6:05am, after landing at the Nadi Airport (where the ground appeared to be wet from a rain or two), we then found ourselves in a very long immigration line.
They actually opened up a second line while we were in the long first line, and it wasn't until about 30 minutes or so into our wait did we see that the second line was moving quite a bit faster.
As we got closer to the front, we noticed that the second line was both shorter in length and they had 4 agents serving them whereas the longer line had only 2! Talk about a lame system.
We eventually hopped to the second line, but by then, it didn't really make a difference to the overall wait in hindsight as the person we were behind just happened to be getting processed just slightly before we were.
Next, we got money changed since we knew that we'd be in Nadi for another 7 hours or so (though probably more like 5 in reality) to check out this part of Fiji before going back to the airport. We didn't want to spend that much time at the airport itself.
Anyways, it wasn't until about 7:10am when we were picked up by a taxi for about 35 FJD (around $15 USD was my guess). I guess the proactive ones got the business since he was pretty quick at the jump at getting into the arrival terminal and asking if we needed a taxi.
During the drive from the airport towards Denerau Island, I was looking out the window to see if I could recognize anything from our first trip to Fiji 14 years ago.
I guess aside from road signs to places like Lautoka, Sigatoka, etc., I really didn't recognize much else.
Nothing about the city of Nadi seemed to be all that memorable, and it kind of reminded me of what a typical "city" in a tropical destination would be. It was nothing like the smaller concentration of buildings that I thought I had remembered from 14 years ago (then again, maybe we didn't really experience the main part of Nadi).
And then when we were driven towards Denerau Island, we could immediately see that the wealth was definitely concentrated in this part of northwestern Viti Levu.
For here, there were golf courses, lots of lawns, and quite a few condos or resorts. I know for sure that we didn't visit this part of Fiji on our first trip here 14 years ago.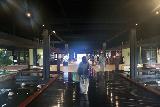 After getting dropped off at the Westin Fiji in Denerau at about 7:30am, we then ultimately made our way to the Kitchen Grill on the property. Along the way, it was pouring rain and I was busy fighting condensation on my DSLR as I was trying to take pictures as I went.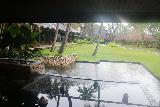 Julie's first reaction after getting here and comparing that to the YouTube video about the Westin's breakfast was that it was nowhere near what was shown in that video.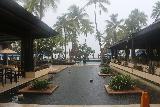 The brekkie wasn't as spacious as what was shown, it wasn't as bright (though it was raining hard at the time we showed up), and the food selection didn't seem as various either.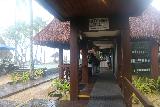 It also seemed like there was some kind of conference or something going on as the brekkie area was very busy. Apparently, there was some kind of rugby event or conference going on judging by how many people wearing rugby-related shirts.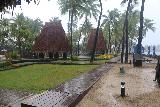 Regardless, our little splurge for our anniversary brekkie didn't turn out to be quite what we were hoping for.
Plus, we had to further limit our selection due to Julie's diet restrictions.
Nevertheless, we still had ourselves a miso soup, some dalo (taro "fries"), some gluten-free bread (though we were skeptical about other things they had at the gluten-free station), a greenish curry (which they then substituted for a more potato-like curry when the initial curry ran out), and some ripe pineapples, papaya, and watermelon.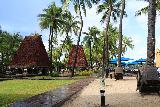 There was also free champagne though we weren't all that into it.
The roti, gluten-free pancakes, omelettes, and poached eggs were on the ok side.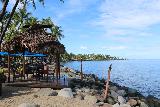 After all the rain that we had been getting, the sun started to come out at around 8:45am, which really brightened the mood a bit. We could see a little further to the east where the dark clouds were and where the rain definitely came down.
And after about 2 hours of stuffing ourselves silly, we then walked around the neighboring properties just to see if we had made the wrong choice when it came to breakfast buffet splurges.
The walk along the beach towards the Sheraton property (which apparently was a sister property to the Westin) was a bit of a scenic but surprisingly sweaty walk despite it being flat.
Maybe it was because we were still carrying our packs and other carry-ons while our luggages were to be checked through to Samoa. But we were apparently walking past the Sheraton Villas before finally getting to the main part of the Sheraton Fiji Resort.
By the time we were in the muggy confines of the dining hall of the Sheraton (I think it was called Ports of Call), we couldn't go inside to see what they had, but we could see from the plates that people got that it wasn't all that different from what we just had at the Westin.
The dining hall was brighter and more spacious, but otherwise it didn't seem like we missed out on much.
By about 9:45am, we had our fill of the Sheraton and then proceeded to walk just as it had started to rain lightly again.
At around 10:15am, we finally made it to the Sofitel Fiji property after going on what seemed like a pretty long walk to get out of the Sheraton property and then across the Westin property, which looked a bit more authentic than the Sheraton.
As mentioned in the reviews, we saw that the Sofitel was indeed under construction.
It took a little effort to see where we were supposed to get up to the lobby, but down around the pool, it seemed to be quite busy with families. They even had an interesting waterslide that was popular with the kids.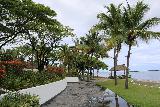 Anyways, we got up to the lobby, where there was indeed the dining area. Again, we couldn't see what they were having, but we couldn't stick around too much longer since we couldn't go inside to see what the brekkie here was like.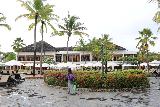 In any case, I'd say as far as buyer's remorse was concerned, we did fine. Plus, I wound up paying around 103 FJD for the two of us, which was actually reasonably priced (despite the "surcharge" that was going on today).
The Sofitel then hailed us a taxi, which charged 45 FJD to get back to the airport. It took us by surprise that it costed more than on the way here, but I guess they know that guests don't really have a choice when trying to head back.
Eventually at about 10:35am, we were back at the airport. During the drive back, the driver laughed when I told him that I didn't recognize anything in the Nadi area from our first trip 14 years ago.
He mentioned that there were lots of changes and the airport itself was new.
I guess that kind of explained it.
As far as the weather was concerned, he said that there was Climate Change action going on because he said the rain like this wasn't supposed to come until around January. So we wondered what Samoa's weather might be like in the mean time.
By about 11:30am, we were in the departure lounge waiting for our flight to Samoa. At first, the monitors didn't have anything about our FJ255 flight to Apia, but eventually it showed up. That caused us a little bit of anxiety about whether we were in the right place or not.
In any case, we dozed off and had a little bit of a siesta on one of the comfortable benches. Julie and Tahia even had a little facetime chat using the free airport WiFi, which was cute.
By about 12:50pm, we finally boarded the plane to Samoa, which was also another full flight though this was on a single-aisle Boeing 737 instead of the Airbus jumbo jet that we took between LAX and Nadi.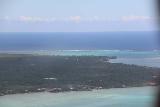 We ultimately landed at the airport west of Apia at 4:10pm, and it took a bit of time to wait to de-plane as usual.
After getting through a much more efficient customs line, we then got our luggages, Julie exchanged money (knowing that we're likely to spend quite a bit of it here in Samoa as I didn't expect credit cards to be widely accepted), and then I got the rental car while Julie got a mobile sim card (ultimately choosing Blue Sky per a local's suggestion versus Digicell).
When we finally left the airport with the rental car at about 4:50pm, I was dismayed at the Garmin Nuvi that I brought which was not powering up anymore. And even with the car charger, I was getting nothing but a blank screen.
I had brought the one for New Zealand and Australia, which was a unit that was younger than our trusty one that I use for Europe back at home, but alas, it was not turning on the whole time. And so I had to rely on the Garmin etrex handheld unit for trip logging.
Definitely as far as navigation was concerned, I'd have to rely on the mobile coverage for that now.
Anyways, we took the slow scenic route from the airport towards Apia since we didn't have a full tank. We were also warned that the gas stations here only accepted cash. So we had a limited supply of cash, and we sure hoped that it would last us for the rest of this trip.
We ultimately got some water at a mom-and-pop shop before filling up some 66 Tala of gas for a little under a half-tank's worth. So that gave me the idea that perhaps we might have enough cash to last us the week.
Anyways, it took at least an hour to go east to Apia. Then, we took the Cross-Island Road south to the Coconuts Beach Club Resort, which was where we were staying for the next four nights.
At about 6:30pm, we finally made it to the Papapapaitai Falls which was a pretty easy lookout looking right across a ravine to a very tall reportedly 100m waterfall.
There wasn't a whole lot we could do here so we took our photos and movies, and then we proceeded to continue south towards the Coconuts Beach Club, where we got there at about 6:55pm.
Apparently, we got there after the reception had closed at 6:30pm, but the manager came out and greeted us. Apparently, he was from Los Angeles like we were.
And after showing us around to our room at 7:10pm, we then had a cocktail social over sangrias where we learned a bit more about him as well as one of the Samoan workers named Tess, who had a Kiwi accent since she was raised in Auckland.
It was a pleasant evening though we were getting bitten by mosquitos as we all just stood there and chatted over the sangrias.
Eventually at 8pm, we finally got around to eating our anniversary dinner, which consisted of Oka (like poisson cru), escargot, Coconut I'a (fish in coconut cream and coconut husk), and a curry lobster.
The food was very hit and miss, and it was kind of underwhelming for our anniversary dinner. Julie found the lobster to be a bit rubbery and Julie was very concerned about the lack of gluten free options.
However, the weather was nearly perfect for the evening as the stars were out despite the full moon, and it was a nice way to wind down the evening even though the food was OK.
By about 9:45pm, we were back in the room to finally get settled and cleaned up. We had a little drama with ants everywhere and Julie insisting that I got get ant spray from the reception, but other than that, we could finally start to settle in and get into Island Time…
Visitor Comments:
Got something you'd like to share or say to keep the conversation going? Feel free to leave a comment below...
No users have replied to the content on this page