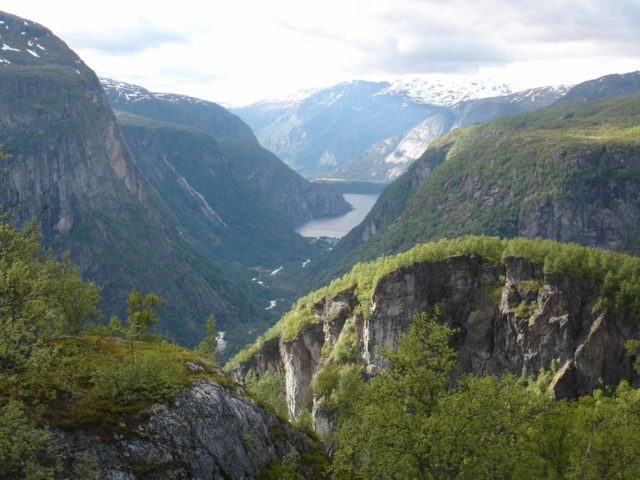 24-June 2005 to 26-June 2005:
It seemed that the further I went, the trail got progressively muddier, overgrown, and less defined. The red Ts that I relied upon to act as cairns were also getting sparse. I thought this hike was supposed to be easy, but clearly this is not the case. I kept thinking that I must be doing something wrong, but I swear I couldn't find another way to go…
Day 1: WATERFALLING ONE AFTER ANOTHER
I woke up very groggy at about 4am. To my amazement, it looked like there was already some daylight starting to penetrate through the darkness. I guess the nights here were very short.
Anyways, Julie was way asleep and I figured I mind as well do some early morning waterfalling while she was in the Ryfylke Hotel resting. So by about 4:25am, I was out the door and proceeded to drive off solo on this somewhat misty morning.
It wasn't but a few minutes when I started to notice signs for Sandfossen. It was basically some kind of rapids that I guess was a place for salmon to try to make their way upstream over some salmon ladders. It didn't seem to be much of a waterfall, and the lighting was still a bit low for any meaningful photos. So I kept driving on.
I'd eventually make my way out east for some 11km on the Rv13 until I turned right onto some obscure narrow road that climbed steeply out of the valley and into the moors above. It was still misty and foggy on this morning so there was a little bit of trepidation as I was doing this.
Once the climb flattened out, I was in the moors, and I was still following along the narrow paved road until I came to a roadside waterfall that looked like it was tall and wispy. The lighting was still a bit low so I kept moving on.
I figured I mind as well go into some obscure valley called Ulladalen in search of more waterfalls that Olaf pointed out on his website worldwidewaterfalls.com.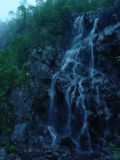 However, as I was aimlessly driving south on the Route 600, I then backtracked and went east on another obscure road that narrowed considerably the further east I went. It seemed to go on for quite a ways, and after about 6.5km on this road, I turned back with nothing really to show for my efforts.
There was a tiny waterfall I noticed along the way at around 5:15am. But I wasn't sure if it was legit or if it was one of those ephemeral ones that happened to come alive at a very narrow time of the year that no one (except some locals) would know about.
So defeated as I was, I headed back towards Sand. However, on the way out, I noticed there was a pretty tall and wispy waterfall in the distance. I wasn't sure if this was the waterfall that Olaf called Storefossen, which I gathered learned about from my pre-trip research. It was now around 6:05am at this time and the daylight was definitely brighter than before so I at least had a better idea of where I was going.
In any case, I took photos of this waterfall, believing it was indeed the Storefossen, and then I headed back to Sand with at least something to hang onto to show for my efforts of this pre-dawn exploring.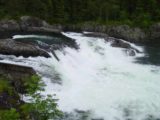 At 6:35am, I finally returned to the Ryfylke Hotel in Sand, though I did make a brief stop back at Sandfossen with the increased daylight to take better photos and to at least see a little more of where this waterfall was situated and what was so special about it.
After getting packed and loading up the car, I joined Julie for another koltbord breakfast of cured herring, eggs, vegetables, and other basics. After this being the third day in a row of this kind of breakfast, Julie and I were starting to become accustomed to the idea that this basic breakfast was the way Norwegians do breakfast and it was up to us to adjust to their way of life accordingly.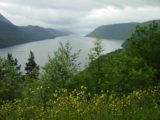 Finally at 7:50am, we left the town of Sand and proceeded to drive towards the ferry. We had to wait for a bit for the ferry to come and let us on so we could cross the Saudafjorden, which the town of Sand was bordering on.
And once we were across the fjord, we then headed north on the Rv520 under a mix of rain and overcast skies. The views over the fjord into the water were quite scenic, and definitely unlike anything Julie and I had seen before. We could have easily lingered around just doing the autotour of this route, but it was overcast and we still had some waterfalling to do.
Sure enough, by about 9:20am, we saw a towering wispy waterfall near a tunnel called Hongavikfossen. Apparently, it could also be called Brudesloret (Bridal Veil) or Hangandvikfossen. We managed to take photos of it prior to the tunnel at some makeshift spots along the road as well as from the car with Julie as the photographer while I was busy concentrating on the road.
After passing through a long road tunnel (Hongaviksfosstunnelen), we then pulled over at a pullout just beyond the tunnel. From there, Julie and I went for a walk on what looked to be the old road before the tunnel was built. It was now a walking and bike path beneath some small power lines. But in any case, we went out to a dead-end where we got a somewhat unusual view of Hongavikfossen overlooking the fjord. It was a pretty neat sight, plus we were also able to look across the fjord towards another distant but seemingly massive waterfall through the haze of the drizzle.
Indeed, at this point, it seemed like waterfalls were starting to become a dime-a-dozen as Julie would say.
At 9:45am, we were back in the car, and it started raining again. Just a few minutes later, we saw a roadside waterfall tumbling besides a bridge that we were about to cross over. We saw there was a pullout just beyond the bridge, and that was when we parked the car at 9:50am.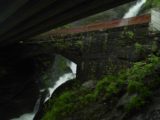 We then walked beneath the bridge to go underneath the road and then emerge on the other end right in front of the loud waterfall. It was hard to photograph the falls from this awkward viewing area, and we had to go onto the narrow road on the bridge to take limited photos of what turned out to be Svandalsfossen.
The falls barely fit in the frame of my Sony Cybershot but at least this falls had some pretty high volume.
After having our fill of this waterfall, we then drove towards the town of Sauda. While we were on the outskirts of town, we also saw there was another impressive waterfall across the fjord. It didn't photograph well as we were covered in some fairly heavy rain.
This town seemed to be some kind of industrial town, but it did seem to be very scenically located despite the industry.
So Julie and I drove off and headed further northeast past the town of Sauda along the Rv520. At this point, we were now driving in the moors again, but it was definitely foggy and rainy throughout. During the drive, we noticed quite a few attractive waterfalls. At 10:25am, we saw one deep in a gorge that was between bridges. It wasn't tall, but it did have decent volume.
Some signs here mentioned that there were some zinc mines around this area (at least based on the Norwegian I was able to make out).
At about 10:50am, we were now higher up in the moors when we saw another attractive waterfall across a lake. Unfortunately, it was now raining even harder and the skies were fogged up with plenty of rain and mist. Thus, the attractive falls was relegated to nothing more than a white sliver against a distant cliff with the rest of the scenery being almost grayed out from the rain.
As the Rv520 eventually junctioned with the E134, it seemed like the weather calmed down considerably. The road was still steep as we were passing alongside some stringy waterfalls tumbling down the mountainsides flanking the E134. We'd eventually pass through more tunnels, then drive out through a valley before the road junctioned with the Route 13.
We continued going west on the E134 knowing that we'd eventually drive north on the Route 13 to get into Odda Valley, but the immediate goal at this point was to see Langfoss, which was one of the waterfalls we anticipated seeing prior to the trip because it was one of the giant waterfalls we were expected to visit on this trip.
We'd eventually arrive at the Langfoss which we started to see from a distance at around 12:25pm. This mammoth cascade was tumbling down almost the entire mountainside before entering the Akrafjorden, and we were able to capture this scene while stopping at a bus stop so we'd be out of the way of traffic for the time being.
We then drove closer to the falls, but there was a toll station just before the falls. Little did we realize that we would have to pay this toll again on the way back out even though we wouldn't be spending that much time on the other side of this toll. Ouch!
In any case, we could see the spray of the water covering the E134. But we could also appreciate the overall thickness of the falls from the car park that was here.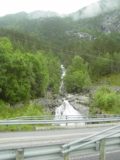 We didn't linger around to do any walks (if they were available) as we were merely content to admire the huge waterfall before getting back in the car and getting hit once again by the toll station on the way out. I definitely wasn't getting any sympathy from the toll station operator.
So we drove back east on the E134, then headed north on the Rv13 towards Oddadalen. It didn't take long as we meandered about on this narrow road before we saw the first impressive waterfall, which was called Espelandsfossen. There was a very limited pullout where we got out of the car to take photos. We figured we mind as well do it to examine this falls because further up ahead was somewhat of a traffic jam by the bridge up ahead. It looked like there was anothe waterfall over there, and it was called Latefossen.
So after walking about and getting our views of Espelandsfossen (and getting a little bit of drifting spray in the process), we then got back in the car and proceeded towards the bridge as we slowly awaited for a spot in one of the car park spaces on the left. Luckily for us, someone pulled out just as it was our turn to get here, and we wasted no time in securing the parking spot at 2pm.
As Julie and I walked out of the car and looked at the impressive dual cascades of Latefossen, we quickly learned that it wasn't easy taking photos of this falls because there was a lot of spray coming across the bridge and in our direction.
Plus, it was hard to capture the entire waterfall in one shot given its width and height. So I attached a video wide angle lens knowing I could get the whole thing with some serious vignetting. Oh well, you do what you have to do.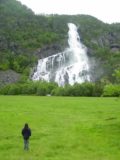 When we had our fill of this falls, we then continued driving north on the Road 13.
At about 2:20pm, we then saw an impressive waterfall within a grassy section of the valley, which I suspected was Vidfoss. This waterfall had a bit of an unusual shape, and Julie and I found a makeshift pullout off the side of the road so we could at least get a better look at this waterfall.
Indeed, with this being the third large waterfall in the valley, it was easy to become jaded and perhaps become somewhat blase about them. But these falls were easily bigger than most of the waterfalls we had seen in our travels so far, but that wasn't saying much.
After having our fill of Vidfoss, we slowly continued making our way further north on the Road 13. Eventually, the grassy valley flanked by mountains with granite or something to that effect started to give way to a lake as the road skirted around it.
Across the lake, we saw what our pre-trip research called Strondsfossen. There were some wildflowers blooming besides the shores of the lake as we tried to capture this waterfall. And again, it was impressive just like the other three waterfalls we had seen in this valley to this point.
As I was about to enter the car, I looked up and noticed there was yet another impressive waterfall tumbling high above us. I wondered if there was a better view of this falls so I eventually figured out that I could walk up a closed gravel road that ultimately got me up to some kind of flattened out area where trees separated me and the falls.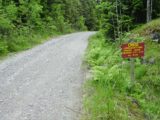 I noticed there was an opening in the trees, and it turned out to be an unmarked trail of use that ultimately got me past the trees and face-to-face with the utterly tall Tjornadalsfossen. There was no way I could capture this waterfall on my camera in one frame as it was simply way too tall.
So I took what photos I could knowing that at some point, I would have to stitch them.
I returned to the car at around 3pm, and we continued to drive off further north as we were getting close to the town of Odda.
We didn't stop in the town of Odda as we next had to drive west towards another out-and-back excursion to the Furubergsfossen west of town. We first had to follow a road that swung along the southwestern shores of the Sorfjorden (of which Odda was at its far southern extreme), then we junctioned with the Rv551, which immediately went into a tunnel.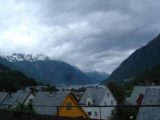 As we entered, and drove on and on, it turned out that this tunnel (called the Folgefonntunnelen) was very long. And when we emerged on the other side, our eyes had to get re-adjusted to the sudden brightness of overcast skies in the early afternoon.
We'd ultimately drive about 10km towards a bridge right at the base of Furubergsfossen. Along the way, we spotted a pair of more miscellaneous waterfalls. Though these miscellaneous ones weren't very noteworthy. Meanwhile, across the Maurangsfjorden, there were more impressive waterfalls way off in the distance.
While we were checking out Furubergsfossen at 4pm, we were having trouble photographing it because we were getting sprayed by the falls. The best we could do was to take slightly angled (and less full views) of the falls so we wouldn't be getting as much spray. But I somehow figured that the best views of this waterfall would be from the fjord itself if somehow we would've been able to take a boat tour or something, which we obviously weren't going to be doing on this day.
And so we returned towards the town of Odda to check out the picturesque waterfalls tumbling into town. We wouldn't linger around this town for long, but I somehow wondered if in hindsight, we would've been better off spending at least one night here given how scenic it was plus how many waterfalls we were seeing all within the vicinity of this town.
But alas, we'd leave the picturesque Odda at around 5pm, and as we were slowing making our way further north along the Road 13, we then looked across the fjord to see a gorgeous bulbous waterfall that was informally called the AEdnafossen. It turned out that we caught our best views of it from between tunnels at around 5:25pm.
We would continue driving further north along the Road 13 and we'd even pass by a seemingly isolated valley near the town of Lofthus. We saw there were a pair of waterfalls framing this valley, but we figured we mind as well continue north to Kinsarvik then check in as it was getting late in the day.
Not helping our cause was that we kept stopping along the road as we would continue to notice more waterfalls across the Sorfjorden, that seemed to be very tall and thunderous amidst all the melting snow that still clung to the mountains across the fjord.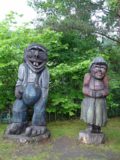 At 7pm, we finally arrived in Kinsarvik. We checked in, then had ourselves a dinner at the Kinsarvik Hotel since we didn't really have much of a meal since our breakfast earlier in the day. So it wasn't until about 8:40pm did we finally leave Kinsarvik and backtrack to Lofthus.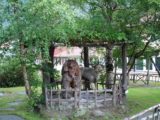 Finally at around 9pm, we were around the town of Lofthus, and then we had to figure out a way to get closer to the waterfalls at the head of the small valley here. There were a bunch of local roads that were narrow and they weren't very well signed.
Eventually, we had to ask some locals walking around before we were finally pointed in the right direction to at least reach a section called Elvedalen. From the trail that started from a soccer field, we were able to get somewhat closer views of the taller Skrikjofossen, but it seemed like the closer we got to the falls, the more angled and shorter it looked given the forced perspective.
We ultimately walked towards a bridge spanning the Opo River, which was not the watercourse responsible for Skrikjofossen. However, as we looked further upstream from the bridge, we did see there was the lowest tier of what I suspected was Opofossen. However, it didn't seem like we would ever get a decent view of the rest of this waterfall from the short trails we were intending to do, especially with it getting quite late in the day.
Somehow this hasty visit to Opofossen wasn't very fulfilling, but at least we got some decent views of Skrikjofossen. I had read from the pre-trip research that there was supposed to be some Monk Trail leading up to the "Nose", which probably would've taken us higher up the cliffs of this valley to see both Opofossen and Skrikjofossen. Maybe one of these days, we should come back here and see this place the way it should be seen.
At 10pm, we returned to the car. It was now time to return to Kinsarvik and finally call it a day. It wouldn't be until 10:30pm when I returned to the Kinsarvik Hotel.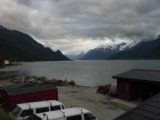 We were so waterfall saturated at this point. However, I knew that tomorrow morning, I would have to get another early-morning start in order to visit the Husedalen Waterfalls while we still had more waterfalling to do later on in the day.
Indeed, there would be no rest for the weary…
Day 2: SPEED OF SOUND
It was 3am when I awoke in the Kinsarvik Fjord Hotel. I didn't get much sleep since yesterday, I did a self-tour in Lofthus to get a better look at Skrikjofossen at 8:40pm and didn't get back until 10:30pm. But I had a feeling that Julie didn't want to do the 4- to 6-hour hike up Husedalen – a fabulous hike along the Kinso River leading past four major waterfalls. And so I let her sleep in (as was customary by now) and hoped I'd be back at the Kinsarvik Hotel in time for breakfast and checkout.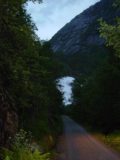 It was still dark as I left the hotel and went up the road near the hotel towards the trailhead for Husedalen. At 3:45am, I arrived at the power station at the base of Husedalen's first waterfall – Tveitafossen. The power station was a rather ugly presence before the falls, but at least it shielded me from the mist blowing away from the churning water at its base.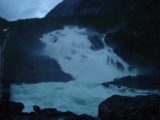 Since there wasn't enough lighting and I knew I would have trouble keeping the lens dry from the mist before shooting the falls, I deferred that activity till later when I would finish the hike. So with a pair of ice cold Nalgene bottles, hiking boots, emergency rain gear, my camera, and a pair of hiking sticks, I was off.
But, which way to go? Apparently, there was a faint trail adjacent to the power station that followed some diversion pipes along the river. I had also recalled there was a gated dirt road just before the car park. After briefly going up the primitive trail by the power station, which quickly degenerated into a scramble over slippery boulders (moistened by the mist of the waterfall), I decided to turn back and take the easier route up the gated road.
The skies gradually turned brighter as I made my way up the wide, switchbacking road. It wasn't long before I had hit a trail junction. Apparently, this was where that primitive trail by the power station would've joined up with the road. I guess it didn't really matter after all which way I went from the power station.
Shortly after this junction, there was another junction. I didn't think much of that other trail thinking it just led to some other power station-related item. So, I kept moving forward on the wide, dirt road…
Behind the sign, I could see and hear loudly the second of the Husedalen waterfalls – Nyastølsfossen. This waterfall was huge! I could see how wide it was, but I couldn't quite get a better sense of how tall it was because the trees below blocked its lower tiers.
In my pre-trip research, I noticed a fellow Dutch waterfall hunter friend of mine, Olaf Helwig, take a photo of this waterfall from a spot much closer to the river than where I was. But clearly I could see no way to go down the hill and closer to the river from the road that I had taken.
"How did he take this shot?" I thought to myself.
Anyways, I grudgingly continued along the road a bit disappointed about not getting a better shot of this waterfall. About another 15 minutes later, I had hit the end of the road. There were lots of tire tracks that just circled around and went nowhere. I didn't see anything in sight telling me where I should go next.
"Man, did I take the wrong trail?" I thought.
Anyhow, I did notice a folded plastic item next to a faint trail. I wasn't sure if it was really a trail, but I wasn't about to let this turn of events stop me from seeing the other two waterfalls I knew was up the valley.
So I searched and searched. Then, I saw something red spray painted onto a tree…
…it was a red T!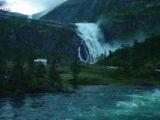 Cool! I had finally regained the trail! Now, I was back in business!
These red Ts, by the way, were marked by a Norwegian tourist organization called DNT, or Den Norske Turistforeningen. They were the ones who maintained many of the trails and mountain huts (hyttas) in Norway's backcountry. I couldn't have been happier to see one of their marks at this juncture.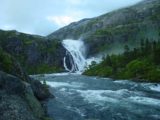 So with the red Ts, I saw the primitive trail again. It continued to follow the Kinso River. There were several spurs leading to the river from the trail I was following and I took one of them. It turned out to yield my first views of the third waterfall – Nykkjesøyfossen!
With greater haste, I continued along the trail. Humming to myself Cold Play's "Speed of Sound," which was getting plenty of airplay on Norwegian radio, and somehow seemed strangely appropriate for this hike, I proceeded in a good mood.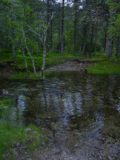 But as quickly as my enthusiasm spiked from seeing the falls from a distance, it quickly waned when a large standing pool of water flooded the trail. Still, I was determined to get by (soggy feet or not), but before I made a hasty decision, I noticed a muddy detour that scrambled around the obstacle. Whew!
Eventually, I got in between a pair of houses in view of the waterfall. I often wondered how unusual it was to see houses out in the middle of nowhere and who would live in them. It seemed that Norwegians tended to put houses and farms hanging on cliffs, sitting in unforgiving snowy mountaintops, marshy moors, and roadless places such as this. Well I wasn't about to knock on any doors so I continued to go about my business…
Onwards I went, closer to the waterfall while continuing to follow the red Ts. The trail seemed to follow quite close to the river, and in one case, it was almost overwhelmed by it. By the time I had arrived at the headwall responsible for the waterfall, the trail turned to the left and began a primitive ascent.
As I continued the ascent, the trail continued to deteriorate into a scramble. It seemed that the further I went, the trail got progressively muddier, overgrown, and less defined. The red Ts that I relied upon to act as cairns were also getting sparse. I thought this hike was supposed to be easy, but clearly this is not the case. I kept thinking that I must be doing something wrong, but I swear I couldn't find another way to go…
Should I turn back now?
Still, I was determined to get to that last waterfall I knew was still up ahead. I knew where the river was so at least I was oriented. With this knowledge, I pressed forward; chasing faint trails both real and false. I even had to go through a few areas where I bushwhacked and did some bouldering maneuvers involving the use of all four of my limbs. Experience had told me that usually conditions such as this meant I went the wrong way. But before I was discouraged beyond hope, I saw a red T spray-painted on a boulder up above me!
Yes!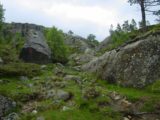 So I continued the climb and finally made it up above the headwall causing the elevation loss of Nykkjesøyfossen. Now, I was definitely in the moors. Up here, the trail continued to be muddy, which was helpful on my way back as I could track my own footprints. There was a strange mixture of twisty, low-lying bush as well as a few trees. All of this was interlaced with large tracts of granite. The valley walls had moved in closer as well. If I had wanted to go up into the Hardanger Plateau, I knew I would have to climb these walls somehow, but I didn't worry about that because the last waterfall was all I needed to do.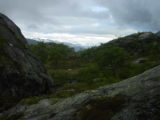 By now, it was past 6am. I finally started to see parts of that last waterfall in the distance – Søtefossen (which I think means "the sweet waterfall" in Norwegian). I could see cairns strewn about the granite areas, but they directed me away from the falls and towards the river.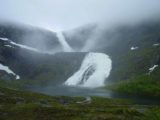 This was a bit perplexing. Why would the cairns take me away from my destination? When I followed the cairns, it seemed like it would get me off the trail and lost.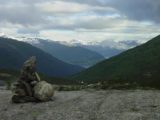 Finally at 6:30am, I got my satisfying views of Søtefossen. And how sweet it was! It was a pair of waterfalls forcefully tumbling at angles to each other at the very head of the Husedal Valley. But as I was taking photos, clouds started to swirl around the waterfalls and conspire to block my view. I figured, after all, I was high up and close to the top of the plateau and so I must be close to the sky. At least it felt that way…
Anyways, when the clouds finally shrouded that sweet waterfall, it was my cue to head back down. So off I went, on the hunt for red Ts while also trying to retrace my footprints in the muddy areas.
Now that I was facing the fjord, I could see the wide contour of Husedalen as well as the pretty Sørfjorden down below. It was quite a sight!
Even light from the sun started to break through the clouds and paint parts of the mountains a sliver of gold.
After some anxious moments scrambling down that headwall responsible for Nykkjesøyfossen, I found those reassuring red Ts again and ultimately made it back to those two houses by that waterfall. With the new lighting from the suddenly brightened and encouraging skies, I took more photos of the waterfall before continuing down the trail.
It wasn't long before I made it back to the dirt road's dead end again. I was able to do some trail running down that dirt road, knowing there were only little pebbles and a few ruts conspiring to twist my ankle instead of the odd tree root or boulder. Fortunately, they didn't.
By about 7:45am, I was back at Nyastølsfossen. Now, I could take photos of this massive waterfall with the improved light. However, it still bothered me that I couldn't get a closer view of the falls, which I knew existed – but not from the dirt road I was on.
It wasn't until after I finished the Norway trip did I realize that small trail I had dismissed as another power station-related spur actually continued to follow the river and was probably the way I should've gone to get closer to Nyastølsfossen! Oh well, next time…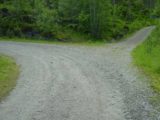 By 8:15am, I was finally back at the power station. Now was my chance to take a few photos of the misty Tveitafossen before heading back to the Kinsarvik Hotel in time for breakfast.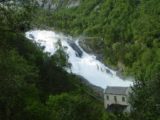 It wasn't easy taking photos of the waterfall because the mist kept spraying onto the camera lens causing waterspots. So I would focus the camera while letting water get on the lens but try to hold its setting by keeping the photo trigger down half way. Then, I'd turn around, wipe the lens with the free hand while still keeping the finger on the trigger, cover the lens with my free hand and turn around towards the falls again. When I sensed the falls relented on providing downstream mist, I'd move the hand and quickly take the photograph.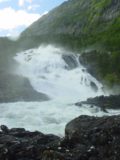 It was cumbersome, to say the least, to get the photos, but I did eventually get a few of them.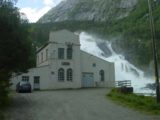 I finally left the power station and headed back to the hotel by 8:30am and arrived at the hotel at 8:45am. Julie was waiting for me as I walked into the hotel, worried that something happened to me. She also told me that breakfast ended at 9am so both of us quickly got to the dining area and had ourselves a very satisfying koldtbord breakfast with hot foods along with the usual mix of cold herring and hard-boiled eggs. All the while I was telling her my adventure on Husedalen and the hunt for red Ts.
We checked out of the Kinsarvik Fjord Hotel and loaded up the car by 10am. We decided to walk to the visitor center next door to buy some maps before we headed out to Eidfjord.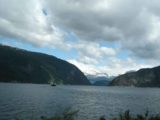 Once we got in the visitor center, I bought lots of topo maps of Eidfjord, knowing we might need them for the planned Valursfossen hike later in the day.
I also took the liberty to talk to the clerk about the hike on Husedalen. When I told him I had a difficult time on the hike, he gave me this dumbfounded look like "what are you smoking?"
He told me it was easy, but then again he did mention the trail might not have had bridges over the river since it was running high. Ah, now that explained why there were those cairns that seemed to go nowhere.
Anyways, we spent a good deal of time talking to the clerk about the maps we bought and about how beautiful Norway was. But when other customers wanted to talk to him, it was our cue to leave.
I told him (in my attempt to use some of Norwegian I tried to learn before the trip), "Tusen takk for hjelpen."
He gave me another shocked expression before we waved at each other and said to each other, "Ha det!" (which was short for "Ha det bra" or "have it good" which was the Norwegian way of saying good bye)
So off Julie and I went to Eidfjord, site of our next accommodation.
We arrived at the Quality Hotel in Eidfjord at 11am. The weather was quite fine and sunny. It was still too early to drop our bags in our room and check in so we continued down into the Sima Valley. After going up a narrow dirt road deep into the valley, we saw a tall waterfall up on the cliff dropping with good volume…
…it was Skykkjedalsfossen!
I knew this waterfall was regulated, but it still flowed quite impressively. Anyways, we managed to take photos while avoiding the intrusive power lines before us. Then, we headed back to the Quality Hotel in Eidfjord, but it was still a little early so we stopped by the visitor center across the street for a few minutes.
Inside the visitor center, they had heaps of topo maps and a useful road atlas by Statens Kartverk. We spent lots of money buying up their literature as this place by far had the most literature useful for our purposes. I even got to practice some Norwegian though I couldn't get much further than telling the lady behind the desk, "Jeg prøver å lærne norsk" and "Ha det!" when it came time to leave. Finally after checking in, we took a brief break before heading back out at 1:30pm.
We were headed to Vøringsfossen. I knew this was one of those waterfalls you could experience in a variety of ways. We first went to the Fossli Hotel at the top of the falls. We had to pay to park there but then we were able to walk around the perimeter of the falls. It was quite a sight to look down at the falls and into the rugged Måbø Valley. Fortunately, I had my kludgy wide-angle lens to get most of the scenery in a shot.
After taking photos up here, I had realized that I forgot to bring my hiking socks! Knowing we were going to do the Valursfossen hike after seeing this attraction, I couldn't hike in the Chacos I was in. So I hastily went into the Fossli Hotel to buy a pair of dark Norwegian socks with its flag stitched into it. Sure, it wasn't the socks I should've worn for this, but we weren't about to make a nearly one-hour detour just for a pair of socks!
Julie and I proceeded to go to the lower viewpoints of Vøringsfossen before heading into Hjølmodalen to get to Valursfossen. We had to pay to park there again before we walked around for more cliff-hanging views of Vøringsfossen. We particularly enjoyed the direct view of the falls along the road with rainbows and the hotel dwarfed by the waterfall. It was an exercise in patience as we awaited the tour bus crowd to disperse.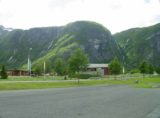 It was 4pm when we took off to the Upper Eidfjord township and followed the narrow road into the Hjølmo Valley. The road became unpaved and quickly narrowed into a width suitable for a hiking trail as it hugged the steep cliffs of the valley.
At first there were numerous stringy miscellaneous waterfalls near the mouth of the valley. We initially stopped for these, but then we realized that these were a dime a dozen.
The road was steep and we also shared it with sheep. Clearly, this was not a road for those not confident in mountain driving with a stick shift!
Anyhow, at 4:15pm, we managed to get a view of Vedalsfossen across the valley. The sheep seemed to ignore us as we merrily stopped the car and took photos of this towering waterfall.
Onwards we slowly drove towards another towering cascade before us. I had assumed it was Berastøldafossen, but my topo maps indicated otherwise. Regardless, it was a pretty cascade and the road started to go up steep switchbacks beside it.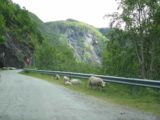 We eventually made it to the end of the road passing by two previous car parks. One had a death-defying wire bridge that we dared not cross! The other looked more developed, but we couldn't tell if it was for Valursfossen or not.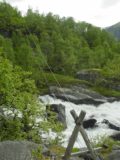 The end of the road was back up on the moors of the Hardanger Plateau. There were plenty of other cars here so it was reassuring to see other people thought this area was worthwhile to visit as well.
So with our gear packed into our day packs and slung on our backs and hiking sticks in hand, we left the car at around 5:45pm. My feet felt strange hiking in the dark Norwegian dress socks in hiking boots, but I figured it was better than hiking barefoot in the boot.
As we followed the trail southwards, we couldn't see any signs diverting us to the Valursfossen trail. Julie insisted we kept going straight and so that we did. But eventually, the trail started to climb steeply and I had a sense this wasn't right. The topo map I had in hand also disagreed with our route. So we headed back the way we came.
Before reaching the car park, we noticed a spur trail (funny we didn't see this earlier) to our left. We took it and followed its rocky trail to a network of trail junctions near some remote houses (there's those Norwegian houses in the middle of nowhere again). It was now 7pm, but the most encouraging sign of all was a sign with an arrow saying, "Valursfossen."
So we followed the sign and continued along a faint trail that was plagued with muddy sections. We sloshed our way through the trail which undulated between flat muddy spots and steep rocky scrambles. All along, we saw sparsely placed red Ts to spur us along and reassure us we went the right way.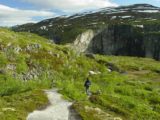 Along the way, I saw a spur and manged to take it briefly to an outcrop overlooking the steep-walled valley we had driven through to get here. It was a beautiful view, to say the least, and I happily took panoramic photos from here.
Continuing along the Valursfossen trail, it seemed like it went on forever. We couldn't hear any thundering water along the trail. Yet we continued our hunt for red Ts while basking in the warm orange glow of the late evening sun.
Finally at 8pm, we started to hear the distant roar of falling water. As Julie moved in front and continued forward, we could see a hint of rising mist in the ravine up ahead. Could this finally be it?
When I heard Julie exlaim, "Oooo!" I knew we had found what we were looking for!
And there it was – Valursfossen. It plunged forcefully before slanting at an angle into the shadowy depths below. Both of us were careful not to get any closer to the steeply sloping dropoff. And so both of us took lots of photos in the warm light before we headed back to the car park.
Once again, Cold Play's "Speed of Sound" was in my head and once again its dreamy, almost traveling feel through space seemed quite appropriate for the moment as we stood perched in the remote Hardangervidda high on the mountains of Norway.
With that, Julie and I retraced our steps and headed back to the car at the end of the road. We returned to the car at 9:30pm. There was still a bit of light in the day still but the shadows had dominated the valley.
On the way back down the steep, winding, and narrow road, we decided to make a brief stop at the next car park. It became clear then that we overlooked a sign that said "Valursfossen." I guess this should've been where we should've parked the car. But we got to see the goal of the hike anyways so who cares if we didn't take the shortest approach?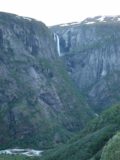 We finally returned to Eidfjord at 10:30pm, but not before getting a few last looks at Vedalsfossen on the way down the switchbacks. Since everything was closed except for this little fast food joint in town, we had to settle for hot dogs (pølser) and fries.
Finally, we got to relax, clean up, and bask in the late evening twilight. It was quite an adventurous day, and one I would always remember for our hunt for red Ts while moving at the Speed of Sound.
Day 3: WHERE IS VOSSESTOLEN?
For once both Julie and I woke up together. I had no early hikes planned and so we got up at 7am. After a brief and surprisingly ordinary koldtbord breakfast (which contrasted with the beautiful waterfront setting of the Quality Hotel Eidfjord), we checked out and were on our way to the ferry across Eidfjorden at 9:45am – a rather late start.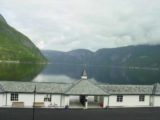 We expected to stay in Voss so we thought we might be able to check in by the time we'd get there at around lunch time. Then, we'd have all afternoon to do some light waterfall touring. Julie insisted that we make a stop in Bergen, which I didn't plan for considering we were on a mission to hunt for waterfalls.
After a fairly lengthy wait for the ferry to arrive, we shuttled across the fjord and headed for Osa when we landed. We started by following the Osafjorden along the Rv572 towards the town of Ulvik. Ulvik seemed like quite a busy little town and looked like it would've been an attractive place to stay (but it wouldn't happen on this trip).
Then, we continued east on a narrower rural road that returned to the shores of the Osafjorden until it ultimately headed northeast to the small village of Osa.
It wasn't until after 11am when we got to the small town. My research had indicated there were attractive waterfalls in the area, but we mostly ran into tall waterfalls that we couldn't identify.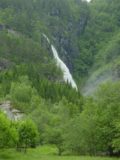 After having our fill of Osa, we drove back to the town of Ulvik, then we proceeded to head north towards the Road 572. While driving through the Espeland Valley, we tried to find Espelandsfossen in our haste to get to Voss. Apparently, we didn't do a very good job (further proof that haste makes waste) as we settled for a rather unsatisfactory distant view of the waterfall.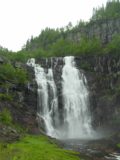 Onwards we continued. Soon, we approached a bridge that went right in between the upper and lower tiers of Skjervsfossen. There was a pullout just past the bridge that allowed us to get a direct look at the upper part of the waterfall.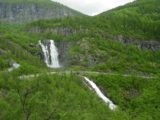 As we drove further up the road, I couldn't help but notice I could see the entire waterfall in my rear view mirror. So I eagerly looked for a place to stop the car, but couldn't find any. Finally, I saw a makeshift pullout on the far side of the first switchback and went directly into it. The problem with this pullout was that it meant I had to back out into the highway and onto the far lane in order to resume going uphill towards Voss. Well after taking our nice shots of Skjervsfossen, we managed to get back on the road without incident and continue on our way.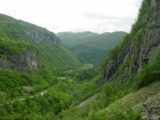 We finally made it to Voss at 1pm. The problem was we couldn't find Vossestolen – the place we were supposed to spend the night. We eventually made it down to a pay phone in front of the visitor center (which was closed until 2:30pm). After struggling with our MCI Calling Card, which we bought from Costco before the trip, Julie finally just dumped in some Norwegian kroner coins into the machine to call up Vossestolen.
When we made contact with the proprietor, he told us we still had to go 24km north of Voss. What?!?
It took a while for Julie and I to digest this bit of information. Obviously, we couldn't just check in and tour west of Voss without doing an unnecessary 50km detour!
"Jerry messed up!" Julie said to me about the Nordic Company president and acting travel agent who made our bookings.
Anyways, we weren't about to wait another hour for the visitor center to open so we just continued west on the E16 towards Bergen. I knew this would force us to check in to Vossestolen late because I had also planned to see Steinsdalsfossen as well as Kvernhusfossen up in Mo, but since we're here, we mind as well see what we could.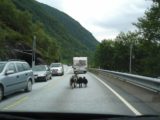 Some mountain goats on the road also didn't help matters in our haste to try to fit things into this day. Plus, there always seemed to be RVs and trucks we had to follow as well.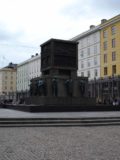 We finally arrived in Bergen at 3pm. It was quite a busy city and it was quite a challenge to navigate the city streets while looking for parking. We didn't really have a clue where we wanted to hang out, but the wharf looked like there were lots of commotion so we mind as well look for parking there.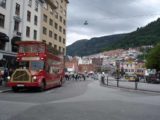 After finding parking, we walked around town starting from the wharf. It really reminded me of the Fisherman's Wharf in San Fransisco. However, we quickly realized that just about every shop was closed since it was Sunday. What a bummer!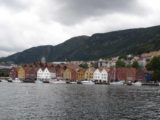 So we settled for some takeaway food on the wharf, where we got ourselves some fresh but oily fish and chips. We also paid the visitor center a visit, which was busy and open, but they didn't offer the maps and literature we were looking for (at least not the bonanza we saw at Eidfjord).
It was nearly 5pm when we left Bergen. It felt rushed and for sure I would have to include a night or two stay in town on a future visit. Even in the short time we were there on a Sunday, I could see how charming the city could be.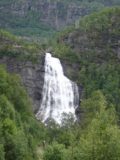 So off we went heading east on Road 7. Right before we entered Fossenbråttetunnelen, we pulled over at a long pullout with plenty of space because I saw the top part of the Fossen Bråtte waterfall.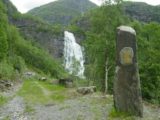 While Julie waited in the car, I took the tripod and went closer to the waterfall down a decline. There was a monument here commemorating brave soldiers who fought the Nazis in World War II. Anyways, I took my long exposure photos of the waterfall before I headed back up the hill to the car.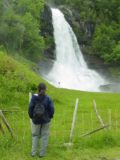 We continued to go east on Rv7 (Rv = riksveien or Road) past a few tunnels and unnamed waterfalls before finally arriving at the busy Steinsdalsfossen at 6:15pm.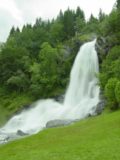 Julie and I spent lots of time here browsing the souvenir shops and weaving between the heavy tour-bus traffic of people as they made their way behind the waterfall along a paved and gentle ramp. I also took this opportunity to take my tripod and make some long exposure photos of the small but pretty waterfall.
We spent quite a bit of time behind the waterfall looking down at the constant activity of busloads of tourists coming out of the vehicle then checking out the falls, then coming back into the bus after having done some souvenir shopping.
At least we knew that this waterfall wasn't one of those obscure ones. Actually, I had read somewhere that Kaiser Wilhelm would visit this waterfall frequently and so it was also called Kaiser Wilhelm's Waterfall. Anyways, we left Steinsdalsfossen at around 7:20pm.
As we were low on petrol, Julie and I headed towards the nearest gas station. They also served up some Norwegian pølse (hot dogs) so that served as our dinner, knowing we probably wouldn't have a sit down one on this night. The weather started to get worse as we left the petrol station. I was worried that this might impact our viewing experience for the remaining waterfalls on this day. I was beginning to wish we went to these waterfalls first and skipped Bergen, but hindsight's always 20/20.
Anyways, we made a few brief stops along Rv7 as we were heading back towards the E16. We noticed a couple of waterfalls earlier on as we were bagging Fossen Bratte and then Steinsdalsfossen, and now we decided to bag these remaining waterfalls even though we weren't sure if they were just run-of-the-mill waterfalls or if they were legitimate.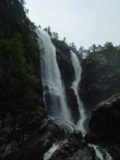 As we headed back in the direction of Voss, we took a narrow road up Rv569 to get to Mo. This narrow road was quite scary as it seemed like it was almost single lane the whole way. When a car was going the other way, we literally had to squeeze by each other. In some cases, some of the local drivers seemed awfully confident in their abilities to get by me and didn't bother to slow down! Both of our hearts would race with adrenalin under those circumstances.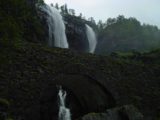 It was almost 9pm when we passed right before Hesjedalsfossen. Good thing we noticed it before heading into the tunnel! We pulled over in the now-pouring rain and took a few photos of this attractive waterfall.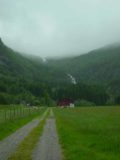 A few minutes thereafter, we saw a sleepy residential community called Myster. In the pouring rain, we also noticed a waterfall in the back of the valley. So we tried to get closer, but we couldn't tell if we would be going on private road or not so we settled for a view over someone's residence towards the falls. The waterfall, by the way, was Stigfossen. There was supposed to be another waterfall above it called Fjellfossen, but the rain clouds covered it up.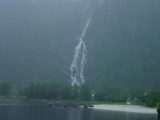 Julie and I continued to head towards Mo. The rain continued to come down relentlessly. Finally, we went through a long, dark tunnel without lights. On the other end of the tunnel, we turned left and headed towards the town of Mo. The rain continued to fall, but we at least were able to take photos of Kvernhusfossen and Geitaskardet in the waning light of the gray day.
It was about 10pm when we began the drive back to Voss. Although the drive down Rv569 was scary due to its narrowness, we didn't see too many cars going the opposite way.
We finally made it back to Voss by midnight, but we knew we had to go north on E16 to find Vossestolen.
As many of the lights of the buildings were turned off, we grew concerned that we might not be able to identify Vossestolen.
As time drew nearer to 1am and we had hit a road junction between Rv13 and E16, we were beginning to panic as we weren't sure which road to take. Now both Julie and I were really unhappy with the fact that we expected to stay in Voss and this Vossestolen place was nowhere near Voss! With this snafu, it made me wonder what else was fouled up in our itinerary.
On a lark, we turned right to stay on the E16 and ended up in the town of Oppheim. It was then that we finally found Vossestolen at last! We hurriedly parked the car and went inside to see the proprietor, who patiently waited for us and stayed up all this time.
So with that we checked in to our tiny motel room and took our showers in a bathroom area without shower doors nor floor partitions to keep the water away from the rest of the room. Anyways, at least we could shower and we were soon about to sleep. But with this foul-up by the travel agent, I just had to know if something else was wrong in the itinerary.
So Julie pulled out our itinerary and I examined it. Sure enough, I found that he booked us to stay at the Villa Utsikten in Geiranger instead of Dombås on July 1. And so we slept uneasily, knowing we had to somehow rectify this situation before that day.
We were asleep a little after 1:30am…
Visitor Comments:
Got something you'd like to share or say to keep the conversation going? Feel free to leave a comment below...
No users have replied to the content on this page