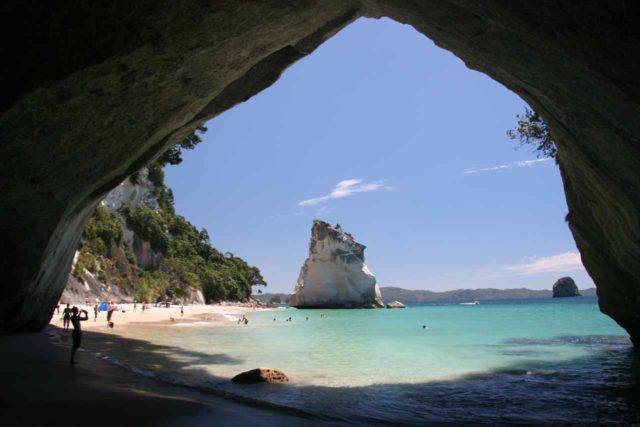 4-January 2010 to 10-January 2010:
I guess our sentiment that this place was rather "Dead As" was challenged when we happened to witness some hideous shouting of two Maori gangs hurling insults and even bottles at each other. It looked like some Maori females from a block away started heading in the direction of the commotion to join the fray. Even one guy chased a car that was leaving the hullabaloo. Shortly thereafter, some cops showed up and handcuffed two Maori girls…
Day 16: WINDY WELLYWOOD
We awoke at 6:15am. Yeah we wanted to sleep in a bit longer, but we knew we wanted no complications when it came to the ferry ride from Picton to Wellington.
At 7:50am, we left the Commodore Court Motel in the outskirts of Blenheim. Unlike yesterday, the skies were cloudless although it was very windy. Why couldn't we have this weather when we're actually sightseeing as opposed to a travel day like today?
The drive up to Picton was pretty uneventful and smooth. We filled up when we got to Picton at NZ$1.75/L instead of NZ$1.65/L in Blenheim. I guess my assumption that Picton wouldn't be a ripoff was wrong. After turning in our car hire and checking in our large luggage, we were waiting for boarding at the ferry terminal by 8:45am. Our ferry boarding wasn't until 9:30am and the ferry wasn't taking off until 10:05am.
At 9:40am, we got on the ferry. The skies were still beautiful, and I tried to take photos from the front deck of the Inter-Islander ferry. It was too bad we couldn't have had this weather two days ago while touring the Abel Tasman National Park. Then again, maybe the karma improved after seeing Linda, Roger, and Jason yesterday.
The ride on the ferry started off by passing through some scenic (but difficult-to-photograph) inlets in the Marlborough Sounds. Lining these inlets and sounds were what looked to be vacation homes and maybe even the legendary New Zealand bach (pronounced batch), which are like rustic beach or oceanside holiday cottages.
As we got further out into the sounds, we started to notice some hills with strange ghostly trees. We weren't sure if they were native or not, but they certainly didn't have that feel as they seemed rather out of place. Then, we started to see denuded hillsides that were clear cut. If anyone doesn't think New Zealand is having deforestation and resource depletion problems, they really need to get out there and see for themselves. I don't think I recalled this much development and their consequences five years ago on our first visit.
After getting into the rougher waters of the Cook Strait, the ferry was bobbing a little bit so I stopped organizing photos and started to put my head on the table to rest due to the onset of seasickness.
Once we got to the North Island, the winds got real gusty. We could see some pretty massive waves crashing and engulfing rocks as we looked towards the land. But the photos still looked a little flat. So rather than flooding our hard drive with photos that don't turn out, we'll just make do with our mental pictures of the beauty of the scene that couldn't be captured in photos.
At 1:30pm, we got our hire car at the ferry terminal in Wellington. We requested and got a Toyota Corolla, but it was disappointing that this so-called Corolla wasn't the type of car we were expecting. We ended up with a hatchback that had even less trunk space than the Ford Focus we had been driving in the South Island. Plus, there were some funky designs regarding cup holders or lack thereof making us have to make do with less of the minor things we took for granted (like a place to put our notepad, cables, chargers, etc.) for the last couple of weeks.
At least the windshield wiper and blinkers were flipped around in a more intuitive manner like we were more used to in Australia. I guess since they also drive on the left in Japan, this was rather natural, I guess.
We spent the next 20 minutes finding our way to the Capital Motor Lodge, which was kind of far from the city centre relative to other accommodations we had been staying at so far on this trip. Yet it also involved going on a motorway (like a freeway) as well as a handful of U-turns and blind turns in order to get here. We were wondering if this was a Golden Chain Motel thing or not.
At 2:05pm, we were all checked-in and put our bigger luggages into our spacious and clean room. Now, we headed out towards the Mt Victoria Lookout to get that quintessential view of Wellington, what with all the clear skies we were experiencing today; quite rare!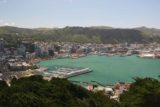 About a half-hour later, we drove alongside the bustling wharf area where it looked like a happening place. The parking looked difficult, but we'll worry about that later. Instead, we kept on going trying to find our way up to the famed lookout. Eventually, we found the roads required to get up to the summit, and these roads were very steep, winding, and narrow. There were even locals' vehicles parked in these roads making it a little difficult to support bi-directional traffic not to mention all the additional blind turns to accommodate as well.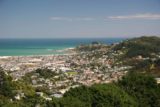 Once we got up to the lookout, we could see numerous vehicles and tour buses there (wondering how some of those buses even made it up here). So we took in the 360 degree views of the city and the Cook Strait. We could see off in the distance that some dark clouds were held at bay momentarily, but I reckoned it was only a matter of time before our nice weather would give way to rain again.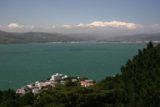 So we took photos of a cannon, learned that a Southern Cross memorial points towards the South Pole (where apparently the Antarctic air blows straight to here if they get Southerlies), and experienced firsthand why Wellington was a consistently windy place.
We were back at the car a little after 3pm. And fifteen minutes later, we found a sheltered car park where we were willing to pay a fixed rate to park for longer than three hours. Sure we could've paid less by finding one of the outdoor spots right on the wharf, but why go through the stress of trying to find parking?
Our walking tour started off by heading towards the Queens Wharf. There was a bit of pedestrian traffic, but the only reward we had for coming to this section was getting some delicious gelatos here. Other restaurants around here didn't appeal to us or were closed.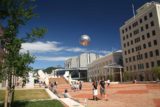 Next, we walked towards the Civic Square. There, we saw the suspended ball, which was quite an interesting photographic subject juxtaposed with modern buildings. I was also entertained watching some young Maoris breakdancing.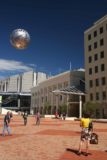 Julie and I were having fun taking fun photos with that suspended ball; most of it having to do with pretending to play basketball with that suspended ball.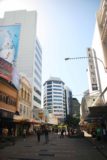 Then, we left the square and walked into Cuba Street. This was an attractive walking arcade with limited vehicular traffic. Restaurants, cafe, and bars as well as shops lined this street.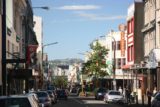 Unfortunately, the eateries we were hoping to enjoy like a seafood place or a French bistro were all closed until tomorrow. So we came up empty handed except for a brief stop at a Cambodian restaurant for a shared bowl of Malaysian laksa.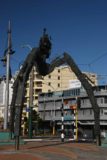 We next went in the direction of Mt Victoria along Courtney Place in search of another restaurant. This time, we were looking for Hangi food, but the place no longer existed. Along the way, we saw an old school movie theater that reminded me of the one-movie-only theaters in Westwood Village back by UCLA or the Mann's Chinese Theater in Hollywood. Except this time, the featured movie was some Peter Jackson flick (you know, the guy who produced The Lord of the Rings
and who was also from Wellington).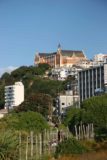 And this in turn reminded me of why Wellington was sometimes called Wellywood. Of course Wellywood was a little dead (except for the gusty winds at times) due to this being the holiday season for Kiwis. Even the Wellington natives Gina and Jennifer, whom we met in Egypt like Linda, Roger, and Jason, had traveled to Australia so we couldn't hang out with them today.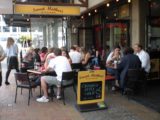 So we ended up eating at this place called Sweet Mother's Cafe. We first thought this place was unattractive because its theme was Southern food, and why would we want Creole food half-way across the world when we could have the real deal in New Orleans?
But once we got our seafood chowder, cajun prawns, and blackened groper, our sentiment changed. We were glad we got to eat something decent when it seemed like everything else was closed in the capital city.
We recovered our car at 7:20pm. At that point, we went to the New World Supermarket by the wharf to replenish our fruits, water, and breakfasts for the duration of our New Zealand trip. By the time we finished our grocery shopping, the skies got ominously dark. I guess that was the end of this run of fine weather, and winds must have changed.
With the remaining daylight, we still had yet to visit the Beehive and Parliament House. So we promptly drove there and did that under some threatening skies. By the time we were finished taking photographs, rain started to fall. After some consultation with Julie about whether today counted as a sunny weather day (the 6th one on this trip), we considered this to be the case despite the late rain.
By 8:20pm, we were back at the motel. There was hardly any parking, which was surprising considering how far away from the city centre this place was. But I guess this place also accommodated campervans with hookups. And by now, another squall came down before the skies momentarily cleared up once again. I guess four-seasons-in-a-day wants to happen again. We'll see what tomorrow brings.
Day 17: DEAD AS
Both Julie and I awoke at 7am. Normally, it's I who wakes up earlier and drives the start of the day, but I couldn't honor the original wake-up of 6am because I didn't sleep well. And I didn't sleep well because apparently I was getting hives from something I ate yesterday. My esophagus wasn't feeling good and everywhere I was getting itchy rashes and welts.
I could only hypothesize that it was either the rather cool seafood chowder or eating the heads of the cajun prawns (I'm more apt to think it's the latter) from Sweet Mother's Cafe. Sure the food tasted good at the time, but the aftermath kind of put a damper into things.
Anyhow, we didn't leave Wellington until 9:40am. But that wasn't before I made two calls to the landowners involving Mangatiti Falls. We were supposed to do it today, but for one reason or another, my emails weren't promptly answered (my only successful attempt was just three days ago), and the landowners themselves never responded electronically or picked up their phones. I guess they too were also on holiday like most of the Kiwis across the country, and we just had to consider this excursion a miss. On the bright side, my hives and heartburn seemed to have diminished.
So with our day suddenly significantly freed up to do just Waihi Falls, we headed north along SH1 before heading northeast on the SH57. Eventually, we made it to Palmerston North, where we checked into the Chancellor Motor Lodge at 11:30am (thankfully there was a room available at that time of day), got settled, and then left at 12:15pm.
From that point, we drove east through the Manawatu Gorge, amongst some pretty heavy traffic (relative to New Zealand standards and nothing like we had seen in the South Island). By 12:40pm, we arrived at Woodville, where we sought a little more guidance regarding which of the routes would be best to get to Waihi Falls.
The lady there told me that it was best to go through Dannevirke because the roads going that way were almost all sealed. So we went ahead and did that.
When we got to Dannevirke, there wasn't any noticeable signs suggesting which road to take to get to the falls. However, there was a sign indicating the Makirikiri Reserve so we went ahead and took that one. Eventually, that turned and joined Weber Road, where we turned right and followed this winding and hilly road through scenery of pretty much exclusively sheep paddocks and farms.
When the Nüvi
told me to turn right onto Oparae Road, I doubted it since I couldn't see any signs indicating I should take this road. So I kept going forward and eventually passed through the town of Weber some 6km further. Eventually, Weber Rd junctioned with Route 52, which I promptly took and followed it for several minutes before a signpost indicated the Waihi Falls on the right going into Horoeka Road.
At this point, the road was unsealed and I followed its twisting path eventually joining up with the Waihi Valley Road (also unsealed). After several more minutes on its sinuous unsealed stretch, I finally junctioned with the Waihi Falls Road. But that wasn't before I saw on our GPS that I had pretty much made a spiral and I probably should've taken the Oparae Road to begin with.
Eventually, we arrived at the Waihi Falls Sceic Reserve at 2pm. A sign at the picnic shelter stated that the reserve was established in 1899, making it the first reserve in the Hawke's Bay area. Another couple in a red truck showed up after we had arrived.
So we went down along the short 10-minute track, which was steep towards the bottom, and it was quite slippery given the loose gravel. I wondered how difficult that last stretch would be had it been raining and muddy.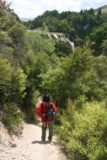 Anyways, we could see that this 25m falls was indeed quite scenic. It was almost like a shorter version of Whangarei Falls for given the Waihi River's current flow, it was segmenting into parallel columns.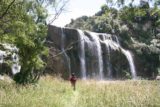 The two other folks that were here turned out to be locals from around here. The guy said he visited this falls 20 years ago, and that a few years ago, some guy broke his back trying to kayak over this falls.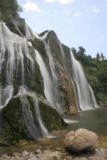 After the locals had left, we got closer to the falls and took profile shots of it. That lasted until we started to notice sliding pebbles and rocks coming down the cliff nearby. That caused us to bolt from that spot since we feared the unstable cliffs the signs warned us against up at the top might result in a little landslide that might engulf us.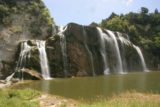 Anyways, this falls was way off the tourist radar, and even LP
and DK
doesn't cover the Northern Tararua area like this. Not much further south, we had hoped to see the Mangatiti Falls, but I guess it just wasn't meant to be. Still, we enjoyed this falls, and pretty much had it to ourselves after the locals had left.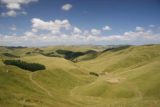 We returned to the car at 2:45pm. Then, learning from past mistakes, I took the first major right turn after exiting the Waihi Falls Road and followed its road (which was initially unsealed before slowly becoming more and more sealed) towards the Waihi Valley Road, and then eventually the Oparae Road.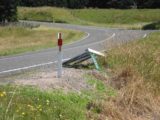 When we returned to the Weber Road at 3:10pm, we noticed that the sign pointing the way to Waihi Falls had been blown over. No wonder why we missed it the first time!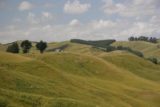 Then, we were back on the Weber Road headed northwest to Dannevirke. Eventually, we arrived in the town centre along Miller Street though we could've gone out the way we came in on Makirikiri Road near the Dannevirke town and bypassed the town centre altogether.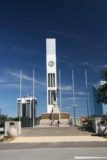 By 4:25pm, we returned to Palmerston North. There, Julie got to satisfy yet another gelato craving as we conversed with one of the Kiwi workers at the cafe. Then, we walked around looking for "Sweet As" shirts just to show the folks back home that we're hip to the Kiwi lingo (though I swear this wasn't used as much or at all five years ago). There wasn't a whole lot going on in town and it seemed like most of the places were either closing or closed. I guess "Dead As" was probably a more appropriate Kiwi saying to describe our experience in this town.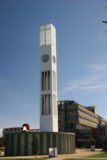 After paying the shopping area and then The Square a brief visit in the middle of town, we headed back to the car, and returned to the motel at 5:20pm. We eventually headed out for dinner at 6:45pm, but again most of our first choices around The Square were closed. I guess our sentiment that this place was rather "Dead As" was challenged when we happened to witness some hideous shouting of two Maori gangs hurling insults and even bottles at each other. It looked like some Maori females from a block away started heading in the direction of the commotion to join the fray. Even one guy chased a car that was leaving the hullabaloo. Shortly thereafter, some cops showed up and handcuffed two Maori girls.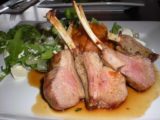 Well after leaving this commotion, we continued our restaurant hunt. At least this place called Barista was open, and I had some decent rack of lamb but Julie wasn't all that excited about her duck confit (should've gotten the aged rib-eye steak, which was another thing this restaurant won an award for according to the decorations on the wall).
And so ended a long driving day that saw us miss the Mangatiti Falls but hitting on the Waihi Falls. All in a day's work.
Day 18: THE FESTIVAL OF LIGHTS
We awoke at 6:15am, and after our now routine process of freshening up, packing, and eating breakfast, we were out the door by 8am.
I wasn't quite sure how to tackle today knowing that I'm supposed to see Curtis Falls and Bells Falls in the next two days. But for some strange reason, I had this idea that perhaps we should make a detour to see Raukawa Falls since we now have favorable light (unlike the last time we were here when the light was against us late in the afternoon).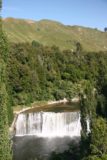 So it took a little less than an hour to get from Palmerston North to Wanganui, but then the detour northwards on the SH4 in the direction of Raetihi lasted roughly 45 minutes. It was consistent with what was said in our book, but I get the sense that 60 minutes would be a more comfortable pace. The winding roads certainly made the detour much longer than anticipated, and I began to wonder whether we should've passed on this.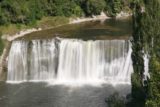 Anyways, we were committed. And mercifully by 9:45am, we were at the familiar parking bay for the waterfall lookout. And as expected, the light was in the right place and there was even a faint rainbow within the aerated water of the falls.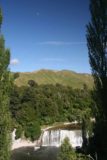 By 9:55am, we headed back southwards to continue the long drive. I actually contemplated continuing northwards to Tongariro National Park and maybe try a waterfall that was suggested by a DoC employee who saw our website and suggested we check it out. Unfortunately, it was 4-5 hours of walking, and it was kind of pushing it considering we had to get to New Plymouth by tonight as well.
Anyways, the sunny weather in Wanganui eventually gave way to overcast skies when we got closer to Mt Taranaki. We could easily see that this volcano was literally a cloud magnet.
By 12:05pm, we arrived in Stratford. We took a lunch break here and inquired about the feasibility of Bells Falls. I got the sense that if I acted quickly, we might be able to do it today, but I knew it might be a stretch. Unfortunately, if we wait until tomorrow, the weather is expected to be rainy with gale force winds possibly up to 70km/h.
Anyways, at 1pm we continued northwards and eventually by 1:30pm, we checked into the Coronation Court Motel in New Plymouth. This place was quite dated, and we continued to get that sense that the Golden Chain Motels really were substandard compared to most of the motels we booked ourselves. In any case, we're here for two nights, so we'll have to suck it up.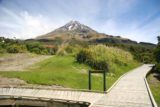 At 1:40pm, we headed back out on the road and headed to the North Egmont Visitor Centre. We got there at 2:05pm, and to our surprise, Mt Egmont showed its peak! In fact, the weather around here was beautiful. It was totally contrasting the overcast and dreary conditions back around the towns at the base of the mountain.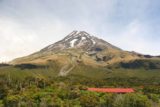 So we were busy taking photos and trying to take advantage of the rare occurrence. However, another inquiry at the Visitor Centre regarding Bells Falls resulted in discouragement in that we had to expect this trek would take 6-8 hours total, and leaving now would be a bit late.
So despite the fact that the weather is expected to be crummy tomorrow, we decided not to do the Bells Falls and headed towards Dawson Falls. We decided against doing the 2-hour excursion to Curtis Falls since the weather seemed to be fine and I had thought that perhaps driving the Surf Highway might yield additional views of the mountain while also yielding coastal views.
At 2:35pm, we left North Egmont and headed back to Stratford. From there, we took the Opunake Road (actually Cecilia Road in Stratford), and then turned north onto Manaia Road, which still narrowed into a nearly 1.5-lane twisting bush flanked road up to the Dawson Falls Visitor Centre.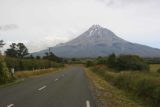 By 3:40pm, we were at the car park for Dawson Falls. And after descending the stairs to the base of this 16.5m waterfall, we noticed that the second plume seemed to be missing, and this gave the falls a bit of an asymmetric look. Plus, the kids around the falls refused to move so we had to use them as subjects and forget about any nature shots we wanted to take.
At 4:05pm, we were back at the car, and then we continued south to Manaia before driving around the western base of Mt Egmont through Opunake along the Surf Highway.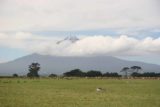 By 5:55pm, we finally returned to New Plymouth, but our nearly two-hour driving excursion was rather disappointing in hindsight as the Surf Highway was never really close to the coast (we had to take some detours for that), and the views of the volcano were covered by low clouds except for a small area west of Manaia. Perhaps we should've done the Curtis Falls instead.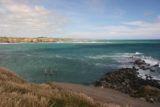 We ate at a restaurant by the Puke Ariki visitor centre and museum, where we had some decent Italian seafood.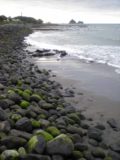 And after a quick look at the Coastal Walkway and a little grocery shopping for the remaining days of our North Island stint, we returned to our motel at 7:45pm.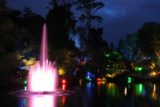 At 9pm, we left the motel again. This time, we were headed for the nearby Pukekura Park for the Festival of Lights, which we were made aware of by all the TSB Bank advertisements as well as our LP guide.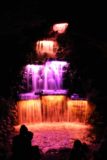 We entered through the Rogan Street entrance not quite sure which entrance we were supposed to take. But with all the cars parked on the lawn and seemingly in areas that probably wouldn't otherwise be sanctioned during the day, we figured we were in the right place.
As we got closer to the action, we could hear the music of Lionel Ritchie performed by a local band beckoning us closer. Along the way, we followed crowds of people going in both directions. And a lit up lake with boats on it as well as a lit up waterfall near the music caught our attention.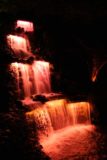 Beyond the waterfall, we got right into the action where hoards of people were sitting on the lawn in front of a stage of performers. We kept going thinking the music and festivities would continue so we headed towards another pond, but this one had a lit up fountain and was flanked by fluorescent lights of varying colors lighting up other foliage.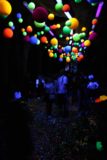 By the time we got to the other side of the lake, we noticed the concert was done. And all of the sudden, the atmosphere was gone. But the lighting still dictated the mood from that of festivities towards something more out of a Knott's Scary Farm without the actors and mazes. We noticed that people wearing white were glowing with the fluorescent lighting, but our hiking clothes did no such thing.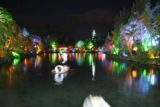 So we explored the rest of the park seeing glowing balls, a glowing fernery, some fake glow worms, and even a very bright bridge allowing us to check out boaters being mischievous on the lake.
And with that, we filed out of the park with the rest of the crowds including families. We eventually got back to our car and returned to our motel at 10:20pm. We were glad we seized the moment and at least did this to round out our day. It was almost reminiscent of the atmosphere experienced during Tas Dance at the Cataract Gorge in Launceston, Tasmania.
For the weather tomorrow was predicted to be rainy, and I'm sure that might put a damper into our plans to do some long hikes to visit other waterfalls we had not seen before in the Taranaki area. I guess we'll have to see how all this plays out…
Day 19: WORTH IT?
With all the early wake-ups and several hours per day of driving, I once again slept in. This time, both Julie and I awoke at 8:30am. And I knew with each hour that has passed this morning, the likelihood of a Bells Falls all-day trek was becoming less and less.
Today's forecast was supposed to be showery with possible gales up to 70km/h. And a look out the window at least confirmed that rain was possible as clouds were hovered over us (though this wasn't anything new since Mt Taranaki was a cloud magnet). Thus, I gave up on Bells Falls and settled for Curtis Falls knowing that it was a rather dimunitive waterfall for the amount of trouble to get to it.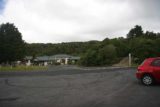 We continued on with the usual round of breakfast and freshening up, and by 10:10am, we were out the door and finally starting the day's activities.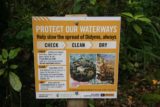 After returning to Stratford and heading west on Pembroke Road towards the eastern slopes of Mt Egmont (or Mt Taranaki), we got to the Mountain House at 10:50am. The Curtis Falls start was right across the road heading into the bush. The partly sunny skies was actually a bit of a surprise considering the weather forecast.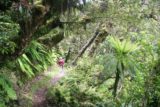 So we went ahead and got right onto the track. The start of it was full of flies buzzing around. There were stoat traps every 100m or so according to a sign, and we noticed that there were eggs (looked like chicken eggs) placed in them to entice the pests. In any case, either some of the traps had dead stoats or yolk flowing out of broken eggs; hence the flies.
The track descended steeply down several steps. The first trail junction was only a few steps down, but it was well signed and we continued the descent down to a dry bouldery stream. Immediately from there, the trail ascended some metal steps before flattening out.
The trail then stayed flat for another few minutes before descending and ascending a few minor gullies with one-sided bridges and some slip-resistant footing. When we could see the noticeably wide Curtis Creek deep down below, we made a very long and very steep descent right down to the stream. All this up-and-down was worrying because we knew we had to do it again on the way back out, and that made up start to question whether Curtis Falls was really worth all this effort or not.
A reassuring sign pointed to our left to continue on to the Curtis Falls. From here, it was a boulder scramble. In a few places, it was a bit awkward as the track was not defined at this point. A tricky stream crossing (at least to try to minimize the likelihood of drenching our feet) was required, but within another ten minutes, we were right in front of the Curtis Falls.
It was too bad clouds have covered the peak of Mt Egmont because this boulder scramble could've been even more scenic had we been able to see the conical peak of the volcano during this stretch.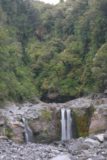 But as it was, we had to settle for an 8m waterfall, and it was an awful lot of work to get to such a puny waterfall. But then again, sometimes it's more about the scenery and the nature as opposed to the waterfall itself. After all, we were the only ones on this track, and the more gaudy scenic waterfalls tended to attract crowds. I guess there's always a trade-off between peace and tranquility versus nice photos and a little chaos from zoo-like atmosphere of the tourist crush.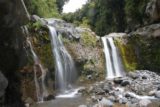 So was this waterfall worth it?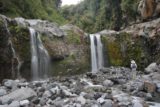 I guess it really depends on your mood. I still wished I could've done Bells Falls, but it just wasn't meant to be today. Perhaps the difficulty of the taxing and hilly 6-8 hour hike that's more typically done as an overnight hike had something to do with it.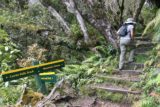 At 1:15pm, we were finally back at the car. Our calves were burning and we were sweating from all the up-and-down walking. But now with a whole afternoon left, we decided at that moment to give Mt Damper Falls a try again. I guess it'd fill the afternoon, and it'd be interesting to see how much has changed since our last visit five years ago.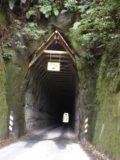 So we proceeded to drive the SH43 (aka the Forgotten World Highway), and like before, it was a very twisty and narrow road leading through the Republic of Whangamoana (yep, that's right, it's a republic and not a town) and eventually through the Moki Tunnel before getting to the Ohura Road turnoff.
From there, we got onto the Ohura Road and the first thing I noticed was that the road was sealed. This made me wonder whether SH43 was also completely sealed now as well.
I knew from last time that it wasn't sealed and it was a long bumpy ride to get to the trailhead. So given this bit of modernization, the unsealed bit of road wasn't until the Mangapapa Road for the last five minutes or so before the car park for the falls (which we got to at 3:10pm).
There were already three parked vehicles here, which was already busier than last time. Anyways, we also noticed there was a Heritage Trail sign (something that wasn't there before), but the start of the walk looked awfully familiar.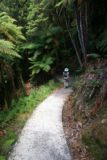 But when we got into the conservation forest across the bridge over the stream that ultimately would go over the falls, we immediately noticed that the path was gravelly. We recalled the last time that this path was more muddier and slippery. Chalk this up to another round of improving infrastructure.
After passing by three parties going the other way (probably belonging to those cars already parked here), we eventually got to the final stairs leading down to the overlook of the Mt Damper Falls. There was even a scrambling path (which I'm sure wasn't there before) leading to a view of that other waterfall on the way down.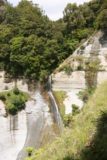 Mt Damper Falls didn't look quite as thick as five years ago, but it was still a very attractive 74m falls. The light was somewhat against us this time of day, but it was still scenic though the winds here tended to bend the plume of the falls making it curve with it.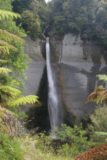 After having our fill of this falls, we got back to the car at 4pm. Then, we trusted the GPS to tell us the fastest way to get back to New Plymouth. And to our surprise, it had us take the Okau Road (a path we hadn't taken before).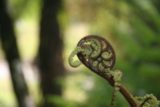 So we obliged by continuing on the similarly lengthed unsealed road before getting back to sealed road. Eventually, we'd reach the SH3 where there was a very well-marked sign for Mt Damper Falls 27km away from this highway. And after zooming our way southwest back to New Plymouth, we were able to have dinner at the Seafood on the Beach takeaway place at 5:30pm.
This place that has won some regional award in 2007 for the best chips (fries) in town was quite busy after we took our order. But knowing that fried stuff was very bad, we opted for grilled fish, pan-seared scallops, and some fish curry considering the proprietors were Bangaleshi.
The curry was excellent, and the seafood was fresh. Even though it wasn't the fush 'n chups (I mean fish 'n chips) they were known for, we still thought the food we had was good and reasonably priced. Who knew?
By 6:40pm, we were back at our motel, which seemed much busier than yesterday. Some rowdy kids were making noise upstairs, and that didn't bode well for us being able to sleep early and wake-up early for our long day tomorrow. Funny how such calamities happen at the worst times…
Day 20: WATERFALLING THE OLD WAY
Today we anticipated a very busy day so we started by waking up at 4am. Then, we skipped our usual breakfast so we could load up the car and get moving at 4:40am.
It was windy outside as well as dark. This early day really reminded me of how we did waterfalling five years ago where we would cram our days with as many waterfall excursions as possible to maximize the amount of daylight available to us. I guess it was kind of a trip down memory lane when I repeatedly did this for our book project
.
So we got going and headed northeast on SH3. With a mixture of curvy roads, big rig trucks going the other way in high beams, and myself going in and out of high beam, we tried to maintain a reasonable speed without careening into oncoming traffic from going into sharp blind turns too fast.
I'm sure this stretch of road would be quite scenic and offer some nice walks (like the Whitecliffs Walkway and the Three Sisters), but it was still too dark. Eventually at around 6am, we got to a point where we at least didn't need the high beam anymore. Another fifteen minutes later, we turned off on a twisty rural road knowing that we had to cut across to SH4 to get to Omaru Falls.
Omaru Falls was considered a big miss on our last trip as far as I'm concerned. I remembered seeing some sign indicating "Scenic Falls 300m" while motoring between Whakapapa Village and Hamilton after finishing the Tongariro Crossing. We weren't sure what falls the sign was talking about so we ended up missing it.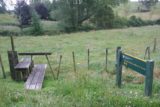 But some follow up research after the trip was over led me to this falls. And ever since that realization, it was always on my mind to visit this place in any future visit to Aotearoa.
Anyways, we eventually got to the somewhat not-so-well-signed turnoff for the falls (very easy to miss), then got to the well-signed car park at 6:50am. The little pulloff for the hike could probably take at least four cars.
So after getting our stuff, we climbed over the stile, followed some wooden sticks amidst a field of tall wet grass, then climbed over another stile to get into the conservation forest.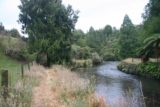 From there, the scenery changed from a paddock to a dense forest full of ferns and trees.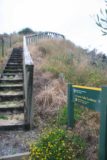 The forest canopy made the trail a little dark, but it was still enough light to navigate. What was hard to see were the spider webs getting into my face (I was the lead hiker). One of the webs must've had a spider on it because my left eye felt something a bit cold, and already suspected then that I must've gotten a spider in that eye. Hope it wasn't toxic, but my eye was itchy which got me worried.
Still, both of us trudged on. Considering the haste we were in, the hike seemed long so they weren't kidding about the 30 minutes each way. And once we got out of the main forest canopy, we crossed a single-person swinging bridge before walking along the boundary of the conservation forest and another paddocks.
At that point, we could see the stream more visibly. And there were even a few smaller waterfalls on the way.
But eventually we'd get right to the overlook with a nice top down view of the impressive Omaru Falls. And going off the memory of our Marokopa Falls visit, we figured this particular waterfall was a little taller but lacked the high flow and squarish shape. Nonetheless, we felt this waterfall was well worth the detour and hike.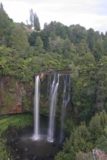 At 8am, we made it back to the car. Now, it was time to go see some glowworms since Julie wouldn't let me hear the end of it after missing the Te Anau Caves.
On the way north along SH4, we noticed that sign again saying "Scenic Falls 300m." And once again, we didn't stop for it because we couldn't see any such falls or some sign saying what the correct pullout or car park was. One thing was clear, however, was that this sign did not refer to the Omaru Falls. But in a strange ironic twist, if it wasn't for this sign, we would've never even known about the Omaru Falls since our miss five years ago based on that brown sign got me to look for waterfalls in this area. So even though the sign was for another waterfall, we ended up seeing a pretty nice falls five years after our initial trip. Not bad for a serendipitous catch.
By the way, it turned out that upon some post-trip research, the falls that was being referred to by that sign was for Madonna Falls. I'll guess we'll have to check it out for sure next time…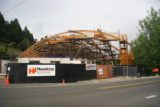 By 8:40am, we arrived at the Waitomo Caves, and the first thing we noticed was that there was a lot of reconstruction and renovation going on. Finally, Julie got to get here glowworms fix after giving me the guilt trip about not doing the Te Anau Caves. After paying for our tickets, we waited at the waiting area, which was a makeshift shelter with chairs. Some signs there explained what had happened regarding the renovation.
Basically, a fire on December 17, 2005 occurred and destroyed the main lobby. But when Julie thought about it, she wondered why there's still so much work to be done four years later. After all, we had seen larger places rebuilt in far less time, and it was almost as if there was some kind of dodgy contracting going on much like back at home where we had seen construction projects drag on for years with cost overruns and little progress.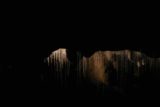 Anyways, our 9am tour began with only a half-dozen people, and since we were the first ones during the day, it was a very intimate tour. Unfortunately, we weren't allowed to take photos, but I did manage to sneak one in without flash when the Maori guide turned on some lights to show the glow worms with their long saliva-like strands which were supposed to catch insects attracted to the light.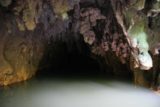 When we got into the boat at the end of the tour, we once again got to see the caverns glowing like constellations of glow worms. It was too bad there wasn't enough light to take any photos or any movies within the cavern. So there was no way we could somehow take this experience with us.
We once again had to make do with our mental images and a few token photographs taken outside the cave as well as that one photo I managed to sneak in of the glowworms with their salivary trap shone under light.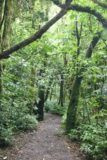 At 9:55am, we returned to our car and continued westward on Te Anga Road to Marokopa Falls; arriving at 10:30am. And after stopping at the familiar car park, we quickly hussled our way to the familiar lookout of the falls, and the falls was pretty much the way we had seen it five years ago.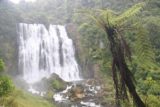 Being the seasoned waterfallers we were, we now looked at this falls with higher regard than five years ago. I'm sure this is going to shake up our Top 10 New Zealand Waterfalls list. Nonetheless, we took more photos and composed them in ways we hadn't done before. Then when another person showed up, that was our cue to leave and head back to the car.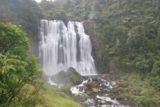 At 10:55am, we left the falls and a half-hour later, we arrived at the Huhu Cafe. We were lured by the promise of some kind of Maori food, but we learned that only their bread was the remaining offering of anything resembling the ethnic food. And even at that, it was really nothing more than bread that you could argue we no different than those you could buy anywhere in a grocery store.
I guess if we really wanted hangi food, we should've gone to Rotorua's Te Whakarewarewa where we could give it a go. We missed the hangi feast the first time around. But other than that, it seemed like it was real difficult to have something authentically Maori the way you might have say Hawaiian food at a lu'au.
At 12:10pm, we left the Huhu Cafe and proceeded north to Hamilton. Once in the city, I managed to fill up at a Caltex that happened to force you to pre-pay for the petrol. I think this was the first and only one so far on our trip where this was the case, but a sign there indicated that they've had a history of people driving off without paying, and that was a shame. Of course, we were totally used to it back at home where paying before you pump had always been the rule rather than the exception.
Next, we continued our drive eastwards in the direction of the Coromandel. Eventually, we got to Te Aroha where a straight-shot road left south from the town centre. The next waterfall excursion was a repeat visit to Wairere Falls, which was still another 25km south of town.
At 2:05pm, we made it to the fairly busy car park. Though I swore that Goodwin Road was a bit more sealed than I remembered it, but then again, it could merely be my memory not quite recalling the details accurately.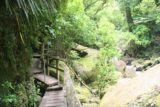 Julie opted to stay in the car as I made my move up to the lookout for the falls, which was roughly 45 minutes from here. And from the last experience, I knew it wouldn't be easy as I'd be going uphill quite relentlessly. Indeed, this was one waterfall where you had to earn your view.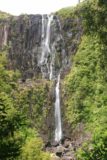 Eventually, I got back to that familiar overlook where the afternoon light was quite favorable for viewing the falls (unlike five years ago when we were kind of looking against the sun). This time the falls had a little less flow than before so the upper tier was actually wispier and even blowing in the wind. Sometimes it would blow upwards, but most of the time, it was swaying left to right and back with the winds.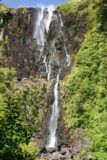 When I had my fill of the falls, I quickly descended down the trail. And when I made it almost to the bottom of the wooden stairs, that was when I heard Julie calling out to me. Apparently, she decided to make her way up to here, and I was half excited that she's up here to check out the falls, but at the same time, I was bumming that I have to climb back up the uphill trail to the overlook with her.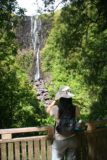 So both of us suffered our way up to the overlook and seized this opportunity to take more photos and movies of the falls. We both discussed that perhaps I was being too generous with its rating based on impressions from five years ago. And like we thought with Marokopa Falls, our Top 10 New Zealand Waterfalls list needs to be retooled.
By 3:50pm, we finally made it back to the car. Somehow the trail seemed a little bit different from five years ago (I'm sure they made it easier in spots), but perhaps my memory was just a bit fuzzy. On the way down, we saw a friendly hunter with a gun strapped to his back. Apparently, he was here to hunt for pests (I hope).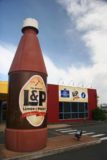 The drive continued from here to Paeroa. At 4:35pm, we arrived at a particular cafe with a large L&P bottle in front of it. Sure the whole Lemon & Paeroa drink was probably a gimmick, but I admit that we fell for this gimmick and made a stop here anyways. We figured we mind as well have one last go at L&P before not having it for a while when we leave New Zealand.
At 5pm, we entered the Kaharangake Gorge where a well-signed turnoff led us to a pullout with access to the Owharoa Falls. This was another waterfall we missed from our last visit to the country. Yet this time around, the afternoon sun was a bit against us.
Nonetheless, we took our photos and even had some fun checking out some local Maoris doing cliff dives off the middle of the falls.
At 5:25pm, we left the falls and continued driving all the way to Whangamata. And finally at 6:05pm, we arrived at La Dolce Vita Motel. After getting settled, we had ourselves a rather indulgent seafood dinner at the Rossini Cafe (it was about 9pm when we were done) before we finally called it a night.
But that wasn't before the motel proprietor came by with a phone in her hand telling us that we had a phone call for us. It happened to be Giorgio from the Villa Toscana Lodge, and through this conversation, we finally got a mutual understanding that we were going to meet them tomorrow. Even though they were busy as were we, we made it a point to see them in the morning in a bit of a reunion since our memorable wedding day at their lodge five years prior.
Day 21: THAT'S JUST WRONG
With last night's late dinner and sleep, the 6am wake-up was once again with a bit of effort. That morning was spent doing the usual routine of breakfast and packing while the leftover time was spent labeling photos.
We left Whangamata at 8:10am. The plan was to meet up with Giorgio and Margherita before 10am at their Villa Toscana Lodge in Whitianga. We really looked forward to it because we knew it would bring back a flood of memories of that wonderful day that was our wedding as well as the time we spent there in the palacial accommodation.
The winding roads were fairly quiet at this time of day, but it still wasn't until 9:50am when we made it from Whangamata to Whitianga. We followed our GPS right up to the familiar steep driveway leading right up to the front door of the property. As we pulled up, we noticed a young guy in a blue car with his grandma having that look like "what are those folks doing in our driveway?"
Well he was headed out, and we smiled at him. He probably didn't realizing that we saw him five years ago when he still had yet to reach puberty. Likewise, we saw the daughter who was watering the gardens. She said hi to us, and Julie mentioned to her that we saw her when she was little. Now, she had grown pretty tall. It was amazing how much had changed in five years.
At the front door, we were greeted by a couple of the workers. The head worker recognized us and had us go towards the dining room area where Giorgio saw us and gave us his charming Italian welcome.
After a few words exchanged between us regarding what each of us had been up to since we were last here, we then headed out to the patio area. But just before we were about to head outside, I heard someone say, "Ahem, excuse me."
When I looked over, there was Margherita smiling. And we embraced before Julie did likewise.
We all sat at the patio basking in the sun. Talking about various things like travel, kids, changes in the Whitianga area, and how Julie was the trendsetter at the Villa Toscana Lodge with the sea shell theme for the wedding decorations. Margherita even showed us a promotional DVD of their lodge where we could recognize many of the photos taken from our wedding and reception five years ago.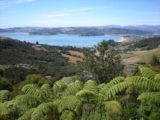 When we looked out on the familiar terrace, we took a few more photos so we could do a before and after comparison when we return home. Giorgio pointed out that much of the hills below us were developed where they were once mostly green foliage. I guess that was kind of consistent with the observation that many of the hills in the Coromandel were also denuded with tracts of deforestation, and this was all probably due to the rapid increase in development countrywide, but especially in this area.
It was too bad Giorgio had to leave for Tairua for a food and wine festival. He had to leave at 11am, but it was so easy to stay in the moment and enjoy each others' company once again. And before we knew it, the time flew and we ended up leaving at around 11:25am. I really hoped Giorgio and his son could make it to Tairua even though they were probably going to be late.
As we left Whitianga and headed to the Cathedral Cove, we were passed by a cop with his siren flashing. We were also being followed by Giorgio and his son. En route to Cathedral Cove, we heard on the radio that there had been a bad accident in Tairua and that traffic may be held up for two hours. This might be why that cop passed us and others so urgently. This might also be bad news for Giorgio and his son in getting to the food and wine festival in Tairua.
At around 11:50am, we reached the familiar Cathedral Cove. However, what wasn't so familiar was that the parking lot was crowded, and there were even cars parked along the narrow residential road even obstructing the flow of traffic. We never remembered parking being this hard to find five years ago. But fortunately, we decided to go all the way to the start of Hahei town and do the park and ride for $2 NZD per person. That was actually a pretty good idea, we thought.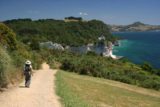 Anyways, we got back to the Cathedral Cove by bus at noon. Under the beautiful skies, we immediately proceeded to do the roughly 45-minute walk to the picturesque sea arch itself.
There were numerous people (mostly young beachgoers) and there was quite a bit of that American accent (more like Californian) from folks like us who were from California. And I guess with this type of atmosphere of visitors from the States as well as many parts of the rest of the world, it certainly felt much busier than we remembered it. There were even sounds of airplanes flying as well as many boats. Definitely more commercialized.
Eventually, we got to the Cathedral Cove itself where the beach before entering the archway was quite busy. When we saw the arch itself, we noticed some signs and wirings restricting access only along a narrow walkway. There were fallen rocks recently, which prompted this latest development.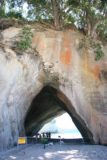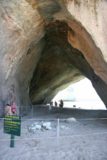 As we checked out the other side, it was still busy there too. High tide was coming in as crossing the back end of the cove required getting wet. I'm sure it wouldn't be much longer before crossing the arch without wading or swimming would be possible.
Before we headed back up the stairs and back along the 45-minute track to the car park, we finally noticed a drink stand right on the beach.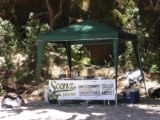 So this was what the radio was talking about.
Apparently, someone licensed this guy to make money by selling stuff right on this once naturesque and pristine beach.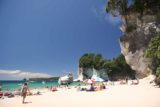 "This is so wrong," said Julie to me. Even Margherita wasn't happy about this development when we spoke earlier this morning. Indeed, this seemed to be the confirmation for us that even a place like New Zealand, which we once thought of as a progressive and very green destination, is not immune to the scourge of greed and overdevelopment. Certainly Cathedral Cove five years prior was better than it is now.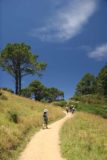 At 2pm, we got back to the car. From there, we returned to Whitianga in the hopes of perhaps rekindling more moments from back in memory lane at this place called The Fireplace, which was the site of our rehearsal dinner. Unfortunately, at 2:50pm, we saw that The Fireplace was no longer there.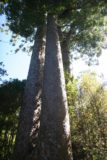 So we got a couple of burgers as takeaways before we headed out of Whitianga and across the 309 road, which was a road I wish we had taken five years ago to find the Waiau Falls (but somehow managed to miss it completely on that trip).
We left at 3:15pm, but it wasn't until around 4:10pm before we finally found the proper car park for the Waiau Falls. There was a Waiau Falls Scenic Reserve sign en route, which made me think there was a trail near that sign and was very misleading. I even investigated a Kauri Grove trail, which yielded no waterfalls, but did yield a sighting of the so-called Siamese Kauris.
Anyways, at the correct spot, we saw a busy scene of both tourists and Maoris alike swimming around the dimunitive 5m falls. But with the vulgar graffiti on the sign and some evidence of broken glass (i.e. past break-ins), Julie stayed at the car to ensure no one does likewise to our car full of stuff.
Speaking of the vulgar graffiti, I guess that was another glaring thing we noticed on this trip that wasn't so apparent five years ago.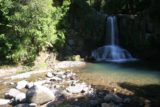 Apparently, there's some anti-DoC backlash and I suspect it has to do with land rights. It's kind of a familiar sentiment what with locals protesting government actions to preserve land thinking it's nothing more than a governmental land grab. I know back at home, there were fierce battles waged against government by Alaskans as well as by those in the Jackson Hole of Wyoming.
At 4:40pm, we finally left the Waiau Falls and proceeded to return to Auckland.
The drive was long and winding, and it was made longer by a line of trucks hauling boats refusing to use slow vehicle bays.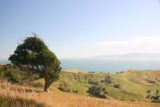 It wasn't until 7:25pm when we were within the city limits of Auckland and arrived at the One Tree Hill. Here, it was cold and breezy despite the late afternoon sun. But the 360 degree views were quite a way to get a sense of the scale of the city and its neighboring harbors. Even the Sky Tower was sticking up out of the concrete jungle below.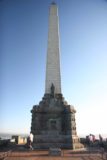 Centered right at the top of this hill was an imposing obelisk structure where even my wide angle lens could barely bring the whole thing into one frame. We didn't do much more concerted reading or any additional insight as to what the significance of the obelisk and memorial was.
However, we did read about why this place was called One Tree Hill and it had nothing to do with that WB
show that Julie likes to watch. Apparently, there used to be a lone tree that grew on this hill that was native. But someone had this idea to cut it down and put in a different non-native tree. And since then, locals have cut that down in protest until the original species of tree was put back again.
So now sits a stump where that one tree was supposed to have been. I guess the more appropriate name now is more like One Stump Hill.
Ten minutes later, we left the One Tree Hill and headed towards the City Centre Hotel. It was the same place where we stayed at five years ago.
By 8:25pm, we arrived at our destination, and the car park arrangements as well as the hotel lobby brought back some memories of what it was like back then. It's funny how our memories work where some of the slightest triggers of familiarity all of the sudden brings back a flood of moments recalled from our past.
Once we got settled, we left the hotel to explore the city for a bit even if it was a little late at 9pm. We had some Thai food before checking out the Sky Tower, and then the Market Square near Prince's Wharf.
Even though the walking for four blocks to get down here from the Sky Tower seemed dicey as the city seemed kind of dead, it wasn't until we finally found the Market Square did we see the only pocket of the city that seemed to still be alive and kicking.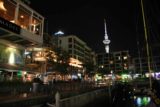 Sure it was mostly young Kiwis out and about on a Saturday night dancing, getting drunk, and socializing while dressed to impress, but we finally found somewhere that had some youthful energy besides Queenstown. However, we did hear some snickers and snide remarks as some of them walked past us and mentioned "Tourists…"
Maybe it was my big camera or that I was still in hiking clothes. I guess I should try to blend in more on our last night in the country tomorrow night…
Day 22: THE LAST HURRAH
We awoke at 7:30am knowing that today was going to be the last day of sightseeing, but that we weren't going to do any extensive driving beyond the Greater Auckland area.
The City Central Hotel had neither a microwave nor a bowl so I couldn't have oatmeal. However, we did manage to finish Julie's rice krispies and our soy milk.
By 9:15am, we left towards the Waitakere Ranges. We were headed to Kitekite Falls. Five years ago, it was only I who did this walk while Julie was with our photographer Suzanna in her suburbian Auckland studio selecting wedding photos for the photo album.
So it would be pretty cool to share this experience with Julie this time around.
En route to the Waitakeres, we did some last minute grocery shopping just so we can have fruits for this last day.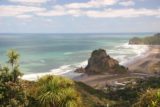 Afterwards, much of the drive was familiar and brought back memories of the last time I did it. We did manage to stop at a familiar overlook of Piha Beach where we could see Lions Rock and the Piha township nearby. It was strange to see a formal paved pullout with a wooden railing this time around. Last time, it was merely the front of a driveway with no other infrastructure suggesting it was a valid lookout. Still, the viewpoint was pretty good.
So we continued onwards on the descent and ended up back at the Glenesk Car Park. There were lots of cars already parked here, and we ended up parking at one of the last spots left at the spillover car park. This was markedly different from the last time where I was only one of a few cars here. We actually got one of the last spots to "comfortably" park in before people had to start parking on the road or partially obstruct traffic.
Indeed, this place was definitely more popular than I remembered it, but then again, maybe that was because it was a gorgeous Sunday morning and there was some kind of performance going on at the beach.
At 11am, we started our walk. One thing we did notice this time around was that there was a grating with brush next to some spray gun. A sign here directed us to wash the underside of our boots with this chemical because Kauri trees were dying off due to some kind of thing called Kauri die-back.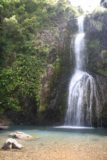 When we got to a fork on the trail where the right fork had a sign indicating the falls was 10 minutes away, we took the other fork since I hadn't done it previously.
And after crossing some bouldery stream, the track descended steeply up some steps before hugging a narrow ledge then finally descending to the familiar base of the falls. There were already at least a dozen or so people at the base. This was all despite the real crappy lighting as the sun was directly right in front of us wreaking havoc on our photos.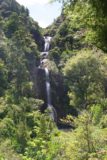 We didn't spend a whole lot of time down here due to the poor lighting so we crossed the stream at the base of the falls and climbed up the stairs on the opposite end. Then, we proceeded to walk the other side (the side I took on the previous trip). And we were making real good progress to the car park before we saw some Kiwis chilling out at a picnic table.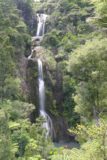 I didn't remember a picnic table on this track before so that caused me to stop in my tracks. Then, I turned around to see what they were seeing, and before us was a real nice view of the falls including the upper tiers that previously weren't visible from the base. In fact, I don't even remember this view being available the last time so perhaps they cut some trees to provide this view.
And as we were taking photos, we conversed with the Kiwis about our trip and about various things regarding New Zealand. When we were done chatting with these folks, another trio of Kiwis conversed with us. And before we knew it, another hour had passed before we continued on with our walk. I guess sometimes the friendliness of Kiwis can be rather infectious and engaging in spontaneous conversations with them comes with the territory.
By 12:30pm, we were back at the car.
Then, I had this brilliant idea (note the sarcasm) that we ought to check out the Piha Beach since we were here. But what I didn't bank on was getting caught in an all out traffic jam where there was virtually no parking and vehicular traffic hardly moved. And since we were going to quieter and better beaches in the Cook Islands starting tomorrow, we changed our minds and headed back up the Scenic Road.
As we were heading east, we saw trains of automobiles going the other way. I guess now we knew where most of Auckland was at. In fact, we were betting that many of the barhoppers from last night at the Market Square near the Princes Wharf were probably here today.
Next on the agenda was to check out the Fairy Falls. I was meaning to do this falls five years ago, but I didn't have the time. Unfortunately, I didn't know exactly where the car park for the falls was.
So we were driving around towards Bethells Beach when we stumbled upon a sign that said Falls Road. That seemed promising, but that drive seemed rather awkward as it passed through an active golf course. I'm sure we must've broken some golfers' concentrations as we criss-crossed through the course.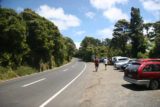 But by the time we reached the car park, I wasn't sure if we were in the right place. Fortunately, I picked up a brochure of the Walks in the Waitakeres and found out that we overshot Fairy Falls while on Scenic Drive.
So given that, we drove back to Scenic Drive in search of the proper car park. Eventually, we found the right car park that was signposted for the falls. Funny we didn't see that before, but then again, the signs were more obvious when we were heading south as opposed to north since the signs were north facing.
So we started the hike at 1:40pm. Once again, there were lots of cars here. We happened to park next to a pile of broken glass, which was worrisome considering break-ins in the country weren't all that uncommon. The sign said it was 45 minutes each way, which we didn't think was that bad.
And once again, there was another station early in the track where we had to spray our boots to try to save the Kauri trees. In this particular hike, we actually passed through several of them, which made this track a bit more memorable than I had anticipated.
However, the trail was going mostly downhill, and it became apparent this was going to be an upside-down hike. So it was going to be real tiring on the way back up. But even with that said, there were numerous people of all shapes, sizes, and ages going back out the other way so it couldn't be all that bad, right?
Well the descent seemed like it went on for quite a while. I was beginning to wonder if the signs saying it was 45 minutes each way were merely quoting the average (like 30 minutes down and twice that on the way back up).
But eventually, the track crossed the stream right above the very top of the falls. And from there, it descended steeply down steps providing views of the multi-tiered cascade. Then, the trail went by a big Kauri tree before crossing over the top of the bottommost tier and then descending some more to its base. And that was the turnaround point of the hike.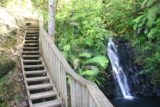 Like Kitekite Falls, this falls was also very popular as evidenced by the dozens of people already down here. Indeed, Kiwis love their outdoors on the weekends, especially in good weather like this.
By 3:10pm, we were back at the car all hot and sweaty. I'm sure we must've worked off many calories on this day so far. Though I was still quite amazed by the fact that the weather remained fine this day even though rain was predicted. I guess that was why the news did weather forecasts in fractions of days instead of whole day predictions because the latter tended to be inaccurate as we witnessed firsthand.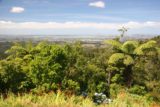 So now we drove out of the Waitakere Ranges and towards the Hunua Ranges for our last waterfall of the day. And since we didn't have lunch yet, Julie had this itch to try a McDonald's burger since she figured the grass-fed cow meat in this country would make for better food than the normal artery-clogging crap we get at the Mickie D's back at home (though Kiwis call them Macka's over here).
We put our book
to the test once again with this falls since it required a bit of navigating some rural suburban streets before getting to the proper roads leading to this place. And I'm glad to say that those directions were quite spot on.
At 4:40pm, we finally got to the Hunua Falls car park, which was very busy. The big car park was full, and there were even cars parked on a larger lawn area where some Maori families were having picnics while campervans were also parked there as well.
Once again, when we parked the car, we noticed some broken glass near our spot. I was detecting a pattern here. For it seemed like the closer to the city you were, the more likely you might be a victim of theft by some urban thugs.
In any case, this time I wasn't as time constrained with this waterfall as I was five years ago. So we were able to see the falls from all sorts of angles and positions.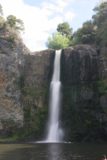 But one thing that was kind of sad was that last time there were lilypads, tulips, and reeds fronting the quiet plunge pool of the falls. But today, those things were gone, and in their place were a large grassy area people were sun bathing or drying off from a cold swim. Meanwhile, there were ducks fed by kids throwing bread at them.
There was definitely a more pronounced Maori presence here. It was quite a shock considering I was only one of two vehicles here around this time five years ago in November.
I even managed to find the masterpiece frame where you could photograph the falls through its empty interior as if you could create your own masterpiece. There was another one of these things at the Arataki Visitor Centre as well. I'm guessing this was popular with ARC (Auckland Regional Council) attractions.
By 5:20pm, we were back at the car, and we could finally call it an end to our relentless waterfalling in the country. By 6:15pm, we were back at the familiar hotel where we emptied out the rental car so we could do some final packing tomorrow morning before heading out to the airport.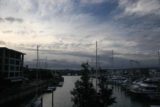 But before calling it a night, we walked back to the Market Square area by the Princes Wharf to have one last dining experience in Auckland. We ended up eating at some place called Kermadec where the food was quite good, and we basked in the moment as we realized this was going to be the last time we'd have fresh New Zealand food in the country.
Afterwards, we treated ourselves to multiple desserts at other establishments. So we ended up having sticky date pudding (which was very bad), banana flambee (interesting), and this gelato place (quite tasty, but we were saturated with desserts by this time).
It was well after 9pm by the time we were back in our room. And as expected, Auckland's city centre was pretty dead. I didn't know if this was symptomatic of the fact that most Kiwis were probably still out holidaying or if all the energy of the city was at the Market Square.
In any case, we were ready to wind down the Kiwi leg of our trip and look forward to the Cook Islands tomorrow to conclude our last hurrah of a trip before we expect major changes in our lives that would restrict our ability to travel the way we had been doing these last five years.
Indeed, the end of this trip was bittersweet, but all good things must come to an end, I guess. And that good thing was our extended honeymoon, which changed our lives in deeply profound ways. We're not sure if we'll ever have the opportunity to travel like this again, but we'll certainly be opportunistic about it…
Visitor Comments:
Got something you'd like to share or say to keep the conversation going? Feel free to leave a comment below...
No users have replied to the content on this page