The premise of this trip was to celebrate a combination of our wedding anniversary as well as Julie's birthday. It also coincided with a particularly busy time at work where this last-minute break was much needed.
However, little preparation went into this trip, and we wound up paying the price for it (in the form of regrets and a need to redo this trip if the opportunity ever presents itself again).
Anyways, this itinerary covered about a week-and-a-half in the French territory of the islands of New Caledonia.
Here's a brief summary of what we managed to do on this trip…
Trip Highlights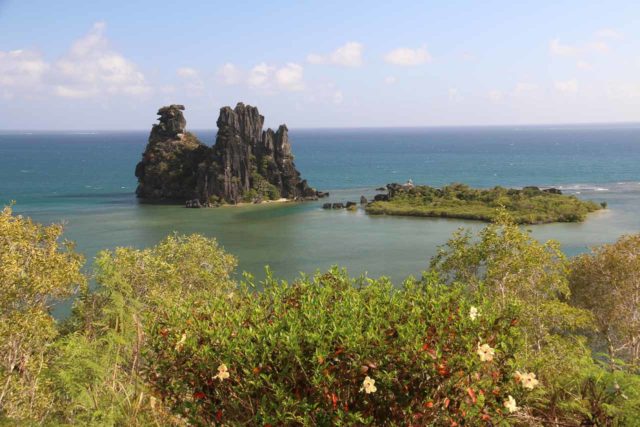 Hienghene – this impressive formation jutting right out of the water off the northeastern coast of Noumea captivated us with roadside photo ops of it being juxtaposed with a lagoon that is a signature attribute of islands throughout the South Pacific.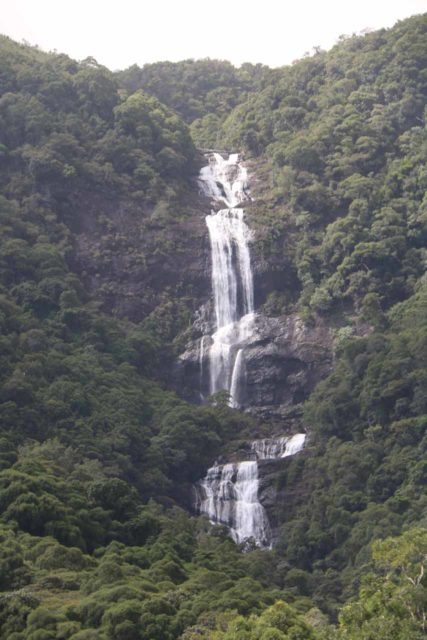 Cascade de Tao – of all the waterfalls we were able to see on our New Caledonia trip, this was by far the most impressive. We did a hike to get closer to its base, but I regret not finishing the job by getting all the way to its plunge pool…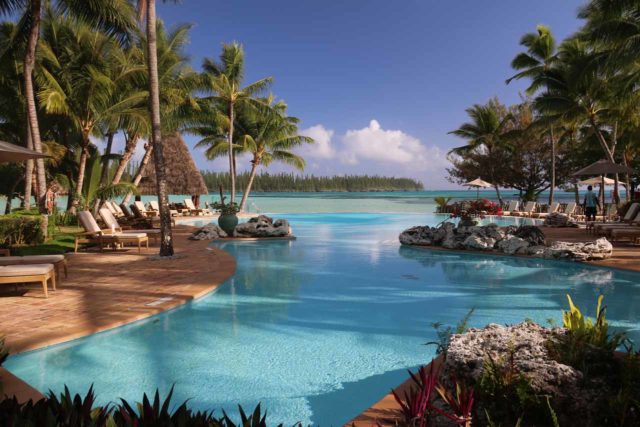 Ile des Pins – the main highlight of our New Caledonia trip was the Ile des Pins (The isle of pines). Not only did it possess gorgeous lagoon colors and decent snorkeling, but it was one of the few places in the world where pine trees actually thrive in a tropical island! We also lived it up at the Le Meridien for that luxurious couples retreat that reminded us of some of the resort experiences we had on our first visit to Tahiti nearly 12 years prior to this trip…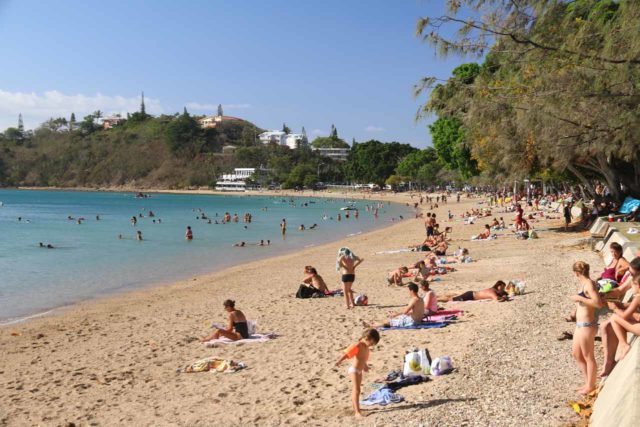 Noumea – contrasting the romantic and secluded feel of Ile des Pins, Noumea (the main city of New Caledonia) featured a more festive vibe. During our visit, there was a windsurfing contest, lots of street stalls, kitesurfers, and sun bathers from all over the world. We definitely felt the energy of the place.
[expand title="MORE" swaptitle="LESS" trigpos="below"]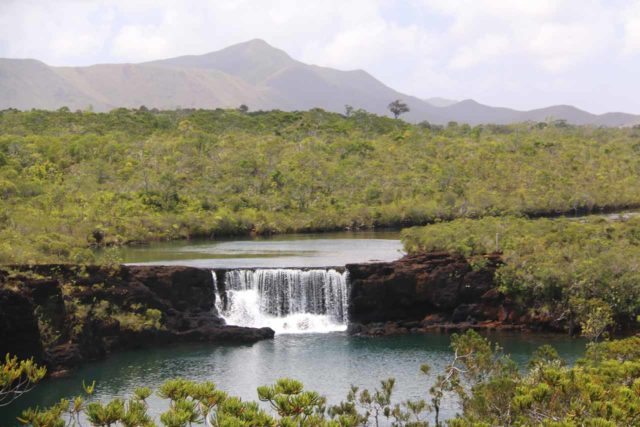 Chute de la Madeleine – this waterfall was our excuse to explore the surprisingly remote southeastern part of the main island (east of Noumea), where the tropical island feel took on a more reddish tint as if we were somehow transported to the Outback of Australia!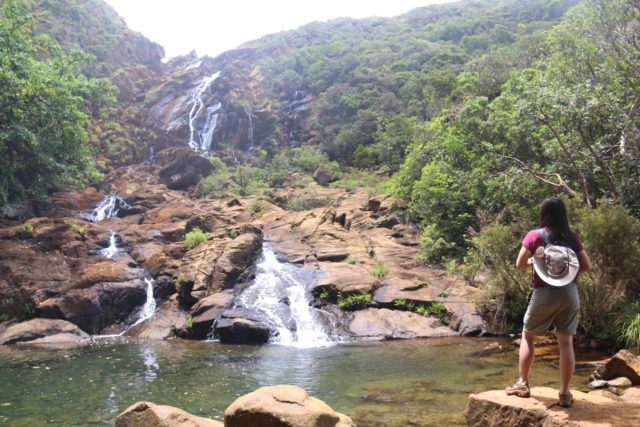 Cascade de Wadiana – this was the last waterfall of our New Caledonia trip, but it was an impressive and easy-to-visit roadside attraction. The catch was that it sat on the quiet southern side of the main island, which meant we had to allow extra time to get to it given the poor shape of the road and the unsightly mine just west of here.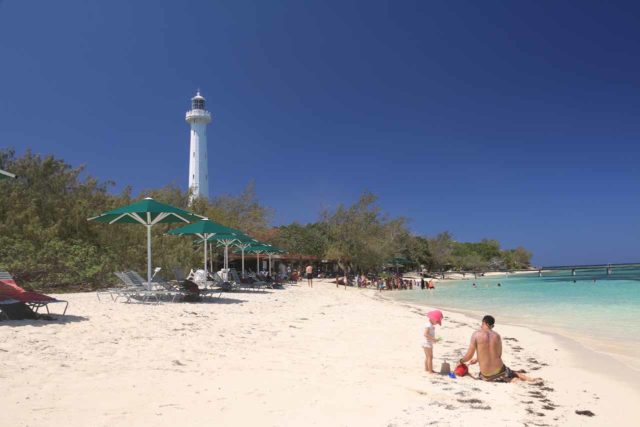 Amedee Island – we took a day trip from Noumea out to this beautiful sandy-beach island, where we spent a relaxing day enjoying the calm beach and the bountiful island seafood. Meanwhile, our snorkeling efforts yielded sightings of leatherneck turtles as well as giant clams. However, the island also housed plenty of yellow-black banded poisonous snakes (that can also swim) so they were always on our minds when we were there.
[/expand]
Trip Advice
I'm usually keen on visiting the South Pacific at the start of the Dry Season (which coincides with around the month of May). However, since our personal milestone dates happen to fall in November, I opened my mind to a visit at the end of the Dry Season (and start of the Wet).
Here's a quick summary of some additional advice or lessons learned…
Prepare and Plan For Your Trip BEFORE You Go: Because of a lot of stuff going on at work, I kind of took for granted that we were in some South Pacific Island and waterfalling shouldn't be difficult since there wouldn't be that many to hunt down anyways. However, after the trip was over, I left with many regrets about what might have been had I been more prepared. In other words, I didn't print out pictures of each attraction, and I only realized when it was too late that I didn't experience the waterfalls that we were targeting (at least not in the way we should have). This happened for Cascade de Tao (didn't finish the hike to its base), and we missed Cascade de Ba and Cascade de Colnett completely.
Good Weather Even though the historical averages would suggest that late November was the start of the Wet Season, this trip showed us that we were still getting sunny skies which brought out the colors of the lagoons. While we did get some rain on this trip, they were of the short, passing variety.
Indeed, this experience opened my mind for more South Pacific trips this month instead of my mental preference of May (the start of the Dry Season).
Off-peak Season Rates Apparently, this month was also in the shoulder season between the Summer (or Winter for them) Dry Season and the end-of-the-year holiday. So while a visit to New Caledonia is not cheap, it also wasn't breaking the bank either.
Drier Waterfalls Since this is end of the Dry Season, only major waterfalls have a chance to remain flowing before being replenished by the Wet.
We still managed to witness at least three waterfalls still flowing well, but the remaining waterfalls either didn't flow well or they were hard to spot as a result. Of course, you do have to be cognizant that too much water can be a bad thing, too (i.e. flash floods, slippery conditions, etc.)
Travel Itinerary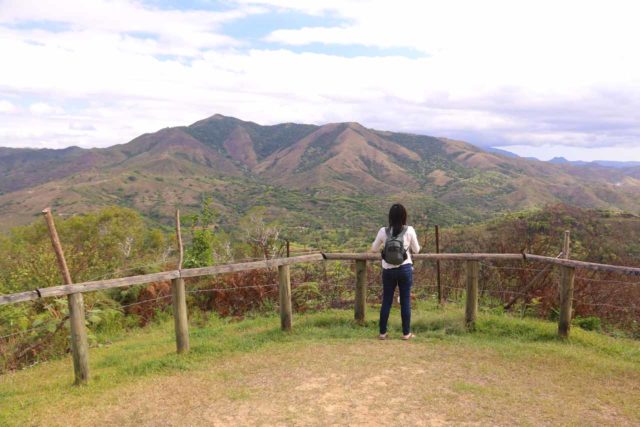 Days 1-3: Drive to Hienghene
Overnight: Koulnoue Village (Hienghene, New Caledonia)
New Caledonia is off-the-beaten-path for Americans, which this transit day(s) proved. We flew from LAX to Auckland, then caught a connecting flight to Noumea. From there, we rented a car and made the long drive to Hienghene to settle for the night.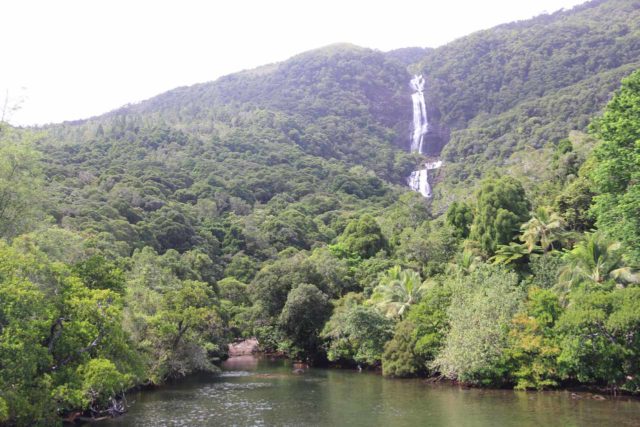 Overnight: Hotel Tieti (Poindimie, New Caledonia)
This was a long driving day because we had to go north to Cascade de Tao, which included an interesting ferry crossing. We also tried unsuccessfully to find the Cascade de Colnett. During this drive, we also checked out the views of Hienghene before arriving at Poindimie to unwind the afternoon.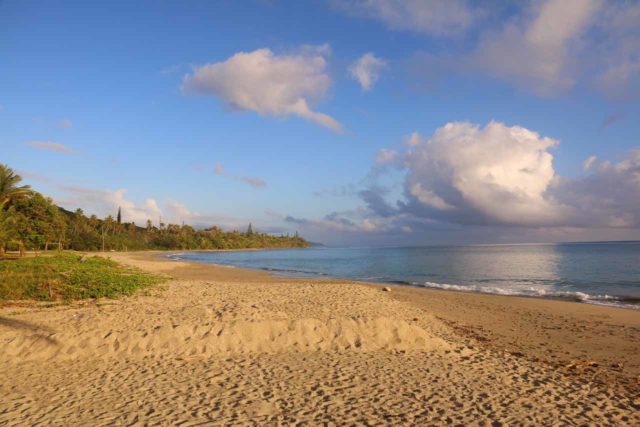 Day 5: Drive to the domestic airport, then fly to Ile des Pins
On this day, we made the long drive from Poindimie to the domestic airport east of Noumea. Along the way, we looked for the Cascade de Ba, but I somehow didn't think we were successful at finding it. Once we caught our flight, we then landed in Ile des Pins, where we spent the remainder of the late afternoon and evening doing some exploring before dinner.
[expand title="MORE" swaptitle="LESS" trigpos="below"]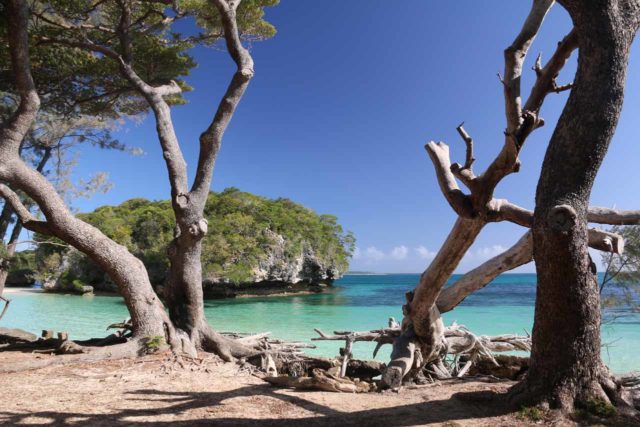 Days 6: Day at leisure on Ile des Pins
We had a full day at leisure on the Ile des Pins so we were able to visit the Baie d'Oro, snorkel at the Piscine Naturelle, check out Kuto Beach, snorkel some more at Kanumera Bay, visit the Vestige de Bagnes, and see the unusual monument at Baie de St Maurice.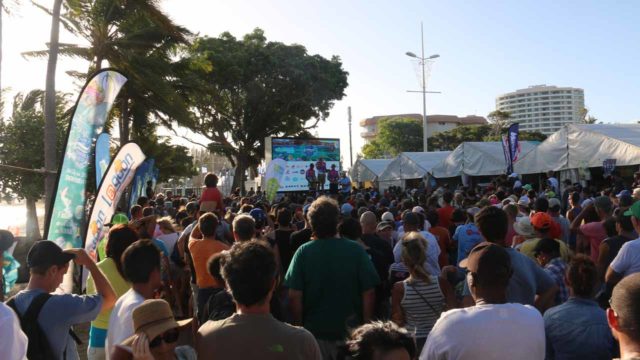 Day 7: Travel to Noumea
Overnight: Chateau Royal (Noumea, New Caledonia)
After leaving Ile des Pins to return to the main island, we then recovered our rental car and drove to Noumea. We then spent the better part of the day visiting Anse Vata, walking all the way to Baie des Citrons, and enjoying the festivities of the Air Waves 2015 windsurfing competition.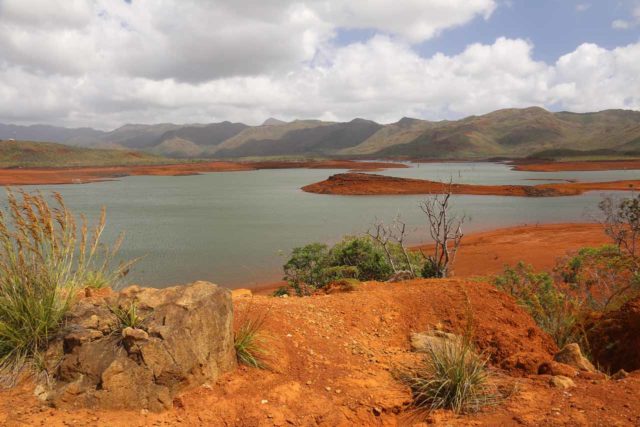 Day 8: Exploring the southeast
Overnight: Chateau Royal (Noumea, New Caledonia)
This was a driving day as we spent the entire day doing a loop drive to the island's southeast. Along the way, we took in Chute de la Madeleine and Cascade de Wadiana before driving past a huge mine, then making our way back to Anse Vata and the Baie des Citrons at Noumea.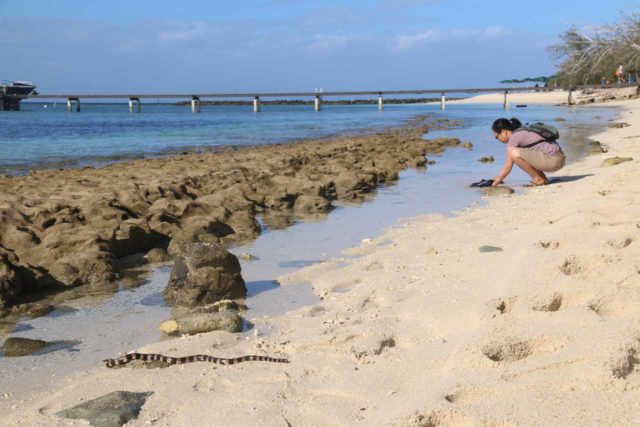 Day 9: Phare Amedee
Overnight: Chateau Royal (Noumea, New Caledonia)
This was day at leisure as we took a day trip out to the islet of Phare Amedee, where there was a buffet lunch, some entertainment, and plenty of time to chillax as well as snorkel (where we also saw leatherneck turtles). We definitely had to be on the lookout for poisonous snakes though.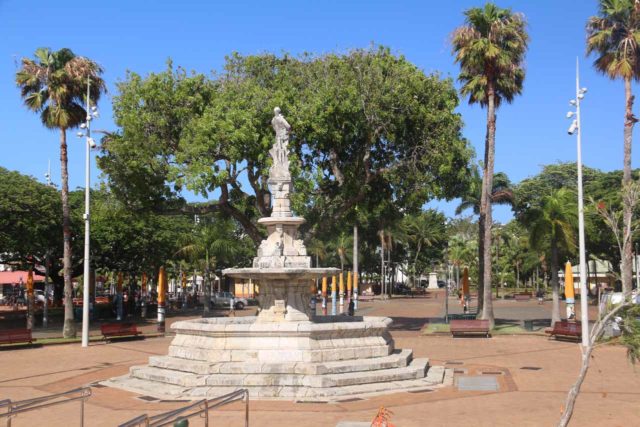 Day 10: Return Home
This was a long travel day back to home. However, on the drive to the Noumea Airport, we stopped by the Place des Cocotiers even though early mornings here lacked the buzz that would have surely been here in the evenings.
[/expand]
Best Places We've Stayed At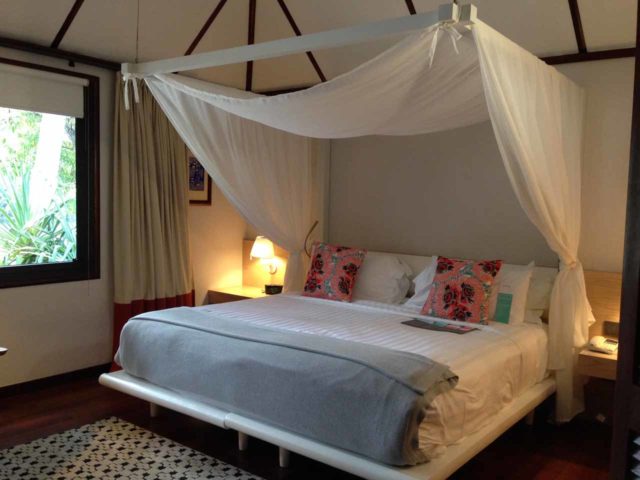 Le Meridien Ile des Pins – This certainly wasn't a cheap place to stay, but you usually get what you paid for.
In this instance, we had a fairly private bungalow with a channel behind the unit. It was also well within walking distance to the Piscine Naturelle as well as the main pine-tree-fringed lagoon that the resort looked out towards.
It couldn't get more relaxing and comfortable than this.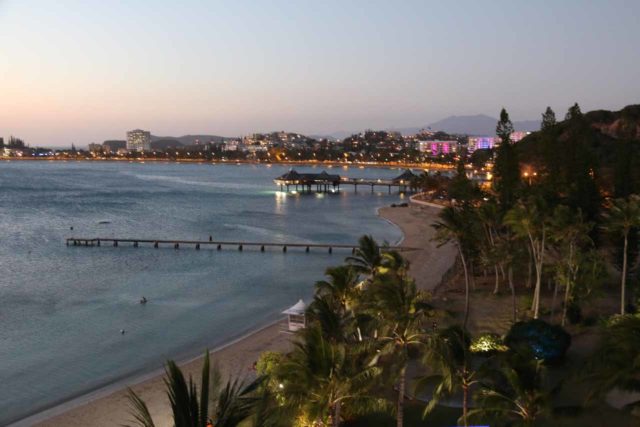 Chateau Royal, Noumea – This resort was more than adequate for the three nights we stayed here. More importantly, it had a convenient location which was within walking distance from all the action that took place along the beaches along Anse Vata towards the Baie des Citrons.
What To Bring
In addition to the equipment that we bring on all of our trips, we've also found the following items were especially useful for this particular trip.
Keens: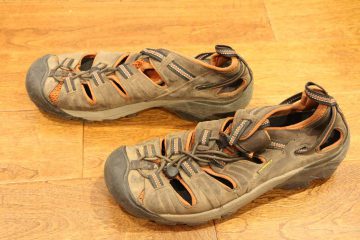 Generally in tropical environments, I tend to bring these because they're light, they have toe protection, and they're flexible in that I can use them on hikes (especially if there's water so I don't have to ruin hiking boots) and when out and about in the cities or the beaches. They also worked for use on the plane.
Snorkeling Gear:
They usually rent these out at the resorts or at some of the outfitters running tours. However, just in case, we also brought our own gear, which proved to be handy in those times where some of the snorkeling spots didn't have shops near them. The Go Pro also worked quite well in capturing some of the underwater scenes like spotting the impressive leatherneck turtles.
Trip Reports
Waterfalls included in this itinerary
Visitor Comments:
Got something you'd like to share or say to keep the conversation going? Feel free to leave a comment below...
No users have replied to the content on this page