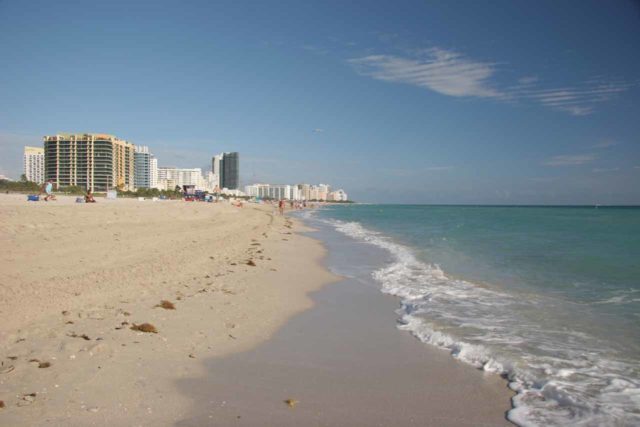 28-December 2007 to 31-December 2007:
Someone kept yelling "Johnny!" in the distance. I didn't really give it a second thought because there are many people named Johnny. But when the yell got louder and I looked up, I was shocked to see who was standing before me. "Oh, what?!?" I said in disbelief.
Day 10: IMPROVISING IN BUENOS AIRES
After having toured Patagonia for the past week or so, we were anxious for a little change of scenery. The next part of the trip would be touring Buenos Aires and then a free day in Miami before going home in time for New Years.
Our flight schedule wasn't very friendly however as we had a long day of doing nothing in El Calafate before the next phase of our trip would continue.
We made attempts both yesterday and today to try to secure an earlier flight back to Buenos Aires, but all of them failed. So much for trying to get to Buenos Aires early enough for a little bit of exploration this evening. Our flight wouldn't take off until around 6pm and there was a connection in Bariloche. So our flight wasn't even scheduled to be in the city until around 10pm or later. We also learned yesterday that our original time was supposed to be around 5pm so the flight was delayed. Given our previous experiences in Argentina, this was hardly a surprise.
So after another one of the familiar breakfasts of freshly-squeezed orange juice, milk, croissants, toast, and an assortment of spreads from jams to caramel to Ilolay cheeze courtesy of Santa Monica Aparts, we spent most of the morning just packing and taking our time. I think we took so much time that we ended up checking out a little after the stated checkout time of 10am, but they didn't charge us the extra day.
However, in Julie's haste to get everything together at the last minute, she managed to break the lid of the coffee maker. They didn't let that one slide as we had to fork out $50 peso so they could replace it. Yet another instance of haste makes waste.
We had the accommodation call us a taxi to take us to the airport at 2:30pm. So we figured we had at least four hours to walk around El Calafate some more; a town we were quite familiar with at this point.
Not much more went on this day as we just shopped around for more souvenirs, walked around the National Park Visitor Center, and ate a reasonably-portioned lunch at parrilla.
By the time we got back to the Santa Monica Aparts reception office, there was still a little over an hour before our scheduled pick up. So we took this opportunity to take a nap.
At a little after 2pm, the cab driver arrived. This was half an hour early, I thought, but in any case, we took our belongings and headed out to El Calafate airport. Better early than late.
We arrived at the airport at around 2:30pm. But we could tell it was crowded the moment we walked in. Well at least the check-in line wasn't too bad. But the waiting area and cafeteria all outside the security checkpoints were very full and hectic.
So we checked in (realizing that our flight was going to Ezeiza instead of Aeroparque – meaning we have another hour's taxi ride to get to our hotel in Palermo), got our boarding passes, paid our departure tax, and then looked for a spot to wait in the cafeteria – seeing that we still had a couple of hours or so before boarding.
That little bit about arriving in Ezeiza instead of Aeroparque put a wrench in our plans to have dinner tonight (at least at our usual time of around 6pm-9pm). I guess we'll have to improvise on that.
In any case, it looked like one of the flights before us was delayed, and when they were finally called to line up for the security screening, all hell broke loose. Lots of people left the cafeteria (opening the door for us to have a seat) and the main hallway was packed with people in line for the security at the same time as people trying to check in as well as people trying to pay the airport departure tax. Pure chaos!
Anyways, after a few uneventful but hectic hours of waiting for our flight at the airport, we were finally off to Bariloche as scheduled.
The flight was turbulent, which wasn't surprising given the Patagonian winds. It almost seemed like the wind even aided the ascent of the airplane on takeoff as it ascended at a seemingly steep angle.
And so we bid farewell to El Calafate and within a couple of hours, we arrived at Bariloche. The mountains here looked jagged like down by El Calafate and El Chalten, and the immediate surroundings still looked barren. Maybe some day we'll check this part of the country out. But not on this trip.
After picking up the connecting passengers, we continued further east to Buenos Aires.
By now, night was closing in and we could see flashes of lightning briefly illuminating the skies. It felt like we were flying through such thunderclouds en route to our landing at Ezeiza, but I knew from science that we were in a Faraday cage so if we were struck by lightning, nothing would happen – at least in theory.
Anyways, we finally landed at Ezeiza after 10pm. We had to take a little shuttle bus from the airplane to the baggage claim terminal, but that passed rather uneventfully.
However, we did end up meeting a very well-educated and ambitious young lady from Northern California named Trina. She was on a month long trip in Argentina and was taking a break after finishing her grad school while holding down a job at some medical technology company. Talking with her about random things regarding travel and work helped to pass the time waiting for the luggage.
Even though there was a complementary bus service to take all passengers to Aeroparque, we knew this would take much longer than if we had just hired a taxi to go straight to our accommodations across town in Palermo. It turned out Trina was going to Palermo as well so we took a Remisse (slightly higher end taxi than the ubiquitous Radio Taxis) together and passed even more time chatting as we rode through Buenos Aires for the nearly hour-long drive across town.
While Julie and Trina was mostly doing the chatting, I looked out the taxi and noticed how so many people were out dining at this time of night (at least in what appeared to be the Palermo neighborhood). I had read that people in Argentina tend to start their evenings late, but I actually got to see it in action! This was also the first time we really got to see some of the barrios in Buenos Aires (though I wasn't sure which was which at the time) and it was clear that there were some rough neighborhoods and some happening ones – not unlike the disparity between the suburbs in Los Angeles, I reckon. But I knew that we weren't going to do much exploring in the dark on this night.
By the time we finally arrived at our hotel, it was past 11pm and Trina was already dropped off at her hotel. We rang the doorbell and the receptionist unlocked the gate and let us in.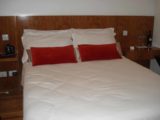 The hotel as well as our room really had a modern look to it. It was in contrast to the more rustic or spanish-style furnishings we've been exposed to our previous South America endeavors. Still, it was comfortable, clean, and suited our needs.
After we checked in, the real helpful receptionist – a tall, European-looking guy named Gustavo – recommended this place called "The Roof." Julie wanted to try a place called Dominga, but it was booked solid so we had to go with Gustavo's suggestion. Since Julie and I hadn't eaten anything substantial since lunch, we were really hungry.
Gustavo helped call the taxi for us, and while we waited for the taxi, we also got Gustavo to book us at a tango show for tomorrow night called El Viejo Almacén. He had recommended the Tango Rojo, but we feared the dress code was too formal for our no-checked-luggage-on-the-international-flight wardrobe and decided on the traditional tango show. When the taxi arrived, we were on our way to our midnight dinner at The Roof.
The Roof was kind of an eccentric modern Argentinean restaurant. We weren't sure what they specialized in so we asked the waitress (who spoke no english) what the famous dishes were. We ended up buying what she recommended. It turned out to be plenty of food at a reasonable price (by US standards).
Julie had paella (spanish rice with spices and other ingredients), which I'm normally not a fan of. But the paella they served here actually tasted real good and had a lingering seafood fresh flavor to augment the subtleties of the dish. I had some kind of meat dish where beef and ham (jamón) was wrapped around some kind of egg. Very unusual and distinct, but pretty good nontheless.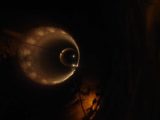 When each of us made trips to the bathroom, we couldn't help but notice a giant deep hole on the floor with a thick glass serving as part of the floor covering the hole. It was both spooky and unusual, and looking down that hole really induced some weird sense of being suspended in air. The restrooms also had an unusual rocky slab as the sink diverting water to a disconnected drain.
We returned to the hotel some time after 1am and finally slept. I wasn't sure how much rest we'd get on this night, but we knew tomorrow we'd have a full day of finally seeing Buenos Aires in detail.
Day 11: DON'T CRY FOR ME, ARGENTINA!
Given that we had slept late last night, we didn't get up until after 8am. After having a breakfast of freshly-squeezed OJ and omelettes, we sought advice from a different receptionist (named Patricio) regarding the sights to see and how to get oriented with the maps we had.
And after he marked up a hotel-provided map with his suggestions of sights, we were finally out the door at 10am.
Originally, the plan was to take the taxi everywhere, but Patricio convinced us that it was reasonable walking distance to see most of the things we were up for, and the metro line we were taking was reasonably safe. The only catch was that it was around 30 degrees Celsius (i.e. in the 90s in Fahrenheit units).
So we walked to the nearest metro station a couple of blocks away and paid a ridiculously low price of about $0.70 peso (about $0.23 USD) each way.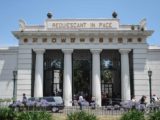 We got off at Pueyrredón station and walked a few more blocks to the Recoleta cemetery. We took a roundabout approach to the entrance not knowing which way was in so we ended up walking through a bunch of street market stands. Nonetheless, we finally got into the cemetery, where there was apparently some service going on for some other well-to-do person that was deceased.
Inside the cemetery, it seemed like we were in a city within a city. There were actually little streets you had to navigate where each tomb was like a little house on the block. Anyways, we were looking for the tomb of Evita Perón, the famous wife of Juan Perón, who managed to rally the country's working class and less fortunate during a turbulent time in the history of the country.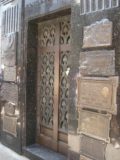 Lots of other tourists were also looking for her grave so when we saw a mob of people before a humble-looking building with numerous plaques flanking a black-barred cage before a closed door, I had suspected this was it. In fact, it was actually the tomb of the Duarte family, in which Evita's maiden name was Eva Duarte. At first Julie didn't know this, but after inspecting the plaques full of Evita commemorations, that proved to her that this was the right place.
Needless to say it was difficult to even get a photograph in while there were mobs of people around seemingly conspiring to sabotage our photo. Still, there wasn't anything all that special about this particular tomb. Perhaps that's how a champion of the people would've wanted it anyways – i.e. no more gaudy than the next person. Of course, being in the Recoleta cemetery meant you were still a person with wealth and stature so I guess that puts her and anyone else in there above the crowd.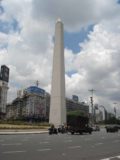 After the cemetery, we did a lengthy walk along some busy street towards Av. Cerrito. It was here that we saw the familiar 4 parallel streets passing by the symbolic obelisk in the center of the city. Finally, we got to walk around this part without whizzing by it on a taxi in a mad dash to go from Ezeiza to Aeroparque.
Some more minutes later, we cut into a diagonal street that ultimately led us to Av. de Mayo, which linked the Congressional building with the famous Plaza de Mayo – the location of the pink building with the balcony where Evita addressed the people.
Can you say, "Don't Cry for me, Argentina!"?
Knowing we were between the two landmarks and that it was about 2pm at this point, we decided to have a lunch. Julie had read about the Cafe Tortoni and wanted to make sure our experience in BA didn't leave this out.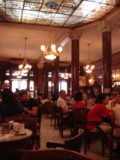 There was a line outside the cafe and we waited for around a half-hour before we were finally let in by the door man. Inside the cafe, there were high ceilings and columns. It was quite unusual for a cafe, and I guess this is really what people were after when it came to dining here – the ambience. As for the food, it was pretty typical (albeit overpriced but still somewhat reasonably priced by US standards) burgers, salad, and milkshakes. Nothing really special. Just the interior decorating was something worth noting.
After the late lunch, we then proceeded to walk to the Congress building. After walking a few blocks, we were in the big plaza, which actually had quite a dated and worn look to it.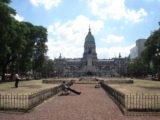 "This part looks ghetto," Julie said. And I'd have to agree.
There were bums gathered about near a pile of trash at the base of the plaza. In the grassy areas, some people were taking naps while some kids were running around. The building itself looked like it was quite worn.
There were also loud popping and cracking sounds that were happening periodically. Worried they were gunshots instead of fireworks or fire caps, Julie hastened our pace… back towards the Plaza de Mayo.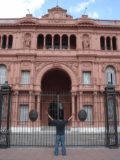 By 4pm, we were finally at the famed Plaza de Mayo. There were numerous signs in spanish talking about political things such as having enough of capitalism, spending Christmas without a home nor work, etc. Riot police were stationed on the perimeters of the plaza with some fence barricades set up. It seemed like on this day they weren't in use, but I guess they're preparing for demonstrations in the near future. I wasn't sure what the demonstrations were going to be about, but we were glad things were peaceful on this day.
Anyways, Julie and I took the obligatory photos of the pink building where Evita and Juan gave their public speeches or rallies.
We then checked out a nearby Cathedral. Not that we were religious or anything, but we did sit inside for a few minutes to check out the grand gothic architecture and a momentary relief from the humid city heat.
After the leaving the cathedral, we headed towards Puerto Madero. There was a charming and quiet walkway alongside a series of dikes. Across the dikes, there looked to be some restaurants. But knowing that we'd already book a tango show and restaurant this evening, we didn't bother crossing over any of the bridges to the other side.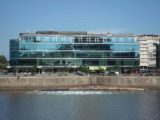 So we passed the time taking some photos while also taking a nap on one of the park benches.
By the time it was 5pm, we got up and walked over to the neighboring barrio San Telmo. The neighborhood was a charming mix of tight cobblestone streets and several businesses closed for siesta. Fortunately, there was an ice cream place called Freddo's that sold some really delicious ice cream. Boy could we really sense the Italian influence in this ice cream as it was soft and almost like gelato (unless they were gelatos; I couldn't tell the difference).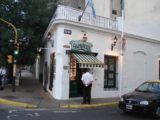 When we finally found the restaurant right across the street from El Viejo Almacén, we were allowed to chill out in the lobby and even have a drink while flipping through a couple of coffee table books. We still had an hour to kill, but at least we were out of the humidity and heat of the city and chilling out in the air-conditioned facility.
By 7pm, we were finally allowed to go upstairs and have our fixed course dinner. Nothing extraordinary about this stuff, but at least it was a filling dinner and the drinks were included. I might have had a bit too much to drink as I was buzzed when we left.
By 8pm, we lined up for the show. Once we were inside, we had gotten one of the side seats. Since it was all assigned, I didn't think it'd make a difference whether we lined up earlier or later. I guess if you paid more, you can get front and center.
The way things were laid out, it really reminded Julie and I of those old comedy club shows back at home. Everyone was getting served drinks as they sat at small tables. There were also a pair of balconies that were probably reserved for tour groups. The stage was elevated.
As the lights were turned out and we could hear the Italian-influenced (almost a mix of mafia-like music with some mix of Spanish and French as well with the accordians, bass guitars, pianos, and violins, etc.), we were treated to a blend of passionate tango dancing, instrumentals, and vocals.
But Julie and I could see why Gustavo recommended the Tango Rojo because there would always be people walking in front of us (especially the waiters) while the show was going on. Very annoying!
We didn't wait around for the entire show to end. We basically beat the crowd out the door when the show was on its last performance. After hailing a taxi, we returned to the Vain Boutique Hotel, finally got cleaned up, and had no trouble sleeping to recover from this very long day in BA.
Day 12: SUNDAY IN THE MOUTH OF BA
With today being a checkout day and our flight not taking off until 11pm, we took this opportunity to explore parts of Buenos Aires that we didn't see yesterday. So prior to our 11am checkout, we had the familiar breakfast of OJ, hot chocolate, and omelettes. Little did we know that they also sprung forward an hour as well.
That wasn't apparent to us until the receptionist told this to us when we checked out. So while we thought it was 11am, it was really noon already!
I don't think we were charged for the extra day, but in any case, they offered to store our luggage while we were out and about for the day.
The first order of business was to take the metro all the way to Plaza de Mayo. We figured we could at least save on the cab fare by taking it from Plaza de Mayo to La Boca.
La Boca, which means "the mouth" in spanish, was a barrio that we didn't see yesterday. Julie had read it had lots of character even though the neighborhood itself was mostly what they call back home a 'hood. In other words, no aimless walking over there. Better hail one of those Radio Taxis.
So with that, we were took the metro as planned and the taxi to La Boca as planned. Though, the first thing that hit us as we left the AC comfort of the Vain was how hot it was this Sunday. The news said 35 degrees C, which is upper 90s in F.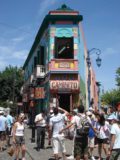 When the taxi dropped us off at the charming El Caminito in La Boca, we knew we were in an oasis amongst the slums. Here, there were heaps of people crowding the narrow streets amongst colorful buildings with street performers and people attractively dressed in tango attire looking for tourists to take photos with them for a fee.
Opposite El Caminito was a very smelly and stale body of water. Not exactly a good place to be walking along on this day so we stayed with the crowds.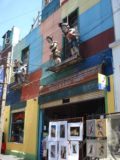 Given the stifling heat, I'd bet those tango people must be real sweaty in those garbs.
I fancied having one of the female tango dancers in her bright red and black outfit and stiletto heels wrap her leg around mine for a tango pose and photograph (stifling heat and sweat and all). But we were low on pesos, which we had to make sure we had enough for the taxi ride back to the airport later today. Besides, I didn't think Julie would appreciate my indulgence.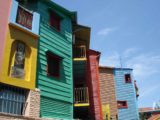 In any case, Julie and I immersed ourselves in the Carnival-like atmosphere. We didn't really sit down at any of the eateries of buy anything. We just soaked in the lively scene beneath the colorful houses and took photos as we went while drinking bottled water that we bought along the way.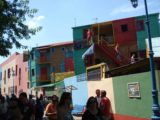 It wasn't long before Julie was ready to hail one of the numerous Radio Taxis again and this time have him drop us off at San Telmo.
With this being Sunday as most businesses were closed, it was the day to be out and about for the street markets. El Caminito was kind of one of them. But San Telmo looked like a whole different place from the subdued atmosphere of yesterday afternoon.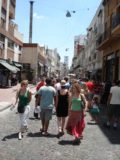 Now, the cobblestoned Avenida Defensa was packed with street vendors and tourists walking the streets between them. Lots of souvenirs and other odds and ends were lining the streets watched over by vendors hoping for a purchase.
The Freddo's Ice Cream place was packed so we wouldn't treat ourselves to another one on this day.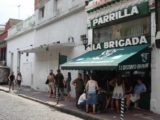 For a late lunch, we waited for about a half-hour for San Telmo's most popular parrilla – La Tablita. Inside its air-conditioned confines, we treated ourselves to the most tender part of the steak we could buy. Even at a total of around $30USD for the whole lunch, it was a steal by American standards. Imagine having something like Filet Mignon for each person at the table for $30 for the whole meal.
Still, the medium-rare beef needed chimichurri sauce for a bit of flavor. No such thing as A-1 down here.
Julie and I then walked down Av. Defensa all the way back to the now-familiar Plaza de Mayo. We still had a bit of time to kill so we figured we mind as well check out the shops along Avenida Florida. We didn't do it yesterday so why not check out that scene and see what it's about?
And so we did that. The heat and humidity apparently caused enough thunderclouds to form because it briefly rained as we walked through part of the semi-outdoor "mall."
"So this was where the malls were," Julie said as she finally saw a conventional looking mall with the usual brand name stuff like Gucci, Versace, or whatever else they usually peddle at these places. The AC in that mall was a relief from the heat and humidity.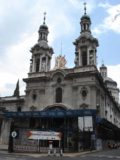 By about 4:30pm, we walked back to the Catedral station on the D-line and took it back to the Plaza de Italia in San Telmo. From there, we returned to the Vain Hotel where we had some time to chill out in the air conditioned lobby before calling for a taxi to bring us to Ezeiza International Airport.
During that time, I went ahead and tended to my oral hygiene knowing that we'd be taking a red-eye flight to Miami tonight.
Julie was glad to see the familiar face of Gustavo, and they both chatted about various things while I was sequestered in the restroom.
When 6pm rolled around, the taxi driver showed up, and it was time to leave. Gustavo exchanged kisses on the cheek with Julie and then myself (seems customary to do this in Argentina and perhaps Europe as well), and we bid a fond farewell.
The taxi driver was another friendly guy eager to make small talk in spanish (as quite a few other drivers were willing to do on our trip).
And by a little before 7pm, we were back at Ezeiza.
The airport wasn't very crowded at first, but since no one was checking in any US-bound passengers, the terminal quickly became crowded and crazy as the lines got ridiculously long. The greenhouse effect (thanks to the glass walls and ceilings) kept things very warm and this didn't help matters, either. Nonetheless, I guess it was a good thing we showed up nearly 4 hours early.
When we finally got through getting our boarding passes, paying another airport departure tax, and getting through security, we chilled out at a hidden cafe on the backside of all those duty free shops the airport tried to channel us through. It was amusing to see that the busyness of Ezeiza even made the news.
Anyways, 11pm rolled around eventually, and our flight took off without any incident.
With all the touring we had been doing on this day, we managed to be able to sleep on the plane. Even though it wasn't comfortable (it never is on a plane), it was better than nothing.
Day 13: SO RANDOM!
It was about 6am when we arrived at the Miami International Airport. Always worried about delays and incoveniences in the customs and passport processing, we wasted no time walking as fast as we could to get in line the moment we disembarked from the plane.
Being that it was quite early in the morning and our flight back to LA wasn't until 6pm, we took our time taking care of business at the airport…
…like removing hiking boots in favor of Chacos
…like stowing away our carry-ons at the luggage storage, which charged a lot of money (sheesh)
…like figuring out how to get to South Beach without paying some $30USD each way to hire a taxi
When we stowed our bags, I also discovered that my tiny little Hefty bag of liquids was gone. I don't remember where or how it disappeared, but all we knew was that it was lost. Oh well, we can eventually replace the DEET, sunscreen, and Scope bottles that were in the bag.
In any case, we walked over to a bus terminal and tried to figure out their system so we could get to South Beach. It wasn't exactly a straight forward system, but it was still a bit dark outside so we had some time to figure this out.
Eventually as Julie made a few calls on their help line, some volunteer guy, who was a very big African-American guy walked up to us. He ended up being quite helpful in imparting some advice regarding the lines we should be taking. I did think he also got a little carried away in encouraging us to visit some of these other shopping centers and spots around Miami within a day. Given that we only had around 8 hours today, we preferred to take it easy and stay in the SOBE (short of South Beach) area.
Anyways, his advice did confirm what Julie heard on the help line regarding which buses to take to South Beach. The guy also recommended this Cuban restaurant called Puerto Saguá. Since we were up for trying authentic Cuban food, we were all for it.
So we eventually caught the J bus and rode the packed vehicle east. Given the many stops the bus had to make, it took over an hour before the friendly driver finally indicated the stop we were supposed to get off. Clearly, we were doing as the Romans do in Rome as they say, except in this case, we were making like Miami locals.
Not long thereafter, we caught a connecting bus taking us further south. That was where we got off near some shopping district near Lincoln Ln. But given that it was still a little after 8am, nothing was open.
Julie was hungry for breakfast so we proceeded to walk further south in the direction of that Cuban restaurant the guy at the bus terminal recommended. Eventually, we'd find Puerto Saguá, but they didn't have any Cuban stuff on offer for brekkie. So after some ordinary omelettes (regretting not having their plantain omelette), we proceeded to start heading towards the beach for some walking around over there.
The red light in front of the restaurant at 7th St. seemed abnormally long. But it was during that time that someone kept yelling "Johnny!" in the distance. I didn't really give it a second thought because there are many people named Johnny. But when the yell got louder and I looked up, I was shocked to see who was standing before me.
"Oh, what?!?" I said in disbelief.
So stunned was I that I didn't even say "hello" or the usual pleasantries like "how are you doing?".
But after the initial shock wore off, I shook his hand and he asked in jest, "What, are you stalking me or something?"
The guy was Alex, a Russian kitesurf-loving coworker back in Los Angeles. He was basically on holiday checking out the Florida keys while trying to get in some kite surfing as well as some partying in between.
He timed his trip apparently so he could count down New Year's Eve in South Beach.
Ahh, the bachelor life.
When he explained that he had gotten up only to check to see if his parked car wasn't ticketed, the first thought that raced through my mind was how weird and random this moment was.
After all, Julie and I waited at a red light for what seemed to be longer than usual after having just gotten out of the adjacent Cuban restaurant. We could've easily missed each other by a few seconds if the light wasn't red and we were on our way to the beach, or if Alex had gotten up even later after a previous night of hard partying, I reckon.
So we briefly divulged to him that we had just gotten back from Argentina and that we had a layover for most of the day before flying home to LA. Afterwards, we exchanged phone numbers to see if we could hang out later and were back about our own business – Alex to his car; and us walking along the sandy beach.
By now it was 10am. The heat of the day was already starting to manifest itself even though winters in Miami are about as mild as it gets from what I understand. Julie and I were walking hand-in-hand along the fine sand of Miami's famed South Beach. The water seemed quite calm and somewhat clear. It reminded Julie of her Carribean experiences.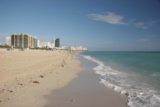 To the left of us as we walked north were a bunch of lawn chairs with umbrellas over them. Apparently, they belonged to various resorts who staked a claim on the sand and only allowed certain guests to use them. High rises were further inland.
Plenty of people were already out and about frolicking on the beach and the shallow end of the ocean. There were families with their kids running about. There were scantily-clad attractive women in bikinis (essentially with their buttocks showing). There were other couples holding hands and enjoying each others' company. And yes, there were even nude people (I thought it was a family beach) of both the eye-candy varieties as well as the not-so-pleasant-to-the-eye varieties.
Of course with Julie by my side, she made sure my attention was on her except when I was taking photographs of harmless subjects.
There were even these pulsating plastic-looking transparent condom-like things on the sand. We saw a couple of them, but one in particular really got our attention. In fact, Julie couldn't leave it alone. And thinking it was some strange inanimate object, she tried to pop it with one of the rocks lying around.
I don't think she was successful, but something told me that this thing was actually an organism and we were being cruel to it.
Anyways, onwards we aimlessly walked north. Eventually, we'd get so far north that we had to go south again to find Julie's Lincoln Lane Mall area. When we did find it, we were reminded of something very similar to the Santa Monica Third Street Promenade. It was basically an outdoor walking area lined with shops, cafes, and restaurants.
There were no street performers though.
In any case, Julie was after a gelato place she saw featured on some Travel Channel show (probably Samantha Brown's). Eventually, we found the place (it was called Gelatini) and the creamy gelatos provided somewhat welcome relief from the building heat of the day.
When we were done with that, we walked back towards the beach and strolled along the boardwalk. By now, it was really getting hot and the action as the beach also picked up as well.
Numerous people were on the boardwalks already and we could tell the beach was getting crowded. By now, it was about 12pm and we figured we ought to return to Puerto Saguá for some Cuban food finally.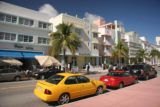 We had to walk by a couple of blocks of closed streets before Art Deco buildings, which I guess were being cordoned off in anticipation of the New Year's countdown tonight. Ever so opportunistic, the adjacent restaurants encroached upon the newly vacant space to convince passer-bys to come try their happy hour. Many of these places pulled out all the stops to get you to dine with them. They did things such as trying to engage you in conversation to handing out fliers to putting very attractive women out in front.
Competitive, indeed!
When we returned to the Cuban restaurant, it was considerably busier than this morning. Still, we had no problems getting a seat and proceeded to order food. I got myself their famous ropa vieja ("old clothes") while Julie got some kind of fried fish dish. Both of our meals came with rice and plantains.
As we ate, we noticed Alex again.
"Hey Alex!" I yelled out over the raucous of the restaurant.
Alex acknowledged me and had lunch with us. He brought along an Israeli female friend. No doubt they were tired and hung over from some partying. Perhaps they were psyching themeselves up for some more partying tonight.
In any case, we had a pleasant lunch although service at the restaurant was terrible. But that didn't stop us from catching up on how our holidays have gone as well as discussing things like tango, salsa (Alex was an instructor back at home), the Florida keys, and places we want to go, among other things.
Alex also explained to us that that condom-looking pulsating plastic was a man-o-war. Hopefully, Julie didn't get stung by its tentacles.
During the course of our conversing, I couldn't help but think about how random and how weird it was to be having lunch with a coworker back from LA in South Beach, Miami without even knowing about each others' plans. What a small world!
Fully stuffed from the big portions of the Cuban food, we parted ways. As Julie and I started to tire from a combination of the heat and walking we had done up to this point, it was time to catch the bus back to the airport. It was only 2:30pm at this point.
So with that, we walked to a northbound bus stop and they dropped us off at the nearest stop where we could walk across a busy street to catch the J Bus back to the airport.
After catching the bus, we briefly took a nap since the ride was about an hour. Even the bus driver took a break to stretch out and recharge himself at an empty stop (I had never seen that before, but it made lots of sense for someone who's behind the wheel for a long period of time each day). Of course, napping had its hazards because we couldn't get too deep into sleep and miss our stop (the interarrival times of the buses at each stop were around 15 minutes or more at each stop).
Anyways, back at the airport we were at around 4:30pm. After recovering our bags, getting our boarding passes, and passing through security, we spoiled ourselves at the familiar Islander Grill in Concourse D (for their coconut shrimp and some expensive cocktails). After the filling snack on top of the filling lunch we had not much earlier, we waited patiently for our Los Angeles flight fully sated.
Now we still had old Venezuelan bolívares that were left over from our Venezuela trip where we were unable to change back to dollars at the end of the trip. Tomorrow would be the first day they'd switch to the strong bolívar (bolívar fuerte) while allowing 6 months to phase out the old money. So we were hoping to be able to find a Venezuelan interested in changing money at a very generous rate so our Venezuelan money doesn't become useless paper money.
The odds were slim, especially since there was a Caracas flight that took off from our gate just before people were piling on for the Los Angeles flight. There was one that would leave from our gate a couple of hours after our flight takes off, but who comes to the gate that early?
Anyways, time passed and we weren't successful. Actually, we didn't really try. I guess we just didn't have the guts to go up to a stranger we thought was Venezuelan and ask for the exchange (assuming the person was indeed Venezuelan).
I can imagine some stranger coming up to you asking if you want to change money. I'm sure the first thing you'd think would be, "OK, what does this guy want from me?"
On an aside, the gate next to us, which was bound for Denver, was packed with passengers waiting to get on a flight that was actually supposed to take off before ours. Well, we overheard announcements that first said something like, 'Attention passengers on American Flight XX bound for Denver. We have a minor leak in the cabin door (or something to that effect). The flight will be delayed by 15 minutes.'
Then another announcement saying something like, 'We're awaiting the arrival of a replacement door (or something like that). The flight will be delayed for another hour.'
Then, as time went on, another announcement said something like, 'There is a problem with cabin pressure (or something to that effect). The flight will be delayed to 8pm.'
That's almost another 3 hours from now!
Boy were we glad that wasn't us. But we couldn't help but feel sorry for those passengers on that flight who's New Year's Eve plans were probably ruined by this. It just goes to show you how flying is usually the worst part of a trip as you just never know when things like this happen.
And so when time came to board the plane, we got on, put up our carry-ons, took off our shoes, and tried to relax. We were surprised at how crowded and full this flight was. Julie had picked this flight because it was cheaper and we thought it wouldn't be as crowded considering most of the world is busy finding a spot to celebrate the New Year on terra firma.
I guess we'd still be back in LA a few hours before the countdown, but still, I never counted on such a full flight. Shows what I know, I guess.
Anyways, Julie and I had aisle seats for this 757 so there was an empty window seat at the moment. We secretly hoped for a Venezuelan passenger would sit there so we could ask to change our soon-to-be play money.
But then came a very attractive, well-dressed, statuesque lady who gestured to us that she was sitting in that window seat. Both of us got up to give her room to go in, but she also needed help to put her smaller carry-on in the overhead compartment. That was because that carry-on wouldn't fit under her seat so Julie had me help put her smaller pack overhead (even though you're only supposed to have one piece instead of two up there).
I guess that broke the ice because after that, both Julie and I had an easy (and fun) time conversing with her.
We ended up passing perhaps the next three hours chatting about ourselves, our trips, and our work. She seemed genuinely interested in our travels saying that we were "inspiring" her.
We heard much about her ordeal with her lost luggage situation, which she managed to recover just in time for this return flight (she never did get to use them on her 3-day trip). Julie and I knew the perils of checked baggage (especially since it's holiday season) so we were strategic about packing everything into our carry-ons for this trip. We relayed some pointers to the lady (a San Diego resident by way of Seattle named Suzanne) as well as other travel tips as Julie's travel knowledge was on full display. You go, girl!
Julie also discussed lasik eye surgery with Suzanne, who was apparently a success story. I know with Julie's experiences such as dust getting into her eyes on this trip or losing the hard lenses in Norway, she was very open to the potential freedoms gained after this surgery. Having been through arthroscopic knee surgery, I was skeptical of going under the knife, especially with the strange things going on in the medical and pharmaceutical industries these days.
But she was giving Julie everything she wanted to hear (I swear she could've been a spokeswoman for Lasik) and so I'm sure Julie's going to give it a go when we get home.
Anyways, the conversation with Suzanne about numerous random topics really passed the time well. It's times like these that airplane flights are not as painful as they usually are. In fact, this one was kind of enjoyable – learning about other people with an open mind for travel and life. I was very thankful of this fortuitous random circumstance.
But even on this flight, Julie was getting tired and slept. Both Suzanne and I wanted to continue talking, but Julie's command to me in Mandarin to the effect of "stop talking" put a stop to that. Even though Suzanne didn't know Mandarin, she knew it was time to not talk anymore.
So eventually, I dozed off too while another repeat performance of "No Reservations" was going on. I can't count how many times this movie has been on in the past month or so.
But before we knew it, we awoke and we were already about to land.
The flight was early as we managed to land a few minutes before 9pm. I figured there would be some time left to celebrate the New Year, but I had the feeling that we'd be too tired to bother.
When we de-planed, we hastily walked into the zoo outside the LAX terminal area while bidding Suzanne a fond farewell and happy new year.
After returning from the shuttle to my car, we loaded it up and headed home. Slowly, reality started to creep back in again and moments of this recent trip started to become pleasant memories.
Then, Julie suddenly asked me, "So was she cute?"
"Uh…"
Visitor Comments:
Got something you'd like to share or say to keep the conversation going? Feel free to leave a comment below...
No users have replied to the content on this page