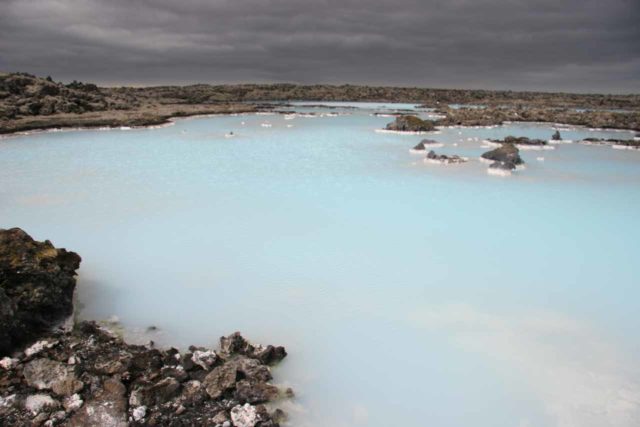 20-June 2007 to 22-June 2007:
…we walked around the center of town aimlessly looking for places to eat for dinner. We had to look long and hard because we struggled with sticker shock as every place offering what we thought would be good gourmet Icelandic dishes would cost us over $70 USD just for a main dish…
Day 1: THE GREEN LAGOON?
We arrived at the Keflavík Airport just before midnight, but there was still enough daylight outside to make you think it was just past sunset at 6pm or so back at home. After collecting the SUV hire at the airport, we had to drive for an expected 45 minutes to get into Reykjavík to spend the night. However, something wasn't right with our GPS map software as it seemed like we were navigating through a black plain whenver the GPS was hooked up (though the map would suddenly reappear when the GPS was not hooked up).
When we got into town, we pulled over the side of the nearly empty city streets and tried to figure out what was wrong. I swear we were just sitting on the side of the road for what seemed like another hour or so. I think it got to the point that a couple of Icelandic kids came out to us and wondered if they could help. When they learned we were going to the Metropolitan Hotel, they verbally told us where to go and we were on our way.
Having finally arrived at the Metropolitan Hotel in Miðbær Reykjavíkur (Center of Reykjavík) at 2:30am, we had to adjust to the really cramped room, which reminded us of our stay at the Vossestolen in Norway. For over $260 USD/night, it was awfully expensive, but all what was on our minds now was figuring out whether we'd be able to sleep and then get up a few hours later when it's still quite bright outside.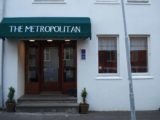 Julie and I had trouble waking up for the 7am breakfast despite the alarm. The breakfast was similar to the koldtbord breakfasts in Norway except there weren't any cold herrings offered. After the breakfast, we spent the next couple of hours at R. Sigmundsson Garmin Dealer, who helped us get our GPS navigation scheme working. Basically, our old etrex wouldn't work with the Iceland map so we actually had to buy a more up-to-date Garmin GPS unit for us to be back in business.
The GPS unit we had looked like some kind of OEM model as it was basically a circular featureless contraption with a USB cable sticking out of it. Clearly, this was what had to be hooked up to our laptop while this unit would be sitting on the dash.
Then, we went to the much-anticipated Blue Lagoon (Bláa Lónið). Once we got to the lagoon, it really felt like we were partaking in something taken out of a Glen Ivy spa in Temecula. Of course, the difference here is that geothermally heated water from a neighboring geothermal power plant sends its runoff into these pools surrounded by volcanic rock.
The facilities here were very modern and visitor center area was run very efficiently. For example, after paying admission, you get a bracelet with an RFID tag on it, which did everything from admission to locking/unlocking your locker.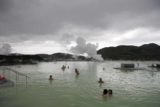 What's more, when you leave, the turnstile won't turn until you surrender the bracelet so they could re-use it. If that's not forward-thinking, efficient, and low impact, I have no idea what is. If only we could adopt some of these ideas back at home and not be so wasteful perhaps people around the world might not hate Americans as much. But anyways, I digress…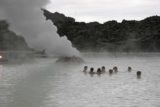 Since the lagoon was not chlorinated, we had to shower before going into the lagoon. So we obliged and then finally went into the big thermal lagoon area. However, the color of the bathing pools themselves were more green than blue, which was misleading considering all the literature out there showing photos of people bathing in water that was as blue as the name suggests.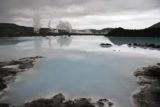 "False advertising," Julie complained.
We wouldn't see any blue lagoon until we left the spa area and walked on a track that went through a calm area where the water was indeed blue (but no one could bathe in it as the water was cold).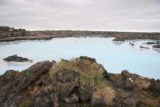 We figured that with all the human contact going on, perhaps that might have altered the chemistry of what otherwise would have made the water this blue. It had to be more than coincidence that the water was so colorful where people weren't around.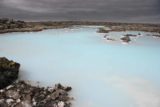 It turned out that our time spent out here was actually quite enjoyable even though we were no longer in the water. We saw a few birds flying about and it was very tranquil as we were quite busy trying to capture the scene with our cameras. Sure, we fancied bathing in waters this color, but perhaps the reality of it was that maybe the pictures and postcards might have been doctored or taken so far back in the past that it would not be realistic now.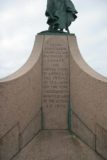 After the Blue Lagoon, we spent the remainder of the day walking around downtown Reykjavík. We started off by visiting what was perhaps Iceland's most striking building known as the Hallgrímskirkja.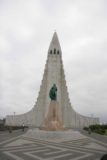 It was a pretty cool-looking building almost resembling an organ or something eventually rising up to some spire or minaret at the very middle of the front facade of the church. The building was fronted by some interestingly patterned flooring as well as a Leifur Eiriksson statue with some blurb about the United States and Iceland sharing an anniversary at this spot in 1930 AD of the original Alþing nearly 930 years later.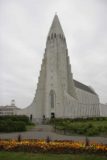 We spent some time trying to take photos though it seemed like we weren't able to go inside (I don't recall if it was closed or it required an entry fee that was too steep for us to pay).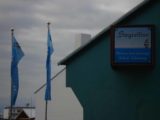 Afterwards, we walked around the center of town aimlessly looking for places to eat for dinner. We had to look long and hard because we struggled with sticker shock as every place offering what we thought would be good gourmet Icelandic dishes would cost us over $70 USD just for a main dish. We eventually settled on this place near our Hotel called Sægreifinn. At around $40 for the whole meal consisting of their delicious lobster soup and fish kebabs of scallops and trout, it was reasonable by Icelandic standards.
And with our stomachs finally somewhat satisfied, we settled back into our hotel, which turned out to be quite centrally located, to get some much-needed rest in anticipation of our first waterfalling of the trip tomorrow doing either the Golden Circle or Glymur depending on the weather when we first wake up…
Day 2: GLYMUR OF HOPE
When we awoke at 6:30am, it was raining so we had a change of plans. We had originally planned to do the Golden Circle of Þingvellir, Geysir, and Gullfoss. Instead, we opted to drive north to the end of Hvalfjörður where Iceland's highest waterfall, Glymur, awaited.
We began the day with our basic brekkie, then we recovered our parked car (parked on the street since it seemed that we could only do street parking at this hotel), and then we eventually left Reykjavík at around 7:30am
Instead of heading south then west like yesterday, we were now heading north. Getting out of the city (which was pretty quiet at this time of day) and onto the Ring Road was pretty straightforward. The drive itself was scenic in that we were passing through some pretty barren-looking lands sprinkled with some farm buildings.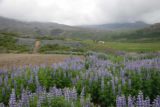 Eventually, we got to a point where we had a choice of continuing on the ring road into a tunnel that appeared to go underneath the body of water known as Hvalfjörður or going along the fjord due east. We went east knowing that the tunnel beneath the fjord would continue going north. We knew that the trailhead for Glymur was at the head of the fjord based on the pre-trip research.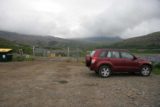 We got to the Glymur Trailhead at around 8:45am. The weather fluctuated between misty rain and threatening overcast skies while the temperature remained around a chilly 10 degrees Celsius or less.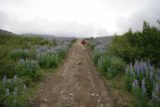 Initially, we had lost about a half-hour or so on the hike as we apparently lost the trail. Even though the trail seemed pretty obvious at first (helped along with some spray-painted yellow dots acting as trail markers), somehow we took a wrong path that seemed to lead us to a point where we couldn't find any more trail indicators nor the trail itself.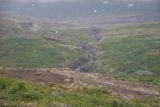 Once we recovered the main trail from backtracking towards the trailhead, we noticed some interesting side cascades. They weren't major, but then again, they probably would've been a pretty big deal back at home given how waterfalls seemed to be pretty rare and insignificant by comparison to what we've seen around the world.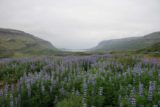 During the brief hike back to recover the trail, we got some pretty awesome views in the direction of the fjord with purple wildflowers blooming in foreground.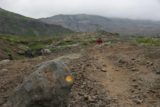 Now that we were on the main trail, we paid even more attention to the yellow spraypaint on the rocks. Yet despite the increased attention, there were still some sections where we weren't quite sure whether we were going the right way or not.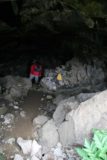 We eventually got to a place where we followed along downed barbed wire fences, and we'd eventually get to a fork where the trail on the right led us towards a seemingly dark tunnel. However, once we plunged into the darkness, we noticed there was light immediately coming from down below.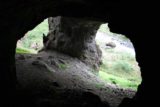 It turned out that that tunnel went through a rather interesting natural arch. Julie and I couldn't recall any time where the trail went through a natural arch on the way to a waterfall, but it seemed to be the case here. The tunnel itself could've been one arch, but there was another one that split the opening into two right at the other side of the tunnel.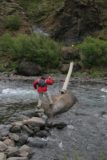 Shortly afterwards, the trail then descended further towards the level of the river. We didn't have to follow the river for long before we saw that the river had to be crossed.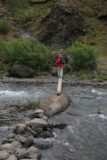 Fortunately, there was a reinforced log acting as the bridge over the river. Somehow, Julie lost one of her water bottles cupped in the mesh on the sides of her daypack during the crossing. We figured it was from ducking under the wire we were supposed to hold onto while crossing the log. But it wouldn't be until later in the hike when we had noticed that it was missing.
In any case, we pressed on. Despite the cold weather from this morning and the continually threatening skies, we moved enough to be comfortable.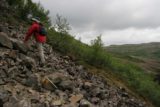 Next, the trail had to climb to the top of the gorge over loose basaltic rocks. It was very steep and certainly not for those fearful of heights. We both wondered how tricky it would be on the way back when we would have to descend this part!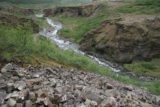 For looking back down towards the river from what we had just climbed, I'm sure there would be some butterflies from having to go through this part once again.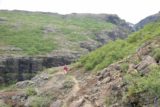 Next, the trail pretty much hugged the narrow gorge as the trail continued to climb its way further up to the gorge's head. We started to notice part of the waterfall Glymur way up in the distance, and that just strengthened our resolve to keep persisting as we knew we were almost there.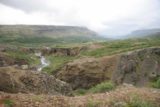 The further up we went on the gorge, the more we noticed that the Hvalfjörður was further in the distance while the gorge below us was more prominent. From this perspective, we knew that we were going to have a pretty long way to go to return to the trailhead.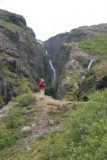 Eventually after maybe 90 minutes or so on the trail, we finally arrived at the first overlook of the waterfall. It was still somewhat distant and obstructed so we continued onwards. However, we did notice a second smaller waterfall nearby that we could see partially.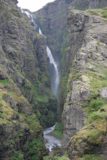 The hike remained progressively uphill and somewhat rough as we had to get around minor gullies and streams. Some of the streams and gullies contained smaller cascades that were interesting, but they almost seemed like obstacles that made it a little harder for us to keep going.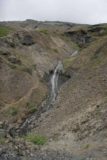 We'd eventually get to perhaps the closest frontal view of the falls, which was disappointingly more obstructed than before. This turned out to be our turnaround point though we noticed there were still some more use trails that kept going to the waterfall's top. But we decided that going all the way to its top wasn't worth the time or effort (though I wondered if we would regret that decision).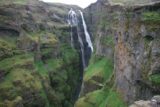 Nonetheless, on the way back down, we saw there was a way to another overlook that yielded a pretty satisfying view of Glymur.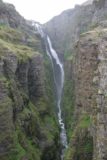 It was a good thing we went forward pursuing that overlook because it turned out that was where we got the best view of Glymur.
The thing was that now we were at the overlook, where we enjoyed watching the birds flying back and forth from one side of the gorge to the other, we saw that we either took a shortcut to regain the trail further downhill or we had to hike all the way back uphill to the main trail, then recover and go downhill on the main path.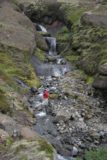 Whether we were wise about it or not, we decided to take the shortcut from here to the familiar trail on the way back. However, it was not easy. I wondered if it saved any time or not given the exposure to dropoffs and some of the steep sections where we had to sit and scoot. Still, we eventually managed.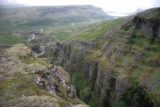 Even when we made it back to the main part of the trail, dropoff exposure was still present so we had to take our time despite the temptation to gun it since we were going downhill.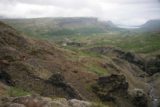 We noticed there were some other hikers ascending on the other side of the gorge. I wondered if that was where that trail we didn't take (as we headed into the tunnel and natural arch) led up to. We thought we took the right trail to get the best views of Glymur, but I wondered if the views were any better on that side, or if the trails would eventually connect somewhere upstream of the top of the falls.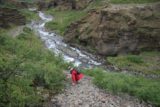 Well, we weren't going to do it given how much time we had already spent on this trail. So as we returned to the steep and loose basalt descent to return to the river level, we didn't hesitate to get back through the arch, and then continue back towards the fjord ignoring the path we didn't take on the right leading back uphill on the other side of the gorge.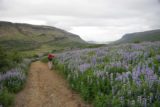 Finally by 1pm, we were back at the car park in what turned out to be a rather strenuous four-hour affair.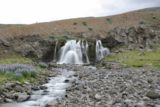 Having accomplished the major excursion of the day, we started to make our way back to Reykjavík hoping to collect waterfalls along the way. The first one up was the roadside Sjávarfoss.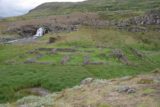 It had some organized rocks nearby in what looked to be ruins or at least some sort of rock maze. In any case, my Icelandic wasn't good enough to figure out what the signs were saying on the spot so we left the site with this mystery.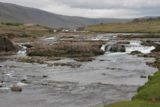 It wasn't long before the GPS had us turn inland from the fjord on the Road 48 passing alongside the Laxá River. At the mouth of the river, there were some series of small cascades, which were interesting.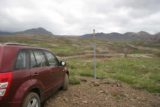 As we went further up the road, the GPS eventually had us stop at some seemingly obscure place where there was a pole and a little pullout with room for maybe a car or so (unless someone wanted to park on the grass). It seemed like an unlikely place to go find a waterfall.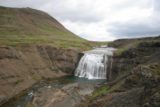 Next, we took Road 48 along the and needed the help of the GPS and map to find Þórufoss along the way. It was a pretty river-type waterfall and I'd bet only locals, anglers, or tourists with a GPS (like us) knew where it was since it was unsigned and not directly visible from the partially gravel road.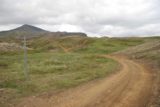 After seeing this waterfall, it looked like the skies started to clear up enough for the sun to start coming out. It wasn't long before we'd intersect with Road 36 (Þingvallavegur), but before I could get comfortable cruising, we had to get onto an unpaved rural road as our next targeted waterfall was Tröllafoss.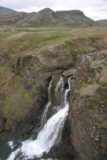 I was already having doubts about this one as the signpost for the falls pointed us onto a road that was also signposted "4×4". I guess we had to put our rental 4wd to the test and so we proceeded onwards with the GPS as our guide.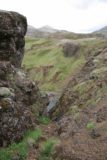 Eventually, the map would tell us we arrived at our destination, but it appeared there was nothing around here. The road ahead also didn't look very doable in our car. So Julie stayed in while I walked the road in search of the falls. Eventually, I'd find the falls down a steep gorge, but I only got an obstructed view at the top. The scramble down looked way too dangerous so I had to settle for the shot that I got. I had read somewhere that you could easily see this waterfall by horseback and from looking across the gorge, there did appear to be a trail or something but I knew it started from someone's farm so it wasn't public.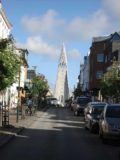 At 4pm, I got back to the 4wd and we headed back to Reykjavík.
The rest of the evening was spent walking around Laugarveggur in Miðbær Reykjavík (a bit further than walking distance from our hotel) where there were numerous cafes and shops. We also found a Bónus Supermarket and bought some munchies there at a relatively reasonable price.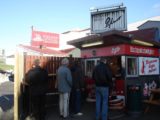 Forsaking the $30-$50 mains in the cafes, we opted to eat hot dogs (pylsur) at a stand so-called Bæjarins Beztu (literally "the best in town") near our hotel. It was good but hardly filling. We topped off our dining by having soft serve frozen yogurt (softís) in one of the stands nearby.
Tired from a pretty successful day of waterfalling (except for Tröllafoss), Julie and I crashed back at the hotel. Tomorrow, we'll be doing the Golden Circle – rain or shine…
Day 3: GOLDEN CIRCLE
Today was the day we were to do the long awaited Golden Circle of Gullfoss, Geysir, and Þingvellir. We had hoped our plan of flip-flopping with the Glymur excursion yesterday would yield good weather on this day, and well, it certainly looked like we were spot on when we awoke to blue skies in Reykjavík (perhaps shedding its name a little given the relative lack of clouds since it meant "Smoking Bay").
Apparently, there were some people still staggering in the streets. We had read about the insant bar hop that young Icelanders would go on, and I was willing to bet that the folks still out here must've been on one of those tours all night long.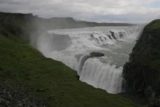 So after our brekkie, we left town after 8am.
However, as we did the 90-minute drive towards Gullfoss, the skies became dominantly overcast once again. It seemed like good, clear weather was hard to come by these days.
Nonetheless, we got to the car park for the falls at around 10am and took what photos that we could while battling pockets of swarms of midges.
Julie and I spent some time walking right up to the brink of the upper waterfall while skirting the turbulence of the lower waterfall. Having a river as wide as this fall in two steps at right angles to each other was very unusual to us, and perhaps that was the main reason why Julie really thought highly of it.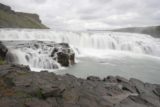 Even though the overall height of the falls wasn't that great (said to be about 34m in total), we thought it was the uniqueness of the falls complementing its size was what made it deserving of the attention it had gotten prior to our trip.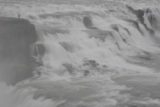 I vowed to return to Gullfoss thinking the weather might improve for rainbows later in the afternoon. However, when we got back to the parked car, Julie was already ecstatic that she could get wi-fi internet from the parking lot at Gullfoss since this was the first time we were able to get internet in the country.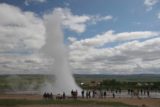 By about 1pm, we backtracked and arrived at Geysir (actually the area is more formally known as Haukadalur Valley). The place was called Geysir after the namesake geyser that supposed was how the word "geyser" came about in the first place.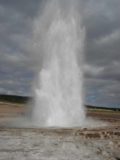 Even though we were hoping to see the great Geysir go off, it was the smaller geyser Strokkur that was putting on a show. It appeared that Geysir doesn't really erupt regularly and we could tell it wasn't going to perform when we were there since no one was gathering around it. Strokkur seemed to go off usually every 5-10 minutes or so. Sometimes it would shoot up real high and other times it put throw up a dud.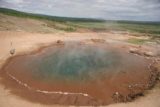 It was fun watching what would come out next, but we also checked out other thermal springs and vents around the area. Apparently there was more to this place than just the pair of geysers.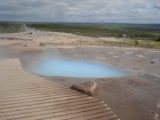 We noticed some people were hiking further up a hill though we weren't sure why. We figured since we came here for the eruptions and Strokkur would have to do, we decided against following those people and headed right back to the car.
So before we got carried away with any more Strokkur performances, we were in the car and headed back to Gullfoss at 2:15pm.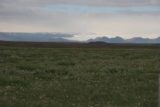 As we were driving back to Gullfoss, we could see there were some pretty impressive glaciers way out in the distance. They looked massive, but without any research or knowledge of how much time it would take to make it all the way there, we were merely content to just pull over the side of the road and just take our distant shots.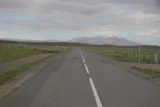 The road actually kept going beyond the Gullfoss car park, but it seemed like it would get onto one of the many 4wd roads that would eventually cross the great Iceland interior, which was said to be one of the largest deserts in all of Europe. We would probably have to be real prepared to do something like that, and we were perfectly content to just take the Ring Road to the north later on in this trip.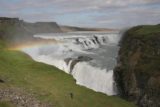 Anyways, it was nearly 3pm when we returned to Gullfoss. The skies were still overcast, but there were patches of blue skies between the clouds. When the sun peeked through the clouds, Gullfoss' mist did indeed put on a rainbow.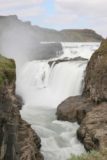 Of course, I took advantage of this and spent the next hour re-shooting the waterfall from all sorts of angles.
I did notice people crossing the ropes to get onto the soggy grassy plateau below the overlooks. I'd eventually join them and battle even more midges, but I reckoned the photos weren't that much better (if at all).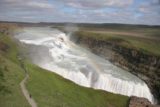 But what was really cool was going back to the uppermost overlook, where you could see a faint but huge arcing rainbow with people looking like ants besides Gullfoss.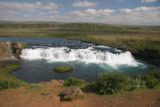 It was nearly 4pm when this bit of waterfalling ended. We then went looking for the Faxi waterfall, which I'd like to think of as Gullfoss, Jr. After getting to its signed turnoff, we checked out the falls from the top along with a handful of other people.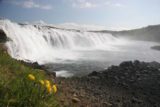 But from up here, the base certainly looked easily accessible and inviting. So we went down there and proceeded to get right next to the salmon ladder flanking the left side of the falls. It was misty and quite a challenge to take photos without water getting on the lens down here.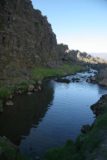 Finally it was past 4:30pm when we got back to the car and started heading for Þingvellir (pronounced like "thing vetlir"). It took a while to get there from Gullfoss, but we'd eventually get to the car park at 5:40pm for Lögberg (Law Rock) which is within view of Öxarárfoss, the last waterfall of this busy day.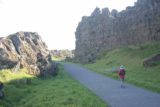 Þingvellir was the historic place where assemblies (called alþing) took place and laws were written down. We spent quite a bit of time walking around the hallowed grounds while reading all the interpretive signs. This late afternoon, it was very quiet as the skies were bright and the sun was still strong.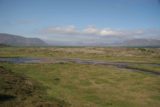 But in addition to the history of this area, Þingvellir also happened to be a dramatic example of a great rift valley where both the North American continental plate and the European continental plate were drifting apart from the Mid-Atlantic ridge.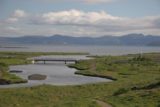 There was evidence of some volcanism here as most of the walkways were right next to the old lava formations. One spur path of the walkway led us up to an overview where we were able to take in the whole context of the rift valley, which now looked like one giant plain with some rivers and lakes cutting through where the land was at its lowest.
The drifting action must've had quite some time to grow its separation because the other side of the valley was way off in the distance.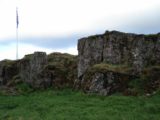 We figured that since we weren't quite sure what the must-see stop at this place was, we were content to use this overview as our turnaround point.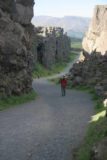 So once we had our fill of randomly walking about at Þingvellir, we then walked back amongst the lava rocks on our way back to the car park. But before we would return to the car, we still had to get our last waterfall of the day visited.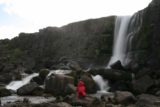 Walking around Þingvellir was already draining as we spent the whole day touring, but that still didn't deter me from bagging Öxarárfoss. My knees were acting up from the strenuous Glymur hike yesterday so climbing up to the falls was a painful affair. Even more annoying was the fact that we were looking against the sun once we were at the falls so that kind of made it tricky to take long exposure photos as we were hoping to do.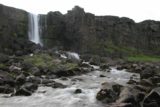 Even though it was getting late in the day, I patiently awaited the clouds to momentarily block the sun to get what photos I could of the man-intervened waterfall. I had read that this waterfall was man-made through water diversion back in the days of the assemblies at around 1000 AD. I forgot why that was the case or how I learned of this tid bit.
In any case, our Golden Circle excursion pretty much ended at 7:30pm and we made our way back to Reykjavík. During the drive, we couldn't help but notice the heaps of campervans and SUVs going the other way (almost as if there was a whole caravan of them). Was there some function, party, or gathering going on? We wouldn't know the answer, but it certainly got our attention.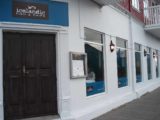 The day finally ended with a dinner at the Icelandic Fish and Chips near our hotel in Reykjavík. Despite seeing somewhat reasonable seafood prices compared to other cafes and restaurants, we still ended up paying around $50US for battered haddock and cod along with a mango salad, potato, skyr (an icelandic yogurt dessert), and a mango chutney mayonnaise. Indeed, it was definitely more than what the name of the restaurant would suggest it only had (i.e. the fish and chips).
It was a long but eventful day, but now we have to pack and get ready for some serious driving towards Iceland's West and Westfjords.
Visitor Comments:
Got something you'd like to share or say to keep the conversation going? Feel free to leave a comment below...
No users have replied to the content on this page