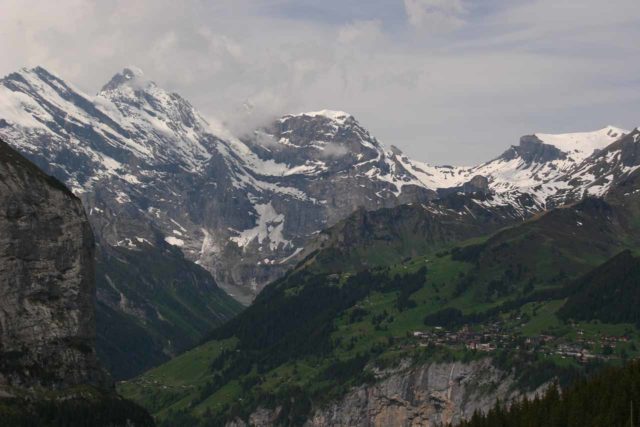 7-June 2010 to 16-June 2010:
As I was busy taking photos of the mess by the station, one guy came up to me and tried to get into my photo. He insisted that I take a photo (blurry as it may) of him, and then asked the usual questions of where you from? Japan? Korea?
I told him that I was from the US, in Los Angeles, and he then tried to explain to me that what I was seeing was how the Swiss Celebrate their soccer team beating the supposed #1 team in the world in Spain. He then said, "Don't be scared…"
Day 19: SWISS BLISS
We arrived in the Zurich airport at 3pm. It didn't take much time to get the luggage, exchange some of the Euros we had for Swiss Francs (though I think we got a little ripped off but not as much as in Greece), and get our Swiss Rail Pass stamped.
By 3:15pm, we were on the train bound for Bern.
There was a decent amount of room in the train and it moved smoothly. Both Julie and I were having flashbacks of our train-riding experiences in Japan. So I guess it didn't come as a shock that we napped probably for about 30 minutes or so before waking up about 15 minutes before arriving in Bern.
I think this level of comfort might be a little dangerous as it's conceivable we could miss a connection or stop on one of these trains.
Anyways, at 4:35pm, we transferred in Bern to the train bound for Interlaken. This train was a bit more crowded, but eventually as we got past Thun, the amount of seats opened up and we eventually were able to sit close to our luggage again downstairs near the door.
At 5:10pm during the ride between Spiez and Leissigen, we noticed a fair-sized waterfall across the lake. I wasn't sure if it was possible to visit this waterfall later in the trip as part of our intended day trip to Bern so I guess we'll just have to play it by ear.
Under the gloomy overcast conditions, the lake didn't seem as impressive as the LP
descriptions indicated. But then again, it might just be the absence of sunny weather that both subdued the colors and concealed the peaks.
At 5:30pm we arrived at the Interlaken West Station. And after gathering up some free literature and getting some advice from the railway info office, we then checked into our accommodation for the next 6 nights at the Hotel Lotschberg. The long stay at the accommodation was a hedge against bad weather, hoping that at least one of these days, we'd have decent enough weather to see Jungfraujoch and at least another of these days, we'd have decent enough weather to see the Matterhorn in the south of the country.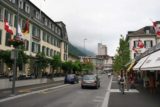 During the 10-minute walk to our place (which was longer than necessary since we took a wrong street), the first thing we smelled was the smell of manure from either a donkey or horse. But after seeing a horse-drawn carriage pass by on the main street, I think we got our answer on the source.
After getting settled, Julie and I headed back into the main part of Interlaken between the West and East Train Stations. Ultimately, we settled on this place called the Belvedere Brasserie, which was a bit of a walk from our place.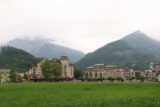 But perhaps the walk was nothing compared to the sticker shock of seeing how expensive everything was (including basic groceries like water and even chocolates!).
In any case, we went right for getting authentic Swiss foods at this Brasserie. Aside from the salad, we got fondue and rosti (which we later figured out was nothing more than hash browns).
The fondue was really good as it was melted cheese which we dipped and stirred with forks stabbed into small pieces of bread. One of the two people performing Swiss songs and instruments actually demonstrated how we were supposed to do it in between songs. So based on that, we learned how to get the most cheese onto each piece of bread.
As for the rosti, it was a heart stopping dish of bacon, sausage, cheese, potatoes, plus sunny-side-up egg on top. I think it could give a Hawaiian loco moco a run for its money as a recipe for a heart attack. I thought we were supposed to also have veal in there, but neither Julie nor I tasted it.
We both agreed that it might be a while before we give another traditional Swiss dish a try at this rate. Not even a few bites into both the fondue and the rosti, both of us were feeling guilty already.
Towards the end of our dinner, Julie and I were trying to figure out how to put out the flame that was heating the fondue bowl. One of the yodeling performers actually went over to our table and put out the flame with a cap lying on the table in mid-performance! Now that was some talent on display there!
Eventually, the performance became interactive as I was brought in front of the restaurant to blow into a long horn that was just used for one of the songs being performed. I had never played any horns so just getting a sound out of the horn was an accomplishment for me.
But the show didn't end there.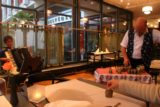 Julie was then given a cow bell of a particular tone after one of the guys was playing a Swiss tune with a whole series of cow bells being rung. On the next song, Julie and one other volunteer would ring the bell as the guy pointed to them on cue to complete the song.
By the end of the dinner at 8:20pm, Julie and I wore smiles on our faces as we left as we felt like we had a bit of fun that was old fashioned and not very common in our travels. Already we were feeling like we have gotten into the swing of things.
By about 9pm, we took the bus back to Interlaken West (apparently the accommodation gave us free bus and rail passes for the immediate area) where we returned to our accommodation and crash for the night. But not before having one of the chocolate mousses we bought from the supermarket earlier in the day.
It was definitely an exercise in overindulgence and quirky bliss…
Day 20: THESE ARE A FEW OF MY FAVORITE THINGS
I awoke to my alarm at 5am. When I looked out the window, it seemed like there were minimal number of clouds. Unfortunately, only one webcam was actually updating (i.e. it didn't have yesterday's date), and that one webcam showed scenery that looked quite nice. There were a few strings of clouds stirring about, but it was about 5:30am when I woke Julie up and decided to seize the moment. Who knows what tomorrow's or the rest of the week's weather would be like?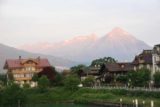 So after hastily getting up and ready for the day, we immediately walked to the Interlaken West station to catch the 6:14am train to Interlaken Ost. And while waiting for the train, we managed to notice some hints of alpenglow on some peaks backing the bustling (but mostly quiet at this hour) tourist town.
So continuing on with the train rides, we boarded the train bound for both Interlaken and Grindelwald at 6:30am. We decided to continue taking this train all the way to Grindelwald instead of getting off at Zweilutschinen to transfer to the train to Interlaken.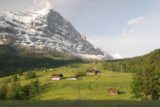 On this leg of the train, we could already start to see those Sound of Music
-like scenery as we approached Grindelwald. The early morning light on the charming alpine towns backed by snowy mountains with triangular shapes really made everyone on the train go crazy finding a way to squeeze into one of the window seats looking west.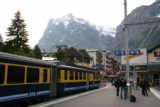 At 7:15am, we then transferred trains at Grindelwald and were now going to the Kleine Sheidegg stop. And for such an early train (the earliest we could take from Interlaken West, but not the earliest if you stayed deeper in the alps), it seemed quite busy.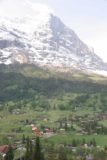 And on this stretch of the train ride, the hits kept coming as we saw even more lovely alps scenes with charming alpine villages fronting towering snowy mountains softly lit by morning light. Again, it was hard not to keep snapping away at the scenes.
At 7:50am, we arrived at the Kleine Sheidegg Station where we changed trains once again for the final ascent up to the top of Europe – Jungfraujoch.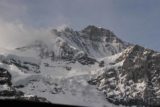 Given all these train connections, they seemed pretty well coordinated so we never had to wait long.
Plus, this train was even busier than the ones we had taken prior. Thus, the desired seats on the right side of the train were difficult to secure. And this made it a bit difficult to take photos with the freedom that we had been taking up to this point.
In any case, the train took off and shortly entered a long tunnel. And by 8:25am, the train stopped at Eigerwand for 5 minutes where we were allowed to look at views looking back downhill from the way we came through windows. But these windows were such that having a polarizer for the camera seemed to make the visibility worse (by amplifying some of the glare effects instead of reducing them).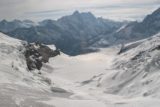 Anyways, the train then continued to the next stop at Eismeer for another 5 minutes. And once again, we got similar top-down views through windows before getting back on the train. However, Julie and I started to notice some shortness of breath, and since we were continuing to go up higher, this was a concern.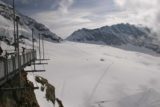 Finally at 9:05am, we arrived at Jungfraujoch. And after making our way over to a shopping area at the so-called Sphinx platform, we could see straight away that the views looking further south were mostly whited out. This was something we couldn't have anticipated as all signs pointed to fine weather and views. But this nasty surprise kind of put a damper on the experience up here.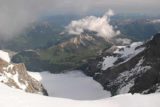 Nonetheless, I tried to capitalize on us being here and took photos in the clear looking northwards. However, all views towards the Aletsch Glacier were disapointing and mostly whited out. We certainly weren't getting the views shown in the postcards or some of the posters and vending machines. We definitely didn't get those Rick Steves
views or Samantha Brown
views as shown on their shows.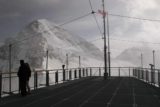 I'm sure if I see a webcam in the next two days showing fine weather up here, I'll probably be wishing we timed things a little better. But it was what it was, and we weren't coming back (and spending the $120 Swiss Francs per person) to make it happen.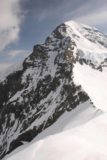 When I went outside to take photos, it was quite windy (45km/h) and freezing (-0.3C). My hands didn't take long before becoming a little numb. And also, the clouds were brisk as they were rushing quickly from the south and ultimately started to obscure even the side that was clear.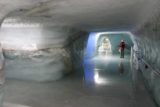 So with all that taking place, Julie and I went over to the ice palace. There, we had a little fun checking out the ice sculptures and ice tunnels. But it didn't take very long before we were done exploring it.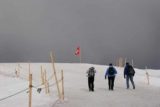 We were fine with this because Julie and I were about done hanging out up here. We were both getting light-headed and dizzy as a result of the altitude. So we made an effort to catch the 9:30am train back down. Unfortunately, we just missed it by a few seconds.
So we spent the next half hour having a hot chocolate and instant noodle. Unlike the homogeneous foods of Greece and Croatia, we embraced the Asian food, which was quite a bit of a change to the foods of the last two or three weeks. And we were fine with this even though we were no fans of instant noodles.
Finally at 9:55am, we were waiting for the 10am train to return to the Kleine Scheidegg stop. For most of the stretch in the tunnel, Julie and I dozed off.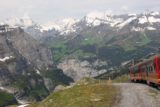 But once we left the tunnel, the sudden brightness woke me up and I tried to take photos that we couldn't take earlier this morning. Unfortunately, the lighting was a bit harsher at this time of day.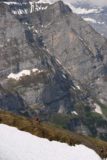 Nonetheless, I noticed some people taking advantage of the fair weather on this side of the Alps by going for a hike. Even though Julie and I were on the train, I could only imagine the liberating feeling it must be walking amongst the mind-blowing scenery.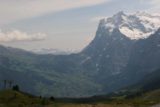 Then, at the Kleine Scheidegg station, we had some time to wait for the connecting train leading to Lauterbrunnen. So I rushed over to the far side of the platform through the train tracks to get some fleeting photos in the mean time.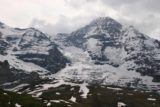 Next, we caught the train headed towards Wengen and ultimately to Lauterbrunnen. En route to Wengen, we caught glimpses of more snowy white alpine views looking towards the big peaks of Eiger or Monch. Not being too familiar with the landscape at the time, I couldn't really tell which peak was which.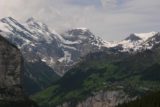 As the train continued to descend towards the next station, we could see up ahead that the views towards Lauterbrunnen Valley continued to improve. We could even glimpse some towns hanging above the last bit of cliffs leading down into Lauterbrunnen Valley while backed by more snowy white peaks. How on earth could we absorb all this visual stimulation?! Indeed, the hits kept coming and coming…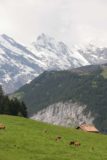 There were even farms fronted by grass-fed cows backed by the impossibly stunning scenery. I sometimes wondered if the cows were aware of the scenery around them. I'm sure the farmers were aware. Of course, I'm sure they also have to milk and slaughter the cows while ensuring their fields produce good cow products.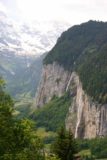 When we got to Wengen there were some incredible top down views looking down towards Lauterbrunnen with Staubbach Falls and a pair of other waterfalls further down the valley all backed by snowy white mountains rising sharply.
In hindsight, I think we should've spent some minutes checking out this place before continuing on the train back down. Instead, I was hastily taking what photos I could for the next few minutes.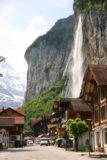 Nonetheless, even on the final leg of the train journey between Wengen and Lauterbrunnen, we were still treated to more incredible views as the Lauterbrunnen Valley drew closer and closer during our descent. I knew with all these photos being taken that I had my work cut out for me at the end of the day.
By 11:55am, we were finally down at the Lauterbrunnen Station.
With all the sightseeing we had been doing this morning, we were both a bit tired and were ready for lunch. So we walked deeper into Interlaken where we went to have lunch at the Hotel Oberland.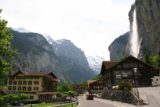 While there, we had another go at fondue and rosti. However, the fondue here was accompanied with some spices and herbs and was quite tasty and cheaper than the place we ate at last night. As for the rosti, we had a so-called Indian rosti which wasn't nearly as artery-clogging as the classical one we had last night.
Another thing we learned while having lunch here was that we never needed to buy bottled water again. The water here was fresh and getting tap water was sufficient (ala Iceland). So I'm sure that would save us a good chunk of wasted money in water.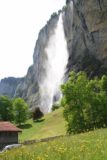 Finally at 1:10pm, we were done having the delicious lunch and walked closer to Staubbach Falls. During the walk, it was very easy to get carried away taking more photos with Staubbach Falls framing the Yosemite-like glaciated valleys along the way.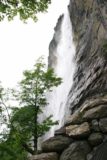 At 1:30pm, we were at the start of the walk to the backside of Staubbach Falls. Signs here indicated that the falls was measured to be 297m, which I'm sure would change our tallest waterfalls list based on vertical drop. In any case while here, I went up solo as Julie wanted to rest in the shade.
The walk was up a steep series of switchbacks before entering a tunnel, which then ended up at stairs leading further up through tunnels and overhangs sheltered from most of the wispy spray of the water from the falls.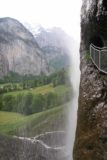 The ground was slippery due to the constant moisture, but I never had to use the rain poncho I brought along with me.
At 2:15pm, I rejoined Julie, filled up our bottles with the freshly cold water from the drinking fountain there, and headed back towards the Lauterbrunnen Station.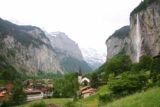 We took our time going back to the station as we walked closer to the river, which offered different views towards the head of the valley along with Staubbach Falls. I think when we come back here either tomorrow or the day after, we'll try again to take photos from here from the better light of the morning.
At 3pm, we were back at the Lauterbrunnen Station, where we called it a day for touring. And by 3:45pm, we were finally back at our room in Interlaken West. Both of us were tired and decided to take a bit of a siesta (ala the Mediterranean way) before heading back out on the town later this evening.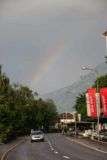 At 6:50pm, we headed back out of the hotel after waiting out a rather sudden and violent thunderstorm in which the rain was hard and the lightning flashes were frequent. But when it ended, the sun came back out, produced an attractive rainbow, and added the potential for a gorgeous sunset.
We ended up walking quite a ways to the LP
-recommended Little Thai Restaurant, which was quite popular despite its cramped space.
But the papaya salad (som tam) was delicious and brought us back to the som tam we had been eating during that trip to Thailand back in 2008-2009.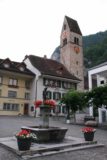 We were done eating the food at 8:15pm and walked all over Interlaken town while also exploring a little bit of Unterseen. The intent was to scope out this traditional Swiss place that we might have for dinner later on in the trip. We also wanted to see if could witness what Rick Steves
and Samantha Brown
saw as communicated by the DVDs we saw.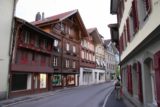 While in Unterseen, it seemed like it was much quieter than the neighboring Interlaken. There were also pockets of traditional Swiss charm within this neighborhood, and Julie and I had a pleasantly quiet stroll through this part of town before rejoining the commotion at Interlaken.
At 9:25pm, we returned to our room to finally call it a day.
Day 21: HEIDI HIGH
After the very early wake-up yesterday morning, we slept in and didn't wake up until 7:45am. We didn't take too much time getting ready for the day, and so by 8:30am, we went downstairs for the complimentary breakfast before heading out at 8:50am.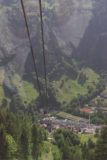 By this point, taking the train became quite familiar to us so we wasted no time taking the train from Interlaken West to Interlaken Ost, then transferring to a train that went directly to Lauterbrunnen. And we arrived there at 9:30am.
Next, we walked to a nearby cable car, where our Swiss Pass still worked. And so we took that cable car to Murren.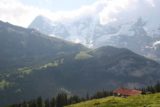 We got off the cable car within a few minutes where we then rode a small train that took us to somewhere near Murren. And at 10:15am, we walked through the quiet town of Murren all the way to a cable car station for Shilthorn after about 10 minutes or so.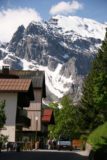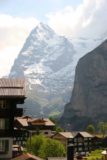 It was a forced walk, but it was a charming one as I spent a good deal of time taking photos (albeit against the sun) of the impressive big 3 snow-covered peaks (Eiger, Monch, and Jungfrau) across the Lauterbrunnen Valley below.
I can't recall how long the walk was because I was too busy taking many photos while Julie was way up ahead of me. But I simply couldn't help myself as it seemed with each passing minute, there were vistas that just beckoned me to continue clicking the shutter.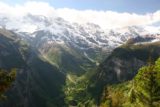 The walk eventually passed through the main part of the Murren village, but at this fairly early morning hour, it seemed like a very, very quiet town with hardly anything open (not that we were going to sit and stay as we were making a beeline for the next cable car to Schilthorn).
But as we passed through the town, it was apparent to me why these villages perched above the Lauterbrunnen Valley could be considered charming and simply classic Swiss Alps scenery. For the snowy peaks that constantly commanded attention with their imposing height and sharp shapes loomed large above the charming chalets of Murren.
Call it what you will, but all the stereotypes and Disney cliches apply here. Heidi
. The Sound of Music
. The hits just kept coming.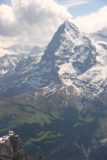 By 10:35am, we were packed in pretty tightly for the cable car up to Shilthorn. There was a stop at an intermediate station at Birg, but all we did there was to walk immediately to the next cable car, which continued further up to over 9000ft for the Shilthorn Station.
Up here, the air was thin and once again, Julie was laboring to breathe. My ability to breathe wasn't as bad as it was at Jungfraujoch yesterday. However, we still wasted no time getting right out onto the lookout platform to take what photos that we could.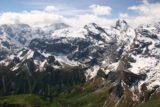 But despite the sunny weather, the winds were blowing hard bringing the wind chill factor with it. So as I was busy taking photos, my hands went painfully numb.
Still, it didn't stop me from taking what photos I could since how often could we ever be up here again under these fair conditions where we could see tall peaks (albeit somewhat cloud covered) across the valley while looking in the opposite direction, there were more white-covered peaks below where we were standing.
At 11:40am, Julie and I had had enough of the thin air and the elements, and were waiting for the next cable car down (perhaps a bit too early). So we waited there for over 20 minutes before we were finally jammed together with other tourists also itching to go back down.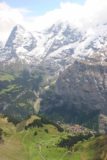 When we arrived at the intermediate Birg Station, I couldn't help but to quickly jet out to the overlook platform there and hastily snap what photos I could before the next cable car took off for Murren. It was a shame we couldn't stay up here for a few more minutes, because neither Julie nor I wanted to wait another half-hour for the next cable car to show up.
Eventually, we made it back to the station near Murren before catching a connecting cable car that took us to Gimmelwald.
Something that confused both Julie and I was when our Swiss Pass counted and when they didn't. Apparently, only the Schilthorn cable cars required additional payment. The others (which included other cable cars) seemed to be part of the Swiss Pass. Not bad.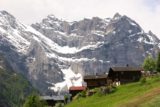 Julie had looked forward to visit this quiet town after seeing something about from a Rick Steves DVD, but when we got there at 12:30pm, I somehow didn't think it was as charming as Julie had hoped for.
Nonetheless, this place certainly was quieter than most spots we had been to and I guess if we weren't on a waterfalling agenda, perhaps we could've lost ourselves while hiking here like Rick Steves recommended.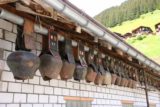 I think (perhaps wrongly) that we came to Gimmelwald looking for some of those giant cow bell performances in traditional Swiss style. And, well, we did manage to see one particular house lined with these giant cowbells. For that was all we would see of these things on this day apparently. It's just that they weren't put to use. In fact, there was hardly anyone around when we were there! Peaceful? Or just dead? I'll let you decide.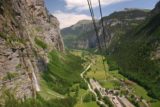 Anyways, by 1:05pm, we finally made it to the Lauterbrunnen Valley by arriving at the Talstation Shilthornbahn, which was in between Trummelbachfalle and Stechelberg town. I guess we were supposed to take a bus to get out of here in a timely manner or just go for a walk.
But as we landed (and even during the ride down), Julie and I were mesmerized by a fairly substantial waterfall tumbling alongside the cable car as well as some tall cascades across the valley falling towards what I think was the Stechelberg town.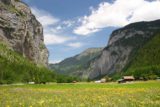 On terra firma, we saw the steep-walled valley framing flowery meadows sprinkled with some charming Swiss wooden chalets as well as other wooden buildings. It was very reminiscent of Yosemite except there was a greater deal of infrastructure for public transport (i.e. support pylons and steel cables) and even habitation whereas Yosemite was much more of a protected nature sanctuary.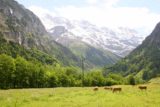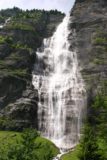 The sign at the waterfall indicated that Murrenbach Falls was 430m tall. However, from looking at the falls itself, the claims that this 430m waterfall (which disagrees with another sign saying it's 417m) should be counted as one big vertical drop doesn't seem to hold merit. We still think Staubbach Falls' 297m free-fall height is more legitimate and Murrenbach Falls' 430m is more of a cumulative height. In any case, it's tall and impressive, and it certainly drew lots of camera clicks from us.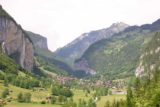 Eventually, at about 1:42pm, we caught a bus (which was also part of our Swiss Pass) headed to Trummelbachfalle. And when we got there at about 1:50pm, Julie and I felt like having a quick lunch before visiting the waterfall itself.
The "cheap" food ended up being about 25 Swiss Francs, which I guess was the best we could do in Switzerland since everything's almost Iceland-like or Norway-like expensive.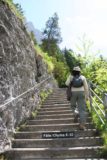 Well, at least the bratwurst was pretty tasty.
Anyways, at 2:25pm, we were done having our lunch and headed right up the paved walkway towards the gate where we spent our 11 Swiss Francs per person to visit the Trummelbach Falls.
Some of the signage indicated that the falls were mostly fed by the combination of the melting glaciers of the Jungfrau, Monch, and Eiger all draining into this slot canyon. So power was something we expected with this rather subterranean waterfall.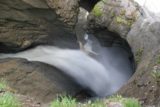 We could see straight away from the signage that there were 10 main chutes. But there was also a little funicular ride that took us up to the 6th chute. From up here, we had to walk up to the 10th chute, but we could also descend back down to the 2nd chute where the funicular ride entrance was. Finally, there was also another set of steps leading to the first chute.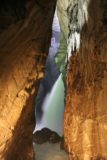 So first up, Julie and I walked from the 6th to 10th chutes after getting out of the funicular. And straight away, we entered what seemed to be a slot canyon accompanied by loud rushing water alternating between mostly hidden plunges, whirlpools, and rapids. The walkways were always safely above the action below us, but we could certainly hear the rumbling and maybe even feel a slight tremble in spots.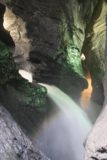 For some of the chutes, it was real misty making photography very difficult. In most cases, there wasn't very much light so we really had to exercise stillness when taking long exposure photographs while also setting the ISO real high.
Once we were done visiting the upper 5 chutes, we then descended down some more steps passing by the mostly hidden chutes of 5 through 2.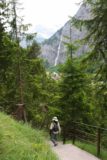 This stretch seemed like it was more accessible to daylight as artificial lighting didn't seem to be as relied upon as for the upper 5 chutes. But it certainly felt like this stretch of the waterfall had an even larger chunk of its length hidden in the narrow and curvaceous slot canyon.
In one particular spot, there was a signpost indicating "Corkscrew Falls." But when we got there, there wasn't anything that special about it except I thought I saw some kind of fast-moving whirlpool within the rocky confines of the slot canyon.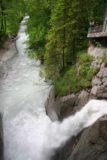 Finally, we checked out chute 1 where there was a bridge that went over the turbulent stream between chutes 2 and 1. Some of the waterwheel on chute 2 from time to time directly spilled onto the bridge itself.
A few paces beyond the bridge between chutes 1 and 2, we were at the dead-end where we could look down at the final drop of Trummelbach Falls plunging visibly and audibly to the rushing stream below as it made a beeline towards the main river running through Lauterbrunnen Valley in the distance.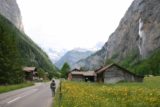 At 3:40pm, we were done visiting the falls. But during the 2km bus ride from Schilthornbahn to Trummelbachfalle, there were views that I was hoping to recapture by walking. So we walked from Trummelbach Falls towards the Schilthornbahn Station in the direction of Stechelberg.
Unfortunately, cloud cover was heavier at this time as we embarked on the walk. Then again, I guess that was to be expected since we learned that afternoons tended to be cloudier than mornings.
Furthermore, initially the path we took followed the main road, and there didn't appear to be any shoulders or sidewalks alongside the road. Apparently, we missed the entrance to the walkway, which skirted the side of the valley instead of right down the middle like the road we were walking on (all the while trying not to be road hazards to traffic passing by us).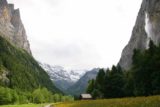 After about 15 minutes of precarious walking (probably where we weren't supposed to be walking), we eventually found a path that cut through a camping area and ultimately re-joined the pedestrian path on the side of the valley. Of course, it wasn't exclusively for pedestrians as we had to yield to a passing tractor.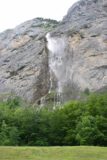 It turned out that the Yosemite-like views I had thought were to be had by walking this stretch tended to be interrupted by power lines (I guess the extensive public transportation had to come with a price) as well as private farms and buildings.
Julie criticized me for suggesting this option as a waste of time, and maybe she was right. But one thing that was good about this walk was that we also saw a sign giving a name to the wispy waterfall between Murrenbachfalle and Staubbachfalle. That name was Agertenbachfalle.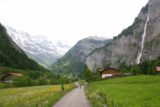 Eventually at 4:30pm, we made it back to the familiar Schilthornbahn stop. We were a bit tired, but we still had to satisfy our curiosity about what Stechelberg was like. In hindsight, we should've taken the bus there before going to Trummelbachfalle since the weather was still agreeable at the time and less overcast. These overcast conditions have now obscured the tallest peaks towering above the area.
Still, what's done was done, and now we weren't going to be denied our little quickie to Stechelberg.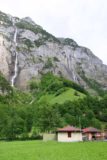 At about 4:50pm, we finally made it to a stop in Stechelberg. Apparently, we didn't make it to the last stop, which turned out to be the Stechelberg Hotel. Nonetheless, I seized the opportunity to take photos of the tall waterfall I noticed earlier, which had a sign by its stream that said Mattenbach.
But there were other smaller cascades tumbling nearby the town as well as others at the head of the valley, which were mostly hidden.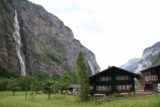 By 5pm, we were done with Stechelberg and caught the bus back to Lauterbrunnen. And from there, we caught the crowded Interlaken Ost Train and eventually the short hop back to Interlaken West via train.
By 6:10pm, we were done with the sightseeing and returned to our room. We changed into more comfortable shoes and then headed back into town for some Korean food to continue Julie's Asian food craving.
It wasn't the greatest food (not like the Thai restaurant yesterday which was surprisingly good) nor was it cheap as it was close to 50 Swiss Francs (almost $45USD). I'm sure we could've better spent that dinner money on better quality food, but Julie wasn't going to be denied on this one.
And so after the dinner, we were right back at our room to call it a night. So far, the weather had been holding up for the most part. We hope tomorrow will be more of the same. However, we will change gears and visit a different part of the region this time.
Day 22: SNATCHING VICTORY FROM DEFEAT
At 6:30am, I awoke. When I looked out the window, it looked a bit cloudier this morning. And when I looked at the web cam for Zermatt, it looked like it was raining over there!
So that meant that today we'd give the Brienzersee (Lake Brienz) a go. I was hoping that today would be a short day visiting just a pair of waterfalls. So I was looking forward to a fairly laid-back day where the only stress would be working out the public transportation connections and logistics on visiting the falls themselves. It's times like these that I wondered if we were better off self-driving with its associated freedoms instead of using the efficient public transport but always on someone else's schedule.
Anyways, after the croissant breakfast at the hotel, we left at 8:50am. And after a brief walk to the Interlaken West station, we caught the train just in time for Interlaken Ost. And soon thereafter, we caught the connecting train to Brienz.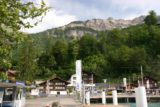 By 9:20am, we arrived at Brienz. During the train ride, we were able to see the Giessbach Falls across the lake, but we were on the wrong side of the train and the train was moving fast.
So at the train station, we went over to the info center asking about the times that the boat goes over to the Giessbachfalle. Unfortunately, when we learned the schedule, the next boat wouldn't go until 11:15am. So what were we going to do for the next two hours?
Moreover, the boat schedule also had three other departures from the Brienz station bound for Giessbachfalle. I don't know what it is with boats, but it always seems that excursions involving them results in a rushed or highly inconvenienced experience. We were still scarred by our rushed Nachi-no-taki experience, which involved a practically useless (time-wise) boat transport to and from the Hotel Urashima.
In hindsight, we probably should've taken the boat straight out of Interlaken Ost. That would've at least put us at the falls around 10:45am or so.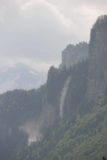 So we waited at the train station for the next one to Meiringen. Had I known better and looked at the boat schedules before setting out today, we would've stayed with the train we originally started with to get to Meiringen.
Anyways, what's done was done. The plan now was to try to catch the 2:45pm boat to Geissbachfalle from Brienz. And with that, by 10:10am, we arrived at Meiringen. A bit later than I would've liked.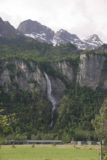 The train ride to get here was quite interesting as we saw at least two or three seemingly significant waterfalls. They'd be quite photogenic if not for the power lines and foliage almost constantly in the line-of-sight. And I wasn't sure if these waterfalls had names nor if there was an excursion or hike to visit them.
In any case, they were neither the Geissbachfalle nor the Reichenbachfalle.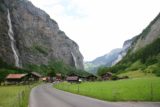 When Julie and I left the Meiringen Station, we weren't able to figure out from the bus signs whether it takes you right to the Reichenbachbahn (the funicular for the falls). So we didn't wait around for the bus.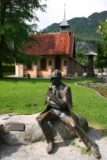 Instead, we walked through Meiringen town, where we happened to see a statue of Sherlock Holmes and a house (which I imagine was the museum) right behind the sitting and leaning statue. I wasn't one who followed the Sherlock Holmes novels, but apparently, the author used Reichenbach Falls as the venue for the end of his series. And now the local Swiss took that and ran with it making memorials like this after the fictional character.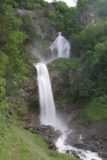 But at some point beyond the Sherlock Holmes Museum, we weren't sure if we were going the right way because after following the first two Reichenbachbahn signs, we didn't see any more. Then, there was a waterfall we noticed with a cable car nearby. We weren't sure if that was Reichenbachfalle, but we proceeded presuming that was the case.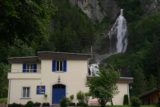 Still, we thought it was strange that there wasn't any signage indicating as such and the cable car was closed. Plus, the views of the falls didn't seem to be on public lands. There was some kind of energy facility nearby and we had to walk behind its building to even get a view of the falls nearby.
Recollecting that Reichenbachfalle was 500m tall, something was wrong.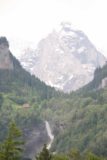 So Julie and I walked back towards town when we noticed the Reichenbachbahn sign saying 20 minutes opposite the direction of the falls we just saw. So we continued walking and we started to notice part of a tall waterfall in the distance underneath what appeared to be the peak of Eiger right behind it.
The walk seemed rather long and there was a bus that passed by us going right to the park for Reichenbachfalle.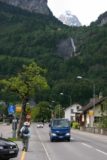 It wasn't until 11:10am when we finally got to where we were supposed to be in the first place.
But something seemed wrong.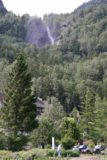 The funicular wasn't running. And when we asked the worker, she said the funicular was closed due to the high winds. We did notice these winds all the way back at Lake Brienz, but it seemed to have intensified somewhat since then.
So naturally, I asked another local if it was possible to walk up to the falls. Unfortunately, she said it was pretty long and she encouraged us to take the funicular since it was short and cheap (relatively speaking). Well, that was fine and dandy except the funicular wasn't running.
But at least she pointed out where we were supposed to walk up (it wasn't very well signposted).
At first, I had gone partway up to scout out whether there was a view of the falls, but after ten minutes, I realized that it wasn't going to be trivial. So I retreated back to the bottom and brainstormed with Julie what we should do.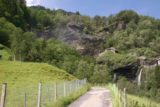 At this time, the thought had already crossed my mind that today might end up being a total loss. But the weather forecast had rain tomorrow, and there were no guarantees that we would be able to do this excursion again later in the trip. Besides, we were already here, and all that stopped us (as far as I was concerned) was a little exercise.
And given the apparent physical challenge ahead of us, Julie decided to stay behind. So at 11:35am, I started the walk (again, much later than I would've liked; so there went aspirations of catching the 11:15am boat ride and the 2:45pm boat ride was in jeopardy).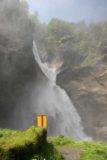 The walk was quite steep and seemingly endlessly ascending. Some of the trail seemed to have gone through some sheep paddocks, which really reminded me of some of the hikes in Norway. Certainly the steepness of the hike reminded me of there.
But it wasn't until 12:05pm when I finally started to both see and even touch some of the waters from the falls. For it was here that the trail skirted the gorge and showed a piece of the falls crashing violently and loudly. There was swirling mist wafting from the falls and then blown forcefully by the strong winds.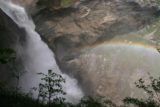 This was a spot where it was easy to get drenched so I didn't linger here for too long. But my curiosity did help me continue on the trail and realize that this wasn't a dead end.
So continuing on, the switchbacks and stairs continued. About 12:10pm, I found one spur path that went to a dead-end with another partial view of the falls. But what made this dead-end interesting was that there was a plaque here dedicated to Sherlock Holmes. Apparently, this was his death spot (or at least that was my guess after attempting to make sense of the German signs).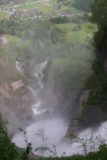 At about 12:30pm, I eventually made it to the spur trail leading to views of the falls. Unfortunately, there was a singular rope put across the path discouraging access due to high winds.
And after exploring above the bridge higher above the falls and realizing that there was no other access, I eventually returned to the spur path and went past the rope.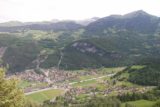 It turned out that this path was the one I should've taken all along. There was already a lookout a couple of switchbacks down. But as the path descended more, it then crossed over a bridge where you could see some of the upper tiers of the falls looking upstream as well as a big drop just downstream from the bridge. And that bridge was surprisingly misty because mist was being blown back up to the bridge thanks to the high winds.
Continuing on, the path then descended some more towards more overlooks. The first one on this side of the stream provided awkward sideways views of the falls giving you some sense of how tall the drop was. However, this lookout also provided interesting panoramas of the outskirts of Meiringen backed by tall, triangular snowy peaks.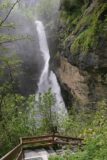 But once again, the intense winds were blowing the mist even up to this vantage point, which was still well above the falls.
Then, after descending even more steps with the winds still blowing hard and dropping twigs from the trees above, I finally reached the last tiers of stairs providing nice frontal views of the massive Reichenbachfalle.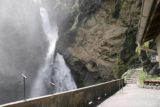 It was also down here that there was a sanctioned lookout platform allowing you to take photos (when the mist wasn't blowing right onto the camera, of course) and that this was where the funicular would've eventually dropped off passengers.
It was eerily quiet up here since nothing was open, but at least I managed to see this waterfall and snatched victory from the jaws of defeat.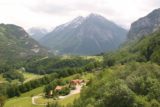 Now, I had to rush my way back to the top of the falls before rushing back down to the very bottom where Julie was waiting for me. With the looming time constraints in Brienz, I hastily climbed back up the stairs and eventually back to the trail I took up.
At that point, it was all downhill. And at one junction, instead of taking the exact way up, I took a more alternate path that was slightly more gentle slopewise, but the rocks were still jolting to my knees. In fact, I probably worked me knees real hard going downhill to the point that at some point, they got sore and eventually painful.
Nonetheless, at 1:35pm, I made it back to the bottom. That was when I saw Julie finished with her lunch.
And so we sat at the funicular waiting area anticipating the next bus back to Meiringen. Unfortunately, the schedule indicated that we'd have to wait another hour for the next bus. But Julie said buses come more frequently than what's said in the schedule.
That was when another funicular worker came out and saw us, and then (thinking we were going to take the funicular) told us that the funicular was closed (which we knew already). But when we told her that I walked to the top, she expressed surprise and then engaged in some dialog with us discussing things like the weather as well as helping us call the Giessbachfalle funicular to see if they're operating.
She suspected they would operate because they were more sheltered from the wind even though the winds were strong at Lake Brienz.
She also said that the winds weren't anything new. In fact, it had a name (which I couldn't hear over the howling winds on how she pronounced it). And it meant relatively clear weather here, but would mean rain in the Zermatt area.
She then went on to say that rain was expected to come this weekend as the winds subsided. And that this weekend would be the time to check out the Zermatt area since bad weather here typically meant decent weather down south according to her.
And as she realized our intentions of visiting the Giessbachfalle, she realized that the bus wouldn't be coming in time for the next train back to Brienz to even catch one of the infrequent boats to the falls. So given that, we walked back to Meiringen at 1:50pm, eventually catching the 2:21pm train to Brienz.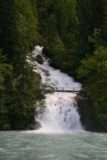 By 2:35pm, we arrived at the boat dock in Brienz, which was now crowded with people ready to get on (some with luggage). There wasn't anyone manning the ticket office, but eventually someone did show up just a minute or two before the boat was to take off. And that was when we showed her our Swiss Pass, and she said it was included in our pass.
So with that, we ran over to the boat, being one of the last ones to board.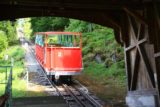 By 3pm, we arrived at the Giessbachfalle dock. And soon thereafter, we boarded the funicular.
But just like the lady at Reichenbachfalle said, it was definitely calmer here. The violent winds were definitely not felt here, but we could see the whitecaps on Lake Brienz in the distance indicating that the winds were still there.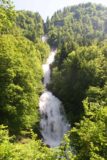 Once we got up to the top of the funicular at 3:15pm, we learned that the next funicular back down was at 4:05pm, which would be just in time for the 4:15pm boat back to Brienz. It was once again another instance where boat transport departure/arrival times resulted in a rather rushed experience.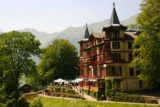 In any case, we took photos of the impressively tall waterfall, which we could see just outside the funicular and in front of the historical hotel. We also noticed a bridge further upstream, and so we walked up to it just to see how else we could experience this falls.
By the time we got up there, we noticed that there was a path that went behind the falls, which was pleasantly surprising considering all the trouble we took to come here.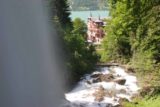 Eventually, after completing the loop and finishing off touring this part of the falls at 3:45pm, we had about 15 or 20 minutes before the funicular would take off back down again. Part of me wished we hadn't bought the round-trip ticket and walked down alongside the falls instead, but what's done was done.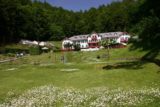 There certainly wasn't enough time to check out the historical hotel here, which was once again a consequence of a very infrequent boat schedule tied to this falls. And once again, it made me wonder whether we would've been better off self-driving to here as we saw a car park on this side of the lake.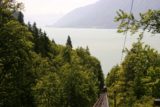 Anyways, we caught the 4:05pm funicular as planned, then the 4:15pm boat as planned. As we boarded the boat, Julie was inconsiderately bumped by a rather large woman who merely glared at her and didn't even apologize. Rather inconsiderate of her and quite fortunate that Julie wasn't injured. I guess the best we could do going forward was to try to prevent a recurrence by avoiding such contact as best as possible.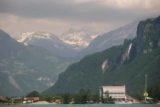 At 4:40pm, we were back at Brienz and caught the train back to Interlaken Ost. This was a very busy train, and it seemed to have a rather unusually high number of inconsiderate passengers (as one dude took 3 seats and didn't seem to be using the other 2 other plus another car was full of youngsters being loud, playing music, and mixing alcoholic drinks randomly). Oh well, at least we were headed back to Interlaken and this was only a temporary ride.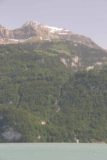 Speaking of ride, I took a few more photos of the Giessbachfalle across the lake. This wasn't easy in a fast-moving train while the line-of-sight was full of foliage, power lines, and poles getting in the way.
Eventually at 5:15pm, we finally made it back to the hotel. Thus, it ended off what turned out to be a surprisingly long and tiring day. And I was looking forward to some traditional Swiss food to get back some of the calories lost today in the unexpected physical challenge up to Reichenbachfalle (especially after having 2 straight Asian dinners).
The food we ended up eating as the Baren Restaurant in Unterseen. Aside from dealing with cigarette smoke, Julie enjoyed her bratwurst salad, and I liked the traditional cheese fondue where there was a hint of alcohol spiked in the cheese.
Julie and I were going to share a hot chocolate for dessert, but the nice waitress at the restaurant recommended against it because she thought it would be milk overload. So we took her advice to heart and even decided against indulging in chocolate fondue this evening despite the fact that we were looking forward to it.
Day 23: EINSTEIN'S TIME
At 6:30am I awoke, but that was probably because I dozed off last night at around 10:30am. So it wasn't like I was groggy when I got up.
But once again, we took our time getting ready. Except this time, we designated today as a day to take a break from waterfalling and nature by visiting the Swiss capital of Bern.
So it wasn't until 9am when we had our brekkie, and it wasn't until 9:40am when we left the hotel. And finally at 10:06am, we caught the once-an-hour train to Bern from the Interlaken West Station.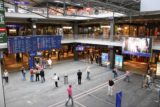 By 11am, we were at Bern. But the size of the train station kind of surprised us, and that was when some rail volunteer got in touch with Julie (I guess he noticed we weren't quite sure where we were going), and ended up walking us to the main part of the train station including the information center where we picked up a city map.
That was very nice of him to do that.
As a matter of fact, Julie thought this was the nicest Swiss person we've come in contact with as it seemed he bent over backwards to help us and make sure we were in good hands. That was much appreciated.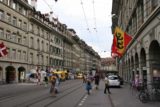 Once we were done collecting a city map as well as some advice on what to see today at the tourist office, the helpful guy flagged us down again just as we about to leave the station. This time, he handed us some mints. Again, this guy really overdelivered and it was something we definitely remembered with a smile.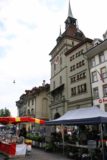 So then, Julie and I went about walking right towards the older part of the zentrum (centrum) of Bern. Straight away, we could see the cobblestone streets with rails for the city trolleys (which has CO2 neutral painted on its bodies) all lined with charming facades of buildings all along the main thoroughfare.
We barely started exploring the city when we ran into a pretty bustling open area in front of some clock tower (though according to the map, this wasn't the old one that supposedly inspired Einstein's special theory of relativity) where there were street stands selling fruits as well as takeaways like crepe and even tacos.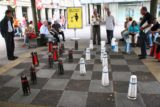 So at 11:45am, Julie and I were sampling some of the foods here while watching some people playing giant's chess. This was definitely not something you see or experience every day.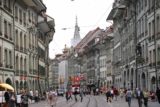 At a little after 12:15pm, we were done eating and proceeded to walk beneath that nearby clock tower and continue towards another more antique-looking clock tower. And it was that clock tower that we could see on the map that was the famous one.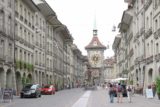 Again, the whole walk along this stretch seemed very charming and at the same time very 19th or early 20th century. Julie and I speculated that this centrum was well preserved and managed to keep its character because it managed to avoid getting shelled in wars (where neutrality does have its benefits).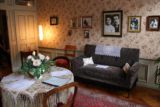 By about 12:30pm, we entered the Einstein Haus. Actually, it's his former apartment when he worked on developing hisspecial theory of relativity. That clock tower en route that we walked under was said to maybe help him come up with linking time and space, and after going that route, we can totally envision how his environment couldn't have hurt his imagination on that front.
We also saw a bit more about his personal life as it was situated in this apartment's 2nd floor. Julie was especially interested in Einstein's first wife and the nursery right next door to the working area. And in one of the blurbs, it seemed that his first wife could've very well been a critical help (or maybe even originator?) of the special theory of relativity as they were working together on it.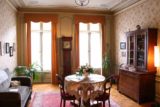 After checking out the displays on the 2nd floor, we then went up to the third floor where there was a movie chronicalling his career, life progressions, and accomplishments.
The movie was more like a timeline rather than a documentary so they didn't get too much into the latter stages of his career where his refusal to accept probability while failing to acknowledge the breakthroughs in quantum mechanics led to his ultimate failure to come up with a unifying theory of everything after his breakthrough special relativity (something that ended up consuming the latter half of his life right to his death). That was when he and Neil's Bohr had legendary debates and spats with Einstein coming up with his famous quote, "God does not play dice" (in reference to his refusal to accept uncertainty; perhaps the Heisenberg Uncertainty Principle).
Anyways, we then checked out the last displays on the 3rd floor, which was full of blurbs about his career (whereas the 2nd floor focused more on his personal life). And after having walked through there, I have to admit that it certainly did feel like we were present in a very important and historical place. And it totally jived with our speculation that not much had changed in Bern since the turn of the 20th century as if time stood still for the most part since Einstein's Time here.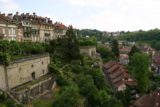 At 12:55pm, we left the Einstein Haus and continued to walk the charming thoroughfare. My feet were really aching noticeably causing me to limp more. I guess that was what I got for running down the hill in Chacos coming down from Reichenbach Falls yesterday in an effort to make sure we were able to catch one of the infrequent boats to Giessbach. And now I'm paying for that sacrifice.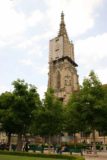 About 20 minutes later, we took a brief detour to the Munster Promenade where there were a bunch of benches to just sit back and chill as the Munster Cathedral loomed over us, and there were top down views of the river below as well as other charming 19th century buildings below.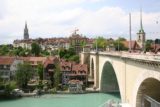 By 2pm, we were past the main promenade at the centrum and were on a bridge over the river where a large group of people were gathered on one side.
As I was busy taking photos on the other side of the bridge of the buildings and the river, Julie beckoned me to cross the street and take a look at what she and hordes of other people were looking at.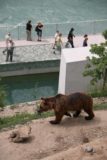 And when I got there, it turned out that there were bears below the bridge in some pseudo-habitat. They separated the sow and cubs with the lone male adult by a fine cage. And basically people were able to see these bears from above or from below in an attraction that was all free though they did welcome donations.
Personally, I wondered about the legitimacy of captive bears in the city as they didn't look terribly healthy. And these bears looked like grizzles with the familiar hump on their upper back or behind their neck, which seemed like they belong in the wild than a city captive.
Nonetheless, they entertained visitors oblivious to their predicament and became popular photo subjects.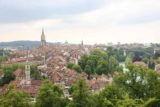 After the bears, we went up a fairly steep cobblestone ramp which made us sweat. At the top of this ramp was the Rosengarten (Rose Garden), which was basically an open area with roses bordering a large lawn area.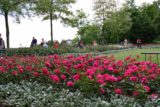 We noticed what appeared to be a small wedding party chilling on chairs around a table on one side of the lawn. Nearby was a cafe with lots of people just chilling out. And within the lawn itself, there were people doing various things like practicing for dance, kids running around, and even a shameless couple dry humping for the public to see.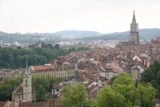 But the real reason why we were up here was to check out the view of Bern. Up here, we could see the jumble of slanted rooftops with the odd clock tower and cathedral protruding above the jumble.
By 3:25pm, we had our fill of the Rosengarten and headed down. And during our descent, Julie and I were conversing amongst ourselves about why Swiss websites had the .ch at the end of their address. And that was when a Swiss lady overheard us and excused herself to us as she explained that the "ch" stood for Confederation Helvetica in Latin.
She said this was the case because Switzerland consisted of four main nationalities and languages in German, French, Italian, and Romantsch. So to not show favor to any one ethnicity (in true Swiss neutral style), they came up with Confederation Helvetica to remain neutral in this sense.
So that explained a lot, and we thanked her for the explanation. The lady smiled broadly and continued on with her son.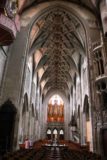 Once we got down to the base of the ramp, we continued our walk along the rest of the blue route highlighted on our city map given to us at the info center back at the Bern Train Station.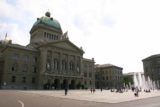 Julie thought this way was rather dead compared to the main thoroughfare so after visiting briefly the Munster Church and then the Parliament Building a few minutes later, we returned to the action on the main thoroughfare.
Finally at around 4:50pm, we arrived at the large and very busy Bern Train Station. On the large screen, we saw there was a train bound for Interlaken Ost at 5:04pm on Gate 5. So we first went there and waited as patiently as we could while enduring cigarette smoke, which was totally unavoidable down here.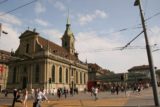 Then the PA announcer said there was some special train at 5:10pm on Gate 2. We weren't sure what was meant by "special" but perhaps it was one of those express trains that didn't make stops at the smaller stations. So we decided to move over to Gate 2 where there was briefly a little less smoke before more people showed up and lit up.
We saw the Gate 5 train, which was a pretty modern and smooth double decker but looked real crowded.
Finally at 5:10pm, we sat on the train, which was mostly empty. However, this train was similar to the dingy and dated one we took here earlier this morning. I guess this was what was meant (sarcastically) by "extrazug" which was stated on the sign prior to boarding this train.
Anyways, Julie and I were tired and practically napped a little throughout the train ride. But then at around 5:45pm, the train stopped for what seemed to be several minutes. I wasn't sure if there was something wrong with this train, but I began to regret not taking the earlier train even though it was busier.
During this time, a lid from a beer can flew over the seat and right in between Julie and I. I don't know what it is about us sitting near idiots on trains. For the pair of dudes sitting behind us were busy drinking and laughing about their calamity. Yesterday, there was a larger group of juvenile delinquents mixing drinks, playing music, and being loud. Obviously they didn't bother reading any signs or exercise any etiquette.
Finally at 5:52pm, the train moved again. Apparently, we were just waiting for another train going in the opposite direction to pass us since I guess this part of the train tracks was shared.
And finally at 6:15pm, we were back in the room to offload our stuff. By this time, my left foot or ankle was totally killing me. I didn't want to go back out, but on Julie's insistence, we eventually returned to Interlaken Ost to have wannabe Chinese food (that's 3 overpriced Asian dinners in a row except the Thai one on the first day was by far the most authentic and even somewhat reasonably priced by Swiss standards).
After the dinner, we left behind the chaos of boozing youngsters, backpackers, and hostellers and walked along the main street towards Interaken West. We made a stop at this chocolatier place called Schuh since we were interested in trying their chocolate fondue.
But after having it (which consisted of melted dark chocolate) while dipping the chocolate in fruits (some of which were a bit awkward like the apple, orange, and pears), we paid for the overpriced dessert and limped (in my case) back to our room.
I understand that "schuh" means "shoe" in German, and I honestly associated our disappointing chocolate fondue with eating shoe leather. I guess now that we know what it's like, we're probably sticking with the cheese fondue, thank you.
Finally after around 9:30pm, we were back in our room to call it a night.
Day 24: THREE BLIND MICE
At 6am I awoke. I did some catching up organizing and naming photos before we had breakfast and finally headed out at around 8:15am.
It was raining here in Interlaken, but we recalled the lady at the Reichenbachbahn telling us that if there's bad weather in Interlaken, there's usually better weather at Zermatt. We sure hope she's right today as this was to be our last full day while staying at Interlaken, and thus we were down to our last day left at trying to see the Matterhorn.
We could tell during the breakfast, other guests staying here had their heart set on visiting Jungfraujoch, but the foul weather made that impossible except for the indoor stuff like shopping and the ice palace.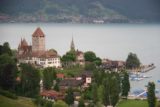 Anyways, we boarded a train bound for Spiez and arrived there at 8:55am. Unfortunately, the next connecting train to Visp wasn't until 9:36am so we had quite a bit of time to kill. I guess we didn't mind the train from Interlaken to Spiez being five minutes late as well, which we thought was strange considering how much pride the Swiss take in being precise.
When 9:36am finally came around, the train for Visp still hadn't showed up. And it wasn't until about 9:38am when the delayed train finally showed up, and it didn't leave until about 9:45am. So that made it two trains in a row where there were delays. And Julie and I couldn't remember a time when any of the trains in Japan were delayed. Considering the coverage and size of the country, that was no small feat! So perhaps that's a statement about how top notch the Japanese Rail System was.
The ride to Visp was pretty smooth and even went through a very long tunnel which lulled us to sleep. Fortunately, we awoke when we got to the train station at around 10:08am, but the connecting train for Zermatt was scheduled to leave at 10:10am. The tight connection was because of the delay of the train to get here.
Luckily, we got on in time and I guess they stomached a slight delay to accommodate all the passengers on the delayed train bound for Zermatt.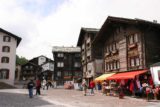 As the crowded train took off and headed further south, we could see the weather steadily improving. So it would seem that the lady at the Reichenbachbahn was right.
When we finally made it to Zermatt at 11:15am, we could see there was still a fair degree of cloud cover, but the sun was getting more intense and it seemed that things were starting to clear up. That seemed to be good news for our desires to finally see the iconic Matterhorn.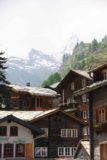 So while we waited for the clouds to disperse, Julie and I walked around Zermatt looking for a place for lunch to kill some time. And after an hour or so of aimlessly wandering around looking for the recommended places in LP, we finally found a pizzeria that was open.
For there were three other restaurants that went up dry for us. Two of those restaurants were closed for June. And one was no longer there. We weren't sure what was up with that?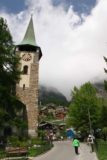 Plus, I myself didn't know what's up with the church bell ringing three tones in succession that sounded very much like "Three Blind Mice."
The pizzeria we ate at finally had what Julie was looking for in a pizza – mozzarella cheese plus basil along with the obligatory tomato sauce in a wood-fired crust. I guess this shouldn't be too surprising since Zermatt was, after all, very close to the Italian border. But since this was the first Italian-style pizza on a trip where Italian (or more accurately Venitian) influence was all around the Mediterranean (especially in Greece and Croatia), Julie was both relieved and happy to have this experience.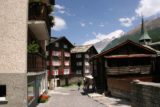 Anyways, when we were done with lunch after 1:30pm, we slowly walked towards the end of town. We still weren't quite sure where we were supposed to see the Matterhorn for the guidebooks and websites stated that it should easily be seen within the town of Zermatt. But so far, this hadn't been the case.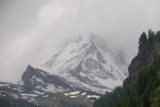 Eventually, Julie saw a part of the Matterhorn starting to show itself through the clouds and when I went over to her, I took what photos I can of what the mountain was willing to reveal of itself. But this part of town wasn't exactly a nice viewing spot of the mountain as lots of buildings were in the way so we went to a road just beyond the gondola station for the Matterhorn Express. Somehow, we missed the funicular station for the Gornergradt Station.
And once we were at a spot where we thought would've been a good spot to see the mountain, we waited for the clouds to disperse. And we waited… and waited… and waited…
Eventually by about 2:45pm, we gave up as the cloud cover seemed to have increased. I guess on this day, the Matterhorn was stubborn about concealing itself. That would make it the 7th straight day without the peak being revealed based on the web cam history at the Zermatt website.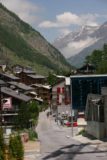 Ten minutes later as we heard the familiar "Three Blind Mice" church bell ring tones, we happened to see a pair of ladies walking two St Bernards. I think that was the first time we'd seen the stereotypical dogs in the country except these dogs were shaven plus they didn't have those barrel collars we used to see in the cartoons.
At 3:20pm, we were back at the Zermatt Train Station. Even though the iconic Matterhorn didn't show itself and we didn't get what we came for, we at least could take comfort in that we tried and played the hand that was dealt to us as best we could by remaining flexible for as long as we were staying in Interlaken (6 full days).
The irony was that the rest of Zermatt had pretty clear weather!
We caught the 3:39pm train back to Visp and were vacillating between sleep and waking up just in time to take a few scenic photos from the train of some cascades or of mountains in the background.
And after catching the busy train bound for Spiez, we finally caught the Interlaken train, and then arrived back at our room at 5:55pm.
This was probably the lightest photo-taking day in a while, but I guess that would give me a little time to do a little catching up tonight and tomorrow morning when we leave for Luzern (Lucerne).
Day 25: CONTRIVED
At 6:30am, I awoke and wrapped up the packing. Outside, it looked very foggy. But actually when I checked once again, it was raining!
Most of the morning was spent just packing, finishing off chores regarding photos and blogging, checking the internet one last time since it won't be free at the next stop, and having another indulgent breakfast involving crispy croissants with nutella chocolate.
By 9:20am, we were at the Interlaken West Train Station with our luggage. My left ankle was stil bothering me so carrying on the extra weight was still uneasy.
Anyways, we caught the 9:23am train to Interlaken Ost, then waited at the Interlaken Ost Station since 9:45am for the 10:04am departure bound for Luzern – our next place to spend the night. The Interlaken West to Interlaken Ost train was once again late. I don't know what's up with the Swiss Precision (or lack thereof) on these weekend trains, but it appeared that here was one instance where the Japan Rail System even surpasses the Swiss one in terms of precision and speed.
We believe that it had to do with the way the Japanese system checks for tickets using turnstiles at the very beginning where the Swiss system checks during the train ride. There was also no queues on the train stations in the Swiss System which could lead to a China-like situation where people would crowd in (though it's nowhere near as bad in Switzerland).
On the way over to the correct platform for the Luzern train, some Asian girl bumped into me from behind. She apologized, but her other girlfriends joked that she did it on purpose, and that she should ask me for my number. That brought a chuckle out of me, and Julie was too far ahead to hear the follow-up dialog.
Finally at 10:04am, the train showed up on time, and we were headed off. I was surprised to see that it would take two hours to get all the way to Luzern (Lucerne in French) considering it wasn't that far away. But we would later learn that this train pretty much stopped at almost all the stations en route. No wonder why this "Golden Panorama Train" took so long!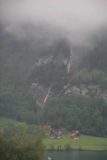 The rain and low-hanging clouds persisted throughout this time. So whatever photo ops were to be had were extremely limited. Though we did spot a couple more waterfalls, which were becoming a dime a dozen whenever we woke up at the right moments after all the napping dominated throughout the train ride that took forever. The waterfall sightings included an unexpected one near Lungern and its neighboring lake.
There were some hard-core punk German backpackers sitting near us who emitted an almost homeless smell. One guy was barefoot and put his foot on the seat. When he went out for a smoke in the rain in Meiringen Station, he was still barefoot. Not exactly very sanitary behavior.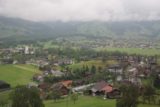 When the ticket ladies roamed the aisle checking to see if passengers have paid their fare, once again we noticed how she greeted everyone with "Guten tag" and then thanked each ticketed passenger with "Merci." Only in Switzerland, I guess!
Anyways at 12:20pm, we finally managed to arrive at the hotel we were staying at right across from the Luzern Train Station. From reading the literature, we had expected a charming small lakeside town exuding all things Swiss. But the train station was pretty big, and one step outside it revealed a pretty busy city.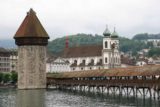 The hotel wouldn't let us get into our room at the time (at least not until the quoted time of 2pm) so we left our luggage (along with hordes of others in their back room), and started walking towards the Medieval bridge that we had read about.
It turned out that we spent quite a bit of time taking photos here and didn't even bother walking the rest of the streets when Julie suddenly decided to go for some Thai food recommended in LP.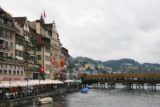 But when we walked outside of the main centrum and over to the restaurant, we found out that it was closed on Sundays. So the detour was for nothing, and we settled for a kebab.
After the lunch, Julie wasn't feeling well again. This time, she was complaining about coming down with a sore throat. And I could see that our city tour might have to wait or be nixed altogether.
By 2pm, we were back at the hotel, where we checked into our room, which was actually roomy (relatively speaking) for once. Outside, it looked like the next round of rain came down pretty hard. And while all this was going on, Julie took a nap. I guess the city tour will have to wait…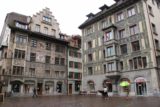 At 4pm, we headed back into the city. The conditions remained cloudy, but at least the rain let up. So we walked towards the city walls on the backside of the city center. And during this walk through part of the city center, we could see what appeared to be more like cobblestone streets lined with shops.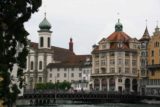 In fact, it felt more like an outdoor mall than something more authentic (albeit still for tourists) that we experienced in Split and Dubrovnik in Croatia. Maybe we were spoiled, but this city felt a little more like a contrived outdoor shopping mall for tourists.
So as we walked further back beyond the bustling part of town, it seemed like the city was dead on that side. It was much quieter and we began to wonder if we were going the right way.
Fortunately, following the city map's walking route was somewhat straightforward and we eventually walked up several stairs and ended up on the backside of the city wall. Then, there was an opening on the right underneath the wall leading to a long series of stairs. And at the end of the exercise, we ended up at the top of a tower providing commanding views of Luzern.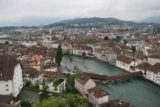 We took a few photos from up here, but with the cloudy skies, I'm sure the snowy mountainous backdrop was missing from what would've been an otherwise alluring vista.
So we headed back down the tower, then along the city walls towards another tower. This time, this tower had a clock on it. While I was busy making snide comments to Julie about how the Swiss love their clocks, I didn't bother to check to see if the clock was accurate.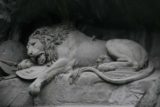 Anyways, we eventually had our fill of the city wall and continued walking down the hill eventually arriving at the lion. The lion looked rather somber and possibly dying, and I guess it was supposed to symbolize some kind of massacre or to honor the fallen in conflicts past.
The lion was actually like it was etched into a cliff fronted by a pool with ducks swimming and lots of coins thrown into it. I didn't know what to expect and I was actually pleasantly surprised by how striking it was.
Unfortunately, that was when it started to rain pretty hard. So we didn't linger here for much longer.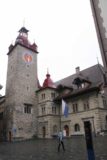 At that point, it was time to go for an early dinner. We figured we saw most of the interesting parts of the city (especially since we felt it lacked the charm we expected from the descriptions in the literature) so it was time to wind things down for the day. And since we had a little bit of a French craving, we decided to go to this place called the Brasserie Bodu.
At first, it was smokey and we weren't sure if we were going to eat here, but eventually, the waitresses led us to some area downstairs (quite rare for Europe we thought since space was a premium). But at least down here there wasn't any smoke and it was quiet. But it was the decor that made Julie beam with memories of Paris, and she kept mentioning how it would be nice for the both of us to go there on our own since I had never been there.
We ordered escargot, sardines, bouillabaise, and entrecote bodu. And when we got the food, we were blown away by how delicious it was. The food was rich and filling, but it was flavorful, and it was everything we thought French food should be.
The only thing this place didn't have was soufflee. But that was OK. We were pretty full even though the portions were just right.
As we left the restaurant, that was when it started to get pretty busy. I guess we beat the rush.
And once we were back outside again, the rain seemed to have come down even harder. So we hastily made our way back to our hotel (bum ankle and all). And we finally got relief from the wet weather at 7:30pm.
The weather got Julie and I wondering about the fairly foul weather we'd been having on our trip even though it should be Summer (or close to it) by now, and we're in temperate climates like at home. But I guess that's just the way it goes sometimes, and timing historically hadn't been kind to us in matters like this where weather counts in such precious times.
We hope things improve for the next three days when we stay in Zurich for the final leg of our AAA trip…
Day 26: CLOCKS
Julie and I slept in knowing that today was going to be yet another transit day lugging luggage from one train station to the next, and then trying to check into a hotel in a different city. So we didn't awake until 8am, but the heavy rains from last night and this morning were real audible. So that was further motivation for us to just take our time.
My ankle was still quite sore making me wonder if I might have done some real damage to it (like tore something or even broke something) since it didn't seem to be getting any better.
Eventually at 10:05am, we went across the street from the conveniently located Hotel Waltstatterhof and were settled aboard a train bound for Zurich.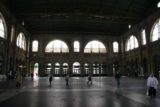 At 11am, we arrived at the Zurich Main Station, which was very big. But unlike the one in Bern, this train station was big in a hangar-like manner. That meant that the area in front of the Tourist Information Office was mostly empty space. It was interesting use (or lack thereof) of open space, but at least that kept the cigarette smoke more dispersed.
Eventually, Julie and I got our bearings and walked over to the Hotel Montana where we were to stay for the final three nights in Zurich – our final leg of our monthlong trip to three countries in the Aegean, Adriatic, and the Alps (the so-called AAA Trip).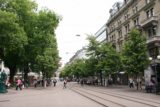 At 11:20am, we were too early for checking into our room so we had to leave our luggage at the reception.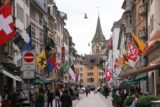 And after lightening the load we were carrying on ourselves, we walked back towards the train station, and then out its southern exit where we walked right onto the Bahnhofstrasse, which was a wide combination of promenade flanked by shops and cafes while centered by train tracks for the electric trolleys serving as the city's main public transportation.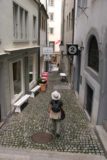 Julie and I were aimlessly wandering around this busy street trying to soak in the atmosphere and the busyness of it all. But then some of the smaller cobblestoned streets off to the left caught our attention and we deviated from the promenade just to see where they led us.
At first it started off like a flag-lined street full of both shops and pedestrians. But soon enough, the streets led to even smaller and narrower cobblestone walkways which seemed quieter. Julie and I gladly walked and explored these little nooks and crannies not really sure where exactly we were going.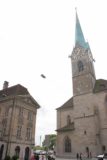 Eventually, we meandered towards the river where we were surrounded by some more clock towers. Again, this was a seemingly consistent theme no matter where in Switzerland we went. However, there seemed to be more clocks concentrated in this city than elsewhere.
After having our fill taking photographs as the weather seemed to have momentarily improved, we then stumbled upon this place called the Zeushauskeller, which was a very atmospheric yet bustling spot for a meal.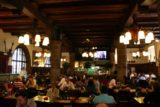 The wooden interior of the restaurant displayed some interesting shield symbols, spears, and even firearms. Of course on the way downstairs to the bathroom, there was yet another large analog clock hovering right above the path in true Swiss style.
The food consisted mostly of heavy sausages and meats. I'm sure Julie and I could've split just one dish, but we thought we mind as well experience as much as we could that were uniquely from this area.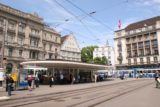 By 1:45pm, we were totally stuffed (not surprisingly). On our way out of the restaurant, we noticed a sign that indicated that smoking was forbidden because this place still contained live shells. Apparently, this used to be an armory. But that would be as good a reason as any to prohibit smoking. Besides, that was especially good for us since us non-smokers wouldn't have to be sucking in any second-hand smoke.
As we proceeded to wander around some more towards the bustling Paradesplatz (a fairly wide and busy square dominated by trolley tracks and surrounded by a mix of old and modern buildings), we found this chocolatier place called Sprungli. We had been looking forward to it since we saw the Samantha Brown DVD and thought this must be the place to have a hot chocolate.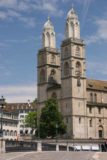 So at 2pm, we had our hot chocolate as well as a tiramisu and a hot tea. But I had to admit that the hot chocolate wasn't as good as I had expected. I guess that was because they focused more on using thick dark chocolate, which I thought was more bitter than the smoother milk chocolate. Even though dark chocolate is supposedly healthier and more expensive, I guess it just shows that sometimes pricier doesn't necessarily mean it's better.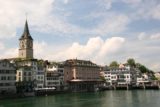 After the dessert and cuppa, we proceeded to try to work off the sugar rush by walking towards the Grossmunster (basically a tall dual-spired cathedral) and then climbing to its top after paying the 4 Swiss Francs per person to go up.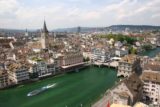 I wasn't sure if it was worth the price of admission, but at 2:40pm we were at the top of the south tower. There were some interesting birdseye views of the city on all four sides of the tower. The climb up the spiral steps in the beginning of the climb was real tight with barely enough room for people to pass each other (depending on how much you're carrying and how much girth you have).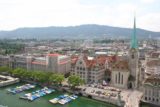 It was breezy and cool up at the top, which made us cool off a little after our long climb up. Eventually at 3pm, we had our fill of the crowded lookout, and we proceeded to squeeze our way down to the bottom. Some impatient folks foolishly took a few steps up as people were coming down to the bottom of the spiral so that made it a bit difficult to pass when they could've waited a few seconds just to take a few steps up unimpeded. They certainly had nothing to gain clogging up the passage when they did.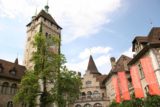 Anyways, that was pretty much the end of our touring of Zurich. We had hoped to make use of our Swiss Pass to visit the museums in town, but the most interesting one in town was closed. We learned it was only open for the World Cup viewings on TV on the premises, and that the museum was only open from 8-12. Given the waterfalling priorities we have for the next two days (despite the foul weather predicted for this time period), it's probably not likely that we'll be doing any museum visits while in Zurich given their impractical times that they're not geschlossen (closed).
At 3:45pm, we returned to the hotel to check-in and get settled. Once again, it was siesta time (the Mediterranean rhythm was still with us apparently) and we could see the weather vacillating between dreary cloudiness and pockets of blue skies as the afternoon wore on.
At 7:30pm, the siesta time was over and we headed back into town. By this time, we could see a warm afternoon glow painting the tops of the multi-story buildings around us. The skies above looked as clear as we had seen them all day long.
Now why couldn't this be tomorrow?
I somehow knew this misfortunate timing would bite us when it came to waterfalling in the next two days as the forecast looked terrible for our last two days in Switzerland.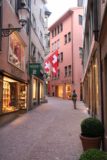 So we walked around town on the other side of the river. And it was on this side that it seemed like the cafes and restaurants were bustling with both locals and tourists engaging in people watching, having a smoke, having drinks, and of course eating.
We ended up settling on dining at some Japanese restaurant. And I knew we weren't supposed to come all the way to Switzerland to have Japanese food, but Julie had her heart set on anything not Swiss and heavy. And what she said went. Period.
And, well, the food wasn't anything near as good as what we're used to back at home (again, no surprise). But at least it was light and relatively guilt free. So after the heavy lunch and indulgent cuppa with dessert that we had earlier in the day, I guess going light on dinner was in order.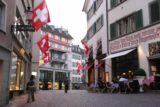 When the dinner ended, we walked around the now-quiet streets we walked earlier in the day. I guess these once-bustling streets during the day time close in the evening. And that made for a relatively smoke-free and low anxiety experience.
Finally at around 9:30pm, we returned to the apartment to call it a day. The weather was still mostly clear over Zurich. I'm hoping for the best but mentally resigned to some real foul weather as all weather networks (even those in Dutch on TV) are suggesting storms the next two days. Not good…
Day 27: LES MISERABLES
At 6:30am, we awoke after having a pretty decent sleep. The skies were cloudy as expected, and it looked like it started to rain or at least drizzle as feared.
After taking some time getting freshened up and eating breakfast downstairs, we were at the Zurich Main Station at 8am. It turned out that there was a train headed to Schauffhausen within ten minutes of when we got there so we didn't have to wait long before we were moving.
By 8:50am, the relatively smooth train ride brought us past a view of the Rheinfall, but it wasn't photographable due to the amount of foliage in the foreground. But the falls looked pretty impressive, and it put Julie from a homesick mentality to a sudden desire to want to get to the falls as soon as possible.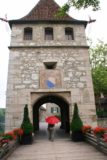 But the train kept going as it turned out that Schaffhausen was the main train stop, and it didn't get there until 9am. So we had to take a bus back in the other direction to get to within walking distance of the falls.
We weren't quite sure which bus to take nor how long it would take so we ended up going right to the first bus station we saw. The first bus stand we noticed was for a 9am bus number 634, and when it showed up, we took it to Schloss Laufen. We had read that this castle provided the closest views of the falls for a fee, and it happened to be the only name we recognized amongst all the place names shown at the bus stops by the train station. So naturally, we stopped there first.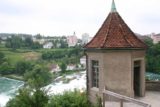 Yet the bus said it would take 26 minutes to get to Schloss Laufen, and I began to wonder if maybe we should've obeyed LP
's suggestion to ride the bus #1 or #6 to get to the Neuhausen Zentrum instead.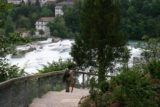 Anyways, we finally got to the car park at the Schloss Laufen at 9:30am. We paid for our tickets (now 5 Sf instead of just 1 Sf as stated in our version of LP
), and wasted no time in walking through the archway and getting through the ticket turnstile where we started getting top down views of the falls from the walkway.
We continued to take what photos we could even though the skies were dark with heavy-looking clouds and light rain.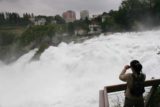 But despite the dark clouds, the photography conditions were tricky because the white of the falls dominating the scene tricked the camera into thinking it was a really bright scene. And this resulted in underexposured photographs. So I had to tinker with forced brightnesses on each photo that I took, and that resulted in an inordinate number of extra photographs taken (since you never know which ones truly worked out).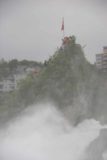 After having our fill checking out the various closeup lookouts (including a platform precariously positioned above the rushing water and some interesting lookouts providing views of a natural arch within the falls) while battling some light spray from the raging torrents, we noticed that there were some boats taking people to the middle rock between the two main segments of the Rhinefall.
There seemed to be a handful of people on that island and it looked rather crowded there. For some reason, the position of that Swiss flag along with the crowd of people beneath it all perched atop the island in the middle of the falls really reminded me of the cover illustration on Victor Hugo's Les Miserables
come to life. Of course, we could be smart ass about it and say the crowded experience could make the tourists become les miserables.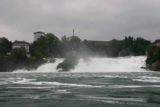 So by 10:25am, we were on a boat that first went to the other side (the Schlossli Worth) where the sparsely populated boat all of the sudden was inundated with a giant Indian tour. So we knew that this was going to make for a real crowded and hectic experience on the rock in the middle of the falls.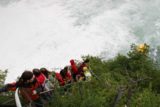 Still, there was nothing we could do about it. So by the time the boat arrived, I let the vast majority of the people rush their way up to the top of the rock. Julie joined them. So I was busy taking photos from the bottom while trying to manage the mist and spray. But at least it wasn't as misty as we had expected (to the point where you would have to don a rain poncho), and that probably had more to do with the route the boat drivers took to get here. Nonetheless, the current was quite strong and it took a bit of horsepower (from the boat motor) simply to keep the boat docked and not getting sideswiped towards the whirlpool beneath the segments on the left side of the falls.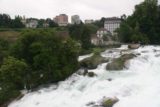 Eventually, I squeezed my way up to rejoin Julie at the top of the falls (as other people started to make their way down). And just as I squeezed my way up there, there were still other people taking turns at getting photos from the crowded top. At the same time, another boatload of people was about to land shortly as I saw them make an approach.
So Julie and I did our best to manage the crowded situation at the top. It was mostly dominated by the mega Indian tours and it almost brought us back to our India experience where it was crowded and chaotic everywhere we went. But at least we weren't being stared at as the only non-Indian-Asians in town.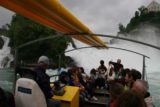 Finally, we squeezed our way down to the boat dock after another tour group (this time Swiss teens) formed a queue all the way to the bottom. But by 11:35pm, we were thankfully at the Schossli Worth on the other side of the Rhein River, and we were finally able to have a little breathing room.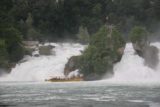 And I wasted no time walking around the walkway getting several photos of the falls from directly across the river as well as from the other side of the Schloss Laufen. Julie went straight to the cafe for some sausage lunch to alleviate some of her hunger pangs.
The sun did its best to break through the clouds being successful in a few short moments and even warming things up under the mostly cloudy skies.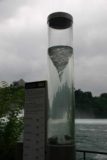 I walked far enough to get to some kind of manually powered dynamo, which you can crank and get feedback on how many watts you're generating. A tube full of water inside resisted the movement of the gear at its bottom so when the crank turns, a vortex actually forms. I managed to easily turn the crank and generate above 80W to the applause of onlookers, but to be honest, that was pretty easy.
I joined Julie for lunch at 12pm. Julie was getting a little nauseous because of both cigarette smoke, but also from the putrid waters of the Rhein. Unsurprisingly, it was probably polluted as it was a sickly dark green and bubbles were foaming in the river probably due to methane from sewage.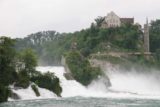 After the lunch, we walked together getting up to the stairs alongside the falls. From these angles, we could see an arch from the other side of the falls plus the Schloss Laufen as the backdrop of the turbulent waters rushing past.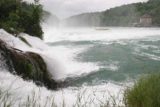 Eventually at 1:20pm, we walked up to the town center of Neuhausen. We then walked along some newly paved tar (it had that tar smell) and walked over to what I called the money shot of the Rhinefall. From up here, we could see the whole falls from an angle plus the Schloss Laufen in the background and even a railway bridge shared with pedestrians further upstream.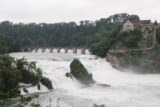 While all direct shots of the falls looked rather flat from the base, this top down view was the place to be for photographers. Of course, the tricky issues regarding brightness despite the cloudy conditions still had to be dealt with. But we spent most of our time exhausting our camera memories from this spot.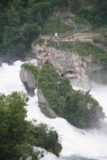 At 1:30pm, we were done with the money shot spot and walked back to the Neuhausen Zentrum. This time, the bus that showed up was bus #1 at 1:38pm.
By 1:50pm, we were back at the Schaffhausen Bahnhof. This was much quicker than the 26 minutes it took to get from Schaffhausen to Schloss Laufen! So that confirmed that we should've taken this or the #6 bus earlier in the morning to save the 15 minutes or so.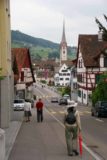 Roughly ten minutes later, Julie and I decided to go even further away from Zurich and take one of the smaller trains out to this town called Stein am Rhein. Besides having a rhyming name, we had read some things about how charming this town might be so we decided to give it a try.
At 2:20pm, we arrived at the Stein am Rhein Station. From there, we followed the brown Altstadt signs for about 5 minutes before crossing a bridge and starting to see flashes of the charm we had read about.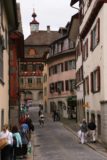 At first we thought this was just going to be another Bern or Lucerne where it seemed the charm was contrived and completely done for tourists while losing their intended old school charm. But once we walked past the first alleyway, we started to see mural on the walls of the buildings and cobblestone on the ground.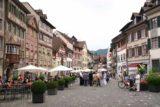 And when we got to the main square, we could immediately see (as we looked down the cobblestoned thoroughfare) that almost all the buildings had those old school murals and that they were flanking the thoroughfare side by side. It had a pretty authentic medieval feel to it for sure.
Immediately our skepticism was completely disarmed and we were entranced. Barring the crowds of people, it felt like we stumbled upon something that should be bigger than it presently is.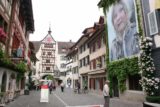 Sure it wasn't easy taking photos with all the people crowding the cafes and main thoroughfare as apparently mass tourism had already found and overrun this place before us, but it definitely felt less contrived. Maybe to reinforce the off-the-beaten-path feel (to us at least), we noticed that none of the menus in any of the restaurants, museums, and cafes here had english text. They were mostly German.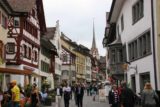 So to soak in the atmosphere of the place a little more, Julie and I decided to have some dessert at this popular Il Gelato joint. Julie's first choice was L'Petit Creperie, but it was closed. So we just had ourselves a couple of delicious waffles topped with ice cream, whipped cream, and fruits along with a thick hot chocolate.
It certainly wasn't exactly something to soothe our guilty conscience after spending a good deal of time here while trying to avoid the cigarette smoke. But we couldn't say that we were hungry anymore nor could we say we would stick around here for a dinner.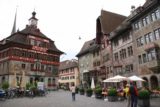 At 3:45pm, we finally were done having our dessert and continued walking towards the end of one side of town where there was an archway and a car park behind it. At that car park, we could see a handful of tour buses there further demonstrating to us that some mass tourism arrived here already. Perhaps tours to Rhinefall also come here if they weren't checking out the Old Center of Schaffhausen, we wondered.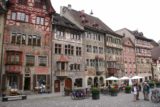 So Julie and I spent some more time taking photos and still trying to capture through photos the charm and essence of Stein am Rhein. But eventually all good things must come to an end, and we walked back to the train station getting there at 4:25pm.
Julie and I were quite tired once we got on the train, and for the fairly long train ride back to Zurich, we slept most of the way – especially on the Schaffhausen-Zurich route. When we arrived at Zurich, the weather seemed to have improved a lot from this morning even though it was still cloudy.
We could only hope the weather could at least hold up for another day for our long hike to see Seerenbach Falls was tomorrow.
At around 7:30pm, we took a train to the Hardbrucke side of Zurich where we went searching for this pizza place that Julie insisted we seek out. The reason why was because she continued to crave the Italian-style pizza, and this place was said to have it.
But it took a little time to figure out where it was as there was no signs indicating its presence. However, after doing a little exploring, we did see some text saying "Restaurant Rosso" stenciled on the door with some credit card logos on the window. We had found the right place.
After spending quite a bit of time with each of us enjoying a wheel of margherita pizza, took the next train back to the main station, and then we returned to our hotel room at around 9:30pm where we called it a night.
Day 28: ANTICLIMACTIC
At 6:30am, we awoke. The clouds outside looked threatening, which didn't bode well for us in that we wanted to see a tall waterfall for this our last full day in Switzerland. So after the usual routine of freshening up and then having breakfast, we boarded a train to Ziegelbrucke at 8:35am.
This train seemed to move quite slow as it made many stops en route. But eventually at 9:40am, we arrived at Ziegelbrucke Bahnhof. But despite what LP
said about it being a 15-minute walk from here to Weesen, I saw a sign indicating it was 3km, which could not be covered in 15 minutes by foot. Plus, we talked to a pair of friendly ladies at the ticket office who told us to take a bus from here to this stop called Fli Seestern at 10:04am.
So as it was lightly sprinkling right, we were standing at the bus station at 10am. And when the bus pulled up, the helpful driver confirmed that this was the bus we wanted to take. He seemed to know that we were going to Seerenbach Falls so he had us pick up a brochure near the entrance door and then when he got to the Fli Seestern stop at 10:15am, he told us to get off at the stop.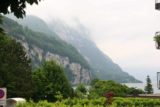 I was amused that the brochure indicated that we were now in "Heidiland." However, we weren't exactly sure why this was the case out in the Amden-Weesen region. This didn't seem like the alps scenery we saw in the Bernese Oberland area (that was etched in my subconscious since I was little) until we saw a semblance of that memory for real a few days ago.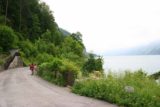 And once we got off the bus, we followed the street called Betliserstrasse, which went past a scattering of residences before it became a narrow cliff-hugging road always near the lake. It was a relatively flat path and mostly paved so I could see why some of the literature mentioned that this was a good mountain biking excursion. But we also saw a handful of cars taking this path as well (though we suspected they're residents or hotel guests).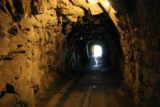 The path even passed through a couple of tunnels with one being fairly long and dark. Again, this brought back memories of Norway where we saw plenty more tunnels for both vehicles and pedestrians.
The views across the lake I'm sure could've been gorgeous, but the dark low hanging clouds conspired to make the views rather ho hum. And there was always that fear that the Seerenbach Falls would be difficult to see as clouds would obstruct the views.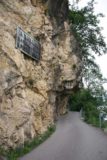 At 11am, we reached a junction where the left path went uphill and the lower path went downhill. Fortunately, we had already started picking up a little bit of basic German when it came to reading signs plus we knew to follow the path to Walenstadt. So despite our desires to go downhill to the right, we had to go uphill to the left.
Eventually after passing a scattering of remote residences and even a restaurant and hotel, we reached a signposted spur trail that went up into the grassy paddock with basic rope fences to segregate the grazing dark sheep from the wanderweg.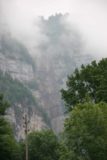 Along the path near Betlis, we noticed a wispy but tall waterfall high up on the cliffs partially shrouded by the low hanging clouds (that we had feared) at the moment. It was also lightly raining so pointing the camera up at the sky to capture the photos inevitably resulted in water spots getting onto the lens.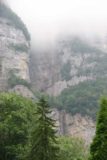 At first I thought this couldn't be the falls as it was so disappointingly wispy. We would be very surprised that a waterfall that got as much love as this one would be such a disappointing performer considering we're in the middle of June at the peak snowmelt period on a year when many parts of Europe were wetter than normal (including severe flooding in Poland and even Croatia [which we experienced firsthand] as well as France).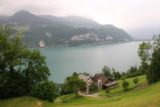 But eventually after examining the detailed map from our Heidiland brochure, the realization started sinking in that indeed this disappointingly wispy waterfall was the Seerenbach Falls. Unfortunately by the time we walked past Betlis, the clouds were hanging lower and obscuring what seemed to be the tallest tier.
At 11:45am, we then walked uphill past the paddock area and the sound of the waterfall seemed to be louder than its wispy light-flowing nature would've suggested. And then the path traversed through a forested area towards its end where there were signs as well as a red bench. It was here that we saw the source of the loud noise, and it was a lower 45m waterfall called Rinquelle according to the German sign.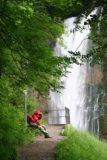 From here, we couldn't really see the 2nd tier, which was supposedly 305m tall. And the one clear tier we did see was said to be 190m tall though photographing it still meant getting water spots onto the camera lens as we'd point the lens up at the sky where it was shedding water.
As Julie was busy resting here and taking a few more photos and movies from this spot, I decided to explore up the slippery steps just to see where else this path was going. But eventually, I got to a point where the path was closed due to unstable earth though there was another faint footpath going around it. Still, that footpath only ended up at disappointing views looking down towards the Rinquelle while the overgrowth pretty much wetted and muddied my hiking pants and boots.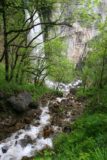 The path started to hug some fairly steep dropoffs while remaining slippery and wet, and that was when in my judgement that proceeding on to be not worth it. So I headed back and then went down another signposted path that was labeled Quinten.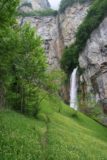 As I descended this series of steep and slippery steps, I found a detour that went through a blooming field of flowers eventually leading to a pretty satisfying view of the Rinquelle along with the 3rd tier of the Seerenbachfalle. The 2nd tier I was hoping to see was nowhere in sight, and that was probably because I was too close to the falls to see its upper tiers. But the weather seemed to have deteriorated even more while I was here despite noticing that the sun seemed to have wanted to break through the clouds.
After having my fill of this beautiful spot, which I'm sure would've been even more appealing under less rainy conditions, I continued to descend the path eventually reaching the main thoroughfare, which was now pretty much vehicle-free I'm sure as the pavement was replaced by gravel.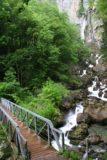 The path ultimately led to a footbridge over the stream where the waters from both Seerenbachfalle and Rinquelle joined together, and it was here that I got a few more looks at the Rinquelle feeding the stream ultimately ending up in the Walensee.
And when I had my fill of this spot, I headed back up to the rejoin Julie who patiently waited for me. And by 12:45pm, we started heading back towards Weesen. There were a handful of other hikers heading towards the falls, so I guess even under these crummy conditions, the falls remains somewhat popular.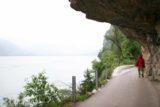 So as Julie and I were walking back under the now fairly-heavy rains requiring rain ponchos, we started to let our minds wander about whether the Seerenbachfalle should receive the kind of love that the signs here indicated due to its former title of the country's tallest waterfall.
But given its disappointing flow which I'm sure will probably go dry within a few weeks unless there's a sudden revival of its flow (and this was at a time when Europe has had record precipitation and we're in the midst of the peak snowmelt period), I began to wonder if the stream feeding the falls suffered from human alteration. After all, we saw on one of the signs that there were towns (perhaps comprising the Amden region) further up this cliff. And maybe the waters were being diverted or collected for drinking, washing, and even agriculture.
In any case, it seemed that it was the 45m Rinquelle that was the permanent waterfall and the 585m Seerenbach Falls that wasn't really a major waterfall. Still, I wondered if it used to be a more reliable performer (and thus major waterfall) in the past.
And so even though the 2nd tier of the falls was 305m, I doubt we could include it in our Top 10 Tallest Waterfalls based on cumulative height and Top 10 Tallest Waterfalls based on tallest vertical leap lists because it wouldn't pass our volume and longevity tests (see What Makes A Waterfall A Waterfall?).
As we continued to look back at the waterfall while walking away, that desired 305m tier 2 of the falls remained shrouded in clouds even more so than when we first saw it in disbelief. So I guess this last bit of waterfalling was rather anticlimactic, but that happens in life sometimes. Things don't always roll your way, though it seemed we got the raw end of the stick from a luck standpoint throughout much of this trip.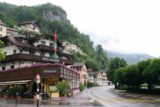 Eventually at 2:15pm, we walked all the way to a bus stop right in front of a Trattoria in Weesen. After Julie saw the menu that was in nothing but Italian and German, from what we were able to decipher, we didn't feel like having another Italian meal after having a heavy one last night at the hard-to-find pizza place.
As we were waiting for the bus, we noticed a fountain going off in the lake at 2:30pm. We don't know if this was a waste of energy nor if this fountain goes off every half-hour. In any case, after noticing it initially, we stopped noticing it as the rain came down even harder and some of the water was dripping through the tree canopy above us.
Soon enough, the 2:45pm bus showed up. And at 2:55pm, we arrived at the familiar Ziegelbrucke Bahnhof where we noted a 3:01pm train will return to Zurich. And sure enough, the train took off on time.
During the train ride back, I noticed something itching on my left knee. And when I pulled up my pants to see it (and to scratch it), I stopped short of scratching as I noticed a darkish thing with legs lodged in my skin. I knew right away that it was a tick.
Julie immediately took out her tweezers and pulled on it. I was worried that its head would remain in the wound thereby infecting it, but it seemed that she managed to get the tick out intact despite its best efforts to hang on. Now whether I'm still at risk for a tick-born illness, I guess I'll find out when I return home starting tomorrow and going on into the weekend…
At 3:50pm, we arrived back in Zurich. This train seemed to have run much faster than the one we took earlier in the day to Ziegelbrucke for we were napping when all of the sudden the train station we arrived at had signs indicating Zurich! We swore it must've gotten here in nearly half the time it took to go the other way this morning.
Anyways, we were dodging the usual gauntlet of cigarette smokers and second-hand cigarette smoke as we were leaving the station. It all kind of reminded me of some Simpson's episode where one obstacle after the next comes right into view and then passes by you going the other way. Then, we walked into the fairly heavy rain ultimately arriving back at the Hotel Montana at 4pm.
Julie and I checked for more ticks on each other, and fortunately we didn't find any more. But Julie was tired and took a nap. Even though we didn't intend to siesta, I guess we still had that Mediterranean biorhythm, and I'm sure this will be hard to break when we get home tomorrow.
During this time, I heard some shouting and cheering out on the streets, and from overhearing BBC news which was on TV, I learned that there was a World Cup soccer match between Spain and Switzerland. Apparently Switzerland scored the first goal.
By about 7pm, Julie awoke and we were headed back into town for one last dinner in Switzerland. And since I had my heart set on one last cheese fondue, we went to this place called Raclette Stube.
And on the way to the restaurant, the frequent cacophony of car horns, vuvuzelas, and other makeshift horns blowing randomly and nonstop along with shouts and cheering filled the streets. By the time we went through the main rail station and out to the main thoroughfare, we could see a giant crowd (some waving giant red Swiss flag banners) going crazy and blocking the mass transit.
In one instance, some idiots tried to flip one of the stopped trolleys but wasn't successful. Apparently, the Swiss did pull off the monumental upset against Spain.
But Spain hadn't been eliminated yet and Switzerland won only one game. I'm sure for the young and immature, they look for any excuse to go nuts, drink themselves silly, and "celebrate." I wondered if this was any serious reason to celebrate the way they did since Switzerland only won one game and still had a long ways to go to even win the World Cup.
Anyways, we had somewhat subpar cheese fondue (as it was quite runny) at the Raclette Stube. The raclette seemed like nothing more than burnt cheese with some sides of pickled items next to it, and the service seemed especially bad. Again, on a day where the last thing we would do in the country seemed rather anticlimactic (like the Seerenbach Falls), I guess so it was with this place as well.
The celebrating continued but not as concentrated as it was at the station earlier. When we walked back to our room, we passed by the scene of the chaos and noticed that police have prevented traffic from getting there so clean up crews can get to work with the mess that was left behind.
This reminded me of the time when UCLA won the national championship for college basketball back in 1995. But this Swiss celebration was for only one game in the World Cup that may or may not even be consequential to what happens next.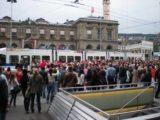 As I was busy taking photos of the mess by the station, one guy came up to me and tried to get into my photo. He insisted that I take a photo (blurry as it may) of him, and then asked the usual questions of where you from? Japan? Korea?
I told him that I was from the US, in Los Angeles, and he then tried to explain to me that what I was seeing was how the Swiss celebrate their soccer team beating the supposed #1 team in the world in Spain. He then said, "Don't be scared."
That drew a chuckle out of me. I knew there wasn't going to be anything real messed up going on. For we have hoodlums back at home that find any excuse to loot or get violent in a gang sense back at home (and if the Lakers win tomorrow, I'm sure that would bring them out for sure). So there was clearly nothing to fear here.
By 9:20pm, we were back at our room. The horn blowing still persisting, and both Julie and I were wondering if we were going to be able to sleep tonight. If not in bed in our last night of Zurich, perhaps we might be able to sleep on the long plane ride.
Indeed, this wasn't the storybook ending or bookend moment to another epic international trip. But perhaps this might be a hint that this won't be the last of our grand international travels (I sure hope so). In any case, we were a bit homesick, and for better or for worse (back to life, back to reality…), we're headed home tomorrow…
Visitor Comments:
Got something you'd like to share or say to keep the conversation going? Feel free to leave a comment below...
No users have replied to the content on this page